Top 3 most useful
Zoho Social alternatives
The search for a better social media management tool is now over. Here's how Planable will help your team plan, collaborate, approve and schedule social media content 6X faster.
"Yes, Planable is the ultimate social media management tool. It makes the approval process a breeze, and saves us HOURS of planning time.."
Renita Williams
Founder and Director at The Marketing Plug​​
Planable vs Zoho Social in social media content management
Creating posts
Grouped posts
Calendar with drag & drop
In-Feed preview
Instagram Story creator and editor
Instant preview while creating posts
Image editing
Video trimming
Planning
Multiple views for planning content (calendar, list, grid & feed)
Calendar view for one or multiple pages
Custom labels
Media library with drag & drop to posts
Custom time slots
Collaboration
Multiple levels of approval
Internal vs. external collaboration flow
Resolving comments
Tagging users in comments
Real time collaboration in comments & posts
Publishing
Audience targeting
Connecting multiple pages for the same channel
Bulk scheduling
Tweaking content for each page
Location in post
Up to 10 photos in a carousel post
Multiple images for Instagram Business profile
Modules
Chat Support
Community management
Mobile App
Analytics
Faster & easier planning
Get your monthly content done faster using calendar view. Just drag and drop your posts, save them as drafts to edit later, and enjoy the view of your fierce content. Easy peasy.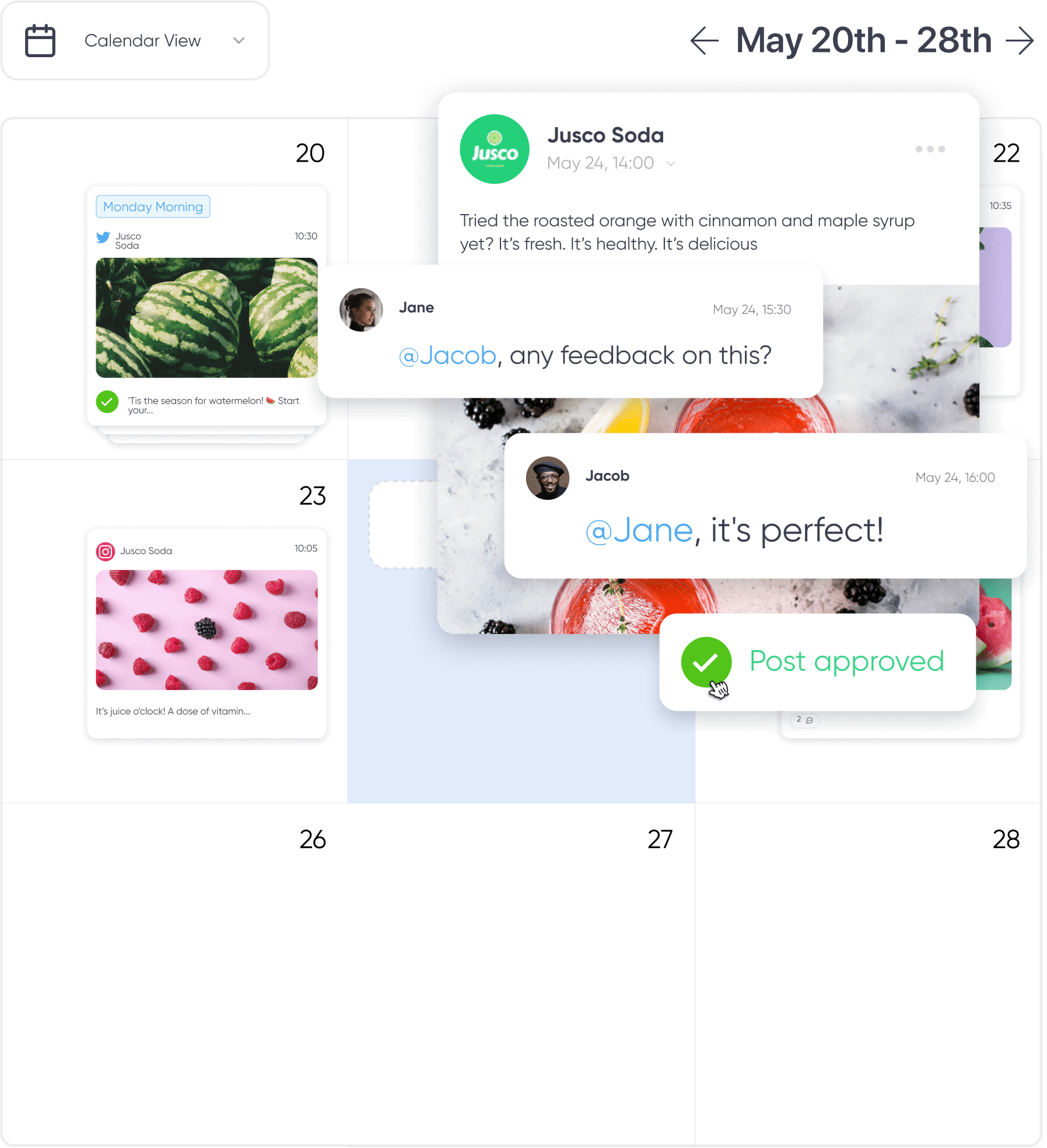 Visualize your week or even month at a glance
Plan, schedule, and organize using no-sweat drag-and-drop
Showcase your work in the best possible way
Create instant templates instead of manually scheduling every post
As you're reading this, more than 10.000 people enjoyed their sleek calendar view.
"I don't have to spend hours on PDFs trying to make my content calendar make sense to approvers."
Payton Stringer
Content Team Lead at Campaignium​​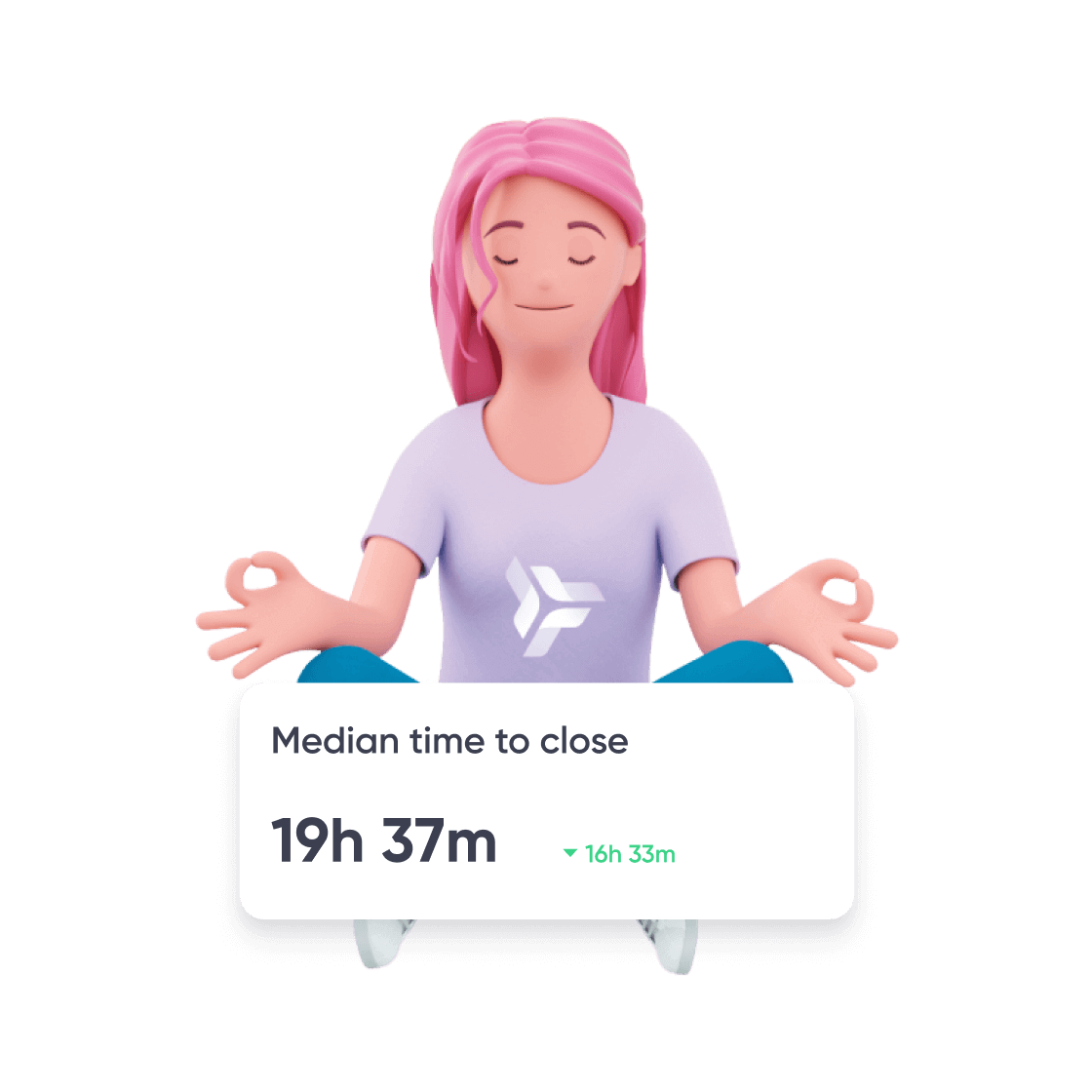 Never wait in line for support
Our chatbox is always open. No ticketing system or long wait periods. Ping us anytime.
We're our customers' advocate and cheerleader. Just like Bilbo is to Frodo. Robin to Batman. Or Alfred to Batman. Our customer support is Robin and Alfred combined. 280+ users consider that our customer support deserves 4.7 stars on Capterra. And 8.9 on G2Crowd.
"Your customer service is UNMATCHED!"
Callie Heathscott
Marketing Supervisor at Maverick Transportation
Organized work — with all your accounts in one place
The easiest way to manage your social media channels. Keep separate workspaces for each brand or client. Group people and pages. Productivity level 99. Just how you like it.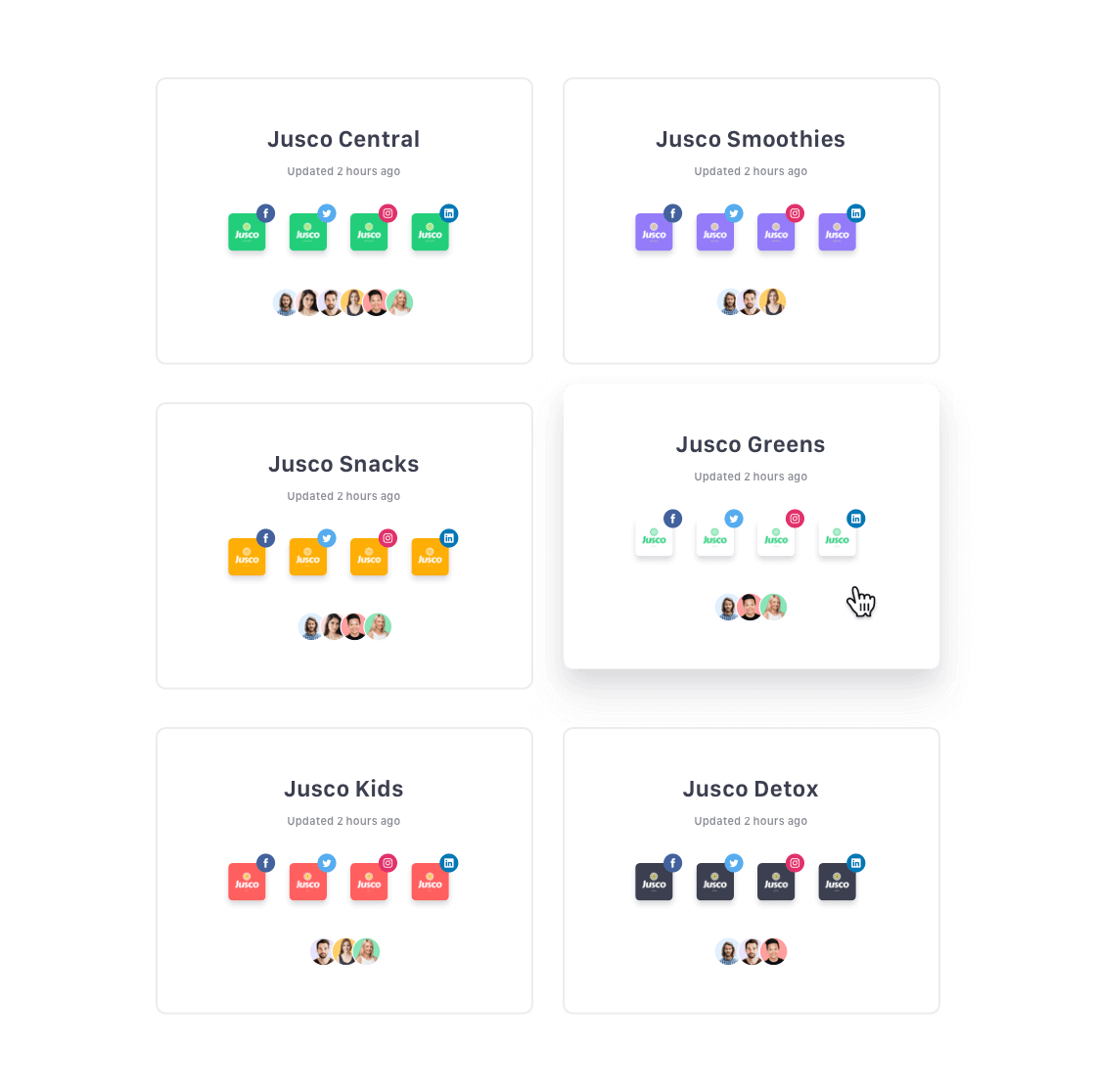 Add labels to organize all your posts by topic, brand, type, or anything you can think of
Use filters to whip your content into shape. Filter posts chronologically, by timeframe, status, file type, and labels
Choose the right views for your content. No limits
Use Media Library to store your files and keep track of where they've been used before
"After I started using Planable, my social media management is clean and professional. I have more time to focus on other things."
Daniel Meza
Creative Director at Hipnos Studio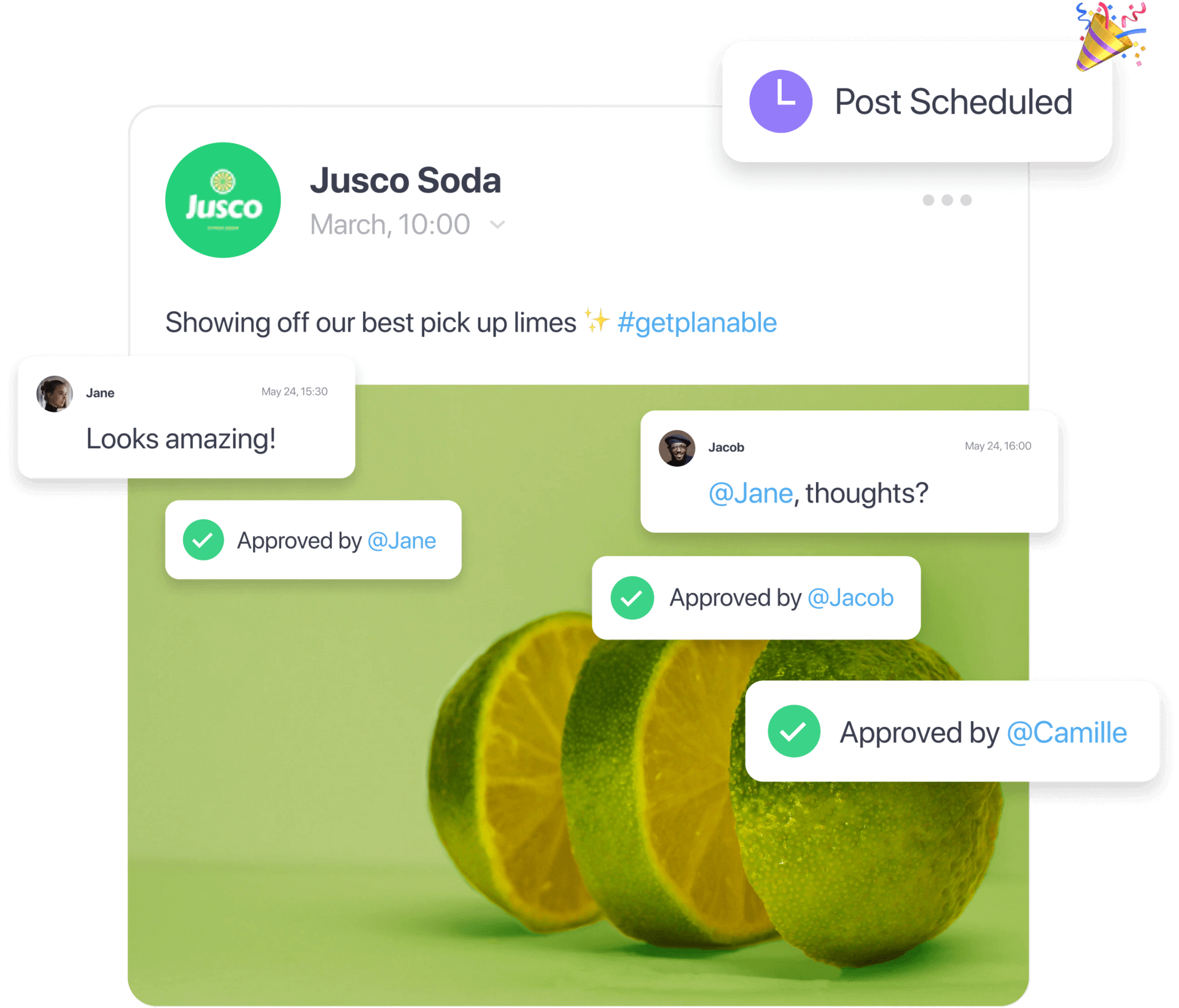 Enjoyable collaboration and approval
Yes, you got it right. Planable is so easy and intuitive to use that approvers will *want* to give prompt feedback.
Get feedback from all workspace members on each specific piece of content
Tag teammates, attach files, and resolve comments
Leave internal feedback or hide posts from stakeholders. Make them visible only when ready for review
"Before I started using Planable my clients had no idea how their posts would look on the platform & there was no system for approval."
Aniket Borhade
Freelancer @Curlistic
We're great, but we're not for everyone.

We do one thing and we do it perfectly
At Planable, we believe in being absolute specialists. Our specialty? Collaboration. You wouldn't use your pocket knife for a job that required a precision drill, would you? You wouldn't use a collaboration tool for your analytics either.

The more, the
merrier
Planable is built with teams in mind. A big chunk of our features are focused on collaboration. We need at least two to tango. So far, we didn't find a team big enough to scare us, so we're up for the challenge.

Spreadsheets are not our thing
If you really enjoy using spreadsheets for social media planning and collaboration, then Planable's probably not for you. We're here to save you time and automate all the tedious tasks that are needed when collaboration is scattered around.
Need more alternatives to Zoho Social?
Buffer
As an effective tool to manage social media accounts, performance, and content, Buffer can be an alternative to Zoho Social to consider. If your focus is having some numbers handy, Buffer could help. Based on the number of likes, shares, comments, reactions, Buffer sums up the engagement of your posts on different social media channels.
Hootsuite
If you're using Pinterest in your social media campaign, Hootsuite can help you deliver the content you create. As an agency, you can use Analytics to keep track of your content performance on the platforms and share it with the clients. When it comes to insights, Hootsuite also shares useful tips to help you build awareness, boost engagement, or drive traffic. channels.
Looking for more comparisons on social media tools?
Sprout Social
Looking to manage multiple brands and with your team without breaking the bank? Get fast collaboration. Easy planning. And support that will never, ever, leave you hangin'. A modern alternative to Sprout Social.
CoSchedule
Looking for a reliable tool for your social media collaboration? You've come to the right place. Here's why Planable is a better way to create, view, and collaborate on your social media content.
Compare the best social media management tools
We know — looking for new tools is hard. 329 tabs open at a time hard. We've built a comparison that helps you look at all of them at once. Find the one that fits your team best.
Join thousands of marketers working
smarter with Planable
Get started for free. Commit when you're ready. No time limits. No credit card required.