It's how remote teams collaborate on content
Produce better social media content together, anytime, anywhere.
Get started, it's free!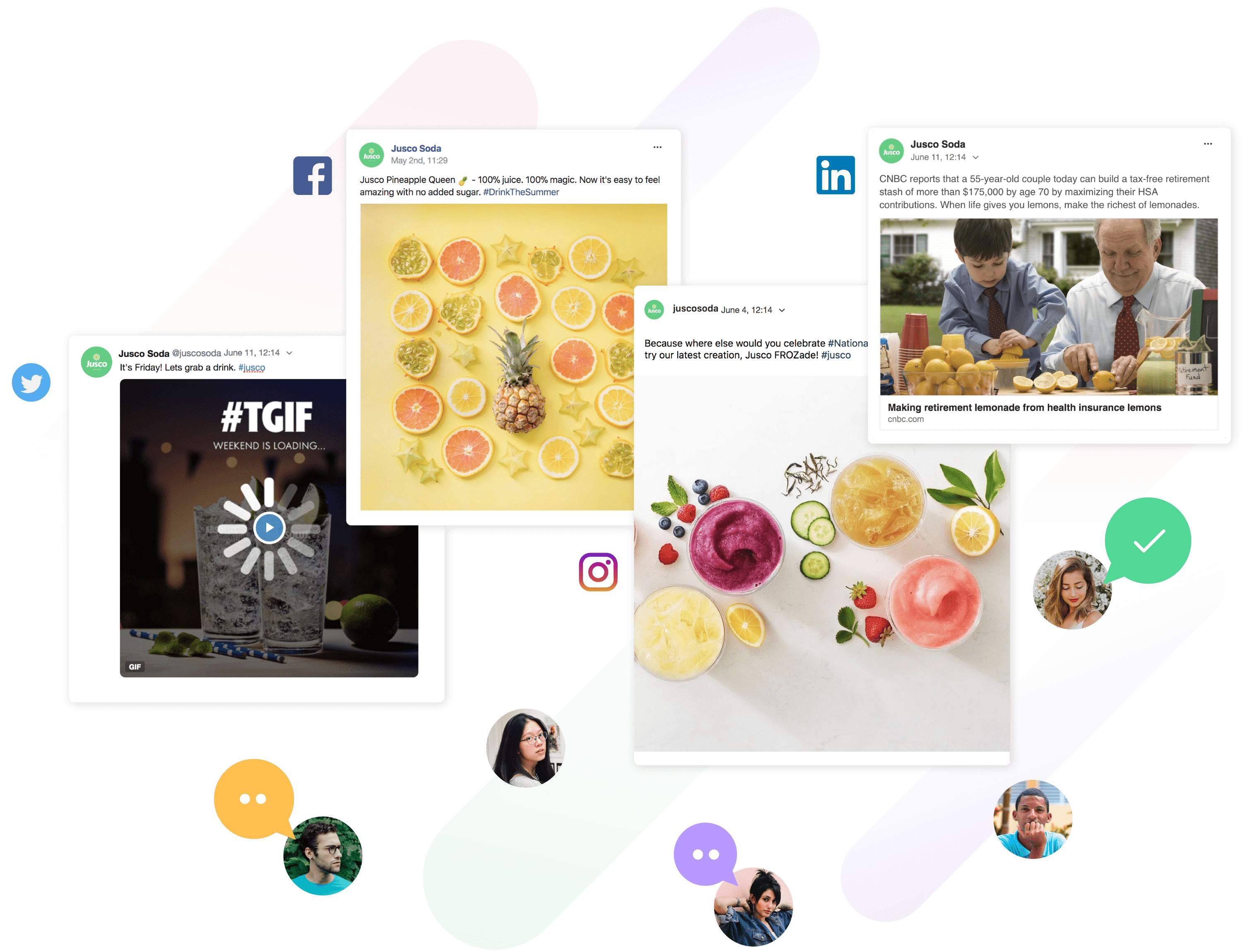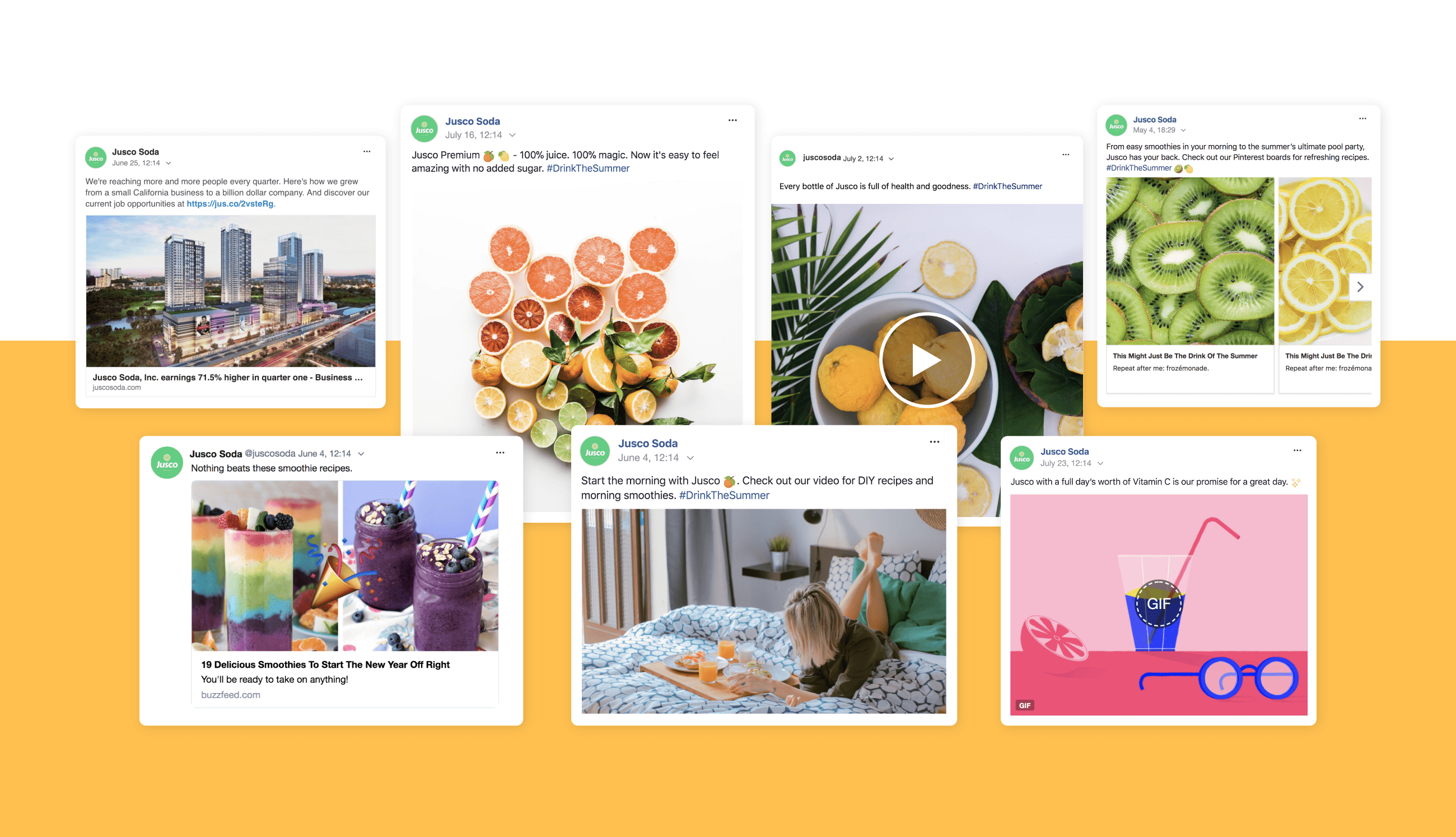 Create together like you're in the same room
Remote work demands clarity so people see the same content, at the same time, in one single place. Planable is your source of truth.
Bring your social media posts to life faster with mockups that feel like the real thing. No need to create test pages or rely on everyone's imagination anymore.
Easily find what you need
Our powerful search and precise filters help you dig up that exact Instagram post from June last year about matcha recipes.
When you don't live in spreadsheets anymore, content planning and collaboration become fast and (dare we say) fun.
Keep your team on the same page, literally
Keep everyone in the loop with one shared space for your team and clients to collaborate.

Email and meetings are so '90s. Share your content the modern way, just give'em a link and present your content in the best light. It's time to put that that email thread to rest.
Gather feedback where it makes sense, right next to the post. Tag team members and choose to send notifications to the right people. Eliminate miscomms with clear feedback.
Every team is different. That's why we have flexible approvals. Set up Planable to work in the way you already do, no matter how many levels of approval you have.
Coordinate publishing, even when you're apart
Strategically plan and schedule your content by drag and dropping posts in your predefined time slots. Visualise content by week or month and see everything at a glance across all your pages. One calendar, one integrated strategy across multiple channels.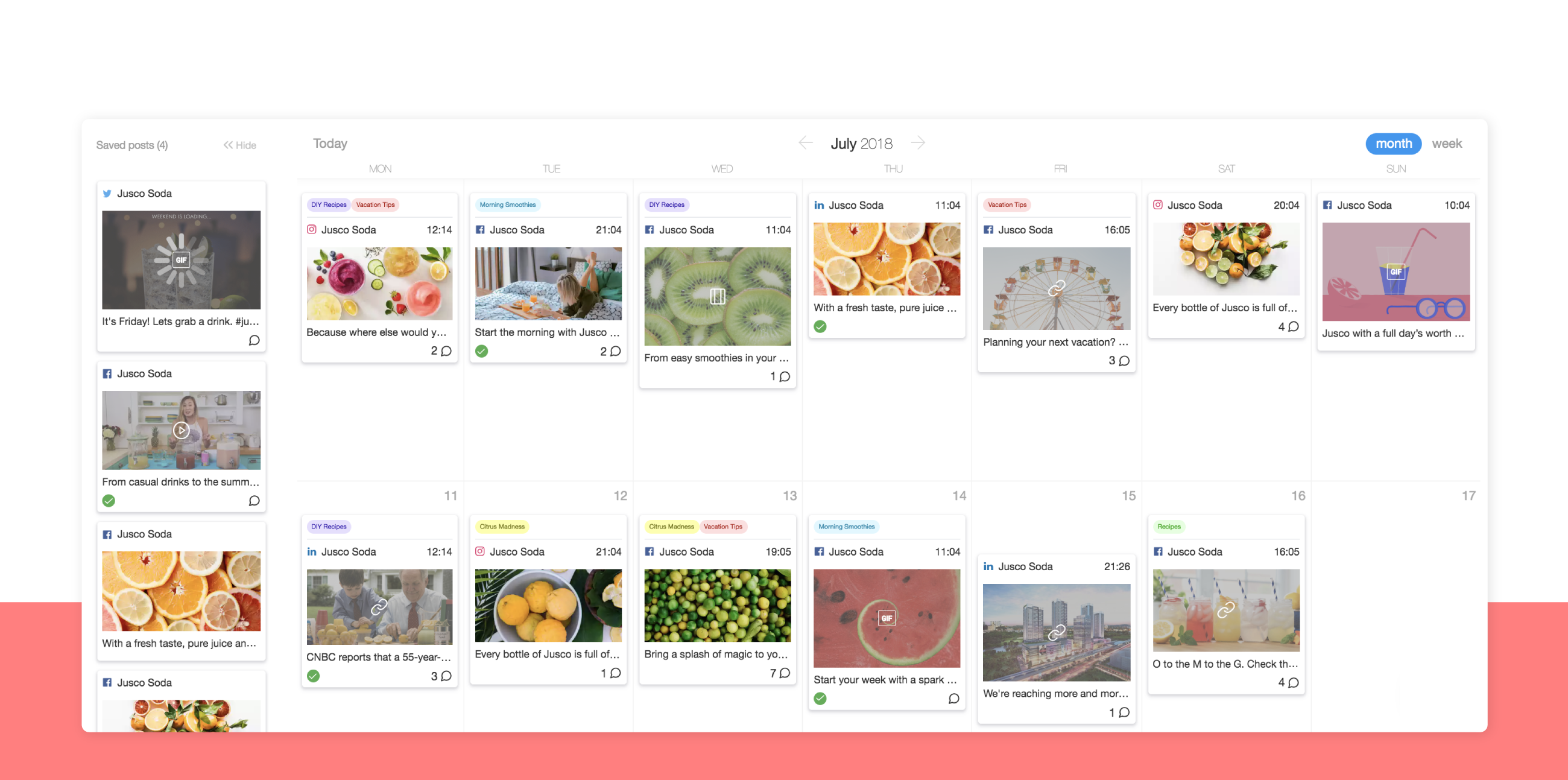 Colour coded labels, grouped pages, nested projects, and granular levels of control. Because let's admit it, cats and kids bombing video calls are enough chaos when working from home.
Get notifications when posts are reviewed, approved, or published. It's like social media for your social media. So meta.
An editorial calendar built with clarity and productivity in mind. Your content stays organised. Your team – aligned.
Our customers love working remote
Over 5,000 teams are using Planable to work together efficiently, from anywhere.
Social Media Specialist @9Round Franchising
We love the look of the calendar. Before Planable, it was difficult to get final approval so we're more organized now. Planable has helped with this and with planning and organization.
Marketing Strategist Social Media
Before Planable, creating posts for 8 pages was chaotic and it took too much time. Now I can do it so much faster, focused, and I can work with my colleagues simultaneusly. Also, the discussions about each post don't get mixed up in other chats. Everything important stays organized. I became more efficient and working at a distance with the client became so much simpler.
Best thing about Planable is allowing collaborators to view and approve posts.
I like how easily I can communicate with my contact to get the content posted. It's easy and simple; that is the thing that is most appealing — it does not take a lot of my time.
Founder and Director @The Marketing Plug
The approval process is seamless. The timeline visuals are great. The user interface is intuitive and easy to use. Before I started using Planable, my social media management was a fire hazard, waiting to happen. It was difficult to get timely feedback from the clients. Now my team and my clients are so much happier. It gives my agency a very professional process flow. Clients can see exactly how their social media posts will appear. Feedback is painless and seamless. Planable is the ultimate social media scheduling tool for agencies. It makes the approval process a breeze, and saves us HOURS of planning time.
Creative Designer @Concrete
Planable connects team members and clients. You can be in control of what the client can see. Planable made it all more organized and it's easy to use.
Marketing Manager, CEO @Cafe and Laptop
I was surprised most about how easy it is to use Planable. Before, we would use Google Sheets or Docs. I'd recommend Planable because it's very difficult for many clients in this industry to get content approved.
Graphic Designer @Fireside Agency
The best part about Planable is being able to mock up posts to see them as though they would be posted and then being able to comment on them. Now I can manage all the social media posts and get confirmation on them before they go out. Planable has been great in being able to help our team organize our social media management. It inspires us to keep going with our social media because we know that it will be easier to do with a management system that works.
Planable helps you optimize your working hours by managing the access on your social media platforms. Also, it gives access to the same information to multiple accounts. I started to optimize my working hours.
Communication Officer @SURF
You can alert colleagues in a efficient way with comments. Planable is a really fast tool and has an easy workflow. It's a great tool to collaborate with your social media colleagues.
Director Social Media @ A + UNO Estrategia Digital
Planable's option to see exactly what the post will look like makes it very easy to collaborate. I was surprised by how easy it is to use and it made my monthly planning so much easier. It made it so much simpler and it's so easy to collaborate. I always recommend it for people who are trying to get their social media organized. I could not imagine handling my current workload without Planable.
Founder @Creative Solutions
Client collaboration is the best thing in Planable — we can collaborate with clients through one spot. It's easy to use and it's been great.
Join thousands of marketers working from home with Planable. Get started for free.