Holiday Kit
If terrifying Halloween characters scare you less than planning the campaigns for the upcoming Holidays… you've come to the right place. We get it. That's why we put together the Holiday Marketing Kit to help you out. It includes super helpful resources for Halloween, Thanksgiving, Black Friday, Cyber Monday, Christmas & New Year's Eve. Get yours now.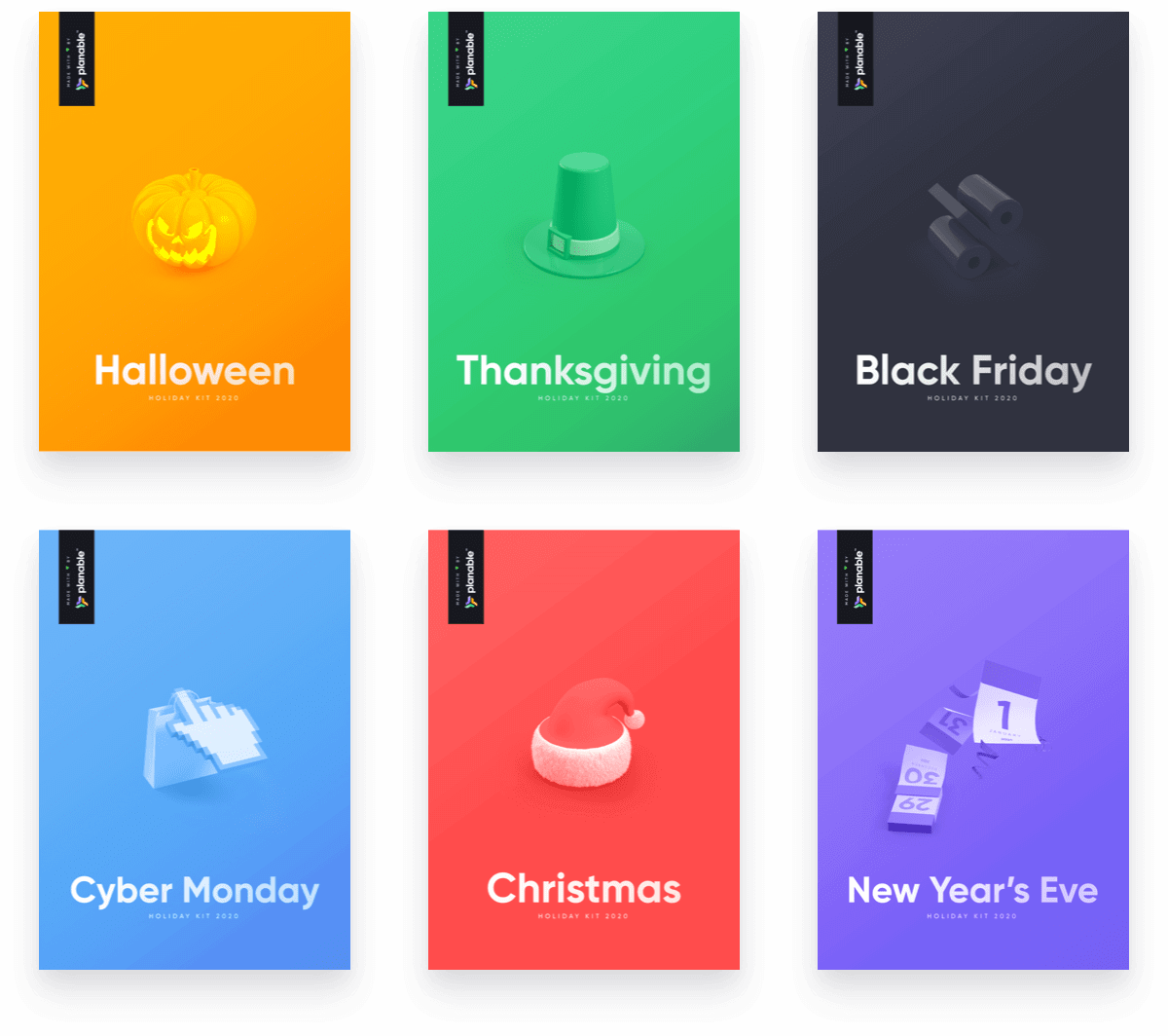 What's included
Each kit contains everything you need as a marketer to plan the perfect campaigns for this holiday season. Here's everything
you'll find in each one:
01
When, where, how, what to post
Infographics with the best time to post, best channels & formats, ideal campaign start for each holiday, image sizes, and the most relevant topics
02
Tools for productive marketing
teams
A list of hand-picked tools that will make marketers' lives easier when planning the holiday campaigns
03
Social media activation ideas
Fresh social media ideas to drive engagement and make new users fall in love with your brand
04
Best social media campaigns
A collection of brilliant campaigns from various brands to draw last-minute inspiration from
05
Instagram story background
designs
Holiday-themed backgrounds for Instagram stories that any marketer can personalize
06
Visuals to the
rescue
A curated Unsplash collection containing 30 drop-dead gorgeous images for each holiday
07
Post templates
Customizable post templates designed by marketers for marketers
08
#Hashtags
The most popular hashtags for each holiday to get more eyes on those Twitter & Instagram posts
09
Dos and don'ts
A comprehensive list of 10 dos and don'ts to ensure a successful holiday marketing campaign
Halloween Kit
The fact that Halloween is just around the corner is frightening enough. You don't need the extra pressure that comes with planning everything from scratch. From spooky Instagram story background designs to all those bloody popular #hashtags, we got your back. Download our marketing kit and we promise you'll have enough time to enjoy your pumpkin spice latte.
Thanksgiving Kit
There's more to Thanksgiving than just posting pictures of family gatherings and perfectly roasted turkeys. We'll help you out with some fresh out the oven visuals sprinkled with delicious social media activation ideas. Can't you already picture your engagement rates going through the roof? Get your free copy of our marketing kit and thank us later.
Black Friday Kit
Fortunately, there's no need to reinvent the wheel — this Black Friday kit brings you inspiring examples of successful marketing campaigns. Discover all the resources we've compiled for you. And no, you don't have to buy something to get this kit for free. Nor is it 90% off. We believe everyone should have access to free assets. Now let's make your brand stand out.
Cyber Monday Kit
Some people call it Blue Monday, after blue hyperlinks. We think it's 'cause this holiday can make marketers feel blue, especially if they're not using the right planning tools. Don't worry, our Cyber Monday kit was designed to help you come through this challenge with flying colors. Learn when, where, how, and what to post for the upcoming Cyber Monday to get those virtual carts filled up faster than you can say "discount".
Christmas Kit
'Tis the season to add magical copy and festive designs to your marketing campaign. Some candy canes, a Christmas tree, eggnog, elves, and family. Weird combination? To avoid answering this question, we'll turn your attention to our Christmas kit. Did we mention it also includes a comprehensive list of does and don'ts to help you out? It's great. Jingle-all-the-way great.
New Year's Eve Kit
Our resolution for the new year was to help more marketing teams collaborate efficiently & save time. That, and sticking to a workout routine. Yea…so this NYE kit also contains customizable post templates to help marketers get more done, faster. From tips & tricks to eye-catching designs, this kit will help you get the social media party started. Now's the time to get your free copy. Really, right now. In 3… 2… 1…