With one billion active monthly Instagram users and 83% of these using it to discover new products/services, selling on Instagram is a no-brainer for small business owners wanting to boost sales from their Instagram marketing strategy.
Instagram users who love to shop, combined with one-tap buying features, equals a match made in heaven for attracting potential customers.
If you sell physical goods and want to know how to sell on Instagram, this blog post covers everything you need to get those Instagram sales rolling in.
What is Instagram shopping?
Instagram shopping lets you showcase products via an online store that sits within your existing Instagram account.
With Instagram shoppable posts, you're serving potential customers natively on the app, so they're more likely to convert to customers.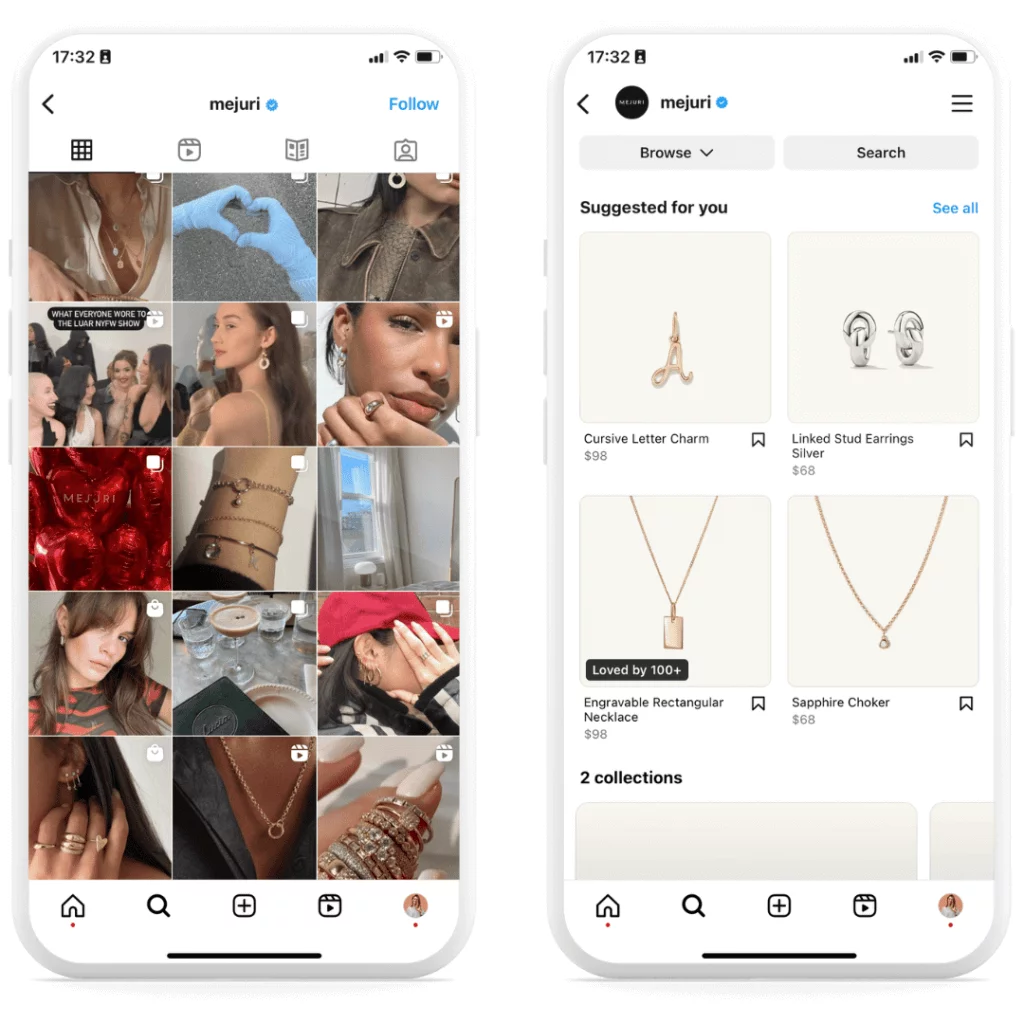 So, how does Instagram shopping work?
Shop
Followers can view your shop from your Instagram bio or the Shop tab.
This is your virtual shop front, which can be customized to suit your brand colors and entice followers to browse through your product catalog, collections, and special offers.
Collections
Group products into different categories to make it easier for your audience to find what they're looking for at a quick glance.
These can also be named with a unique cover image to help them stand out even more.
Product detail pages
Add the little details, product specs, and pricing about a specific item in your product catalog here to answer any questions your potential customers may have.
Instagram checkout
Customers can checkout directly from your Instagram account, rather than your website (only available in the US right now) to provide a seamless buying experience.
Product tags
If you're wondering how to sell on Instagram, product tags are the answer!
They encourage your target audience to click on shoppable posts and view the product via a clickable shopping bag icon within the post.
You can create shoppable posts by adding product tags to feed posts, stories, Reels, and ad campaigns to drive sales.
Product launches
A business account with checkout on Instagram (US only) can share details of an upcoming launch/preview with tools such as countdowns and reminders.
Use these as a call to action to remind people to buy as soon as the product's available.
Why sell on Instagram?
81% of users say they use Instagram to find out more about products/services (Meta) so it's a good idea to ensure your products are included in that consideration mix!
Build brand awareness
With social media platforms becoming more like search engines, there's a wealth of opportunity to use social media marketing tools such as Instagram shops to increase reach and attract new customers.
Make it easy for existing followers to buy whilst they're scrolling the feed and entice new customers from their explore page. It's a win: win.
Easy to buy
Your Instagram followers might not even know they need your product until it stops their scroll and catches their eye.
Create shoppable posts using product tags to make it super easy for them to buy in that very moment of desire. They'll do it because it doesn't take much effort to buy the thing straight from the post.
Create a visual shopping experience
Experiment with Instagram selling and use it to create a compelling visual experience for your target customer.
How can you do this? Weave a mix of storytelling, live demos, and user-generated content from customers and Instagram influencers into your Instagram profile.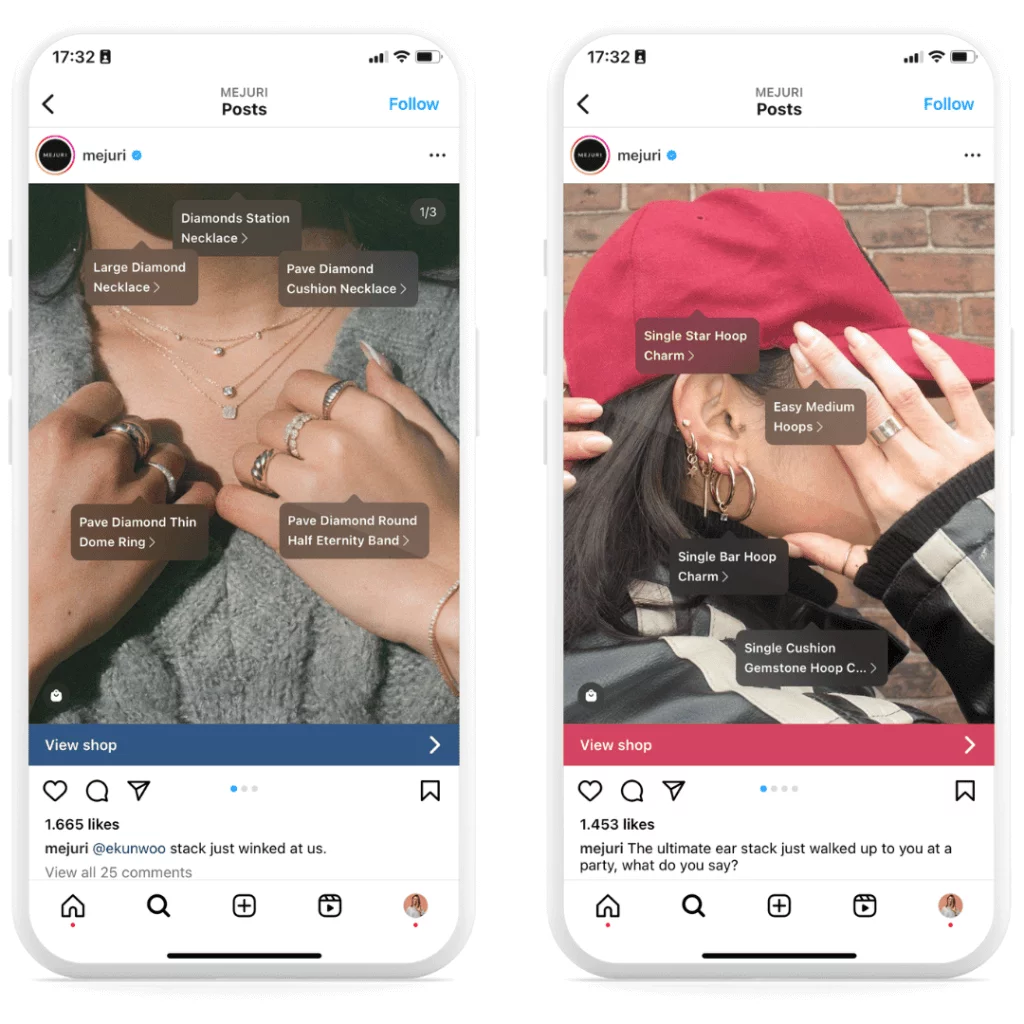 It creates a deeper connection with your community and increases your chances of getting found by other social media users via the explore page because of the variety of content shared.
How much does it cost to sell on Instagram?
Selling on Instagram is free (apart from a bit of setup time)!
An Instagram shop doesn't cost a penny. The only time you'll need to pay is if you choose to run Instagram ad campaigns to drive sales to it.
How to sell on Instagram: the requirements
Here's everything you need to know about selling from your Instagram business account:
1. Eligibility requirements
Before you start selling from your Instagram or Facebook page, Meta wants to ensure you meet the following requirements:
Comply with their policies.
Own your domain where products are purchased from (your website).
Show trustworthiness and provide accurate information.
2. Website domain
Before you can start selling, you'll need your website domain so that customers can complete the purchase on a product listing that sits on your website. This needs to be verified before you can proceed.
3. Instagram business profile
To unlock Instagram shopping, check you have an Instagram business account or creator account before you connect it to your Facebook Page.
4. Business Manager account
Business Manager is a central place that houses your Instagram Shop, Pages, Ads, and permissions for people working on all or any of these.
You'll need a Business Manager account to set up Instagram shopping in Facebook Commerce Manager which sits inside it.
This is also where you make all the "back end" changes to your Instagram shop, such as adding your product catalog, listings, descriptions, collections, and special offers.
5. Onboarding
There are 3 ways to add a shop to your Instagram profile: create it in Commerce manager, directly within the Instagram app, or via a supported third-party platform using step-by-step instructions to guide you through the process.
6. Checkout Method
How will customers complete the purchase? This is likely to be via product stickers or tags on shoppable posts that take them straight to your website. Or with the Instagram checkout feature if you're in the U.S.
7. Sales Channels
Next, choose whether you want your shop on Instagram, Facebook, or both.
A view shop tab will be displayed at the top of your Instagram bio and Facebook page so it's easily accessible and visible to anyone who lands on your profile.
8. Product Catalog
There are 2 ways to add a product catalog to your Instagram shop.
The first one is to manually add each item individually through Facebook Business Manager, and the second is to use a third-party e-commerce partner to upload it automatically for you.
Once you're happy with the way your shop looks, it's time to submit it to Instagram to review!
How to sell products on Instagram
Ready to make more sales from your Instagram business profile? Time to learn how the Instagram platform helps you create a range of shoppable posts to get your followers to buy from you.
Use shoppable Instagram posts
An easy way to turn followers into buyers whilst they're scrolling through their Instagram feed is with shoppable posts.
Create these by tagging products (from your Facebook catalog) in feed posts, Instagram stories, Reels, Lives, and photo ads.
When you tag products, a little shopping bag icon appears on the bottom left of the Instagram post.
Once a potential customer taps the icon, a description pops up and takes them straight to the product listing where they can find out more info and more importantly, make the purchase straight away.
Here's an example of what a product tag looks like: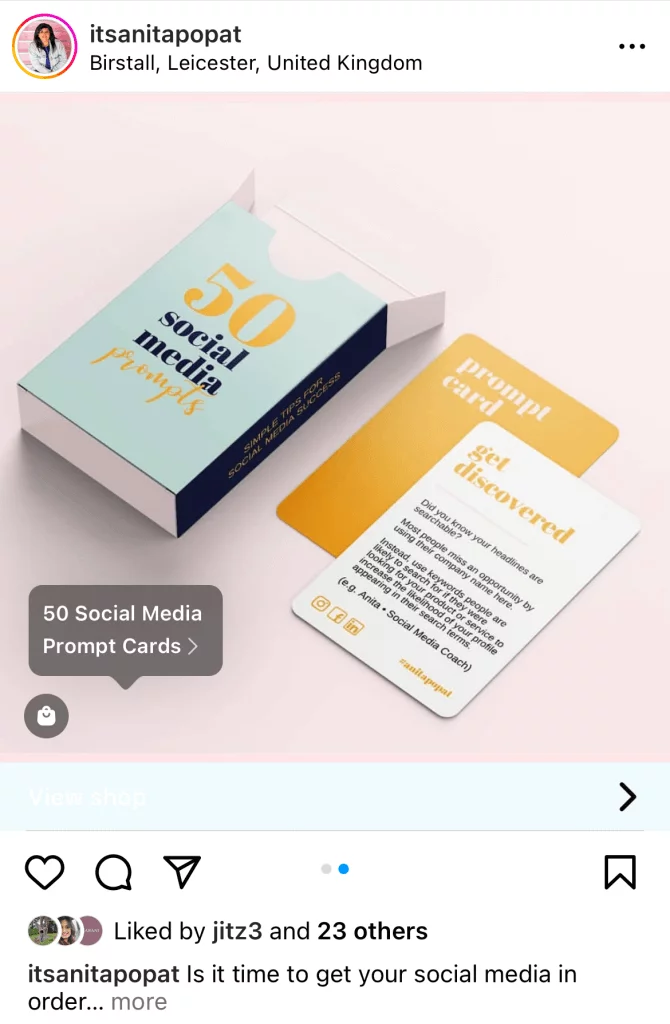 Sell products through Instagram DMs
Direct messages are a great opportunity to sell on Instagram because you're already in conversation with potential customers, so they're essentially warm leads you can sell to.
Another way to sell in here is to ask people to send you DMs on Instagram if they want to buy in your feed posts.
Publish product collections
Collections let you group products together within your shop.
If you have a large range of products on offer, it's worth creating collections to make it easier for potential customers to find what they're looking for at a glance.
Each collection is given a name, short description, and cover image to help it stand out in your Instagram shop.
You could differentiate by seasons, recipients, age, characteristics, color…whatever makes sense for you!
Here's an example of seasonal product collections from Nike's Instagram shop: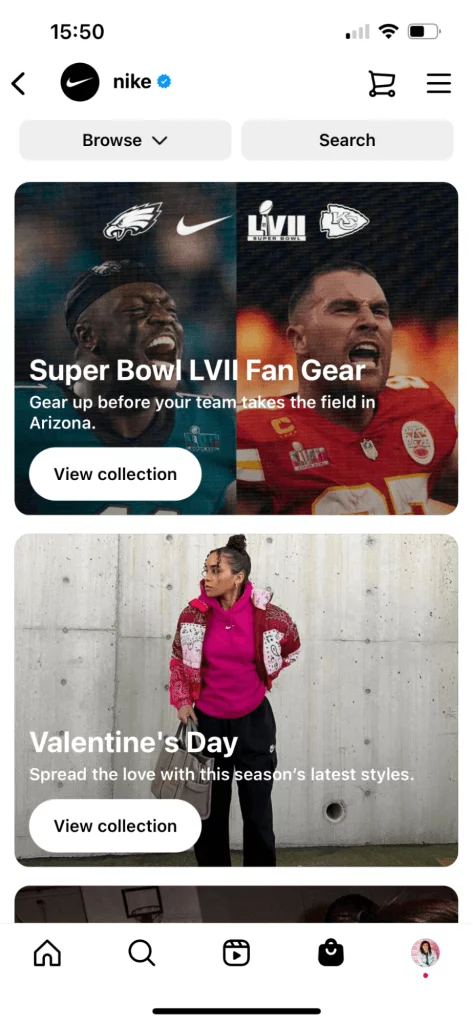 Try Instagram live shopping
Create your very own Instagram shopping channel, tag products, and engage your audience in real-time during Live shopping (available in the US only).
It's a brilliant way to answer questions, get feedback from your community and make sales from your Instagram account whilst they're watching you.
Run Instagram ads
Instagram ads are created in the ads manager to get your profile in front of potential customers who are more likely to buy from you.
You can create ads using existing posts or design new ones in the format of a feed post, story, or Reel with product tags in them.
Do a Product Launch
Want to create some buzz in the run-up to a launch?
Product launch tools (available in the US) help you build anticipation in the lead-up to a drop (another word for launch) with various native tools to get your audience excited.
Features such as countdown stickers, reminders, and product launch tags keep you in front of your audience's mind, act as reminders and help you build a waitlist of customers ready to buy once your product is available.
A great way to tap into FOMO, build some exclusivity, and a strong desire to buy before your product even hits the market!
Promotional offers
Got a sale or special offer? Let your followers know!
Head to the Commerce Manager to create an offer that's visible in your Instagram shop so customers don't miss out.
Examples of offers include an amount off, free shipping, and buy A get B.
These are automatically applied at the checkout so there's no need for you to do anything other than watch the sales coming in and turn them off when you're ready!
This is how the offers are displayed to Instagram users: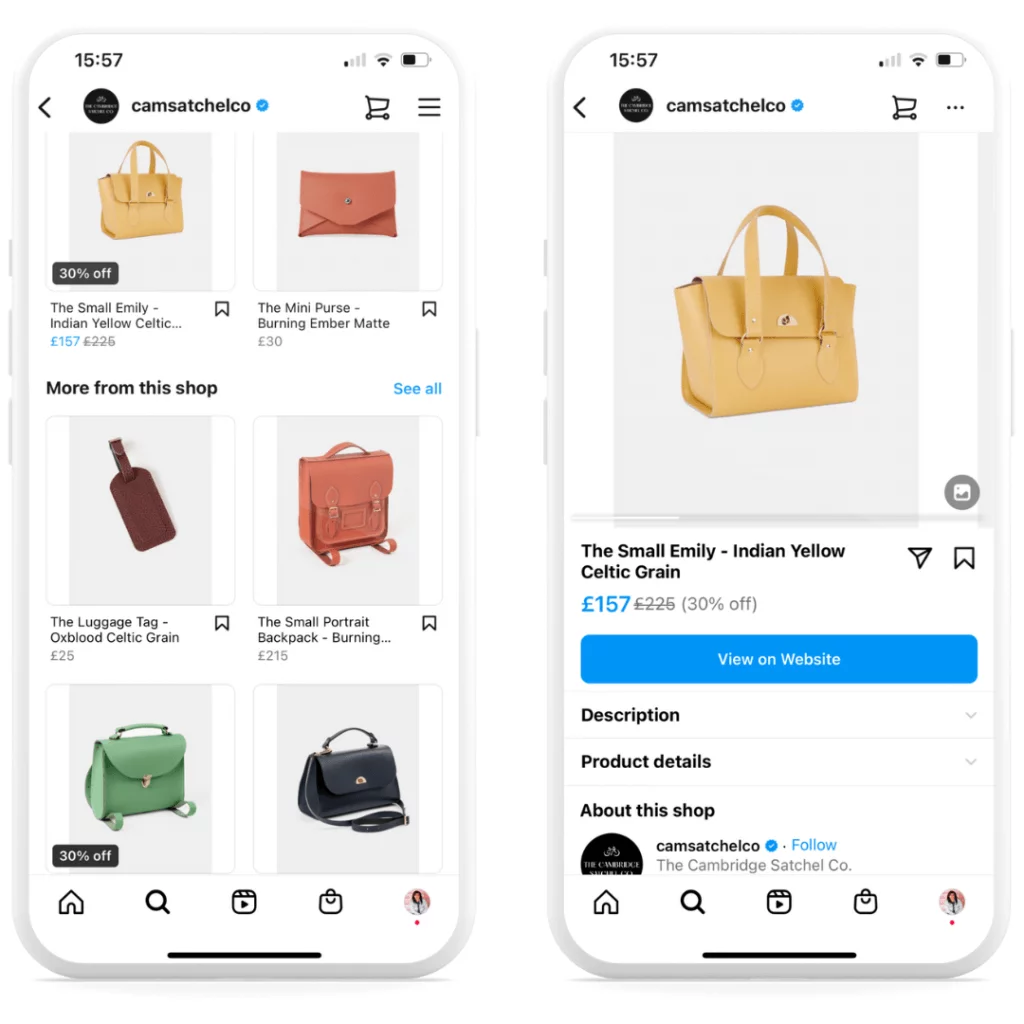 Leverage UGC
User-generated content is the most authentic form of content you'll get about your product.
When customers tag you, it's often in a raw and unedited image of your product "in action".
This type of content helps other people "who look like them" either become aware of your product or justify their decision to buy based on a recommendation from someone in their Instagram feed they can relate to.
If a customer posts a picture of your product and tags your brand, you can request to add the post to your Instagram shop via user generated content permissions in the app or in Commerce Manager.
It's a good idea to showcase these alongside more "polished" images because they almost act as reviews and people like to see something in use.
How many times have you bought something based on what someone else has said or shared?
GoPro's Instagram shop is a good example of this.
They make use of user-generated videos and photos alongside their product images brilliantly.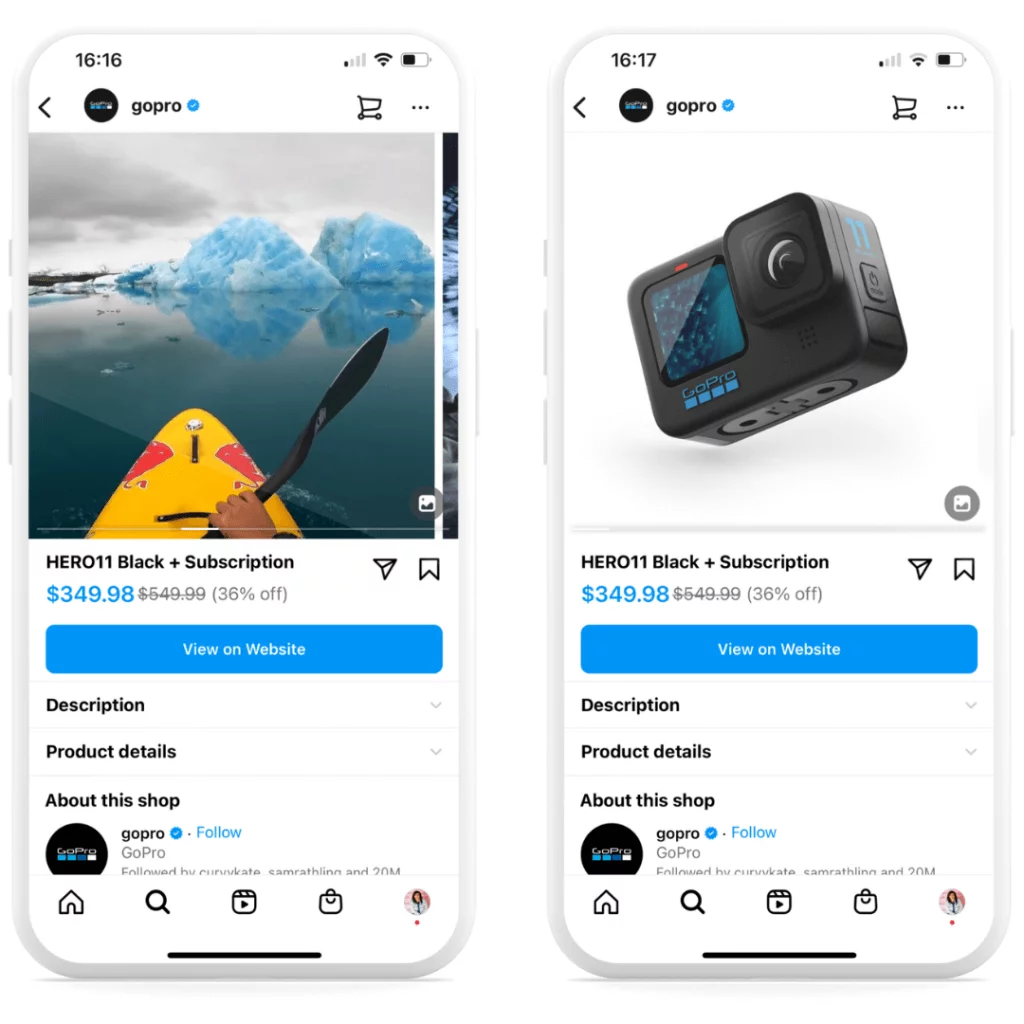 Analyze shop insights
A big advantage of having a business profile is the valuable information you get from your Instagram insights.
Take a look within Commerce Manager to see how your shop performs based on your goals.
You can use the information on trends and fluctuations in numbers to see whether collections, shoppable posts, or ad campaigns can be improved.
How to sell on Instagram FAQs
Do I need a License to sell on Instagram?
No, but make sure you comply with the eligibility criteria above.
Is it better to sell on Etsy or Instagram?
Instagram shops are integrated into your business profile, which means you have the bonus of nurturing your community and building relationships via your posts and Instagram stories daily.
Etsy misses this element and also charges a fee to showcase similar products alongside yours, making it harder to stand out amongst a sea of competition.
It's still a great place to sell alongside Instagram – worth testing.
How long does it take to get approved for shopping on Instagram?
Anywhere from a couple of hours to a couple of weeks.
Congrats, you're all set to go! Time to sell on Instagram!
I hope you're no longer wondering how to sell on Instagram and are excited about how Instagram shopping can help you grow your business.
Go forth. Don't forget to tag products and create shoppable posts within your Instagram page every time you mention something you sell!