NOTE: You can now officially schedule your Google My Business posts with our integration! Check it out for yourself – it's free.
Google My Business (renamed Google Business Profile in November 2021) is one of the most popular free social media platforms for local businesses.
Unlike major multinational corporations and e-commerce giants, who have to compete over the first page of Google, local businesses have the advantage of attracting customers from around the block. Let's dive deeper into how to use Google My Business as a social media platform and how to use a Google My Business scheduler to your advantage.
Why is Google My Business important for your business?
Google My Business is an online service that allows businesses to manage their online presence across Google services. Think of it as a sort of business card, but digital and containing actual useful information about your business, like: 
Name

Contact information

Location

Industry

Rating
As a business owner, it's in your best interest to control what information is displayed on the Internet. With the help of Google My Business tools you get to put your company on the map. 
Google My Business is a free service/platform that you can leverage for your business to:
increase your business's visibility 

attract more local customers

collect reviews & ratings

bring more traffic to your website/page.
Can you schedule posts on Google My Business? 
Yes, with Planable, a GMB post scheduler that lets you plan content ahead of time. 
Here's how to schedule Google My Business events and offers:
Connect your Google My Business profile to Planable.
Click the Compose button and select the Google My Business tab.

Write your post, adding an offer, event or a CTA button.

4. Click Select Date and Time to schedule your Google My Business post.

To publish Google My Business posts, your page needs to be verified. You can find more information here.
Planable is a social media collaboration tool that allows teams to plan and execute their social media campaigns. 
What's so special about that? I'm glad you asked. 
All your content is one neatly organized, visually pleasing place. 

Preview your precious content as it would appear on the feed. ™ 

Real-time feedback exchange with your teams and stakeholders. Get your point across by strategic use of emojis and tagging. 

YOU decide how your feed looks – feed view, calendar view, the world's your oyster. Feed view will help you scroll through posts as you were in the wild, on social media, while the calendar view will allow you to visualize your entire campaign in a matter of seconds.

width="900″ height="450″>

Special roles and permissions for teammates, clients, stakeholders to avoid any confusion and mistakes.

Approvals are one click away. And I mean one. 

Schedule all your content: LinkedIn, Instagram, Facebook, Twitter, Youtube, TikTok, Pinterest, and Google My Business. Yes, you read that right.
So that pretty much covers the topic of how to schedule posts on Google my Business. 
How does Google My Business work?
Setting up your Google My Business listing is simpler than you might think:
1. Before setting up your GMB profile, make sure to create a business account or log into your existing Google Account.
2. Find your listing. Even if you haven't actually created one, chances are, one already exists. In that case, you'll need to claim ownership of the listing. To find out if a listing already exists, type the following combinations on Google:  Your business address/phone number OR Business name + city.
If you didn't find your listing, go directly to step 3. 
3. The next step is to head to the Google My Business page and fill out all the required information. TIP: if you don't have a storefront and deliver directly to customers, you can hide your address and add a delivery area. 
With all that done, it's time to verify your listing. Google offers several different options in this regard:
Email
Phone
Instant verification.

Instant Verification is not available for all types of businesses, Google does not explicitly say which categories are allowed instant verification.

Postcard.

Yes, an actual physical postcard. 
This process can take up to two weeks. Once you receive the verification code, simply type the code into your account, click the verification link, and Voila! you're officially part of the cool kids group.
Google My Business features 
Now that we've established why it's a good idea to create a Google My Business profile, let's briefly go over some of its main features.
Category and description 
Let's start with the category and description.
Your category is probably the most crucial factor in terms of ranking on local searches, for obvious reasons. It basically helps Google understand the core of your business to push it whenever someone searches for that particular keyword. 
As for the description, although it doesn't have an impact on your rankings, it's still a good idea to write something that will make your brand stand out. You can leverage Google trends API to understand what's trending in the market, but don't resort to keyword stuffing and providing misleading information also – Google will strike your listing with the force of 100 hurricanes. Make sure to read Google's Guidelines before writing your description.
Google Local Pack & Knowledge Panel 
You know those things that you use every day but don't know have actual names? Like the bits of plastic at the end of your shoelaces (aglets)? Or that plastic contraption placed on the middle of the pizza (pizza saver)? That's basically the Google Local Pack and the Knowledge Panel. Look me in the eye and tell me you knew what they were called. I'll be waiting.
Anyway:
Google Local Pack.

This is a SERP feature that lists three businesses whenever a user runs a localized search. You really, really want to be part of that pack.

Knowledge Panel. This is the information box that appears on the top-right of search results – or the near top on mobile – when someone searches for your business. It's called the "Knowledge Panel" because it displays key information such as address, business hours, website, phone number, link to directions, and other relevant information.
Attributes
Now, this one's a little more technical, so bear with me.
Attributes encompass the bits of information that Google collects and displays about your business. They can take the form of either statements or phrases that Google displays to help searchers and Google Maps users make informed decisions. 
There are two types of attributes:
Factual attributes

. These are incontestable pieces of information that no amount of scathing reviews can change (ex: "wheelchair accessible"). You can set these yourself in Settings, and the attributes will be determined according to your business category.

Subjective attributes. This isn't what your business is, rather what your business is known for. Basically, your reputation. These are extracted from Google Maps users, who are asked via the app which attributes apply to the business. Other than actually being the thing that they're asked about, there's no way to change this. So if you're yearning after that "goth-friendly" attribute, you'd better play some Chelsea Wolfe in your esteemed establishment.
Suggest an edit 
This is simply a system meant to protect users from businesses that are trying to game the system by filling their names with keywords. Some businesses resort to keyword stuffing to get a temporary boost to local rankings related to those searches.
With these features, Google encourages people to call out the SEO jackals who are filling their listings with keywords that are not necessarily representative of reality. While this isn't one of those features that businesses can directly benefit from, it does prevent honest businesses from being buried in search rankings by establishments that resort to, let's say, "less scrupulous" SEO tactics.
Q&A 
Q&A's are a vital, often untapped opportunity for businesses to engage directly with their customers. It can also pose a significant risk to your brand if it's not managed correctly for obvious reasons such as seeming unprofessional, closed, or simply a business that's not customer-focused. To make those risks worse, the Q&A section is placed in a very prominent spot, near reviews. All it takes for your business to suffer a colossal reputation blow is a cocktail of bad reviews and an improperly managed Q&A section. 
If your customers simply don't ask the right questions, you can create your own FAQ section. 
One last thing: make sure to answer all customer questions. Because if you don't do that, Jeff from across the street will. And you don't want Jeff to do that. *shivers*
Insights
Last but not least, insights. Now, Google My Business may not be as well, insightful or comprehensive as Google Analytics. Still, it's more than enough for small business owners who don't feel like becoming data geeks. The analytics offered are as follows:
How customers search for your business

How they interact with your listing 

What queries they use to find your business

Engagement

A profile of your audience

The number of website clicks, phone calls, and direction queries.

The number of views your profile, photos, and posts receives.
How to optimize Google My Business app
With that out of the way, let's talk about some optimization tips and best practices to attract more customers via your newly created Google My Business listing.
Make sure you fill out your whole profile
This might seem like a no-brainer, but you'd be surprised how many businesses skip  this. The idea here is to give Google as much information about your business as possible – again, without being misleading. 
This begs the question: does Google My Business help SEO? Everything I mentioned above will make it easier for Google to match your business to customer searches. This, in turn, will naturally improve your search rankings. 
It might be a good idea to use a dedicated tool to find the relevant keywords related to your business – like Google Trends. For keyword inspiration, you can run a localized search via Google Trends. For instance, if you run a record shop, look up "vinyl" or "vinyl records" or whatever you deem relevant and add those keywords to your description.
Post regular news and updates 
Don't let Yelp, Tripadvisor, and other review sites shape your online presence. Get the upper hand and make it so that they get all the information straight from the source whenever somebody searches your business. That source being you, of course. 
There's nothing more frustrating than physically going to a store and finding out it's closed  – especially now, with the whole pandemic thing shaping up literally every aspect of our daily lives. So, make sure to post regular updates about your business hours and any tiny change. 
As for the posts themselves, they can include either photos, text, or videos.
Now, mind you, Google my Business posts work a bit differently than on your regular social media platform. These are five types of posts, which I'll detail below:
Events.

This is quite self-explanatory  – it allows you to promote an event at your business. For this, you'll need to set a title, start and end dates, and a time. If the author doesn't set a start or end times, "the system will default to 24 hours on the date it's posted",

according to Google

. 

Offers.

Allows businesses to provide promotional sales or offers. What's important to note here is that offers appear at the top of the GMB profile on Google Search and Maps, as well as with other posts in the "Update" tab. 

What's New.

General information about your business. Owners can include a photo, a video, a description and an Action button. 

Products.

Product posts can be used to add products. These will appear in your Product Tab. 

Hours update.

If you update your hours or reopen your business, customers who visit your business will find a message confirming the change. Google will also automatically generate a post confirming the change.
Use eye-catching photos
The reason here is simple – if you don't have any photos, people will have a more challenging time recognizing your brand online. 
Similar to other platforms, Google My Business users can add a logo and a cover photo. It's a good idea to go the extra mile and show off your location, products, as well as snapshots of day-to-day activities at your business. Are you running a record shop (sorry, I really love records)? Post a few pictures of your rarest vinyl. 
Before doing that, make sure to follow Google My Business post image size guidelines: 
Format: JPG or PNG.
Size: Between 10 KB and 5 MB.
Recommended resolution:  720 px tall, 720 px wide.
Minimum resolution:  250 px tall, 250 px wide.
Quality: Photos must be focused and well lit, with no excessive filters applied.
Reviews. DON'T forget about reviews 
Whether we like it or not, people will always be willing to trust other people more than a business. It goes without saying that a useful review can mean the difference between a customer choosing your business and them going to the competition.
That doesn't mean you can't leverage this to your advantage, tho. If you're absolutely sure your customers had a great experience, it's good practice to encourage your customers to leave reviews. You can do this either in person – whenever possible, for obvious reasons – or through an electronic receipt. 
The cool thing is that Google provides businesses access to a free marketing kit that includes stickers, posters (yes, physical posters, remember them?), and social posts. This way, you can do a little bit of that brand awareness thing, too, while asking for reviews. Talk about hitting two birds with one stone. 
Also: try to respond to as many reviews as possible, even the negative ones.
How can I manage my Google My Business account with my team? 
Hey, what do you know? We got you covered here too!
Planable offers a shared workspace where teams, clients, and stakeholders can collaborate in real-time. Leave comments and feedback right next to the post, where everybody can jump in and share their thoughts. Set multiple levels of approvals. On Facebook, Twitter, Linkedin, Instagram, YouTube and TikTok.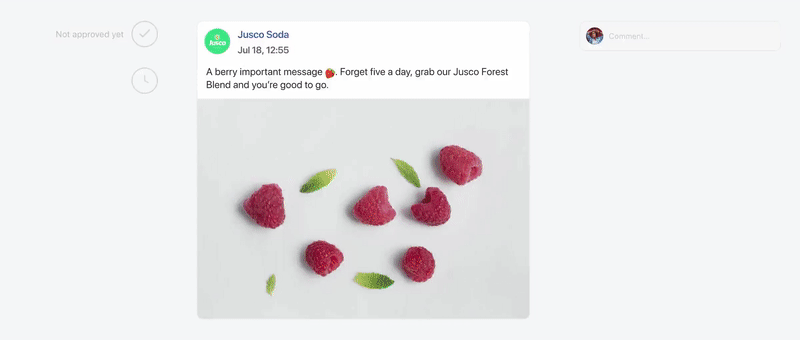 What does all this have to do with Google My Business? Well, we have officially launched Google My Business integration, so you can now try it out for yourself.
Let your business be the first one to try out our fancy new integration. 


Till next time.