Looking for perfect Coschedule alternatives and feeling lost in options? You and many other social marketers, too. The market is full of social media automation tools, each somewhat different. Luckily, I dug into the topic, so you don't have to!
In this article, find seven top-notch Coschedule alternatives suitable for any team, budget, and goal.
Why do you need a Coschedule alternative?
Coschedule is a neat and straightforward marketing tool that helps teams streamline their content marketing efforts. At its heart, Coschedule is a marketing calendar with additional project management features and collaboration tools.
The core idea of this tool is to ditch the spreadsheets and gather all marketing assets and tasks together in one place. Besides neat planning, one of the most beloved features of Coschedule is ReQueue which helps automatically schedule posts in content gaps and, therefore, allows for evergreen content recycling.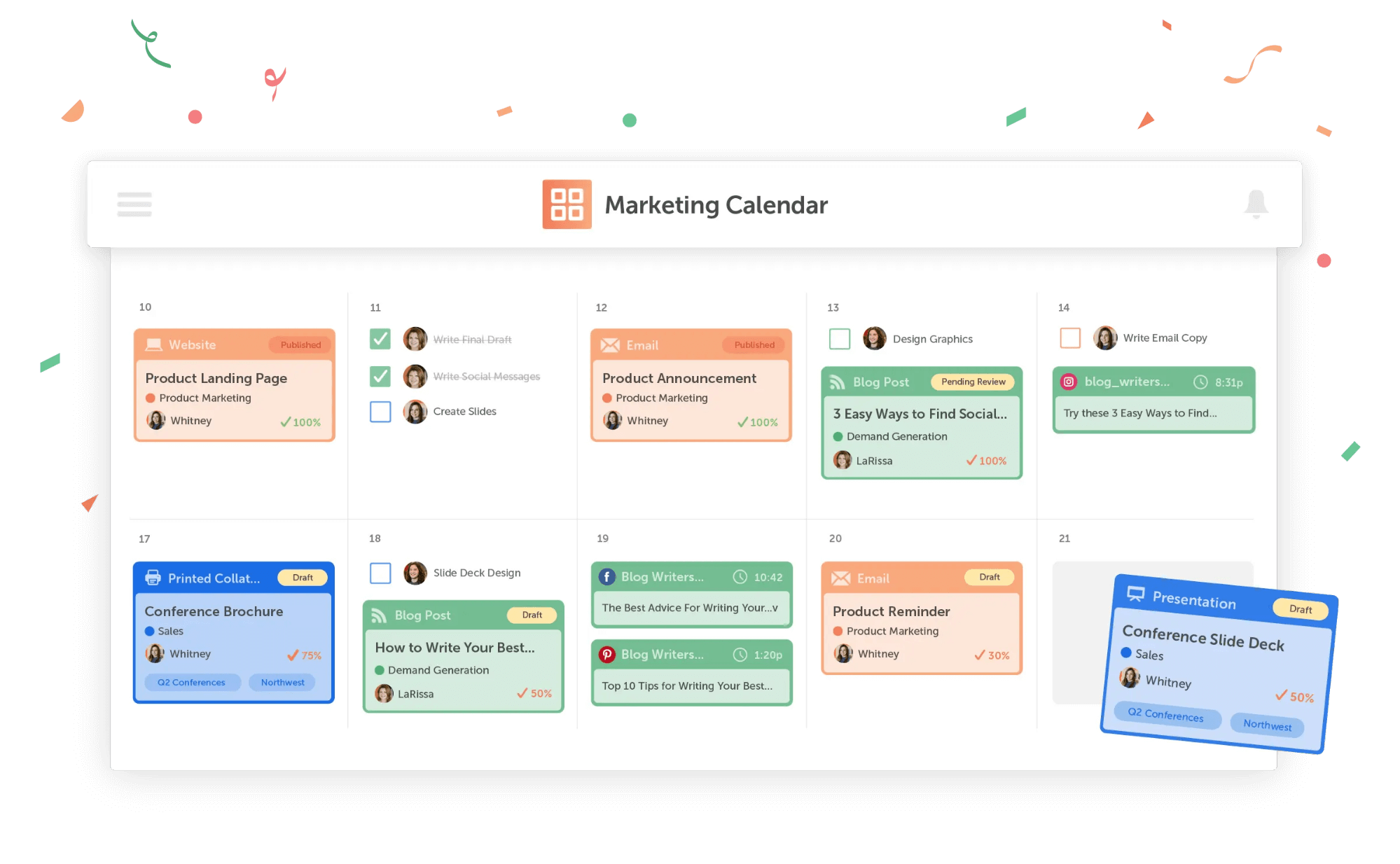 Coschedule supports Facebook, Instagram, Linkedin, and Pinterest. Besides, it has integrations with MailChimp, Campaign Manager, WordPress, Hubspot, and other platforms. Teams can create written content in Coschedule and schedule it to go live.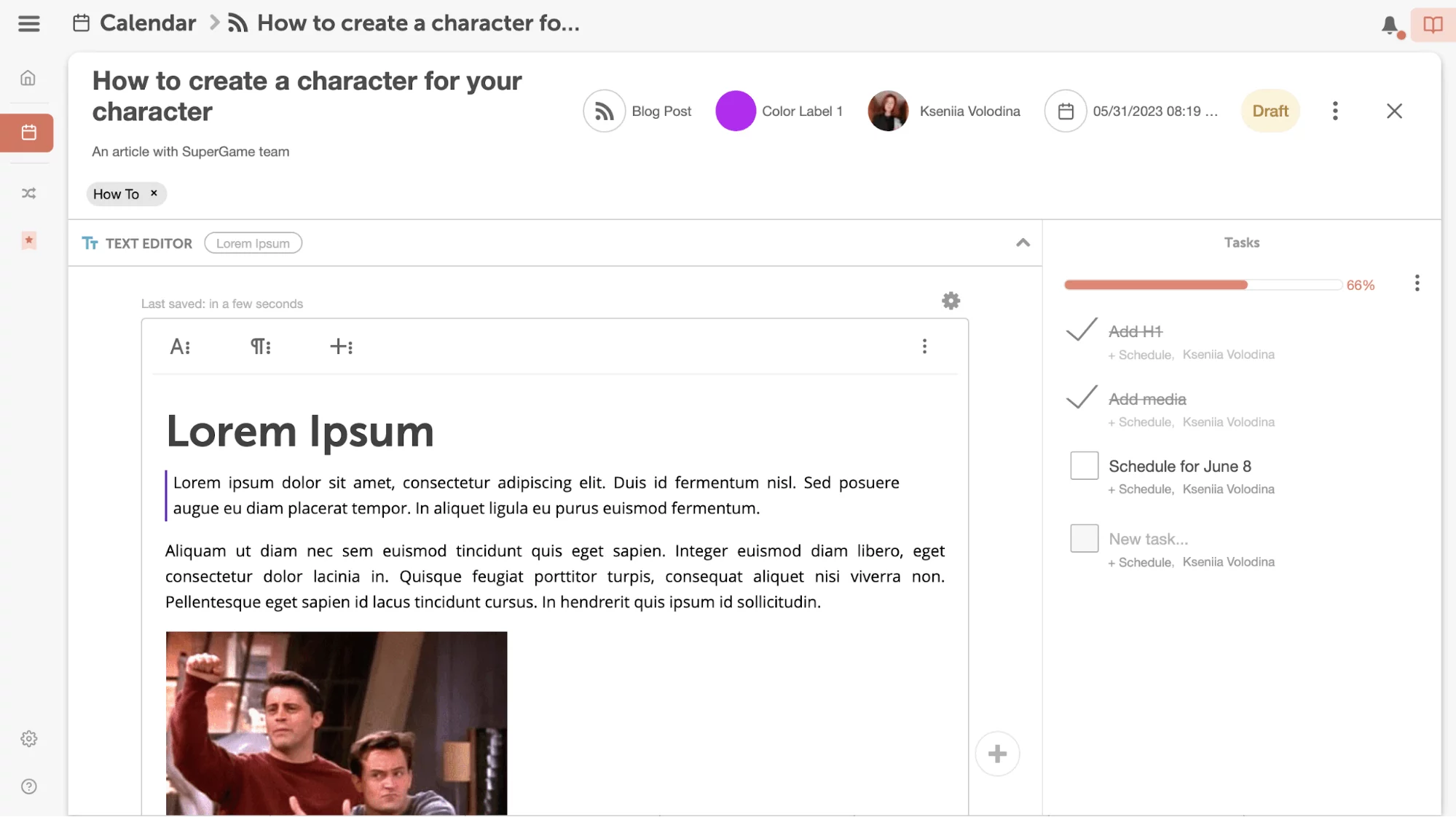 However, as a social media management platform, Coschedule may be too basic for bigger marketing teams. So if you're looking for a tool beyond a calendar, consider Coschedule alternatives.
Here's why social media managers should consider a Coschedule alternative in 2023
No TikTok support: brands use TikTok as a part of their social media portfolio, which is a severe drawback for many.
No analytics in Marketing Calendar: social campaign analytics are only available in Coschedule Marketing Suite — a bigger project management tool with an on-demand price.
Limited collaboration features: Coschedule only provides essential collab tools like discussions and read-only mode in its paid version.
1. Planable: best social media management tool for collaboration & approval
Among the social media management tools, Planable is one of the most collaborative and flexible when it comes to a team up. The tool allows marketing teams to plan, collaborate, and approve any written content, be it social media posts, blogs, or emails.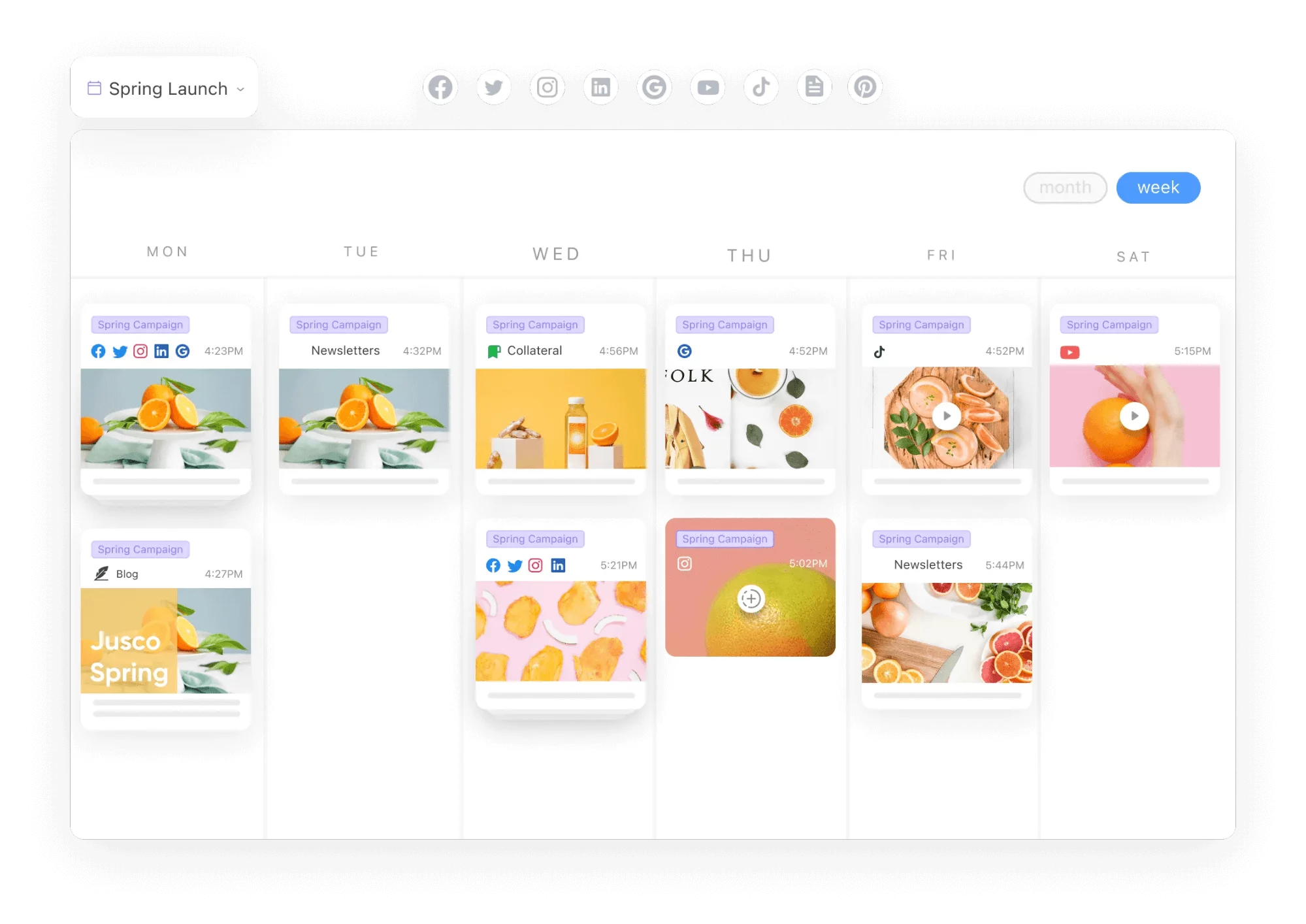 Planable has all the features of the classic scheduling tool plus an A-grade team collaboration. You can schedule posts for all major social media platforms, leverage the media library, and keep your content calendar crystal clear — all while working shoulder-to-shoulder with your teammates as if you were sitting right next to each other.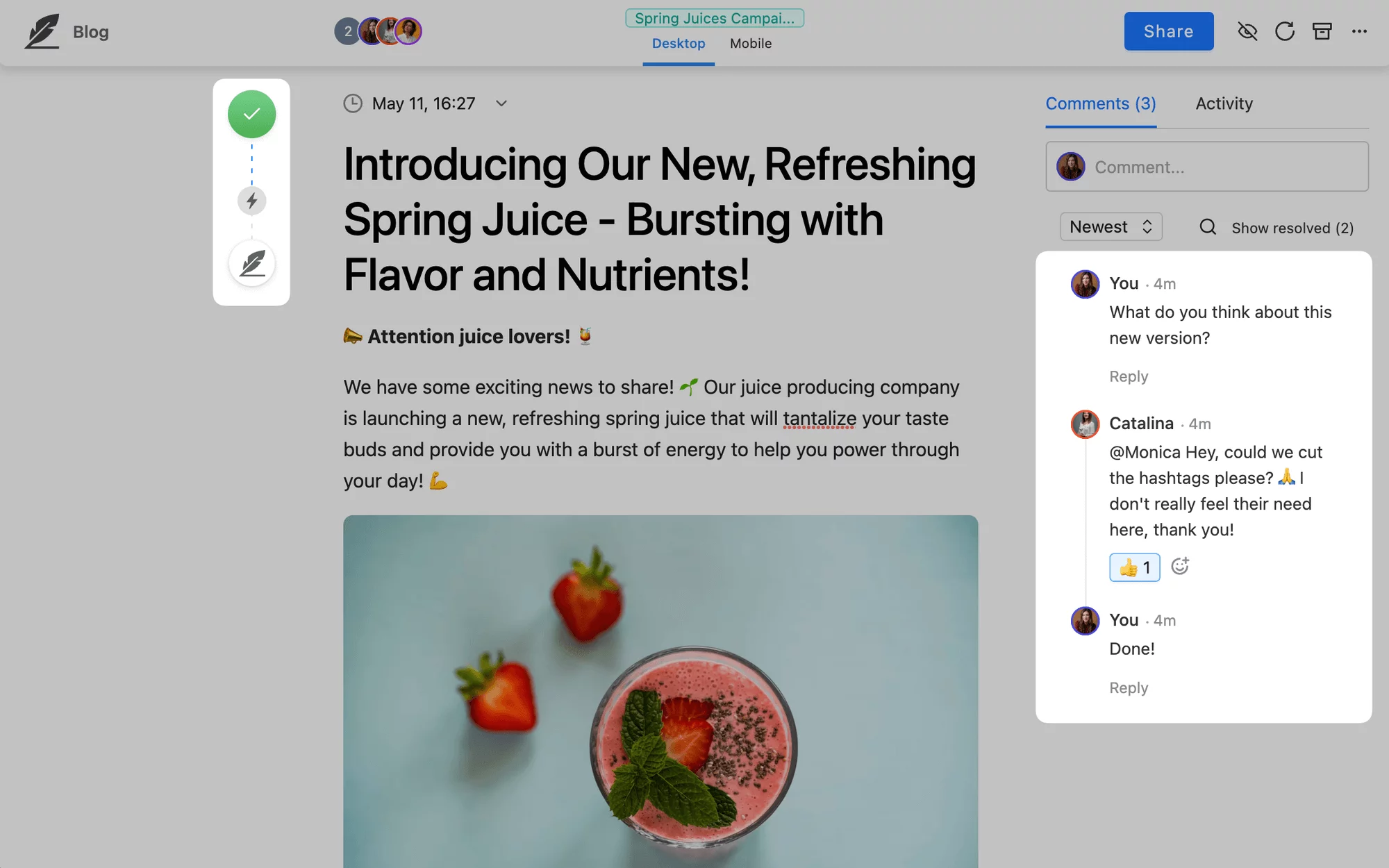 Marketers love Planable for many reasons, including:
Vast collaboration features like internal and external notes, real-time content creation and detailed feedback, and external links for sharing.
Customizable approval workflows to keep all important people in the loop, whether it's higher-ups, other teams, or clients.
A social media calendar with a drag-and-drop editor has four views: calendar, feed, grid, and list. A great way to give your social media strategy a good look.
Planable's AI writing wingman helps teams recycle their content, spark creativity, make social media posts punchier, and generally create content with ease and joy.
Planable supports Facebook, Instagram, TikTok, Youtube, Twitter, LinkedIn, and Google My Business. The one downside of using Planable as a social media management tool is that the platform doesn't provide built-in analytics yet – this feature will launch soon, and you can already join the waitlist.
Planable vs. Coschedule
Unlike Coschedule, Planable supports social media posting to TikTok, YouTube, and GMB.
At Planable, all features are available right away, with 50 free posts and a basic upgrade after.
Planable has version history for all assets included in every plan, while Coschedule only has it in its Marketing Suite.
Both tools have content calendars and support multiple content formats, but Planable is more modern-looking.
Takeaway
If your focus is top-notch seamless collaboration, Planable is the best Coschedule alternative on the market. Try it with your team using 50 free posts — it'll only take you a moment to grow fond of it.
2. Hootsuite: best for full-cycle social media content creation
Hootsuite is one of the first tools for social media scheduling and tracking content marketing campaigns. It's a comprehensive platform where teams can manage multiple social media accounts from one dashboard.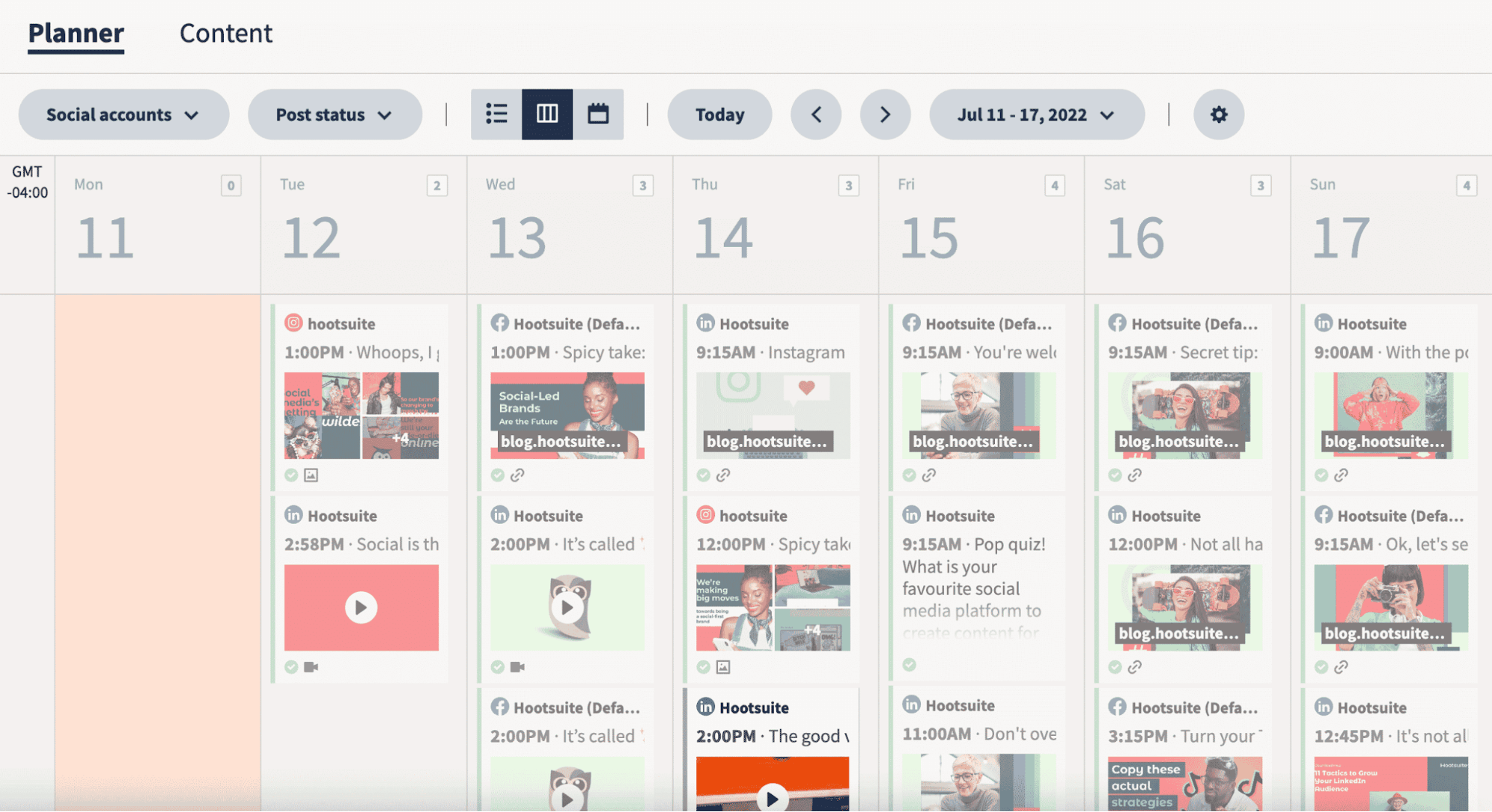 Social media marketers can create, schedule, and publish content on Instagram, Facebook, Twitter, Linkedin, Pinterest, TikTok, and YouTube. Among other key features are:
Automated social inbox for social media messages that helps marketers sort and manage requests and DMs faster.
Content inspiration and discovery streams allow you to monitor and implement trends in your social media campaigns.
Social media reports provide individual channel performance metrics or general results across all major social platforms.
A valid drawback of Hootsuite is its pricing: the cheapest plan costs $99/month, and the next one is $249/month. It's a dramatic budget change that not every team can justify.
Hootsuite vs. Coschedule
With a social media inbox, trend-watching, and an ideation bank, Hootsuite is more of a full-cycle social media management tool.
Hootsuite offers more detailed insights on social media metrics, including competitor analysis and side-by-side comparison for multiple networks.
Takeaway
Hootsuite is a time-proven all-in-one social media scheduling tool. It would suit teams looking for Coschedule alternatives with a more robust feature set. If you've already experimented with Hootsuite, delve into this comprehensive list of Hootsuite alternative tools that might better suit your needs.
3. Later: best for visual online marketers
Social media managers remember Later as an Instagram-oriented tool. Now, Later also supports Facebook, Linkedin, Twitter, Pinterest, TikTok, and YouTube and is one of the most beloved small businesses choices.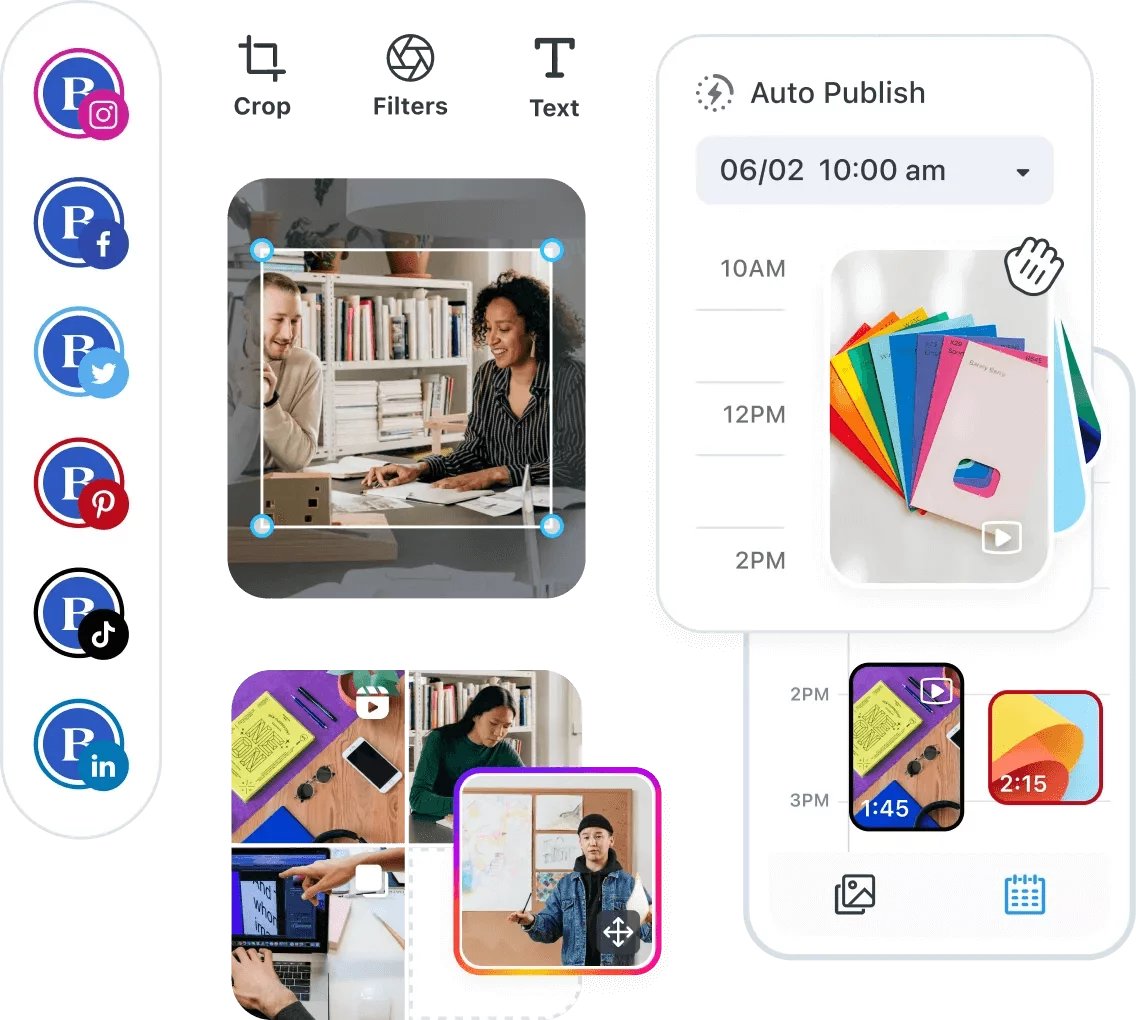 Recently, Later became a part of the influencer platform Mavrck. So besides content planning and scheduling, the platform now has features for creators and brand collaborations. So here's why social media marketers choose this tool:
An inbuilt image editor that helps content marketers optimize content for multiple platforms on the go.
Creators' database teams can browse to cherry-pick the best collab for a new social media campaign.
Smart suggestions like relevant hashtag ideas, trending user-generated content, best posting time, etc.
One of the drawbacks is that Later doesn't allow text-only posts, which can disadvantage less visual marketers. Its plans start at $18/month.
Later vs. Coschedule
Unlike Coschedule, which covers vast marketing tasks, Later is more social media-oriented.
Later is more visual than Coschedule: it has previews of scheduled media assets, which can benefit social media platforms like Instagram or TikTok.
Takeaway
Later is a Coschedule alternative for those prioritizing social media presence and aiming for more visual content. Bonus points if you're looking to give influencer marketing a try.
4. Buffer: best for organic growth and data fans
Buffer aims to reach the target audience through social media content in the most efficient way possible. It uses data to build a path toward organic growth to ensure your social media scheduling and marketing campaigns bring tangible results.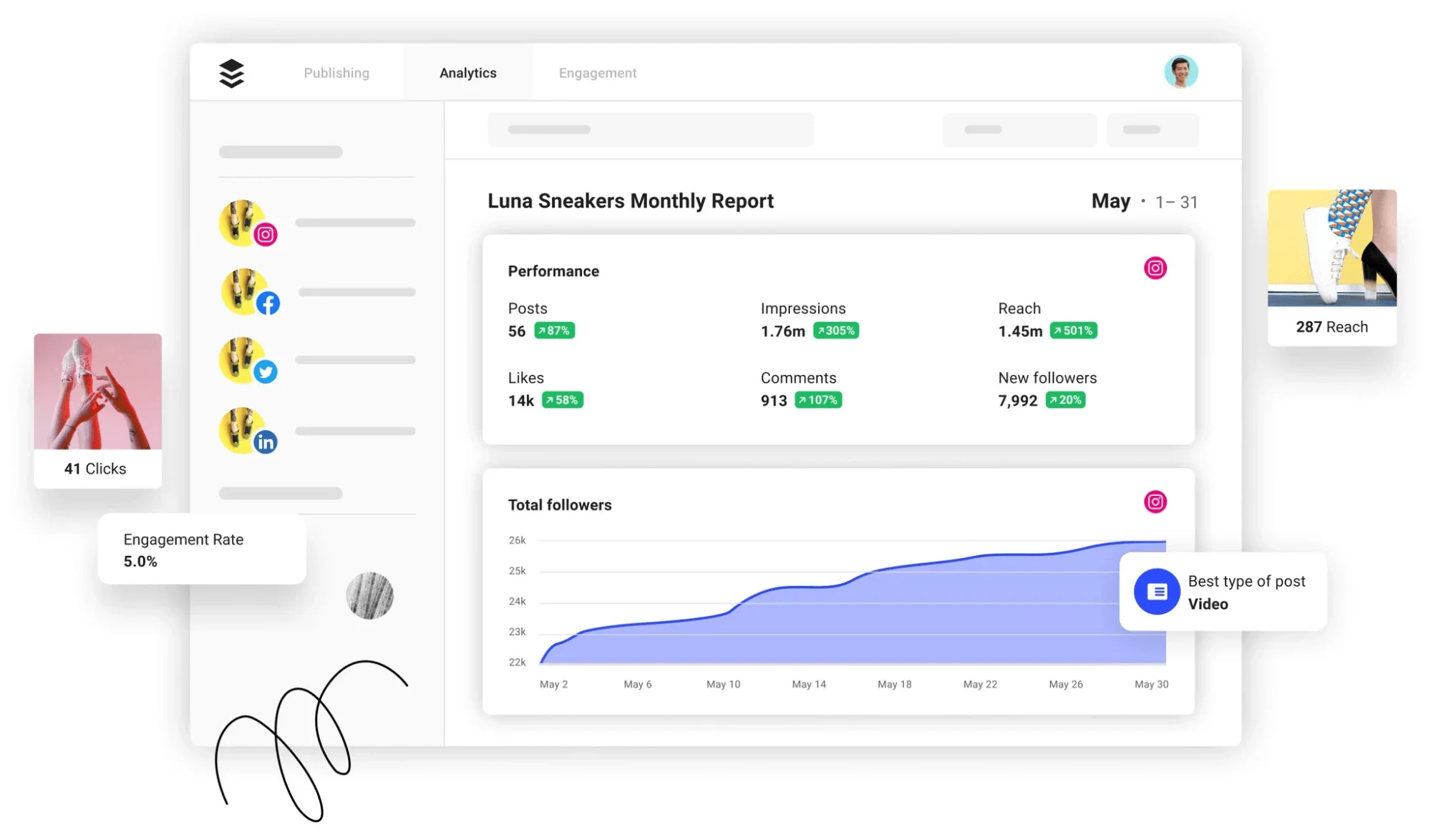 In terms of social accounts, Buffer supports Instagram, Facebook, Linkedin, TikTok, Google Business, Pinterest, Twitter, Mastodon, and Shopify. The latter is rare among social media tools, making Buffer a valid choice for eCommerce brands. Here are several key features:
Permission levels and approval workflows help distinguish creators from approvers and give extra flexibility to agencies.
Detailed analytics and white-label reports on how your social media accounts are performing.
Social media inbox gathers comments and mentions and uses ML algorithms to pick out negative sentiments, questions regarding the purchase, and general questions.
Speaking of downsides — Buffer only provides analytics for Instagram, Facebook, Twitter, and LinkedIn, leaving other platforms unattended. The pricing is a bit confusing but very flexible: plans start at $6/month for one channel.
Buffer vs. Coschedule
Buffer has more flexible pricing: instead of choosing between Coschedule's primary Marketing calendar and packed Marketing Suite, you can customize the plan based on your presented social media channels.
Unlike Coschedule, Buffer implements a lot of data and AI-driven solutions for more precise content marketing.
Takeaway
This Coschedule alternative suits those who prioritize organic audience building and data-driven solutions. Buffer helps teams automate social posting and make it smart based on audience insights.
5. RecurPost: suitable for managing social media presence
RecurPost is a great option for agencies and marketers that focus on reporting. This Coschedule alternative offers white-label reports, allowing you to present polished, branded reports to your clients.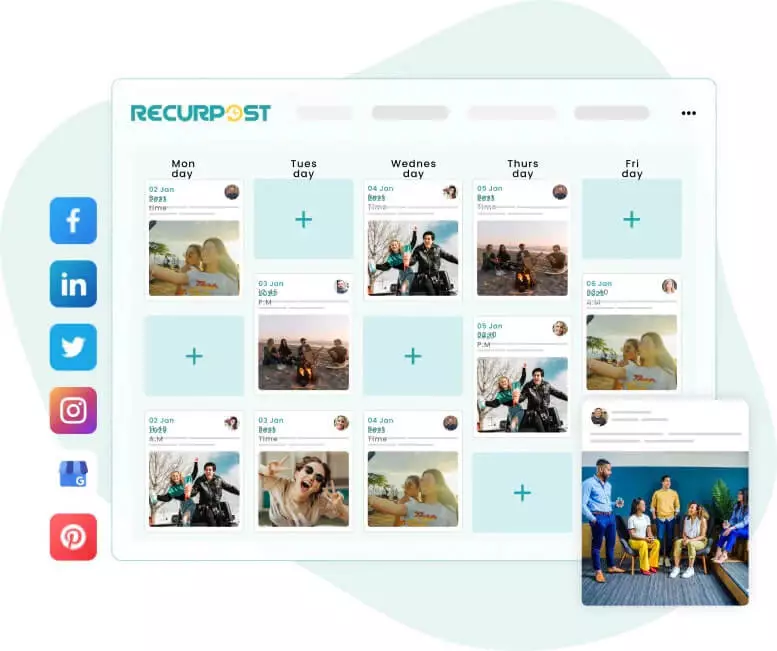 With a primary focus on content scheduling and publishing, it covers the basics and provides valuable tools for enhancing engagement and streamlining social media management. RecurPost support features like:
Bulk scheduling
Evergreen content
White-label reports
RecurPost vs. Coschedule
Both RecurPost and CoSchedule are social media management tools designed to enable businesses and organizations to schedule and automate their social media posts.
RecurPost offers more comprehensive analytics and insights, which include detailed performance information for every individual post.
Takeaway
To sum it up, both RecurPost and CoSchedule are great choices for handling your social media needs. They each have their own cool features and benefits, so you can pick the one that suits you best
6. Loomly: best for social media automation beginners
Social media marketers created Loomly for social media marketers, and it shows: the platform ticks all the boxes for such a tool. Content calendar? Check. Post mockups? Check. Automated publishing, approvals, discussions, and comments? Check as well. It's an excellent option for having a little bit of everything.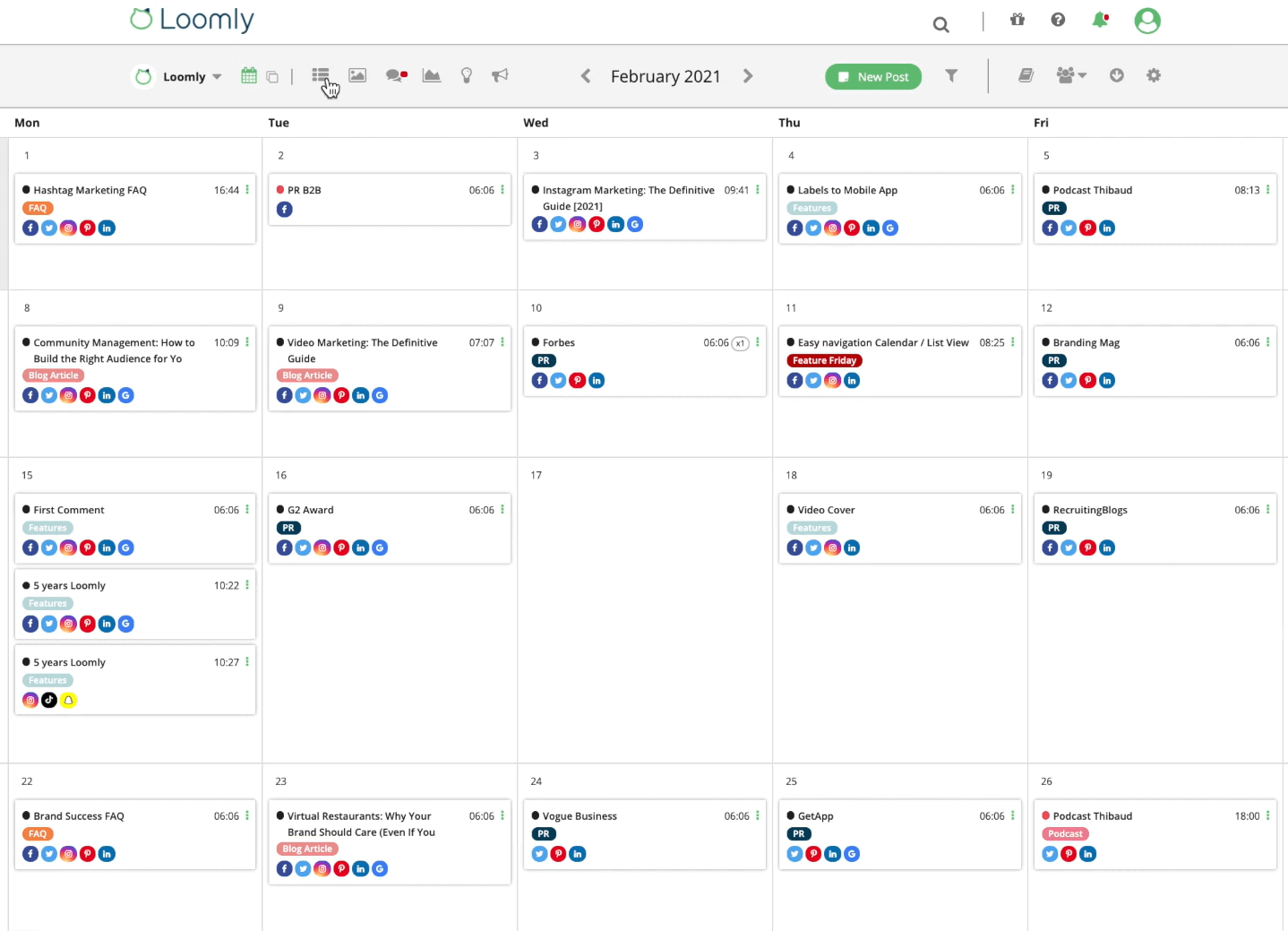 Loomly supports scheduling and publishing posts to Facebook, Twitter, Instagram, Pinterest, LinkedIn, YouTube, Google Business Profile, and TikTok. You can add your custom channels, but Loomly won't publish there automatically. Here's what Loomly offers:
Inspiration bank includes RSS feeds, what's trending on Twitter, all sorts of holidays you can feature, and custom ideas for your brand.
Easy collaboration with post previews and mockups, built-in comments, approvals, and version history.
Analytics reports on all your posts to identify the most engaging topics and best-performing assets.
On the downside, Loomly might be too simple for big brands and vast teams with no listening or Google Analytics integrations. However, Loomly is enough and budget-friendly for small teams: its cheapest plan starts at $35/month.
Loomly vs. Coschedule
Loomly stands out with its content ideas: there are a lot of inspiration sources that Coschedule lacks.
Teams can use a media library in Loomly to store branded content, while Coschedule doesn't offer one in any of its plans.
Takeaway
Loomly is one of the best Coschedule alternatives for those just moving from spreadsheets and looking for a nice balanced tool with no flamboyant or specific features.
7. Sprout Social: best for big stakes and generous budgets
Looking for big social media guns? Sprout Social enters the scene. It's a powerful content marketing platform that includes tons of fancy features. Besides content publishing and planning, it allows for extensive social media reporting, customer relationship management, and employer advocacy.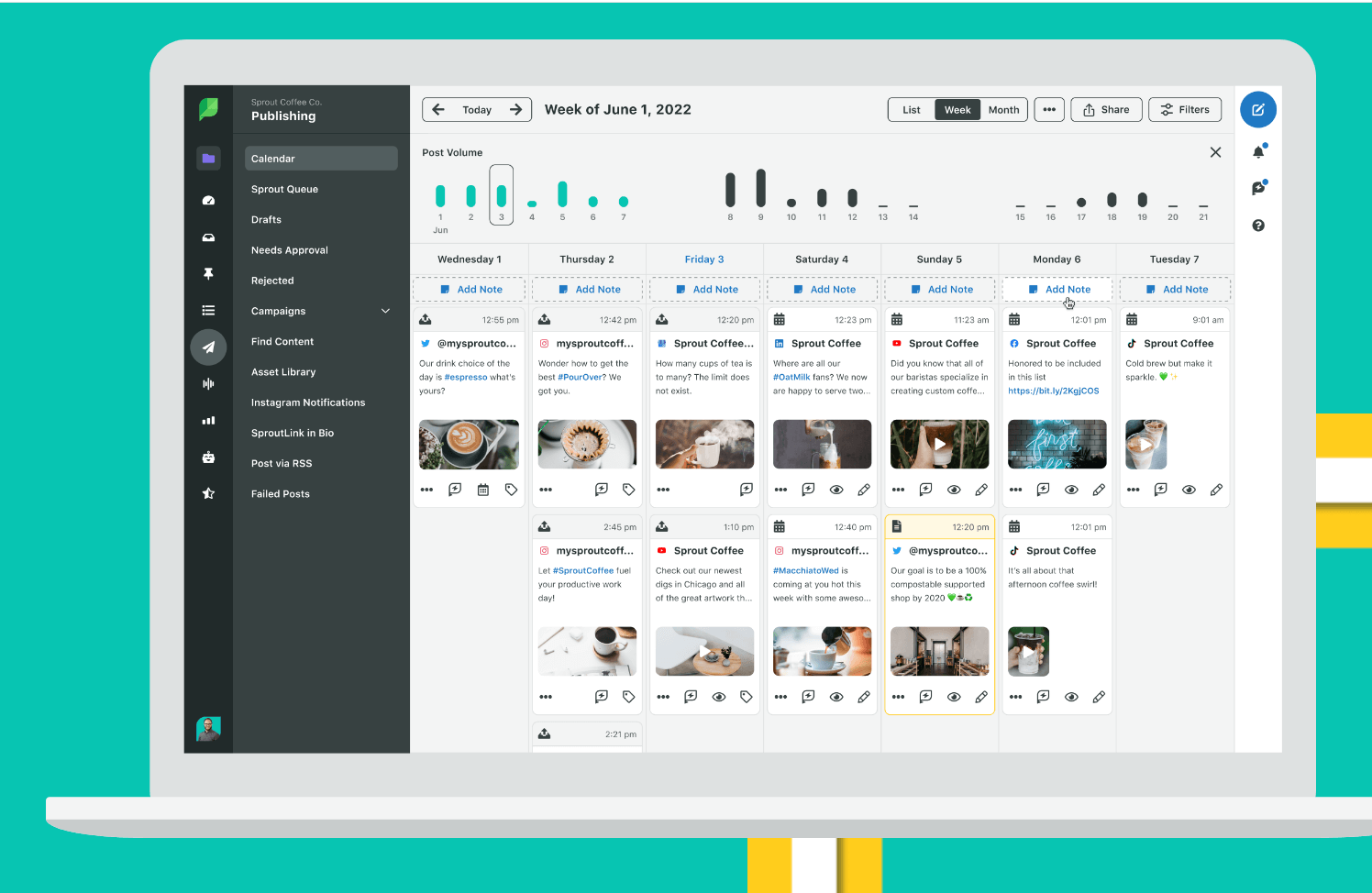 Here are some of the key points:
Messenger integrations: Sprout Social supports various social media platforms like Instagram, Facebook, Twitter, Linkedin, Pinterest, TikTok, Google My Business, and YouTube, but also — WhatsApp and Facebook Messenger.
Social media listening: social media marketers can study their audience and gather actionable insights on trends, brand mentions, and customer satisfaction.
Bulk scheduling: the feature speeds up the workflow, allowing the uploading and scheduling of up to 350 messages simultaneously.
Pricing is a possible downturn in the case of Sprout Social: its cheapest plan is $249/month for one user. And since many useful adds-on like social media monitoring and advanced analytics cost extra, Sprout Social becomes quite an investment.
Sprout Social vs Coschedule
Sprout Social's analytics are more diverse and rich data-wise than the ones in Coschedule.
Although Coschedule supports a blog distribution platform, Sprout offers more social media platforms to work with.
Takeaway
Of all Coschedule alternatives, Sprout Social is the most packed and enterprise-like. So if that's what you're looking for, don't brush Sprout aside before finishing its 30-day free trial.
8. Sendible: best for marketing agencies
Sendible is a Coschedule alternative that explicitly positions itself as a tool for agencies. This platform combines social media scheduling, general content marketing, and basic team management, making it a universal tool for busy teams.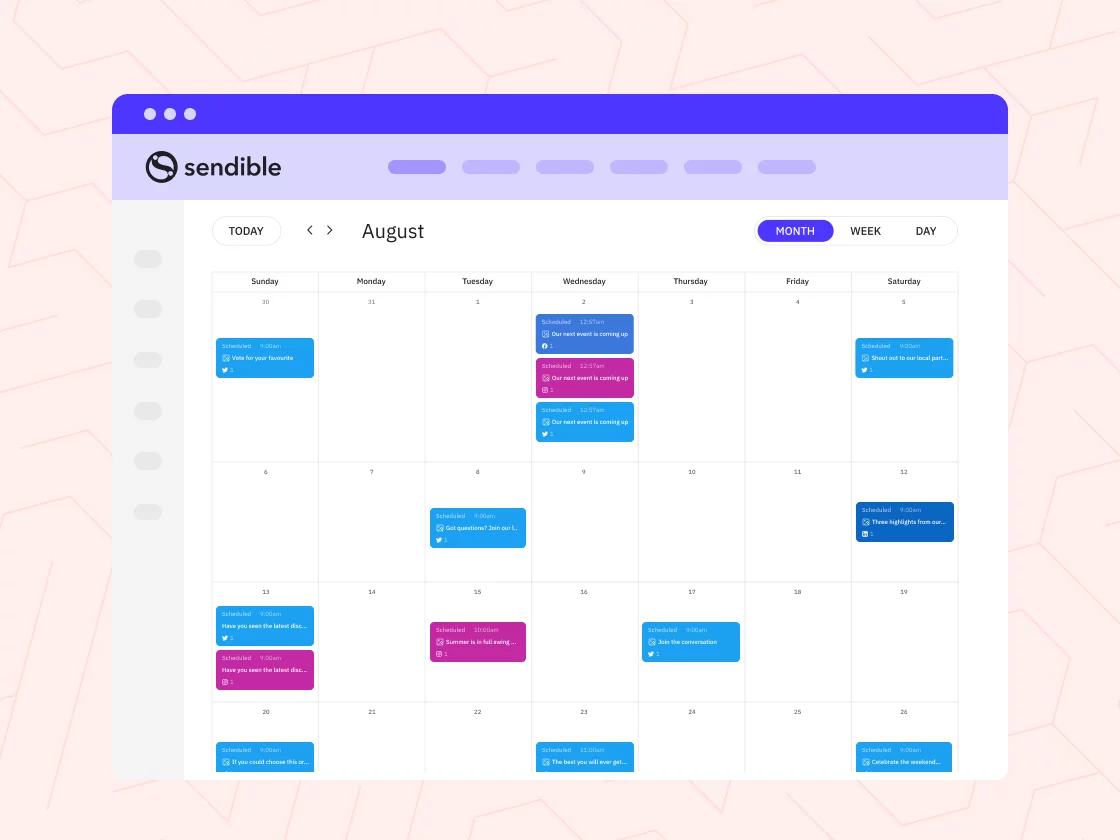 Marketers can manage social media accounts on Facebook, Twitter, LinkedIn, TikTok, Instagram, YouTube, Google My Business, WordPress, Medium, and Tumblr. Its other features are:
Social listening features with sentiment analysis to easily monitor your brand mentions across blogs, in the news, and on Twitter.
Integrations with Canva, Google Drive, and Dropbox allow you to create any social media post in seconds — all the clients' assets are one click away.
Team collaboration tools: teammates can assign tasks to each other, approve final content, and share external links with clients to showcase their work.
You can call Sendible's social listening a little disappointing since it only supports one social media platform — Twitter. Other than this, Sensible is a solid choice for agencies working with multiple clients. Sendible's paid plans begin at $24/month.
Sendible vs. Coschedule
While Coschedule is very straightforward, Sendible may require more onboarding time because of the richer feature set.
Same as Coschedule, Sendible supports WordPress but offers more options for social media management.
Takeaway
If you are an agency looking for Coschedule alternatives, Sendible can be your answer. Even though it is a little clumsy UX-wise, it does a good job of scheduling, analyzing, and reporting on social media efforts.
Coschedule Alternatives FAQs
What is better than Coschedule?
If you're looking for a collaborative social media marketing solution, take a look at Planable. However, if you need more in-depth social media analytics, consider Hootsuite or Buffer.
Is there a free alternative to Coschedule?
Planable offers 50 scheduled posts for free: there's no time limit or reduced functionality. All fair and square — you enjoy the full potential and decide later (for as little as $11/month per user).
Can Coschedule publish on TikTok?
Unfortunately, no. But do you know which platform can? Planable — it supports all major social media channels, including TikTok.