Are you considering Sendible alternatives to move from Sendible to a more performative social media management tool? Or maybe you're researching your first-ever platform? Either way, this article will guide you through Sendible's competitors and help you find the perfect match. 
Social media management tools greatly help everyone involved in social media: from individual creators and influencers to international corporate marketing departments. Sendible has been on the market since 2009, and for many, it is a time-proven option. 
But long-lasting doesn't always mean the best. So here are 7 Sendible alternatives that might fit your business better. 
What is the disadvantage of Sendible?
Sendible is a comprehensive social media marketing tool that positions itself as a great fit for marketing agencies. It offers classic features: scheduling and publishing social media posts, content recommendation tools, reporting, and social inbox.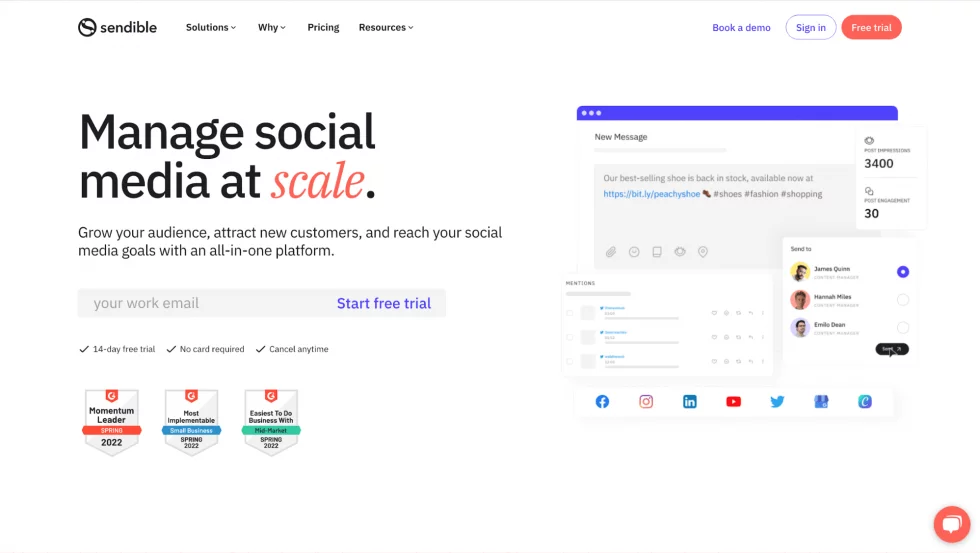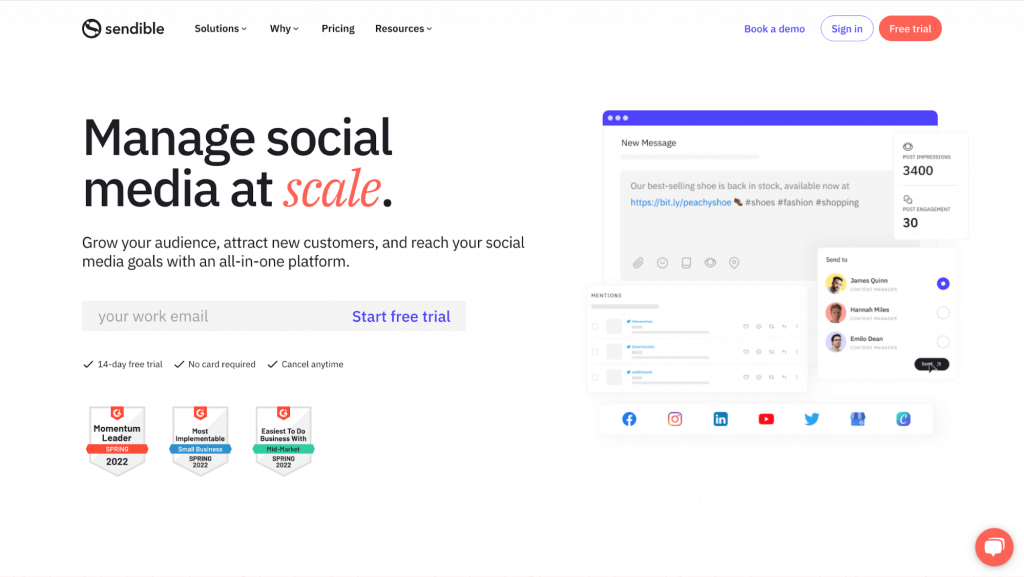 However, Sendible has its disadvantages, creating enough space for doubts. The main concern is the limitation of users and accounts you can manage. Sendible offers three paid plans from $24/month to $165/month. But even the most expensive plan provides only 49 profiles and seven users. A medium-sized marketing agency might need more than this. 
Sendible doesn't support posting to Pinterest and TikTok, and its engagement tools are limited to Facebook, Linkedin, and Twitter. Analytics and reporting are only included in the most expensive plan. 
Though Sendible does tick off the boxes for a social media tool, some alternatives can offer you more value for a better price. 
1. Planable: best alternative for social media team collaboration & approval
Planable stands for collaborative content creation. Social media marketers love Planable for its extensive collaboration solutions, flexible workflows, and multiple roles and permissions for the entire team. This feature is handy for agencies who need several rounds of approval within the internal team and from the client.
The platform supports all types of written content, including social media posts, blog articles, and newsletters. 
With Planable, marketers can:
Collaborate on every piece of written content in real-time using comments, notes, and attachments;
Label

 content to gain a comprehensive overview of social media efforts and easily filter posts; 

Publish content to one social media channel or multiple channels at once with a sync on/off feature; 
Overview and preview all scheduled and published content using a content calendar;
Create a 

timetable

for the most popular time slots to schedule content across multiple channels faster. 
Planable provides a free plan with 50 posts per month with an opportunity to upgrade starting at $11/month per user — the tool bills based on the number of users and workspaces.
Supported platforms
Instagram, Facebook, TikTok, Youtube, Twitter, LinkedIn, Google My Business, and Pinterest.
Downsides
Planable doesn't provide users with built-in analytics and reporting on social media campaigns. 
Planable vs. Sendible
Planable has a more flexible pricing model which allows any user to tailor the package to their need, be it an individual creator, in-house marketing team, or a digital agency;

Planable's collaboration features include a multilayered approval process, multiple roles, and permission levels, in-house notes, and others, while Sendible provides only some of those features in the most expensive package;
Compared to Sendible, Planable's content calendar is more visual and user-friendly, providing a birds-eye view of content creation at every stage.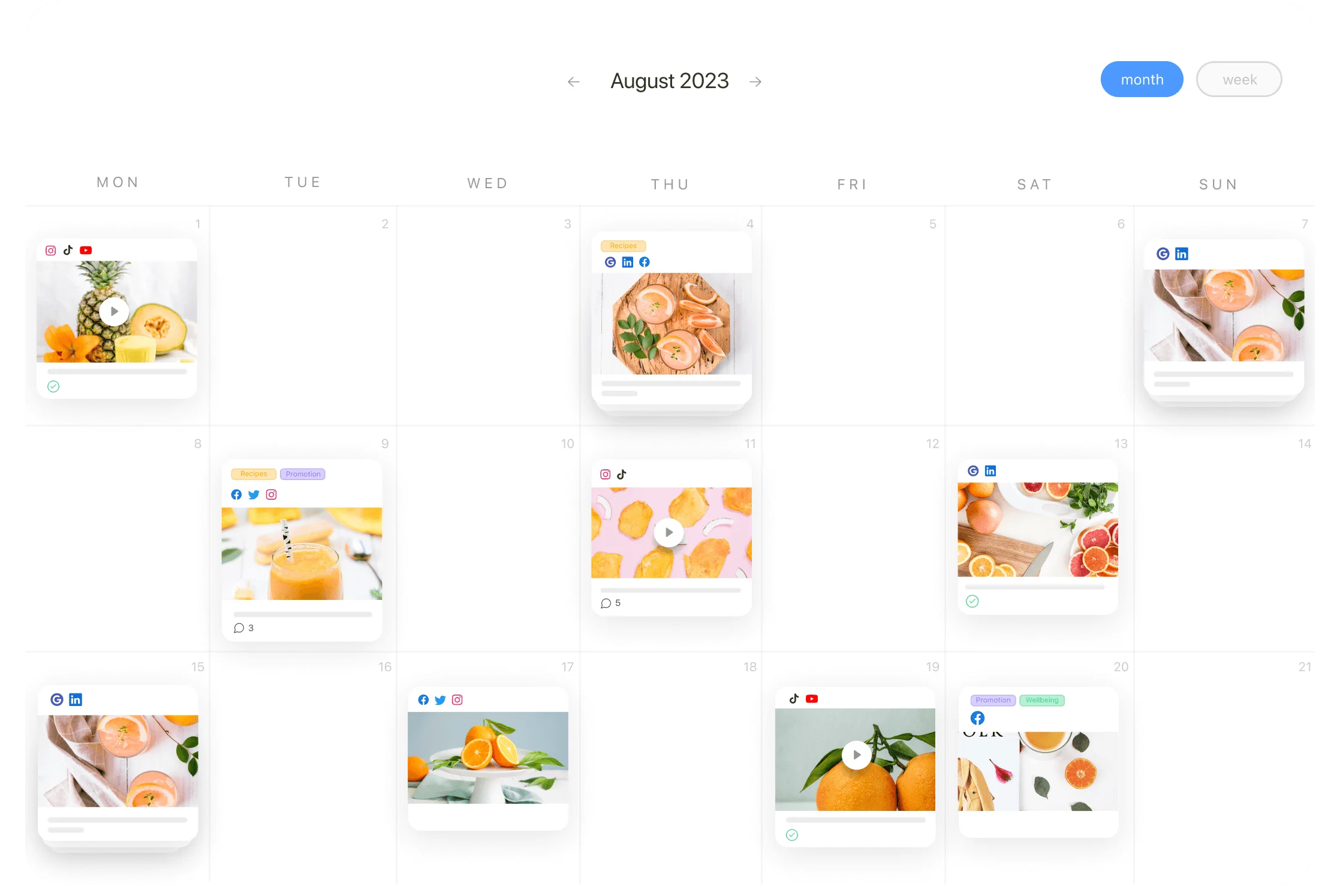 Takeaway
Planable is the overall best alternative to Sendible, especially if you value collaboration and efficient workflows. Although Planable doesn't offer built-in analytics, it's a robust and highly adaptable tool for social media teams of all sizes. 
2. Hootsuite: best alternative for old-school adepts 
Hootsuite is one of the first social media marketing platforms on the market; many consider it an option one can't go wrong with. It allows users to manage multiple social media profiles from a single dashboard, gaining a comprehensive overview of the marketing activities across social media channels.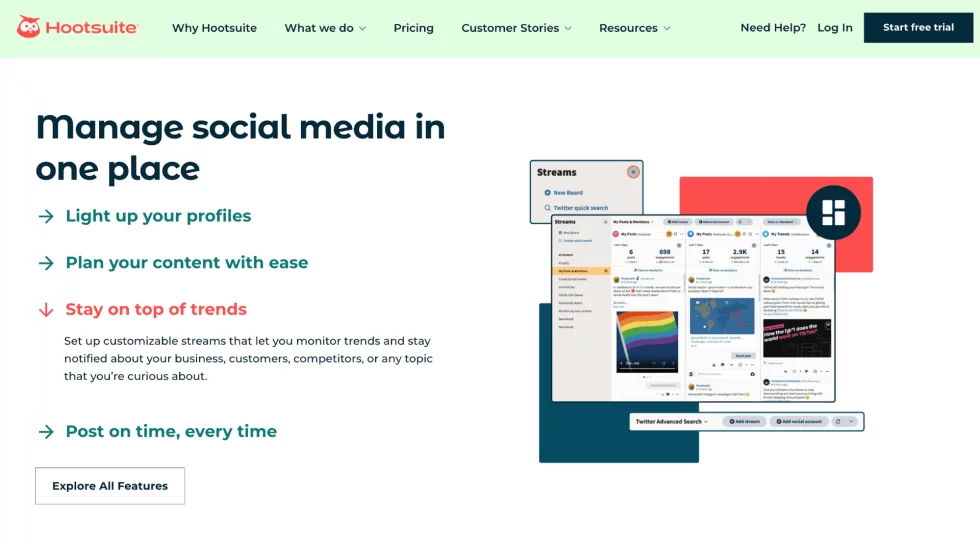 With Hootsuite, social media marketers can: 
Schedule and publish social media content for all major social media platforms;  

Choose recommended time to publish content for maximum engagement; 

Take care of incoming messages, comments, and tags across multiple accounts in a single inbox; 

Evaluate marketing campaign results with built-in analytics and reports. 
Hootsuite's pricing starts at $99/month after 30 days of a free trial. 
Supported platforms
Instagram, Facebook, Twitter, Linkedin, Pinterest, TikTok, and YouTube. 
Downsides
Hootsuite is quite expensive, and some say its UX could be more appealing and straightforward. 
Hootsuite vs. Sendible
Unlike Sendible, Hootsuite supports Pinterest and TikTok, which can be a significant advantage for some social media managers; 

Hootsuite doesn't limit posts per user or profile, while Sendible has daily limitations;

Hootsuite provides good analytical reports, even in the cheapest plan.
Takeaway
Hootsuite is a time-proven option for bigger companies with enough budget and a need for good in-depth analytics. It might lack some UX appeal, but it certainly has its powerful features to consider.
3. Agorapulse: best alternative for social inbox management
Agorapulse covers basic social media needs: social inbox, publishing, reporting, monitoring, and team collaboration. This social media management platform offers extensive insights into the audience and interesting analytical tools like team performance, advanced social inbox, and labeling.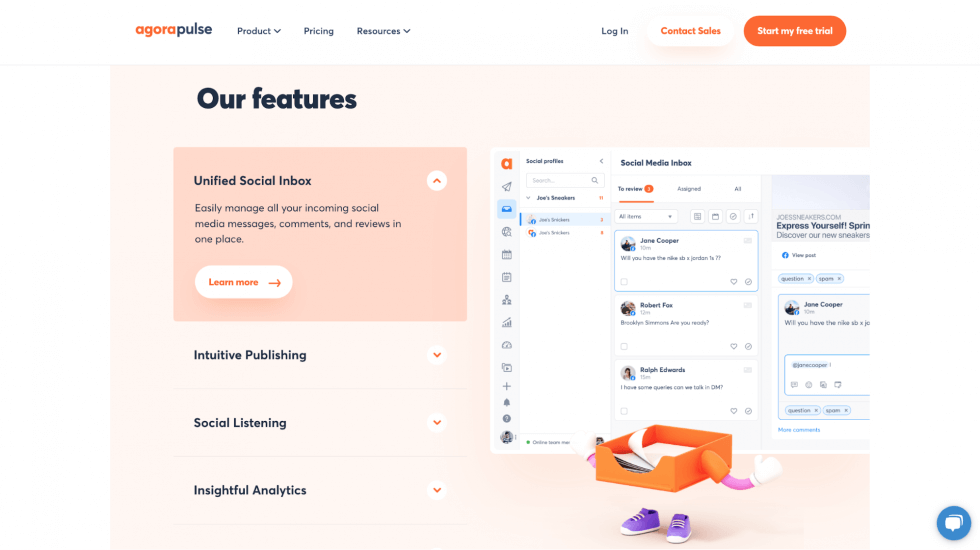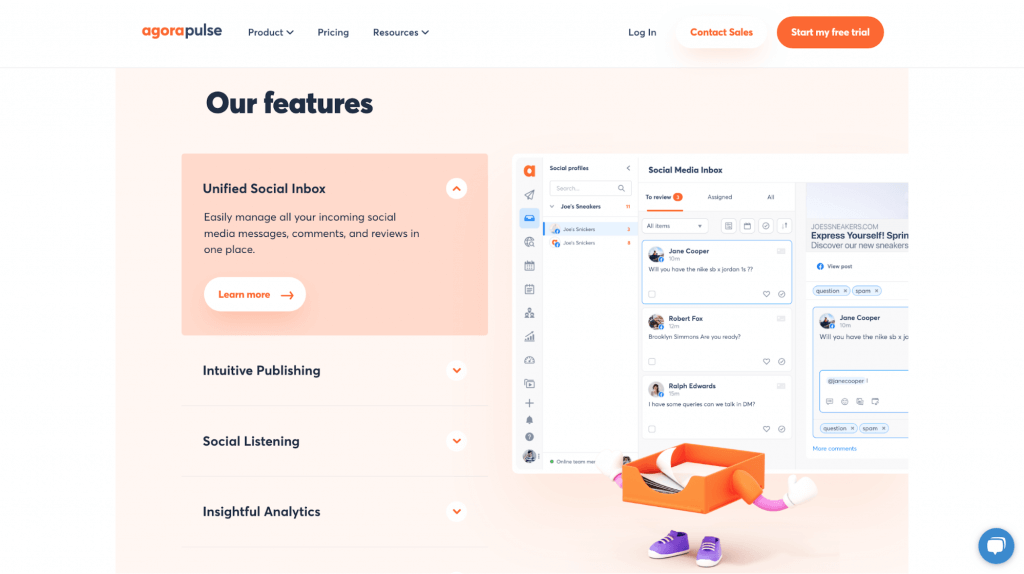 What can Agorapulse do?  
Schedule posts for multiple social channels and publish them on time;

Organize your social inbox using filters and prioritizing the messages and comments to address first;

Manage your social listening findings: add labels to conversations, save important feedback, etc.; 

Gather reports and provide recommendations based on them. 
Agorapulse has a free plan, and four paid plans starting at $49/month.
Supported platforms
Instagram, Facebook, Twitter, Linkedin, TikTok, YouTube, and Google My Business. 
Downsides
Agorapulse doesn't support posting to blogs and Pinterest; additional features like social listening and collaboration are only included in more expensive plans. It also lacks client management solutions. 
Agorapulse vs. Sendible
Agorapulse has a free plan that includes one user, three social media profiles, and ten scheduled posts a month that can be enough for a social media marketer at a small company;

Adding extra users to the bundle is cheaper in Agorapulse than in Sendible: $15 against $29; 

The upgrade in Agorapulse is less dramatic: the starting plan is $49/month and the next one $79, while in Sendible, the price difference is over $50. 
Takeaway
Agorapulse is an excellent steady option for medium-sized businesses and agencies. It's more flexible than Sendible and offers helpful features for each paid plan.
4. Zoho Social: best for small business data fans
Zoho Social is a tool mainly focused on small to midsize businesses. It has a straightforward interface and covers most social media managers' bases when it comes to managing content and gathering analytics.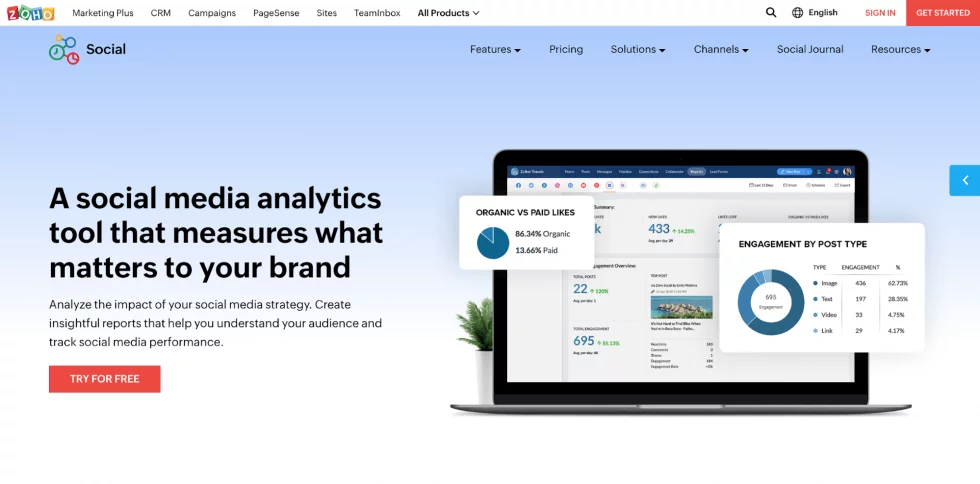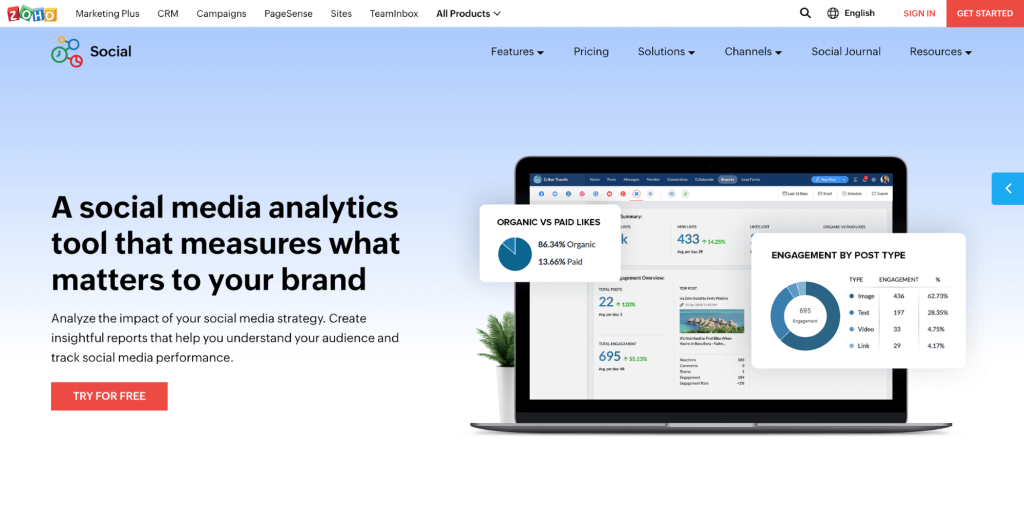 With Zoho Social, a social media manager gets:
Easy content scheduling and publishing with smart data-driven recommendations to hit peak engagement;

Good overview of the scheduled content using a publishing calendar;

Collaboration features, including roles and workflow creation; 

Lots of analytics tools that might not be as deep in terms of social listening but offer interesting insights into competitors and followers. 
Besides a free option, Zoho has five paid plans starting from $15/month. 
Supported platforms
Instagram, Facebook, Twitter, Linkedin, Pinterest, TikTok, YouTube, and Google My Business. 
Downsides
There are no post customization options for different social media, and the team workflows are pretty basic, with no multilayered approval. Users also mention that Zoho's support has room for improvement. 
Zoho social vs. Sendible
Zoho Social has a free plan suitable for one brand with up to seven social media channels; 

Compared to Sendible, Zoho provides better social media analytics when it comes to followers, competitors, hashtags, and content performance;

Zoho Social integrates with Zoho's very own CRM to track potential leads, while Sendible doesn't offer solutions for following up on your audience. 
Takeaway
Zoho Social is a good value-for-money solution for a comprehensive social media approach. A side-to-side comparison with Sendible shows Zoho's advantage in analytics and reports, so if data is essential for you, Zoho Social might be a better alternative. 
5. CoSchedule: best alternative for small teams and individual marketers
CoSchedule is a neat, simple instrument for streamlining content efforts across the company. Its main product is a marketing calendar that provides a holistic overview of schedules and published content across multiple social media platforms, blogs, and emails.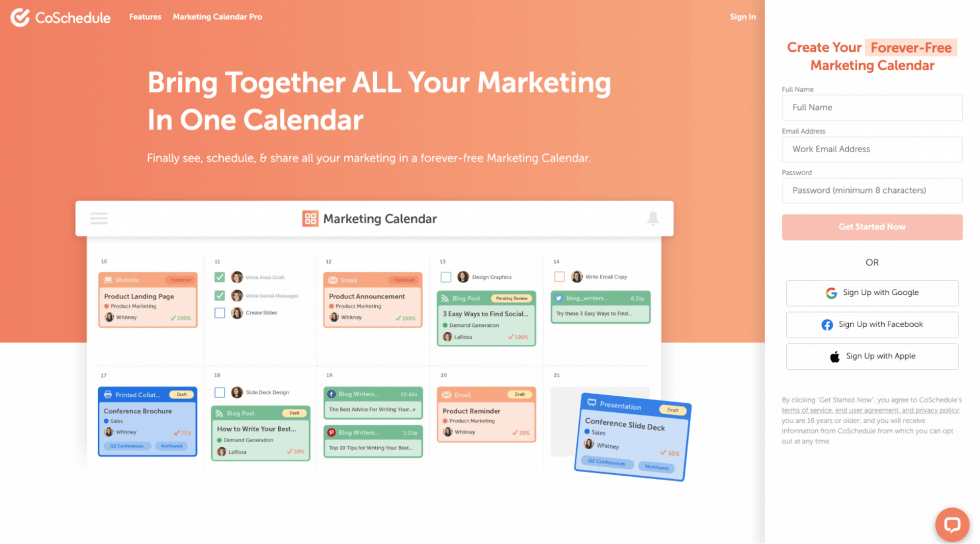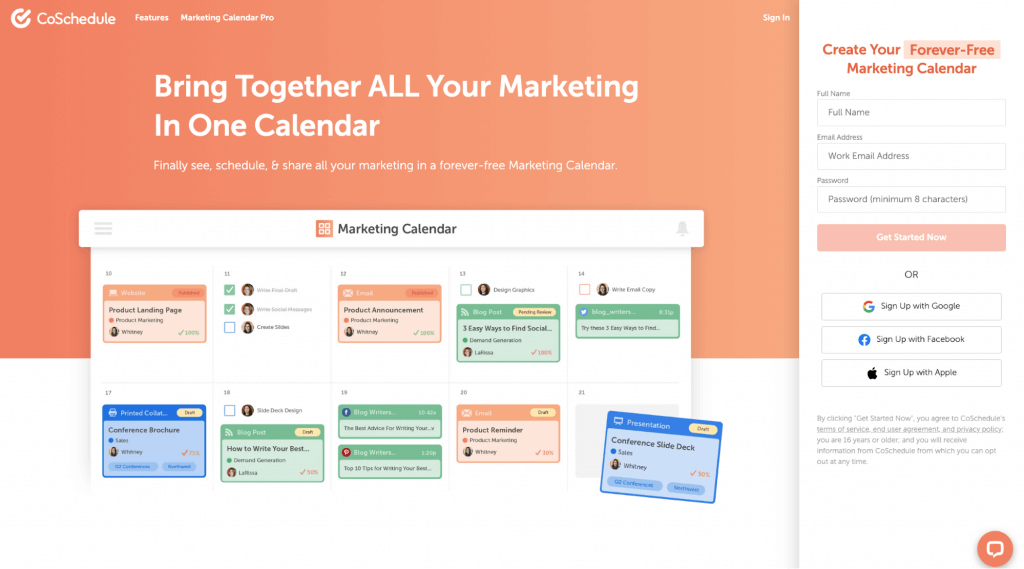 CoSchedule enables users to:
Manage content using a marketing calendar that includes social profiles and blog post scheduling;

Fill in the content plan automatically with bulk scheduling and the ReQueue feature; 

Track the content creation process and manage it all in one place using a unified dashboard with tasks for the team;

Foster teamwork and collaboration by sharing updates and feedback.
Regarding paid plans, CoSchedule offers a free version of its marketing calendar and a Pro version for $29/month. 
Supported platforms
Facebook, Instagram, Linkedin, Twitter, blog, and email client integrations. 
Downsides
CoSchedule doesn't have social media listening features. Overall, it's not a multi-tool but rather a targeted solution for content curation.
CoSchedule vs. Sendible
You can use CoSchedule for free or add advanced features for $29/month; 

Like Sendible, CoSchedule provides scheduling for blogs and has many third-party integrations. 
Takeaway
CoSchedule is a nice Sendible alternative if a full-scale social media management platform feels like an unnecessary extra mile for your business. It suits those who need a primary user-friendly tool to reduce the chaos around content creation.
6. Sprout Social: best alternative for maximalists with a budget
Some big-league marketers choose Sprout Social for its comprehensive social media and brand management approach. Indeed, the platform is packed with features and reports. Marketers can manage multiple social media accounts from one dashboard and tap into social report data.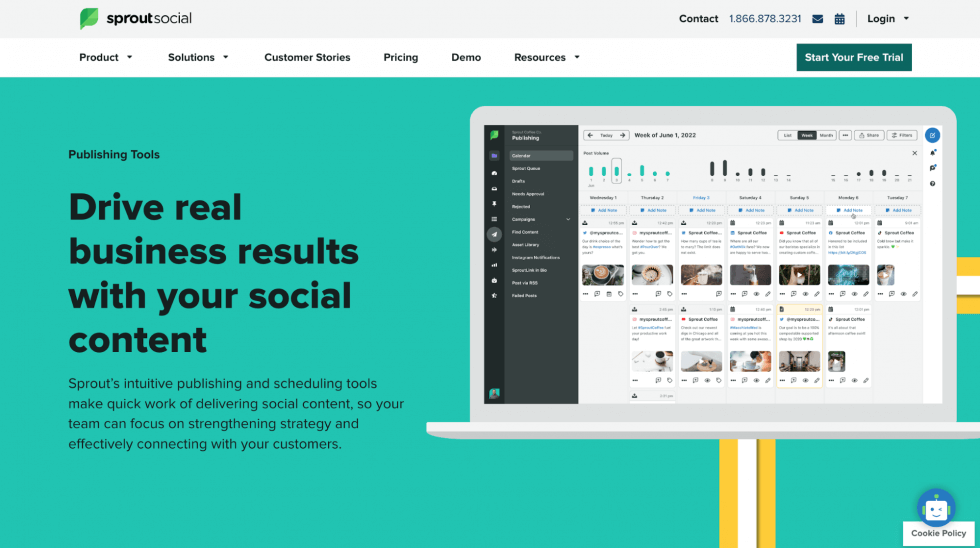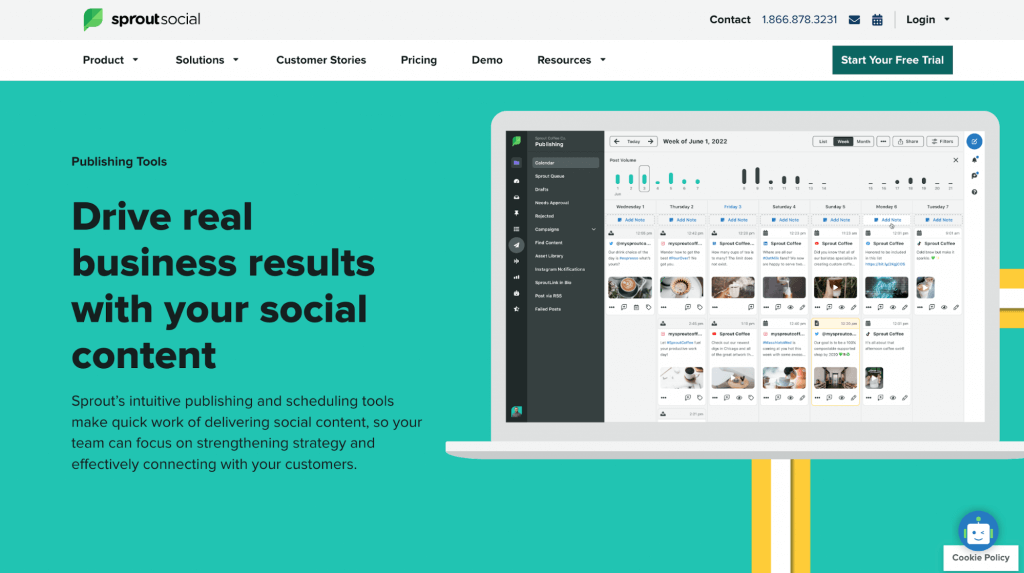 Among its core features are:
Overall social media management tools for publishing and scheduling posts;

Client management for marketing agencies;

In-depth audience analysis and campaign management reports;

A bundle of social listening and engagement features, including social inbox and the best time to publish.
The price for a plan starts at $249 per month, with each additional user costing $199/month.
Supported platforms
Instagram, Facebook, Twitter, Linkedin, Pinterest, TikTok, YouTube, WhatsApp, Facebook Messenger, and Google My Business. 
Downsides
Although it's a complex solution, it is expensive for small businesses and startups.
Sprout Social vs. Sendible
Sprout Social offers a deeper dive into audience behavior with analytics and reports, which can help tailor marketing strategy; 

The management tool supports many channels in addition to those supported by Sendible, including Pinterest, TikTok, and Meta messengers;

Compared to Sendible, it has more extensive social listening capabilities and helps manage multiple accounts more efficiently. 
Takeaway
Sprout Social is a powerful social media marketing platform with many features and an impressive price. It might be the best Sendible alternative for big corporate marketing teams and agencies with a generous budget and a need for deeper insights and an extensive toolset. 
7. Later: best alternative for Instagram-oriented marketers
Later used to be an Instagram-only social media management tool. Although it has recently added other social profiles, it still concentrates mainly on Instagram-related features and suits visual socials like Instagram, Pinterest, and TikTok.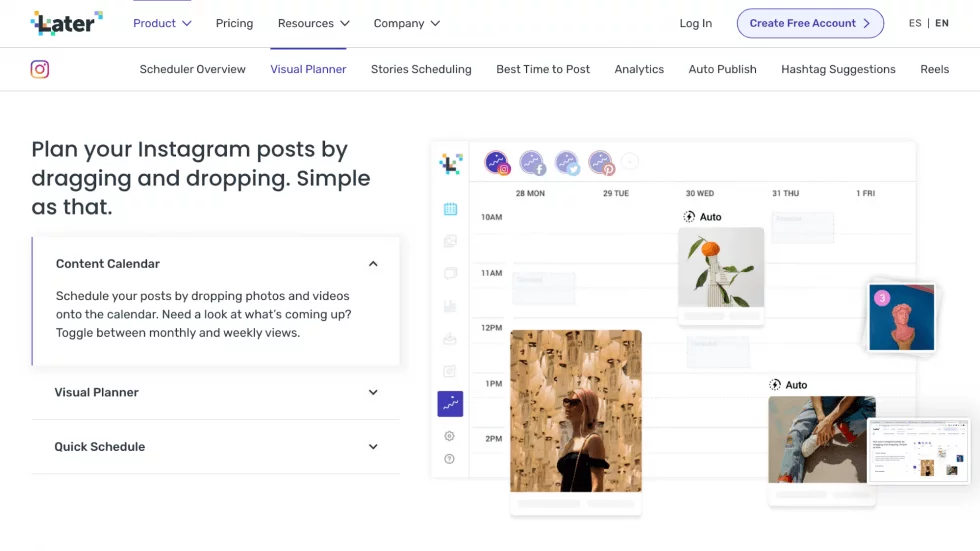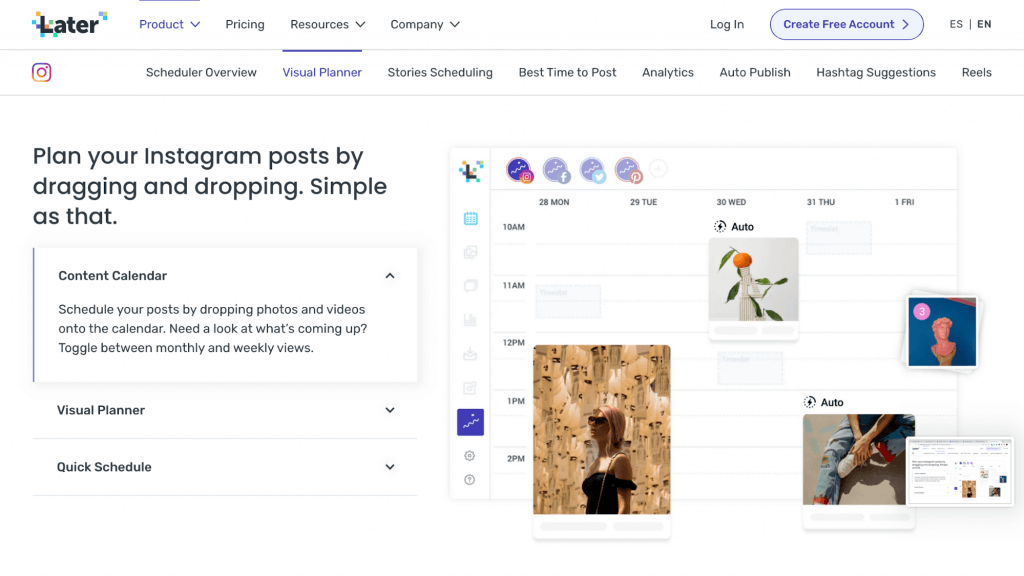 Among Later's features are: 
Scheduling and auto-posting of posts across supported social profiles;

Hashtag suggestion and user-generated content search;

Grid and feed mockups for Instagram posts;

Linkin.bio tool for making digital business cards and navigation;

Recommendations on best posting time and analytics.
Late has three paid plans starting at $18/month and two additional Scale plans for agencies starting at $200/month. 
Supported platforms
Instagram, Facebook, Linkedin, Twitter, Pinterest, TikTok, and YouTube. 
Downsides
The majority of Later's features are only available for Instagram. In addition, Later doesn't allow you to publish a post without attaching media and this might be one of the reasons marketers look for Later alternatives. 
Later vs. Sendible
Later supports Pinterest and TikTok, which can be crucial for social media marketers working with particular audiences; 

Compared to Later, Sendible lacks a visual representation of content, such as feed mockups or a visual calendar. 
Takeaway
Later is best for individual creators or small teams primarily focusing on Instagram and TikTok. It's more visual than Sendible and provides a more straightforward toolset. 
Sendible Alternatives FAQs
What is better than Sendible?
Planable is one of the best alternatives to Sendible, especially if you're looking for flexible pricing and extensive collaboration features in addition to a classic feature set. However, if you need built-in analytics for a reasonable budget, consider Agorapulse or Zoho Social. 
Is there a free alternative to Sendible?
Planable offers a free plan that includes 50 posts. It's not a trial period, so there's no time limitation. You can enjoy a free plan as long as it suits your needs and then upgrade on demand for as little as $11/month. 
What's better: Sendible or Hootsuite?
Hootsuite offers more features and deeper analytics. In general, it's a more powerful tool that might be overkill for a small business or individual social media marketers. On the other hand, Sendible offers post ideas and comfortable content curation for corporate social media teams that don't need detailed reporting.