A social media scheduler is the greatest time-saver ever. This marketers' little helper ensures teams stay consistent and efficient and have enough time to do what they do best — develop new creative ways to engage with the audience.
There are several social media scheduling tools available online: from simple social media calendars to planners and organizers that do anything but read the audience's mind. To help you find your way around social media scheduling, we highlighted four key features to watch for and gathered the nine best social media scheduling tools for any team and budget (spoiler: there are FREE options, too).
4 features to look for in a social media scheduling tool
Although many platforms, like Facebook or Linkedin, allow social media teams to schedule posts using native content planners, doing it manually for each platform is far from an efficient scenario, especially when working with multiple platforms and accounts.
If you're already gravitating toward choosing a social media scheduling tool for your team, here are four points you should scout for:
Content calendar to organize and plan posts visually
Basic but true: a visual, straightforward posting calendar is the backbone of social media scheduling tools. Visual planning helps social media marketers gain a holistic overview of their content and keep track of what's coming next. Scheduling content on a timeline also ensures no overlapping or gaps in posting.
In addition, some tools provide labels or tags to differentiate types of content or its purposes.
Collaboration tools for internal and external feedback on pre-scheduled posts
Collaboration is a vital part of working on social media strategy. Your perfect multi-purpose social media scheduler would let you create content with your team, internally or externally. Marketing teams can save time by working simultaneously on the same dashboard, sharing feedback, and suggesting edits right next to the asset in question.
Another valuable thing to keep an eye out for is external sharing — if you're an agency, this is a must for your clients.
Approval workflow with automatic posting to social media
Social media managers can ditch emailing posts and visuals back and forth and opt for a customizable approval workflow. Approvals greatly complement any content workflow, whether in-house approval on a social media post from brand and legal teams or an external greenlight from the client. Bonus points if the social media planning tool has multi-layered approvals and auto-publishing mode after the final one.
Platform integration variety to post to multiple social networks at once
Last but not least — the integrations. For small business owners who target particular social media platforms, a couple of basic integrations with their major resources could be enough. However, you'll need as many options as possible if you're a big company or a marketing agency.
Save some room for growth: even if you don't need these channels now, your perfect social media scheduling tool has to have TikTok or Pinterest, should you decide to explore them later.
9 best social media scheduling tools to consider
1. Planable: best social media post scheduler with collaboration & approval options
Do you want to tackle your content strategy in a breeze alongside your teammates? One word: Planable, the best social media planner for batch posting and content scheduling.
Constantly switching between social networks can be a significant drain on your time. Besides, most brands nowadays create content for multiple social platforms, which only adds to the workload.
With Planable, you can plan, approve, and schedule content 6x faster. For busy social marketers, Planable has the sync on/off feature to save time on preparing your Instagram post, LinkedIn update, or Pinterest pin all at once.
The content calendar has multiple views: grid, feed, calendar, and list. Teams can organize any written content using labels and filters. So label your posts by topic, campaign, brand, client's favorite color, or anything else of matter to your team.
Features
Next-level feedback. In Planable, all your peers and stakeholders are in one place: you don't have to send another email with yet another version. All changes are done in context with comments, notes, and emojis.
The most visual calendar. Plan, schedule, and organize posts using no-sweat drag-and-drop and gain a comprehensive overview of the job done. Clients and bosses will also appreciate a sleek, straightforward plan.
Custom approval workflow. Planable offers a built-in approving system, allowing teams to set multi-layered approval within the team and outside. It ensures the post passes smoothly from one approver to the next without endless pinging and emails.
Streamlined collaboration. The Universal Content editor allows you to bring all your marketing content onto the platform. Collaborate with your team on anything like blog posts, newsletters, or ads.
Supercharged productivity. Planable AI helps you get rid of writer's block, bringing a helpful writing assistant directly in the post composer.
What do you like best about Planable?

We looked at and even signed up for a few other highly rated platforms. Planable was the next one on the list, and before we knew it we had 5 of our pages scheduled for the year. THIS was what we were looking for, something easy to navigate and simple to schedule. The price was a no-brainer.
Verified Planable review on G2
Planable integrates with 8 social media platforms:
Facebook: publish on pages and groups at the same time
LinkedIn: target specific audiences with organic targeting
Twitter: tag pages & accounts and add alt text
Youtube: publish videos directly to your channel
Google My Business: offers, events and CTAs included
TikTok: publish directly to your business account
Pinterest: include images, videos and alt text
With the free plan, you can test all the platforms' features to create up to 50 posts. After that, paid plans start at $11 per month.
Drawback
Planable doesn't offer built-in analytics for social media campaigns and content.
How to schedule posts with Planable
Create a post in your workspace in Planable: add text, videos, pictures, gifs, or anything else you'd like to share with the audience.
Turn on the Sync on toggle to publish the post across several social media platforms.
Ask Planable's AI to make your post punchier or rephrase the message for another platform!
Add labels to easily filter your posts later.
Add a date and time for your post to go live.
Choose Recycle post in the calendar picker to reuse the post several times (you can still tweak each scheduled post individually).
Press Schedule and pour yourself a cup of coffee. Well done!
Takeaway
Planable suits teams of all sizes and shapes who love to work together efficiently. The platform has extensive collaboration features, enabling marketing teams to build custom workflows and automate social media scheduling. Try Planable for free, here.
2. Hootsuite: best classic social media scheduling tool
Hootsuite, a market pioneer in social media management, allows users to manage their social media presence from a single dashboard. The interface provides an in-depth breakdown of marketing activities. It enables you to respond quickly to mentions with the help of a social inbox feature.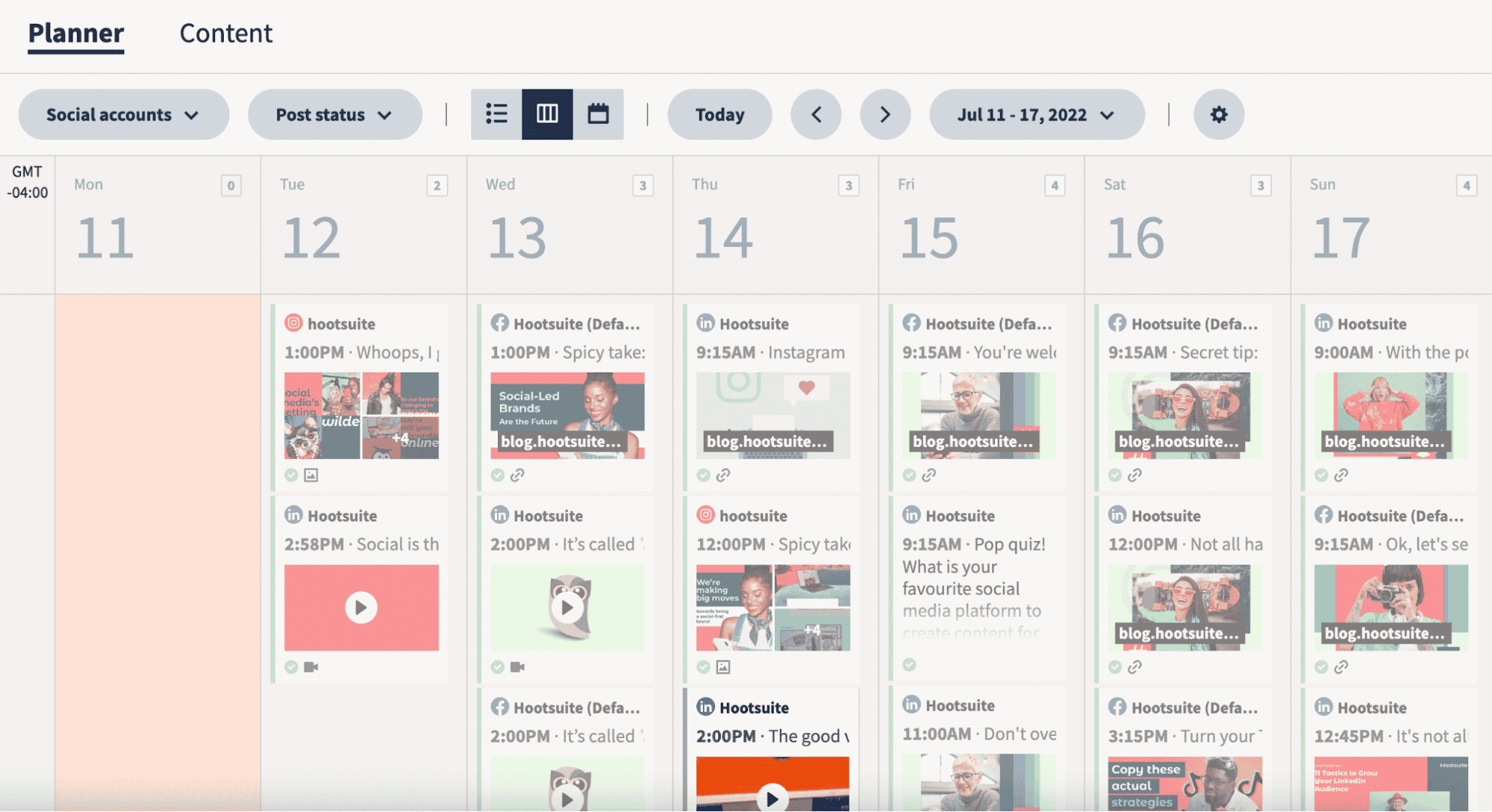 Hootsuite supports scheduling and posting to Instagram, Facebook, Twitter, Linkedin, Pinterest, TikTok, and YouTube. Its social media calendar, though not the most modern-looking one, comprehensively overlooks all the posts planned across multiple platforms.
Hootsuite's newest update, OwlyAI, helps avoid writer's block and generate new relevant ideas for social media posts to fill in the gaps in the social media calendar.
Features
Recommendations on hashtags and the best time to publish posts for peak engagement.
Batch scheduling across all your accounts and direct publishing.
Built-in approval system and collaboration tools for creating posts.
Hootsuite has a free trial period and three paid plans starting from $99/month.
Drawback
Hootsuite doesn't have a free plan and is relatively expensive for small businesses or individual creators.
Takeaway
If you're looking for a time-proven solution to maintain your social media posting schedule and manage your social media accounts, Hootsuite will do just fine.
3. Sprout Social: the best maximalist social media scheduling tool for big teams
Sprout Social is an all-in-one tool loaded with features. Its impressive toolset includes scheduling and planning, social listening, social analytics, social inbox, mentions, and even employee advocacy. Marketing managers choose Sprout Social when they want to bring in the heavy ammo of the social media world.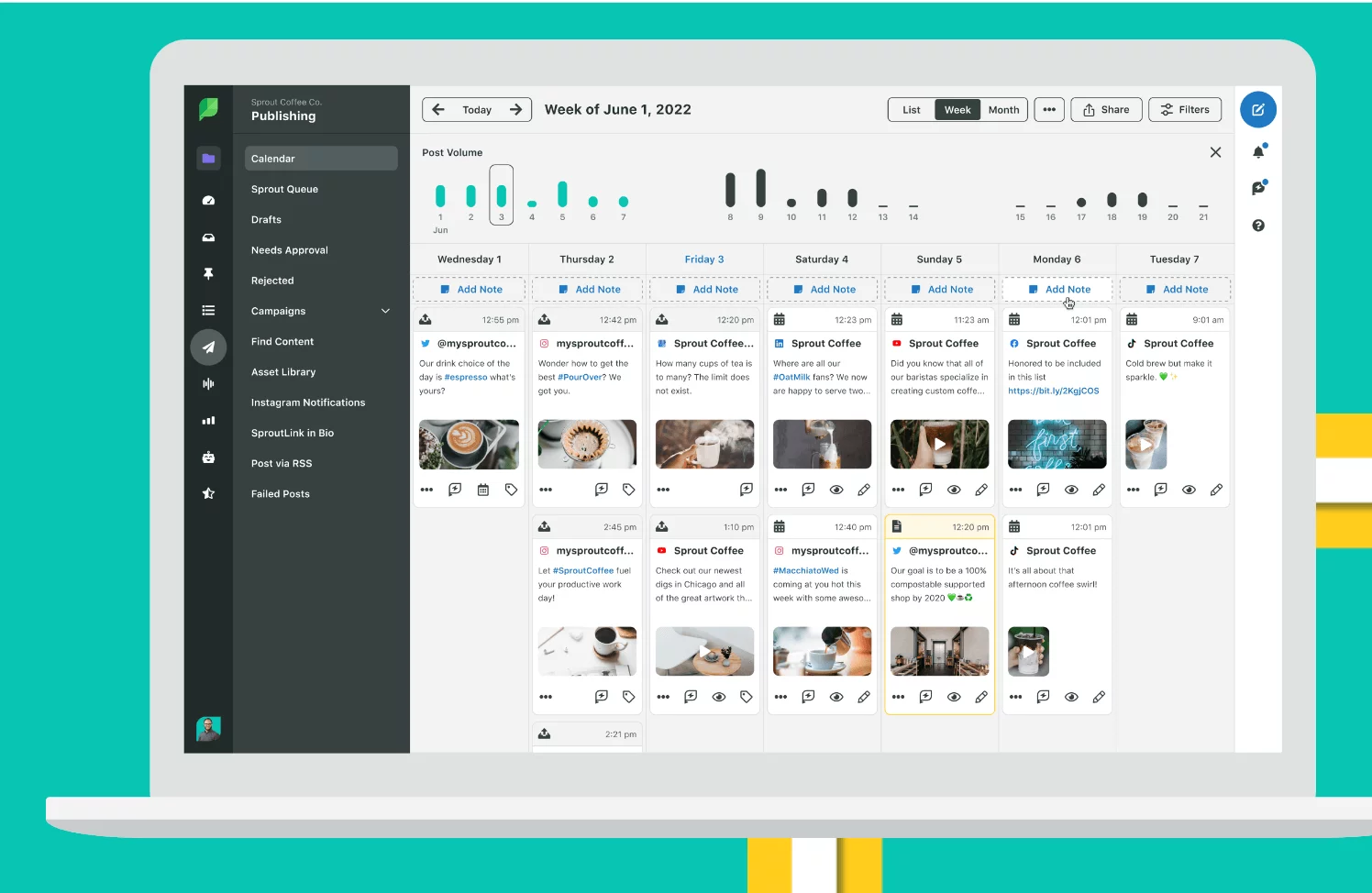 Sprout's social media scheduler tool makes scheduling posts across multiple accounts much easier with batch planning and a visual calendar. It supports scheduling and publishing to all major social media like Instagram, Facebook, Twitter, Linkedin, Pinterest, TikTok, YouTube, WhatsApp, Facebook Messenger, and Google Business Profile.
Features
Interactive content calendar where teams can draft posts, access the media asset library, and organize posts across profiles and campaigns.
In-depth social analytics on campaigns, content performance, and competitor analysis.
Social listening to monitor brand mentions and create relevant content.
The platform has a free trial period, and its paid plans start at $249/month, with each additional user costing $199/month.
Drawback
Sprout Social is expensive and doesn't have a free plan. In most small to medium business cases, it's an overkill. Besides, many users mention that its customer support quality doesn't fit the price.
Takeaway
Sprout Social is a good choice for enterprise companies that want to keep a close eye on their social media performance and have the budget to do so.
4. Buffer: best content scheduling app for eCommerce brands
Buffer is designed to optimize social media publishing and scheduling. The platform strongly emphasizes building an organic audience, with its key features like social inbox and comments sentiment analysis reflecting this approach. Its integration with Shopify also makes it a solid choice for eCommerce businesses.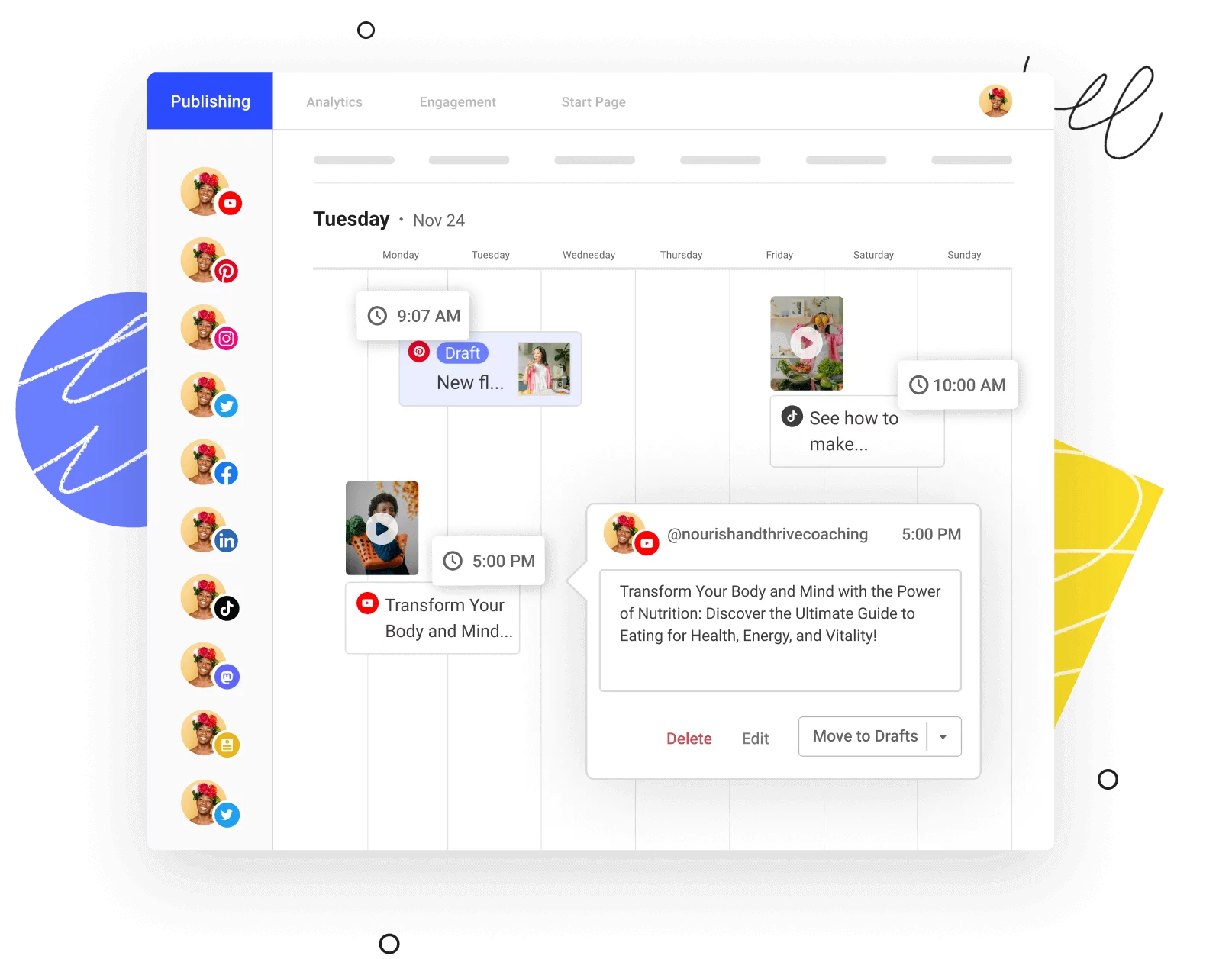 Buffer supports Instagram, Facebook, Linkedin, TikTok, Google Business, Pinterest, Twitter, Mastodon, and Shopify. The post planner allows tailoring posts for each social media platform, so your Instagram posts can have different captions than Facebook ones. You can schedule content automatically or choose your own custom time for posting.
Features
Buffer AI assistant to help generate ideas, repurpose social media posts, and source inspiration.
Collaboration tools, including different roles and permissions, approvals, and team drafting to stay on the same page.
Account management for handling multiple brands from one platform.
Buffer offers a free plan with up to 30 monthly scheduled posts per channel. To upgrade, there are three paid plans starting from $6/month per channel.
Drawback
The platform can't automatically publish TikToks and Instagram Stories — only through reminders. The pricing is a little confusing, as users pay per channel, so if you decide to explore another social platform, you would need to pay extra.
Takeaway
Buffer is one of the simple yet effective social media management tools that ticks all of the boxes for small teams focusing on particular channels. It's a neat platform for content curation to ensure you execute your social strategy at its best.
5. Coschedule: best software to schedule social media posts for small businesses
CoSchedule is a project management tool that prioritizes efficient workflows for all marketing activities, including the brand's social media schedule. It offers a marketing calendar to help social media professionals streamline content curation across social channels and save time scheduling content.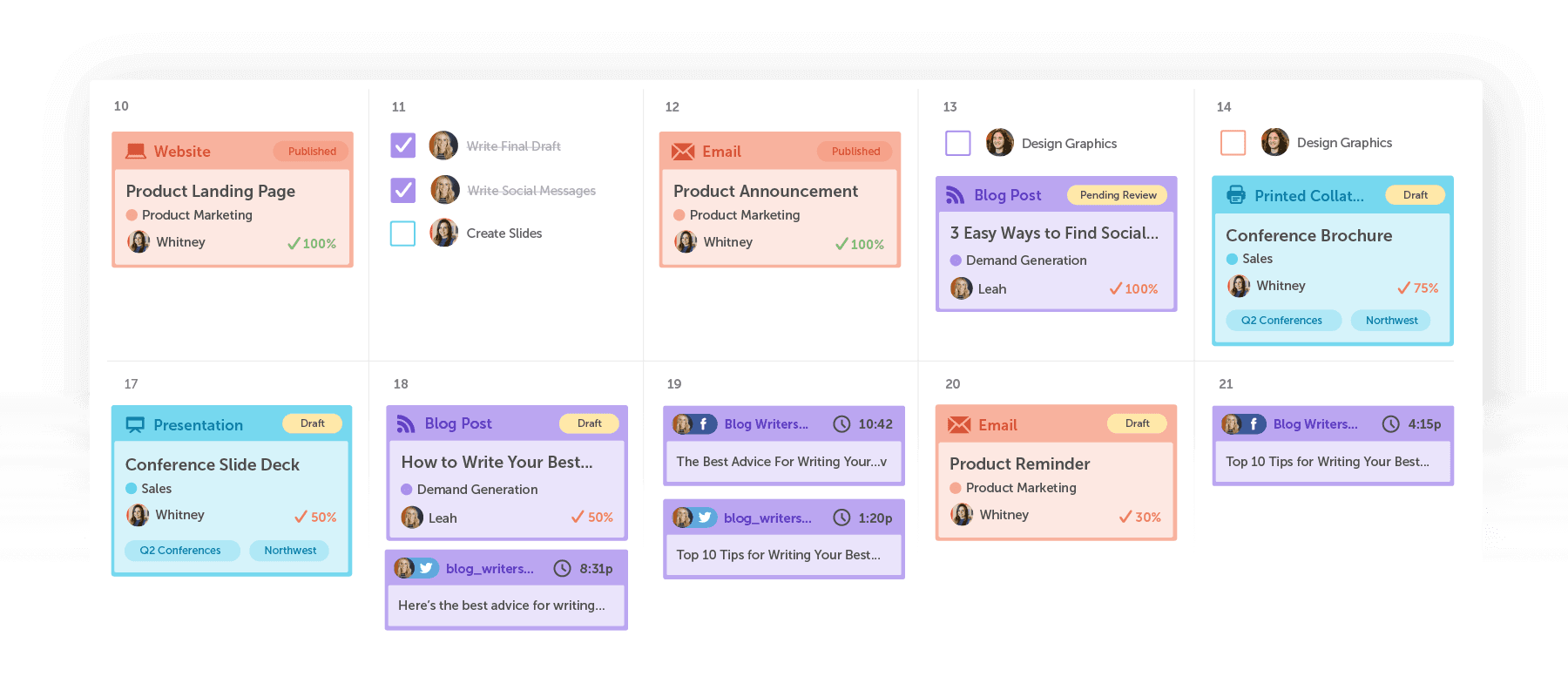 CoSchedule's marketing calendar is more of a post planner than a full-scale social media tool. Users can schedule one-time social media posts or create a social campaign consisting of several messages. CoSchedule integrates with Facebook, Instagram, Linkedin, Twitter, WordPress, MailChimp, and other marketing platforms.
CoSchedule also has analytical tools to track social media campaigns, like the Top Content report. This report gathers content that gained the most engagement on one page, making it easy for social marketers to identify the top-performing formats.
Features
Best Time Scheduling tool to schedule posts with confidence for maximum reach.
ReQueue Bucket automatically reshares your evergreen content across platforms when there's a gap in the social media schedule.
Social media optimizer to adapt your caption to different social platforms.
CoSchedule has a free version of the marketing calendar and a pro version for $29/month per user.
Drawback
The publishing tool only allows Business profiles to publish directly on Instagram. Features like collaboration and content templates are only available in the pro version.
Takeaway
CoSchedule is among those nifty and simple publishing tools that suit teams aiming to ease their processes and make them more transparent. It works great as a free tool with basic functionality as long as you don't need some spectacular toolbox.
6. Later: best social media scheduler for visual posts
Later started as Instagram-only social media scheduling tool. In the meantime, it expanded to other networks, including Facebook, TikTok, Linkedin, Pinterest, and YouTube. Later has a visual content calendar that allows marketers to manage multiple social media accounts across different channels.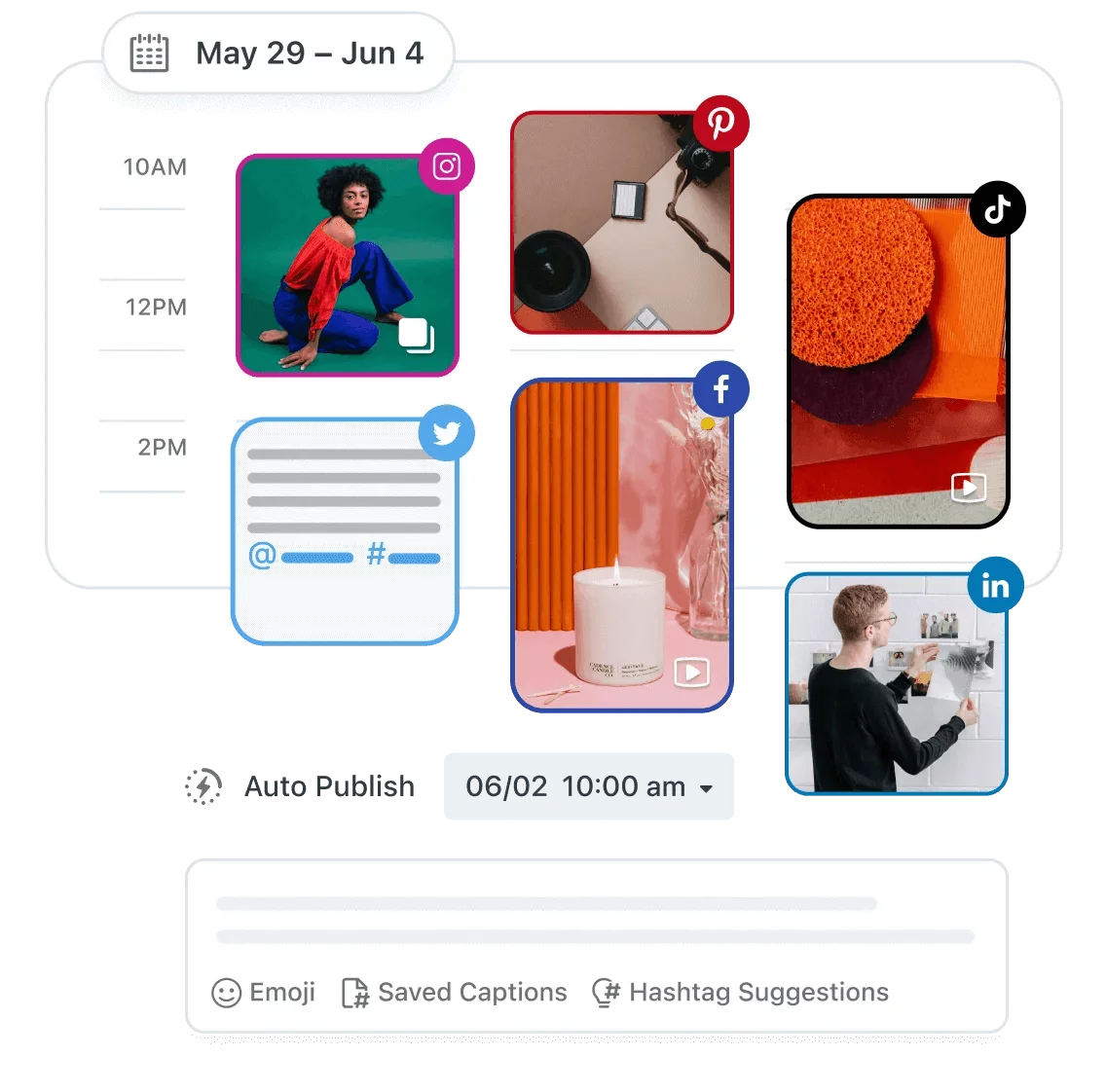 Being somewhat Instagram and TikTok-oriented, Later has recently joined forces with Mavrck — an influencer marketing platform. This partnership complements Later's collab features, allowing social marketers to collaborate with creators and influencers through one social media management tool.
Later doesn't have flashy content features but offers straightforward content creation and scheduling in just a few clicks. It has built-in content creation tools such as a media library, cropper, hashtag suggestions, and, most importantly — a UGC finder to source content generated by your target audience.
Features
Bulk scheduling across multiple channels and auto-publishing for all supported social media platforms.
Visual drag-and-drop content calendar to plan and schedule posts.
Social media analytics to track performance.
Later has a free plan, and its paid plans begin at $18/month.
Drawback
The free plan is a bit tight on features: for instance, social media analytics is only available in paid plans.
Takeaway
Later is a great tool to schedule your posts and stay on track for small teams and solo creators. If you prioritize Instagram or another platform for visual content like Pinterest or TikTok, consider giving Later a try.
7. Zoho Social: best scheduling tool for social media with complex analytics
Zoho Social is a nifty tool for businesses and agencies to enhance social media marketing. This comprehensive platform offers many features to help you effectively reach and engage with your target audience. If you need a less extreme version of Sprout's feature list and reporting, Zoho Social is your candidate.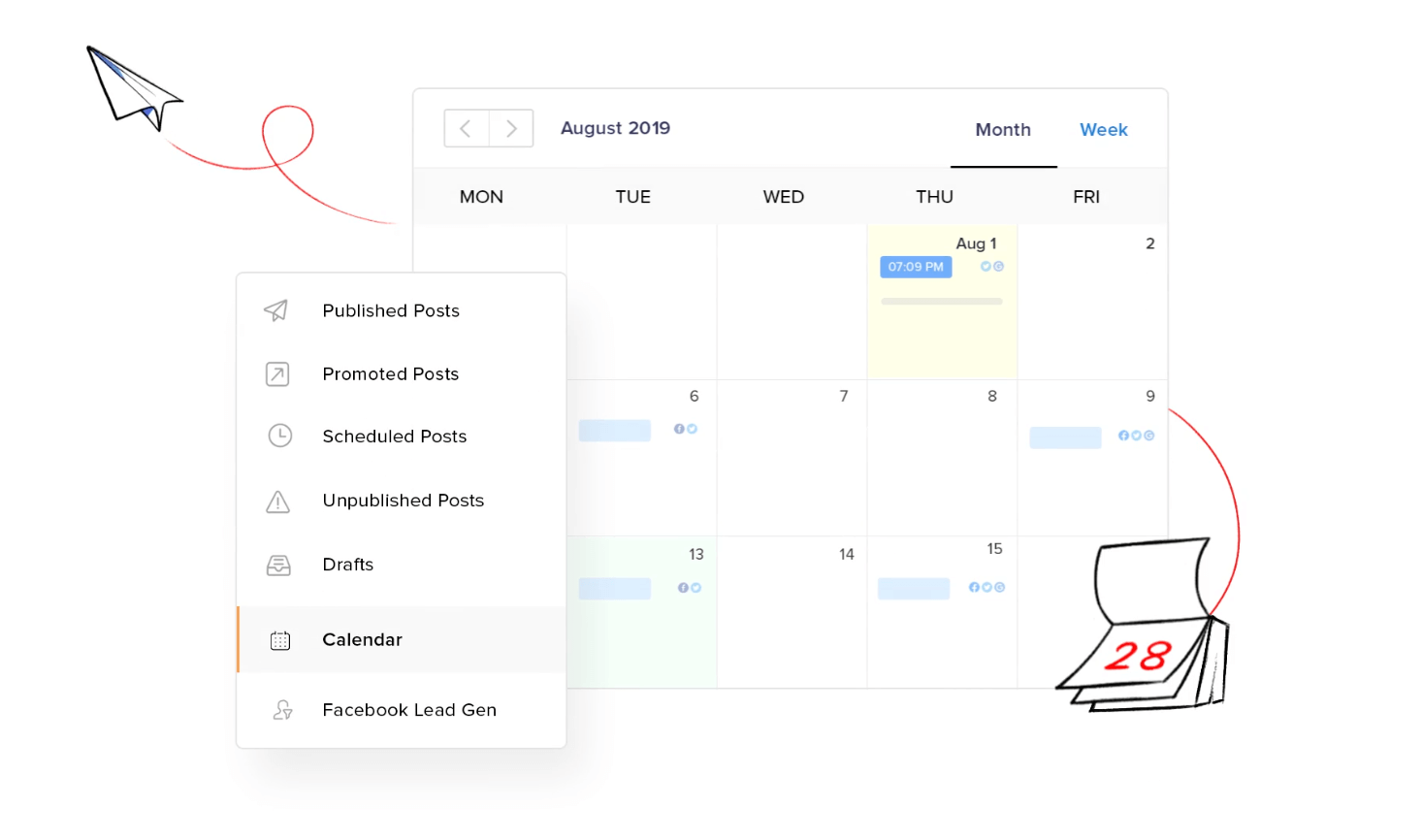 With Zoho Social, social media managers can schedule and manage content across several media channels more efficiently. Users like Zoho for its data-based predictions on the best time to post and other optimization and its detailed reports.
Zoho supports direct posting to Instagram, Facebook, Twitter, Linkedin, Pinterest, YouTube, TikTok, and Google Business Profile.
Features
Bulk schedule to transfer posts from a spreadsheet to ZohoSocial content calendar.
Social analytics and a set of custom and pre-built reports to better understand our audience.
Mobile app to schedule and track posts on the go.
Zoho Social has a free plan, so it's suitable for free social media hassle. You also have five paid plans starting from $15/month.
Drawback
Although Zoho has collaboration features, roles, and approvals, they're pretty simple and don't fit more complicated workflows.
Takeaway
Zoho's strong suit is analytical reports and many data-driven approaches to social media marketing. So if you are looking for a smart post planner, try Zoho.
8. Agorapulse: best affordable all-in-one social post scheduler
Agorapulse is an affordable jack-of-all-trades solution among social media tools. The platform ticks all the right boxes: schedule and publish content, engage with the audience through comments and direct messages, listen to brand mentions, and report on content performance. A nice steady package for a nice steady price.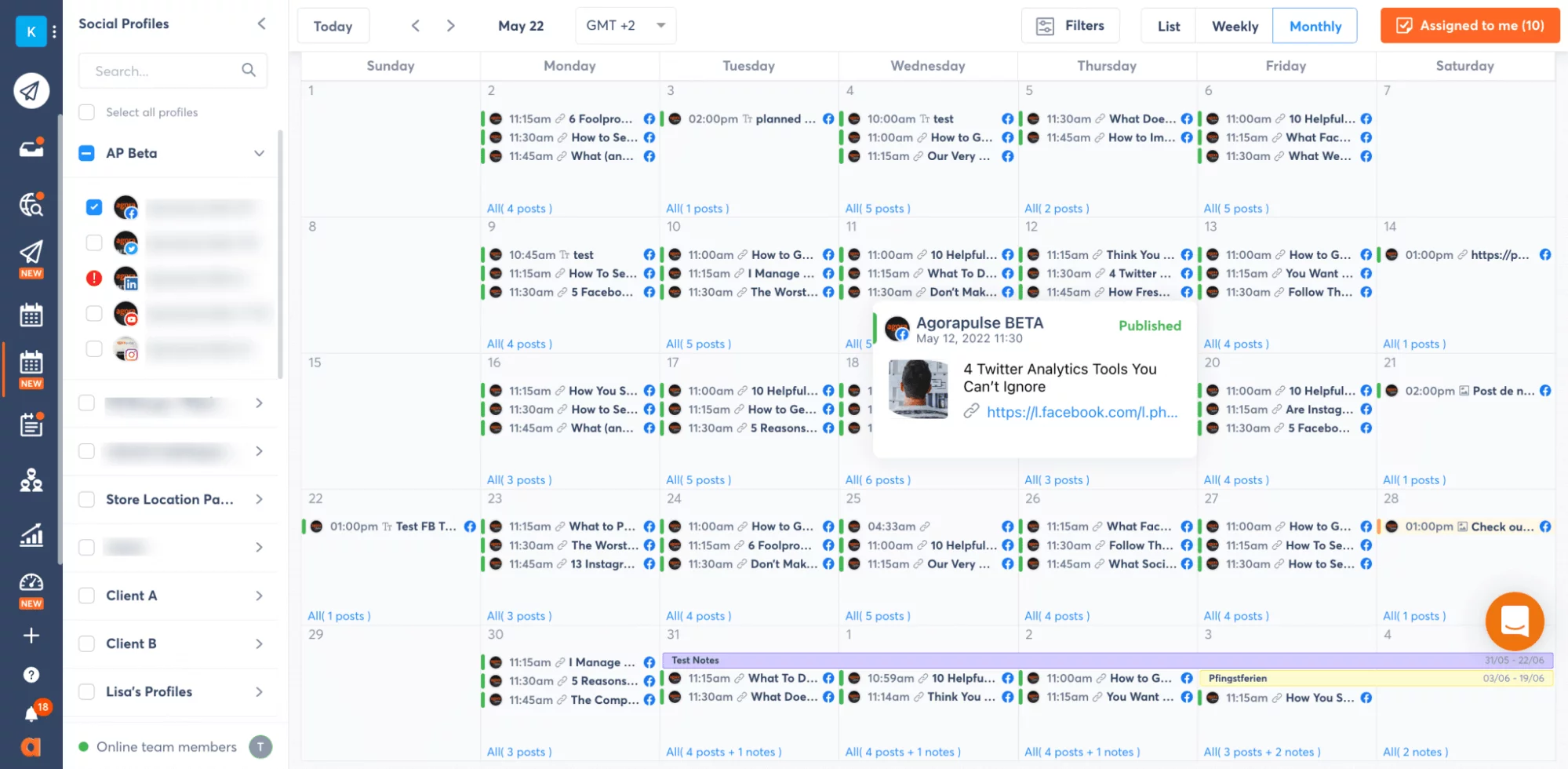 Agorapulse supports Facebook, Twitter, Instagram, LinkedIn, Google Business Profile, YouTube, and TikTok. Its multi-platform publishing option saves a lot of time regarding content planning and helps you stay consistent across all channels.
Besides, Agorapulse works as a project management tool where teams can collaborate, assign posts to each other, and leave comments to tweak copy or visuals.
Features
Smart customizable social inbox to gather all the mentions, comments, and reviews and filter them with labels and tags.
Integration with Google Analytics 4 to get a holistic overview of how social content performs in terms of ROI.
Media library to organize and store all branding materials and quickly access them during content planning.
Drawback
Agorapulse doesn't support Pinterest publishing. Approval workflows, Canva integration, bulk publishing, and some other features are only available in the Professional plan.
Takeaway
Agorapulse is a nice option for those who want to give social media scheduling tools a try in general: it has all the necessary features and suits smaller teams best.
9. Sendible: best social media scheduling platform for medium-sized marketing agencies
Sendible positions itself as the top social media management tool for agencies and offers a range of plans to cater to different organizations. It supports social media scheduling, offers content recommendations, and provides reporting on campaigns and a social inbox. Being a good fit for the agencies, it allows marketers to manage multiple clients from one platform easily.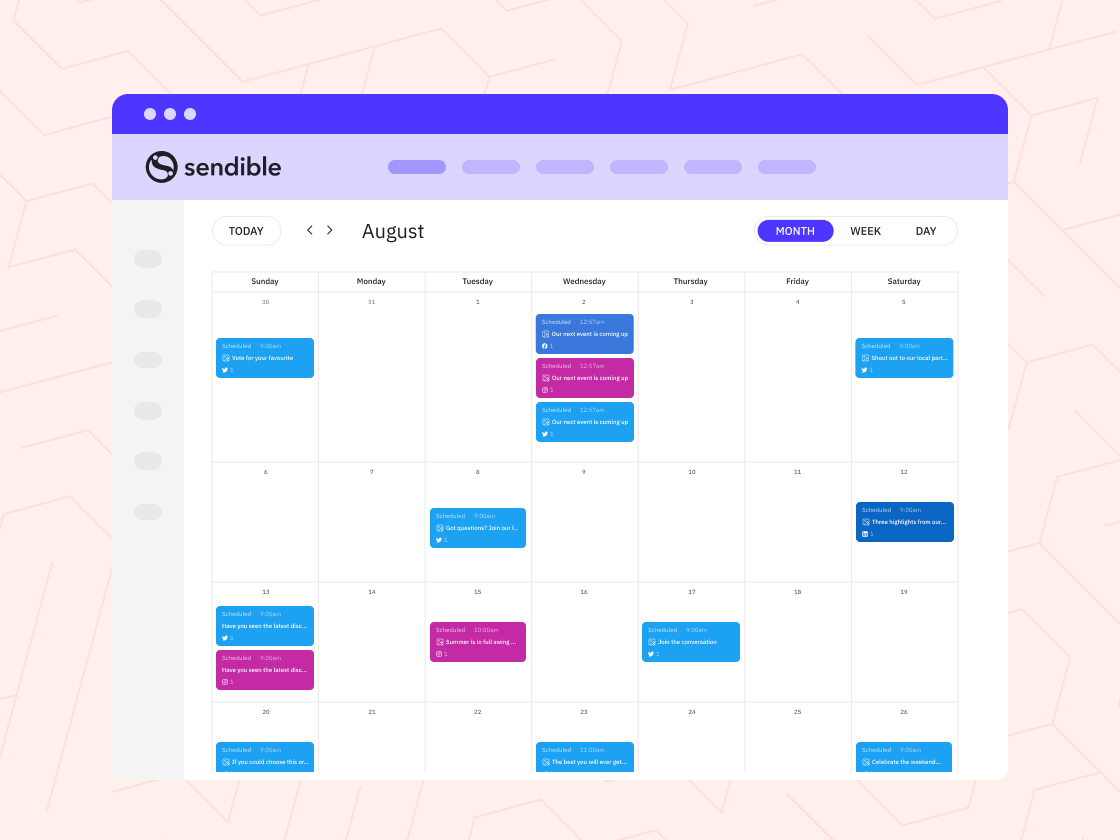 With Sendible, you can connect to social networks like Facebook, Linkedin, Instagram, and Twitter and post directly to your WordPress, Medium, or Tumblr. It also recently added an integration with TikTok, allowing users to post directly to the platform.
Features
An integration with Canva allows marketers to tap into their design library when creating a new post.
Queues of thematic content to keep your editorial calendar filled to the rim.
Content social sharing feature to automatically post important updates and find relevant content to share on your accounts.
Sendible has a 14-day free trial period and three paid plans starting from $24/month.
Drawback
Sendible currently doesn't support scheduling for Pinterest. Additionally, its engagement tools are limited to Facebook, Linkedin, and Twitter.
Takeaway
As a social media scheduling tool, Sendible is a steady option with enough functionality to cover the needs of a professional social media team. It is clumsy UX-wise but compensates with a nice list of features for a reasonable price.
Social media scheduling FAQs
Can I schedule social media posts for free?
Yes! Planable has a free trial period: you have 50 posts to get familiar with the platform and get a taste of hassle-free social media management.
What is the best way to schedule social media posts?
Although some social platforms have built-in scheduling tools, a third-party social media scheduling tool like Planable is a significantly easier and faster way to keep track of your social media efforts and manage multiple accounts.
What is the best social media content scheduler?
If you're looking for seamless collaboration features and smooth approval workflows, it's hands down Planable. Try it, and you'll get what all the buzz is about!