Are you seeking Sprout Social alternatives that offer more affordable plans, faster customer support, and smoother internal publishing and approval processes?
There are plenty of social media management tools on the market that are diverse in their features, budget, and focus. In this article, I've gathered the seven best Sprout Social alternatives to help you streamline your social media strategy.
Why do you need Sprout Social alternatives?
Sprout Social is a social media management platform packed with features. It includes scheduling and planning, social listening, reporting features, social inbox, robust analytics, and employee advocacy.
Marketers choose this platform for its holistic toolset and vast integrations list that includes all major social networks.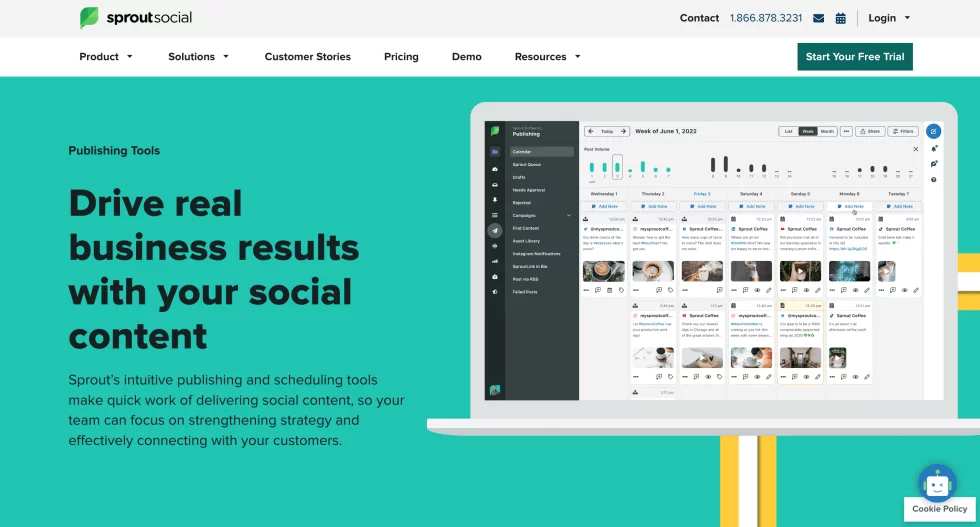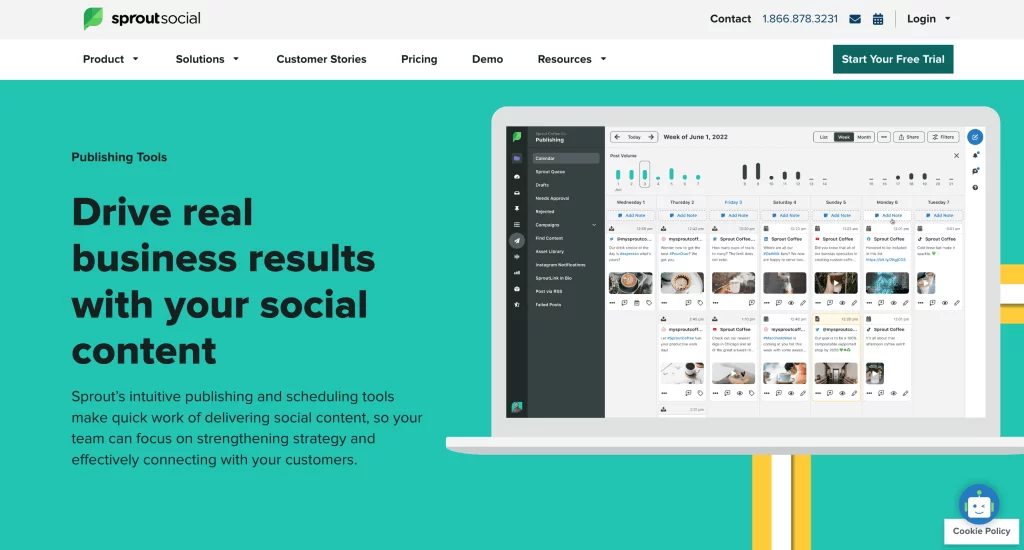 But the biggest drawback of the platform is its price. Sprout Social has a steep price tag; the cheapest plan is $249 monthly and $199 for every additional user. As a result, many marketers consider Sprout Social alternatives that won't break the bank.
Here's what a G2 reviewer had to say about Sprout Social's pricing plans:
What do you dislike about Sprout Social?

The price is most than 200% than other solutions and scales really poorly. The pricing is just way too much. There are so many other systems out there that allow multiple users for 1/3rd of the cost. This solution does not grow with a larger team.
Here's why social media managers consider a Sprout Social alternative in 2023
Price. Sprout Social is expensive. For many content management teams, even the cheapest plan is beyond their budget.
Too many features. More is not always better, and in the case of Sprout Social, it's easy to get carried away by the features your team doesn't need but you still pay for.
Complicated interface. When a tool has so many features, it inevitably becomes more complicated UX-wise and makes onboarding a painful trip.
Customer support quality. Many users mention that customer service teams fall behind, being slow and not as helpful as the price tag would suggest. 
1. Planable: best Sprout Social alternative for collaboration and approval
Content management and collaboration are what define Planable. The tool offers immense team collaboration features, including comments, real-time discussions, and multi-level approval workflows. Altogether, it makes content creation as inclusive and efficient as it gets.
Drag-and-dropping posts to be scheduled in Planable's social media calendar
With Planable, marketers tackle all sorts of written content: from social media posts to blog articles and newsletters. It's a comprehensive visual tool that aids busy social media marketers stay on top of their content game.
Planable's key features include:
Real-time collaboration on written content via comments, notes, and attachments, including various roles and permissions to divide content creators and approvers.
Highly visual content calendar with a drag-and-drop editor to overview the content efforts across all social media channels.
Post content to one or more social platforms simultaneously with a sync on/off feature.
Custom content workflows, including approval, internal and external comments, and automated publishing.
Team collaboration happening right next to social media post in Planable
Planable has helped make our entire approval process so simple. Before using Planable, I had tried Hootsuite, Sendible, Sprout Social, AgoraPulse, and a couple others to schedule our clients' content. None of those schedulers have simplified our approvals and scheduling process the way the Planable has.

Planable allows for multiple-step approvals, so my organic strategist can create the posts within Planable, alert me that they're ready for review, then I can alert the client that they're ready to approve. The client can then pop in and edit and/or approve individual or all posts. By approving, the post is automatically scheduled for publication. No more copying and pasting posts in google docs or spreadsheets or emails for approvals – everything is done on a calendar within Planable.

Rachel G. CEO & Senior Strategist, verified G2 review
Planable offers a free plan with 50 scheduled posts. Teams can upgrade for only $11 per user per month based on the number of users and workspaces. You can register for free in 30 seconds without needing a credit card.
Supported platforms
Instagram, Facebook, TikTok, Youtube, Twitter, LinkedIn, Google My Business, and Pinterest.
Downsides
Planable doesn't offer built-in analytics and reporting for social media campaigns.
Planable vs. Sprout Social
Planable has flexible pricing and tailored plans based on the number of users, workspaces, and features. Unlike Sprout Social, it's affordable for teams of any size and goals.
Planable allows teams to build customizable content workflows. Sprout Social also has customized workflows, but they are only included in its $399 plan against Planable's $22.
Planable is straightforward, visual, and user-friendly, while Sprout Social requires more time for onboarding due to its complicated functionality.
I love the tool. Very good user interface. I enjoy it more than Sprout Social. It's so easy to propose content to clients. It adds value, and it makes the process super simple.
Takeaway
Planable is the overall best Sprout Social alternative, especially for teams that aim at collaborative processes and building streamlined content workflows. It's more flexible and can be tailored to fit the needs of any social media marketing team.
2. Hootsuite: best look-alike Sprout Social alternative
Hootsuite is a social media tool with much in common with Sprout Social. It provides an all-encompassing view of social media presence across multiple accounts. Hootsuite balances out a social media scheduling tool with social media reports and a sprinkle of social listening.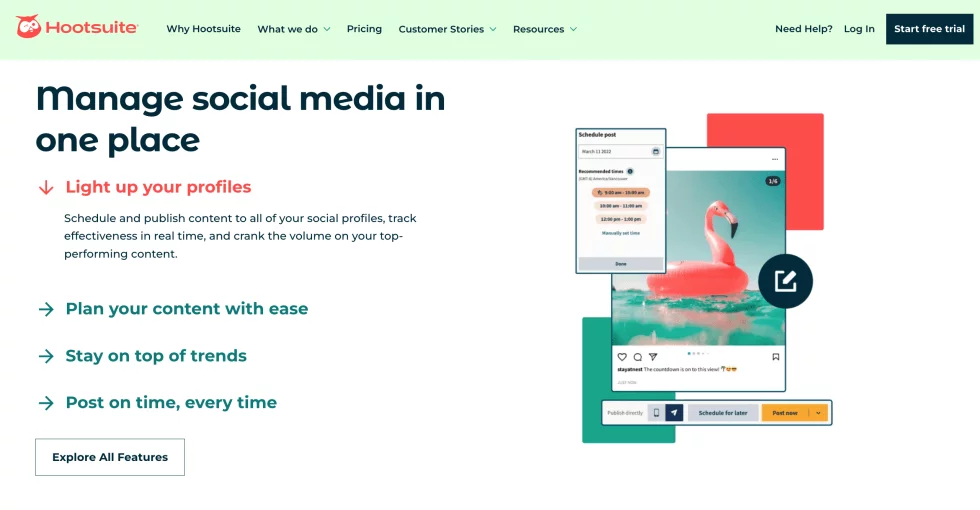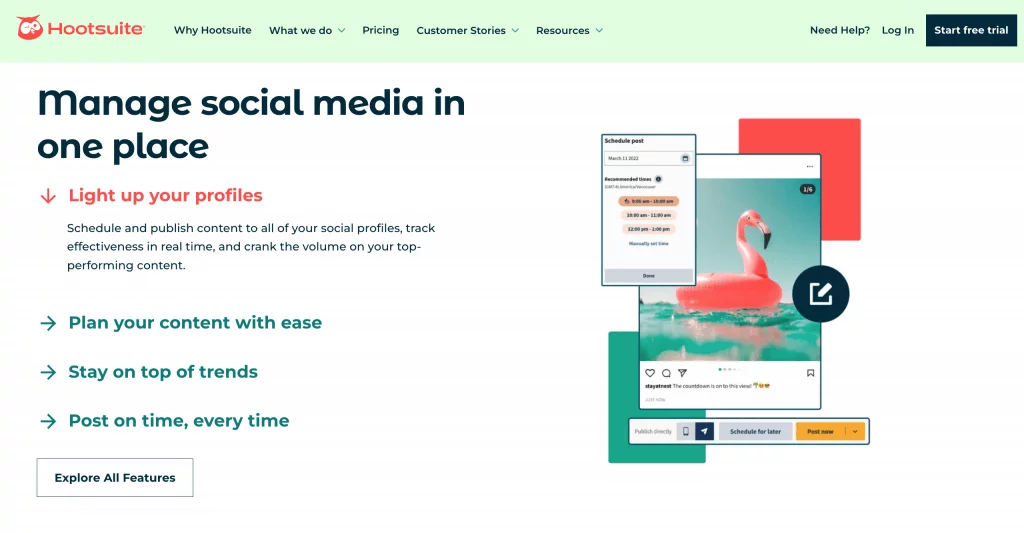 Hootsuite's key features are:
Publishing calendar to schedule and publish social posts across multiple social media platforms.
Smart recommendations on peak engagement time.
Social media monitoring tools to stay on top of trends, including mention tracking and competitor analysis.
Actionable insights and reports to track the results of social media campaigns.
Hootsuite's paid plans start at $99/month after 30 days of a free trial.
Supported platforms
Instagram, Facebook, Twitter, Linkedin, Pinterest, TikTok, and YouTube.
Downsides
Although Hootsuite is cheaper than Sprout Social, it still leans toward the upper price category. The platform's UX is sometimes clumsy.
Hootsuite vs. Sprout Social
Same as Sprout Social, Hootsuite has many built-in reports, including a side-by-side comparison of the key metrics and competitors' benchmarks reporting feature.
Both tools offer content suggestions and inspiration to find new ideas for social campaigns.
Hootsuite is cheaper than Sprout Social ($99 vs. $249) and provides more features in its most affordable plan.
Takeaway
Among all Sprout Social alternatives, Hootsuite is the most similar social media management tool: the platforms share the same features in analytics, manage multiple clients, and streamline social marketing efforts. However, Hootsuite is cheaper, and if you have a mid-sized team, it can be your optimal choice. If you've tried Hootsuite and it didn't tick all the boxes, check these six Hootsuite alternatives we're tried and tested.
3. Agorapulse: best Sprout Social competitor for social inbox management
Agorapulse has got you covered for all the primary social media needs, like post scheduling, reporting, social media listening, and team collaboration. Marketers favor this Sprout Social alternative for its advanced social media inbox, including labels for raving brand fans, filters, and saved replies for direct messages and comments.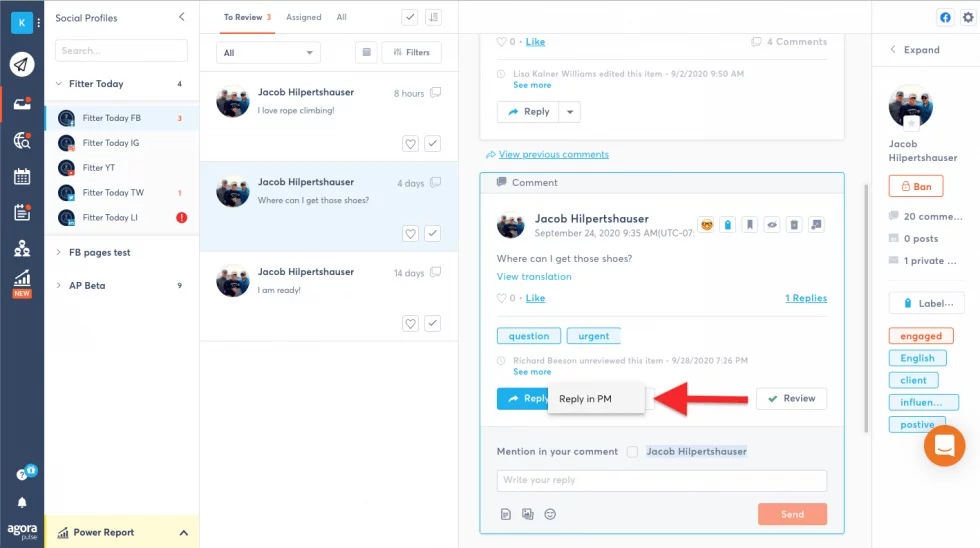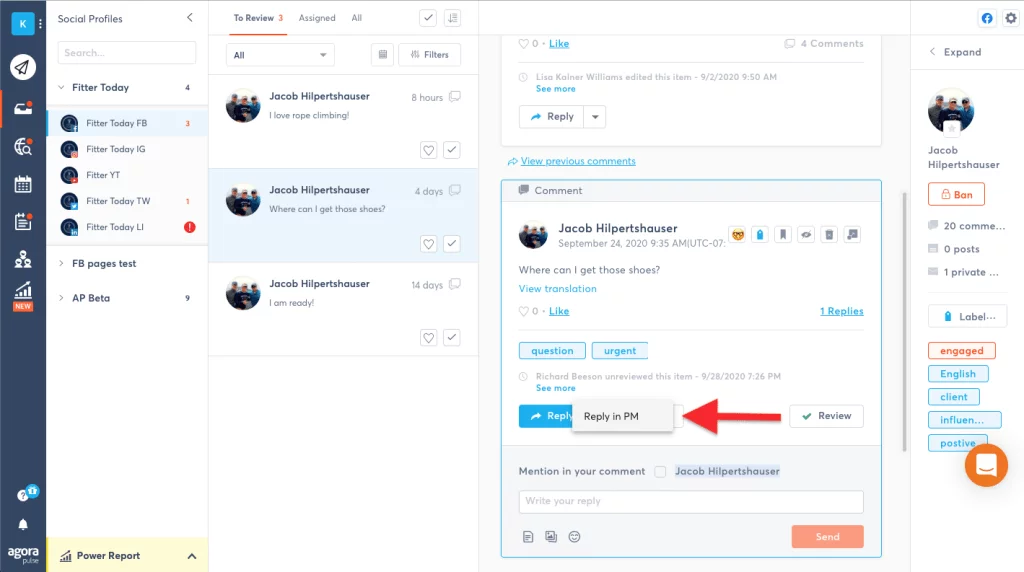 With Agorapulse, you can:
Edit, schedule, and publish social media posts across multiple platforms.
Leverage smart social inbox and streamline your brand's user interaction.
Label your conversations and keep track of crucial feedback from your target audience.
Follow the analytics and reports on your social media activities and get recommendations based on your results.
You can use Agorapulse for free or opt for one of their four paid plans that start at $49/month.
Supported platforms
Instagram, Facebook, Twitter, Linkedin, TikTok, YouTube, and Google My Business.
Downsides
Agorapulse doesn't support Pinterest and blog post creation, and you'll need to subscribe to their more expensive plans to get additional features, such as collaboration tools.
Agorapulse vs. Sprout Social
Agorapulse requires less onboarding: it has a straightforward interface and comprehensive knowledge base.
Agorapulse provides custom-built reports with the metrics of your choice and allows you to access the social channel data for up to 24 months back, while Sprout Social asks to pay extra for personalized metrics.
According to the users, Agorapulse's support team is much faster and more helpful than the one at Sprout Social.
Takeaway
Agorapulse is one of the best Sprout Social alternatives for those who need a little bit of everything. It has extensive analytics, a birds-eye view of the content, an automatic publishing tool, and many other features a steady social media tool needs. Like Sprout Social, Agorapulse ticks all the boxes but for a significantly lesser price.
4. Zoho Social: best Sprout alternative for affordable analytics
Zoho Social is not only about social media management — it's also a relatively powerful social media analytics tool. Zoho is known for its extensive analytics and custom reports that can help marketing teams gain deeper insight into their social media efforts.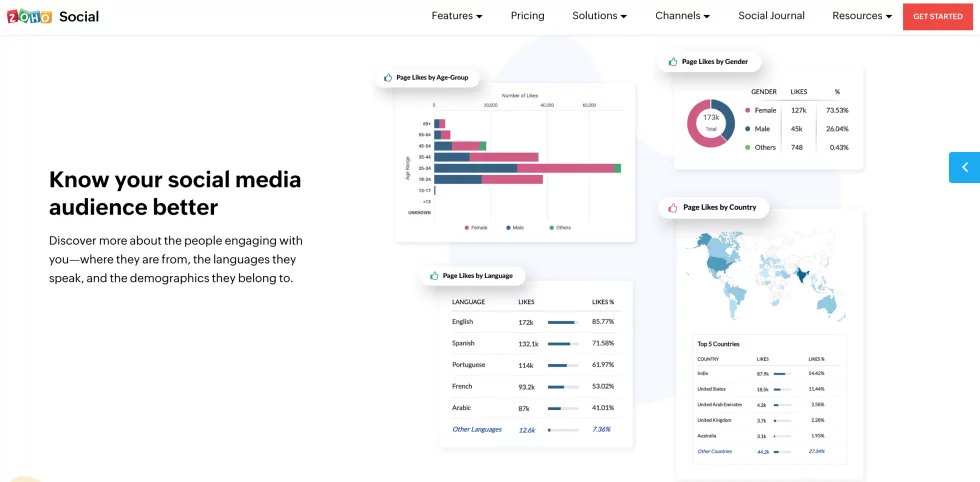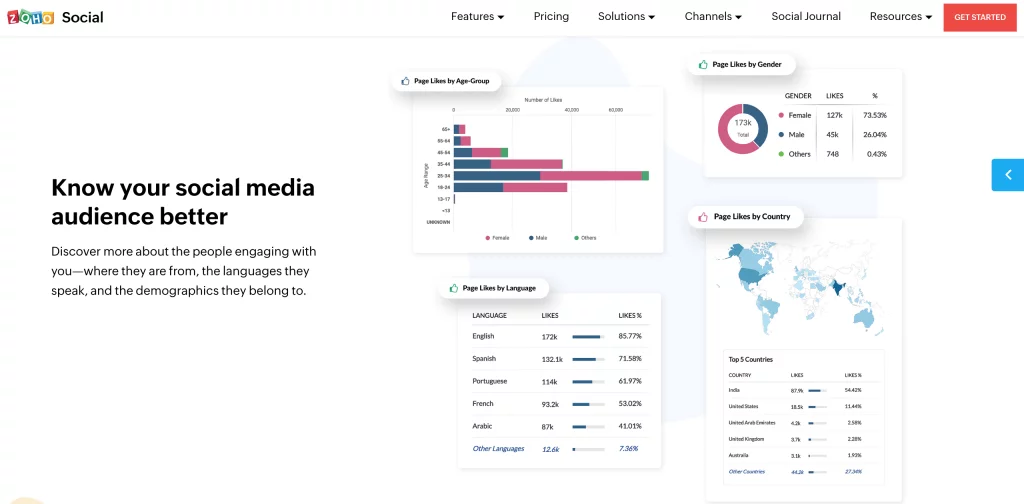 Besides analytics, Zoho Social also offers:
Social media scheduling and posting across multiple social media profiles.
Data-driven recommendations to optimize content performance and hit peak engagement.
Roles and permissions to build a content workflow.
Social media listening features like a customized dashboard and mention tracking across social media accounts.
Zoho has a free plan and five paid plans starting from $15/month.
Supported platforms
Instagram, Facebook, Twitter, Linkedin, Pinterest, TikTok, YouTube, and Google My Business.
Downsides
Zoho doesn't provide many customization options for different social media platforms, and their team workflows are pretty basic and lack multilayer approval. Additionally, some users have mentioned that Zoho's support could use some improvement.
Zoho Social vs. Sprout Social
Small businesses can use this social media management tool for free for up to seven social media accounts.
Like as Sprout Social, Zoho offers extensive in-depth analytical reports on audience, engagement, and content performance.
Zoho has integrations with other Zoho products like CRM and Zoho Desk — this helps keep social media marketing efforts aligned and cohesive.
Takeaway
Zoho Social offers extensive analytical insights and does the job for a lesser price. It can be a good Sprout Social alternative for medium or small businesses with a data-driven approach.
5. CoSchedule: best social media scheduling tool alternative to Sprout
For many small teams or individual creators, full-scale social media management tools like Sprout Social can feel like very expensive overkill. CoSchedule is an excellent option for those who aim for more streamlined content processes.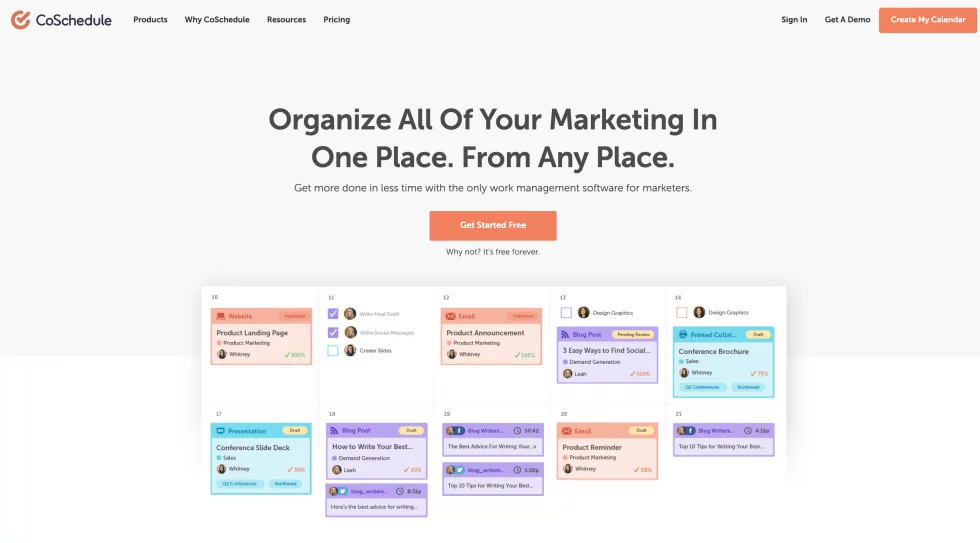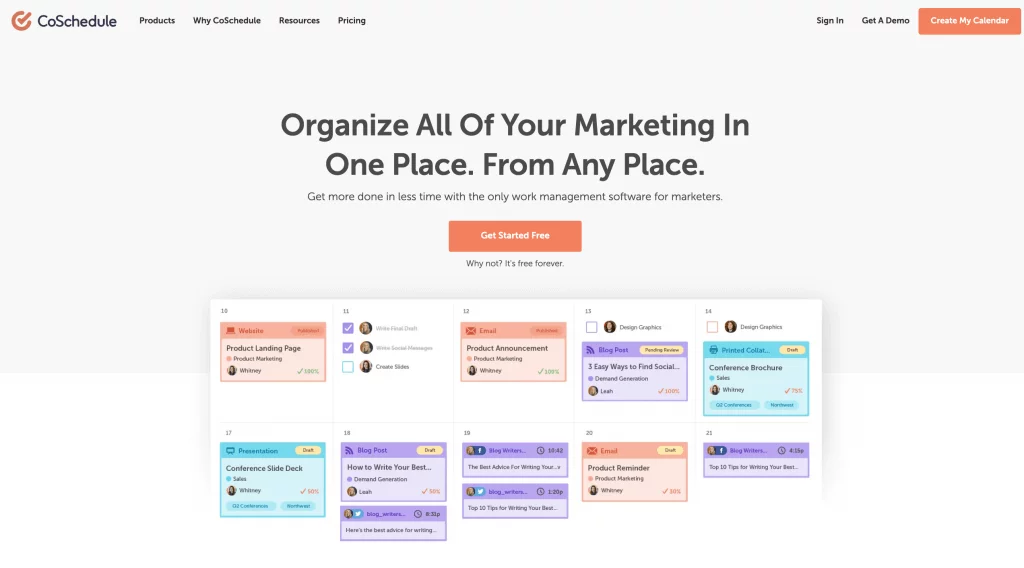 With the CoSchedule's marketing calendar, creators can:
Schedule posts for social media, blogs, and newsletters in one place and rearrange them easily.
Fill in the gaps in the content plan using bulk scheduling.
Leverage basic social reports on social media campaigns and share them with your high-ups.
Manage content tasks from a single dashboard and collaborate with team members.
CoSchedule's marketing calendar has free and paid plans, with the Pro version costing $29/month.
Supported platforms
Facebook, Instagram, Linkedin, Twitter, blog, and email client integrations.
Downsides
CoSchedule doesn't offer much besides the marketing calendar and some collaboration features: it lacks social media listening features, content workflows, and social inbox.
CoSchedule vs. Sprout Social
CoSchedule is not an advanced social media multi-tool like Sprout Social and primarily targets the issue of scattered content efforts and post scheduling.
It has a free version that offers just enough features for small social media teams and individuals.
Unlike Sprout Social, CoSchedule offers integrations with blog platforms that can be useful if your team works with articles.
Takeaway
CoSchedule is a targeted tool for small teams and individual creators who need to tame marketing chaos. If your team doesn't need an extensive feature list, CoSchedule is a nifty minimalistic Sprout Social alternative with attractive prices and efficient solutions.
6. Tailwind: best email and social media bundle Sprout Social alternative
Tailwind combines a social media management tool, built-in design features, and an email marketing solution. Although it has limited integrations with social media, Tailwind helps handle content for three major channels and email newsletters together on one platform.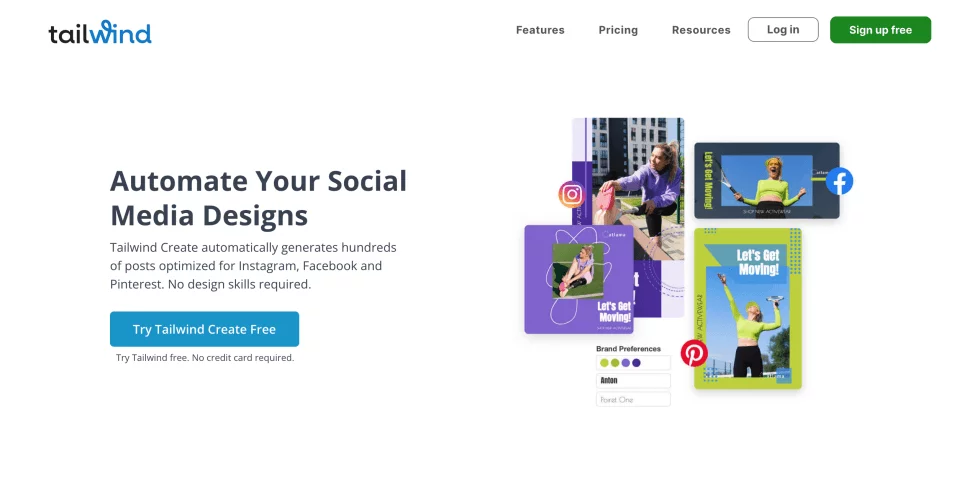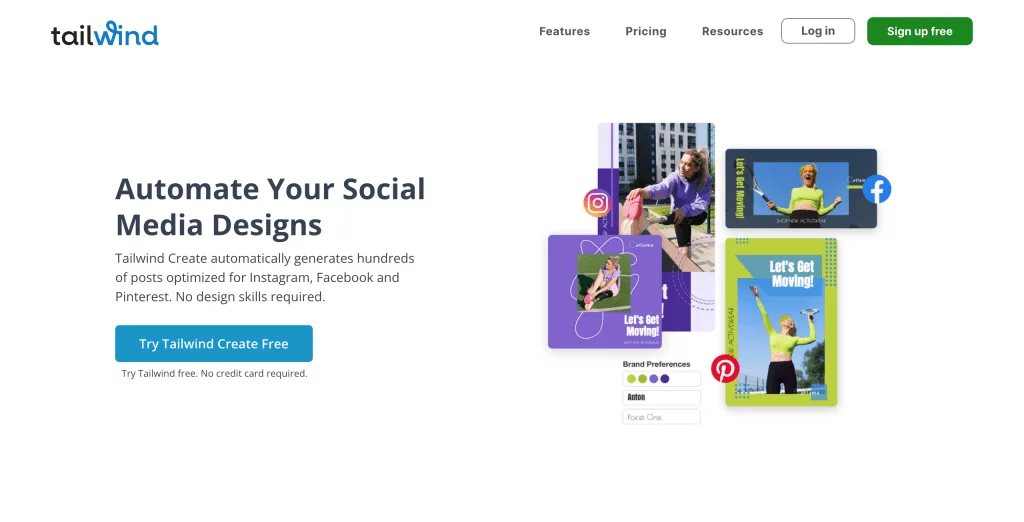 Besides planning, creating, and scheduling social media content, Tailwind can:
Schedule posts at the best possible times to maximize engagement and reach;
Discover popular content in your niche and help the team curate it using the Content Discovery feature.
Identify the best-performing posts, track follower growth, and gain insights into audience behavior with reports and built-in analytics.
Streamline email marketing efforts and leverage the AI recommendation for your newsletters.
Tailwind offers a free plan and three paid ones starting at $19.99 per month.
Supported platforms
Instagram, Pinterest, Facebook, blog, and email marketing integrations.
Downsides
Tailwind is limited in its platforms: it only supports Facebook, Instagram, and Pinterest, and auto-posting is only available for posts with no more than one image. Also, the interface may be overwhelming for new users.
Tailwind vs. Sprout Social
Unlike Sprout Social, Tailwind offers an email marketing solution which can be a decisive factor for some marketing teams.
Tailwind is significantly cheaper, and its free version covers the needs of small teams — provided they're primarily working with the supported platforms.
Takeaway
Unlike some alternatives to Sprout Social, Tailwind has its own email marketing client and blog support and provides extensive design features to create your posts. If your team has limited social network coverage and wants to handle email marketing simultaneously, Tailwind is your candidate.
7. Later: best social media management Sprout Social competitor
Initially, Later served as an exclusive social media management tool for Instagram. Although it expanded to include other social platforms, it focuses primarily on Instagram-centric features and caters to visually-oriented platforms such as Pinterest and TikTok.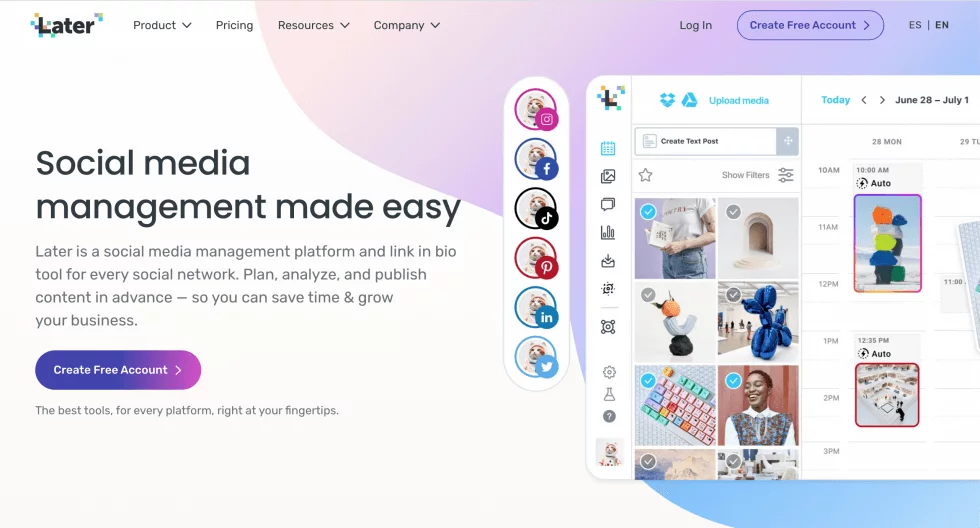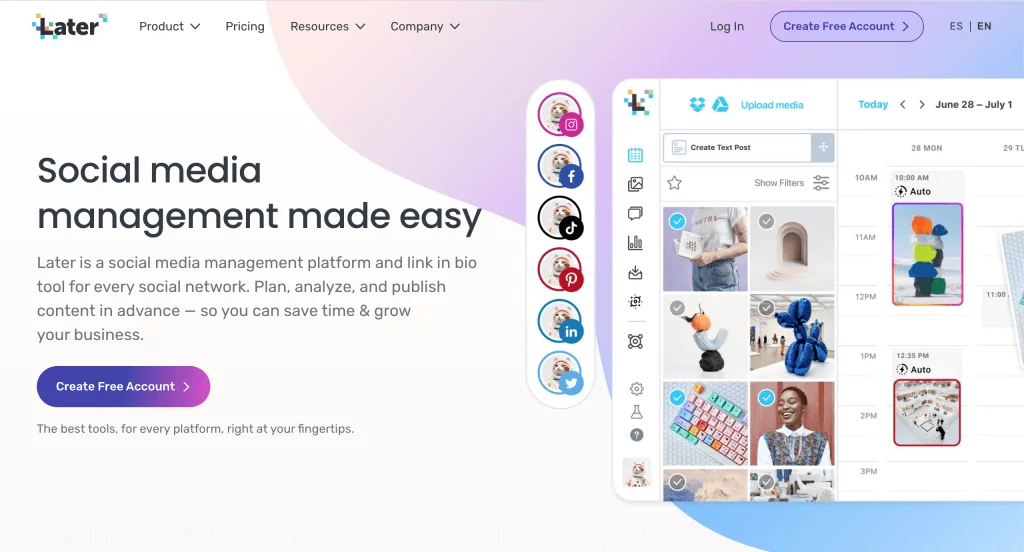 Nevertheless, Later enables its users to:
Create, schedule, and publish posts to all supported platforms using a visual publishing calendar.
Take vantage of its smart hashtag suggestions and user-generated content search.
Use built-in social media reporting to tweak the marketing strategy and optimal posting time.
Stay on brand with every post through the grid mockup.
The three paid plans for Later start at $18/month.
Supported platforms
Instagram, Facebook, Linkedin, Twitter, Pinterest, TikTok, and YouTube.
Downsides
Later remains an Instagram-centric platform, offering most of its advanced features for Instagram only. Users also can't post text-only content through Later.
Later vs. Sprout Social
Later is a niche tool for visual social media and meets the needs of Instagram creators best.
Like Sprout Social, Later offers scheduling, analytics, and smart recommendations.
Later is more affordable, making it a more suitable option for individual creators.
Takeaway
Later is a straightforward tool for those who know their game. It is handy for Instagram and Tiktok creators who need to take care of their feed and gather basic analytics on a budget — for a case like this, Sprout Social would be a massive overkill.
Sprout Social Alternatives FAQs
What is better than Sprout Social?
Planable is the best Sprout Social alternative regarding collaboration and feature-price balance. It's highly customizable for a team of any size. However, if you're on a hunt for built-in analytics, try Zoho or Hootsuite.
Is there a free alternative to Sprout Social?
If you're looking for a free Sprout Social alternative, try Planable: its free version includes 50 posts and has no time limit. After you dip your toes into the functionality, feel free to upgrade — it only costs $11 monthly.
What's better, Sprout or Hootsuite?
Of all social media management platforms, Sprout Social and Hootsuite might be the most alike: they share many features, including analytical tools, content calendar, and social media monitoring. Sprout Social offers a better interface and more social listening options, but Hootsuite is cheaper.