Have you been spending too much time on Capterra and G2 figuring out the Loomly alternatives? Chances are you're not enjoying your experience with Loomly, or maybe you want to explore better options that meet your business needs.
So here are 7 Loomly alternatives for you to consider next:
Why you should consider a Loomly alternative
Loomly is a social media management platform with power-packed features. They offer features like scheduling and planning, engagement, advanced analytics, and reporting.
Plus, they cover most of the social media marketing channels, and integrations marketers need: Facebook, Instagram, LinkedIn, Twitter, Pinterest, Google Business, TikTok, YouTube and Snapchat.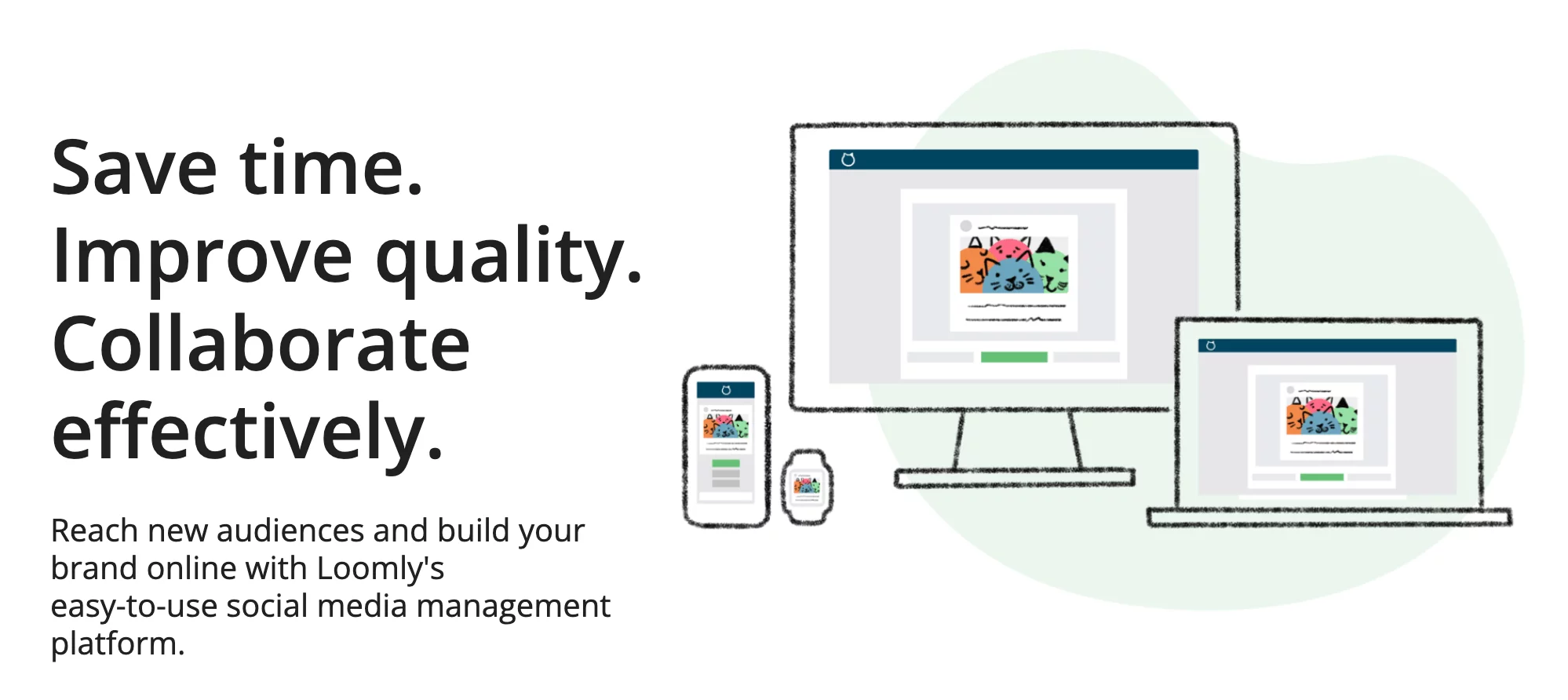 While Loomly offers all the important social channels and friendly pricing options, it takes the back seat with its free trial. It offers a 15-day free trial, which may be insufficient for you to make a really informed decision.
Some important features like scheduled analytics reports and custom workflows are only included in the expensive plans. Also, Loomly doesn't offer social listening and advanced collaboration tools, which many social media marketers need to keep their social engine running.
Here's why social media managers should consider a Loomly alternative in 2023
Multiple content formats: other social media platforms allow you to create multiple content assets like emails, blogs, and briefs.
Flexible pricing: Loomly offers ten social media accounts and two users in their Base plan. The pricing may not be a good fit for marketers who want to see flexible options like four users and ten social media accounts.
Better collaboration: Loomly offers limited features when collaborating with in-house teams and clients.
Social media listening: Loomly doesn't offer social listening tools like tracking brand mentions and conversations, useful for companies who aim to build their company brand on social media.
1. Planable: best social media management tool for collaboration & approval
Planable is a content management solution with an easy-to-navigate, collaborative interface.
I have worked with a lot of different softwares over the years and Planable has some of the smoothest UX/UI possibilities.
Verified Planable review on G2
The best part of working in Planable? You can plan, collaborate, and get approval on any kind of written content you want: from social media to blog posts, emails, newsletters, briefs, and more.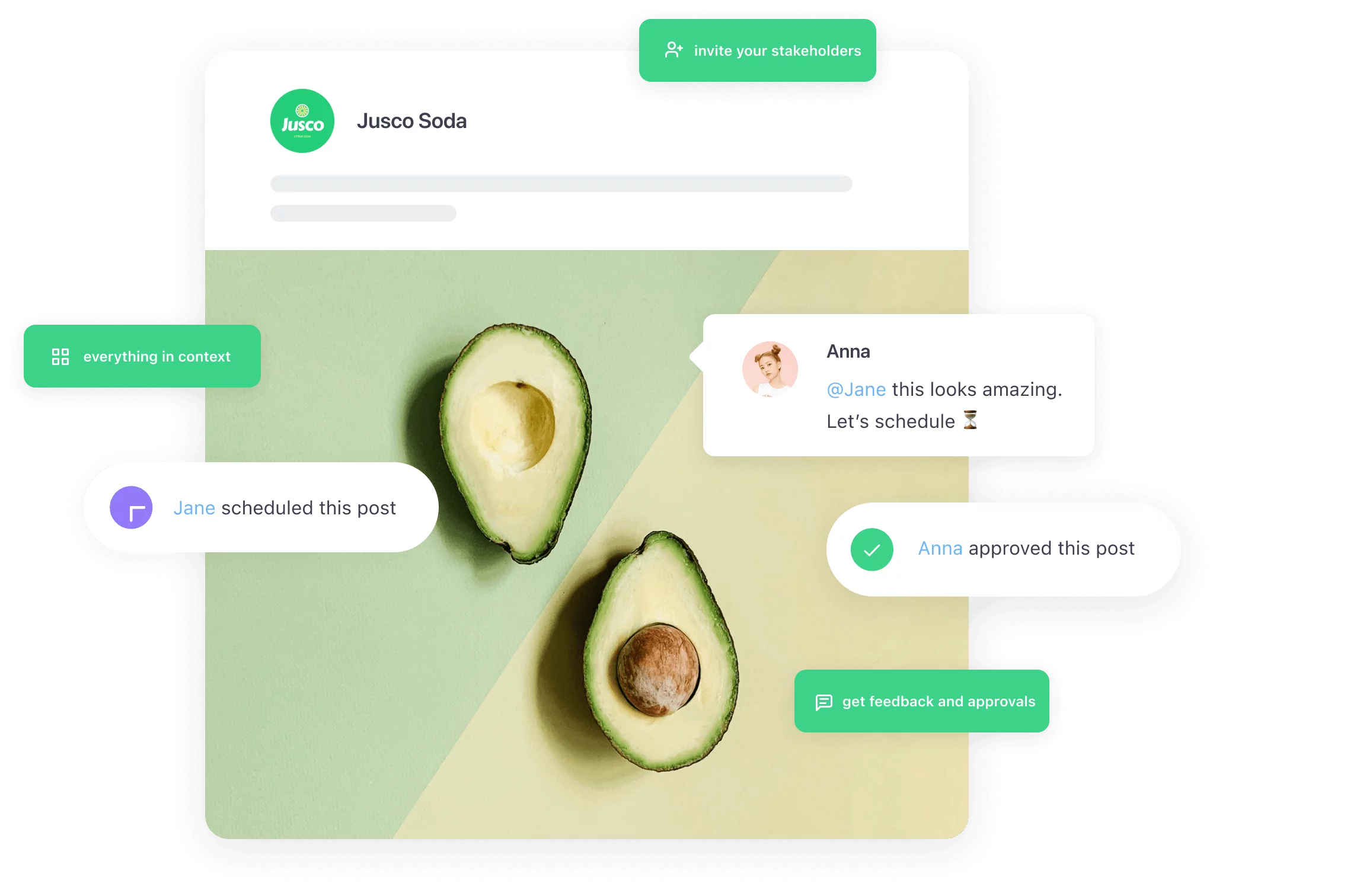 What can Planable do?
Collaboration: get the internal and external teams to collaborate separately; drop internal notes, internal posts, and comments to give and receive feedback.
Approval workflows: get three different approval options: optional, required, and multi-level approvals. You can also auto-schedule the post for publishing, once it gets approved.
Social media calendar: get four different views and see the preview of your scheduled posts exactly how they would appear on the specific social media channel.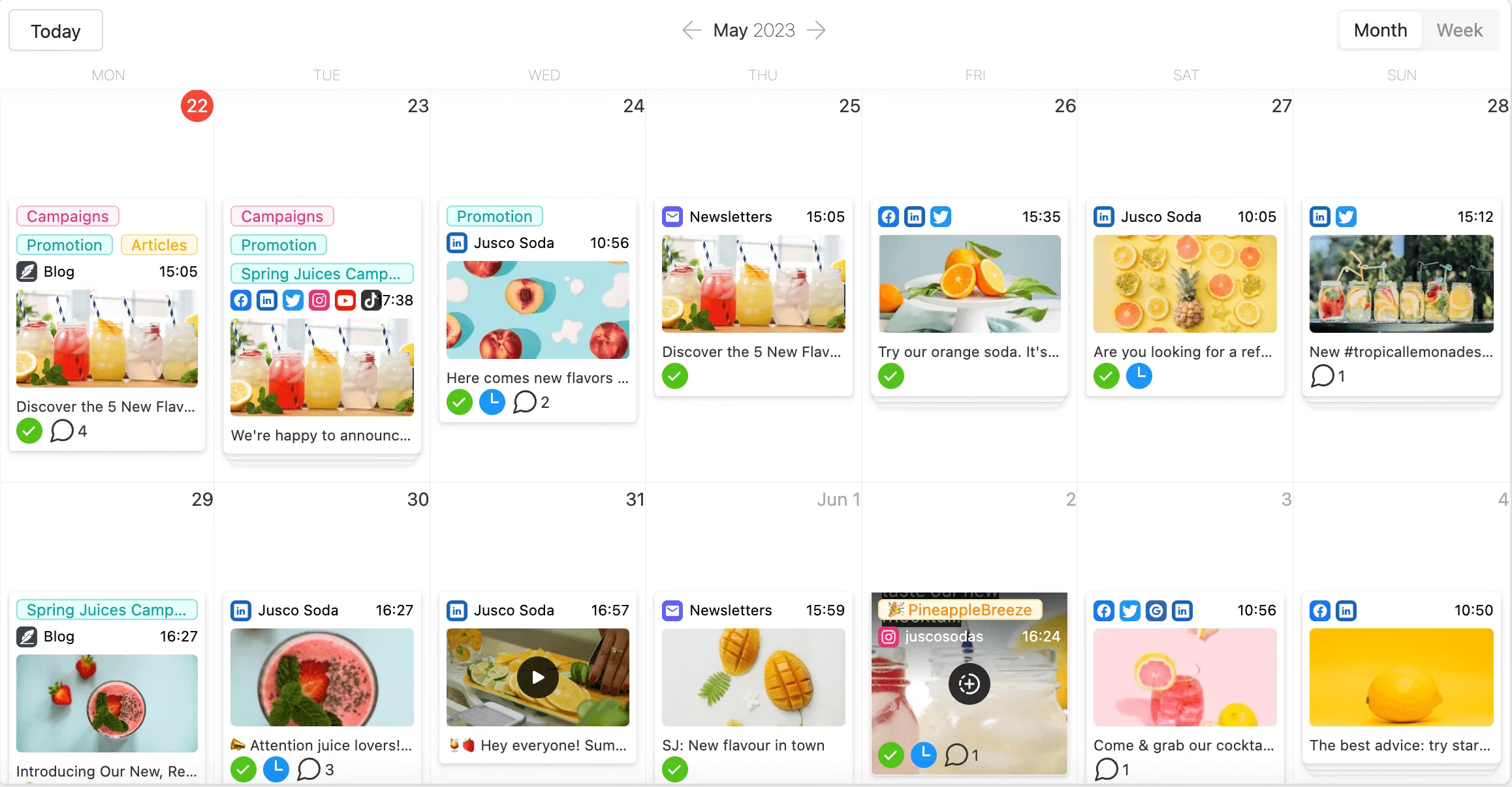 Who is it for?
Agencies and brands.
Supported platforms
Instagram (including direct publishing to Stories and Reels), Facebook, LinkedIn, Twitter, Google My Business, Youtube, Pinterest, and TikTok.
Pricing
It offers a free plan that includes one user and 50 social media posts. The paid plans start at $11 per user.
Downsides
It doesn't offer analytics and reporting options.
Planable vs. Loomly final takeaway: the best Loomly alternative
Planable offers an unlimited free plan that includes scheduling 50 posts for free, while Loomly offers a 15-day trial.
Planable offers flexible pricing options based on the number of users, workspaces, and advanced features.
Planable's collaboration feature comes with multiple social media approval options, multiple roles and permissions, and in-house notes, while Loomly offers limited collaboration options.
Planable is one of the best Loomly alternatives, especially if you struggle with collaboration and multi-approvals with your team.
2. Hootsuite: best for social listening
Hootsuite is one of the most trusted social media management platforms, that allows you to schedule posts, manage organic and paid social media posts together, and keep track of customer conversations.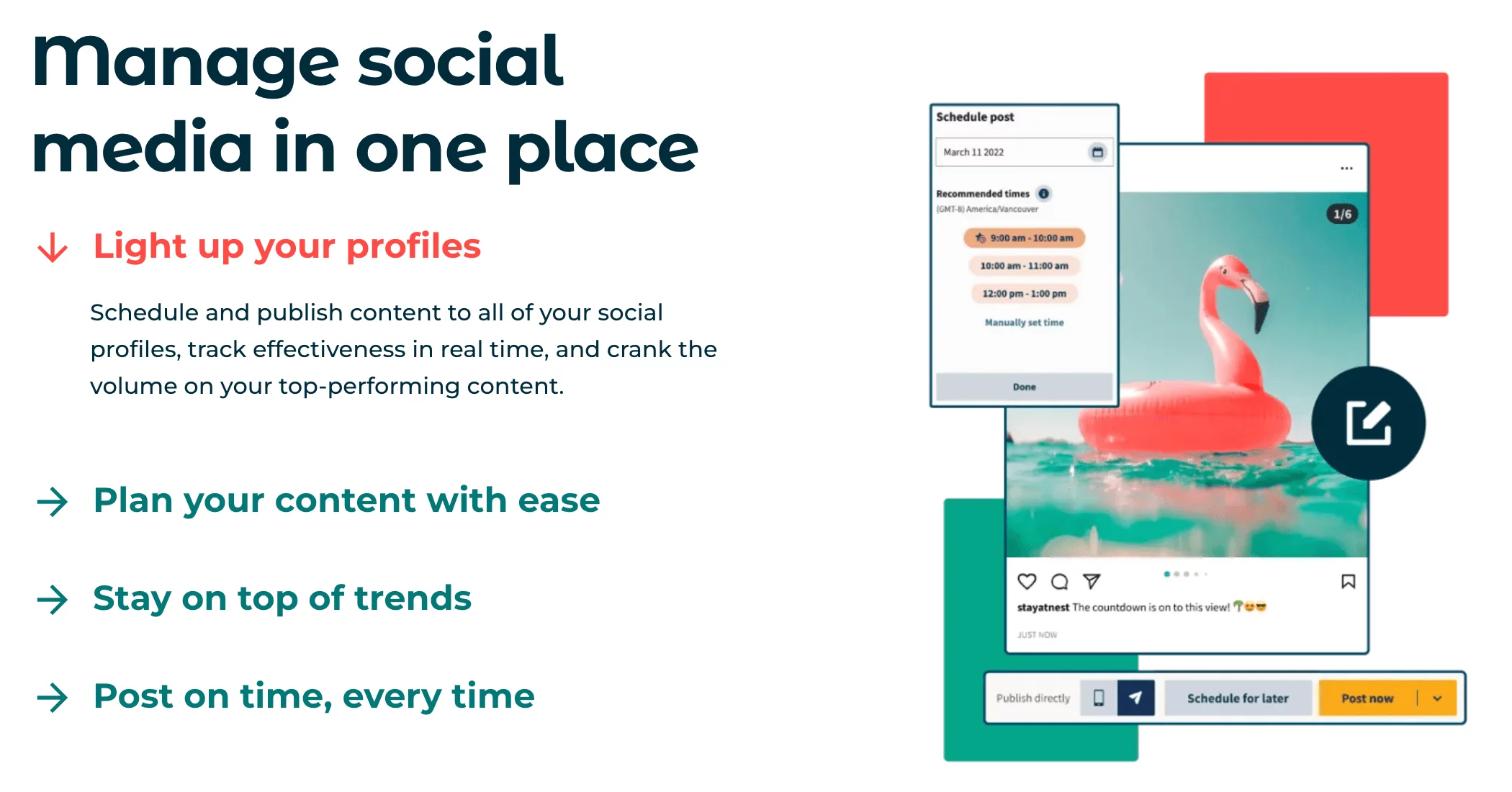 What can Hootsuite do?
Schedule and publish social media posts across social channels like Instagram, Facebook, Twitter, LinkedIn, Pinterest, and YouTube.
Manage all incoming messages, comments, and tags across multiple accounts in a single inbox.
Evaluate marketing campaigns with powerful analytics and reporting.
Who is it for?
For corporate and enterprise teams who have several sub-brands and want to operate all social channels through a single dashboard — Hootsuite is your best friend.
Supported platforms
Instagram, Facebook, TikTok, Twitter, Youtube, LinkedIn, and Pinterest.
Pricing
Hootsuite offers 4 premium pricing plans starting at $99 per month.
Downsides
Hootsuite is expensive, even for mid-sized teams. Plus, some users say there are discrepancies between Meta and Hootsuite analytics, which poses a question about the accuracy of the reporting metrics.
Hootsuite vs. Loomly final takeaway
Unlike Loomly, Hootsuite offers competitor and sentiment analysis.
Hootsuite offers social listening; Loomly doesn't.
Compared to Loomly, Hootsuite offers social sharing, survey management, tag and task management, task progress tracking, and text analysis.
Hootsuite is better than Loomly for marketers who want to leverage social listening, and create powerful campaigns leveraging analytics insights.
3. Later: best for Instagram and TikTok lovers
Later is a social media marketing and commerce platform that makes scheduling easier. It offers hashtag suggestions to marketers, turns images into shoppable posts with a custom link-in-bio, and more.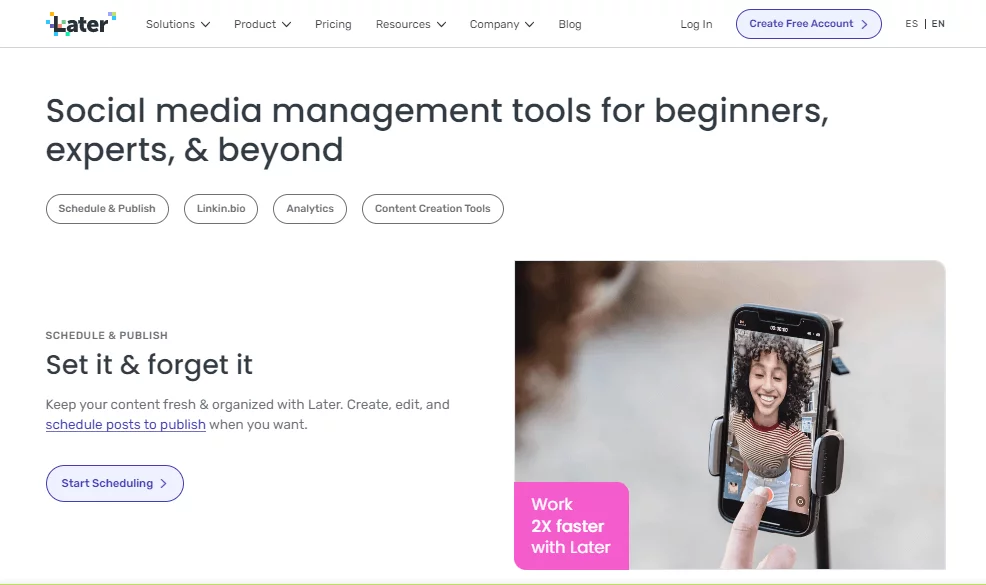 What can Later do?
Schedule and auto-publish posts across social channels
Get hashtag suggestions
Generate Instagram captions with their Caption Writer
Gather and manage user-generated content
Get a grid and feed mockup for Instagram posts
Provide a Linkin.bio integration
Give recommendations on the best timings to post and analytics
Who is it for?
Business owners, creators, agencies, freelancers, and social media managers — specifically for people focused on visual platforms like Instagram, Pinterest, and TikTok.
Supported platforms
It integrates with Instagram, Facebook, Twitter, LinkedIn, Pinterest, and TikTok.
Pricing
Later offers a free forever plan to individual users and has paid plans starting from $18 per month. It also offers 2 months of free usage if the user opts for a yearly plan.
Downsides
The platform doesn't provide LinkedIn analytics, and users cannot publish videos on LinkedIn with Later. Plus, it gets pricey after a certain number of social sets (even without upgrading).
Later vs. Loomly final takeaway
Later offers a free forever plan, while Loomly offers a 15-day trial.
Unlike Loomly, Later enables UGC content discovery and management, plus a Linkin.bio integration gets you more eyeballs.
Later may lack a few features for other platforms, but if Instagram and Pinterest are on your radar and you're a mid-sized or small business — Later will perfectly suit your needs.
4. Buffer: best for social media engagement
Buffer is another popular social media management platform. It includes features like a content calendar, shared inbox, approval workflows, and social analytics.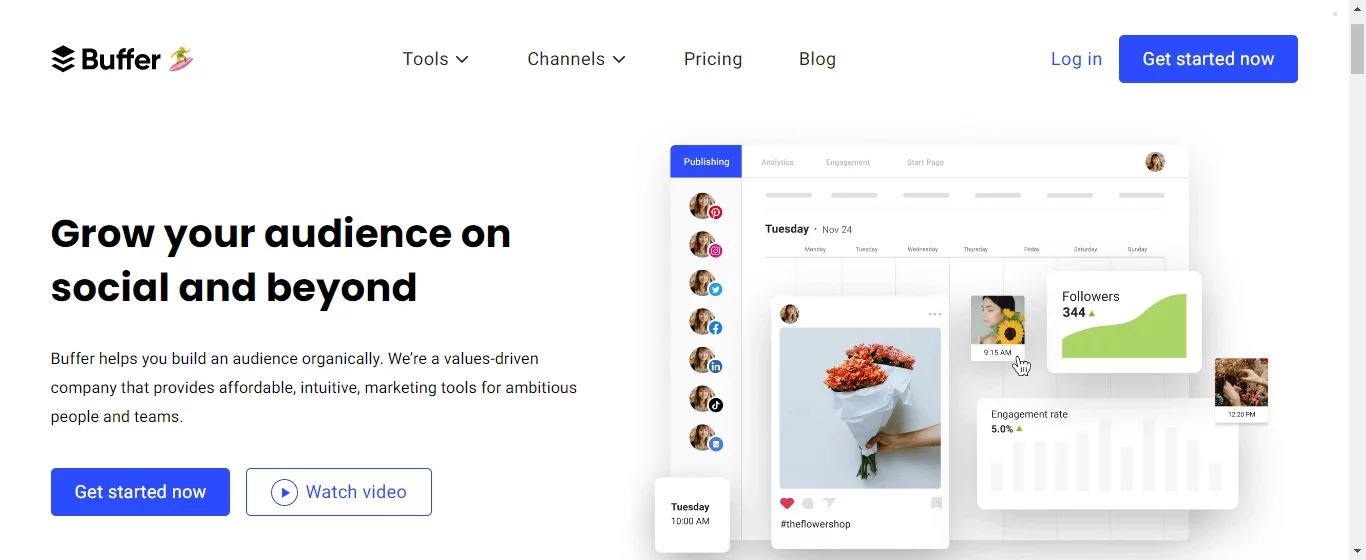 What can Buffer do?
Publish content on all important social channels, including Shopify.
Include a smart social media engagement system where marketers get alerts for comments based on pre-defined prioritization options.
Publish social media posts in multiple languages, and repurpose them with Buffer's AI assistant.
Create a landing page for marketers to put all their important links in one place.
Get detailed analytics and understand the best day, time, and type of post.
Who is it for?
Small and midsize businesses, and enterprises who want to level up their social media publishing game and engagement.
Supported platforms
Facebook, Google Business Profile, Instagram, LinkedIn, Mastodon, Pinterest, Shopify, TikTok, and Twitter.
Pricing
Buffer offers a free forever plan, where you can connect up to 3 channels, and paid plans start at $6 per month for one channel. Plus, it offers flexible pricing — the costs change based on the number of channels the user opts for.
Downsides
It offers limited analytics for each post's performance and engagement. Plus, some users say the platform's performance slows down while managing multiple accounts.
Buffer vs. Loomly final takeaway
Buffer offers flexible pricing plans based on the number of channels — the lowest plan starts at $6 per month, while Loomly's cheapest plan is $26 per month.
Unlike Loomly, with Buffer, you get Shopify analytics to track your products and sales along with social media posts.
It sends alerts for the most important comments that highlight open questions or unhappiness on sales.
Buffer is a good-value-for-money option compared to Loomly, as it offers Shopify integrations and smarter engagement features.
5. Sprout Social: best for social customer support
Sprout Social is power-packed with useful features like social listening and advocacy, making it one of the favorites for marketers who want to go beyond social media marketing. If managing your brand end-to-end is a priority, this platform has some hidden gems for you.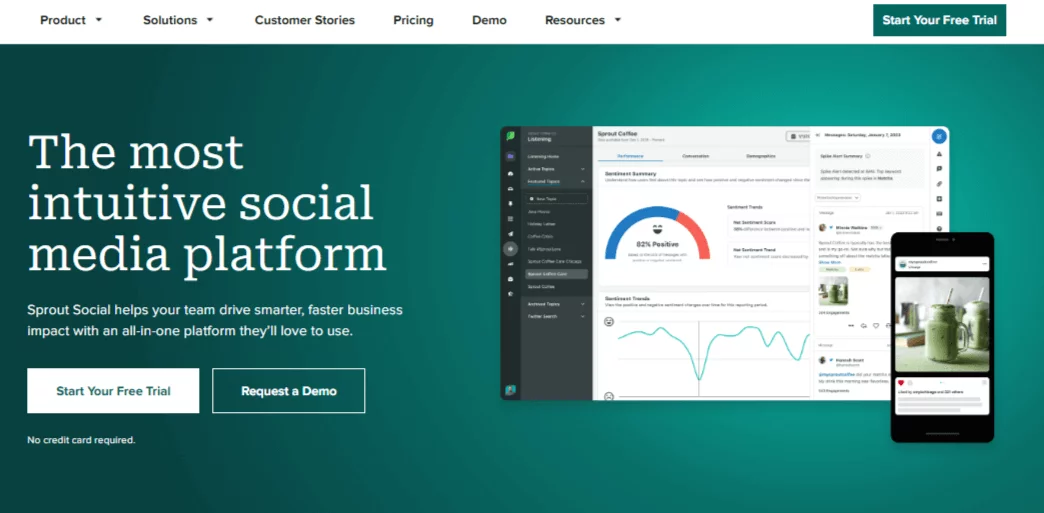 What can Sprout Social do?
Give you a social inbox to engage with messages across multiple social media channels.
Monitor the reviews and ratings customers give to your brand across the Apple store, Google Play store, Facebook, Google My Business, Tripadvisor, Glassdoor, and Yelp.
Gather conversation history, contact information, and internal notes to respond quickly and individually to customers with social CRM tools.
Provide helpdesk and social commerce integrations.
Who is it for?
Small businesses, agencies, and enterprises.
Supported platforms
Twitter, LinkedIn, Instagram, Pinterest, Facebook, Youtube, TikTok, and Whatsapp, and integrations with Facebook Messenger and Google Business messages.
Pricing
Sprout Social's standard plan starts at $249 per month plus, for every additional user, it charges $199 per month extra.
Downsides
Sprout Social is quite expensive. Plus, too many features make it challenging for marketers to navigate the platform.
Sprout Social vs. Loomly final takeaway
While Loomly gives you a seamless scheduling and engagement platform, Sprout Social amps up social listening and offers you a helpdesk to keep a bird's eye on your company's brand.
Unlike Loomly, Sprout Social gives you powerful tools to manage your overall brand and not just social channels.
Sprout Social is an extremely powerful platform for your business if you want to move beyond marketing campaigns and go full-power on engaging with your audience for customer support and helpdesk.
6. Sendible: best for agencies
Sendible takes pride in being the social media management tool for agencies. Indeed, it does what it stands for. It gives marketers a power-packed social media listening and reporting solution.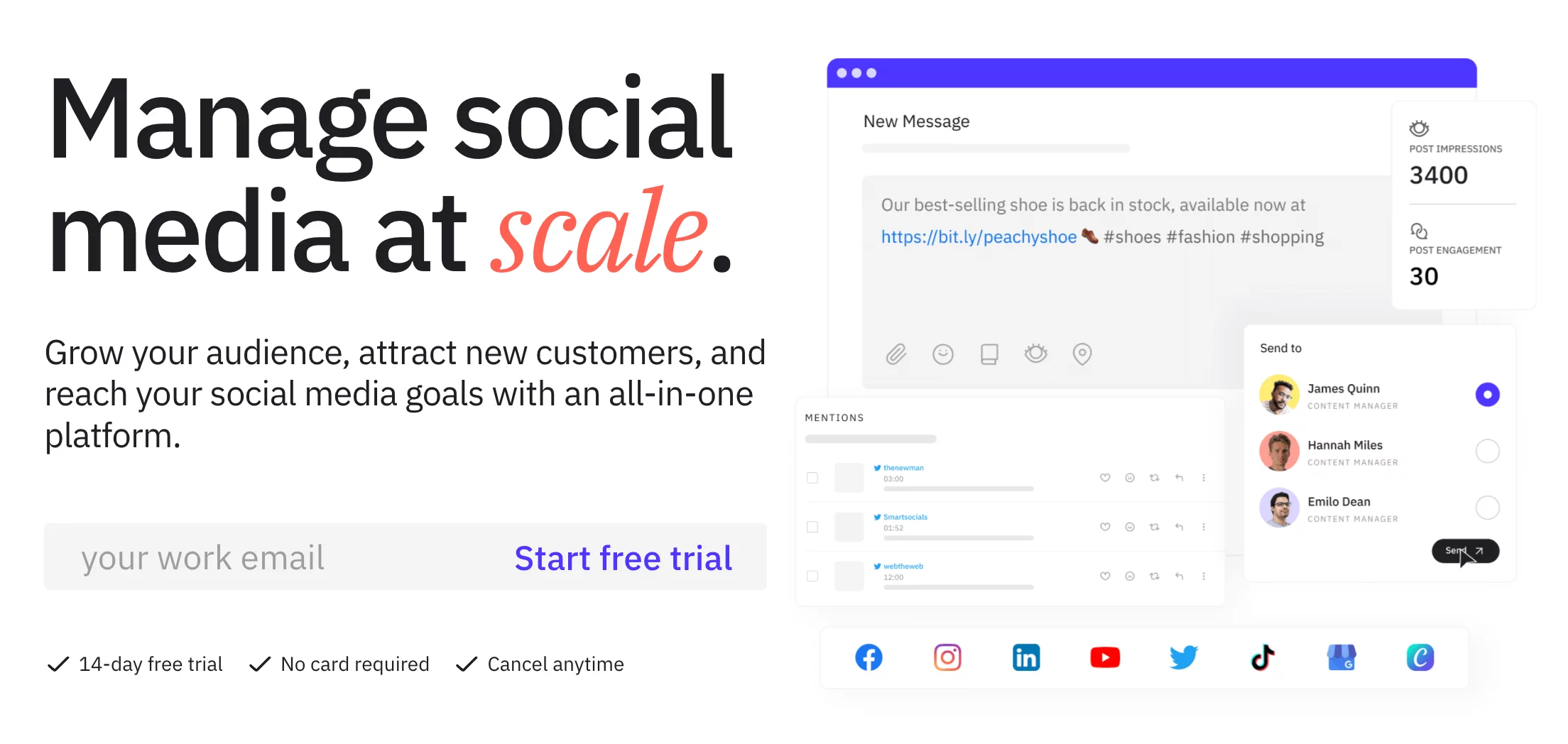 What can Sendible do?
Schedule posts across multiple social media accounts.
Provide social media listening tools — tracking brand mentions and responding to comments.
Allow you to use client's social media channels without asking for their login credentials
Generate social media reports and send them automatically to your team members and clients.
Who is it for?
Freelancers, startup and growing agencies, large teams.
Supported platforms
Facebook, Instagram, LinkedIn, Twitter, Google My Business, Youtube, and TikTok.
Pricing
It comes with a 14-day free trial and starts at $29 per month, which includes one user, six social profiles, and unlimited scheduling, content ideas, social media monitoring, and reporting.
Downsides
It doesn't support Pinterest, and it's quite expensive. Plus, some people complain they face problems while uploading Instagram video posts and putting captions on LinkedIn posts.
Sendible vs. Loomly final takeaway
Sendible provides a tool for social listening, tracking brand mentions, and sentiment analysis, while Loomly is missing this.
Sendible integrates with Canva; Loomly doesn't.
Sendible also offers a customized report builder, which Loomly is missing.
Sendible is your go-to social media management platform if you prioritize social listening and social reporting. It's also ideal if you want to remove the friction introduced in your client onboarding by asking for their login credentials.
7. Agorapulse: best for social media reporting
Agorapulse is not just a social media management tool. It offers deeper social media analytics and reporting that makes it a great option for marketers and businesses.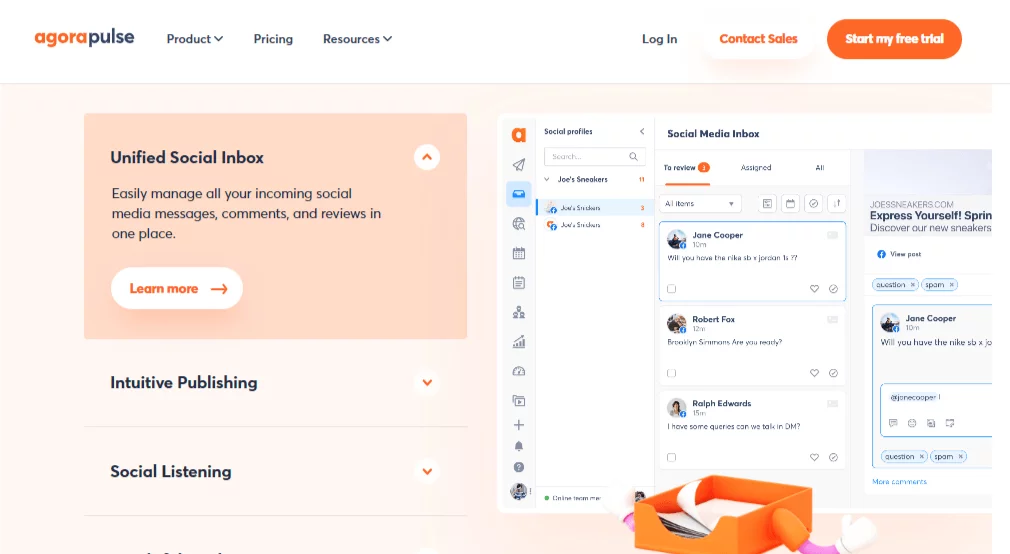 What can Agorapulse do?
Schedule and publish posts for multiple social media networks.
Let you add labels, save important feedback, respond to comments and messages, and track brand mentions — all in all, it gives you a social listening system.
Create custom reports, analyze them, and then provide recommendations.
Who is it for?
Mid-sized agencies, businesses, e-commerce, and enterprise brands.
Supported platforms
Facebook, Twitter, LinkedIn, Instagram, YouTube, Google My Business, and TikTok.
Pricing
Agorapulse offers a 30-day free trial, and its standard plan starts at $49 per month.
Downsides
It doesn't support Pinterest and is quite pricey. Some people also complain that the platform lags when replying to multiple comments.
Agorapulse vs. Loomly final takeaway
Agorapulse offers a free plan: one user, three social media profiles, and ten scheduled social media posts a month.
The pricing plans are less pricey — $49 per month for the standard plan; Loomly offers $79 per month for its standard plan.
It gives you a better social inbox: automated inbox actions like assigning, reviewing, and labeling messages.
It gives you full control over social media listening and monitoring.
Agorapulse provides custom reports and manages content and community performance, which Loomly lacks.
Agorapulse is an excellent option for mid-sized agencies and businesses to get full control of social media monitoring and reporting. Although it offers premium pricing plans, when compared to Loomly, it's still cheaper.
Loomly Alternatives FAQs
What is better than Loomly?
Planable is the best Loomly alternative based on two parameters: the flexible pricing option and its extensive collaboration features, like the multiple approval workflows or the support for differentiated team or client collaboration.
But, if you're looking for social listening features, you should consider Hootsuite or Sprout Social.
Is there a free alternative to Loomly?
Planable offers a free plan that includes 50 posts with unlimited feature experience. After enjoying the perks of the free plan, you can upgrade the plan for as little as $11/ month.
What's better, Loomly or Hootsuite?
It's totally your call and depends on your business needs. Hootsuite is a powerful social media marketing solution that offers social listening, competitor analysis, and deeper analytics. On the other hand, Loomly offers social media publishing, post inspiration, and approval workflows.