If you publish Pinterest content daily or weekly, you've got two options: the hands-on approach of manually publishing in real time or the easy-breezy automation of a Pinterest scheduler. And if you choose the scheduling route, there are two ways to make your Pins live: via Pinterest's native scheduling tool or with a third party scheduler like Planable.
We'll guide you through both scheduling options step by step and show you the pros and cons of each.
How to schedule Pins natively on desktop
If you have a Pinterest business account, you can schedule Pins on desktop 2 weeks in advance. Keep in mind that you can schedule only one Pin at a time, and you can have maximum of 100 Pins lined up for the future.
Here's how to use the native Pinterest scheduler on desktop:
1. Open Pinterest, click 'Create' in the top left corner, then select 'Create Pin'.

2. Upload or drag and drop a photo or video (images should be at least 1000 px x 1500 px).
3. Select your preferred Pinterest board, add your title, description, alt text and destination link.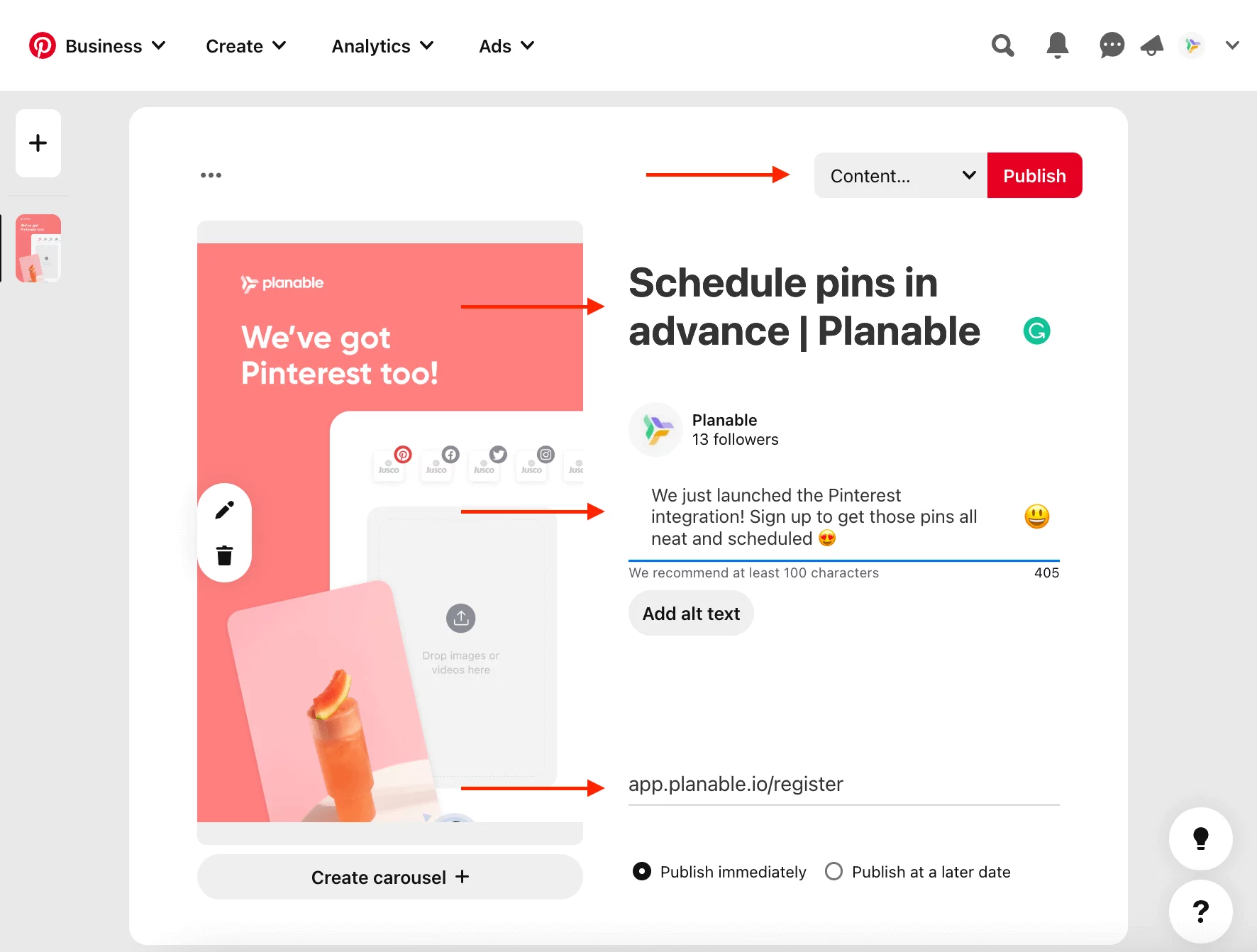 4. Click 'Publish at a later date' in the bottom right corner and select your preferred time and date for scheduling your Pin.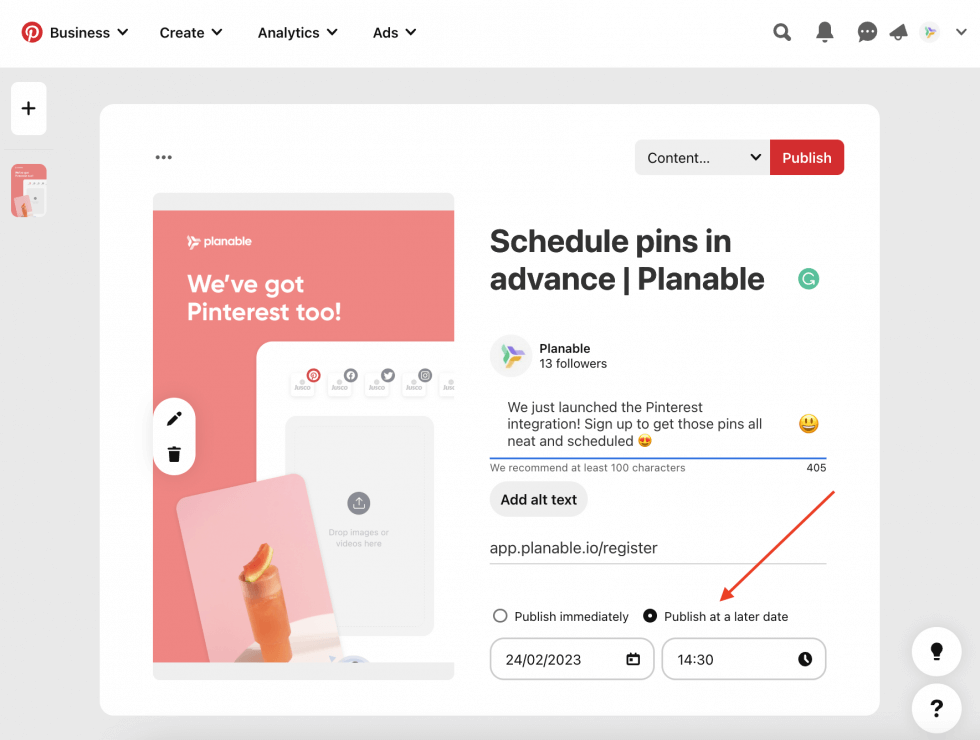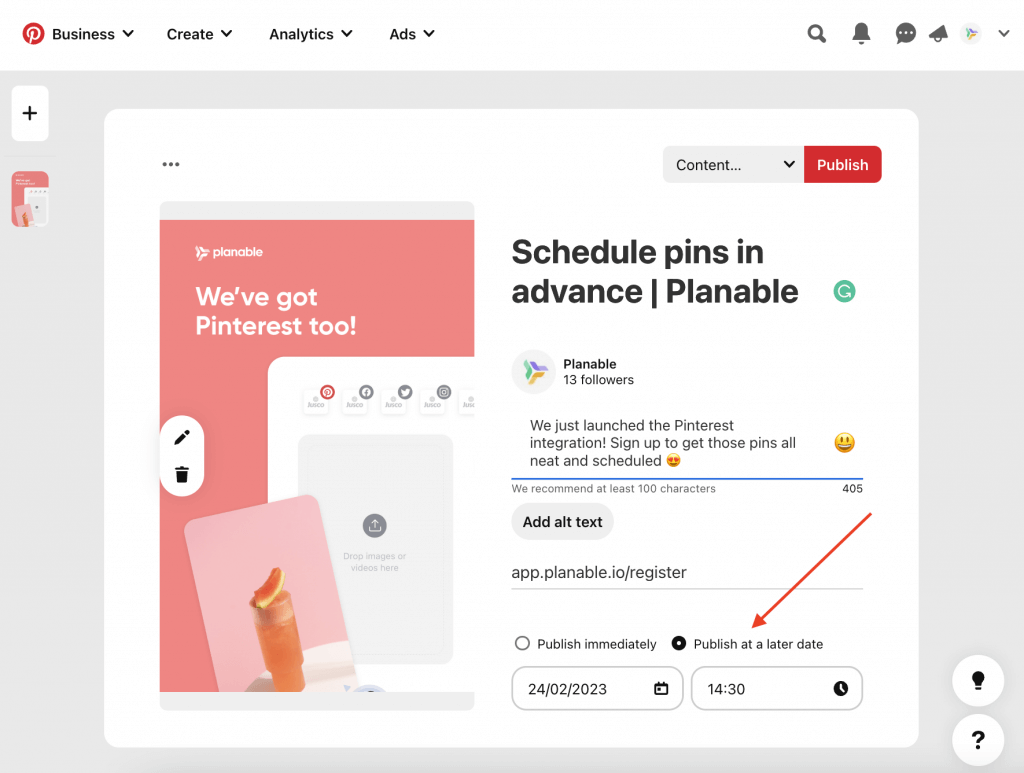 5. Click the red 'Publish' button in the top right corner to schedule your Pin.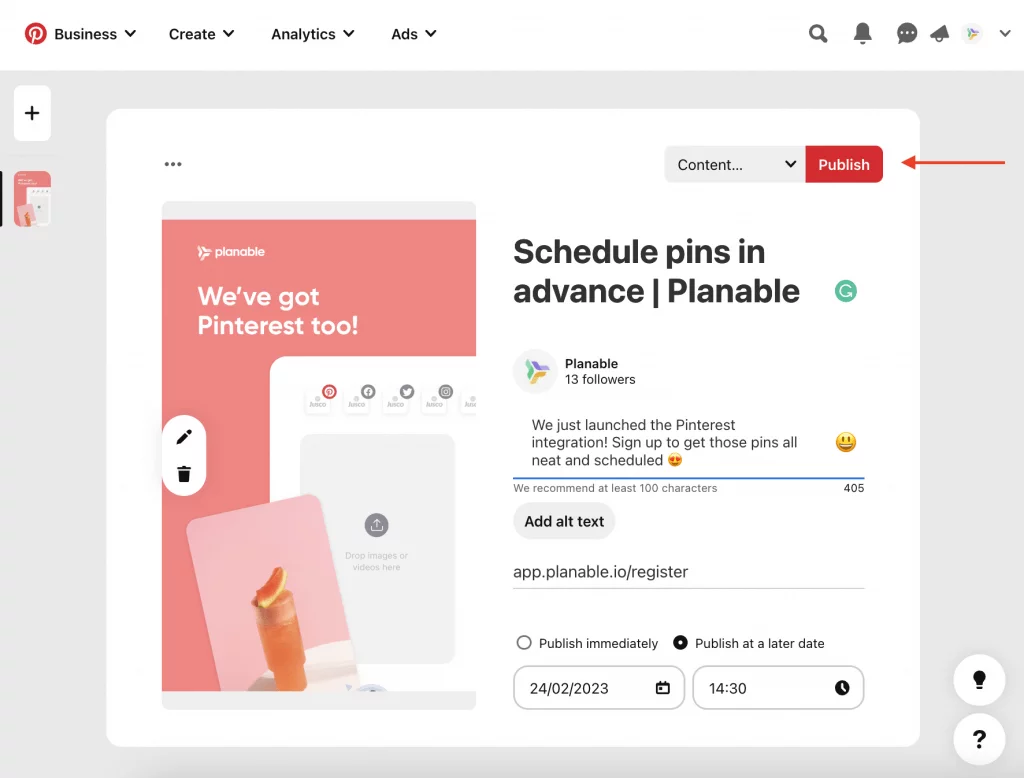 How to view scheduled Pins on Pinterest
From your Pinterest profile, click on the Created tab to see your scheduled Pins.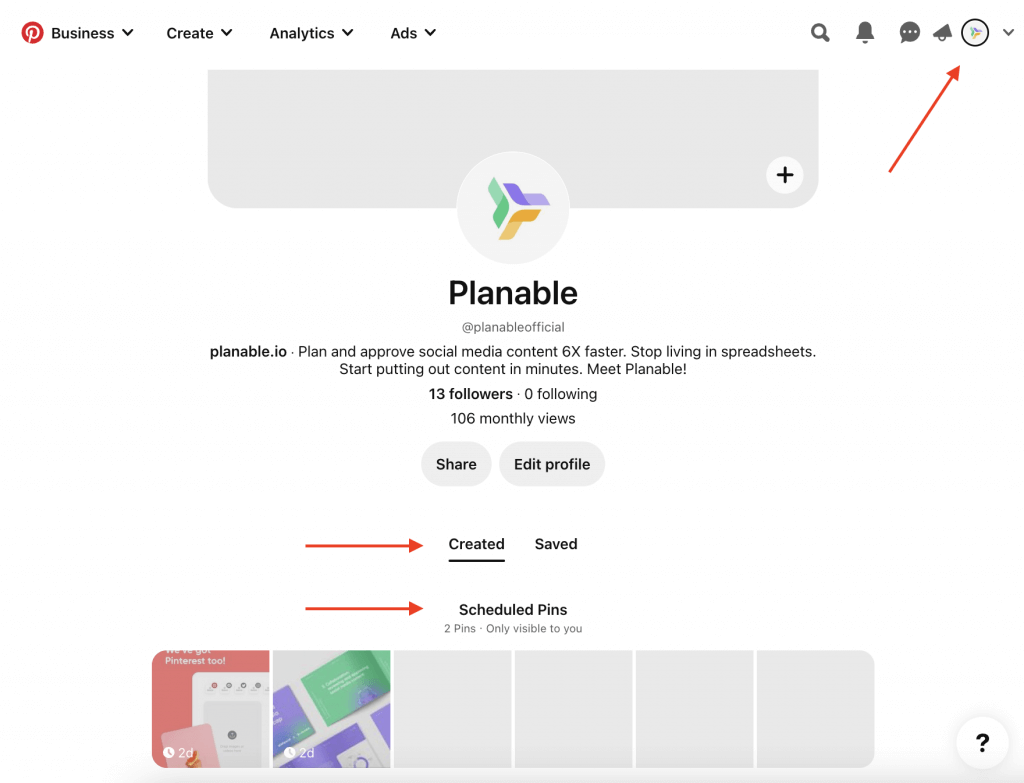 How to edit scheduled Pins on desktop
Currently, natively scheduled Pins can't be edited. To make any changes after scheduling, you have to delete Pins and schedule new ones with the desired changes.
How to schedule Pins natively on mobile
In need of a Pinterest scheduler while you're on the go? You can schedule standard Pins through the Pinterest app up to 30 days in advance. Here's how to schedule Pinterest posts on both Android and iOS:
1. Open the Pinterest app, tap the 'Plus' button and then tap 'Pin'.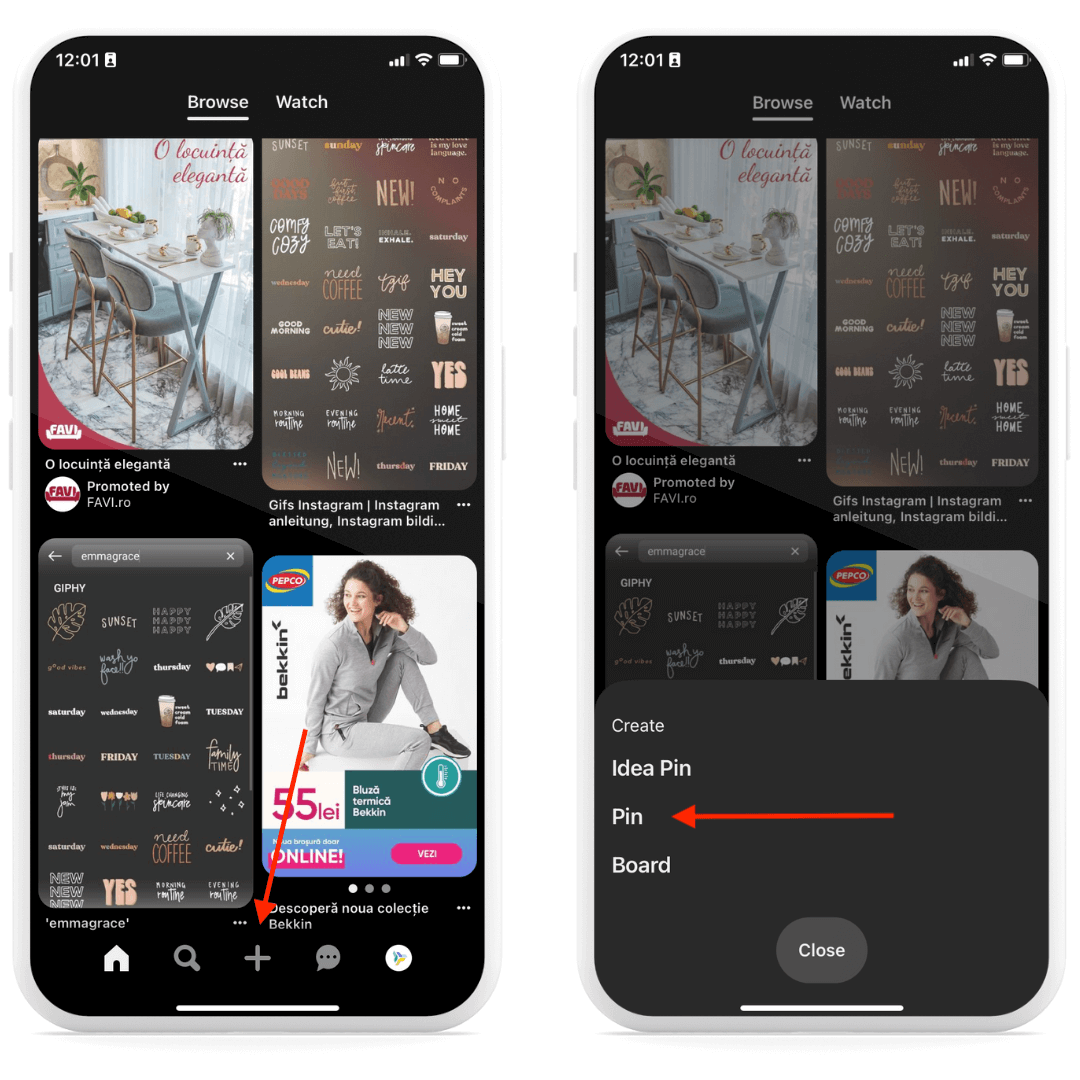 2. Select the image or video you want to upload from your phone.
3. Fill in the details: title, description and destination link.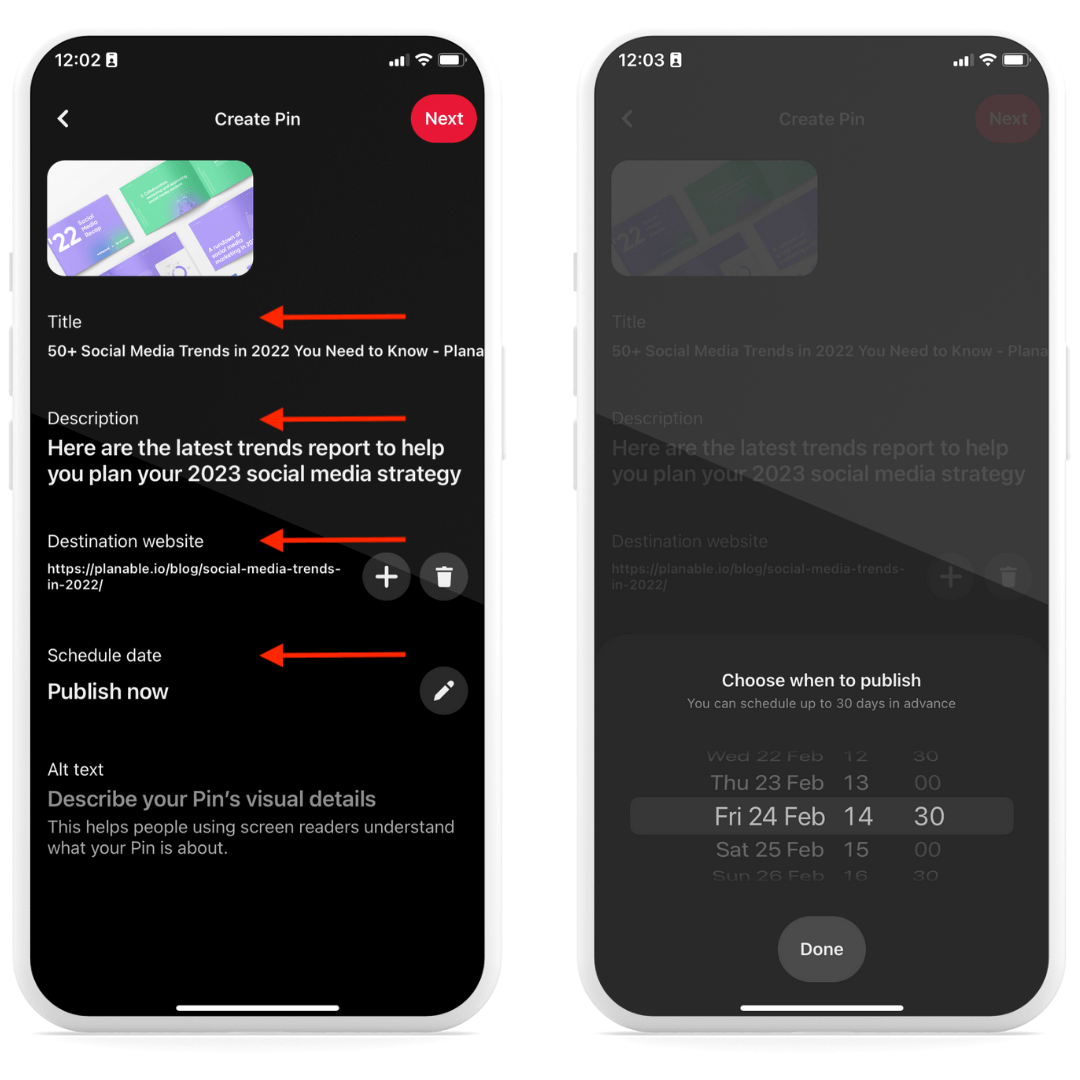 4. Tap the forward arrow (Android) or the pencil icon (iOS) under Schedule Date to set your preferred date and time then tap 'Done'.
5. Fill in the alt text and tap 'Next'.
6. Select your preferred Board from the list.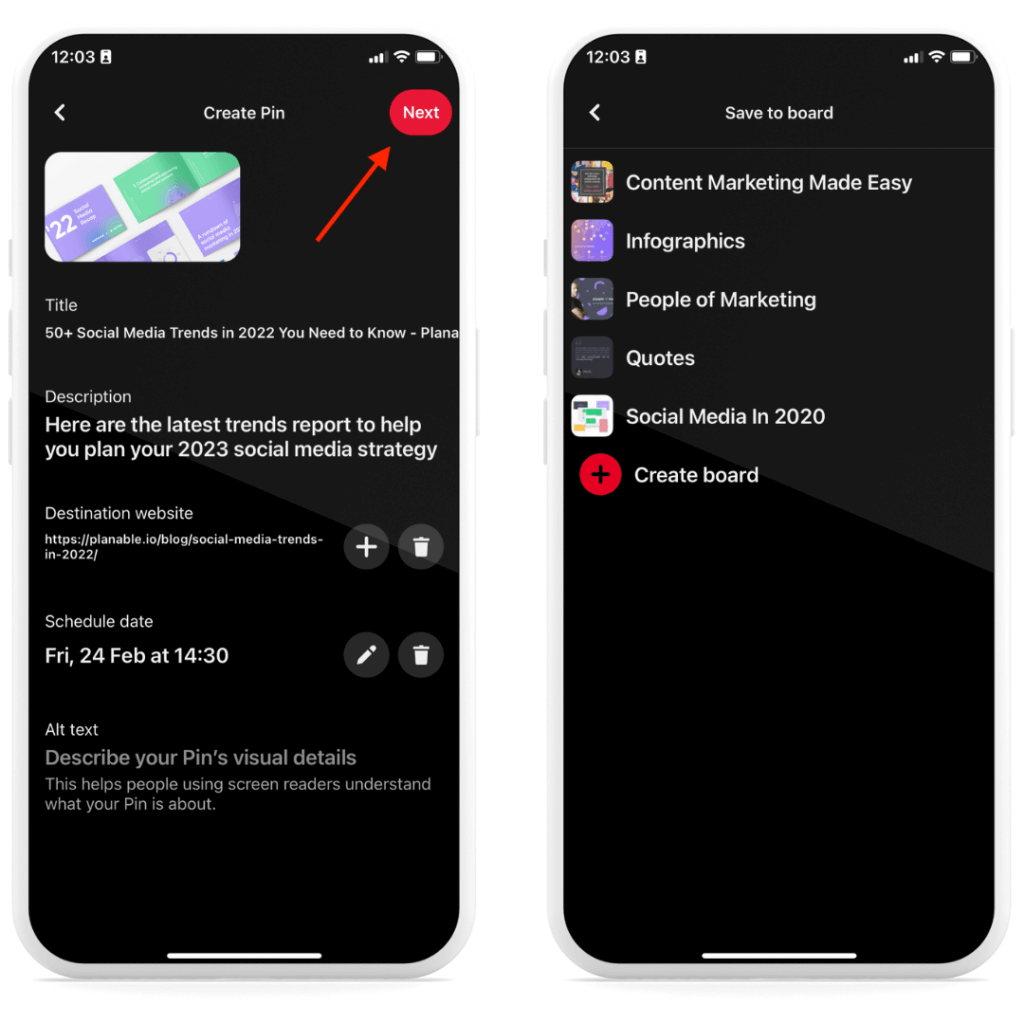 How to schedule Pins in advance on desktop
If you create content for several other social media platforms or manage multiple Pinterest accounts, a Pinterest scheduler is the ultimate tool that will save you many a headache.
Here's how easy Pinterest scheduling is with Planable:
1. Sign up for free: you don't need a credit card to create an account.
2. Connect your Pinterest page (and any other social media platforms you want to schedule posts to).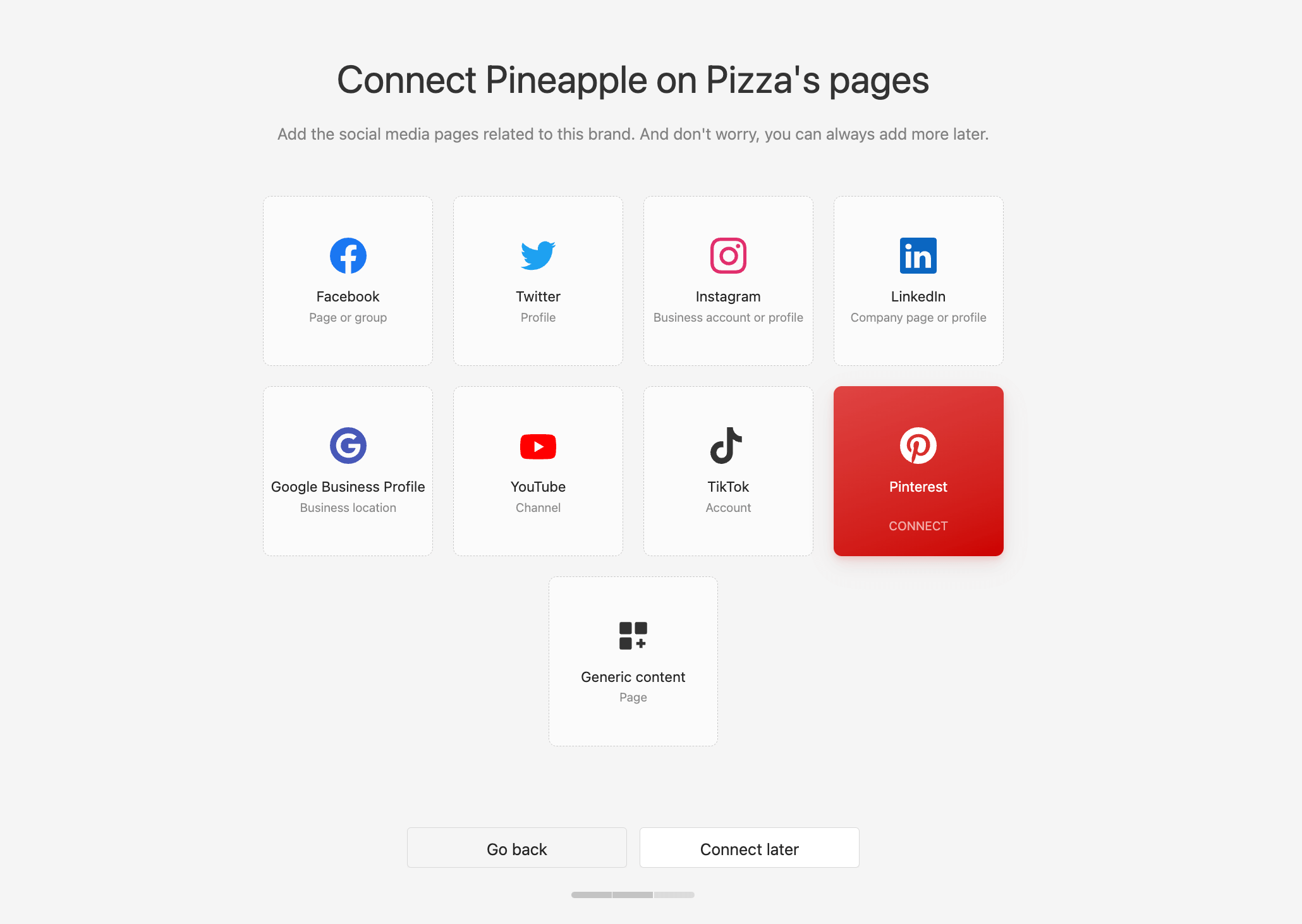 3. From your workspace, click the 'Compose button' and select the 'Pinterest' tab.
4. Add your images or videos, a destination link, a title, a description, and select your existing board.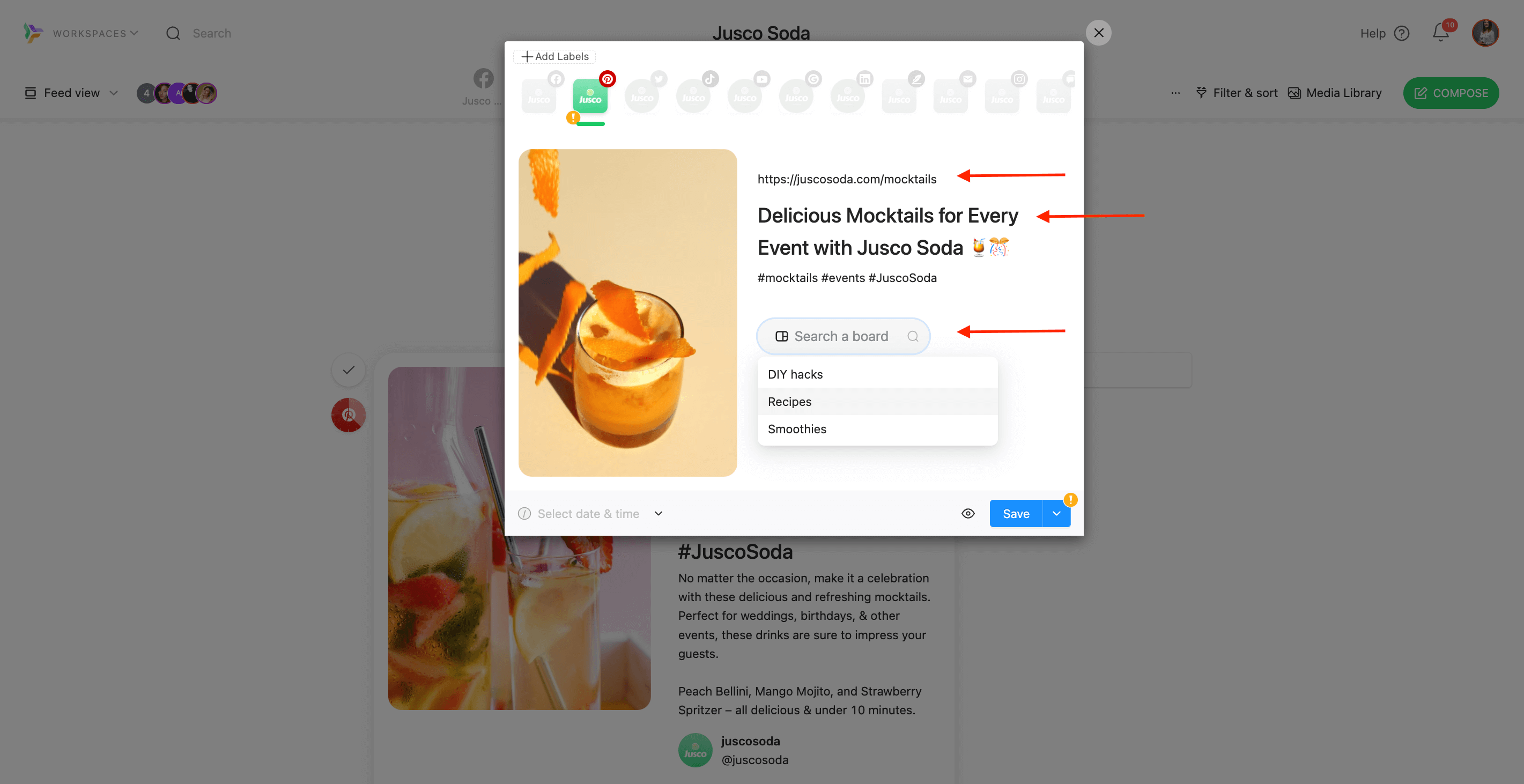 5. Click 'Select Date and Time' from the drop-down menu to choose your ideal posting time.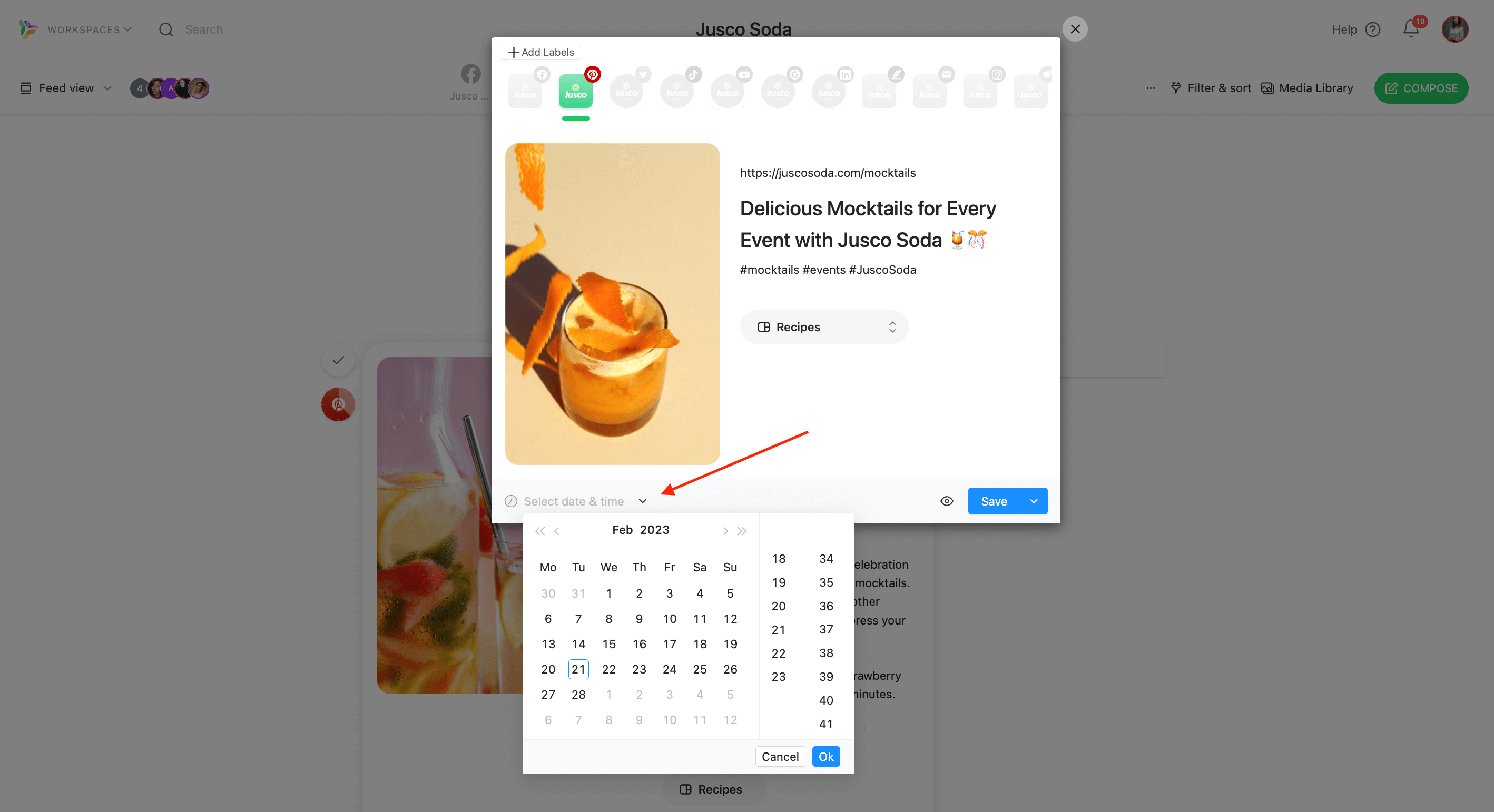 6. Click 'Schedule'.
Voilá! You can now enjoy your free time!
How to schedule Pins in advance on mobile
Here's how you can schedule Pinterest posts on your phone with Planable:
1. Sign up for Planable (no credit card required) and connect to your Pinterest account on your desktop.
2. Download the Planable app from the App Store or Google Play.
3. Select your Pinterest page and tap the 'Plus' button at the bottom of the screen.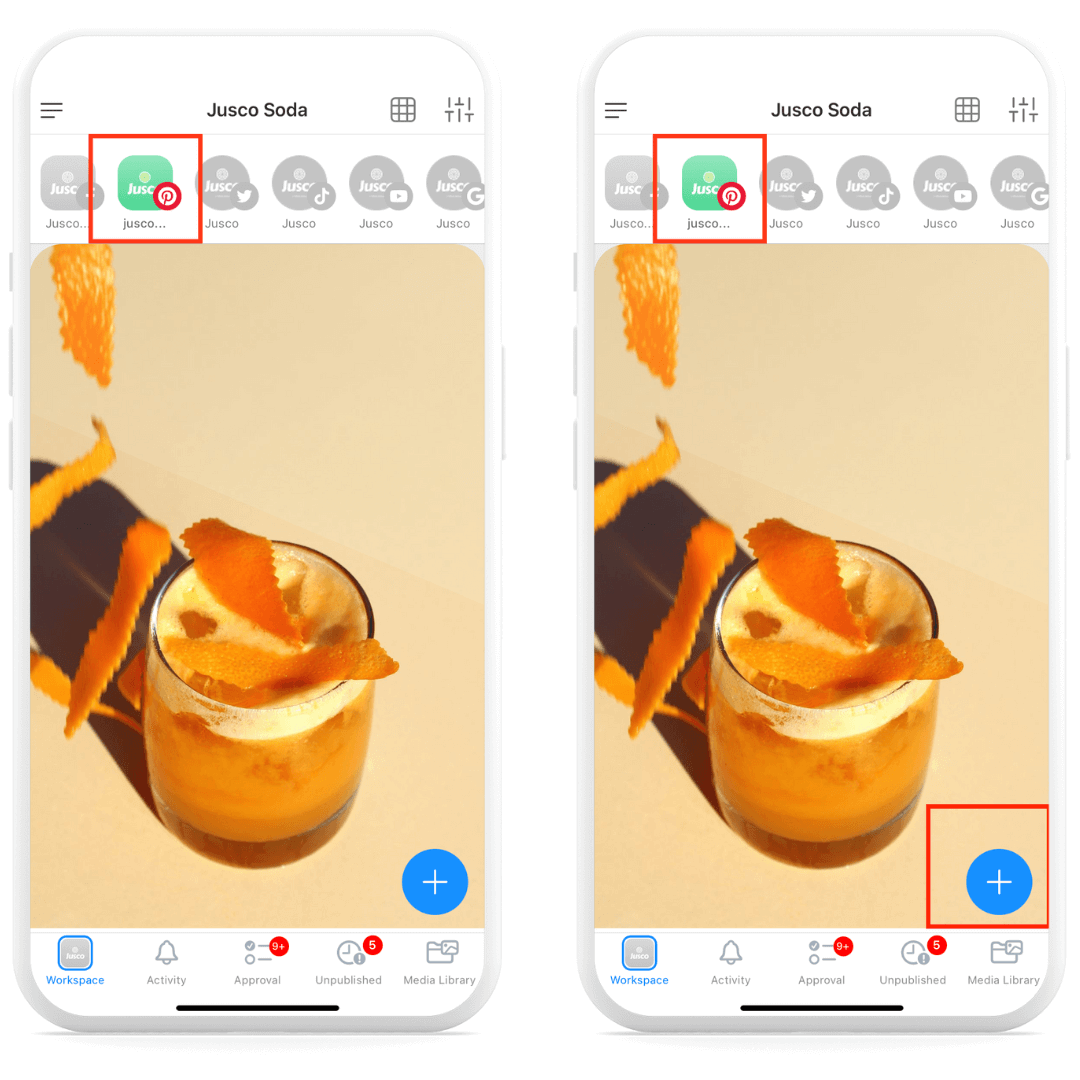 4. Fill in the details: title, description, destination link and board.
5. Tap 'Next' to Select the date and time.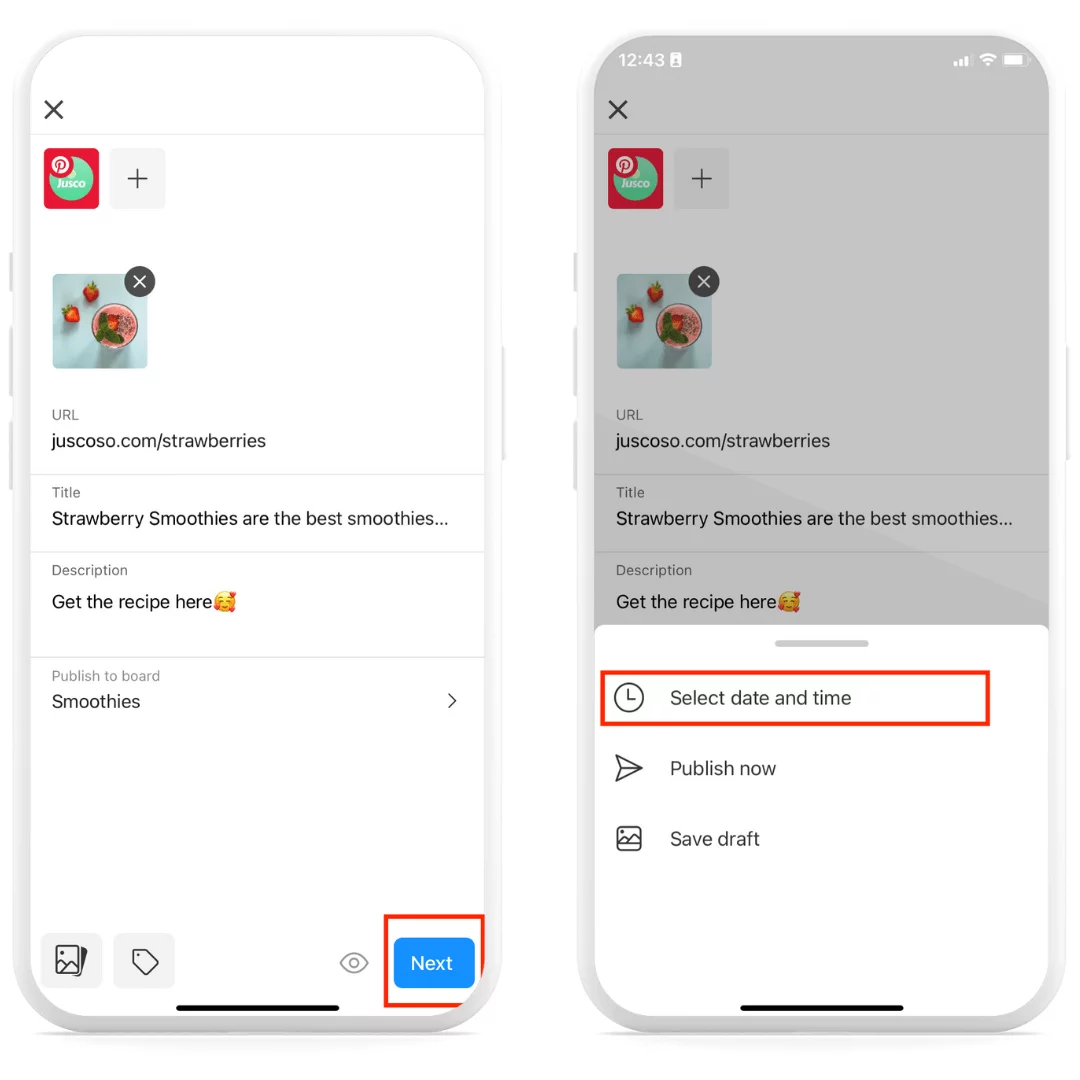 6. Choose the desired date and time and tap 'Schedule'.
You're all done! Your scheduled Pin will automatically go live when the time comes!
Why use a Pinterest scheduling tool vs. scheduling Pins natively with Pinterest
Planable is a social media management tool that lets you plan and manage all your Pins over multiple boards or Pinterest accounts in one place. While the native Pinterest scheduler is fine if you only schedule Pinterest Pins once in a blue moon, no Pinterest marketing strategy is complete without a more robust scheduler like Planable. Here's why:
Schedule social media posts on other platforms
With Planable, you can schedule posts across all your social channels: Pinterest, TikTok, Instagram, Facebook, Youtube, Twitter, Linkedin and Google My Business.
Repurposing social posts is super easy with the sync on/ sync off option that lets you group posts across different social media platforms and publish them all at once. Or, you can start with the common element, switch off the sync option and then customize each post for a specific social network.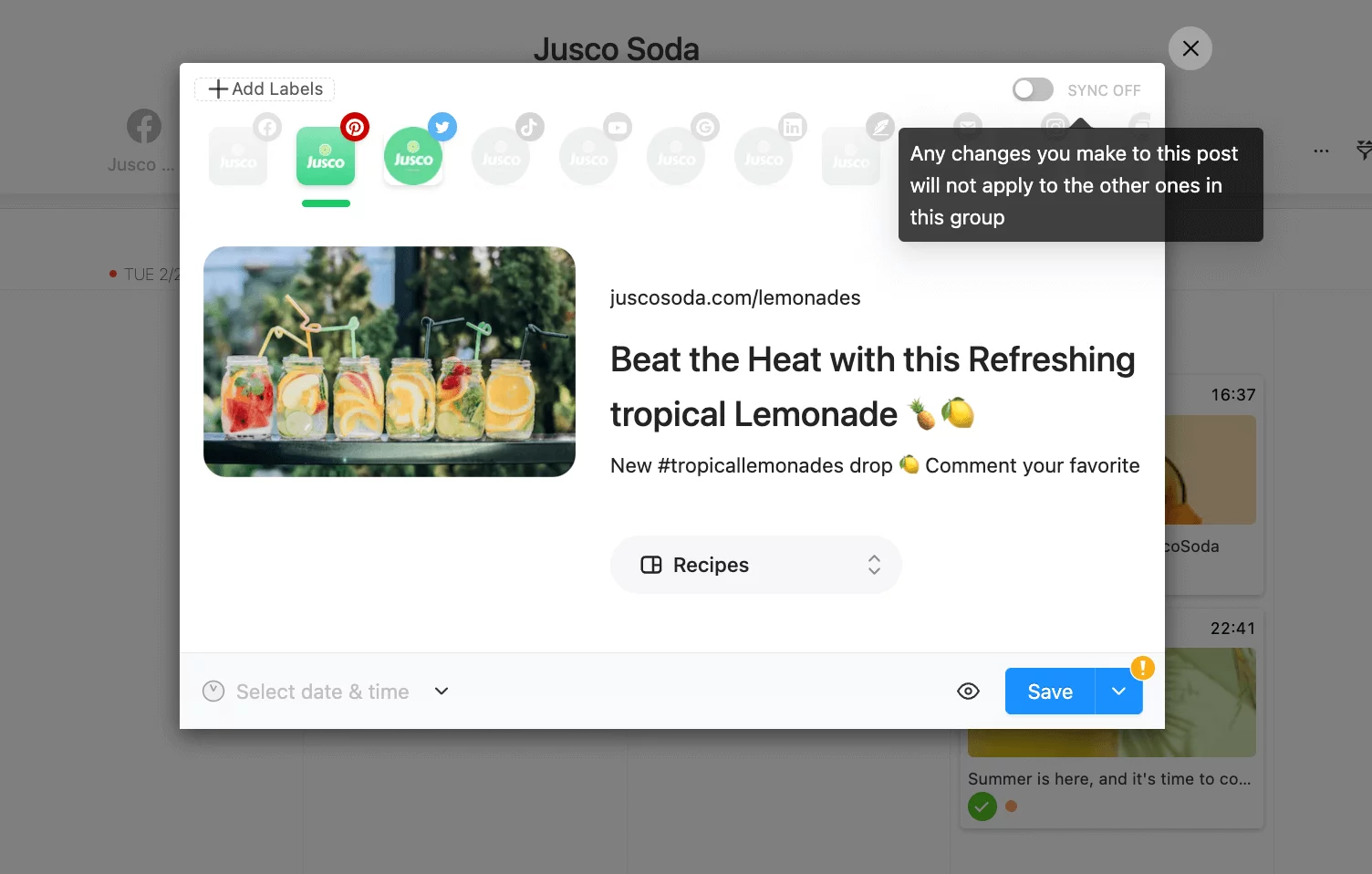 Schedule recurring Pins
To win over as many Pinterest users as possible, you need to be consistent with scheduling Pinterest Pins. That implies pinning regularly and often, which can be a tough task if you're busy running a business. Pinterest scheduling tools can help you ensure that your Pinterest account is active even when you're too busy. Planable's user friendly interface allows you to reuse or re-schedule Pinterest Pins in just a few clicks.
Plan a month's worth of Pinterest posts
Planable is more than just another Pinterest scheduler. It has a built-in visual content calendar for pixel-perfect previews of your Pinterest Pins: what you see is what you get.
So besides reliable scheduling features, you also get to easily plan all your social media posts all in one aesthetically-pleasing place.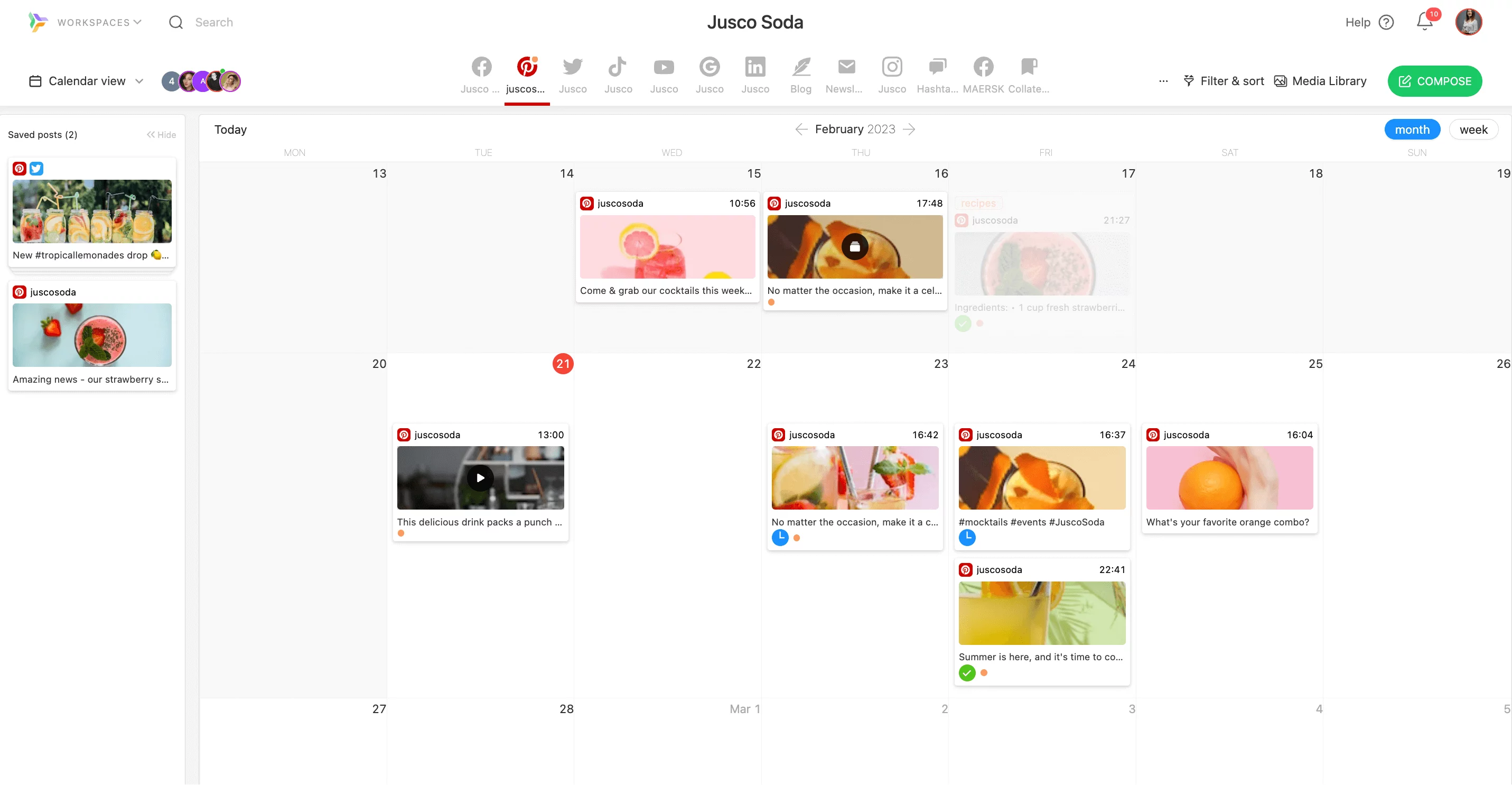 Bulk schedule Pins
If you publish content on a daily basis, the bulk uploading feature is non-negotiable. Save time and plan your entire week ahead of schedule for more peace of mind. In Planable, you can bulk schedule Pins and upload multiple posts at once with the copy, media, date and time.
Optimal times
If you manage multiple accounts, it can be hard to keep track of the optimal times for each audience. Planable makes this hassle a thing of the past with the time slots option. Select a specific date you want to have at your fingertips at all times and say goodbye to remembering time zones by heart.
Collaborate and approve
Unlike other Pinterest schedulers, Planable has powerful collaboration and approval features with next-to-the-post comments and activity history. Our scheduling tool was built with marketing teams in mind and includes workflow options that speed up your workflow.
Planable offers four different set-ups for approving your scheduled posts:
None.
Optional – suitable for Social Media Managers who don't want to make approvals mandatory.
Required – a must-have for safety and security, at least one approver needs to approve the post before it can go live.
Multi-level – any one approval will move the status of the post forward.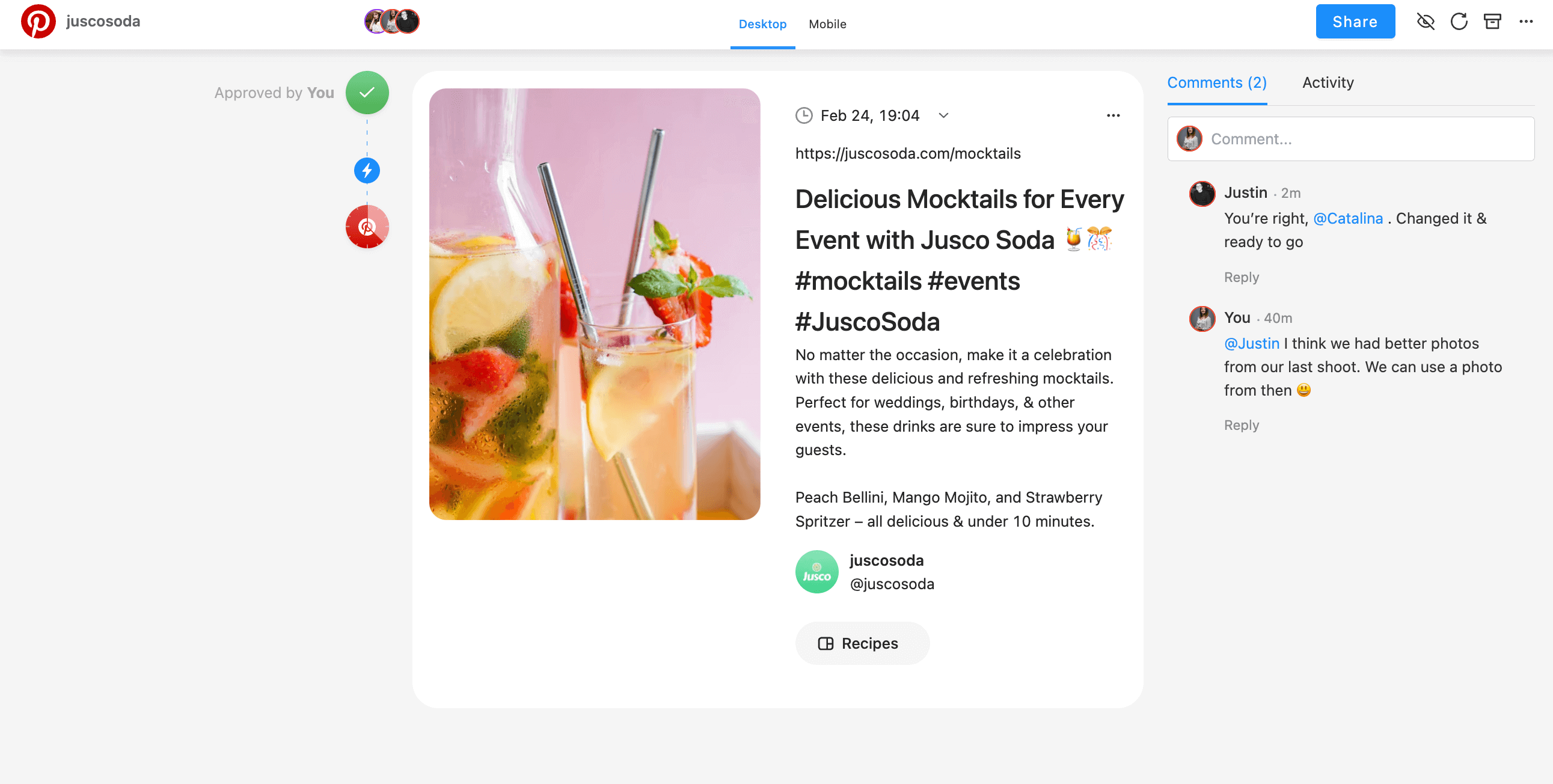 Pinterest scheduling has never been easier!
A Pinterest Scheduler is an effective way to save time and energy while scheduling your content in advance. So start planning your content ahead of time and keep your Pinterest account super organized!