Instagram Stories are an excellent way to engage with your IG followers! And posting Instagram Stories consistently is the key to high engagement. This is where an Instagram story scheduler comes in handy. You can schedule Instagram stories ahead of time and take some of the pressure off yourself — we know keeping that Instagram grid aesthetic is hard enough.
Can you schedule Instagram Stories?
Yes! Just like scheduling Instagram posts, there are two ways to schedule Instagram Stories for free:
Natively – using the Facebook Business Suite.
Third-party tools – using a social media management tool like Planable on your desktop or mobile app.
You can now directly publish your Instagram stories from Planable. No more push notifications, reminders, or alarms needed!
Since being introduced in August 2016, Instagram Stories have gained widespread popularity and reshaped how marketers use Instagram. By 2019, Instagram stories were already used by 500 million users every day.
Why schedule Instagram Stories ahead of time?
Scheduling Instagram stories ahead of time helps you:
Save time. Have a busy week ahead of you? You can prepare and schedule Stories weeks or months beforehand and free up time for strategic planning and other Instagram marketing tasks. You're free to upload live Stories between the scheduled ones to engage with your audience in real time.
Batch create content. You can create a month's worth of Instagram Stories and write compelling captions in one sitting. That way, you spend less time creating filler posts for your Instagram content calendar. This translates to fewer missed opportunities and better productivity overall.
Maintain brand aesthetic. Since you're not posting Instagram Stories on the fly, you have more time to plan your feed and think about branding and design. This means you're building a social media presence that your followers can easily recognize at a glance.
Get approval in time: When you need to get approval for scheduled posts, multiple images and copy, you often need to chase down stakeholders. Using an Instagram Stories scheduler with approval options helps you get feedback and approval ahead of time.
Be consistent: Take advantage of the hours when your audience is most engaged without staying up late or setting up alarms. Scheduling Stories ahead of time means reaching your followers without the inconvenience of being in the moment.
How to schedule Instagram Stories using Facebook Business Suite
To schedule Instagram Stories natively, you can use Facebook Business Suite.
On Desktop
Select the Instagram Page you want to create and schedule Stories for.
Go to "Posts and stories" or "Calendar" and click on "Create Story".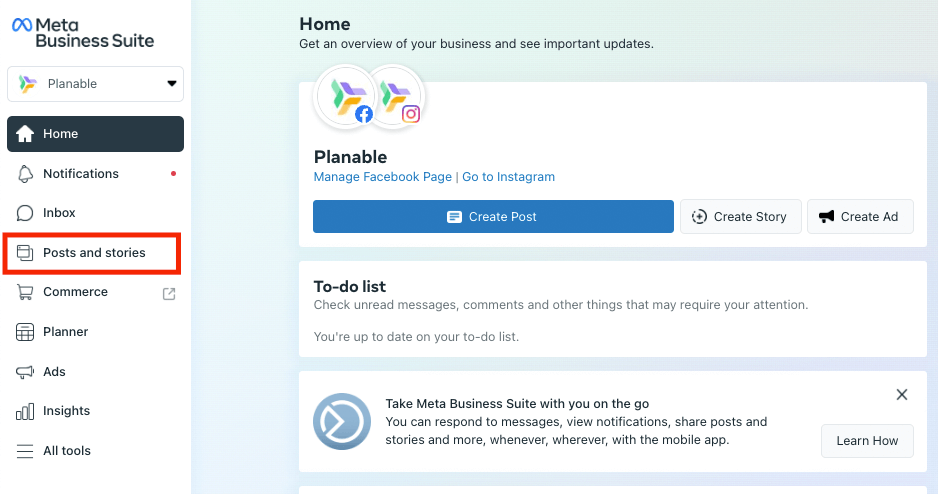 Select "Upload media" and add text/video/photos to your Instagram Story.
Edit your Story, by adding texts/stickers or cropping the media.
Preview your Story's look on Instagram on the right.
Select "Publish Story" to post it immediately to the Instagram app, or select the arrow to click "Schedule Story" to schedule it for later.
Go to Instagram "Posts and stories" and then tap on "Calendar" to check whether your Story has been published on the scheduled date.
On Mobile
Select the post creation tool to prepare a new Story.
Add media like videos and images (you can select several images at the same time).
Select "Share on".
Select your Instagram page as the placement of your Story.
Tap "Share" to post the Story right away or tap "Schedule for later" to select a future date and time, tap "Done", and then click on "Schedule".
You can reschedule your Stories both on desktop and mobile in case you have a change of mind.
You can find your scheduled stories under Posts and stories in the left sidebar.
How to schedule Instagram Stories using Planable
Here's something to note about scheduling third-party tools. Because of the Instagram API limitation, direct Instagram Story scheduling is not currently possible. Like all other schedulers, Planable uses a push notification to help you get your story live.
1. Sign up to Planable for free (you don't need a credit card) and create your own workspace.
2. Connect the Instagram account you need to schedule posts to.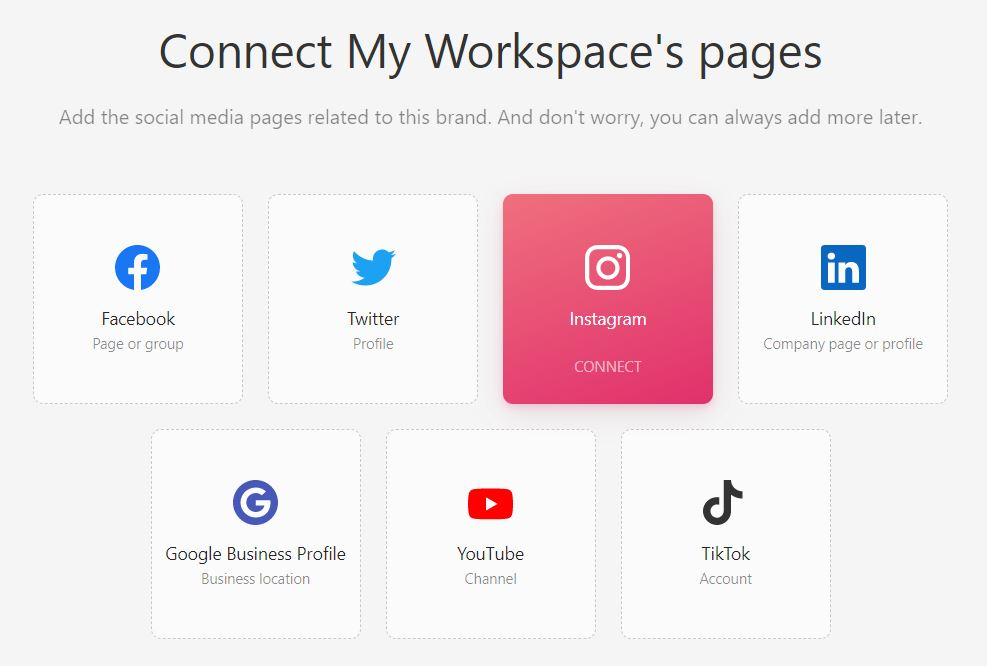 3. Access your Instagram account in Planable and click "Add Story".
Alternatively, you can create your Story by clicking on "Compose" and selecting "Story".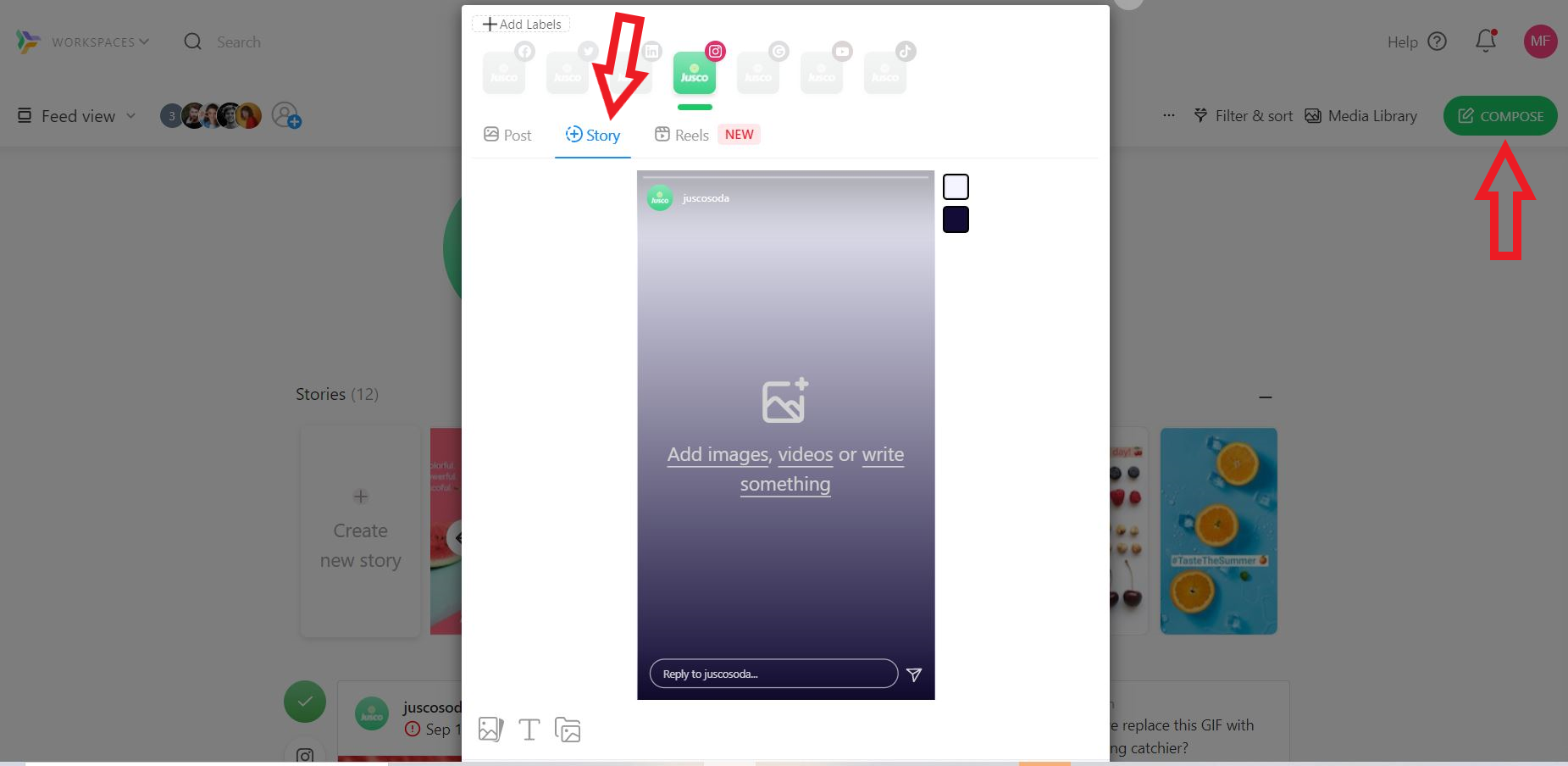 Create your Instagram Story. Planable offers multiple features to help you prepare your Instagram Stories:
Use a video from your media library or computer and change the background.
Change the top and bottom colors, as shown in the screenshot below.
Recycle posts by selecting daily, weekly, or monthly from the drop-down menu. You can select what time, how frequently, and how many times you want to repeat the Story.
Whether or not it's a recycled post, you can always go back and edit every recurring post separately should you need changes. Unfortunately, the Instagram API does not allow tags, hashtags, links, or other features.
You can either publish the Instagram Story immediately or select Schedule after you're satisfied with the final work. You'll get an automated push notification on your mobile phone to post the Story. You'll then be redirected to your Instagram account, where you need to select "Story", as you can see in the GIF below.
In Planable, you can view your scheduled Stories in 4 ways: Feed view, Grid view, Calendar view, and List view.
Planable vs. Facebook Business Suite
How does Planable stack up to Facebook Business Suite? Planable is a social media management tool that helps you schedule Instagram posts and stories more efficiently.
The Meta Business Suite app is great for creating and scheduling Facebook and Instagram posts and stories. However, it only offers basic functionalities that may not be enough for a more complex social media marketing strategy.
If you want something more, Planable could be the right option for you. Here's how we differentiate ourselves from the Business Suite:
Schedule social media content for 8 platforms
The Meta Business Suite lets you schedule content on Facebook and Instagram only. With Planable you can create and schedule content for 7 social media platforms: Instagram (including reels), Facebook, Twitter, YouTube, TikTok, Google My Business, Pinterest and LinkedIn.
Options for Collaboration and Approval
Besides scheduling Instagram Stories, Planable has highly useful collaboration and approval features. Feedback and approval are made seamless with an activity history and next-to-the-post comments.
When you're collaborating on Instagram stories posts, you can choose between 4 types of approval processes:
None
Optional – This is appropriate for social media managers who don't prefer having a mandatory approval process.
Required – This is for businesses that make approval compulsory for security and safety purposes. Here, a minimum of one approver has to approve the post/story before it can be published.
Multi-level – Any one approval is enough to get a green signal for the content.
Schedule posts on social media pages and groups at the same time
Planable lets you post on both pages and groups simultaneously, whereas it's not possible with the Business Suite yet.
With Planable, you can recycle content with ease. The recurring post option allows you to schedule the same post/story several times, even weeks or months before it's due to be published.
Planable lets you test various social media profile pictures and covers. These media go live only when they get approved by the clients. Moreover, you can build mockup Instagram and other social media accounts to get more visuals or practice for a customer pitch.
Planable comes with the 'multiple views' feature that lets you view previous and upcoming content in 4 different ways. These view formats are List, Grid, Feed, and Calendar views that give you the flexibility to get a bird's-eye view of your content plan across 7 different social media sites.
With the Feed and Grid views, you can plan your Instagram and Facebook feed and grid, which is not an option with the Business Suite.
Schedule the first comment
If you create and schedule Instagram in-feed posts with Planable, you can also schedule the first comment that goes live at the exact same time as your post. This feature allows you to add your targeted Instagram hashtags in the first comment.
5 Instagram Stories scheduling tips & tricks
Let's see how you can make the best use of an Instagram Story scheduler.
1. Select the best posting time
Use analytics to find out when your audience is the most active and schedule Instagram Stories during those periods. Keep tracking user activity as you go so that you can make adjustments to your posting times.
2. Commit to a posting frequency
The posting frequency for Instagram Stories, or for any post on a social media platform, is not set in stone. Ideally, you should post at least once every day to maintain an active page that engages users with relevant content.
Test which frequency suits your target market the most and ensure that you deliver quality content consistently.
3. Share curated content
You can curate relevant and engaging content from other marketers/bloggers in your industry. The ratio should be 80:20, where 80% of your content is original, and the rest 20% comes from other high-authority sources.
4. Find your evergreen content
You may not have the time to produce new Instagram content continuously, and that's absolutely fine. Most marketers can relate. This is where evergreen content comes into the picture.
Evergreen IG content isn't time-sensitive and can deliver value over long periods of time. It can be anything from a video or infographic to a webinar or live stream that you can repurpose in different formats: stories, carousels, in-feed posts, or reels. Resharing evergreen content makes sure that the people who missed out on it previously can see it now.
5. Use customizable templates
Thanks to Instagram Highlights, your Instagram stories have a much longer shelf life than mere hours. So you might as well want to keep the look clean and consistently stylish!
Planable offers customizable Instagram Story Templates so that you can prepare captivating content quickly.
Instagram Stories Ideas
You're one Google search away from being flooded with Instagram Stories ideas. But how many of them actually work? Let's discuss those that tend to be the most useful.
Because IG Stories last only 24 hours, you can use them to instill the fear of missing out among your users and draw them to your content.
Stories also provide a great opportunity to showcase the carefree and approachable side of your brand, such as a fun activity with your customers or a picnic with your employees.
One of the most important uses of Stories is getting customer feedback. You can always reach out to your audience to learn their opinions on a recent trend or how you can improve your content.
Additionally, you should try to engage them using questions from time to time. For example, a Reddit user said that his Story views doubled multiple times after he used the Instagram Poll in his first Story of the day (97% upvoted).
Are you ready to start scheduling Instagram Stories?
Hopefully, you can now confidently schedule Instagram Stories using a third-party scheduler or the Meta Business Suite.
Interested in trying out Planable? Sign up for a free trial (no credit card required!) if you want to access our unique features and schedule your Instagram Stories hassle-free!