Are you struggling to manage your YouTube content, keep up with regular video uploads and social media post scheduling?
Then knowing how to schedule YouTube videos can be a game-changer strategy. It helps you maintain consistency, reach your audience at the optimal time, and free up your time for other important tasks.
In this step-by-step guide, I'll walk you through the simple steps to schedule YouTube videos, empowering you to streamline your content strategy and maximize your channel's success.
So let's jump right in!
How to schedule YouTube videos natively on YouTube
Let's go through the entire process of scheduling your videos on YouTube step by step.
Step 1: Sign in to YouTube Studio
First, sign into your YouTube Studio account and click the create icon in the upper right corner.
Step 2: Upload your video
Then click Upload videos > Select files; drag and drop or select the video you want to schedule.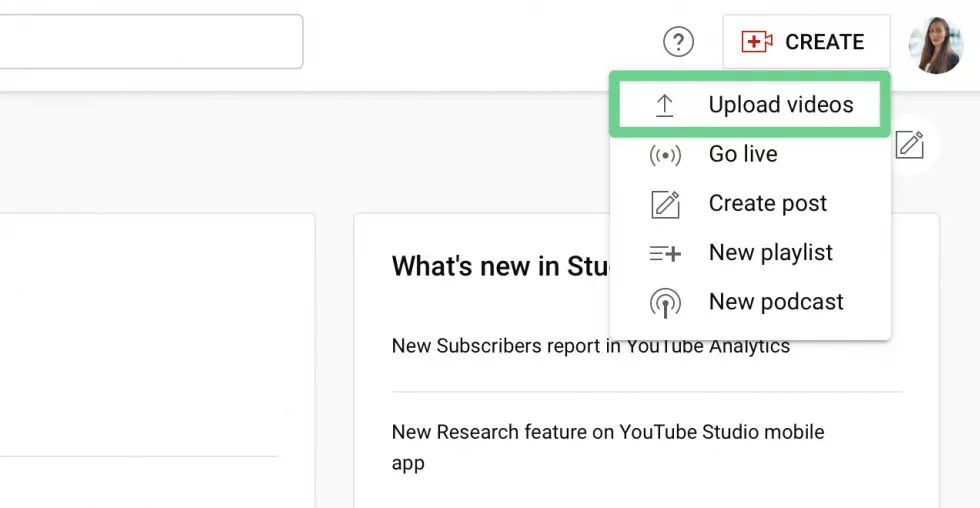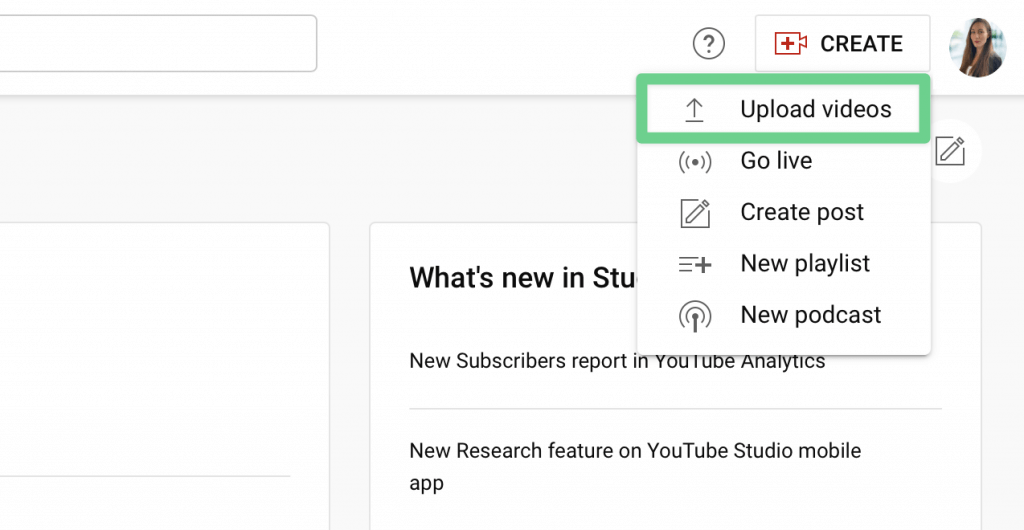 Step 3: Fill out the video details
While your video upload is in progress, you can add the title, description, and thumbnail image to your YouTube video. Optionally, you can add chapters, tags, and other details to boost its visibility.
Step 4: Select the schedule
To publish your YouTube video at a specific time, set it as "scheduled" on the upload page under the "Visibility" tab.
Finally, select the date and time you want your video to be published and click SCHEDULE.
How to edit a scheduled YouTube video on YouTube
Even after uploading and scheduling your YouTube video, you can still edit it. Here's how:
Step 1: Navigate to the "Content" tab
From your YouTube Studio dashboard, navigate to the "Content" tab from the left menu. Here, you'll see all your scheduled YouTube videos and drafts.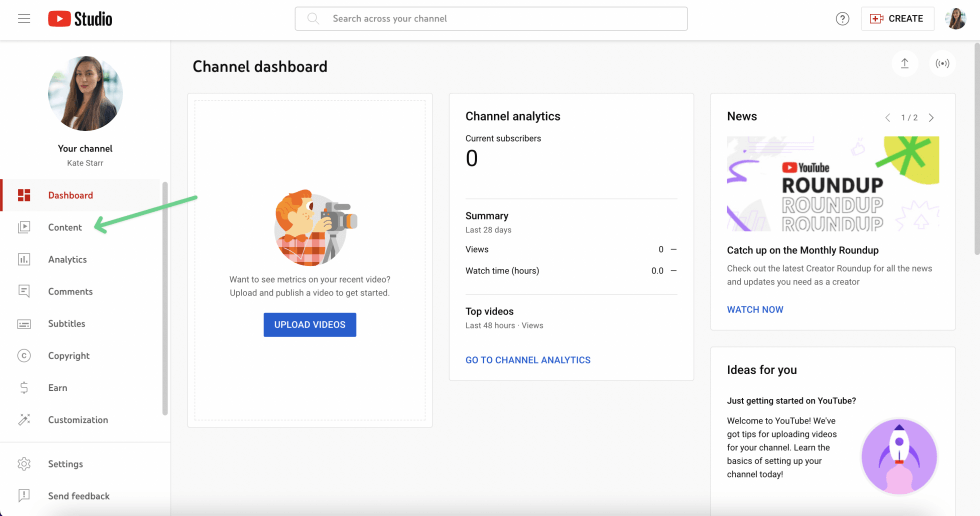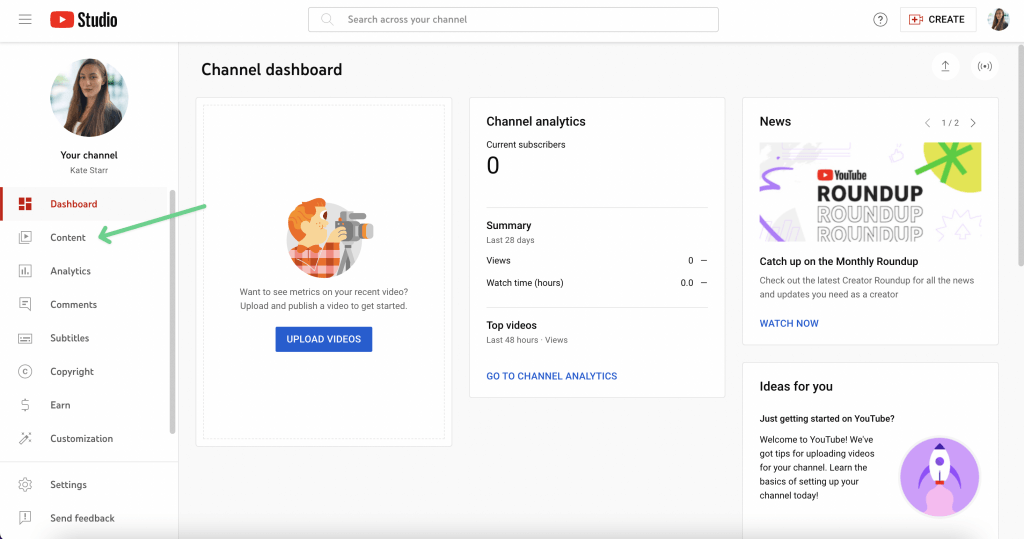 Step 2: Hover over the scheduled video
In the Channel content section, hover over the scheduled video you'd like to edit and click the pencil icon to start editing.
Step 3: Edit your video
Finally, navigate to the "Editor" tab from the left menu. The YouTube editor lets you edit and apply video elements anywhere on a timeline.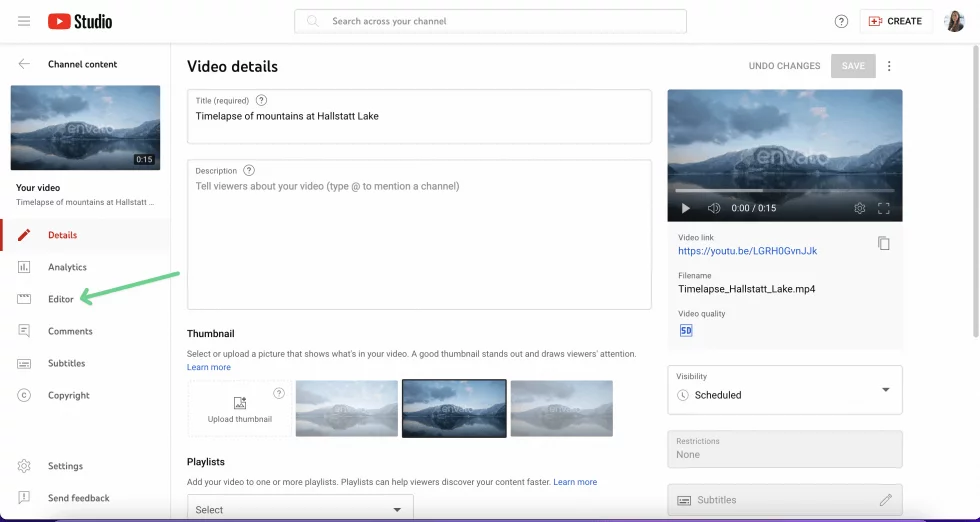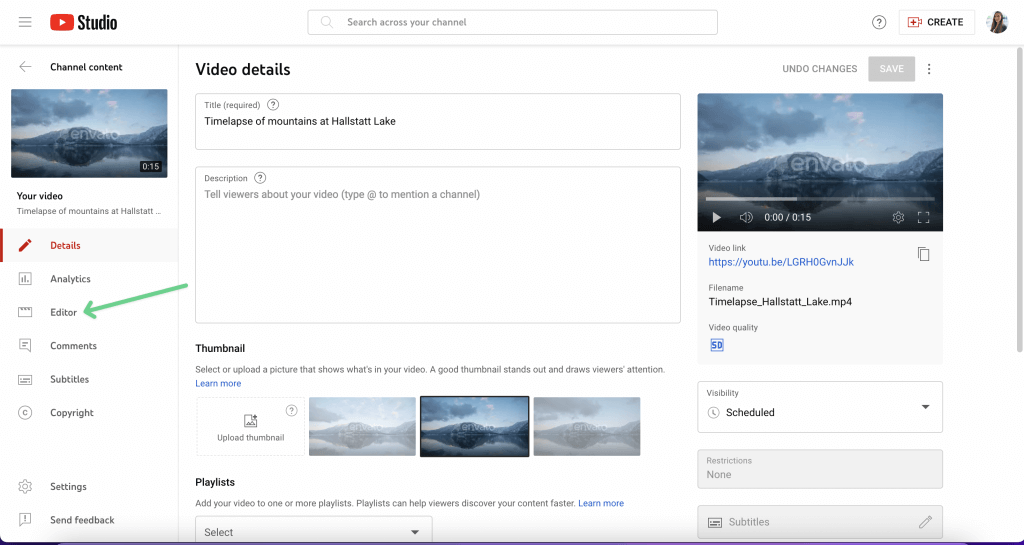 How to schedule Shorts on YouTube
To schedule Shorts on YouTube, you need to follow the same process as scheduling longer-form videos. To recap:
Sign in to your YouTube Studio dashboard.
Upload your Shorts and fill out the video details.
Select the schedule under the "Visibility" tab.
Select the publishing date and time of your Shorts.
Click the "Schedule" button to save your settings.
How to schedule YouTube videos on mobile
If you're on the go, YouTube lets you upload and schedule videos and Shorts using the mobile apps.
Step 1: First, open the YouTube app on your mobile. Then tap the Create icon at the bottom of the screen.
Step 2: Tap "Upload a video" from the menu and upload the video from your mobile. Note that videos shorter than 60 seconds will automatically be uploaded as Shorts.
Step 3: Caption your YouTube video or a Short and tap "Visibility".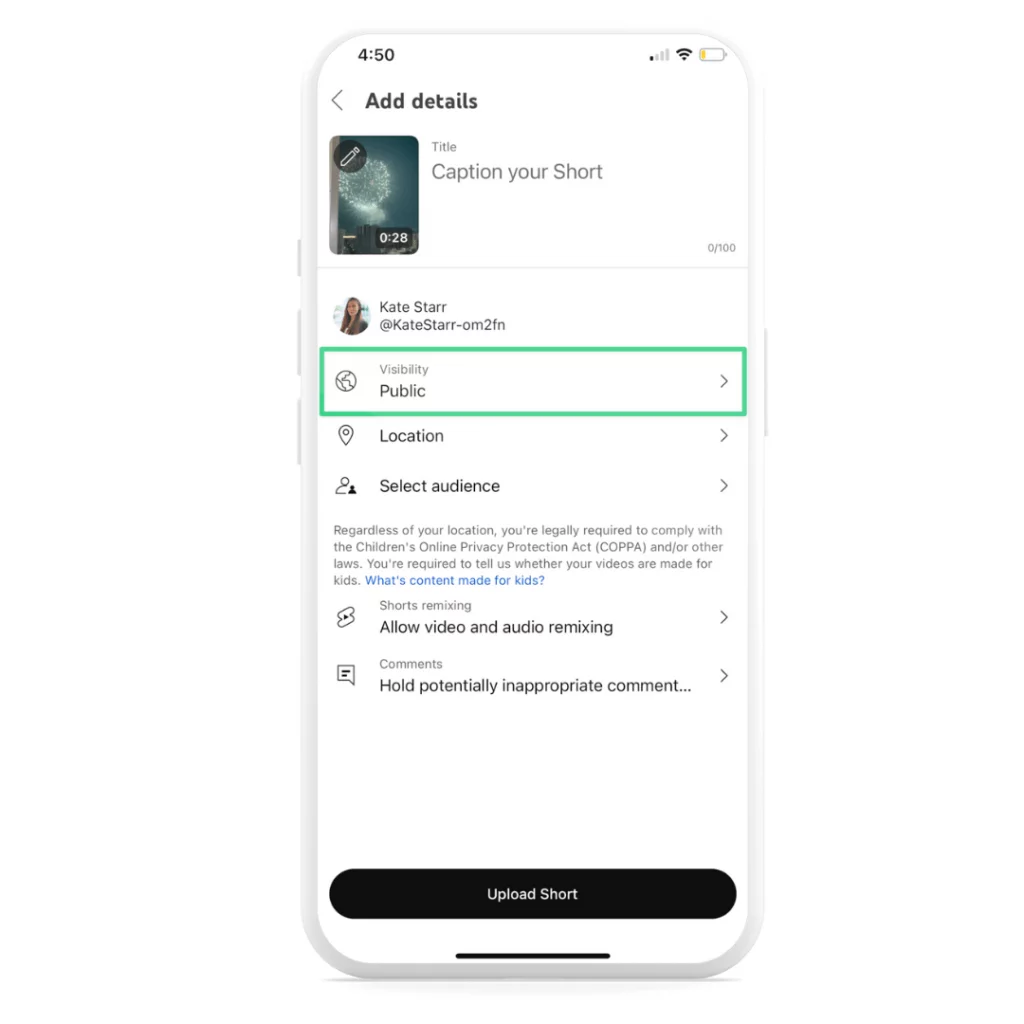 Step 4: By default, YouTube will suggest publishing your video immediately. Select the "Schedule" tab to choose your publishing time and date.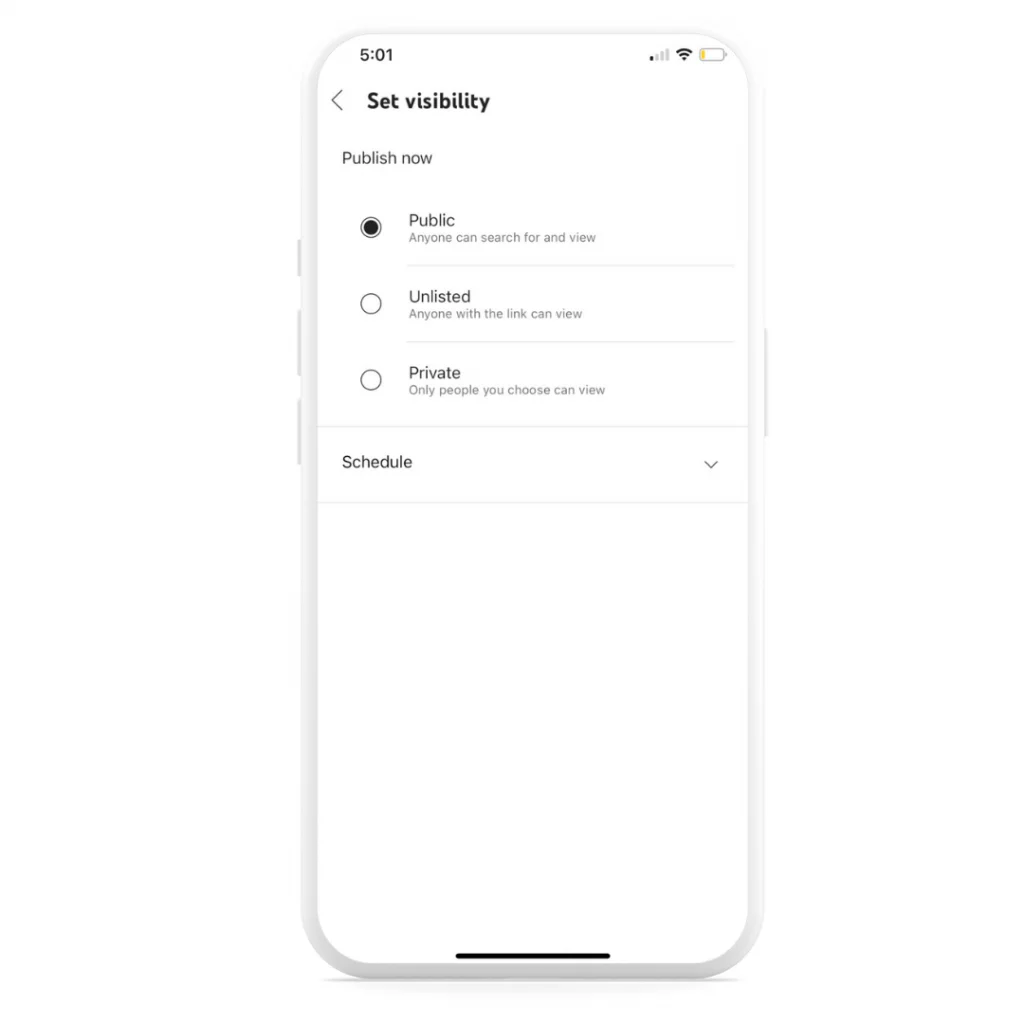 Step 5: Select the day and time you want your video to get live and tap the "back" icon at the top of the screen.
Step 6: Tap "Upload Video" or "Upload Short" button at the bottom of the screen. Your video will be automatically uploaded at your selected time.
Top YouTube scheduling tools
Specialized YouTube content scheduling tools can help you plan, organize, and automate your video uploads. Let's review the top two tools that can streamline your content management.
1. Planable
Planable is a powerful social media management tool that enables you to plan, organize, and schedule your YouTube videos and posts for seven other social media platforms.
With Planable, you can collaborate with team members, ensuring seamless content creation, and use the approval system for a smooth content workflow. Not only that, but Planable also supports scheduling, review and approval for various types of written content, making it a handy solution for social media managers.
How to schedule YouTube videos with Planable
Here's the step-by-step guide to scheduling videos on YouTube using Planable:
Connect your YouTube account (and any other platform that you manage and where you want to schedule your posts in advance).
From your workspace, select YouTube and click the "Compose" button at the top right corner of the page.
Upload a new video or choose one from the Media Library.
Optional: Edit the video thumbnail, add a new thumbnail image, or trim the video if needed.
Add a title that describes your video and write a caption. You can also use the free built-in AI tool to help you write the caption.

Optional: Go to "Advanced settings" to select the relevant category or playlist you want your video scheduled in and add video tags.

Optional: If you want to schedule the video on multiple social media accounts simultaneously, you can select additional platforms where you want to share it. Planable lets you schedule your posts across 8 social media channels.
Click "Select date & time" to choose when your YouTube video goes live.

Finally, click the "Schedule" button to save your settings.

Your YouTube video will be automatically published, and you won't have to post a bunch of videos manually anymore.
How to schedule Shorts with Planable
At the moment, Planable doesn't offer a YouTube Shorts scheduling tool as a standalone product. However, there is a workaround you could use to publish Shorts. You need to ensure the video is under 60 seconds and has the hashtag "#shorts" in the caption. This way, your video will be published as a Short at your scheduled time.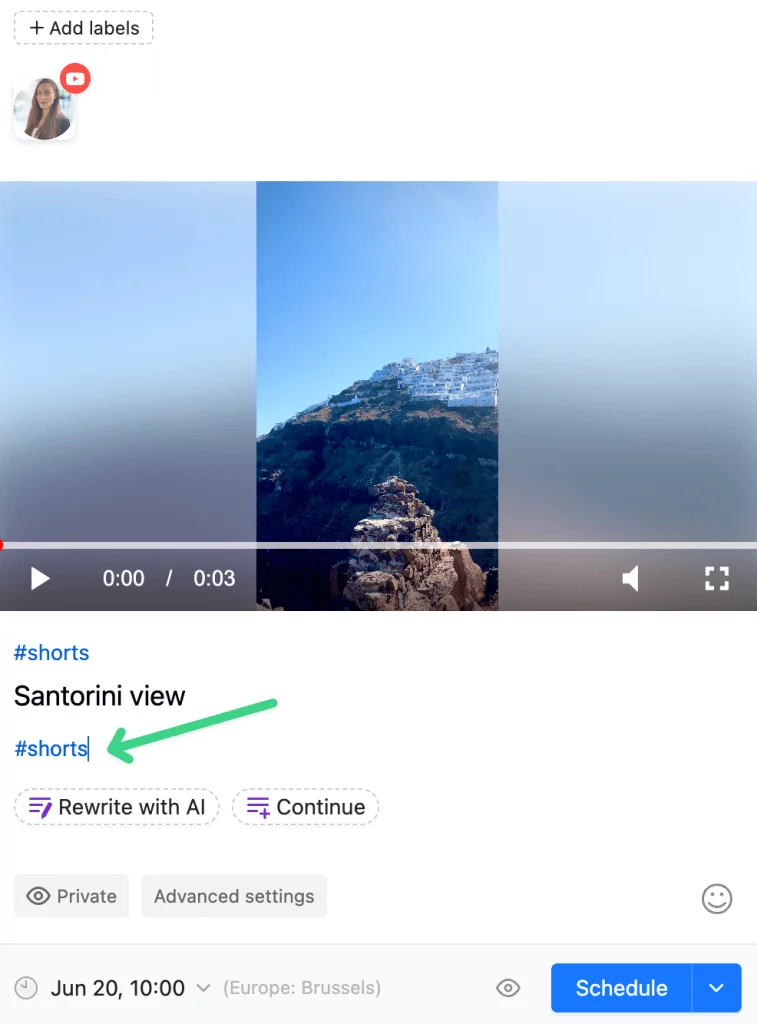 Planable YouTube scheduler vs YouTube native scheduler
While the YouTube native scheduler offers basic scheduling capabilities, Planable provides a robust set of features that can significantly enhance your content management process.
Let's review the additional benefits of our YouTube scheduler:
Schedule social media content on multiple platforms at once
The YouTube upload scheduler lets you schedule only YouTube videos. But as a social media marketing manager, you probably manage multiple platforms.
That's where Planable comes in handy. You can upload one video and, in just a few clicks, schedule the same video to be published on multiple social media channels.
Plannable supports 8 social media platforms:
Collaborate with your team and simplify the content approval process
With features like next-to-the-post comments, activity history, and notifications, your team can efficiently manage multiple accounts and work together to create and refine content before publication. YouTube's native scheduler lacks these collaborative features, making Planable a more suitable choice for teams.
Access your content through the media library
With Planable, you can conveniently access all your video content through the media library. This feature allows you to store and organize your media assets, including images and videos, in a centralized location.
By having a media library at your fingertips, you can easily browse, search, and select the desired files when scheduling posts or creating content. Whether you need to reuse existing visuals or upload new ones, the media library in Planable simplifies the process, saving you time and ensuring consistency in your content creation efforts.
Visualize your content using multiple view options
Planable offers multiple content views, including visual calendar, list, feed, and grid views. It provides you with versatile ways to visualize and manage your content.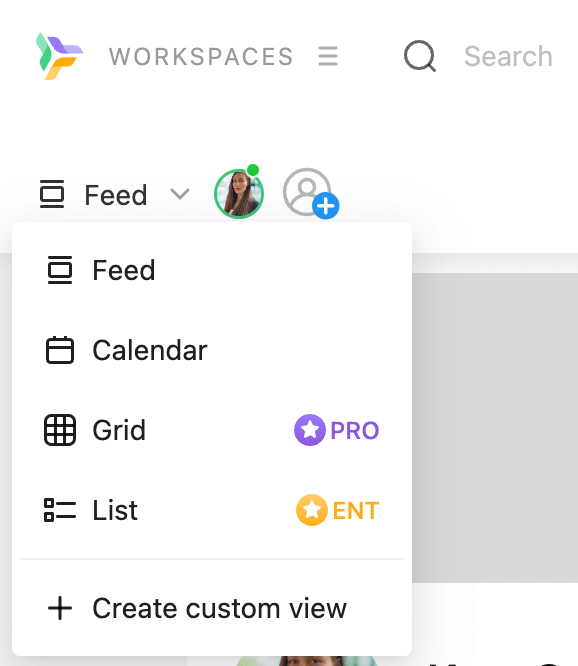 2. Hootsuite
Hootsuite is a social media management tool that offers a range of features for scheduling and managing content across various platforms, including YouTube.
How to schedule YouTube videos on Hootsuite
Here's a step-by-step guide on how to schedule YouTube uploads on Hootsuite:
Log in to your Hootsuite account and navigate to the dashboard.
Click on the "Compose" button to create a new post.
In the post composer, select the YouTube option to create a YouTube post.
Upload the video file.
Fill in the details for your YouTube video, including the video title, description, and tags.
Choose the desired publication date and time for your video content.
Once you're satisfied with the scheduled YouTube video, click on the "Schedule" button to confirm the publication date and time.
Hootsuite will automatically publish your YouTube video according to the scheduled date and time.
Why schedule YouTube videos ahead of time?
Scheduling YouTube videos ahead of time offers several benefits that can simplify your YouTube channel management and enhance your overall content and YouTube marketing strategy. Here are some key reasons to consider scheduling YouTube videos in advance:
Time-saving: Pre-scheduling videos allows you to allocate dedicated time for content creation, editing, and optimization without the pressure of immediate publishing, resulting in a more efficient workflow.
Consistent brand aesthetic: When you schedule videos in advance, you can curate a consistent brand aesthetic, ensuring that each video aligns with your branding guidelines and maintains a cohesive visual style.
Timely approvals: Scheduling in advance provides ample time for collaboration and approval processes, allowing team members to review the content and provide feedback or approvals within the desired timeframe.
Strategic planning: Advanced scheduling allows you to plan your content and social media calendar strategically. This way, you can align videos with specific events, promotions, or campaigns. It enables you to create a cohesive narrative and optimize the timing of your video releases for maximum impact.
Batch content creation: Scheduling videos ahead of time encourages batch content creation, where you can create multiple videos in a single session. This approach increases efficiency and consistency, as you can maintain a similar mindset and production quality across the batch of videos.
Consistency and audience engagement: Regularly scheduled videos build audience anticipation and help establish a consistent publishing rhythm. By sticking to a schedule, you can cultivate viewer loyalty, increase engagement, and ensure your content consistently reaches your target audience.
Schedule YouTube videos FAQs
Does scheduling videos on your Youtube channel affect views?
Scheduling videos on your YouTube channel doesn't impact the number of views your video receives. The visibility and success of your video primarily depend on factors like content quality, relevance, promotion, and audience engagement. Scheduling allows you to release videos at strategic times, which can potentially optimize viewership if you align with your target audience's preferences.
What time should I schedule a YouTube video?
The best time to schedule a YouTube video is between 2 to 4 pm (EST) on weekdays and between 9 to 11 am (EST) on weekends.
US or Canada
2 to 4 pm (EST)
Monday to Friday
9 to 11 am (EST)
Saturday to Sunday
Europe
6 to 10 pm (GMT)
Monday to Friday
1 to 3 pm (GMT)
Saturday to Sunday
US or Canada
2 to 4 pm (EST)
US or Canada
Monday to Friday
Us or Canada
9 to 11 am (EST)
US or Canada
Saturday to Sunday
Europe
Saturday to Sunday
How many YouTube videos can I schedule?
There's no specific limit on how many videos you can schedule, whether you schedule videos using YouTube Studio or Planable. You can plan and schedule as many videos as your content strategy requires. However, it's important to ensure you maintain a consistent uploading schedule that aligns with your audience's expectations and your production capabilities.