If LinkedIn is your company's number one priority for social, scheduling LinkedIn posts in advance can ease the workload and help you maintain an active online presence even when you're not at your computer.
Can you schedule Linkedin posts ahead of time?
Yes! There are two ways to post in advance on Linkedin:
1. natively, with the built-in Linkedin scheduling tool
2. with third-party tools, like Planable.
In this article, we'll explore the pros and cons of each scheduling option. We'll cover the following:
How to schedule LinkedIn posts natively on Linkedin
With the native Linkedin scheduler, you can publish automatically on desktop and on mobile up to 3 months in advance. Currently, you can only schedule regular image, text, and video posts. You can't schedule posts that include an event, job, polls, or carousel. Scheduling posts to LinkedIn groups is also not supported.
1. Log in to your LinkedIn account.
2. Click on the 'Start a post button' and add images, videos, or text.
3. Click the clock icon next to the Post button.
4. Select the date and time within the next 3 months.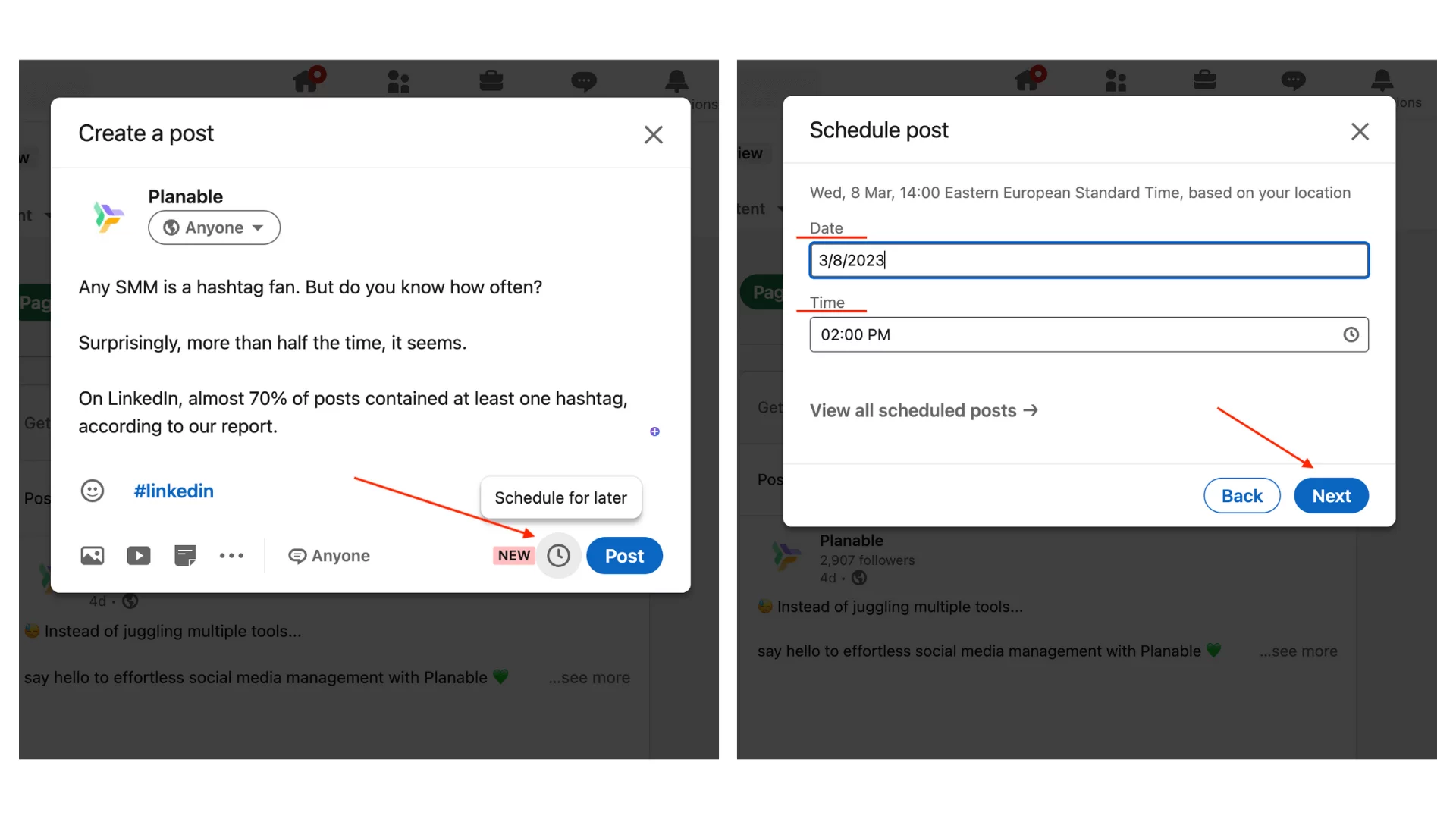 5. Click Next to review your post and schedule it.
6. Click the blue Schedule button.
How to edit scheduled LinkedIn posts on LinkedIn
After you've natively scheduled a Linkedin post, you can change the date or delete the scheduled post but you can't make any changes or edits to the image, video or text.
To find your scheduled posts on Linkedin:
1. Click Start a Post.
2. Click the Schedule for later clock icon.
3. Click View all scheduled posts.
How to schedule LinkedIn posts with Planable
If you have an active presence on LinkedIn or if you manage multiple accounts, you can schedule LinkedIn posts ahead of time with a third party tool like Planable.
1. Sign up — it's simple and free (no credit card required).
2. Connect your LinkedIn page (and any of the other 7 supported social platforms you want to schedule posts to).
3. Click the Compose button and select the LinkedIn tab.
4. Add text, images, and videos from your computer or media library. You can tag company pages.
5. Select Date and Time to choose your posting time from the drop-down menu.
How to edit scheduled LinkedIn posts in Planable
If you changed your mind and want to make some small tweaks to your already scheduled post, simply click on it and edit any details. You can update the date, copy, image and video until your post looks perfect.
Planable LinkedIn scheduling tool vs native Linkedin scheduler
Here's the breakdown of the differences between Planable and LinkedIn in terms of scheduling, editing, approval & collaboration:
Scheduling time
As far in advance as you want
Only 3 months in advance
Social media networks
Post on LinkedIn & 7 other platforms at once
Post on LinkedIn only
Views
No feed, grid or calendar view
Approval & collaboration
✅
❌
Schedule first comment
✅
❌
Recurring LinkedIn post
✅
❌
Editing scheduled posts
✅
❌
Scheduling time
As far in advance as you want
Scheduling time
Only 3 months in advance
Editing scheduled posts
✅
Social media networks
Post on LinkedIn & 7 other platforms at once
Social media networks
Post on LinkedIn only
Views
See scheduled posts in feed, grid and calendar view
Views
No feed, grid or calendar view
Approval & collaboration
✅
Approval & collaboration
❌
Recurring LinkedIn post
✅
Recurring LinkedIn post
❌
When it comes to scheduling time, Planable gives you the flexibility to schedule posts as far in advance as you want. On the other hand, LinkedIn limits you to scheduling posts only up to three months ahead.
Need to make changes to your scheduled posts? Planable has got you covered. You can easily edit them whenever necessary. However, with LinkedIn, once you schedule a post, you're unable to make any edits, unfortunately not even to the scheduled date.
Now, let's talk about the social media networks you can post on. With Planable, you can post on LinkedIn as well as seven other platforms all at once! It's like hitting multiple birds with one stone. However, LinkedIn restricts you to posting solely on its own platform.
When it comes to viewing your scheduled posts, Planable offers multiple options. You can see them in a feed, grid, and calendar view, giving you a comprehensive overview of your content plan. Unfortunately, LinkedIn doesn't provide such a convenient way to visualize your scheduled posts. No feed, no grid, and no calendar view.
Working in a team and needing approval and collaboration features for different LinkedIn pages? Planable has your back with a handy checkmark symbol to indicate availability. However, LinkedIn doesn't offer these features, leaving you to figure out other ways to coordinate and collaborate with your team.
Team collaboration happening right next to a scheduled Linkedin post in Planable
Planable also outshines the native Linkedin scheduler when it comes to recurring posts. If you're using Planable, you can set up recurring posts on LinkedIn without any hassle. It's a time-saving feature that LinkedIn itself doesn't offer, unfortunately.
Last but not least, if you have a bunch of posts to schedule, Planable allows you to schedule them in bulk. You can schedule multiple posts at once, streamlining your workflow. On the other hand, LinkedIn doesn't support bulk scheduling, so you'll need to schedule each post individually, which can be quite time-consuming.
How to schedule LinkedIn posts on a mobile device
Scheduling posts on the LinkedIn mobile app is very easy:
1. Open the LinkedIn app on your phone.
2. Tap Post at the bottom of the screen.
3. Add images, videos, and text.
4. Tap on the clock icon in the top right corner next to Post.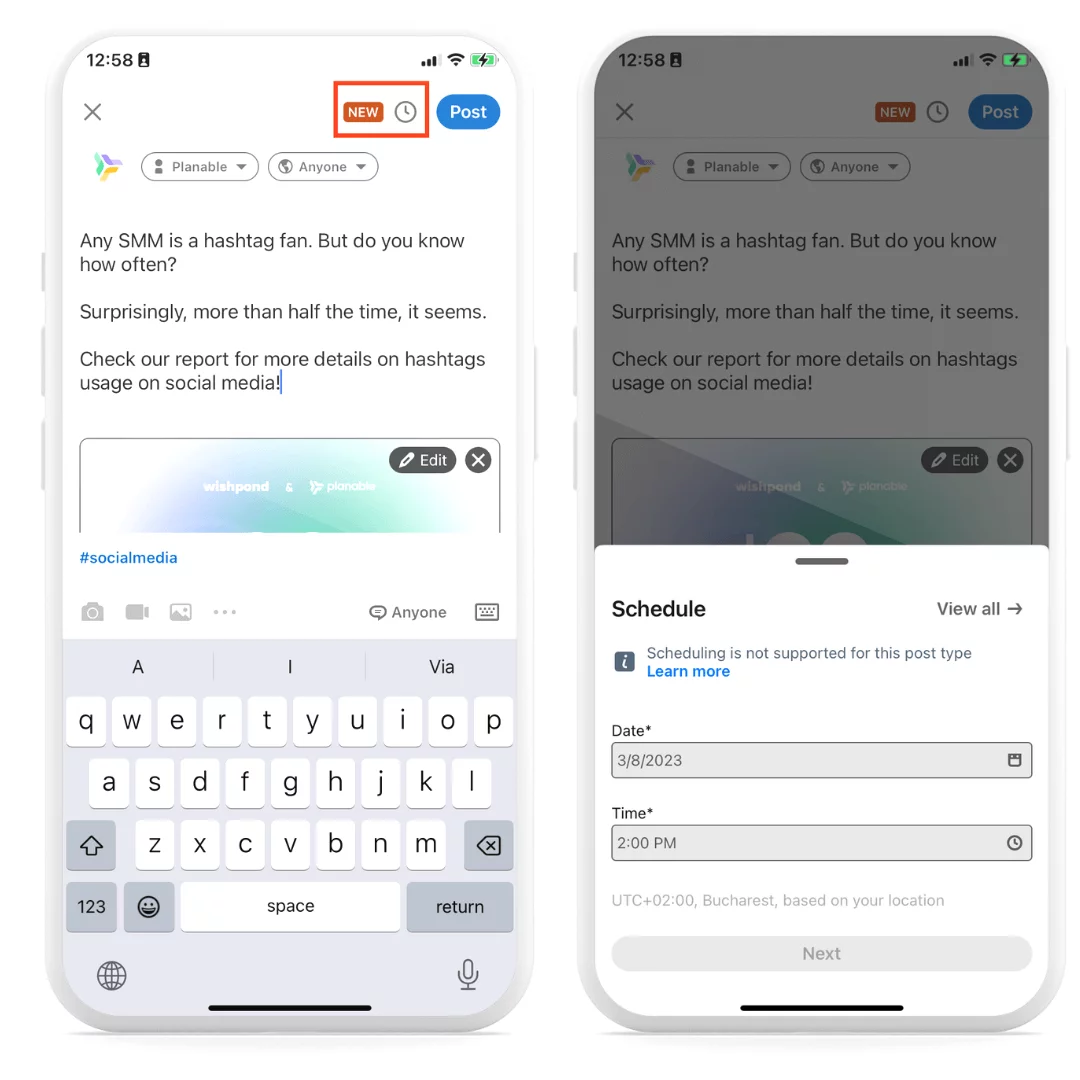 5. Select your date and time within the next 3 months and tap Next.
6. Tap the blue Schedule button in the top right corner.
Planable's LinkedIn post scheduler allows you to post from your iPhone or Android device. Here's how:
1. Sign up for Planable (no credit card required) and connect to your LinkedIn account on your desktop.
2. Download the Planable app from the App Store or Google Play.
3. Select your LinkedIn page and tap the Plus button at the bottom of the screen.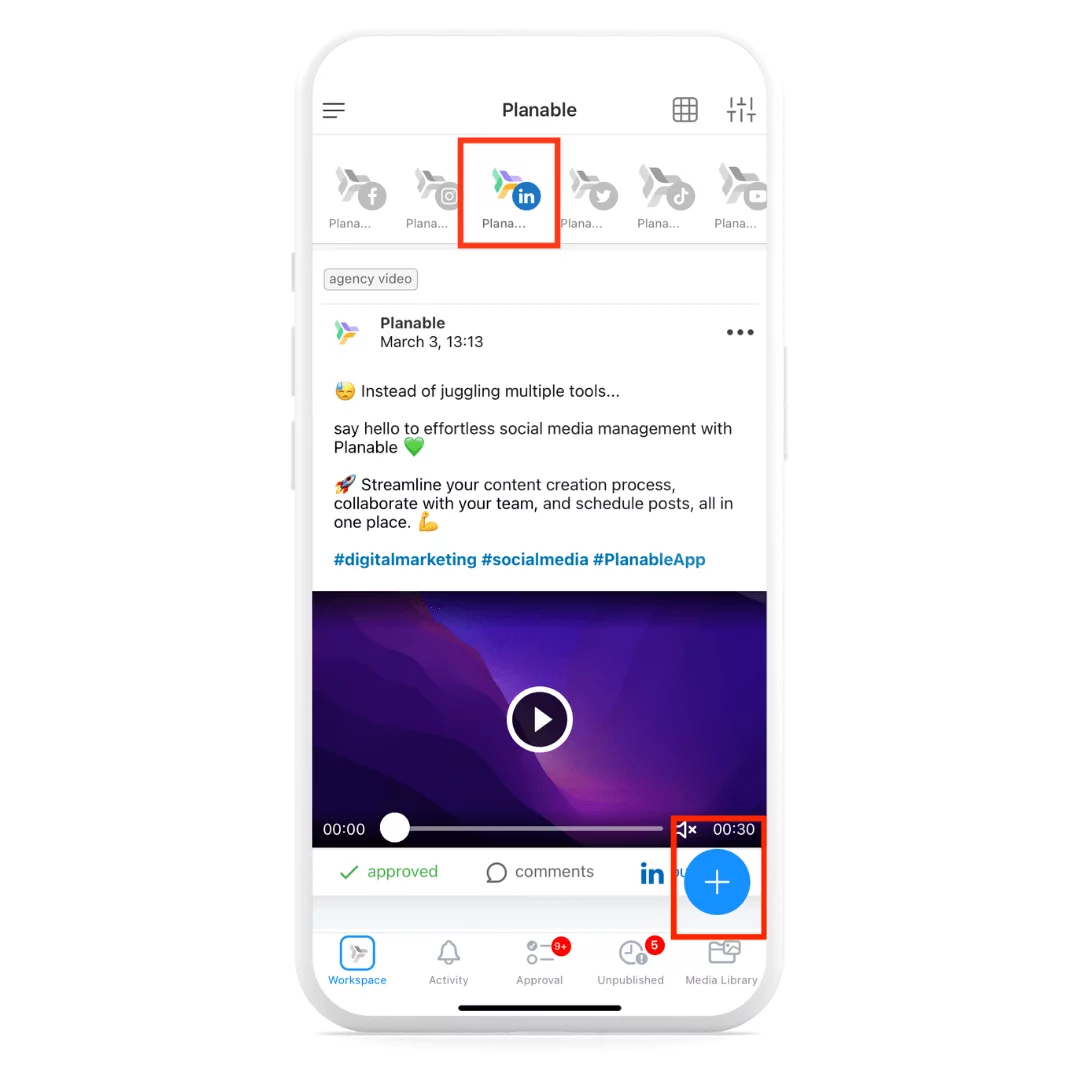 4. Write your LinkedIn post and tap Next to Select the date and time.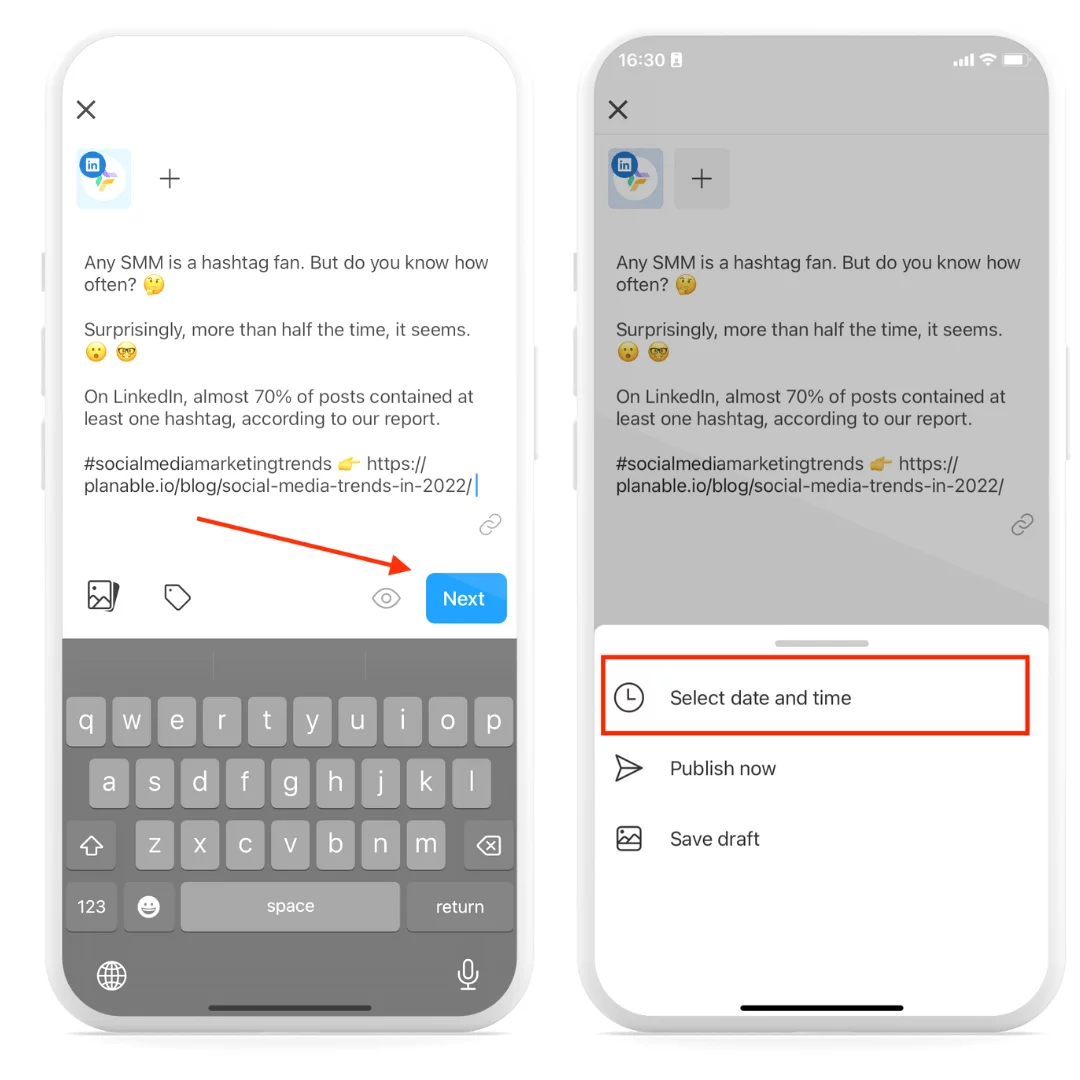 5. Choose the desired date and time and tap Schedule.
All done! Your scheduled LinkedIn post will automatically go live when the time comes!
Why schedule LinkedIn posts with Planable
What problems is Planable solving and how is that benefiting you?

Scheduling to Linkedin with profile tagging that works! Exactly what I needed and couldn't find elsewhere, and doesn't cost nearly as much as the other options out there!
Phil M., verified G2 review
If your social media marketing strategy doesn't include LinkedIn scheduling, you're missing out on a huge opportunity to reach more people with your content. Here are six more reasons to choose Planable as your Linkedin scheduling tool:
1. Schedule posts on both LinkedIn company page and personal LinkedIn account
Creating content takes work (and some stress). With Planable you can schedule content not just for LinkedIn company pages but for your personal profiles as well. Schedule your posts on Planable as far in advance as you want to make sure it's delivered to the right audience at the right time.
2. Schedule posts for 8 social media platforms in one place
Manually uploading content to multiple social media platforms is tedious and time-consuming. Planable lets you upload all your content at once and schedule it across 8 social media platforms: LinkedIn, Instagram (including Reels and Stories), Facebook (including posts to Facebook groups), Twitter, TikTok, Youtube, Pinterest, and Google Business Profile. Use our calendar to view and get an overview of the content planned.
3. Collaborate and approve
No social media management tool is complete with collaboration and approval options. If you're looking to do more than schedule posts on LinkedIn, you'll find Planable has plenty to offer: leave feedback right next to the scheduled post, reply to your social media manager in context, and get final approval from multiple stakeholders on time.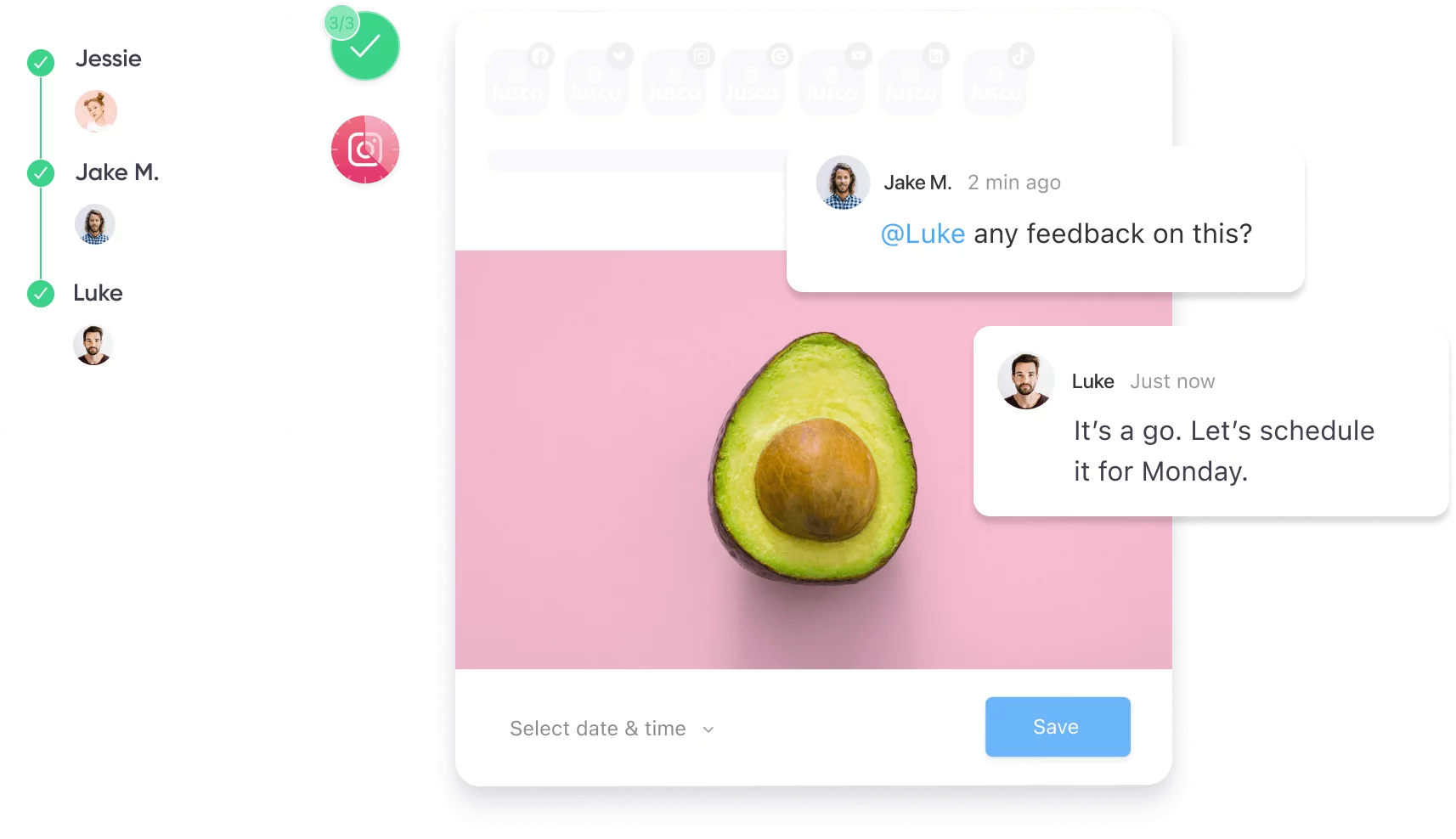 4. Schedule recurring posts
Creating successful LinkedIn content has never been this easy. With Planable's recycling option, you can schedule the same posts several times daily, weekly or monthly. Fear not, you can edit recurring posts individually even after you have scheduled them.
5. View content in multiple ways
Get an overview of all your social media accounts in your favorite way: calendar, list, feed or grid view. Build your ideal content calendar by dragging and dropping posts, add labels for easy breezy organization and glance at the monthly plan or deep dive in each week.
6. Create mock-up pages
Better visualize content on your social media platforms on Planable without having to connect any accounts. This is the perfect tool to collaborate with different stakeholders without the risk of accidentally publishing on your social networks. And it's a great technique to use when you're not sure what to post on LinkedIn and need a space to brainstorm. But if you like to publish what you created on your mock-up page, you can do so by connecting it to a real account.
7. Set your optimal times
How can you easily track the optimal times for each audience when you manage multiple LinkedIn accounts? Easy! With Planable's timetable option. Choose a specific time you want to always have at your fingertips. No more mental gymnastics to figure out what time it is halfway around the globe.
8. Organic targeting
With a LinkedIn company page, you can target specific audiences right from Planable. Ensure each LinkedIn post reaches the right audience based on language, location, job title, company size, seniority, or industry. Here's just how easy it is:
Why should you schedule LinkedIn posts ahead of time?
LinkedIn has evolved to be much more than just a professional networking social media platform. Brands use it for lead generation, customer nurturing, and employee advocacy.
Scheduling LinkedIn posts ahead of time can make a world of difference. Here are a few reasons why:
Batch create content
You can create months' worth of LinkedIn posts and take your time to write thought-provoking captions in one sitting. A LinkedIn automation tool allows you to spend less time creating content in a rush. This translates to increased productivity overall and fewer missed opportunities.
Stay consistent
Scheduling LinkedIn content ahead of time will give you the opportunity to mitigate any shortage of posts well in advance. You can publish your content according to your plan and not at the last minute.
Get approval in time
When you need to get approval to post content, multiple images, and copy, you find yourself chasing down stakeholders every other day. Using scheduling tools with approval options helps you get feedback and approval ahead of time.
Avoid errors and duplicated posts
If you work in a team and handle multiple social media accounts, overlap and miscommunications are bound to happen. Assets get buried in chains of emails, and there's no way to see what images have been used in what posts. Deadlines are not respected, and scheduled posts keep getting pushed back. Scheduling all posts in advance prevents this from happening and keeps everyone on the same page.
Maximize team productivity
Scheduling LinkedIn posts ahead of time lets you optimize content and make sure it reaches your audience at the right time. If you are a social media manager on a larger team, it gives visibility into the workflow of your team and the work being done for clients.
Schedule LinkedIn posts 6X faster
That's right. Six times faster. With Planable, you can free up to a week's worth of busy work to focus on creating LinkedIn content. Sign up to Planable and say goodbye to boring logistics and spreadsheets.