Looking for Later alternatives but not quite sure what to trust? We got you!
Finding the perfect social media management tool is becoming increasingly complicated. Social media marketers need to manage multiple accounts and sometimes multiple brands altogether. From content creation to approval, scheduling, publishing, and reporting, the process needs to be flawless. That is if you want to keep your brand on top of its game.
Luckily, there are many Later alternatives out there, and we chose the best ones that will take your social media presence to the next level. So let's get started.
Why consider Later alternatives?
Later is a popular social media marketing solution that focuses on the visual experience that social media channels offered. For many years, Later required users to start every post by uploading an image. But this has been recently modified to allow text-only posts for Facebook, Twitter, and LinkedIn.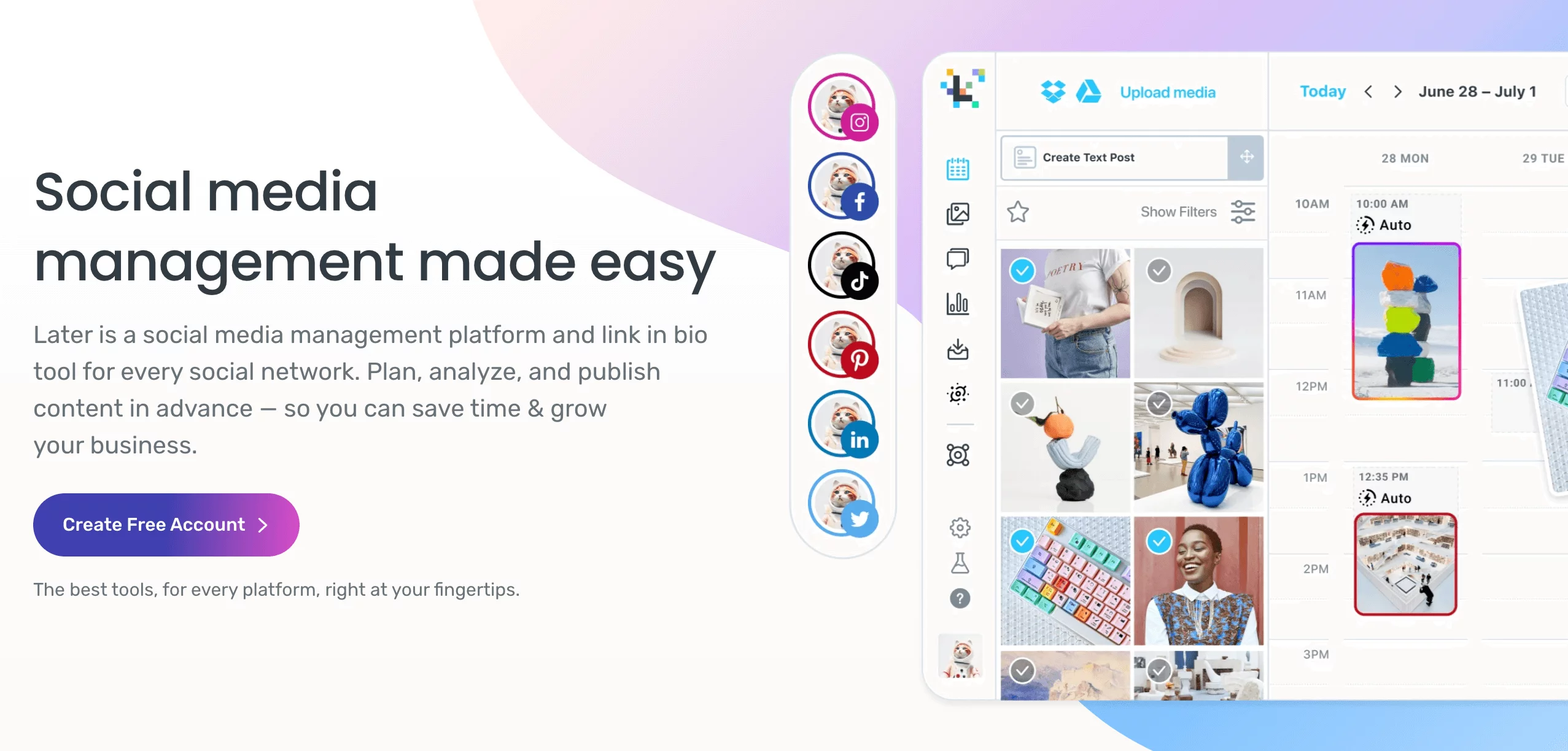 The social media management platform is mostly associated with Instagram, Pinterest, and TikTok marketing campaigns.
Drawbacks: Later does not offer a comprehensive experience. It feels like it was designed specifically for Instagram users. While you can also post to Facebook, Twitter, Pinterest, LinkedIn, or TikTok, it feels like Later offers these features as cross-posting solutions.
Although it is a great visual planner, especially for Instagram posts, it lacks some of the key features offered by some Later alternatives, such as social listening, in-depth reporting, or complex distribution across multiple accounts.
So, one of the reasons you should consider using alternatives to Later is having an all-in-one platform that not only aids your social media marketing efforts but also makes your life easier as a social media manager.
Here's why social media managers should consider a Later alternative in 2023
Improved Platform Integration: Later alternatives provide seamless integration with multiple social media channels, including emerging ones. This way, users can efficiently manage and schedule posts across various platforms without limitations.
Cost-Effectiveness: some Later alternatives embrace cost-effective solutions, offering competitive pricing plans and flexible options. Therefore, social media managers can optimize their budgets while still accessing the necessary tools and features.
Variation of Features: nowadays, social media management platforms offer so much more beyond scheduling. From advanced analytics, audience targeting, content creation tools, and team collaboration features, alternative platforms offer broad features tailored to their users' needs.
1. Planable: best Later alternative for collaboration & approval
Planable is a collaborative social media management tool that focuses on streamlining the content creation and approval process. It offers features like content planning, scheduling, and team collaboration, which is its main pillar. Therefore, Planable brings together creatives, strategists, communication teams, and clients through seamless content distribution workflows.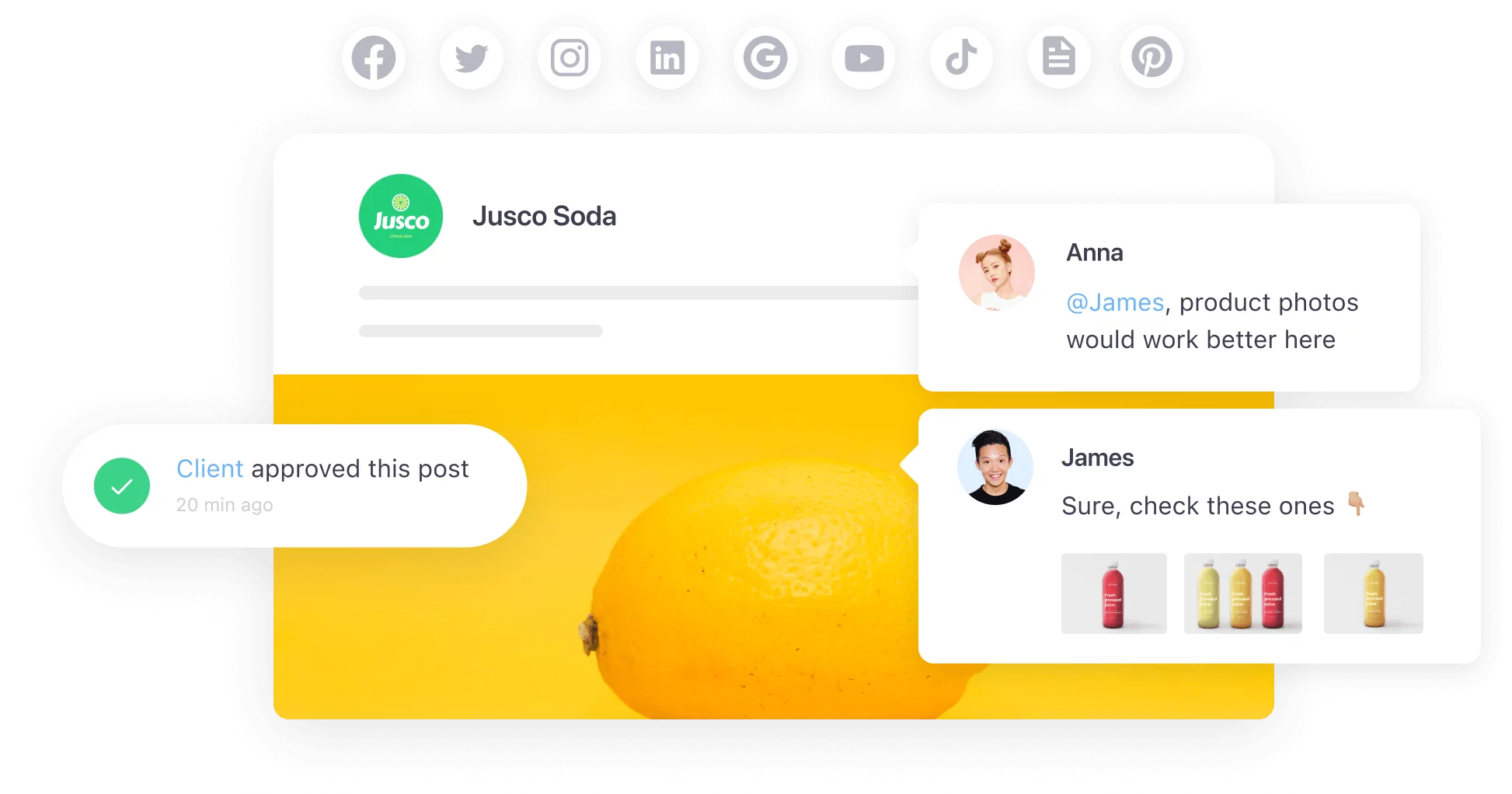 Planable's simple sharing options empower everyone to contribute while giving each user just the right permissions.
Other useful features that will support your content efforts are the drag-and-drop media library, import/export CSV, image alt text, and Planable AI for text creation.
Asides from being a team-oriented, real-time workflow content planner, what sets Planable apart from other platforms for managing social media is the visually rich preview characteristic. Planable's interface gives you 100% accurate previews of the posts for all social media platforms, allowing you to publish with complete ease of mind.
You can plan, edit, approve, and publish all types of written content on all major social platforms: Facebook, Instagram (including Reels and Stories), LinkedIn, Youtube, Tiktok, Googe Business Profile, Pinterest, and Twitter.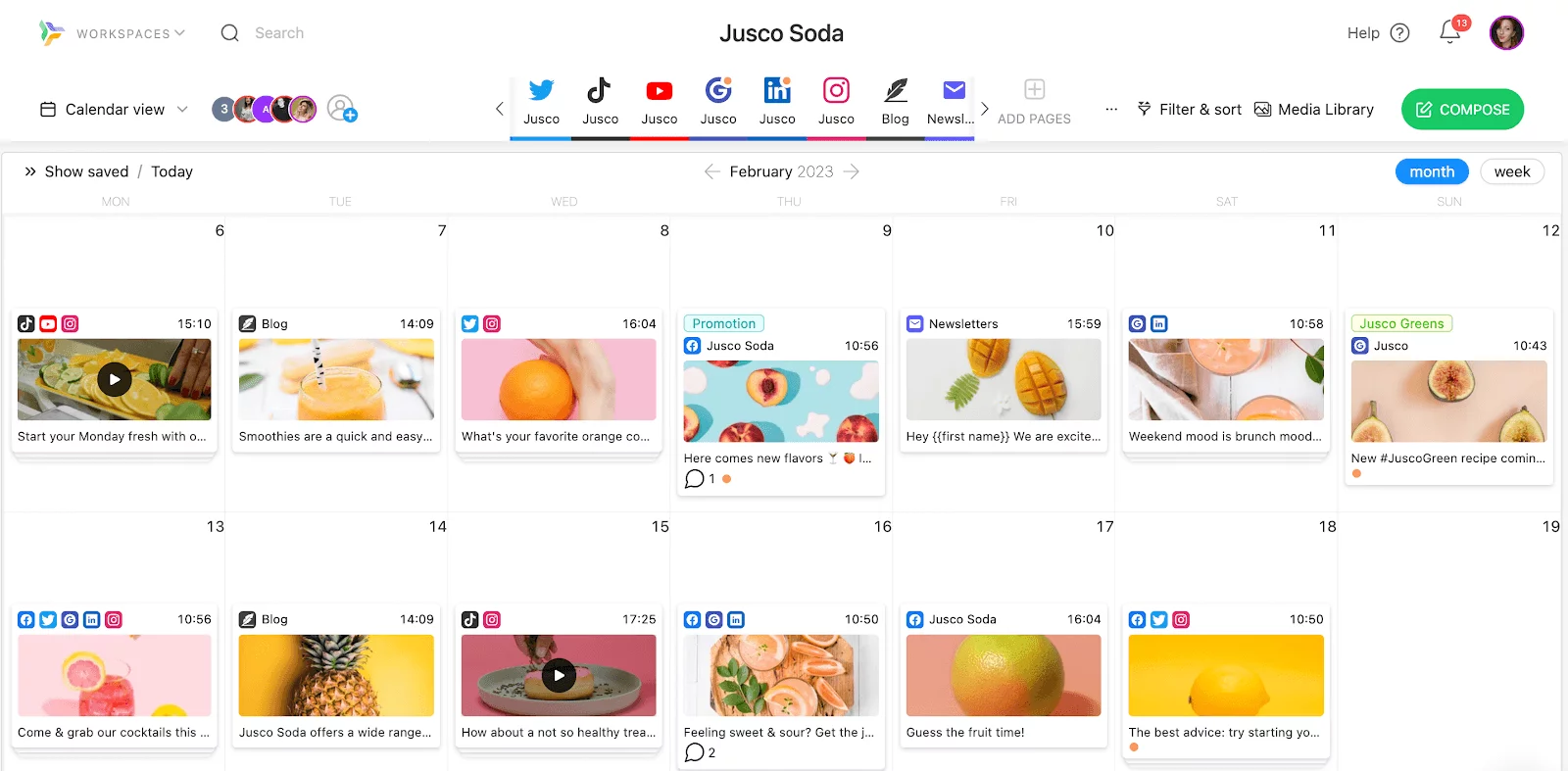 It really is more than just a social media scheduling platform. In Planable, you can collaborate and get approval on any type of written content you want: from social media posts to blogs, emails, newsletters, briefs, etc.
Drawbacks: Planable currently doesn't offer analytics and reports.
Pricing plans: the free plan offers up to 50 free posts, while the paid options start at $11/user/month (paid annually).
Planable vs Later
Features
Planable allows teams to create, review, and approve their content through a visual content calendar. Later is primarily focused on visual content scheduling and management, especially for the Instagram feed.
User Interface and Experience
Planable and Later both offer an intuitive and user-friendly interface. While Later's interface is focused on creating a visually cohesive Instagram feed, Planable emphasizes collaboration and streamlining the content approval process.
Pricing
In terms of overall money value, Planble's pricing structure is more cost-effective and straightforward. With ​​unlimited posts for each paid option, it has clear features and offers, making it easier for customers to understand what they're paying for. On the other hand, Later's subscription costs can increase as you require more posts, advanced features, or have more social media accounts.
Planable offers both free and paid subscriptions starting at $11/month/user, annually. Later, however, only offers a 14-day free trial prior to the paid plans, which start at $15 per month. Ultimately Planable is a better deal since it is more affordable and offers a free plan with unlimited features for the first 50 posts.
Takeaway
If you're looking for a user-friendly publishing tool with great editing and team collaboration features for good value, Planable is the best Later alternative.
2. Hootsuite: best Later competitor for comprehensive social media management and analytics
Hootsuite enables you to create, schedule, and publish posts on popular platforms such as Facebook, Twitter, Instagram, LinkedIn, YouTube, and Pinterest. It provides a centralized dashboard where you can monitor multiple social accounts, engage with your audience, track mentions, and keywords, and analyze performance metrics.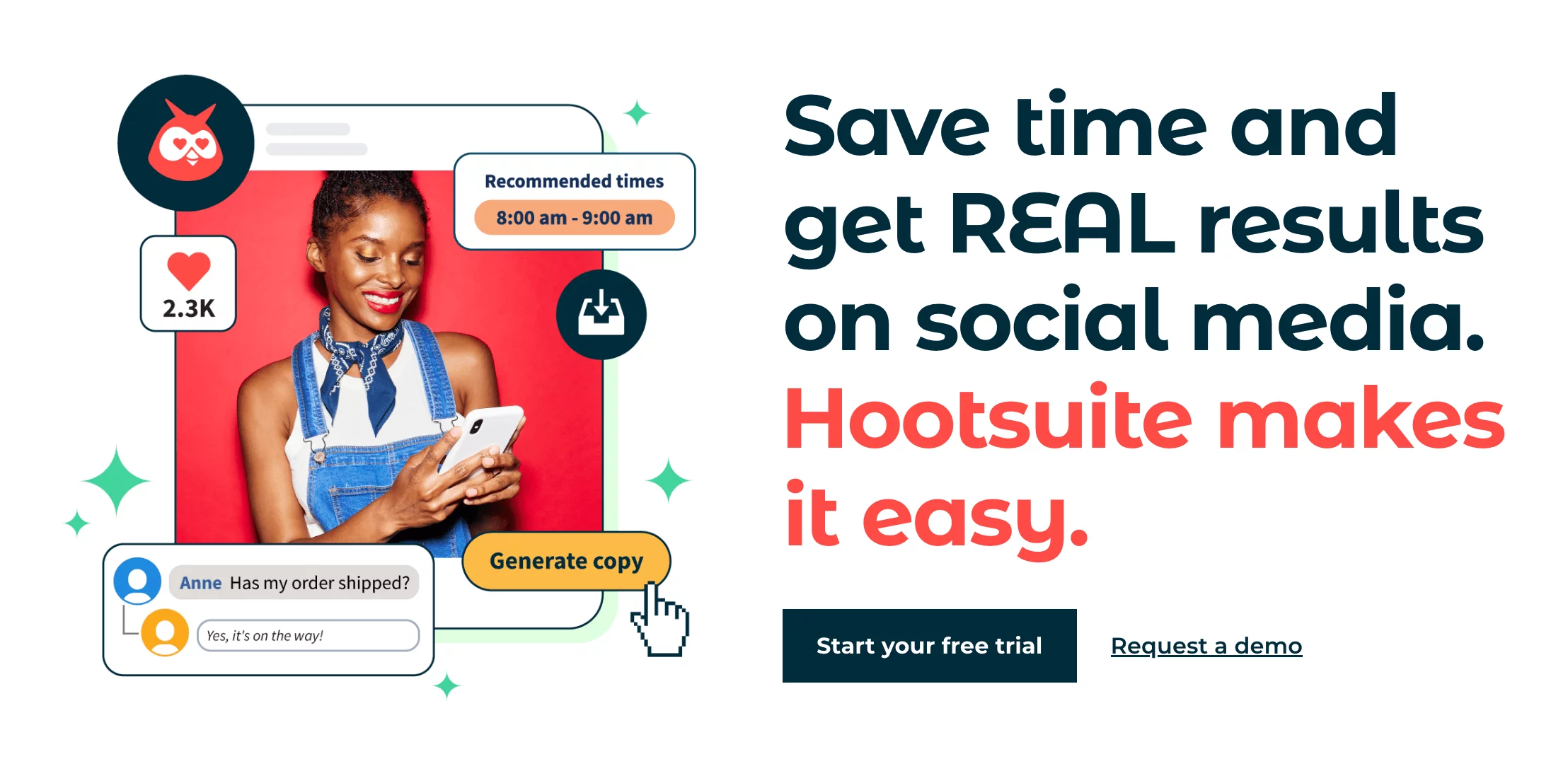 Hootsuite caters to individuals and businesses of all sizes that want to monitor their online presence through detailed social media reports and social media monitoring. Therefore it is especially useful for businesses with an active social media presence.
Drawbacks: Some advanced features and integrations may be limited to higher-priced plans, which is not for users on a tight budget. Additionally, the user interface can be overwhelming for beginners, requiring a learning curve to navigate the platform effectively.
Pricing: Hootsuite offers various pricing plans that range from free (with limited features and social profiles) to premium options that start at $99/month/user, accommodating 10 social accounts.
Hootsuite vs Later
Features
Hootsuite offers content scheduling, publishing, monitoring, engagement, and analytics.
Later focuses on visual content scheduling and management with planning, scheduling, and analyzing.
User Interface and Experience:
Hootsuite has a steeper learning curve, although it has a high level of flexibility, while Later offers a cleaner and more intuitive user interface, focusing on simplicity. Later is designed to be beginner-friendly, with a shorter learning curve compared to Hootsuite.
Pricing
Hootsuite's cost varies based on the selected plan and the number of social profiles connected. Since it caters to all business sizes, Hootsuite can be considered less affordable for individuals. Later is considered more affordable than Hootsuite, with its basic plan starting at $18/month/user.
Takeaway
Hootsuite and Later both cater to a variety of target audiences, from freelancers to small businesses and enterprises. However, Hootsuite is the more complex yet costly solution for maximum engagement and analytics data.
3. Planoly: best scheduling platform for Instagram influencers
Planoly is designed specifically for Instagram. From scheduling and auto-publishing to content creation and editing, analytics, social inbox, and hashtag research, Planoly is loved by many influencers. Although it supports other platforms like Pinterest and TikTok, its functionalities and features are more extensive for Instagram compared to other platforms.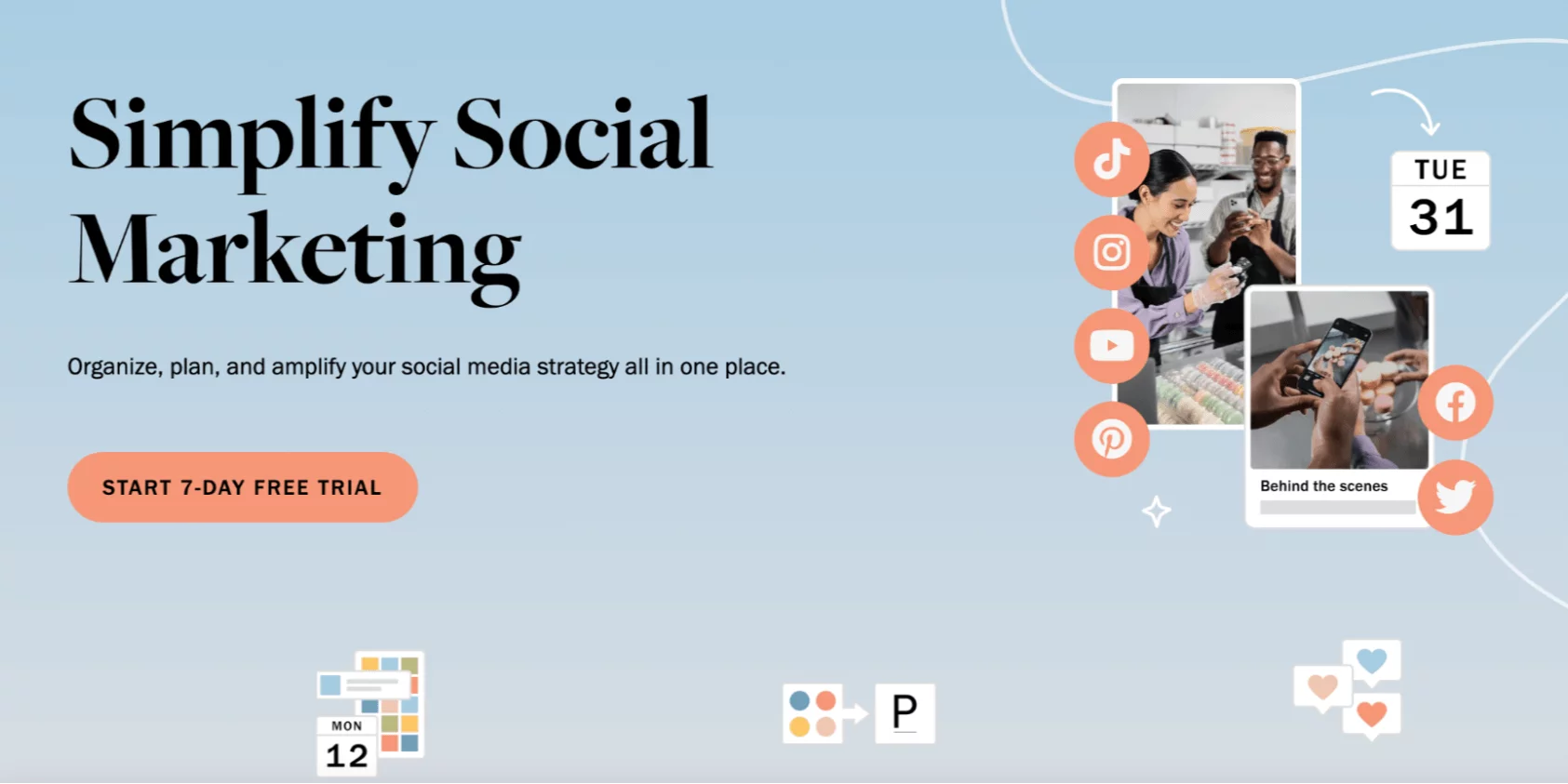 Planoly offers visual planning, scheduling, and analytics. It also adds customizable templates, captions, and hashtags. It is recommended for individuals, influencers, and businesses seeking to enhance their Instagram presence.
Planoly's key feature is the auto-Post for TikToks and Reels.
Pricing: Offering just a 7-day free plan, Planoly's pricing starts from $11.25/month/user annually.
Drawbacks: The auto-publishing feature is only available for Instagram business profiles, not personal profiles. Additionally, it does not include as many social platforms as some of its competitors.
Planoly vs Later
Features
Planoly offers visual planning, scheduling, content creation and editing, analytics and insights, comment management, and hashtag research specifically tailored for Instagram. Later, as a Planoly alternative, provides all these solutions but for more platforms, including Facebook, Twitter, TikTok, and Pinterest.
User Interface and Experience
Planoly provides a straightforward workflow and easy navigation, making it beginner-friendly. Later's dashboard is also well organized, and it provides useful features like a media library for easy content management.
Pricing
While Planoly offers a 7-day free trial, Later doubles this. As for the paid plans, Later exceeds Planoly's monthly plan by $6.75 per user.
Takeaway
Later is the better choice for users who are looking to increase their social media efforts and outrank their competitors.
4. Buffer: alternative to Later for scheduling and publishing content across multiple social media platforms
Buffer provides a centralized platform for scheduling and publishing, content management, shared collaboration, analytics and insights, and social media monitoring. It supports all major social media platforms, including Facebook, Instagram, Twitter, TikTok, LinkedIn, Pinterest, Mastodon, and Google My Business.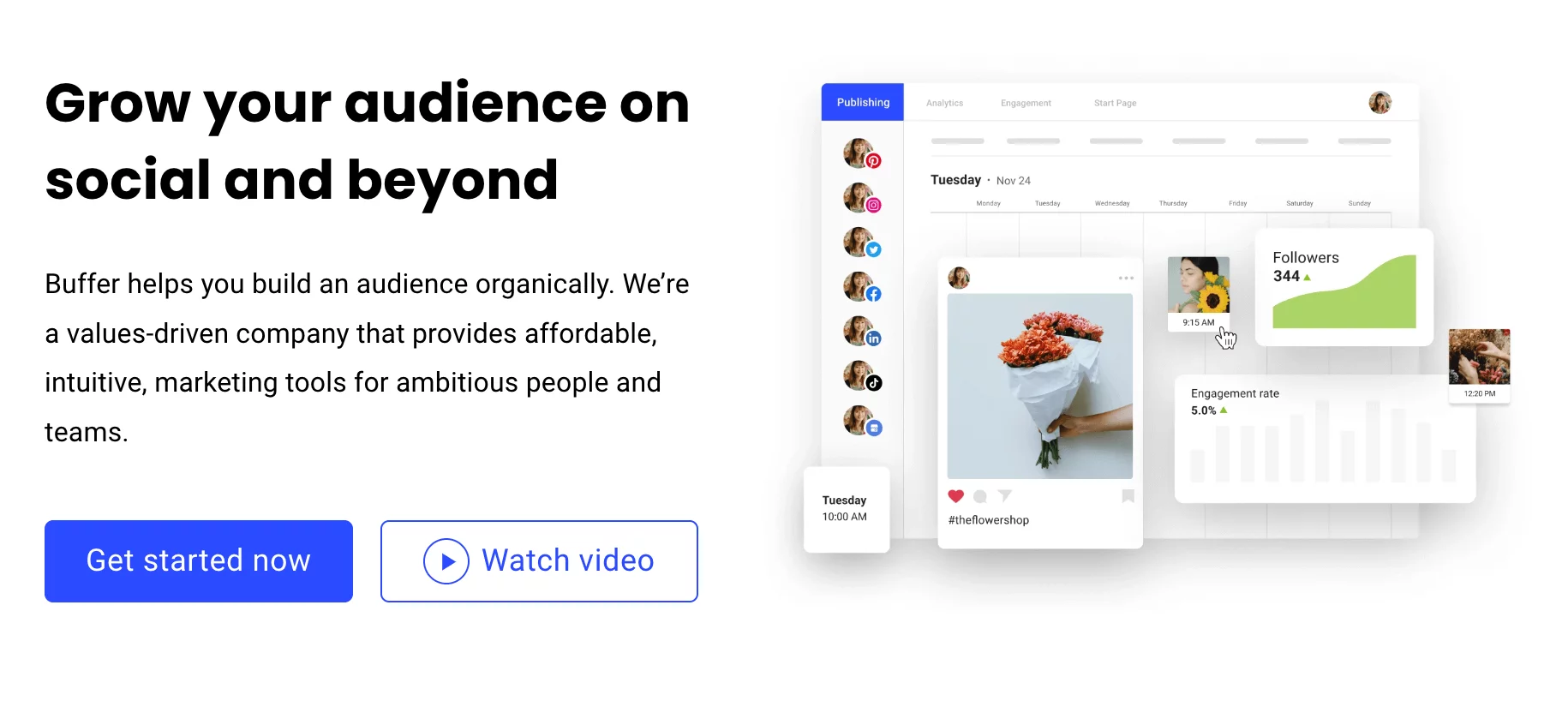 Buffer is suitable for individuals or start-ups seeking to manage multiple clients, schedule multiple posts in advance, or use monitoring tools to analyze their social media performance.
Pricing: Buffer offers a free plan which enables the user to manage up to 3 channels and publish content up to 30 posts per month. The paid plans start at $6 per user or $12 per team.
Drawbacks: Buffer has limitations on the number of posts that can be scheduled in advance for some social media networks, for both free and paid plans. There are also a few negative reviews about Buffer's social media scheduler troubleshooting.
Buffer vs Later
Features
Both Buffer and Later offer scheduling, publishing, and content management capabilities, but Buffer adds social media analytics on more platforms and has extra collaboration features that Later lacks.
User Interface and Experience
Buffer's clean and intuitive interface is suitable for both beginners and experienced users on all platforms, while Later's visual experience is tailored for Instagram scheduling and management.
Pricing
Buffer offers both a free plan subscription and affordable paid options as opposed to Later, which only offers a 14-day free trial with a bit more expensive basic paid subscription.
Takeaway
Buffer is one of the best alternatives to Later due to its wider range of social channels and data analytics, at a good value for money. If you've tried Buffer and you're looking for better options, check out the 9 Buffer alternatives we've tested.
5. Loomly: best Later competitor for targeting audiences across multiple platforms
Loomly is a comprehensive management tool that assists small to big teams of marketers create, manage, measure, and interact with their audiences through social media campaigns. With Loomly's Facebook and LinkedIn Audience Targeting, multi-location brands can focus on strategic follower growth.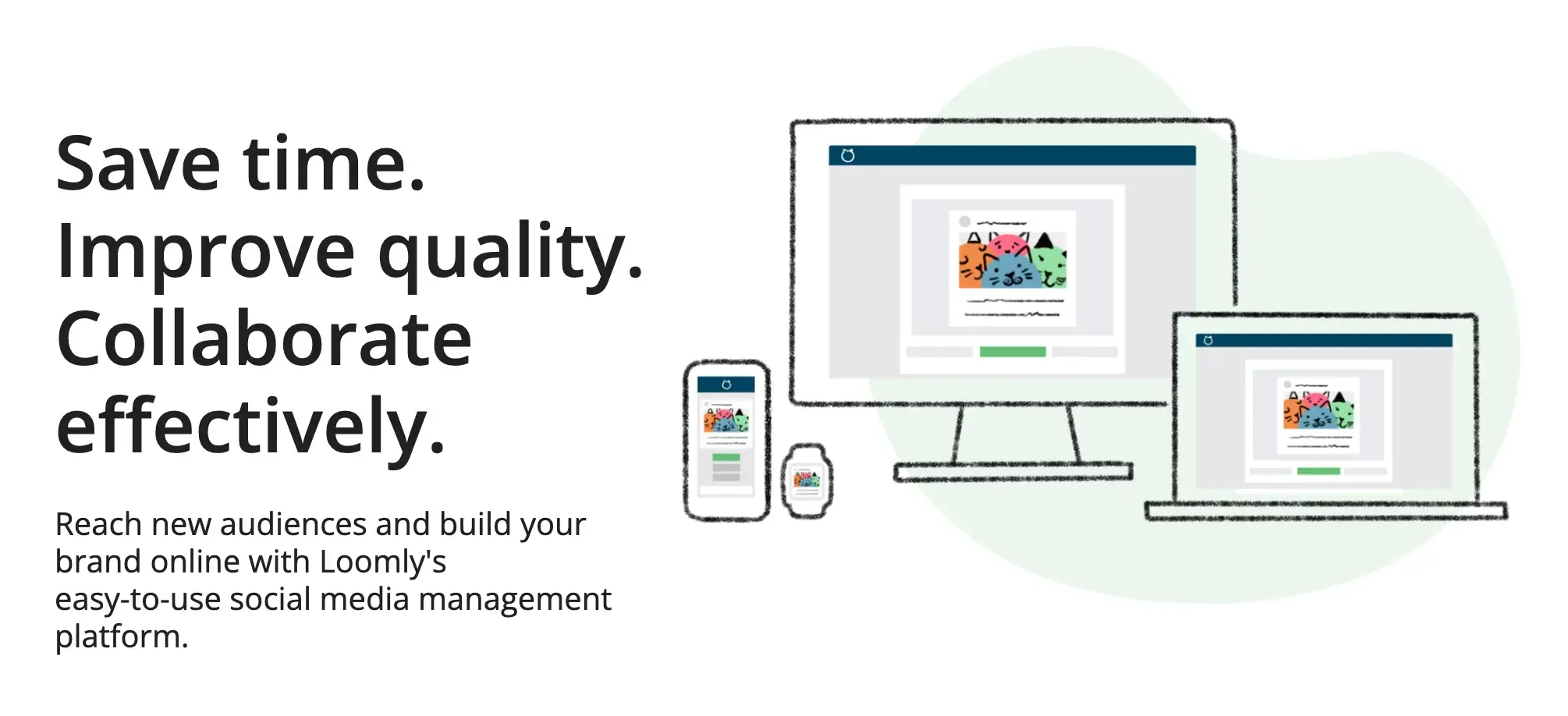 Loomly supports major social media platforms, including Facebook, Instagram, Twitter, LinkedIn, Pinterest, Google My Business, TikTok, Youtube, Snapchat, and even Zapier integration.
Pricing: Loomly does not offer a free trial. Its cheapest subscription plan starts at $26/month, offering 2 user seats and 10 social media profiles.
Drawbacks: Loomly's subscription plans can be pricey for users on a tight budget. Additionally, it does not have integrations with niche or industry-specific platforms that some users may require. If you're on the lookout for some budget-friendly tools, here are a few Loomly alternatives to check out.
Loomly vs Later
Features
Both Loomly and Later offer basic features for planning, scheduling, and analyzing content. Loomly, however, supports more social channels and offers audience targeting.
User Interface and Experience
Both Loomly and Later have well-organized and easy-to-navigate interfaces, making them suitable for users of all experience levels.
Pricing
Later's subscription plans are more affordable than Loomly's.
Takeaway
Loomly is a really good Later alternative if you are looking for a great management tool focused on targeting audiences across multiple platforms.
6. Plann: best strategic planning and link in bio Later alternative
As the name suggests, Plann is all about planning those perfect visual feed posts. Plann shows off its brand and content calendar for curated Instagram, Pinterest, Facebook, TikTok, and LinkedIn profile pages.

One of its key features is the link-in-bio tool, accompanied by the social media reporting feature. Plann is ideal for solopreneurs managing their personal brands.
Pricing: Plann offers a 7-day free trial, followed by the basic paid subscription starting at $15/month/user, all platforms included.
Drawbacks: It is not suited for larger teams since it lacks enough user seats and approval workflows. Platform integration is also limited.
Plann vs Later
Features
Both Plann and Later provide a visual planner, post scheduling, analytics, and social analytics and are focused on enhancing the visual aesthetics of brands' social media accounts. However, Plann has the upper hand with the link-in-bio tool, which Later lacks.
User Interface and Experience
Both Plann and Later have a user-friendly interface with mild learning curves.
Pricing
Although Later offers a longer free trial, Plann seems to be the more cost-effective option in the long run.
Takeaway
Plann is the better alternative to Later for individuals and solopreneurs.
7. Agorapulse: best social media management solution for marketing agencies
Agorapulse provides a powerful set of features for social media management, including publishing, engagement, analytics, and collaboration. It features a "Social Inbox", which combines social media interactions across social streams, such as Twitter, Facebook, TikTok, and LinkedIn, and presents them in a unified mailbox.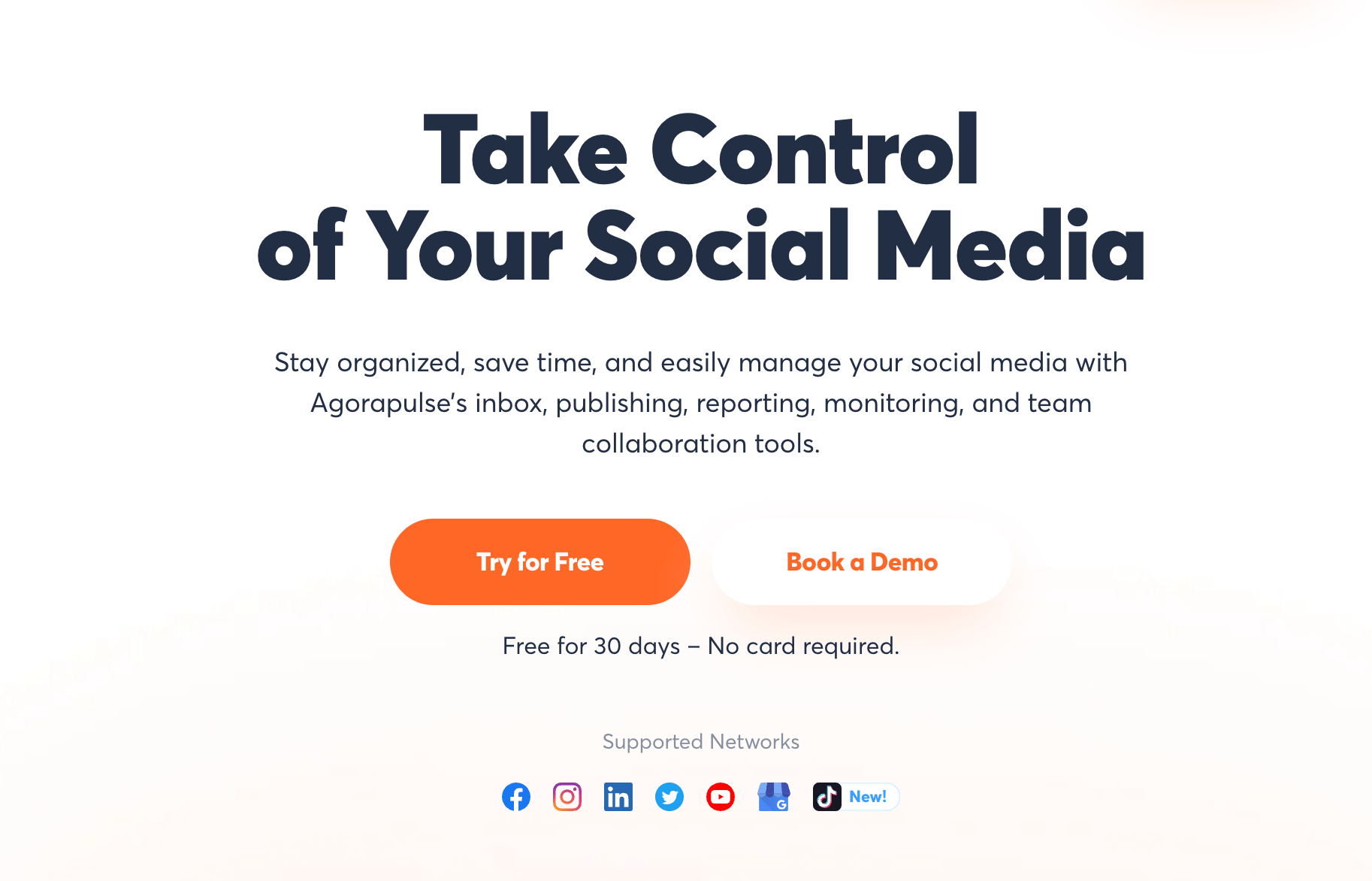 Additionally, one of its key features is the social media reporting tool which generates recommendations based on user behavior data. Agorapulse is clearly a tool for big businesses that manage multiple accounts.
Pricing: Besides the limited free trial, Agorapulse subscriptions start at $74/month/10 social profiles.
Drawbacks: Although Agorapulse is a complex social media management platform, its prices are certainly not created for everyone's budget.
Agorapulse vs Later
Features
Agorapulse provides more comprehensive tools than Later. It is a more advanced platform, offering all-in-one solutions for dedicated marketing teams.
User Interface and Experience
Later has a more easy-to-use interface, while Agorapulse presents a steeper learning curve due to its complex functions.
Pricing
Agorapulse subscriptions are definitely more expensive than Later's.
Takeaway
Agorapulse is a more complex, comprehensive, and expensive alternative to Later.
Later Alternatives FAQs
What is better than Later?
Planable is the best Later alternative for seamless collaboration and approval workflow. But if you're looking for simple, affordable alternatives for entrepreneurs and small businesses, then Buffer, Plann, or Hootsuite are great options.
Is there a free alternative to Later?
Planable offers a free plan. Users can schedule a total of 50 posts, and experience the platform's features with no time limit. The basic plan starts at $11/month.
What is the difference between Planoly and Later?
Planoly provides specialized tools for hashtag management and grid aesthetics, while Later offers features like user-generated content management and analytics across various platforms.
On the other hand, Later gained popularity for its advanced Instagram Stories publishing capabilities. It allows users to schedule and automatically publish Stories, including features like adding captions and stickers.