Influencer marketing can deliver a ROI between $4.50 to $12.54 for every $1 spent, depending on your industry vertical.
But in order to enjoy those kinds of results, you need to efficiently grow your army of influencers and operate at scale.
That involves automating your influencer marketing campaigns to the best extent possible. By minimizing your hours spent on low-value, administrative tasks, you create more room for you to tweak, personalize, and strategize for optimal success.
10 ways to automate your influencer marketing campaign
There are multiple stages to the influencer marketing cycle. By automating elements of each one, you'll streamline your process. As a result, you'll see better returns on your time, effort, and revenue.
1. Discover your influencers.
Don't go on each platform and search by hashtag. It's inefficient and a waste of your time. This approach only helps you find the people who posted the most recent, popular content around a topic, not the relevant and regular accounts that constantly engage on your topic. Those people know how to tailor their posts to drive followers to purchase, and who have the followers that match the characteristics of your target audience.
Instead, use influencer marketing discovery software to find influencers who are associated with your vertical and resonate with your specific target audience within that vertical.
For example, Buzzsumo (pictured below) lets you search influencer bios and content. Influencer tools like Onalytica also proactively monitor and filter out fake influencer accounts, which can be surprisingly deceptive. Once you've find the influencers use an email finding tool like Voila Norbert or ContactOut to find their contact details.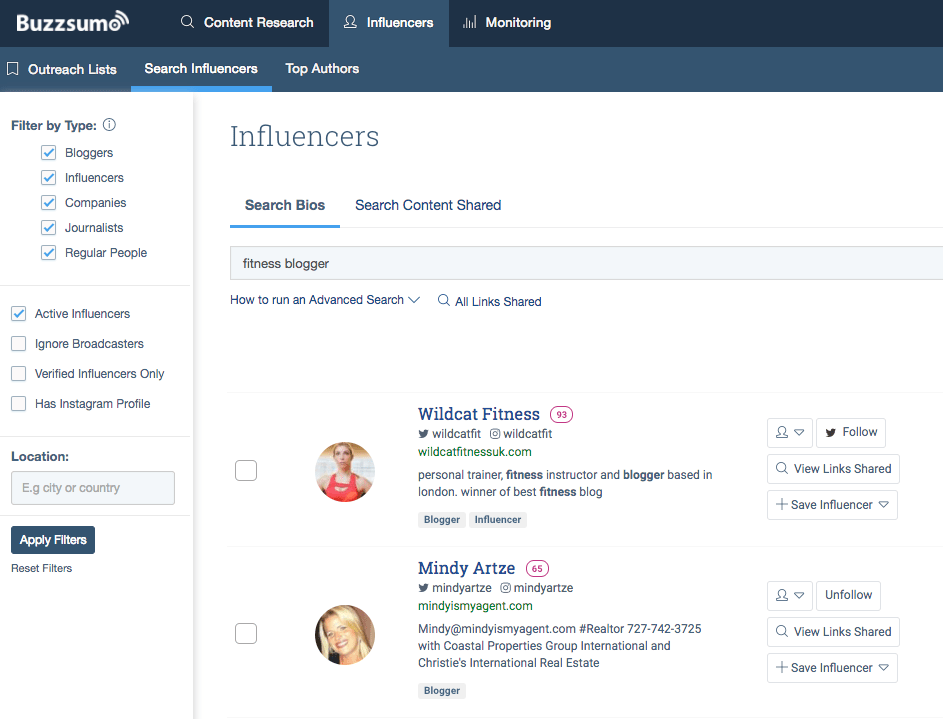 2. Double-down on micro-influencers.
The great thing about celebrity influencers is that they're easy to find. But they cost a ton of money, can be difficult to work with or even contact, and their broad reach comes at the cost of very low engagement.
On the other hand, micro-influencers (those with 10,000 followers or less) are eager and easier to work with and they're much more effective when it comes to promoting brands. They simply carry more weight with their followers due to the perceived intimacy inherent with the smaller following.
To put it in perspective, micro-influencers have 2 to 4 times the engagement rate of micro-influencers or celebrities.

Of course, you need to work with way more micro-influencers to enjoy the same results you'd get with the same shoutout from a celebrity. The best way to do that is through automation. Fortunately, because they're smaller, micro-influencers typically have less of an ego than celebrities and macro-influencers so they won't be as offended by automation.
Many influencer discovery platforms focus on larger influencers. However, there are some that focus specifically on micro-influencers, making it easy for brands to quickly identify a large swath of influencers that meet their criteria in a matter of minutes.
3. Segment your influencers
It's likely your brand has more than one user personas you're targeting. You may also serve different verticals. In either or both of these cases, it can be extremely helpful to segment your influencers. This allows you to:
Contact the appropriate influencers en masse about relevant product releases, events, or promotions specific to their industry, instead of annoying influencers who can't do anything with the information.

Measure the effectiveness of your influencer marketing efforts by vertical, or among different audience types. Knowing how your influencer marketing program is performing at a high-level is important, but drilling down by segment reveals actionable opportunities for improvement.
Several influencer automation platforms include segmentation as a feature, such as Onalytica Traackr, and GroupHigh.
4. Communicate at scale.
It's not a good idea to pitch influencers with a standardized template. Influencers can sniff these out and reasonably determine this isn't a brand that's going to prioritize them and appreciate what makes them special.
Influencer outreach tools come in handy by helping you stay on top of all of your influencer communications and outreach. You can load in templates as starting points for emails that you'll personalize for each influencer. These tools will notify you when an influencer has responded to your email, or if it's time to check in again with an influencer that's gone dark or who you like to give the VIP treatment. These check-in emails help maintain your relationship, which is important for the retention part we'll get into later on.
Most influencer marketing tools include an outreach element, but ones like Pitchbox (focused on bloggers and journalists) and Buzzstream (pictured below) have really specialized in it.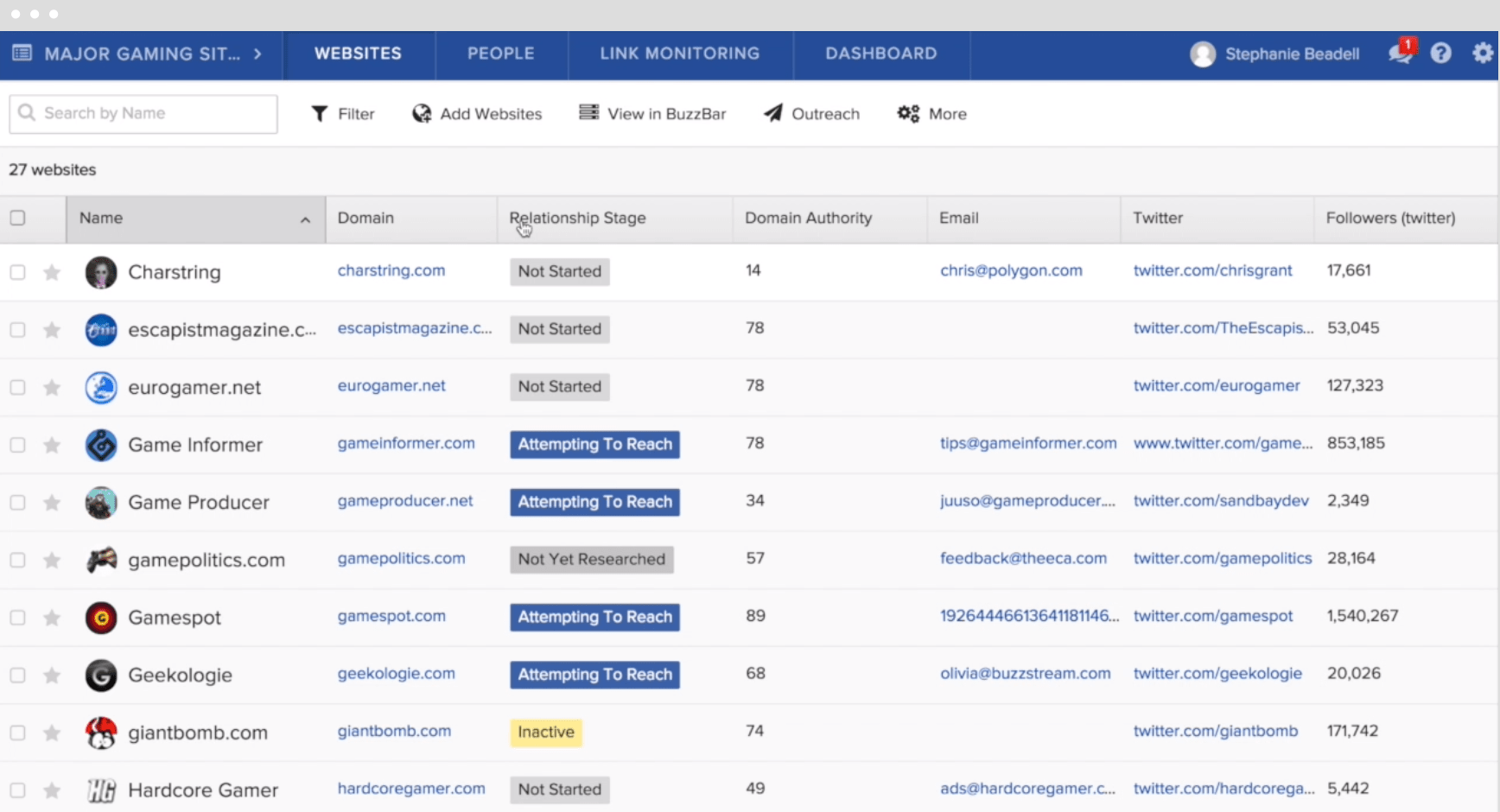 5. Get your docs in a row.
Spinning up new influencer relationships is easy when you have a standard set of documents to go to.
Create a template for your contract and project proposals. Then, each time you work with someone new, all you have to do is fill in the appropriate fields. Include the length of the engagement, the type of content and proposed number of posts, compensation, and exclusivity or NDA considerations.
Create a brand guide, too. This document can be short, just a few pages long, with the goal of introducing influencers to your brand. At a high level, your brand guide should outline your goals for influencer marketing and the purchasing behavior and needs of your target audience. Go into details on guidelines regarding brand mentions, competitor mentions, and language that needs to be avoided when an influencer posts about you.
Also, provide an overview of what's great about your brand. What are your differentiators? Talk about your culture and brand voice. Explain the standout features of your product. The idea is to arm your influencers with the knowledge they need to competently promote your brand.
6. Set up your landing pages and promo codes.
Instead of asking your developers every time you need to create a custom landing page for a new influencer, look into landing page software that simplifies the process and auto-generates promo codes and tracking URLs.
Design a few key templates you can use for different use cases, leaving plug-and-play fields for a promotional banner or logo and a bit of welcome text for the influencer's audience.
Use a standard format for your promo codes to make it easy to track and understand where your traffic is coming from. If you work with a platform like Dealspotr, the platform will automatically create promo codes for your influencers, enabling easy analytics.
7. Figure out payment options.
There's a lot of confusion, vagueness, and general lack of knowledge when it comes to compensating influencers.
Some marketers just accept the rates an influencer gives them, which may not be reasonable for what they can deliver.
To avoid that problem, others choose to set their own payment tiers for influencers, based on follower count and engagement stats by platform and industry standards. Treating their influencers like interchangeable vendors instead of individuals dehumanizes them. As you can imagine, that makes influencers a lot less motivated to do a good job.
Sidestep these headaches entirely by letting software do this for you. Grapevine Logic uses a method where brands set a budget, define their campaign goals and target audience. Then the platform recommends YouTube and Instagram influencers within their budget who will deliver the best bang for their buck.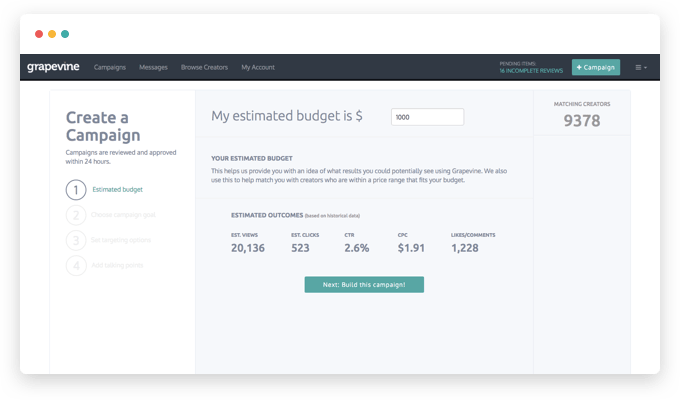 Some platforms also include payment processing within their platform, eliminating the need for you to get another solution or go through your accounting department.
8. Create your content.
Some misguided marketers insist on creating their sponsored post content themselves. But the whole point of influencer marketing is that it's more effective precisely because it comes from the voice of an influencer, instead of the brand.
Instead of working piecemeal with individual influencers and collaborating on each piece of content, sign up with an influencer marketplace like Famebit where you create project proposals, and influencers come to you with their bids and project ideas. This brings in a variety of content and puts you in the power seat – they have to impress you with their ideas, not the other way around.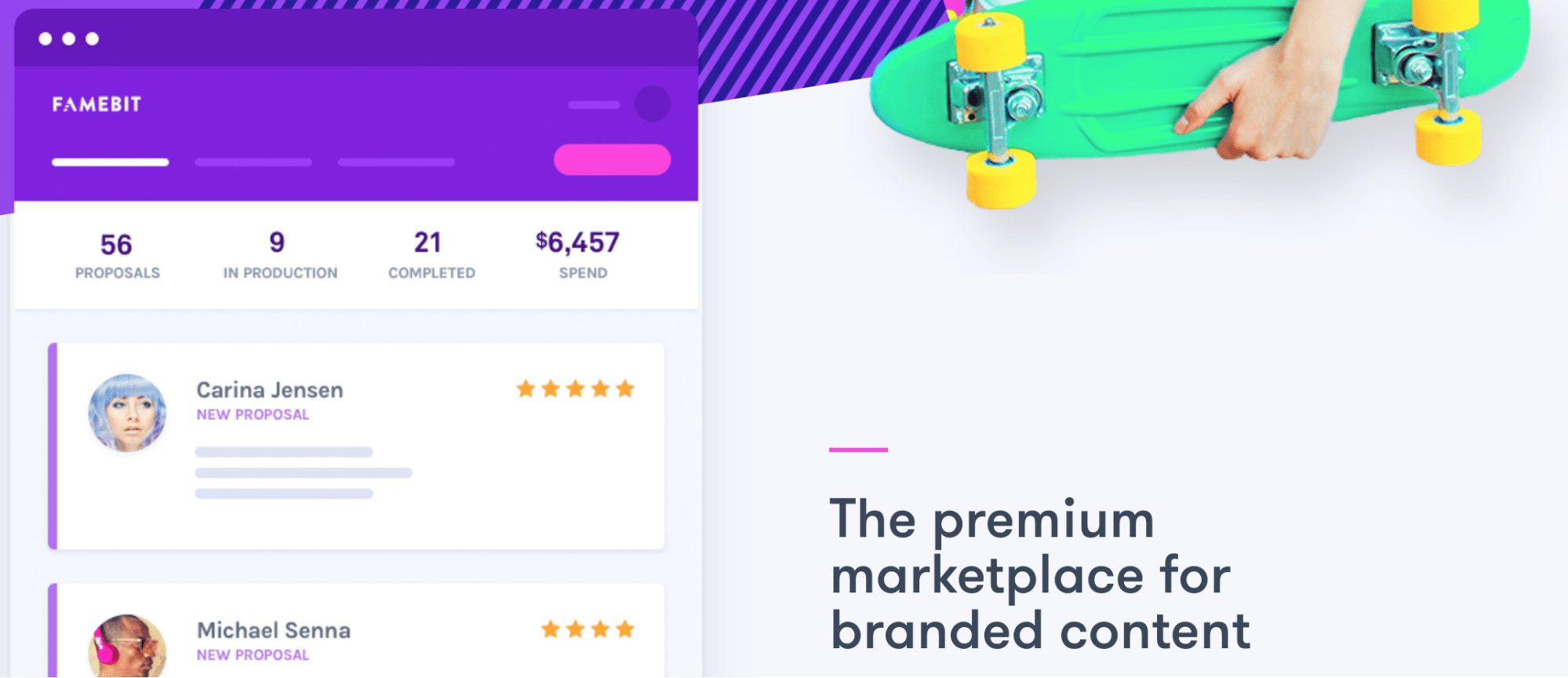 An added benefit of this approach is that it frees up your time and creative energy to work on collaborative brainstorms with your most important influencers – the ones where you really get your money's worth. We'll learn about that in the next step.
9. Measure your results.
Measurement is where influencer marketing platforms truly shine. Instead of trying to glean insights from your Google Analytics account, rely on a platform with analytics specially designed for influencer marketing. A few standout options include:
10. Retain your top influencers.
Retention is essential to any successful influencer marketing program. The more loyal the influencers you keep around are, the less time you have to spend searching for more. Plus, the longer you work with an influencer, the better they get to know you and your brand, and with that deeper relationship comes better brainstorming and more creative product promotion.
Retaining influencers stems from good relationships, but that's hard to manage when you're working with dozens or hundreds of folks. Outreach software can remind you to send a check-in email. Keep track of your rates and whether it's time to raise them. Software can also alert you to milestones in your relationship, such as six months or a year of working together.
Then you can use companies like Printfection to send your influencer a gift. These swag automation platforms are also useful for sending out free samples at scale.
Conclusion
Effective influencer marketing takes a lot of creativity to be done well. Let your creativity flow by freeing your brain from mindless tasks that can be automated using the tips above.
This article was submitted by Michael Quoc, an entrepreneur currently focused on Dealspotr, a free influencer marketing platform.
Michael Quoc
Michael Quoc is an entrepreneur and product executive. His e-commerce media lab ZipfWorks is currently focused on Dealspotr, a free influencer marketing platform that enables brands to search and connect with thousands of influencers and bloggers with no up-front or monthly fees. Dealspotr's mission is to help smaller brands with small budgets achieve positive ROI with influencer marketing.