Hashtags can help you gain more engagement on Instagram, as well as other social media sites. For your brand to reach your target audience, you must use relevant or trending hashtags.
The hashtags on your posts have to support the content you publish. They're an integral part of any social media marketing strategy. And did you know that different hashtags work for different days of the week? To remain relevant in the ever-changing social media world, you have to monitor popular hashtags and test out what works for your niche. Then rinse and repeat.
Ready to reach new audiences through the power of hashtagging? Here are the daily hashtags you can try out next time you schedule a post on Instagram.
Table of contents
Instagram hashtags tips you'll wish you knew sooner
Relevance is the name of the game. Choose hashtags that are connected to your caption and that accurately describe your photo. Hashtags are like fishing hooks, and relevance is the right bait: to catch the right fish (your ideal audience), you need to select the appropriate bait (relevant hashtags).
Avoid those overused hashtags with millions and millions of posts. Your content might end up like a tiny fish lost in the ocean, swimming unnoticed. You need to find those hidden gems that strike the right balance.
Add them in a first comment
Rather than cluttering up your caption with a bunch of hashtags, try adding them in the first comment of your post. Planable lets you schedule your first comment to go live at the same time with your scheduled Instagram post.
Monday hashtags for Instagram
1. #MondayFunDay or #MondayFunDayInspo
To most people, Mondays are all gloom and doom. Brighten your followers' day by using either of these hashtags: #MondayFunDay or #MondayFunDayInspo, and bring the fun into Mondays. You can get super creative when using these hashtags, especially since they can be used for a wide range of experiences.
Monday hashtags are great for restaurant and bar owners promoting their businesses at the start of the week.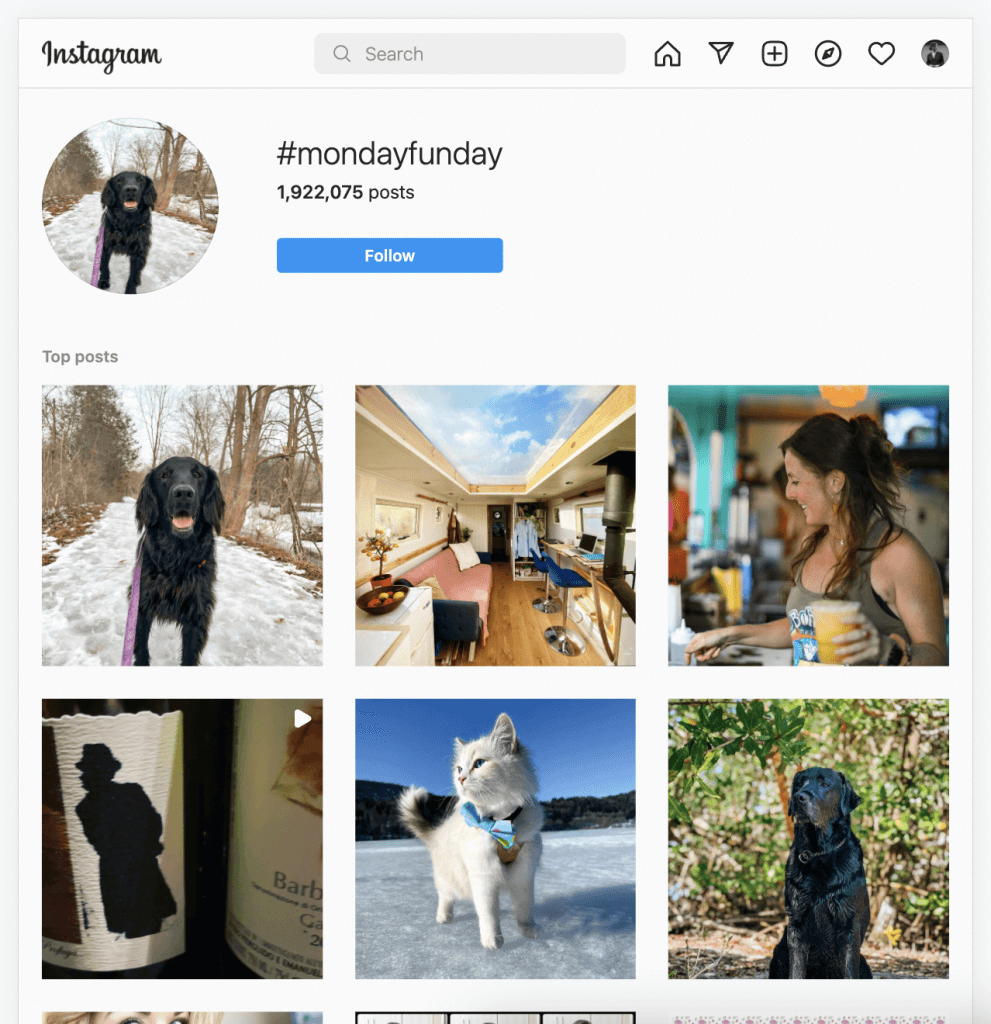 2. #MondayQuotes
Most of us start our work week on Monday. And who doesn't like starting their week on a high note? #MondayQuotes is one of the best hashtags on the gram to motivate people. The best part about #MondayQuotes is that you can use it to post something inspirational or welcome people to the new week.
View this post on Instagram

@blissful_quotes27 uses it to motivate people by quoting an author. Businesses on Instagram can use it to encourage productivity among their followers, and nurture potential customers.
3. #MondayMantra
Starting the week with the right motivation can drive excellence for the rest of the week. #MondayMantra is an excellent hashtag for that. These posts can be quotes that help people to focus better, as well as drive away distractions from their minds.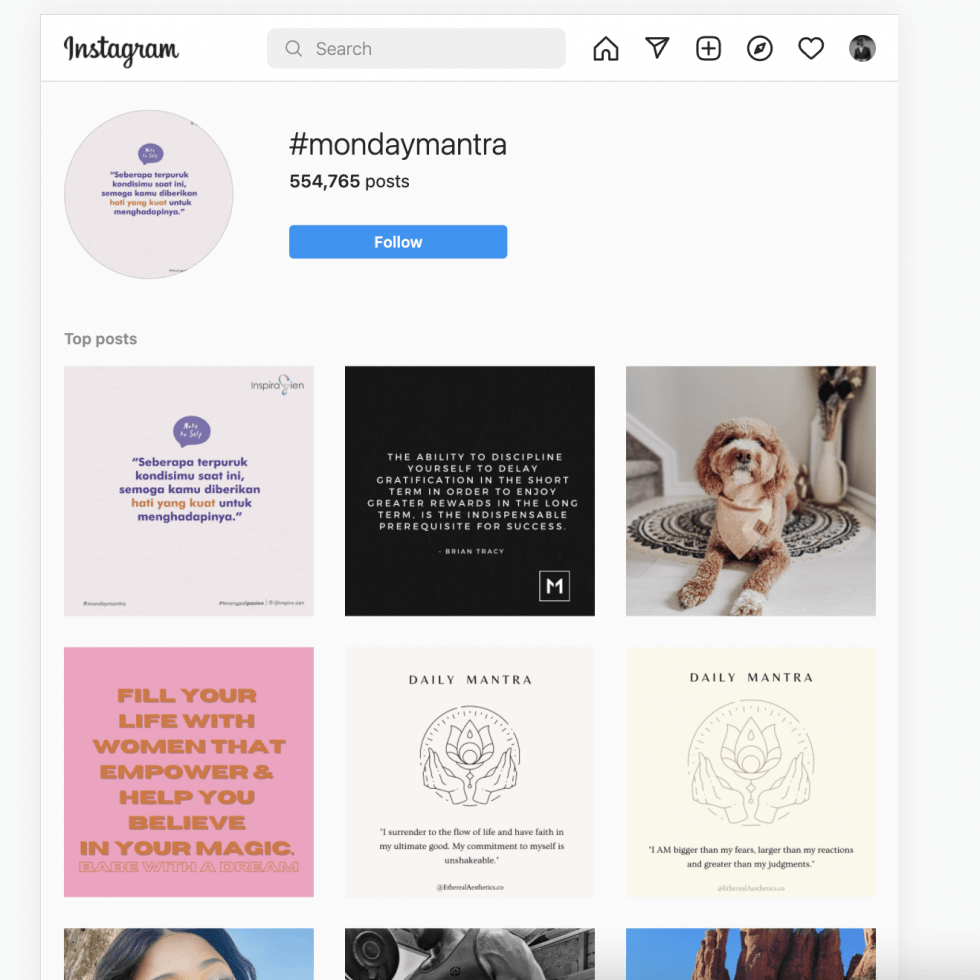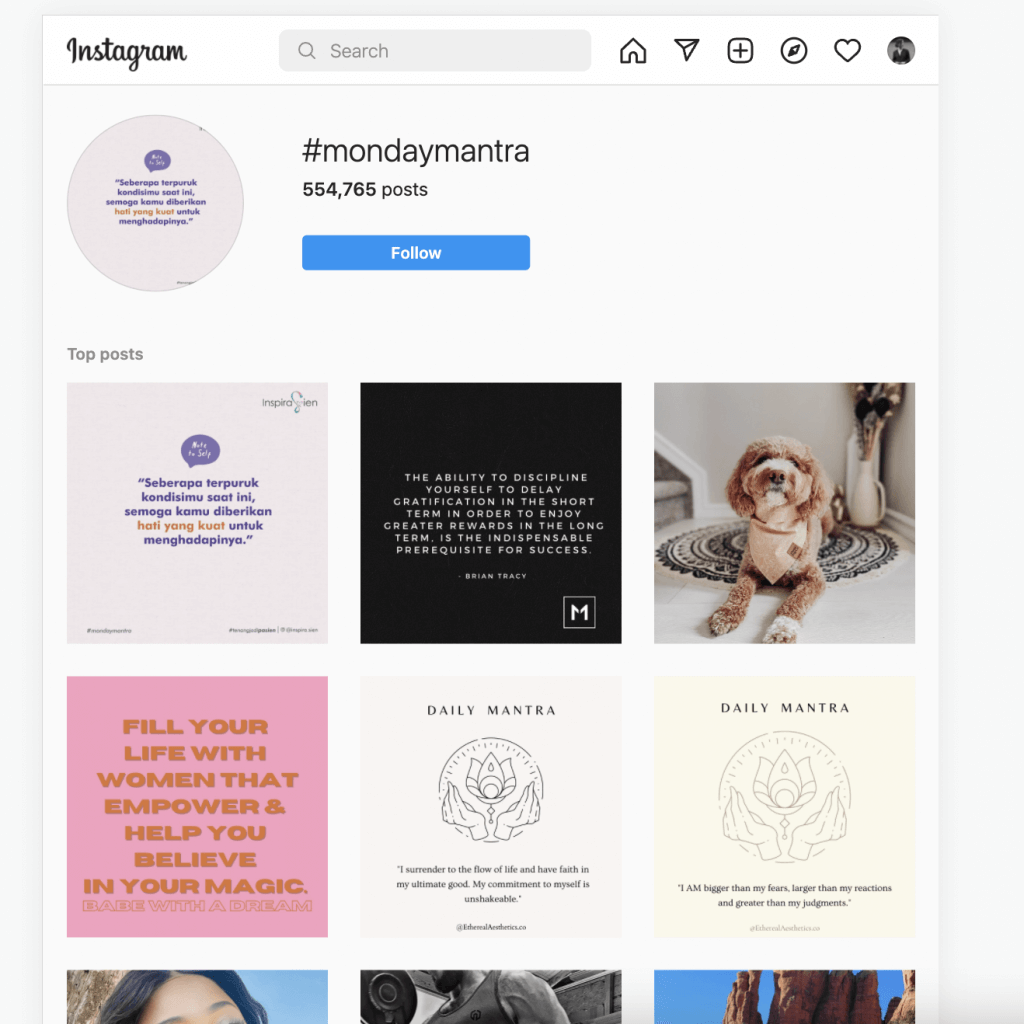 People and businesses use it on Mondays to encourage others to keep a calm and balanced mind. You can use it to promote eradicating negative thoughts and reducing anxiety. @mnly.box uses #MondayMantra to motivate people to embrace discipline and achieve a positive mindset.
View this post on Instagram
4. #MotivationalMonday or #MotivationalMondays
#MotivationalMonday or #MotivationalMondays hashtags are used to empower people. They tell us that Mondays aren't as bad as we expect them to be. Posts using these hashtags encourage Instagrammers to tap into their potential.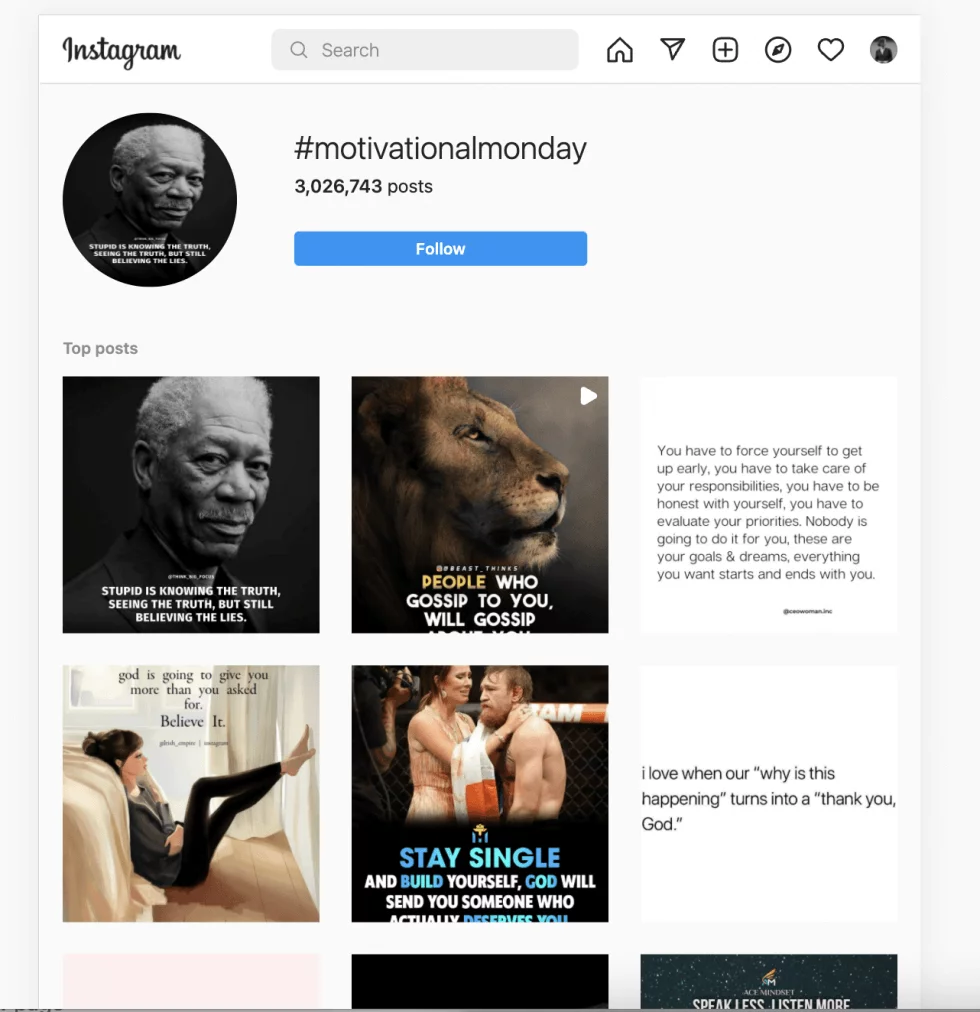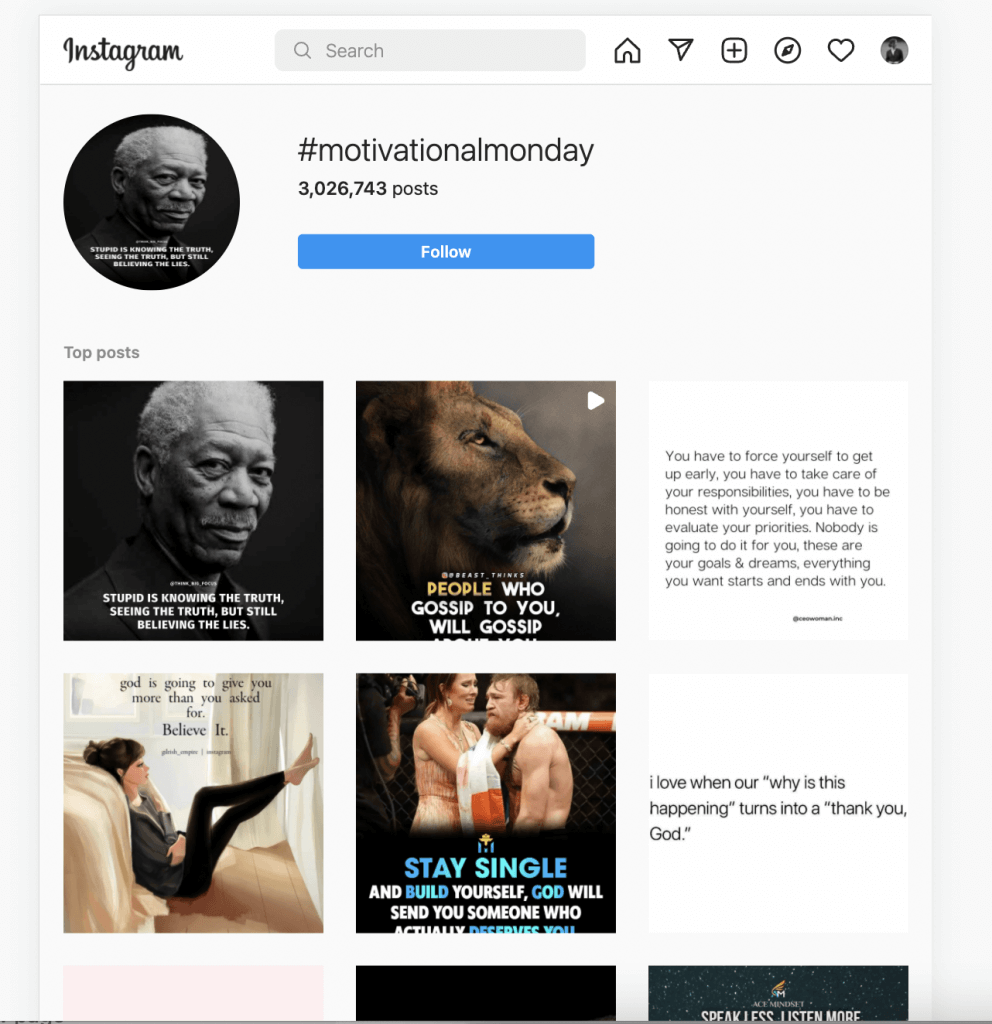 They're often thought-provoking and show people that they can achieve anything they set their minds to. As @ceowoman.inc illustrates, these hashtags incentify people and remind them to celebrate their milestones, regardless of the hurdles they have encountered, big or small.
View this post on Instagram
5. #MondayNight
Monday nights can be more than coming home tired from work and slouching on the couch watching Netflix. Brands can use #MondayNight to promote their events or activities. It's an effective way to draw attention to slow Monday night happenings like concerts, festivals, or gatherings.

Add #MondayNight to your posts to promote something happening at your venue like @michaelawine does here. They use it to promote an exquisite dinner at a restaurant, coupled with wine. The caption mentions what meal to expect from the restaurant's Monday night special.
View this post on Instagram
6. #MusicMonday
For IG users who love music, specific artists, or bands, #MusicMonday is the ultimate hashtag to follow for inspiration. As a brand, make the most of this hashtag to reach the right music lovers and promote your event, a product, or spread awareness.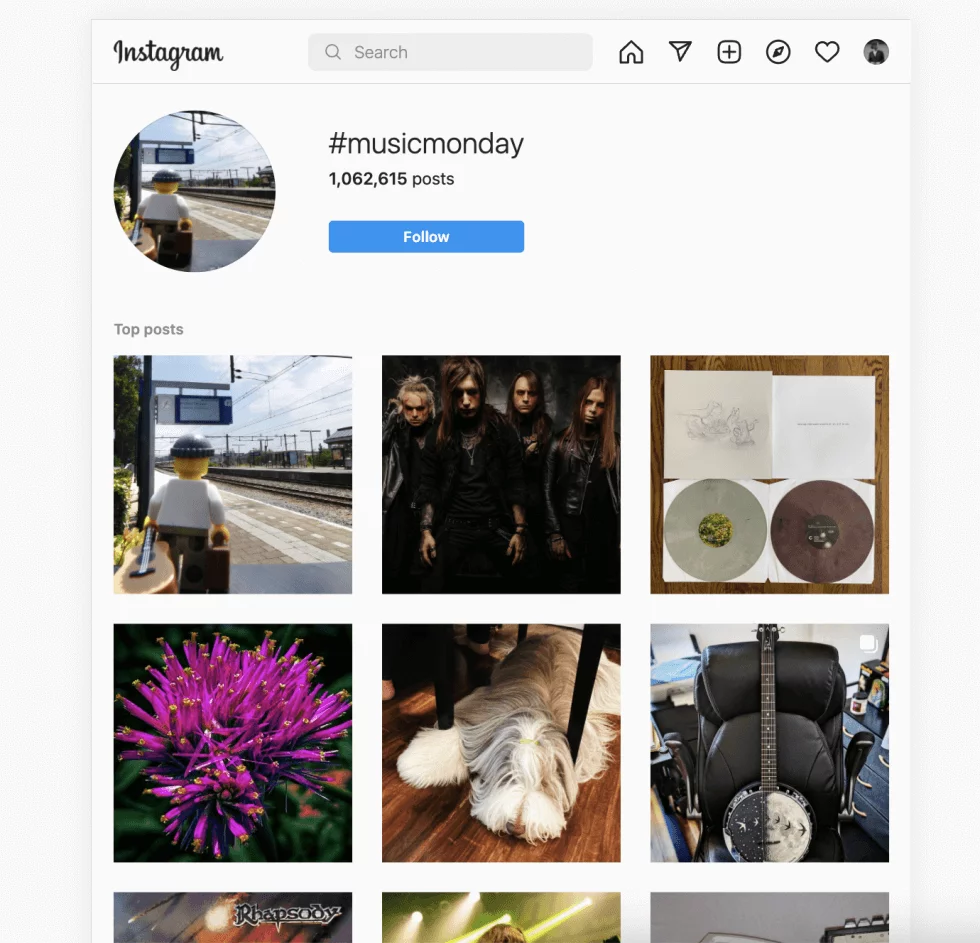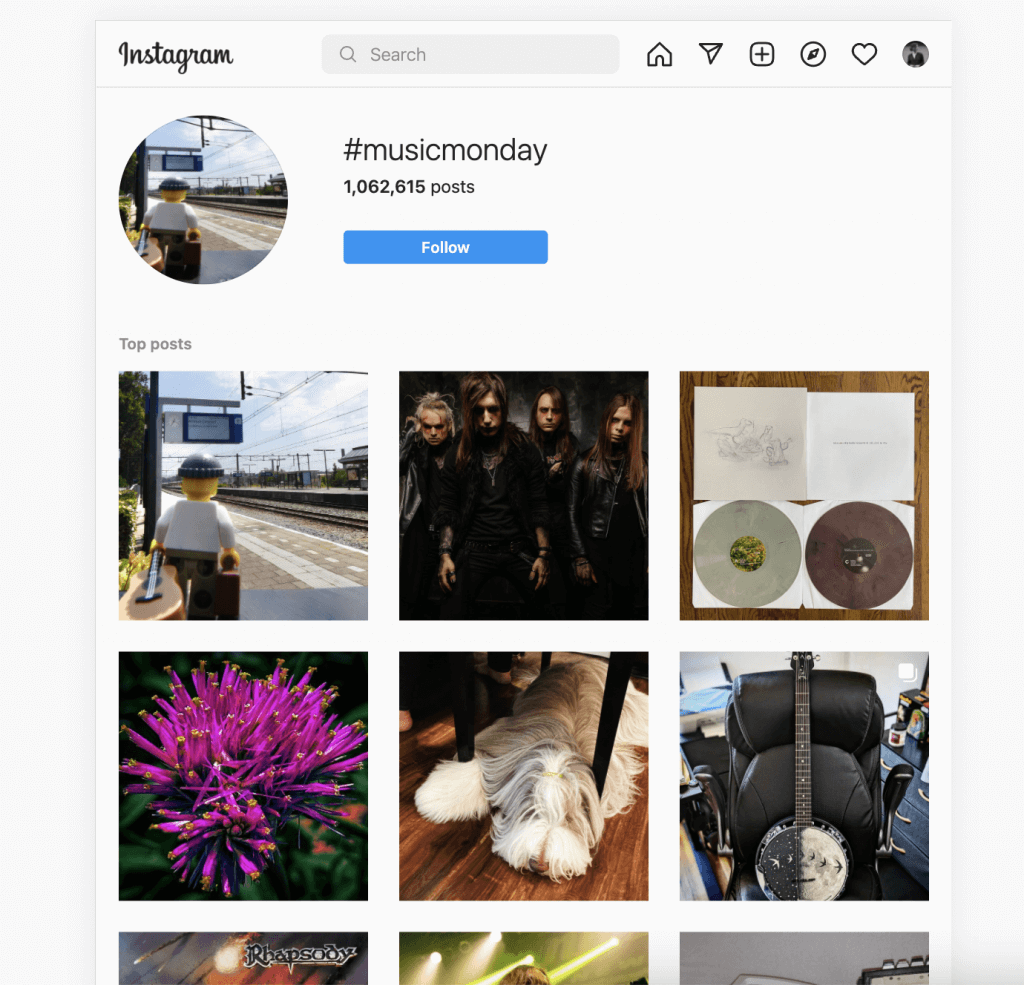 Check out how @sasquatchminis uses it to promote/display a 6-string banjo.
View this post on Instagram
7. #MindfulMonday
If you're anything like me, the way you start your week greatly determines how the rest of the week feels like. #MindfulMonday serves the purpose of encouraging people to take a breather and be more present.
For brands who value mindfulness, self-awareness and well-being this is one of the best hashtags to add to your posts. It lends itself to artists, yoga instructors, and travel influencers.
Take a look at how @mindfulenough_ breaks down simple ways to practice mindfulness over the week.
View this post on Instagram
Tuesday hashtags
1. #TuesdayThoughts
When a day starts well, the rest of it is just smooth sailing. Now, #TuesdayThoughts IG posts are meant to give people a positive mindset as they start off their day. Posts with this hashtag serve as a gentle reminder for people to reflect on themselves. They're often food-for-thought one-liners but can also be longer, more in-depth posts.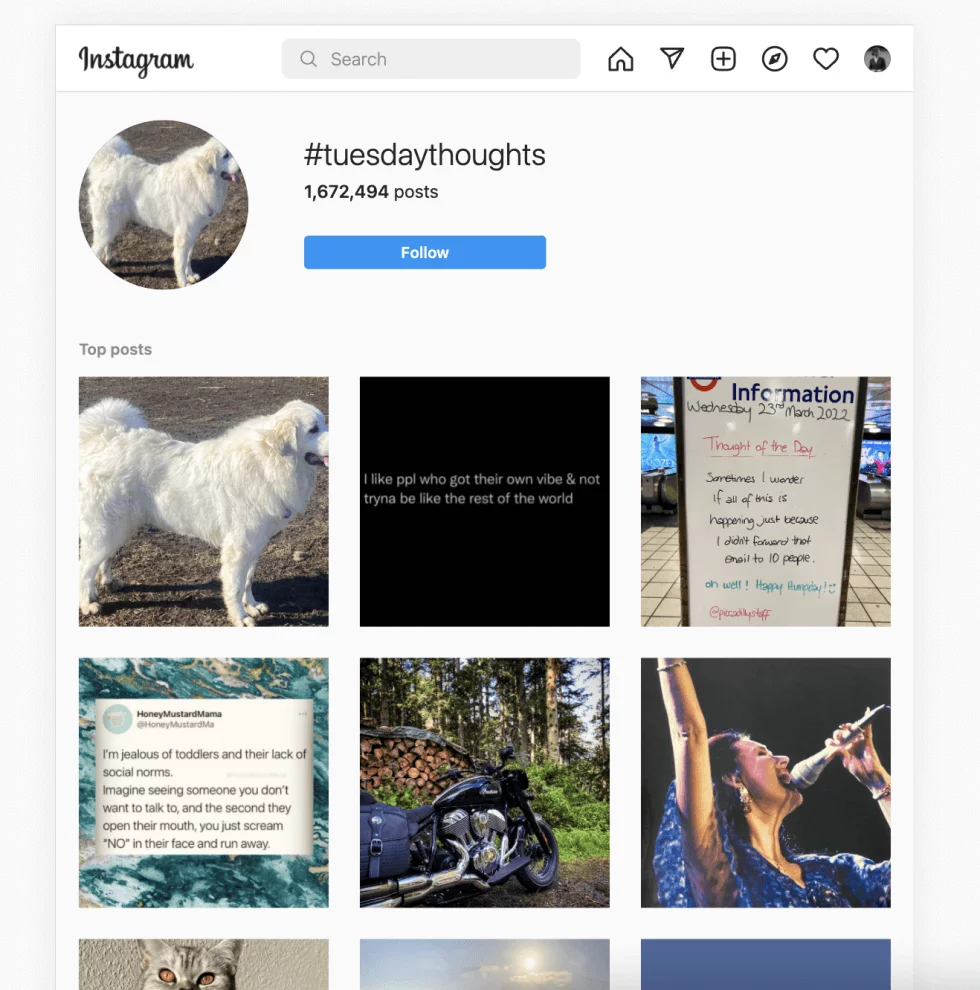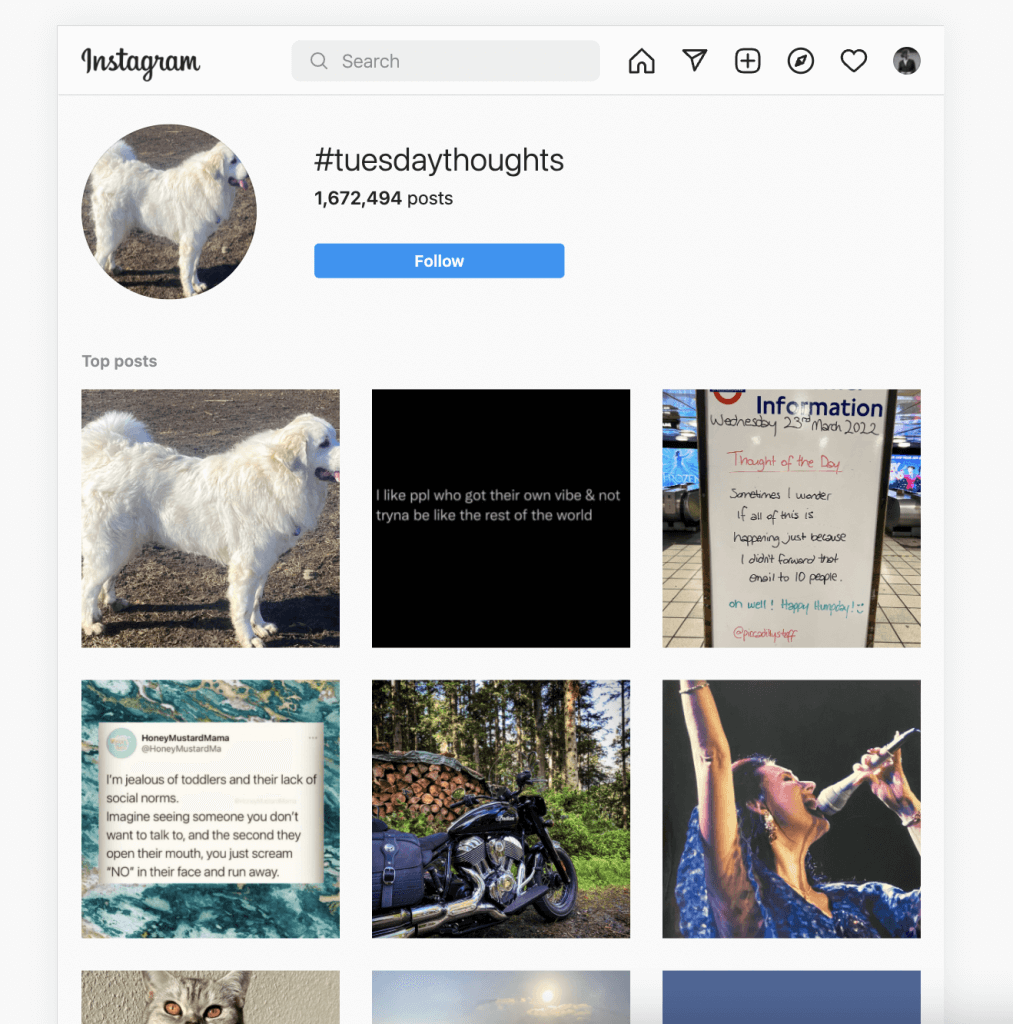 Most use #TuesdayThoughts to tell their audience to set their priorities straight and be ambitious. Companies can use such hashtags to help people reflect on the events of the day or simply be humorous.
Check out how @piccadillystaff employs it to create fun, albeit on a Wednesday.
View this post on Instagram
2. #TransformationTuesday or #TransformationTuesdays
Some of the most popular Instagram hashtags by far are #TransformativeTuesday and #TransformativeTuesdays. As their name suggests, posts with these hashtags encourage followers to post transformational photos of themselves.
A lot of people create such posts in the form of before and after photos. #TransformationTuesday is a boon to fitness instructors and personal trainers who want to showcase their clients' or their own progress over time.
For instance, @fit4jessie shows how she has pushed herself to lose significant weight.
View this post on Instagram
3. #TuesdayTruth
#TuesdayTruth is yet another trend that focuses on changing one's attitude towards the positive. Posts around this hashtag are a collection of quotes that are meant to encourage others. The quotes can give your followers some food for thought or just brighten their day.
Although some Tuesday truths may be motivational, they all have one thing in common: they're truthful rather than hopeful. This is an excellent hashtag for any brand's arsenal that wants to share industry knowledge or insider information.
See how @simplepurposefulliving describes motherhood.
View this post on Instagram
4. #TuesdayTip or #TuesdayTips
With a pretty self-explanatory name, these hashtags can be added to a myriad of posts, from health and fitness to interior decor. Ideally, Tuesday tip posts share useful tips and techniques with followers who are looking to learn something new.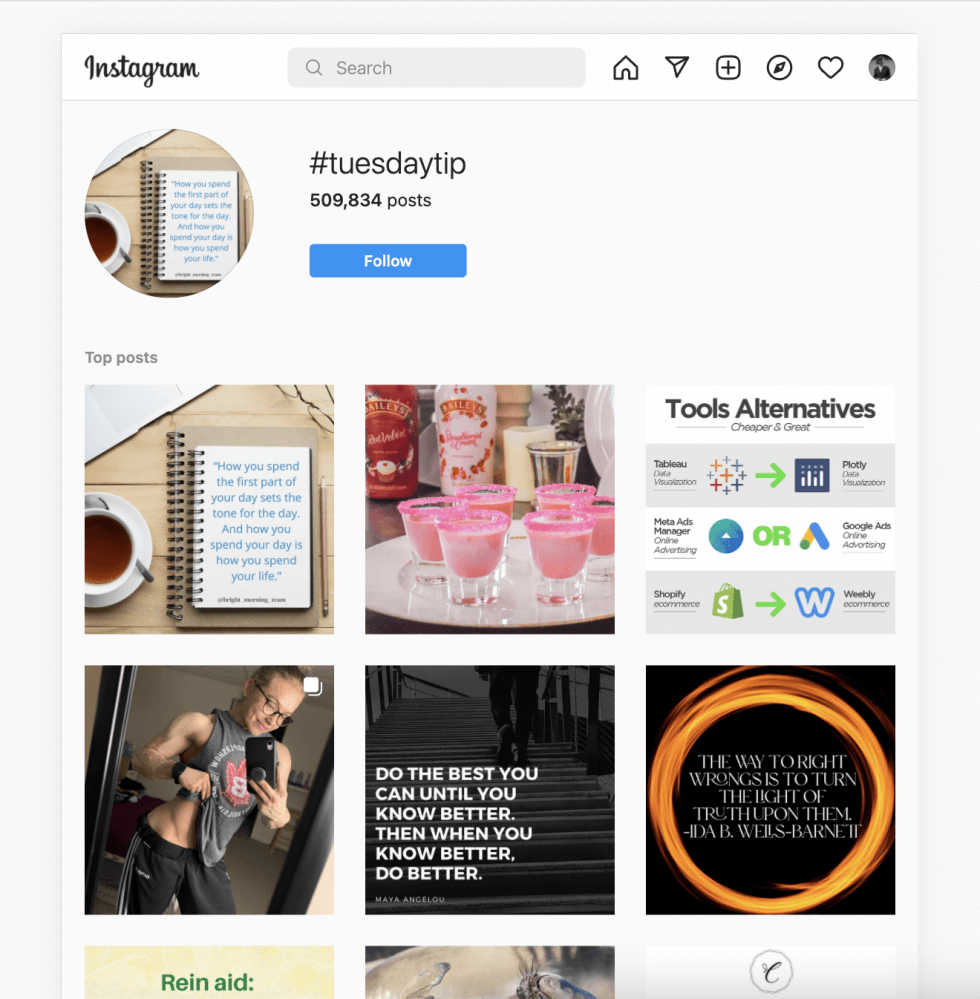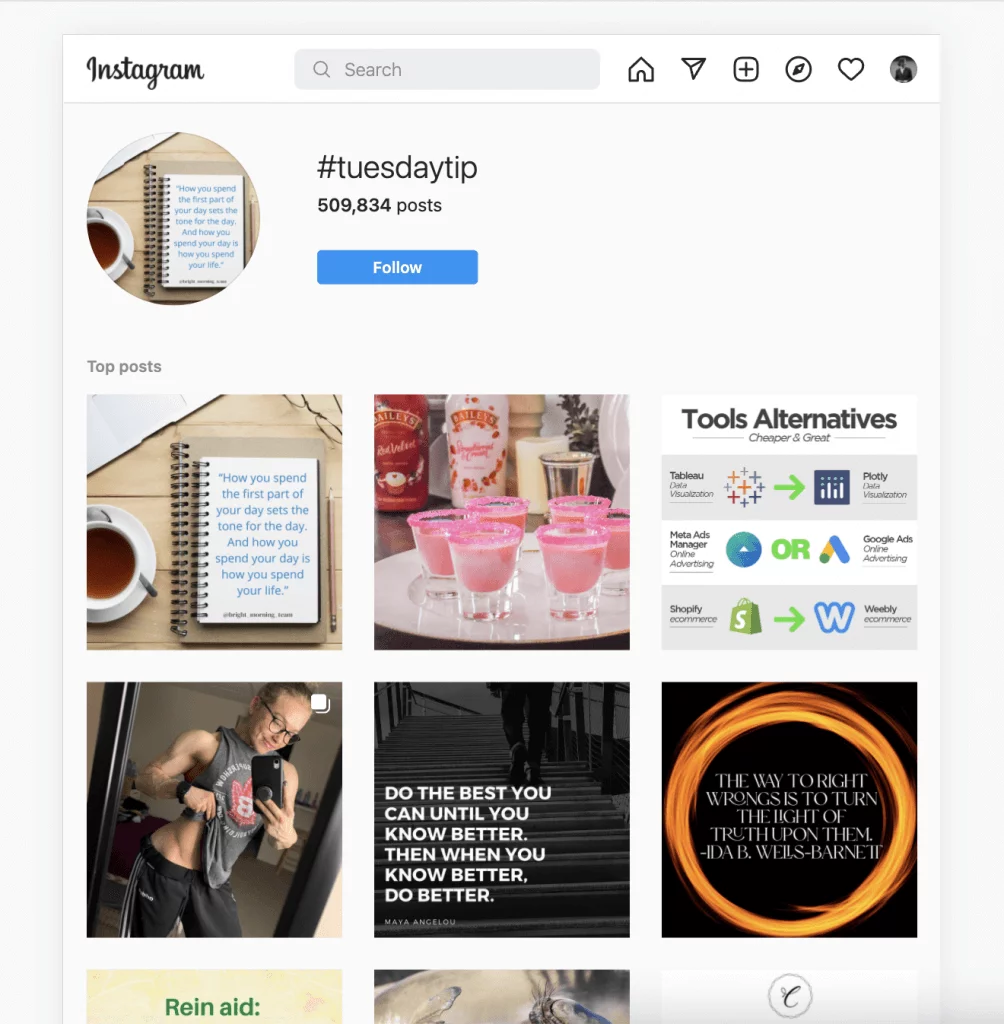 The key thing to keep in mind is offering value in order to stand out and grow your Instagram audience. If this is the first post from your brand a user sees, you need to make a memorable impression. For example, @shann.ahle.fit is a fitness enthusiast. She used #TuesdayTip to encourage her followers with a powerful caption and included a photo to show the benefits of checking one's diet.
5. #TacoTuesday
If you love tacos, you already know that Taco Tuesday isn't anything new under the Sun. It's a custom across most U.S. cities that also ignited the hashtag #TacoTuesday.
This is a hashtag best adopted by restaurants and street food vendors. It also gives taco lovers an excuse to go out on Tuesday night to get the best deal on tacos, and probably some margaritas.
See how @tastingthesix promotes their Taco Tuesday.
View this post on Instagram
6. #GivingTuesday
Giving Tuesday is an initiative that encourages both organizations and people to express their generosity. As a brand, you can use #GivingTuesday to show acts of kindness or charity and inspire others to follow your lead.
This hashtag is not only great for charities or non-profit organizations. Any brand can use #GivingTuesday to show that they value generosity and kindness. Here's a suitable demonstration by @kittenrescuela about #GivingTuesday.
View this post on Instagram
7. #TravelTuesday
#TravelTuesday is a hashtag meant to promote the best travel deals available, and the most impressive travel destinations. The hashtag has had quite an impact, especially since there was so little travel when Covid-19 hit the world by storm.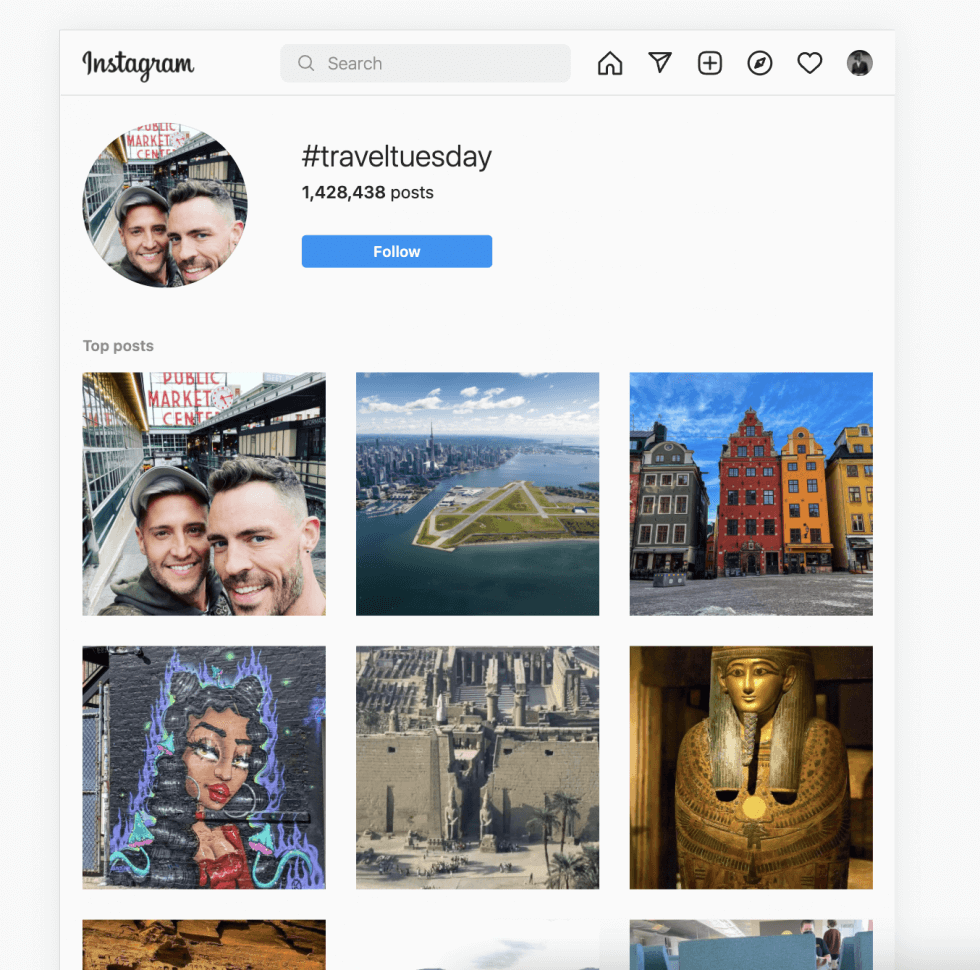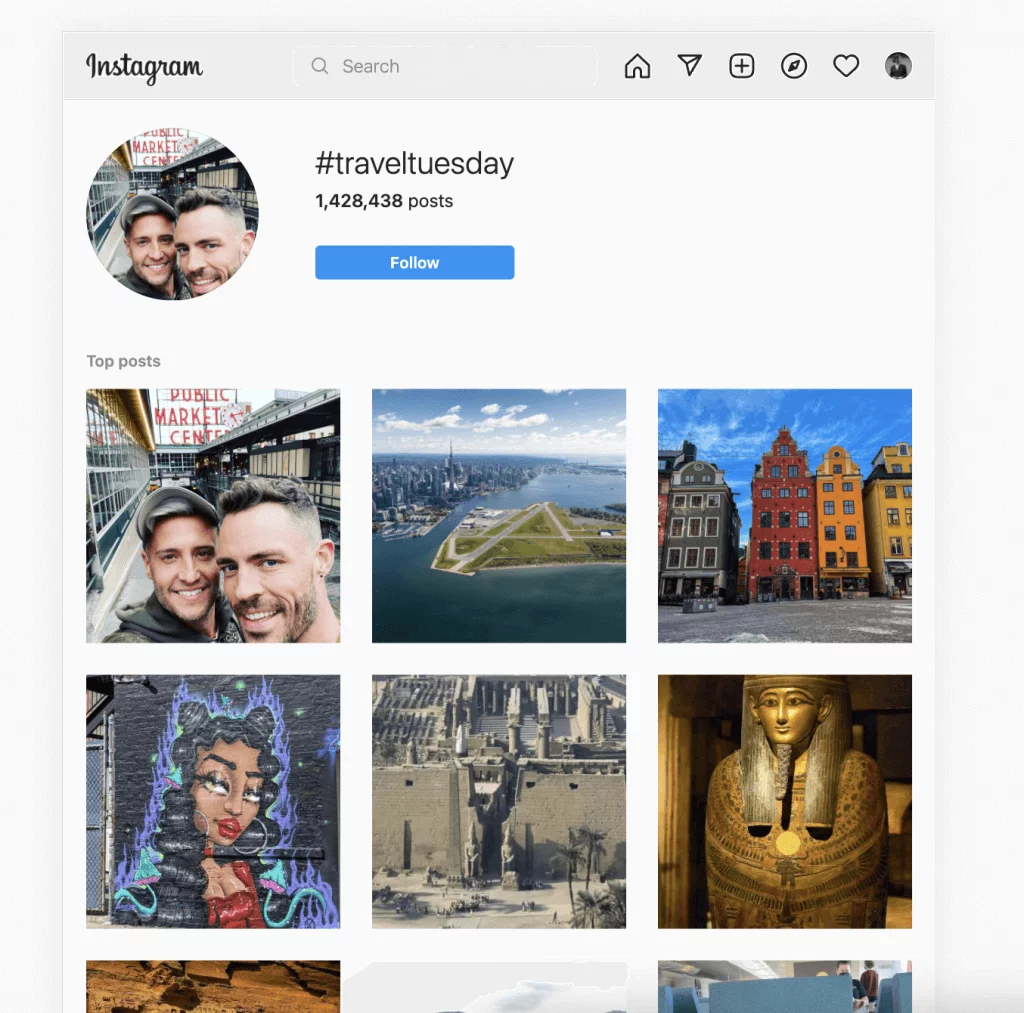 #TravelTuesday is suited for travel agencies, vacation rentals, and influencers. Brands can use this hashtag to promote their offerings, especially when there's a discount. Tour companies and photographers can use it to promote a destination. @shuotography exemplifies this perfectly.
View this post on Instagram
Wednesday hashtags
1. #WednesdayWisdom
Everyone needs some extra inspiration to keep them going, especially in the middle of the week. #WednesdayWisdom is one of the hashtags that help accomplish that. The majority of the posts with this hashtag are quotes from renowned individuals, including inspirational leaders, experts on success, and authors.
An excellent way to connect with new audiences, businesses can include this # in their Wednesday hashtags arsenal to increase visibility as seen here @originalcasuals.
View this post on Instagram
2. #WellnessWednesday
Health is on everyone's mind, IG users included! Brands and influencers are constantly promoting and sharing health and fitness tips through #WellnessWednesday. This trend helps to remind people about the essence of mental health, positivity, and well-being.
Wednesday seems the best day of the week to send out this gentle reminder. This hashtag can work well for health professionals, nutritionists or dietitians, therapists, coaches or trainers.
View this post on Instagram
Here, @emilieonthemove talks about the importance of sleep.
3. #WorkoutWednesday
Working out plays a significant role in promoting one's health. #WorkoutWednesday is a weekly challenge that helps kick-start personal development. The challenges are posted, and interested participants are required to replicate them to their best abilities.
Brands can share fitness equipment and attire while influencers can share their workout routine, and how they incorporate it in their day. This fitness-promoting hashtag is a perfect match for gym owners, trainers and fitness enthusiasts.
Here's an illustration of such a post by @paulgillingham_
View this post on Instagram
4. #WaybackWednesday
Sometimes, nothing is as intriguing as a trip down memory lane. #WaybackWednesday is one hashtag that lets you share something that happened to you years ago. It doesn't necessarily have to be you, it could be a song or a movie from the 90s that you love so much you can't help but share it with your IG followers.

Brands use this trend to tell stories and show their human side to connect with their audience. It helps some display the changes that have occurred in their lives over the years. Here's how @ohsofit123 uses it.
View this post on Instagram
5. #WomanCrushWednesday
One of the most popular hashtags on social media at the moment is #WomanCrushWednesday. Meant to celebrate women, people are using this hashtag to post photos of their mothers, girlfriends, friends, celebrities, or iconic women in their lives.
The hashtag is meant to show one's admiration for a specific girl or woman and can be a great opportunity for brands to shout out inspirational women for their achievements or milestones.
For example, here is a latex fashion company @supatex post celebrating Khloe Kardashian wearing one of their garments.
View this post on Instagram
6. #WednesdayMood or #WednesdayFeels
Wednesdays are a rainbow of moods. It makes some feel as if the hours are barely dragging by, while others are already in weekend mode. #WednesdayMood or #WednesdayFeels help people vent about their week or share exciting events they've experienced or looking forward to.
Although Wednesday brings about mixed emotions, these hashtags can be used by brands and creators to post relatable content and engage with their followers. It's also a great trend to inform the target audience of incoming events over the weekend. In this example, however, @livinglavidabyleo attempts to describe Wednesday as another Monday in the middle of the week.
View this post on Instagram
7. #WineWednesday
#WineWednesday is a catchy alliteration that gets us thinking about getting home from work and chilling with friends over a glass of wine.
Restaurants, bars, wine companies, and online shops can take advantage of this trend to introduce their best-selling wines to new audiences. The hashtag also lends itself well to foodies or critics. Here's an example from @thefunwineguy.
View this post on Instagram
Thursday hashtags
1. ThrowBackThursday or #tbThursday
Since the advent of hashtags on social media, #ThrowbackThursday or #tbThursday have reigned supreme. Similar to #WayBackWednesday, both hashtags conjure up a walk down memory lane.
Brands, content creators and influencers can leverage these hashtags to show their transformation over the years and how they've improved their services to favor the customers. Here's a #ThrowBackThursday photo by @_vicflipz_.
View this post on Instagram
2. #ThursdayThoughts
Sometimes, a brand might just want to post something relevant to an upcoming launch, sale or deadline. It might be inspirational or even general.
#ThursdayThoughts gives Instagram accounts the freedom to post random happy thoughts. Companies can take advantage of this to reach prospective clients. For instance, see how @the.adventures.of.maple promotes their product(s) through this trend.
View this post on Instagram
3. #ThirstyThursday
#ThirstyThursday announces the weekend is just around the corner. And what better way to get ready for the weekend than by relaxing with a drink?
This hashtag is a great fit for wine companies, breweries, distilleries, bars, and clubs. This type of businesses can leverage it to promote wine tastings, pub crawls, giveaways, or trivia contests. Here, @serpentine_cider is promoting the drinks available.
View this post on Instagram
4. #ThankfulThursday
#ThankfulThursday is a popular trend that enables people to express gratitude or joy for some of the things they've achieved throughout the week.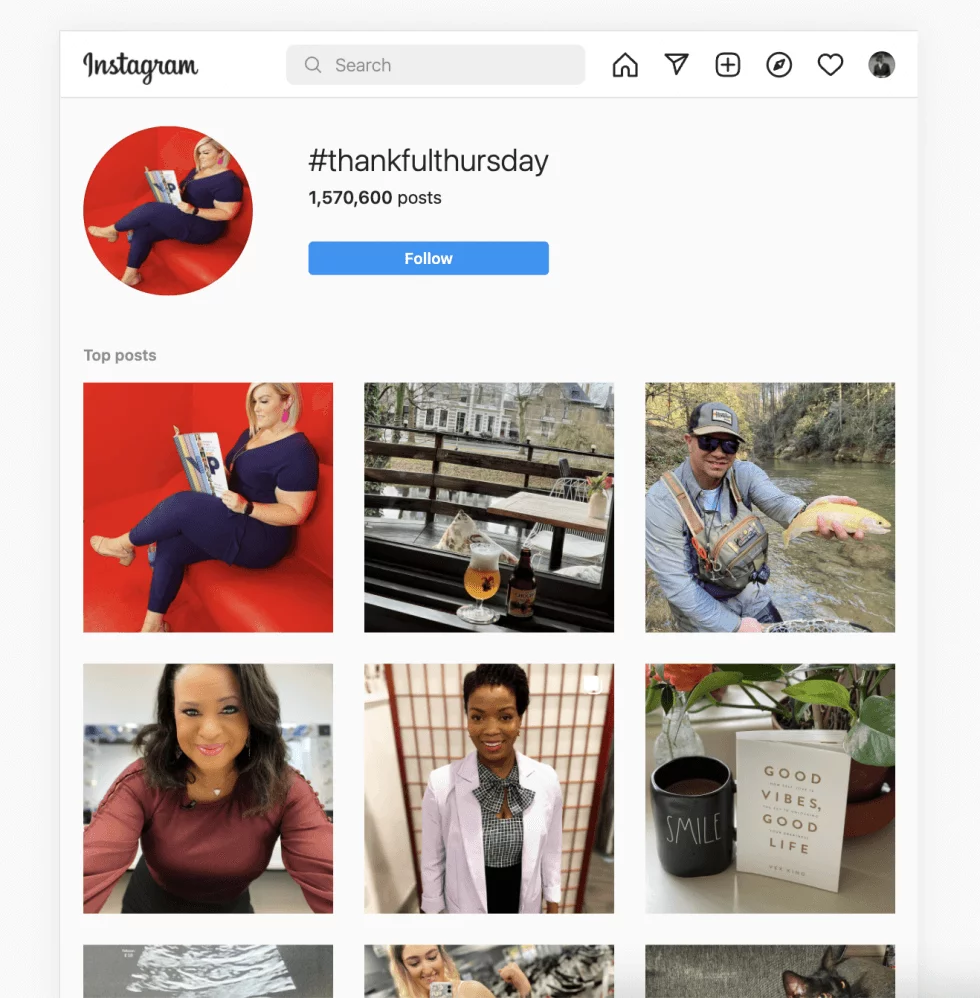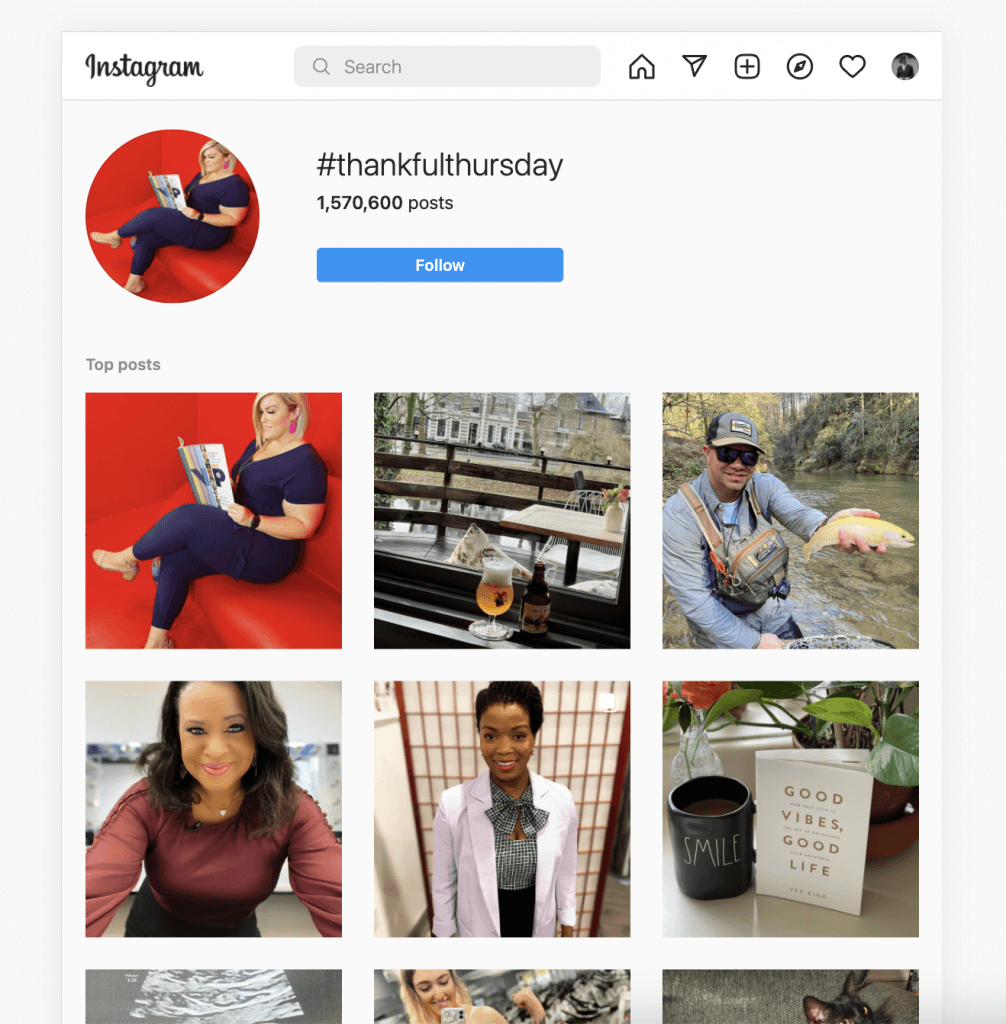 For businesses, this is an excellent opportunity to thank their customers for choosing them and to spotlight some testimonials. People tend to feel good when they're appreciated and it increases the chances they'll recommend your business to others by sharing your posts.
@fishingandcatching here shows a thankful individual after making a catch.
View this post on Instagram
5. #ThursdayNightFootball
If you love American Football, then you've probably used or come across the trend #ThursdayNightFootball. This is the banding used to broadcast the NFL (National Football League) games on Thursday nights.

There's nothing more beneficial for companies than promoting their products during a sporting event. The NFL is watched by numerous individuals, and most of them talk about the game on their social media platforms. If you incorporate related hashtags, you're guaranteed to get good visibility.
Friday hashtags
1. #FridayNight or #FridayNightDinner
After a long week at work, we all look forward to chilling over the weekend. There's a thrill that comes with Friday nights, which is when the weekend with hashtags like #FridayNight or #FridayNightDinner.
With so many people looking for fun and interesting things to do on Instagram, restaurants and venues can promote Friday night events or activities and get a boost in visibility.
Check out @ethel_the_daxie chilling at home on Friday.
View this post on Instagram
2. #FoodieFriday
Who doesn't love delicious food? #FoodieFriday is one of the best hashtags to use and reach culinary enthusiasts who might be interested in your services or products.

Restaurants, chefs, and food bloggers can take advantage of this trend to increase engagement. For instance, here's @eppings_on_eastside flaunting a sumptuous meal.
View this post on Instagram
3. #HappyFriday
#HappyFriday is a celebratory hashtag and we're all giddy about free time on the weekend. Brands and influencers can take advantage of this hashtag to share good news, announce a milestone or just wish their followers an amazing weekend.
Just look at these colorful flowers from @lefleurmemphis.
View this post on Instagram
4. #FridayFavorites
What better day of the week to share your favorites with your loyal followers than Friday? Content creators and influencers love #FridayFavorites because this popular hashtag exposes them to new audiences and can boost engagement.
Not sure what to post on Instagram? Anything from favorite books, movies, music, and products to favorite courses or workshops will get your audience's attention and prompt them to interact with you.
Some brands take this opportunity to offer discounts to their loyal customers. A good demonstration of this is from @redfoxprimitives.
View this post on Instagram
5. #FlexFridays
Got something exciting you're proud of? Shout it from the rooftops. Share your proud moments with your audience and let them know you appreciate their help and support.

This trend acts as a motivation, and it also helps people feel good about themselves. Gym instructors can take part in this trend to show potential clients what they've helped current clients attain. A great example is this display by @britfit33.
View this post on Instagram
6. #FollowFriday
#FollowFriday is an amazing opportunity for businesses to gain more followers on Instagram. This hashtag enables brands, influencers, and creators to discover similar accounts and start networking.
Ready to reach new customers? Here's how @delphinibeauty leverages #followfriday.
View this post on Instagram
Saturday hashtags
1. #SaturdayNightCraftAlong
#SaturdayNightCraftAlong is an excellent way for people to follow some of the craftiest designs out there. If you run an art or design business, consider using this hashtag to obtain new followers interested in crafts.
Seize the opportunity to showcase your services or products. Here is an example of work done by @zenstitching.
View this post on Instagram
2. #SaturdayBrunch
#SaturdayBrunch is an opportunity for restaurants to show their audience what they have to offer. As a brand, you can create Instagram posts and add this hashtag to attract families looking for the perfect place for Saturday brunch. Sneak in a coupon code or a deal to incentify users to try out your menu.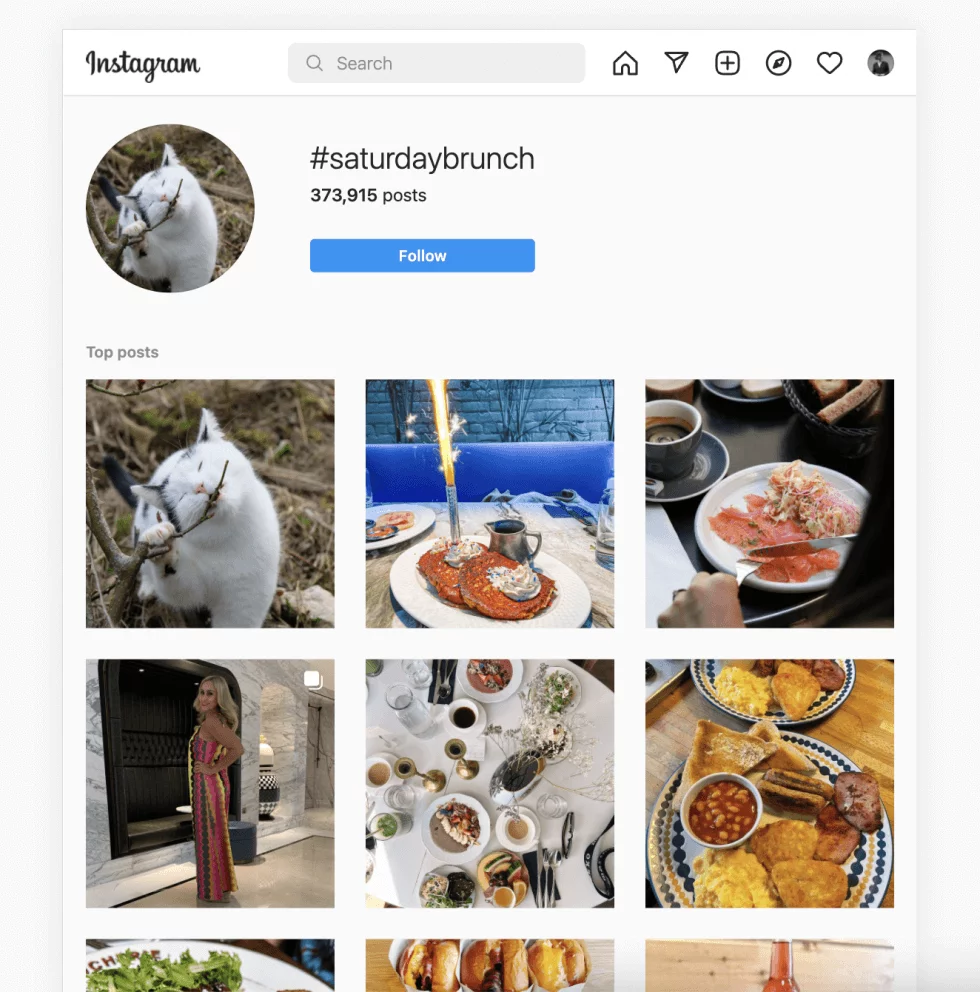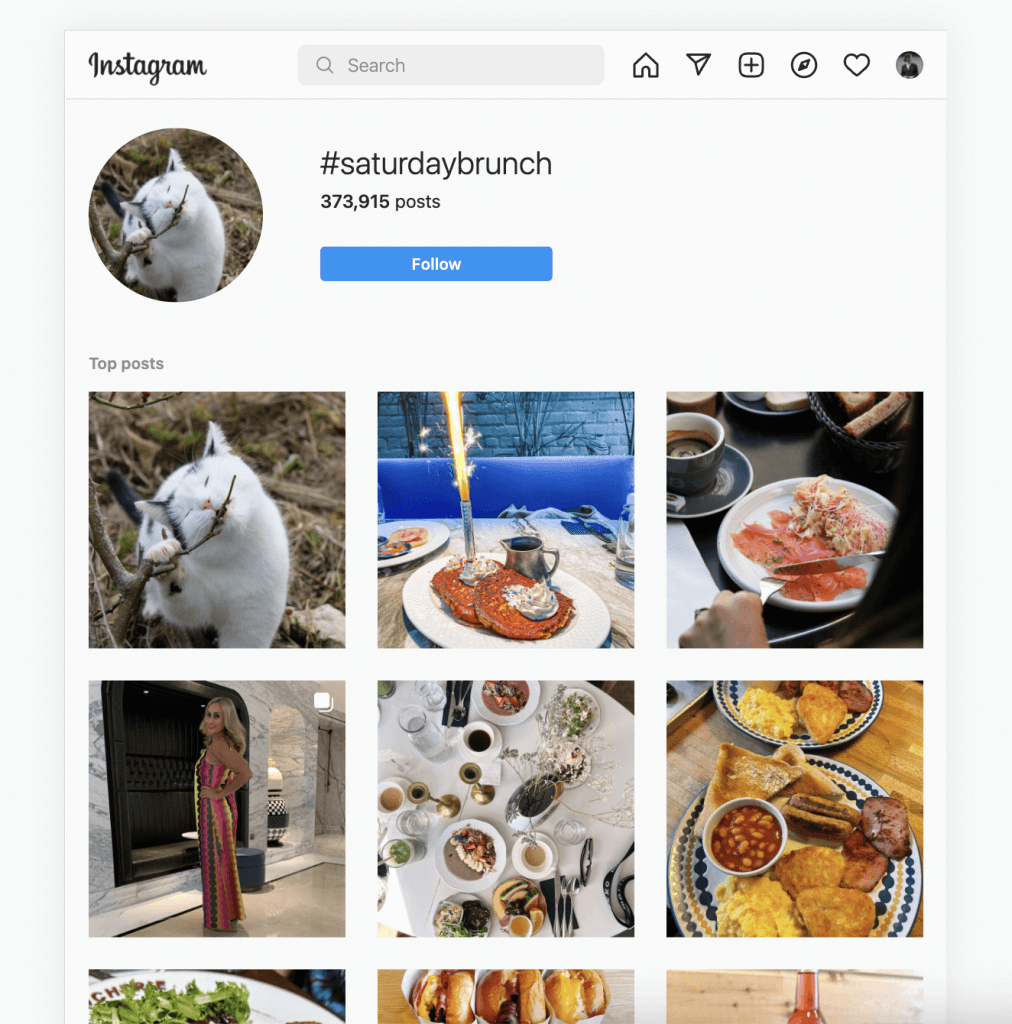 Check out how @publichouse_ferndale does it.
View this post on Instagram
3. #SaturdaySelfie or #SelfieSaturday
#SaturdaySelfie or #SelfieSaturday is a challenge that implies taking selfies and sharing them with everyone on Instagram.
How can brands and businesses take advantage of this hashtag? It's always a good idea to put a human face to a brand. Introduce yourself and your team to your Instagram audience and share something personal about your journey.
If you're a photographer or video equipment manufacturer, you can use #SaturdaySelfie to your advantage to showcase your skills and products. Here is a Saturday selfie from @danika_k_stone.
View this post on Instagram
4. #SaturdayShenanigans
If your brand voice is friendly and humorous, and you don't mind sharing personal snippets of your day, this hashtag is perfect for you. Everyone is out there doing something, and #SaturdayShenanigans helps them share it with the world and spark conversations.
Show your audience who the people behind your business are and reveal your fun side. Share a photo of yourself riding your bicycle, getting coffee, or reading in the park. Showcase your team having fun on the weekend at a concert. For instance, @sweethoneyandbrei shared their coffee and their next read.
View this post on Instagram
5. #SmallBusinessSaturday
With so many businesses available, using word of mouth to promote yours may not prove as effective. However, by using #SmallBusinessSaturday, you can promote your brand and tell potential clients what it's all about.

This hashtag allows you to engage with potential customers and answer any questions that they may have. And the best part? Promoting your small business on this platform is free, and you have access to a pool of users. Just have a look at how @thepopupshoppes promotes its products using this trend.
View this post on Instagram
Sunday hashtags
1. #SundayRunDay
Have you ever noticed that most race events, especially marathons take part on Sundays? It seems as if there's something about running on Sundays. Enter one of the most popular Instagram hashtags, #SundayRunDay.
Non-profit organizations can use this trend to create awareness for an upcoming event, which could also help them score sponsors and get donations. Here, @runvermont showcases its dream team.
View this post on Instagram
2. #SundayChill
Sundays are meant for relaxing. You don't want to think about the week ahead, especially when you know that you'll have a hefty workload. #SundayChill is the place to check out on your socials to see how people relax on Sundays. Businesses that offer relaxation services can promote themselves using this hashtag. Spas, salons, meditation apps can reach fresh audiences and gain new followers.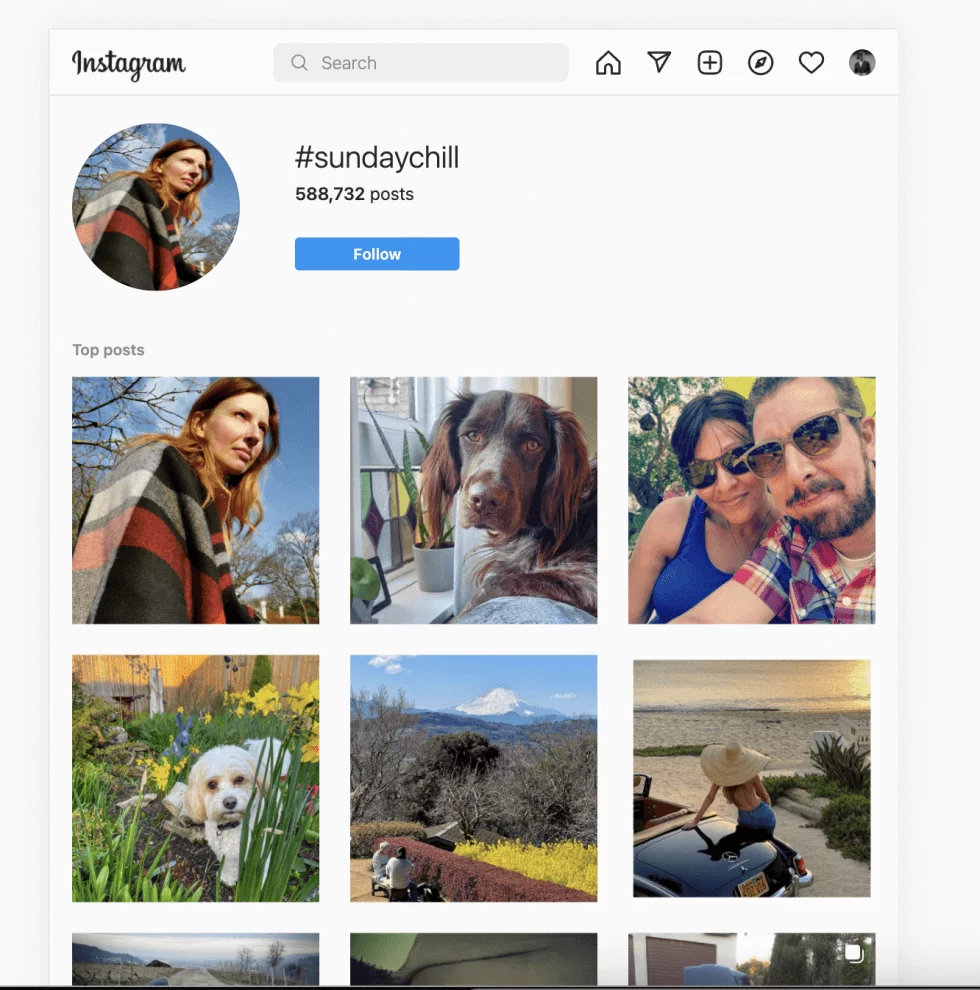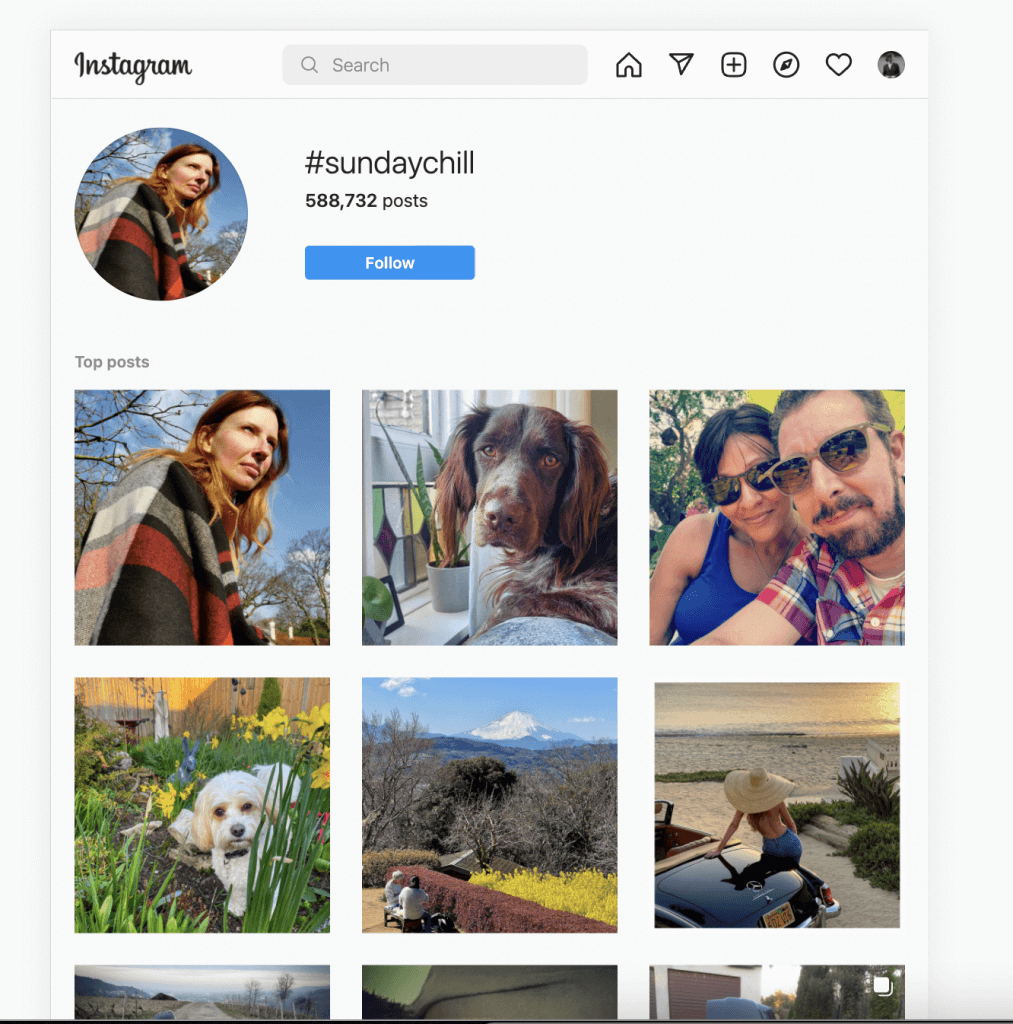 3. #SundayBlessings
#SundayBlessings is the perfect opportunity for brands to express gratitude and show their human side.
No matter your business industry or niche, you can use this hashtag to re-share your followers' content, especially testimonials, reviews or clients enjoying your product. Show your appreciation and give a shout-out at the same time by sharing others' posts.
Here's how @yogatwisttexas uses the hashtag.
View this post on Instagram
4. #SundayReading
The #SundayReading hashtag is a gold mine for book stores, antique book shops, and libraries. If your business falls under one of these categories, you can tap into a large pool of people interested in exactly what you're offering.
Create engaging posts and promote new books in your store or simply talk about the week's bestsellers.
Here's how @keepingupwiththepenguinsonline recommends a book to their audience.
View this post on Instagram