Welcome to our new way of bringing content goodies – each month's top social media news.
Facebook is on fire! This month's star is definitely Facebook – it made the headlines multiple times with the latest earnings reports, products and updates in the platform.
New Facebook messenger is here and it apparently "delivers the closeness and authenticity that you've been asking for". Your feed is about to get all weird, as Facebook rolls out a "3D photo" feature that adds depth (and movement) to photos. Also, they just brought new toys for all of us, enthusiastic social managers, by launching Facebook Attribution. See highlights below. 
YouTube Finally Lets You Watch a Video and Browse the Website (Mashable)

About damn' time, right? YouTube has launched a new "Miniplayer" feature that lets you continue watching a video in a smaller window below while you're browsing other channels or the feed. It's surprising that this feature became available only now since it was part of the YouTube mobile app for a very long time. To access the feature just play a video and hover on it. You'll see a new button on the bottom right.
Facebook's Testing Video Polls Within Ads (Social Media Today)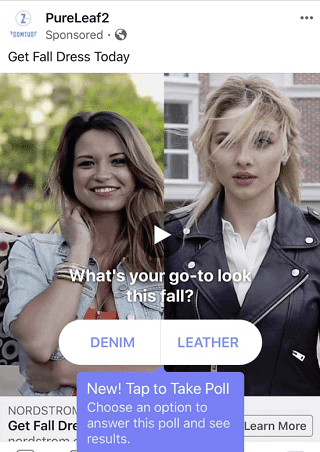 Facebook is running a new test that helps advertisers add video polls to their Facebook Ads, which is an incredible opportunity to boost engagement of the ad. It was first spotted by social media advisor Matt Navara and allows viewers to interact with the ad with a dedicated poll. Facebook has confirmed SMT that it's currently testing this feature with a small group of advertisers and is not looking to launch it widely at this stage.
Say Hello To The New Facebook Messenger (WeRSM)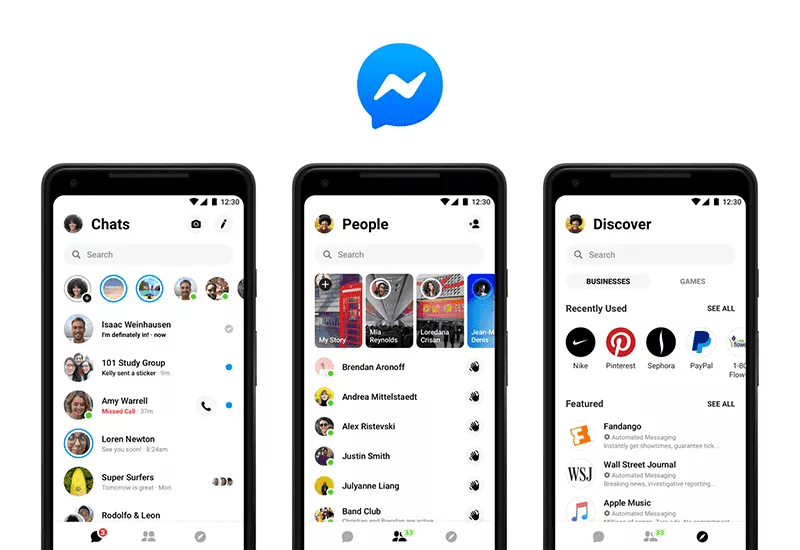 Facebook is introducing Messenger 4, a simplified version of its own messaging app. It's basically less fluff, more conversations. Its main focus is messaging and connecting individuals. Now, it has 3 main parts – chats, to start and follow up on conversations; people, to see who else is on Messenger from your friends and Discover, as it combines brand stories, messenger bots, instant games, and news.
Facebook Is Testing Multi-Brand Advertising Units (DigiDay)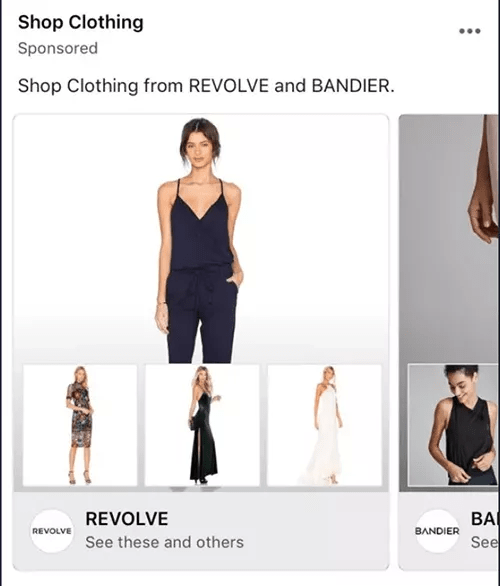 It seems like competition is getting tougher for the ad space in Newsfeed, which is why they're currently testing a new solution to this problem. How? By allowing multiple brands to be featured within the same ad unit. It's being currently tested in the US, the UK, and Canada and opens doors to brand collaboration. It was first uncovered by Camerin Mills, a growth expert at Brandless.
You Can Now Share SoundCloud Tracks On Instagram Stories (WeRSM)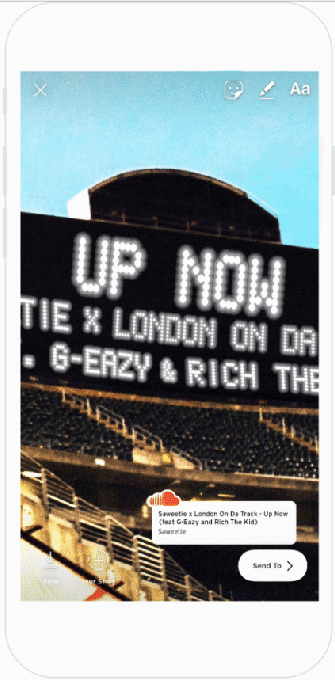 Starting with this month, Soundcloud allows you to directly share to Instagram Stories from its iOS and Android Apps. Unfortunately, you still won't be able to listen to the track like on Spotify. You'll have to tap on the Soundcloud icon to listen to the track.
Instagram Tests Tapping Instead of Scroll (TechCrunch)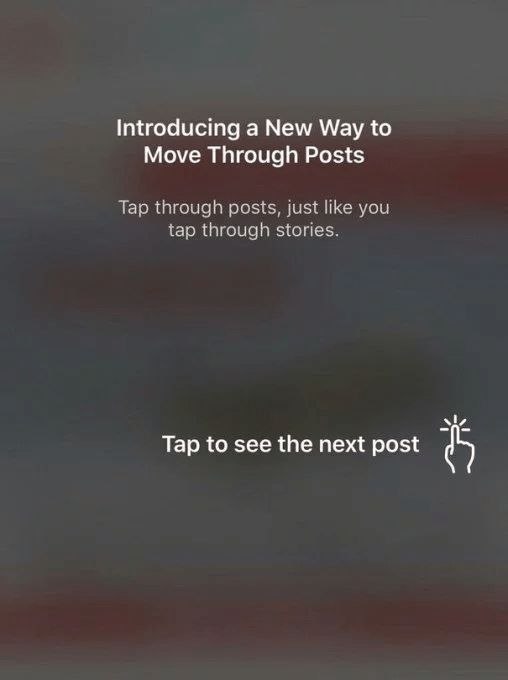 A screenshot from user Suprateek Bose shows Instagram "Introducing a new way to move through posts — Tap through posts, just like you tap through stories. Instagram has confirmed for TechCrunch that it's testing tap to advance only in the Explore section but is not looking to roll out the feature to all the users at this moment.
Facebook Unveils 3D Pictures In News Feed (WeRSM)
Is it just us or is Facebook on fire lately? 3D photos made it to the newsfeed. Everyone's feed got weirder this month with the new 3D Photo feature that adds depth and movement to photos. To create one you need an iPhone with dual cameras including iPhone 7 or later, except iPhone XR, which doesn't come with dual cameras.
YouPorn Now Lets You Search For Content Using Only Emojis (WeRSM)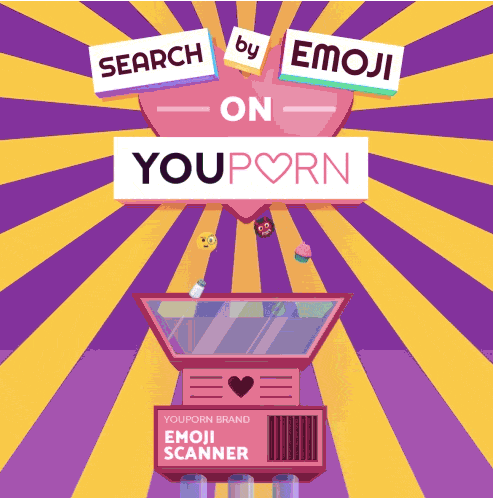 Seems like searching by keyword is old school already. Innovation is coming (no pun intended) from YouPorn that lets you search through their online video platform by Emoji. YouPorn is hoping it will help them to make search faster and more efficient. It currently supports 75 emojis only. You can try it yourself right here.
Facebook Marketplace Gets Smarter With AI Tools (WeRSM)
Facebook is celebrating two years of Marketplace by adding AI-powered tools to its fast-growing online discovery and sales listings platform. It has become a major online source for discovering, buying and selling secondhand stuff. The new AI tools will automatically suggest categories for listings based on the description and photo provided.
Facebook Attribution Now Available to All Advertisers (Marketing Land)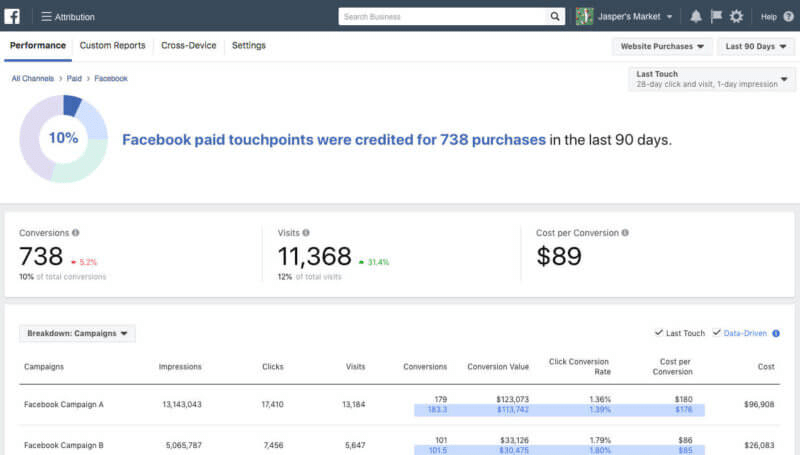 Facebook just brought us new toys. It's time to test Facebook Attribution. The free tool is powered by the Facebook Pixel and can report on campaigns across Facebook, Instagram, Audience Network and Messenger. The reports are designed to show how Facebook ad campaigns are impacting actions throughout the customer journey and which channels are driving traffic, conversions, and purchases.
Instagram Launches New Scannable Nametag Feature (WeRSM)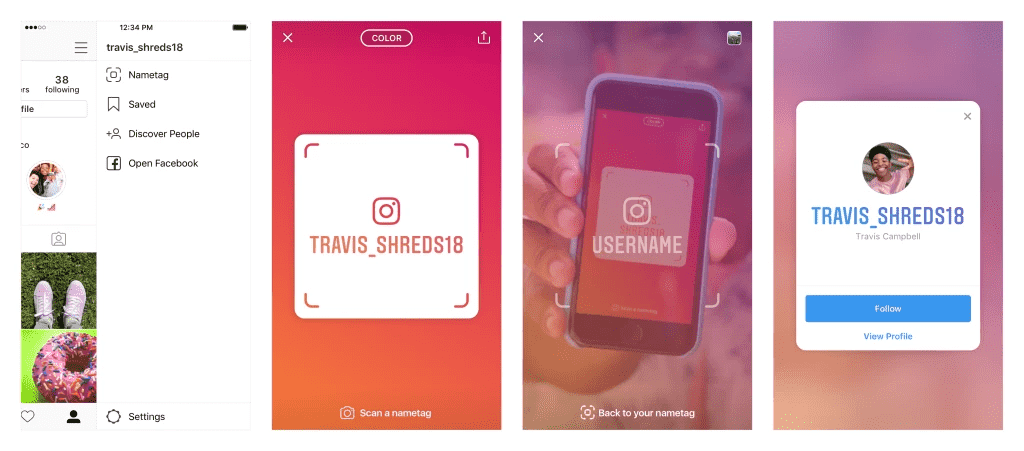 Every user's nametag is unique and customizable. As the announcement for the feature reads, users can "personalize" their nametag by "touching anywhere on the screen or by tapping the button at the top to try other designs, such as colors, emojis, and selfies with different stickers."
A nametag can also be shared with friends through text messages or other platforms like Facebook and WhatsApp simply by pressing the arrow at the top right.
Facebook Creative Compass Is A New Effectiveness Tool For Marketing Partners (WeRSM)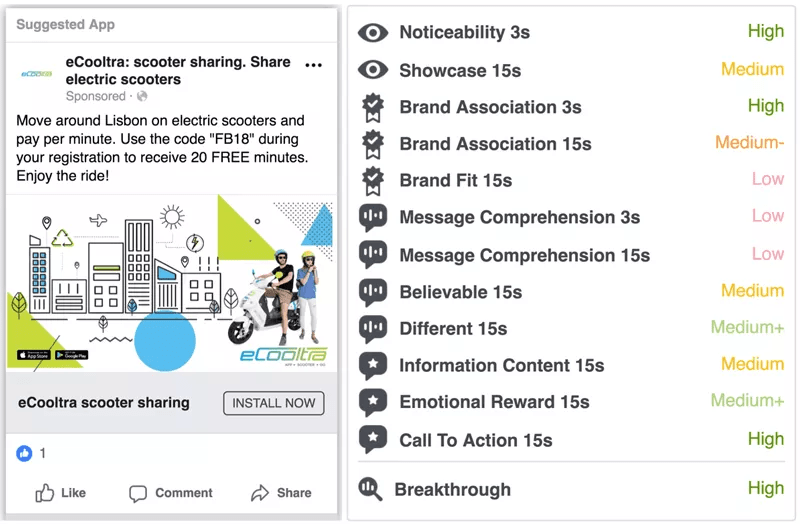 It was unveiled at the Global Partner Summit in New York that Facebook is introducing a new tool to measure potential effectiveness of an ad even before it goes live. First, they introduced the relevance score into predicting effectiveness – now there's a real diagnostic tool to help Facebook Marketing Partners better understand how likely it will be for people to take action after seeing the ad.
Facebook's Portal is dead on arrival (Venture Beat)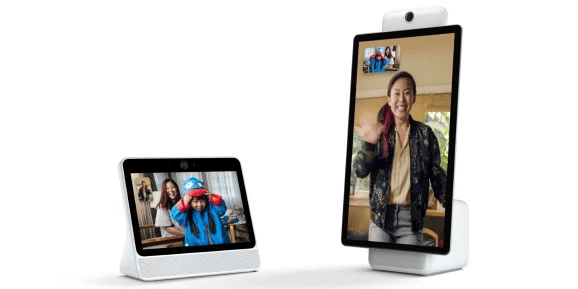 Facebook unveiled this month its Portal and Portal+ Smart Speakers that can follow you around at home while you're on a video chat but received a massive backlash. "Devices will inevitably sink," says Venture Beat. As Facebook already delayed Portal because of its privacy catastrophes this year vis-à-vis the Cambridge Analytica train wreck. Portal was expected to be announced in May, but the company instead unveiled it in October. Are you excited to try this one out?
Google+ is Finally Dead and Nobody's Missing It (TechCrunch)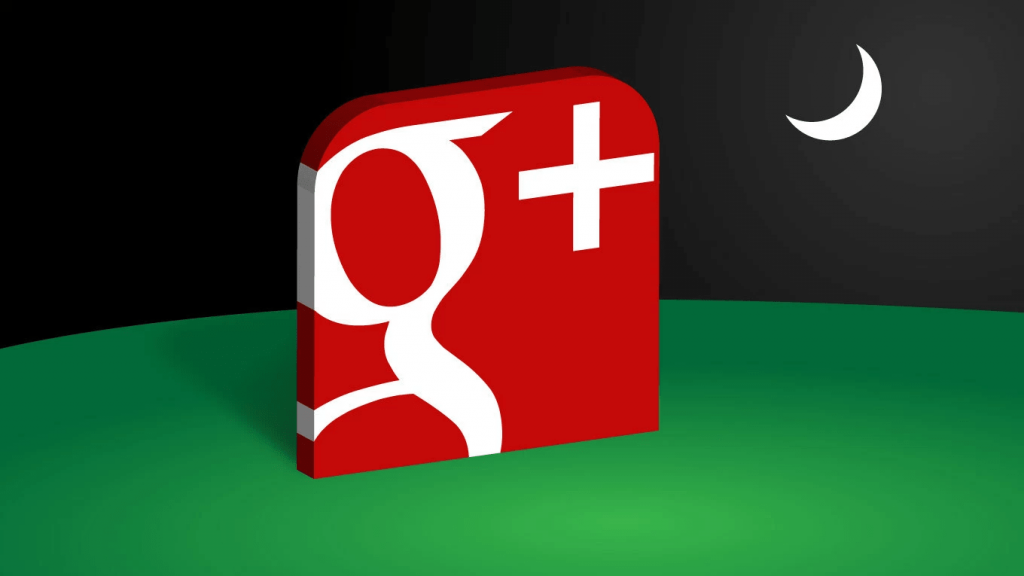 Google+  is shutting down at last. Google announced today it's sunsetting its consumer-facing social network due to lack of user and developer adoption, low usage and engagement. Oh, and a data leak. It even revealed how poorly the network is performing, noting that 90 percent of Google+ user sessions are less than five seconds long. Not good.
YouTube partners with Eventbrite to Sell concert Tickets Below Music Videos (Verge)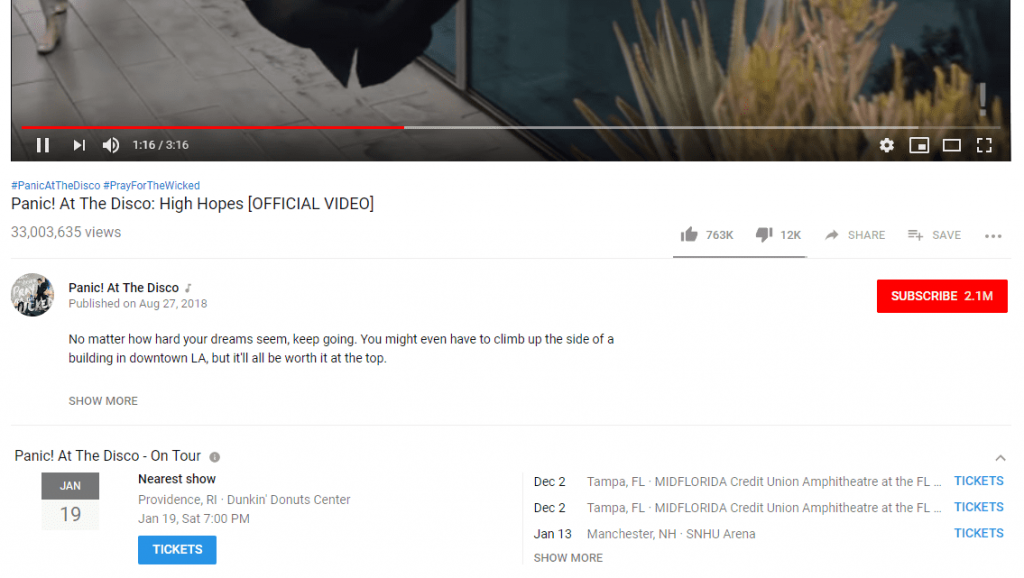 YouTube and Eventbrite have partnered to give fans a direct way to purchase tickets to artists' live shows. A button will now appear below videos for musicians with official Artist Channels (like Post Malone, Ariana Grande, and Drake), which fans can use to purchase tickets directly through Eventbrite.
LinkedIn Updates Feed Algorithm to Generate More Engagement for Users (Social Media Today)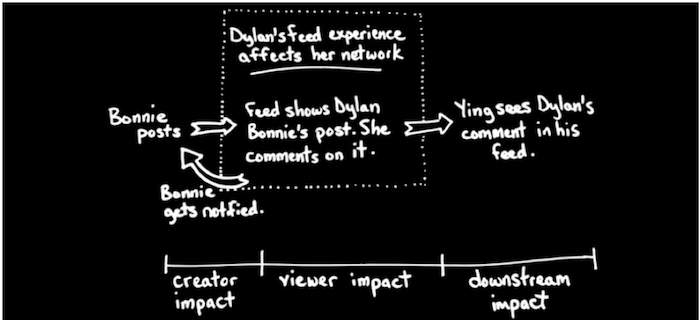 According to a new post on the LinkedIn Engineering blog, LinkedIn recently updated its algorithm to generate more engagement on each users' posts after it found that people weren't posting updates as often because the algorithm had too heavily emphasized content from top creators.
Twitter may be getting rid of the like button (Telegraph)
Twitter is planning to remove the ability to "like" tweets in a radical move that aims to improve the quality of debate on the social network. Founder Jack Dorsey last week admitted at a Twitter event that he was not a fan of the heart-shaped button and that it would be getting rid of it "soon".It seems like nobody's happy about this as it received massive backlash on Twitter.
TikTok Has Grown Too Big For Facebook To Ignore, So It's Building Its Own Lip-Sync App (TechCrunch)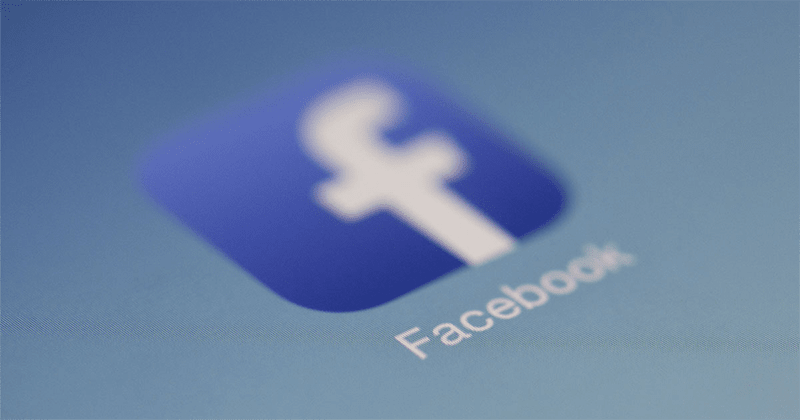 Facebook is reportedly building its own lip-sync video app called Lasso, an equivalent of the virally popular Musical.ly for teen users. Facebook is marching further into the music video domain — this time, by building a standalone, karaoke-like app, called Lasso, according to a report by TechCrunch. It's seen as an act to win over users of TikTok, the lip sync app that has been sensationally popular among teenage users, which reportedly has around 100 million active users.
Vimeo Subscribers Can Now Publish Videos Directly to LinkedIn (Techcrunch)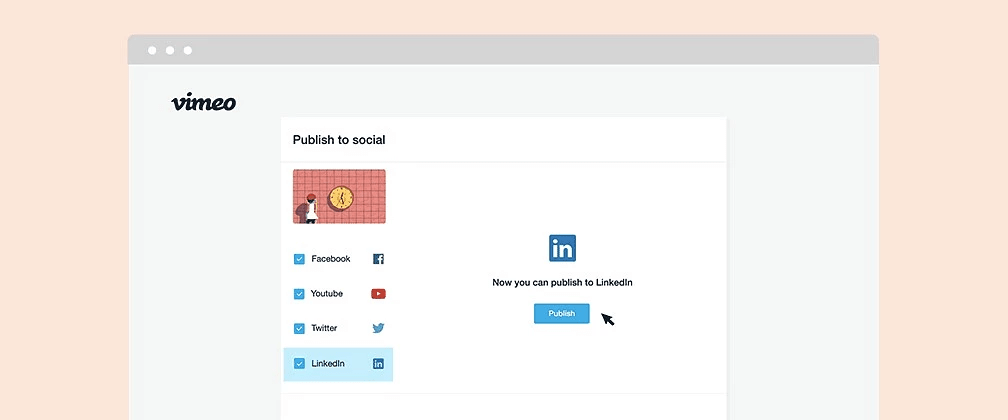 Vimeo announced today a new feature that will allow videos to be published directly to LinkedIn. The added support is a part of the company's "Publish to Social" feature, which already offers to publish to Facebook, Twitter, and YouTube, and is available to paid subscribers. The expansion to LinkedIn is another example of the company's shift in focus from being a video destination site to one that sells tools and services to professional and semi-professional video creators.
Facebook fined £500,000 for Cambridge Analytica scandal (BBC)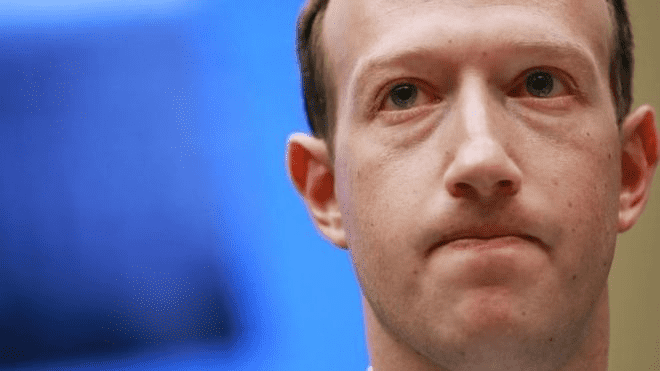 Facebook has been fined £500,000 by the UK's data protection watchdog for its role in the Cambridge Analytica data scandal. The Information Commissioner's Office (ICO) said Facebook had let a "serious breach" of the law take place. The fine is the maximum allowed under the old data protection rules that applied before GDPR took effect in May. The ICO said Facebook had given app developers access to people's data "without clear consent". In July, the ICO notified the social network that it intended to issue the maximum fine.
Unilad sale to LadBible confirmed (The Drum)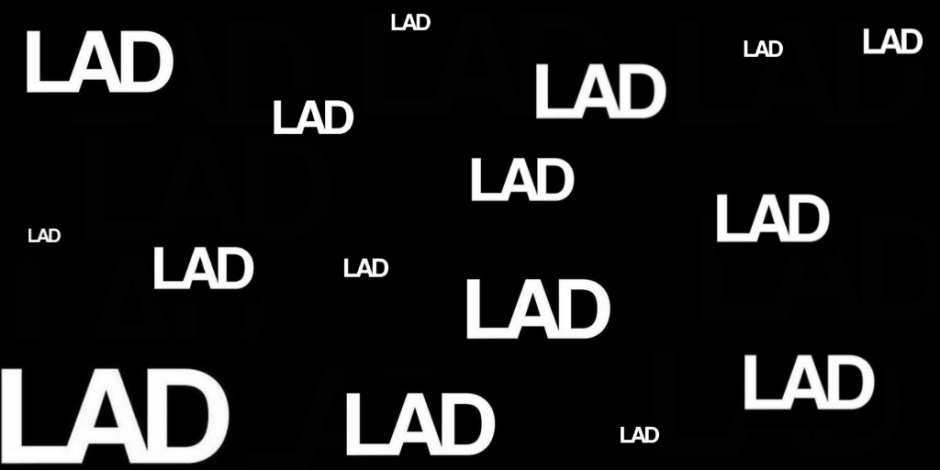 After two weeks of heated legal action, bidding, internal strife, and uncertainty at Unilad, The Drum can now confirm the social publisher has been sold to its biggest rival, LadBible. Unilad entered administration earlier this month with debts of around £10m, half of which was owed to ousted founder Alex Partridge who then sold his debt to LadBible – which made it the primary creditor over Unilad. Administrator Leonard Curtis and executives from LadBible addressed staff at 16:30 on Tuesday after a weekend of squaring up the finer details of the deal. It was revealed that LadBible had indeed acquired the company for an undisclosed fee.
Gmail for iOS now lets you view emails from multiple accounts in a single inbox  (Venture Beat)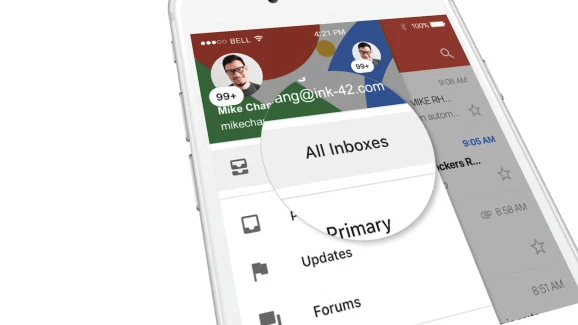 The move comes more than three years after the unified inbox arrived in the Gmail Android app. The new feature is available to all email accounts that you have added to the Gmail iOS app, whether it's a personal or work Gmail address, or some other third-party service such as Outlook.
9 highlights from Snapchat CEO's 6,000-word leaked memo on survival (TechCrunch)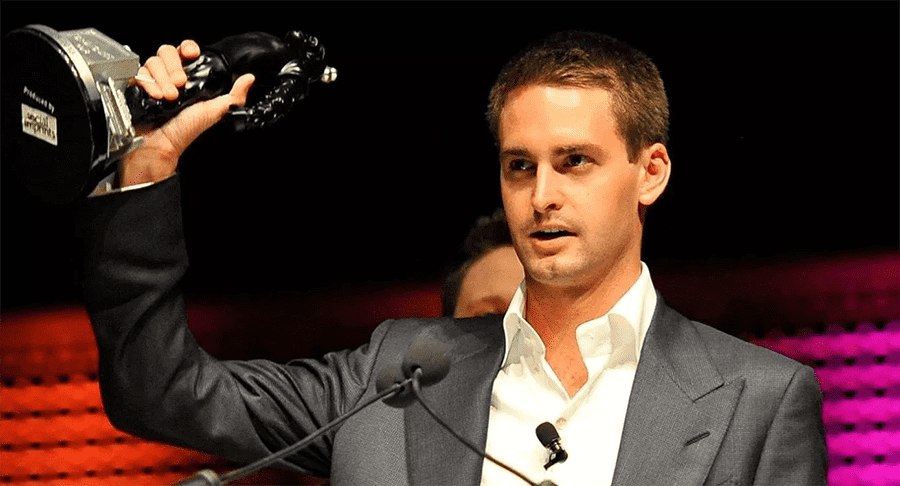 The leaked internal memo shows how Snapchat plans to make a comeback. Adults, not teens. Messaging, not Stories. Developing markets, not the U.S. This is how Snapchat will make a comeback, according to CEO Evan Spiegel. In a 6,000-word internal memo from late September leaked to Cheddar's Alex Heath, Spiegel attempts to revive employee morale with philosophy, tactics, and contrition as Snap's share price sinks to an all-time low of around $8 — half its IPO price and a third of its peak.

Vlad Calus
Dropped out of college, moved to another country with 2 of my friends and built Planable (Techstars London '17), social media collaboration platform, at 19 y. o. Forbes 30 under 30