Social media is a very effective marketing tool for ecommerce companies. It is beneficial to push customers toward a new product or an enticing bargain and connect with them and foster a feeling of community.
Social media marketing is a vital component of e-Commerce marketing. If you manage an e-commerce store, you should be aware of the growing significance of social media in the growth of online purchasing. It's worth noting that, while developing an eCommerce website, you must ensure that it's designed in a way that it facilitates social media sharing and also has relevant content.
Given that 71% of individuals with access to the Internet use social media, practically any business may profit from marketing on Facebook, Twitter, and Instagram. According to Business Insider, social commerce was one of 2019's most prominent new waves.
Nearly half of social media users from 18 to 34 years old have participated in social commerce on platforms like Instagram, TikTok and Snapchat, an October study conducted by Bizrate Insights showed. (Source: Statista)

Once you've mastered social media marketing, keep in mind that it doesn't end there. Increasing brand exposure is ineffective if those numbers don't convert to income and consumers. 
Here is a list of several great social media marketing strategies that, when appropriately applied, can be beneficial for your business.
1. Create Content Consistently
Informative and educational content builds customer trust. You can repurpose your content to suit an individual platform and try AI writing tools to save time. Repurposing is a great way to save time while delivering valuable bits of information to the audience.
Your content mix can include:
While consistently producing social commerce content, many people start missing an essential ingredient from their text, i.e., originality. Without creating unique content, your consistency will go in vain; therefore, it's recommended to use a plagiarism checker free resource and eliminate the instances of duplication from the text before getting it published.
Q&As: 
Ask a query or request to stimulate answers, such as 'Tag a buddy who is often late,' or answer a typical customer issue.
2. Start Blogs
Blogs that have been around a long time may be used to convert consumers into paying customers. Creating blog material may also help an online business become a thought leader. 
Blogging offers a more extensive and complete description of your goods. Consistent blogging may improve traffic to your eCommerce site, create more prospects, and hence enhance earnings.Top that with fast and reliable ecommerce web hosting to deliver an enjoyable visitor experience and boost your growth.
Consistency is key in blogging. You may start a blog and promote your products and services there, increasing your brand's popularity and reputation. If you keep up the quality of your blog, other businesses may contact you to advertise their products.
3. Build A Relationship With Your Audience 
Once you have found an audience, it is essential to connect and engage with followers to improve traffic and revenue. People are more inclined to suggest a brand when they have pleasant and engaging interactions with it.
Here are some options for collaborating to promote your e-commerce store:
4. Create A Seamless Shopping Experience 
The goal of frictionless e-commerce is to build accessible, seamless shopping experiences based on customer data. You can create a custom-made experience for your customers via the use of platforms like Facebook. Before revamping your e-commerce experience, you must first evaluate, analyze, and plan. This will allow for a more data-driven approach and ultimately lead to more significant outcomes.
One-click purchases on Amazon are a fantastic example. When signed in, clients find something they desire. They simply need to click once to complete the sale because Amazon uses consumer data to streamline e-commerce. Amazon securely stores the customer's information and preferences, so one-click suffices. However, it is very important to deliver your products to customers safely and on time. This would increase your brand reputation and boost sales.
PRO TIP: You can go the extra mile by integrating your eCommerce store with various e-marketplaces such as an Etsy, eBay or WooCommerce Amazon integration. This will create a streamlined data flow between all channels. You'll be able to provide customers with an amazing shopping experience from all your selling channels.
5. Collaborate With Influencers to Expand Your Reach
Ask influencers to generate content for your brand. Ask them to write product reviews. Influencers with a large internet following may consequently help a company a lot. This is true for both reaching a larger audience and creating trust. In addition, the company must carefully choose influencers whose content resonates with the brand's values and whose audience is relevant. Those influencers should follow a digital marketing strategy to target the audience's needs.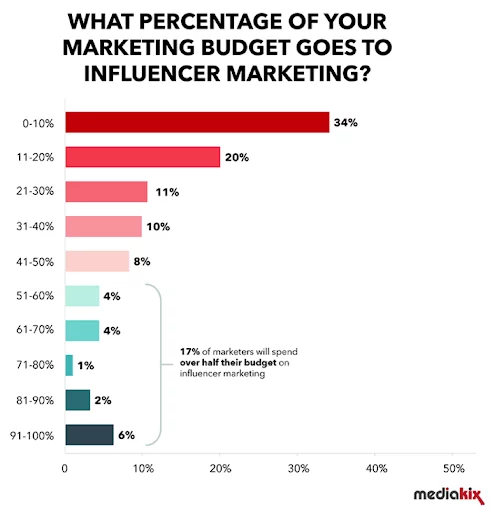 Source: Mediakix
According to a 2016 Tap Influence research with Nielsen Catalina Solutions, Influencer marketing content outperforms conventional digital marketing.
Media coverage is another great option to get exposure to your relevant audience through features in relevant journals and media outlets. It boosts your brand awareness, builds quality relationships with other brands, and increases conversions.
6. Paid Ads to Boost Conversions
Merchants rely heavily on PPC to generate visitors to their sites from social media, and so, they must master audience targeting and personalization. Today's social media platforms allow marketers to reach a highly targeted specialized audience with a wide range of targeting possibilities. 
You may test various adverts on each platform. Instagram Shoppable Posts vs. Facebook Retargeting Ads Use each others' audience targeting features.
Besides, you can always use advanced technologies and tools such as document management software to organize, secure, capture, digitize, approve, and complete your business records. The organized data will allow you to better understand your visitors and take the necessary actions or build a perfect marketing strategy based on it.
7. Use Automation for Interactions 
The ease of online shopping does not undermine the demand for exceptional customer service. Make sure your online business has a prominent online live chat interface on the homepage.
You may be concerned about keeping up with every query, but automated chatbots can answer common questions like "What do you want to buy more?" "How do I return?" This will enable your employees to jump in just when needed.
Or take, for example, plugins. With a WordPress chat plugin, you can set up questions on the chat bot placed on your online store website. You're also able to answer any further questions instantly.
It's impossible to manage a profitable company while constantly responding to internet comments and queries. Social media is like a 24-hour shop (including holidays!), so don't risk turning people away or overlooking important requests or concerns.
PRO TIP: Latest e-commerce trends show that more than 53% of shoppers visit an app or website more than three times before making a purchase online. Understand your audience and increase sales with personalization.
80% of your conversions are from 20% percent of your loyal customers. Brands that have acquired a huge number of customers need to understand their audience to grow further. They need to understand why their customers like their brand or services and the details of their experience to build a strong customer relationship. With such details you can build a personalized and easy process for your customers promoting customer loyalty and trust.
Though analytics details are used for such research, creating a completely separate map of your customer journey with the help of your sales team works best. Sales teams have more in-depth and valuable data as they deal with customers directly. With this contextual data, you will find where your customers move forward with a purchase, stall-out, or drop-off. You can use it to improve your overall customer experience, ultimately improving conversions and sales.
Best Social Media Platforms for 2022
1. Facebook
Almost every shop has a Facebook fan base. With 2.4 billion monthly active users, the chances of a brand's target demographic not being on the platform are slim. Facebook offers businesses a wide range of sales alternatives. 
The option to build a "Shop" tab on a company page allows vendors to display various items and enables customers to buy straight from Facebook. Using Facebook's retargeting tools and tracking pixels, you're aiming to get a successful Facebook marketing strategy which encapsulates gathering leads, sending messages, and pushing content to a targeted audience.
2. Instagram 
Instagram's image-centric nature drives purchases. Shoppable Instagram posts allow eCommerce companies to tag items in pictures. If a model is wearing sunglasses, retailers may label the item with its name, price, and buy link.  
Instagram also allows for instant checkout, or you may send users to your store's website.
3. Pinterest 
Shopify claims Pinterest has a significant market share in antiques, services, books and publications, and IT/computers. Use it to display new goods and their pricing. Pinterest recommends shoppable goods with direct links to retailers' checkouts. When shopping, Pinners start with visual search, compared to non-Pinners at 80%. Consider checking out this guide to get to know Pinterest ads best practices.
Shop the Look advertising enables dealers to showcase many goods in a single ad. Clicking on a Pin's picture takes you to the retailer's website. A picture may have up to 25 tags.
Summary
Social media networks may help e-commerce enterprises reach their target audience considerably quicker if utilized wisely. The fashion and food sectors, among others, have recognized the value of social networking.
However, e-commerce firms may gain from social media by thinking and planning ahead of time. Most customers use social media. The internet practically revolves around these sites. Use the above strategies to increase your eCommerce social media marketing visibility, traffic, and sales.
Social media gives you a platform to sell your items using photographs, videos, and infographics that appeal to the viewers' eyes and influence their purchasing decisions. To succeed and interact with clients, every company requires a social media presence.
These social media marketing methods for eCommerce websites may help your customers find products faster and increase your conversion rate. But there's always time to try something new. Prospects landing on the page should have a positive user experience as well. Improve the website with the help of eCommerce search implementations, product page, shopping cart, checkout, and other e-commerce optimization. And that's how you'll ensure a cohesive transition between your major sales channels.