Does this sound like your brand?
You dream of having sustainability — the kind of brand that pays off for generations to come. 
You want your brand to be scalable, but you don't want to constantly rely on ads. 
You're ready to deliver tremendous value, but you don't want to exhaust your resources in the process.
You're not alone. Talk to any company executive, and they'll probably tell you the same thing. 
In other words, you're dreaming the same dream all brands do. 
What brand wouldn't want to see consistent growth without draining ad budgets and resources to do so?
The hard truth is, building a sustainable brand takes time. The good news? With content creation on your side, you can prepare the building blocks for long-term sustainability. 
In today's article, we'll take a closer look at the connection between content creation and sustainability. We'll also go deeper by sharing seven ways content creation can build sustainable brands. 
Let's begin.
Content creation and sustainability: Where's the connection? 
To establish trust and a strong reputation, brands need consistent touchpoints with their prospects and customers.
In other words, if your brand doesn't show up in your audience's news feeds, inboxes, and online searches, how do you expect them to get to know you? How do you expect them to learn to trust you enough to buy from you again and again?
Creating content with your audience in mind simultaneously creates the touchpoint opportunities necessary to build customer relationships.
And when you do that over time, you eventually build up robust catalogs of content — a wealth of touchpoint opportunities for your audience. Hello, profit for generations.
In fact, brands love content creation so much it's become a top spending priority for B2B content marketers.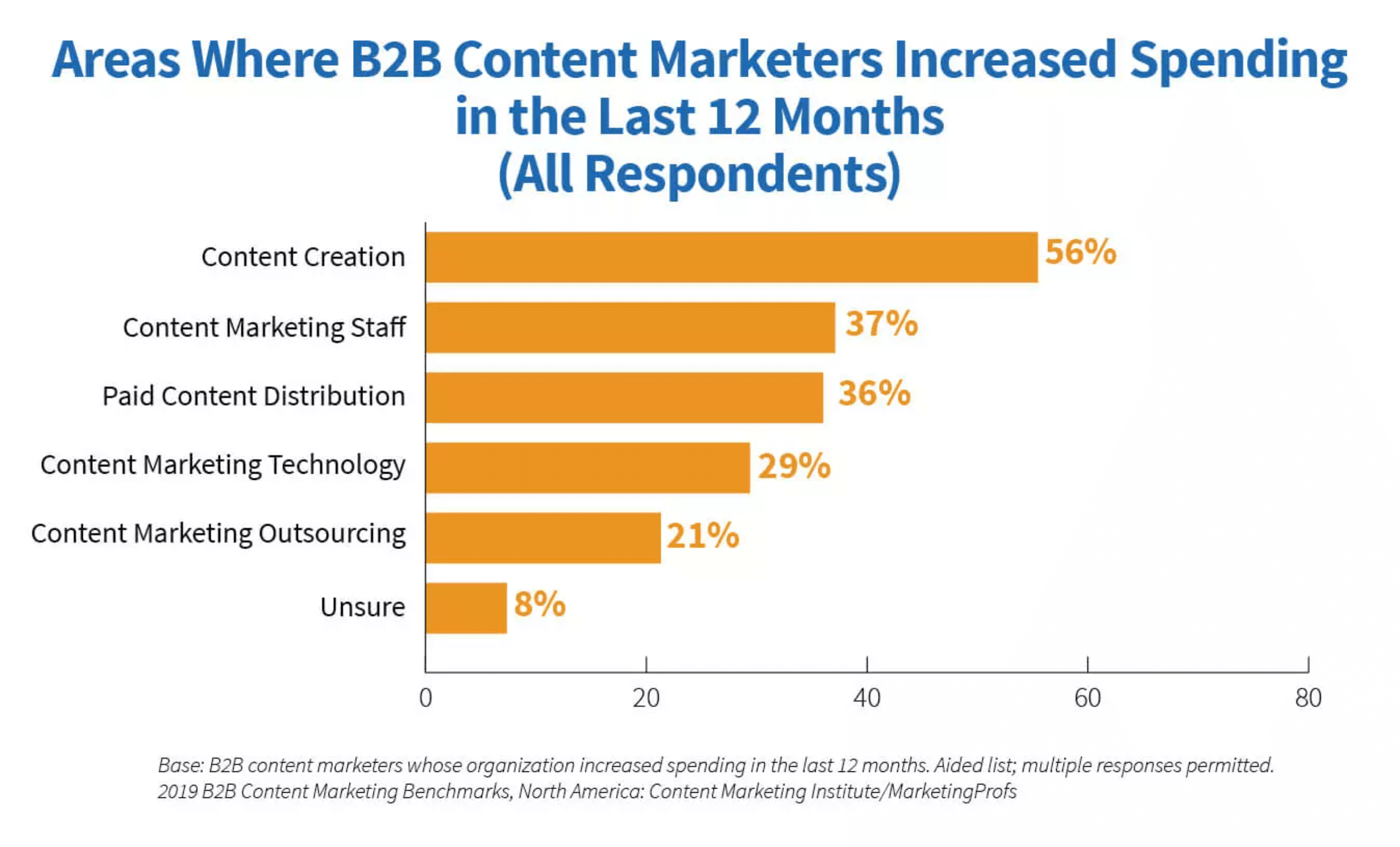 Now that we've cleared the air on how content creation and sustainability connect, let's take a look at seven specific ways content can build sustainable brands. 
1. Improved authority scores lead to long-term views 
Search engines rule the world, so if your brand isn't showing up in them, you may have trouble reaching your ideal audience.
By sharpening your expertise and crafting content based on user intent, you can write articles that search engines love.
When you earn trust with search engines, guess what else you earn? A higher website authority score. Yep, that's right. Search engines will gladly raise your website's authority score if they can count on you to churn out the quality content searchers need.
That means search engines will spit out your content more often to wider audiences if you tailor your content with searchers in mind. 
What does this have to do with sustainability? 
A consistent, high authority score means you can count on steady traffic to your website. The steadier and more predictable your traffic is, the more stable your reach will be. You'll have indefinite opportunities to cater to your ideal customer and gently encourage them toward conversion.
Here are some quick tips to help you improve your website's authority score:
1. Start with research. Never write an article without considering SEO content, first. Structure each article around a focus keyword and integrate natural-sounding semantic keywords throughout. When planning your topics, aim for a content score that's at least five points higher than your competitors.
2. Proofread your content. Search engines are looking for clean, polished, and proofed content to share with their searchers. Use writing apps like Writer or Grammarly to edit each article for errors before hitting publish. If you have the budget for it, consider hiring an editorial team to double-check your work. 
3. Mind the details. Take advantage of low-hanging fruit by including important SEO details in your articles. Include details like alt titles and texts, meta titles and descriptions, and internal  links based on your company's linking strategy.
2. Sharing helpful information builds customer loyalty 
Loyalty is the glue that binds brands and customers together. When your customers are loyal, they'll choose you over your competitors, tell their friends about you, and stick with you until the end.
In other words, they'll stay committed to your brand for as long as you give them a reason to. 
And what better reason to give them than solving their problems?
Creating products and services that solve their problems is a given. But how can you take problem-solving one step further?  
By sharing helpful information your audience needs.
Sharing helpful information:
Nurtures the customer experience.

Solves informational pain points, i.e., "You asked, we delivered. Here are our top 10 homemade face mask recipes".

Solidifies brand expertise.

Positions brands as leading industry authorities.
So whether it's trying to understand how your product works or whether it's looking for an answer to an industry-related question, be sure to give your audience the information they're looking for. For example, this post about the top lawyer directories provides ten different options to individuals seeking information in the legal space.
A good way of teaching readers how to solve their problems while also putting your product in front of them in an organic way is a long-form blog post that educates on what product is best for them from the list of options available. For example, SFGate does this with their best mattresses listicle that helps customers choose the right product for themselves.
Beyond conducting search engine results page (SERP) research, you can also reach out to customers directly. Send out questionnaires, polls, surveys, or conduct interviews asking them what topics they'd like information on and what specific questions they have. 
You can implement these kinds of features on your website pretty quickly, especially if you are using WordPress CMS. Many WordPress plugins offer surveys, popups, etc. And due to the popularity of this CMS, it's pretty easy and affordable to get WordPress website development.
Afraid your team doesn't have the time, resources, or expertise to drive this home? Consider outsourcing to a content marketing agency. 
Content marketing agencies strategize, plan, write, post, and track your content to ensure it performs at optimal levels. If your team doesn't have experience monetizing content, an agency can help put things into perspective and manage content efforts on your behalf.
3. Lead magnet opportunities drive higher conversions 
It's no surprise that leads need consistent nurturing to convert into customers. 
When a prospect first comes across your brand, they'll naturally form an initial opinion. Every sequential touchpoint they have with you after that first impression will either nurture them to conversion or turn them away.
By highlighting lead magnets your prospects value most, you can turn any piece of content into a converting machine. 
Here are some quick tips to help you drive higher conversions with lead magnets:
1. Only include lead magnets that are related to the content. If you're sharing an article called "12 southern recipes our great grandmothers passed down to our kitchen", add a lead magnet that relates to that content. For instance, "download our great grandmas' recipe book now." Or, "sign up for our upcoming southern baking party here."
2. Conduct research. Take a look at your audience's online behavior. What specific lead magnets have caught their eye and why? What purchases have they made as a result? What are the most common lead magnets they click on, and why? Use the insights you gain from your research to design lead magnets your audience engages with.
3. Use social proof. Show your audience how valuable your lead magnets are by sharing how they've helped your customers. For instance, "Alisha loved our free virtual assistant (VA) guide so much, it inspired her to start her own VA business." Or, "Michael saw 10x more conversions two weeks after attending our webinar."
4. Raising brand awareness guarantees you'll always stay top-of-mind 
Raising brand awareness isn't just a task for startups. It's a lifelong journey for established brands and newbie brands alike. 
Churning out consistent, valuable content can help you raise the brand awareness you need to always stay top-of-mind — no matter how long you've been in business for.
To make sure your brand always stays present and relevant, plan out each month's content in advance. Use a content management tool to plan your topics, keywords, and posting dates — and a content calendar tool to schedule posts. 
Then, assign your topics to writers, double-check all posts for quality assurance when they come in, and start planning the following month's content.
5. Organic reach improves marketing return on investment (ROI)
What ads do for short-term growth, content marketing does for long-term growth. 
While ads run for a specific time, content is out there forever (or at least until the owner takes it down).  
In other words, content marketing broadens your organic reach and improves your marketing ROI compared to the return on ad spend or ROAS.
You're not just pouring money into ads. You're making your money work for you.
TL;DR: Ads run out, but content lasts forever.
6. Great content builds trust with iffy prospects 
When prospects are on the fence about trying your brand, content marketing can build the kind of trust they need to convert. 
Let's illustrate this a bit. 
Let's say you're a website designer looking to invest in WordPress templates for your business. You love templates because they save time without sacrificing quality or aesthetics.
You've just sat down at your desk and typed "best WordPress templates" into Google and decided to check the top three results.
When reviewing the results, you notice that:
Option one has beautiful templates, but the site doesn't include blog posts or tutorials sharing how to use them.

Option two has decent templates but just a handful of tutorials.

Option three has a small collection, but they're lovely designs, and they each come with step-by-step tutorials.
Given that you're a brand new prospect to these brands, which do you think you're going to pick?  
You'll probably pick the option with the lowest learning curve — option three. 
By supporting your prospects with valuable content throughout the buyer's journey, you can convert even the most skeptic leads into loyal customers. 
A lower bounce rate and higher conversions? Sign us up.
7. Guest posting expands your net to new audiences 
Speaking of building trust with new leads, what about expanding your reach to new audiences?
If you're looking to broaden your reach or appeal to new audiences, having a solid guest posting strategy can help.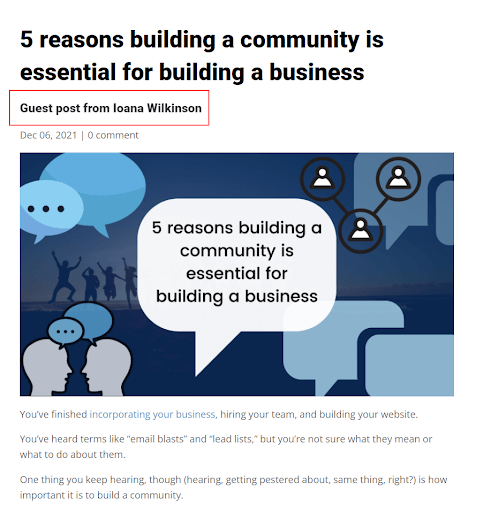 When creating your guest posting strategy, be consistent and specific. Know who you're targeting (for instance, audiences on websites with DR40+ scores) and what their audiences want. Be sure to also set concrete guest posting goals to create a framework in line with your objectives. 
Finally, decide what lead magnets you're going to use and which internal links you want to embed in your posts.
Wrap up 
Dreaming of building a sustainable brand? 
While creating sustainability takes time, you can start preparing the building blocks to long-term growth with content on your side.
Here's a quick recap of the seven points we shared today:
Improved authority scores lead to long-term views 

Sharing helpful information builds customer loyalty

Lead magnet opportunities drive higher conversions

Raising brand awareness ensures you'll always stay top-of-mind 

Organic reach improves marketing return on investment (ROI)

Great content builds trust with iffy prospects 

Guest posting expands your net to new audiences
Looking for more content creation tips? Then you'll love our blog. Head on over to gobble up more juicy content like this one. 
Brad Smith
Brad Smith is the Founder of Codeless (a content production agency) and CEO at Wordable.io. His content has been highlighted by The New York Times, Business Insider, The Next Web, and thousands more.