Have you tried the Instagram collab feature yet?
Instagram introduced its collab posts back in June 2021, and they became an incredibly efficient tool used by many brands, creators, and influencers. The new feature enables you to co-author a post with another account and magically find yourself right in front of the right people.
In this article, we'll dive into the Instagram collab posts magic and explain how collab posts can fit into your social media strategy and help you get a vantage point on the market.
What is an Instagram collab post?
Instagram collab posts are feed posts or reels you create with other Instagram users. It's the same post published in two feeds simultaneously, sharing likes, comments, engagement stats, and — most importantly — audiences.
Once you create a post, you can invite a collaborator to join. If they accept your invitation, the post will be visible in their own feed too. It's a great fit to co-author content with brands, influencers, or fellow creators.
View this post on Instagram
Note that tagging and Instagram collabs are not the same. Tagging is simply putting a user tag on a post. Collaboration is sharing your feed post on other accounts.
Instagram collabs feature is available for feed posts or reels. Stories and Live streams will have to deal with tagging for now.
How do Instagram collabs work?
Instagram collabs is a simple yet powerful instrument for paid partnership, influencer marketing, and cross-promotion. Using the power of merged audiences, the Instagram collab feature improves discoverability, increases engagement, and eases interaction for both creators.
Let's get to the bottom of the Instagram collabs — a quick Q&A session's coming!
What are the mechanics behind Instagram Collabs?
An Instagram Collab post is the same feed post or reel shared twice in two feeds: yours and your collaborator's. The collab posts have the same caption, share likes, comments, and other stats. Both usernames appear above the post, and both creators get even credit.
The best part is that the stats are merged too. If you're collabing with a major brand, every like and view the post gets on its account goes to you just as well, and vice versa. This is a great way to naturally "exchange" audiences without being too pushy.
Mind that Instagram Collab doesn't replace the branded content tag thought. If you are eligible for a branded content tag, you still have to use it for paid partnerships.
Who can become a collaborator?
Anyone can become a collaborator on Instagram, be it a brand or creator, or even a private account. Yes — if you're a private account featured in a collab post, this one post will be seen by non-followers as if a public account posted it.
The only limitation is the number: you can't invite more than one collaborator to a single post.
Once you publish the post using the Instagram collaboration feature, a collaborator gets an invite notification. They may choose whether they want to share the post in their account, or not. Before that, the post looks just like any other in your feed.
If the collab request is accepted, the post appears on the collaborator's profile. Remember — you can't invite a collaborator after you published the post, so make sure to use Instagram collab before tapping Share.
Collaborators can also stop sharing the post in their feed at any moment. To do so, open the collab post, choose Post settings, and tap Stop sharing. The post will be deleted from the collaborator's grid but it won't affect the original post in the creator's feed.
What's the difference between Tag and Collaboration?
The main difference between tagging and collaboration is that collaboration benefits both users, while tagging is more one-way-ish. Let's model a situation.
Emily is an influencer who got a collaboration with Bobalicious boba tea. She creates a post and tags the Bobalicious profile. To get to Bobalicious, Emily's followers must tap on the post and follow the tag. That's two whole taps. Emily is not featured in the Bobalicious account now — besides her post being shoved under a Tagged tab.
If Bobalicous decides to repost Emily's post, they will duplicate the same content. Meaning, Bobsalicious would be fighting itself for user engagement.
With Instagram collabs, both Bobalicious and Emily's usernames would be easily accessible above the post. The same post would be shared in both feeds, bringing mutual gain for collaborators. With a collab tag, it's easy for both audiences to fluctuate between two accounts, and every like and view benefits both sides.
And after all, tagging Adidas in your post and being featured in the Adidas profile is not the same, right?
Is it hard to create an Instagram collab?
Making Instagram collabs is very easy. The process is almost identical to creating an ordinary feed post or Instagram Reel. The only difference is that before hitting Share you invite a collaborator through a collab request.
All you need to do is choose Tag People and tap Invite Collaborator. You can find a detailed step-by-step guide in this article — read on!
Why use the Instagram collab feature?
Ok, we've got the mechanics covered. But why would we use Instagram collabs? What's the business value behind it? Here are 6 good reasons to give Instagram collab posts a try.
Sharing content across two accounts can boost engagement
If you're collaborating with another creator or brand, you probably have a similar target audience. By stepping into a spotlight in your collaborator's feed, you can "borrow" a bit of their audience's attention.
More likes, shares, comments, and saves equals more engagement, and more engagement equals the Instagram algorithm favoring you.
View this post on Instagram
Collaboration reduces the amount of duplicated content
Instagram doesn't like users who duplicate content. When fellow influencers or creators repost the same post or reel, they compete for audience's attention. With the collab feature, the gain is mutual, and both parties stay on the good side of Instagram.
It also works for companies that want to distribute content among other brands they have.
Being featured in two feeds instead of one increases visibility
Collab content with another creator can grant you a pass to custom and plan Instagram feeds of many users who follow your co-creator but don't follow you. It's an attractive and efficient way to reach out to new relevant audiences and gain new followers.
Collab also offers a great base for cross-promo, meaning in some cases, you can spare the advertising budget and still hit a new reach record.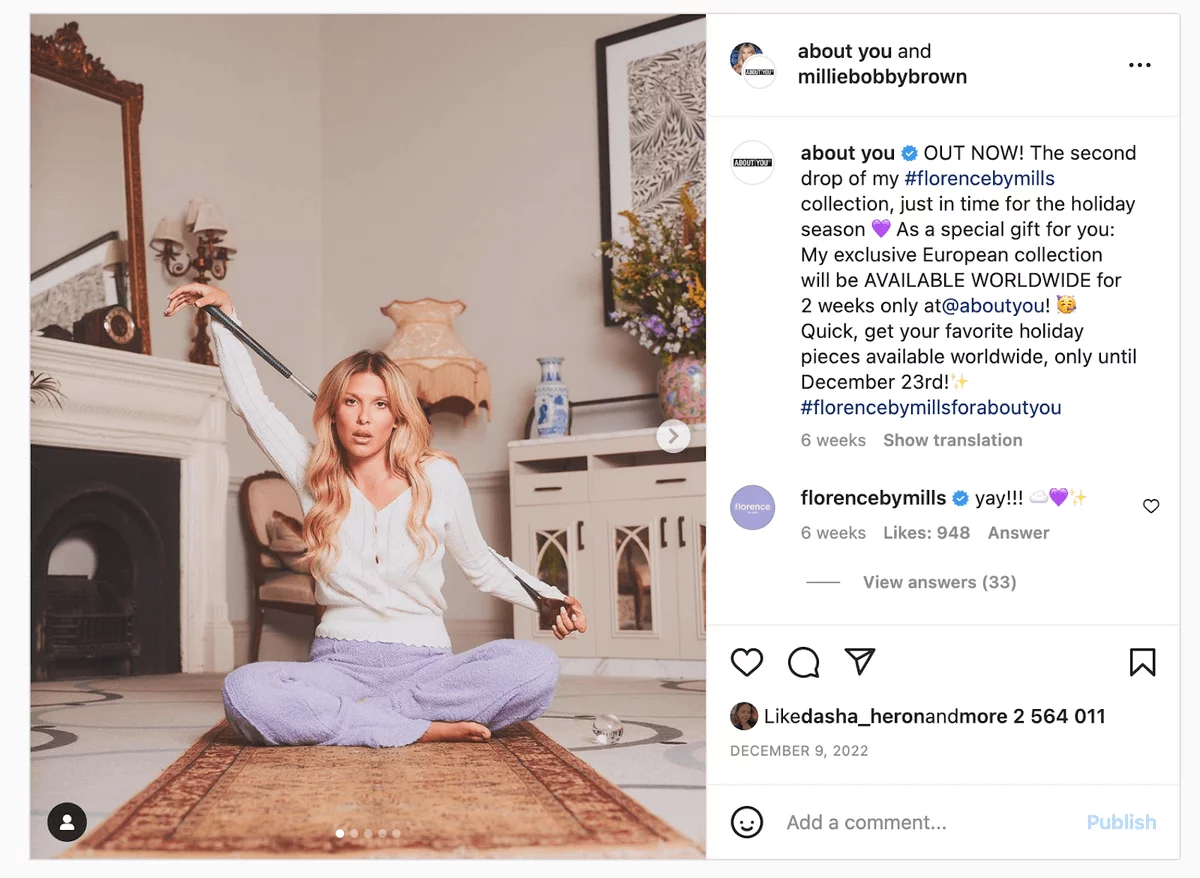 Collaboration between brands and their users provides ultimate social proof
User-generated content (UGC) is a massive trend in 2023 for many reasons. One of them is being perfect social proof and confident support for your product.
By collaborating with your customers, you provide the best kind of testimonials from real people. It's also a valuable cornerstone of mutual trust and brand transparency.
Using collaboration posts gives you content you don't have to work on
Creating content is great but having someone else fill in spaces in the social media calendar is not that bad either. Using Instagram collabs means there's a big chance you won't have to create a new post from scratch all by yourself.
Creating collaborative content and approving it before going live is easy with the right tool — such as Planable.
Brand collaborations allow brands to combine their forces
Brands have been collaborating in real life for ages — now they can also seamlessly do it online. Same as with individual creators, a collaboration between brands helps them tap into each other's audiences.
Such a promo combines resources for wider reach and more engagement. Group effort pays off — especially if there are two small brands involved.
View this post on Instagram
How to create Instagram Collabs
If you're convinced to take Instagram Collab on a test drive, the natural question is: how to create one?  Making Instagram Collab posts is simple and quick, but before we move on to the guide, let's recap the basics:
Only one collaborator per post
You can only invite collaborators before publishing the post
The initial creator can edit the post; the collaborator can't
Collaborators need to accept the invite to share the post in their feed
Collaborators can stop sharing the post at any given moment
Now, the step-by-step guide for Instagram Collab posts — action!
Instagram Collab post in the feed
Open Instagram, tap Create on the top right and choose Post



Choose your content: it can be a picture, multiple photos, or a video.


Add a caption and tap Tag people.


Now tap Invite collaborator.


Type in the username of your collaborator and tap it in the list of accounts.


Adjust the collab tag by moving it around the photo, and then tap Done.


Finish up setting your post and tap Share.
Instagram Collab in Reels
The workflow is the same as for the post feed.
Open Instagram, tap Create on the top right and choose Reel.
Create a new reel or add a ready-made video from your library.
Add a caption and tap Tag people.
Enter your collaborator's username in the search bar and choose their account.
Tap Done.
Finish up setting your reel and tap Share.
Congratulations, your collab Instagram post is published! The collaborator got a collab request the second your post went live. If they accept it, the post or reel will be visible in their feed as well, and their username will appear next to yours.
How to use Instagram Collaborations
Instagram collab is not a fancy editing feature but rather a new format for natural and engaging online collaborations.   Brands, creators, marketers, and any other users can benefit from adding the Instagram collabs to their agendas.
Here are some ideas on how to use collaborations when scheduling Instagram posts.
Giveaways
Using collaboration for a giveaway is a great opportunity to expand your network. For example, magicbymikaila and 707 Street have over 150k followers combined, and 707 Street shop can be sure it hits a very relevant audience with this collab. Imagine the followers gain!
View this post on Instagram
Cross-promoting side projects and brands
If you're an influencer launching your own brand or an additional project, collaborations help you combine both your audiences.
WeRateDogs started as a funny account rating random dogs but grew to create its own non-profit 15/10 foundation — and with the collab feature, they make sure to reach every follower in their pool.
Paid partnerships and sponsored posts
Advertising is a vital part of any brand but the audience wants its ad fresh, honest, and fun.
User-generated content plus native advertising plus merged audiences equal a great collaboration between Flo Tracker App and influencer Charity Ekezie!
View this post on Instagram
Showcasing the work
Collab posts are both the showcase and testimonials — especially for those working in visual, like photographers, for instance.
Making a collab post with a celebrity you recently held a photoshoot for is a sure way to shuffle the engagement rates. Damon Baker and Damiano David aced it!
Events collaborating with their headliners
Be it a conference, an exhibition, or a concert, creating a collaboration post with headliners is always a good way to reach out to new audiences. It's also an opportunity to introduce speakers to the attendees.
Sotheby's went the extra mile for their David Bailey exhibition — launched a collaboration with the maestro himself!
View this post on Instagram
Releasing new albums to streaming services
Spotify is the king of collaborations when it comes to fresh releases. Lots of musicians have collab posts with Spotify as a part of their promotional campaigns for new singles and albums — like Sam Smith, for example:
View this post on Instagram
Ready to leverage Instagram collab posts?
Instagram collabs feature is a true Insta gem for marketers, brands, and creators alike. If used right, a collab post can help you gain followers, boost engagement, and communicate your brand identity.
If your social media calendar still has no Instagram collabs planned, it's just the right time to shuffle through your books and schedule one! Planable is here to help you plan, create, approve, and publish your ultimate collab effortlessly.