Well, well, well… happy to see that you're back for our monthly piece. As always I scatter all over the web to find the juiciest and interesting news you've missed in May. So if you've been too busy focusing on building & creating content now's a perfect chance to grab a cup of coffee, or tea and enjoy. Also, don't forget to check out our last month's marketing industry news roundup
Go Live With Guest – Twitter is rolling out a new feature (via Social Media Today)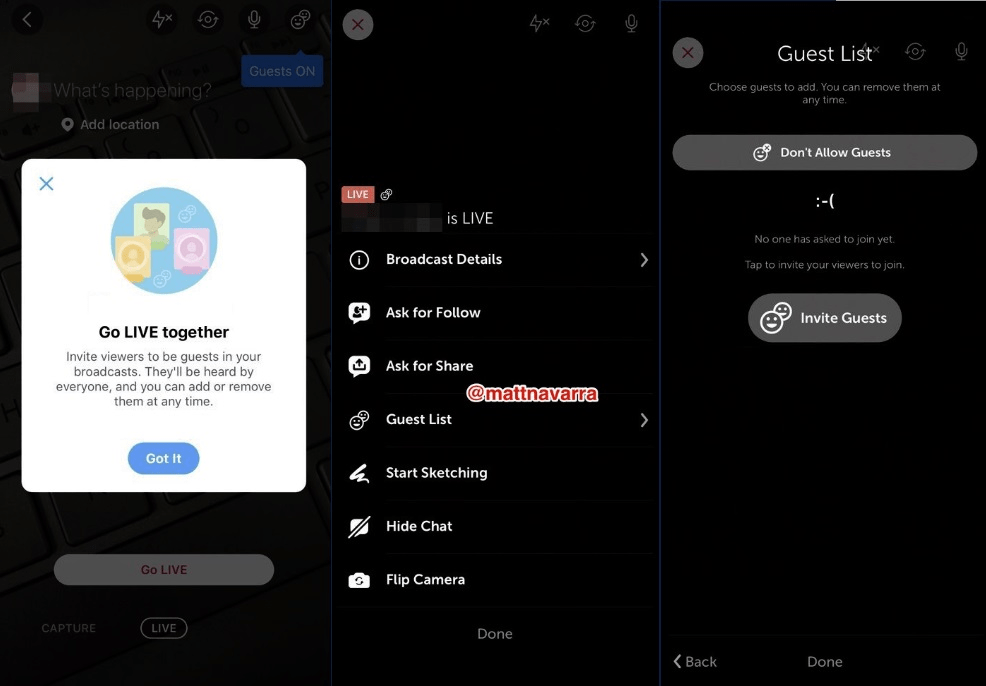 While Facebook & Instagram have already been offering split-screen video guests, Twitter is just entering the game. It was spotted first earlier last month. As opposed to other social networks, the new "Live Guests" option will only allow users to join the conversation with their avatar and live audio streaming. Ready to give it a try? You can follow the specific process steps outlined here.
LinkedIn looks to improve ad targeting, attribution capabilities with Drawbridge acquisition (via Marketing Land)

On Tuesday, LinkedIn has announced that it acquired Drawbridge, an identity resolution platform. It uses AI and machine learning technology to provide marketing, customer experience, and security solutions.
It's especially important for advertisers, as it has two major benefits. The first is improved reach via LinkedIn's Matched Audiences and better attribution, that allows advertisers to measure the results they're generating from Linkedin across all the channels.
Landscape Videos, Now in IGTV (via Instagram Press)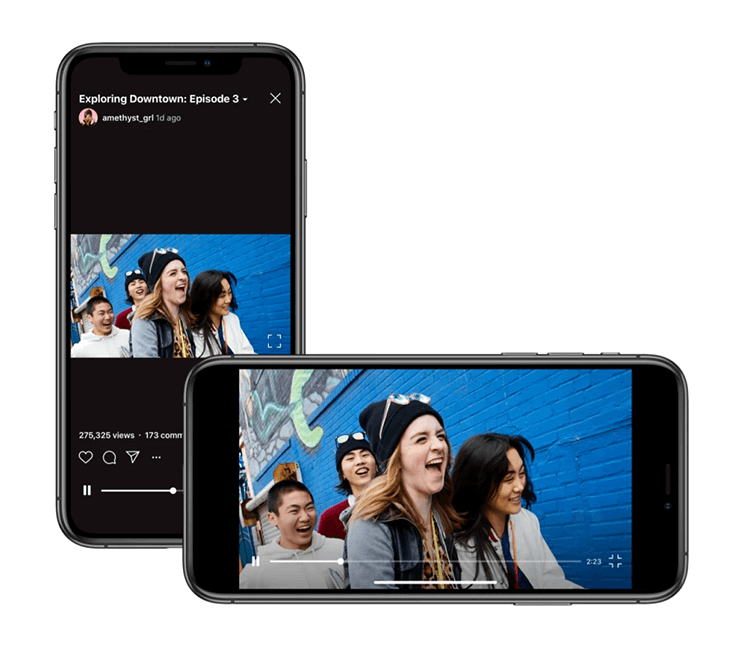 At the beginning of this week, Instagram quietly introduced a new refreshed view IGTV by putting more focus on content recommendations, and less on search.
However, now they've also introduced the option to upload horizontal videos to IGTV. A bit surprising, considering its initial vision on more immersive, vertical viewing. Might it suggest that Instagram is running out of ideas on how to make IGTV an engaging platform and keep it relevant for its users?
Facebook's Working on a New Stories Composer Layout (via Social Media Today)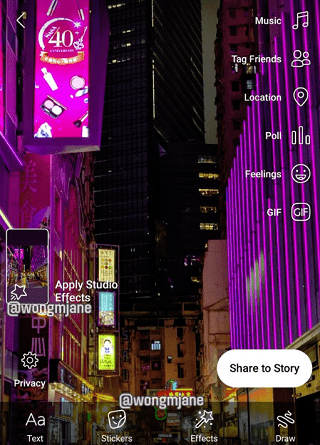 Facebook has integrated Stories into its platform even more than before. The social network is working on a new layout for the Facebook Stories composer, which places more options within immediate, tappable reach. The new layout was spotted by reverse engineering expert Jane Manchun Wong.
The bottom bar in the new layout covers all the currently available options, while the additional right-hand sidebar would add in quick access to the growing range of Stories tools. There are also 'Privacy' and 'Studio effects' options on the right.
Facebook shuts down two billion (with a B!) fake accounts in Q1 (via Adweek)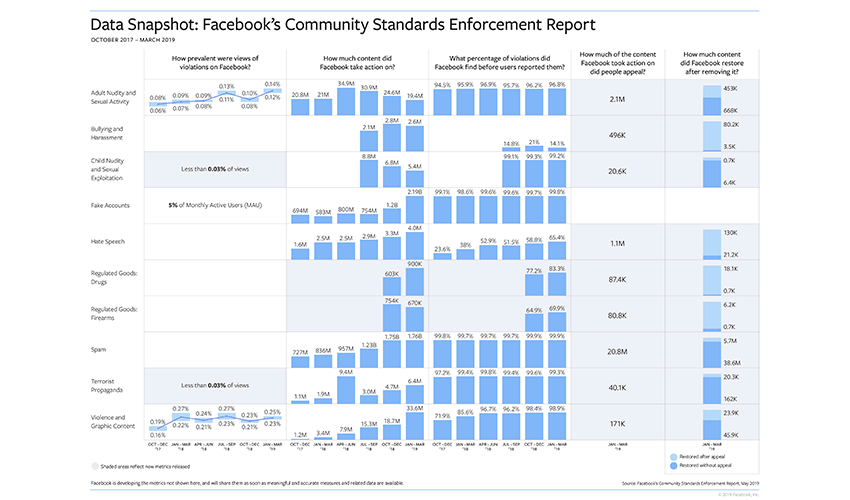 Facebook is working hard on fighting fake news and accounts around its platform. According to its Community Standards Enforcement report, Facebook disabled more than two billion fake accounts in Q1 of this year. This figure is only a little less than its total monthly active users, at 2.4 billion.
CEO Mark Zuckerberg commented that "most of these accounts were blocked within minutes of their creation; before they could do any harm". The data also showed that Facebook restored small portions of the deleted content after appeals and through regular Facebook moderator review. Facebook took action on more than 1.7 billion pieces of content it determined violated its rules against spam, but those take-downs resulted in nearly 21 million appeals and more than 40 million posts being restored with and without appeals.
Facebook Ads Manager issues are causing major headaches for advertisers (via Marketing Land)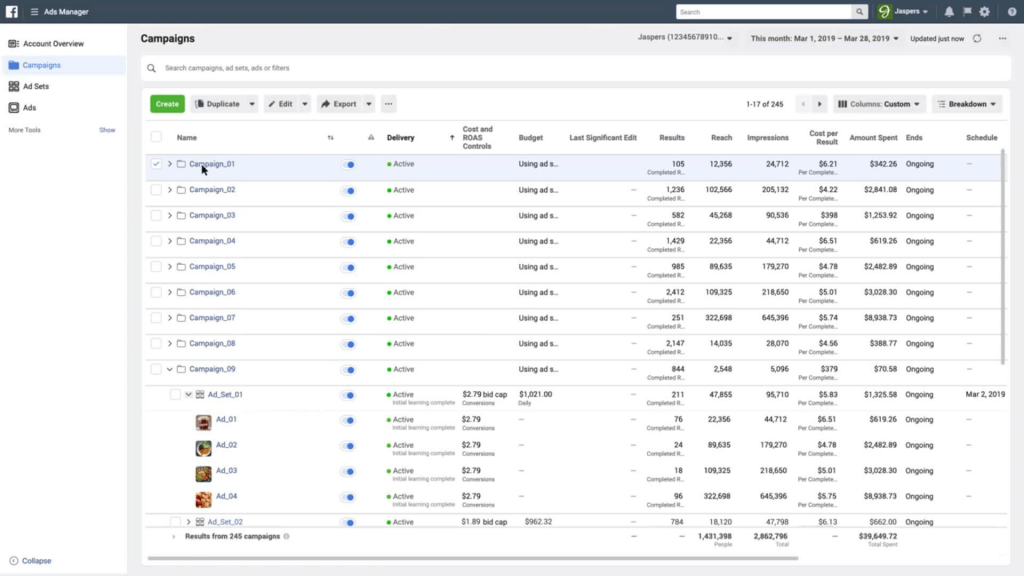 Well, Facebook has had enough problems on its head and now this. Marketers are getting frustrated. According to the reports, the tool's performance has been declining starting from an outage during last year's Black Friday. Also, it had multiple publishing ads issues and inconsistencies with campaign results.
David Herrmann, an Ads Manager said he had issues with accounts spending as much as $750,000 per month on the platform, but it's the smaller advertisers, those spending $25,000 and less per month, that are suffering the biggest impact. What will Facebook do about that? We just have to see next month.
Internet will forever miss the Grumpy Cat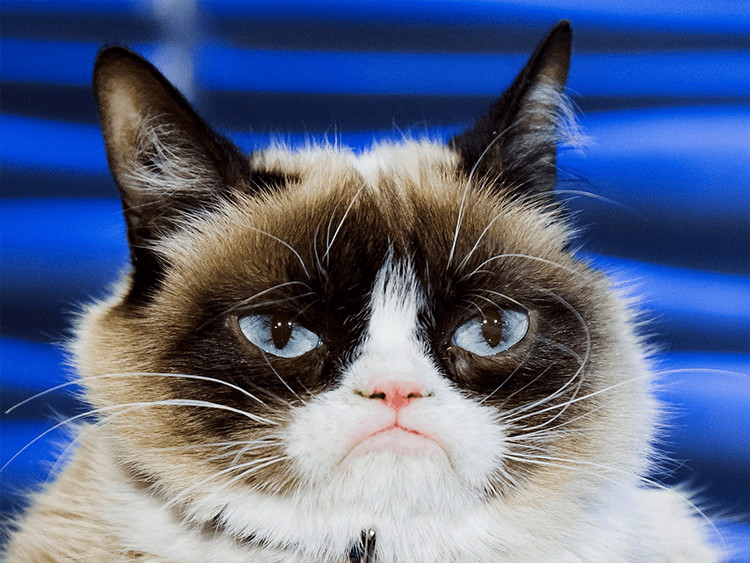 Grumpy Cat, the cat behind the meme phenomenon which took the internet in the early 2000s has died – her owners confirm in a tweet earlier this month. The Internet has gone into mourning for one of the most popular cats on the internet.
Oh-oh… North Face has been spotted with unethical Wikipedia product placement campaign by Leo Burnett (via The Drum)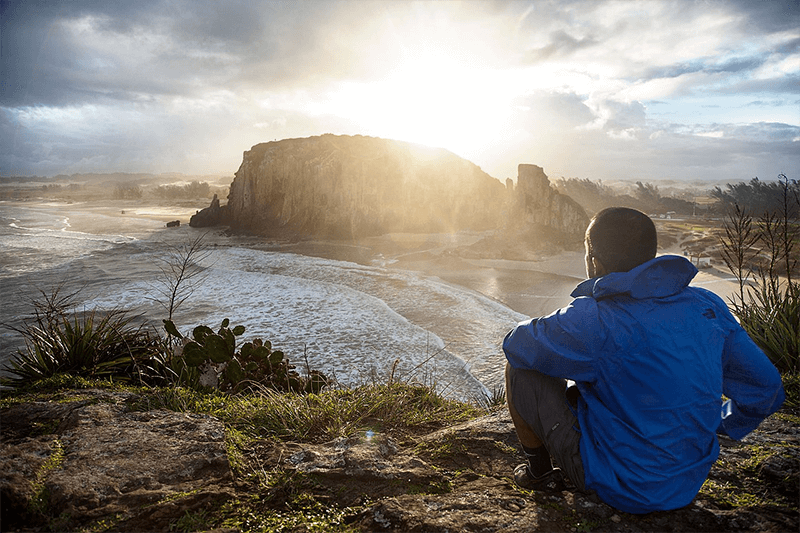 Last month, a series of North Face images – which were photos used to illustrate articles about various outdoors regions and other related topics, but included the company's branding – started making their way onto Wikipedia. It meant that anyone heading to an article about a national park in Spain would see a normal picture, but with someone wearing the company's clothes.
They were added quietly and stayed on the website without being noticed by the company's moderators. That was until the company brought it to the attention of the world. The North Face has been criticized for this stunt as they manipulated Wikipedia to feature product placement images on high-traffic tourism pages.
Wikipedia accused the brand of "boasting" about the stunt and said it lied about collaborating with the digital encyclopedia, which uses volunteer moderators to ensure accuracy and neutrality on its pages. Find out more about the campaign in this video here.
iLiked Ikea, it displays furniture in the living rooms of Friends and The Simpsons (via AdAge)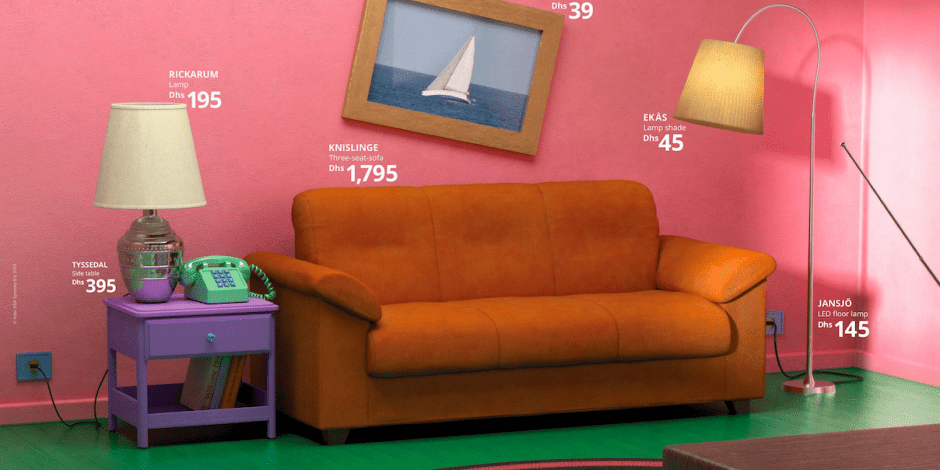 Ikea has just created three iconic living room sets from your favorite TV Shows to capture the cultural imaginations of consumers in the UAE. Many shoppers spend hours in home & kitchen departments trying to find the place of their dreams. However, gaining relevance in the new market – UAE has been proven difficult.
As a result, the brand enlisted Publicis Spain to create a set of three displays, modeled after the living rooms of cult classics 'The Simpsons,' 'Friends' and 'Stranger Things'. The print ads comprise actual furniture from the store's inventory, which was modeled and edited using 3D software for a hyper-realistic aesthetic.
S4 Capital has doubled its headcount in under a year (via The Drum)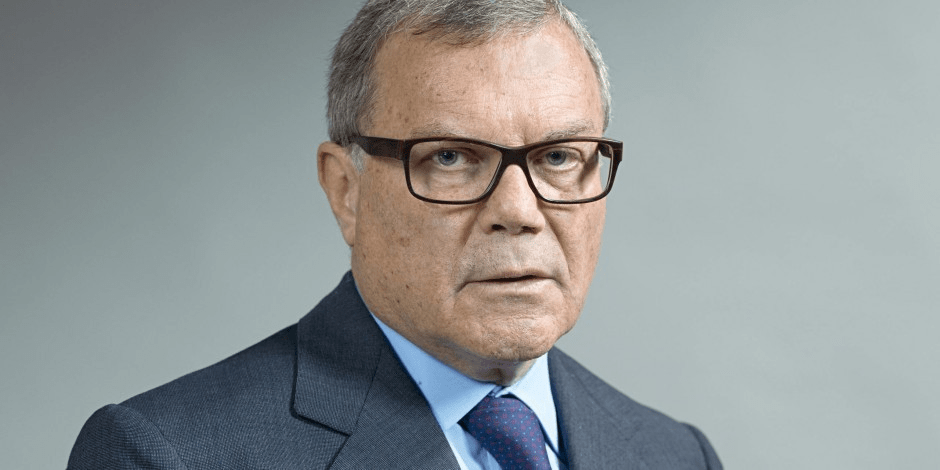 It now staffs nearly 1,300 people in 18 countries. That's double the headcount from this time last year. At the advertising firm's annual general meeting on the 29th of May, the former WPP boss revealed that the venture had reportable revenues up 45% and like-for-like revenues up over 41% in the first four months of 2019.
S4 Capital through MediaMonks already currently works with some of the world's most prestigious brands, such as Adidas, Corona, Google, Johnson & Johnson, Netflix and Shell through eleven offices in ten countries in the United States, Latin America, the Middle East, and the Asia Pacific.
Publicis Groupe's Maurice Lévy calls for data tax on tech firms (via Unsorted)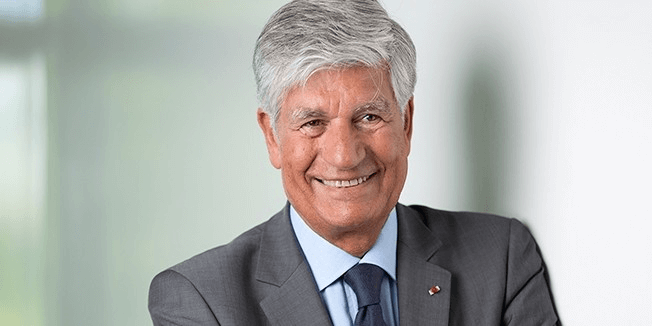 Former Publicis Groupe chief executive, Maurice Lévy has called for a data tax on tech firms that would compensate Internet users for the exploitation of their personal information. Maurice suggested that the imposition of a data charge would "change everything" in regard to the public's relationship with tech companies.
As Levy said on 14th May in Paris at an event discussing the future of Europe: "Personal data should belong to each and every consumer. Every time that data is used I think the data agglomerator that is going to be making a profit should pay consumers in one way or another,"
BMW ad is saying goodbye to the departing Mercedes' CEO in a hilarious way
A video tribute by BMW for Mercedes-Benz CEO Dieter Zetsche on his retirement proves that business rivalries don't need to always be cutthroat – sometimes they're just in good fun. For the video, BMW hired a lookalike of Mr. Zetsche, added his signature walrus mustache, to enact a scene from his retirement.
As the video begins, 'Dieter Zetsche' is seen bidding goodbye to his employees as he prepares to leave the office. The video then shows him being driven home in a Mercedes-Benz S-Class. On reaching home, however, he opens his garage door – only to reveal a striking metallic-orange BMW i8 Roadster.

Vlad Calus
Dropped out of college, moved to another country with 2 of my friends and built Planable (Techstars London '17), social media collaboration platform, at 19 y. o. Forbes 30 under 30