In the digital advertising world, the main goal for marketers is to capture the attention of their target audience, attract those people, and bring them effortlessly into the sales funnel. One of the most effective ways of doing this is by offering your audience stellar and engaging online content. There's a reason why blogs, vlogs, infographics, white papers, and e-books are such an effective strategy: because they are useful to a modern consumer base hungry for information and answers.
Still don't believe in the power of content? Check out these eye-opening statistics.
These three statements clearly show the benefits of a solid content marketing strategy. But we're not here to tell you to raise your content game (as a serious business owner or marketer, you're likely already on top of that). We're here to shed light on another side of content marketing that too often gets overlooked: how to leverage old content to further generate more qualified leads.
Consider this: 60% of marketers create at least one piece of content per day. Considering just how many marketers there are in the world, that's an astronomical amount of new content being produced daily. And yet it pales in comparison to all the advertising material that's been generated in the past and left to stagnate in the dusty corners of cyberspace.
And as a marketer or business owner, you're not immune to this. You've likely got a lot of digital clutter in those backlogs that could be working for you instead of just sitting there. The solution is simple: repurpose your old content and make it start working for you again. That's the best recipe for online engagement.
But that doesn't mean simply promoting old blog posts on your website—it's time to think bigger. You need to reach your audience where they are with this content, and where they are is on social media. After all, social media advertising generates many billions of dollars per year and is projected to generate 48 billion by 2021. That makes the U.S. the biggest market for social media advertising in the world. So don't leave your content out.
Below we look at some tactics and strategies to shape and transform your old content so it is ready to be uploaded to social platforms and be welcomed into the world anew.
Make sure it's evergreen
Before deciding on which social media platforms to publish, you need to first make sure your content is viable. After all, you don't want to repurpose an article about G+ marketing strategies now that the G+ platform is going the way of the dodo.
First, take a look at the content you're thinking about repurposing. Sit down and write out a list of at least five reasons it is relevant to your target audience. Identify the key takeaways of this content and write these down as well. Note the best stats and quotes and highlight them for future use.
There's a lot of talking in the beauty industry. Get more insights like this one from our latest report: https://t.co/3r14ZbEmGW pic.twitter.com/clsJKIpOUy

— Planable (@PlanableApp) March 26, 2019
Now, if you're looking at repurposing a lot of material, this might seem like quite a bit of mundane busywork. Trust us: it serves a crucial purpose because when it comes time to shrink your content down into a size ideal for social platforms, you're going to need those key bits of information. More on this below.
Transform content for social media
Sure, if you have a blog post that is evergreen and as valuable to your audience now as it ever was, you can simply post the URL with the content title. But consider all those statistics and takeaways you've sketched out from looking over all that old content. This data is a handy tool to help you transform that old blog post into something more concise and better-suited for snippets on social media platforms.
For example, you can take any stat from old content and turn it into an infographic, here are some additional infographic tips. This is great for your typical social media user who likes to process important info quickly. Audiences also love tutorials/FAQs, so consider transforming the takeaways from each piece of content into this format as well.
Regarding specific platforms, you can take quotes you found to be appealing/helpful and repurpose them in Twitter Cards or Instagram posts. You can even upload evergreen content like how-to guides to SlideShare in order to appeal to a whole new audience.
And speaking of visuals, always choose a visual file from your image library to accompany the piece of content. Even if your content is just one quote, you'll want to have a visual file as its background. And if you have a lot of old marketing images that follow a certain theme or advertising campaign, then consider repurposing them into a Pinterest board and share that.
Always add video whenever you can, too. If you don't already have a YouTube channel, then create one, and start repurposing content for that platform as well as your others. One idea is to turn old articles and blog posts into video content. Even if your company doesn't have in-house video-production facilities, you can use video tools to help turn blog posts into product demos, visual tutorials, explainer videos, and more.
Always remember, video is fast becoming the dominant medium on social media and internet searches in general.
Tease your audience
No matter the social platform on which you share your content, the purpose is always the same: to get people to click on it. And because your typical social media user is constantly overwhelmed with advertisements, you need to make sure your content ad stands out.
There are a number of tactics to achieve this and you should try and implement as many of them as possible. They include:
Answer a question/present a solution to a problem

Use a quote from the content as a teaser video

Showcase an interesting stat or fact
The prime goal of each of these tactics is to hook your reader right off the bat. If you want to see these various strategies executed to near perfection, take a look at the Facebook page of Salesforce. The CRM giant teases all their FB ads with videos, images, bold statements, compelling questions, and eye-catching facts.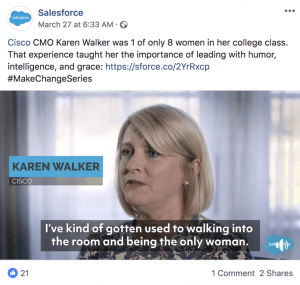 As a side note, Salesforce also uses social media to tease and promote charity initiatives, which showcases the human side of the company. If you have any old video content from past that features your employees at charity events, then keep repurposing it. This will help put a face to your company and further endear you to your target audience.
Change up the formatting—no matter how big or small
Above we spoke about turning a blog post filled with lots of stats and bits of interesting data into a smaller infographic or Pinterest board or a SlideShare. But this tactic can even work in reverse. Maybe you published an infographic that now looks to be a little too long on facts and figures. To solve the problem, simply write it out as a blog post. This way it structures the information and presents it in a way that's more enjoyable to digest than simply scanning a list of seemingly endless percentages.   
Even if you're dealing with a single interesting quote or stat lifted from a short piece of content, you can turn it into something bigger provided the topic is relevant to your audience. A great example would be to turn a stat or quote into the subject of a podcast, which you could record and upload to social media.
Don't forget LinkedIn
Obviously, LinkedIn is a crucial site for B2B companies as far as networking is concerned. But there's another powerful reality: LinkedIn is the most effective social media platform for delivering content.
And just like with the other social platforms, formatting is key. At any given time on LinkedIn, there are a number of individuals sharing lengthy posts of the kind seen on Facebook.
However, if you pay attention to companies on LinkedIn (especially the most successful ones), they use limited text (often just two or three lines) followed by a link to a URL. HubSpot does this effectively, plus their LinkedIn posts incorporate variety. They use quotes, ask questions, tease live events, and more. And because they use the shortest amount of text, they ensure their content has the most impact on their audience, which raises the chance they click on it.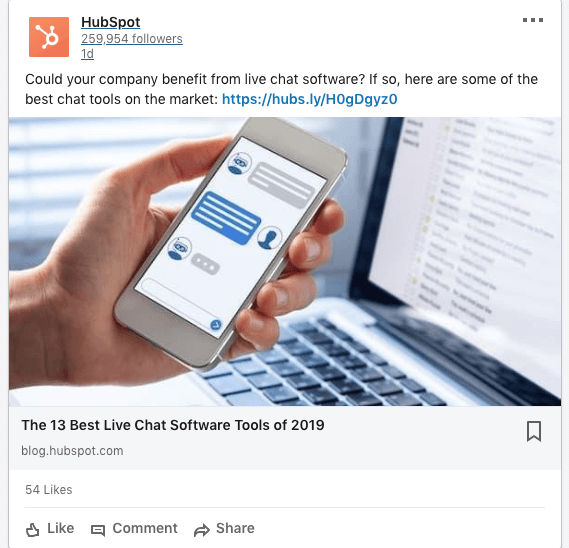 Conclusion
As to whether you're repurposing blog posts or creating new content, the most efficient way to manage this material and stay ahead of the curve is to devise a content auditing schedule. This will help you stay abreast of what's being published and where, how old the content is, whether it's evergreen and whether it's ripe for repurposing. This doesn't have to be a frequent audit (once every six months or so is ideal), but to not do it ensures that at least a portion of your content will go unused and stagnate, which, for any business, is tantamount to leaving money on the table.
This article was submitted by Lorie Loe, Sr. Director, Client Development & Content Elevation Marketing.