Which social media marketing experts will help you attract more followers online and keep you ahead of the latest social media trends in 2023?
Social media marketing is a powerful tool for businesses and individuals to connect, share, learn and grow. But with so much noise out there, who are the top social media experts you need to follow right now?
I've compiled my top eleven social media marketing experts who will help improve your brand – and possibly even your life – through their unique perspectives on social media strategy and content marketing.
Make sure you follow these emerging top eleven social media influencers to get the latest scoop on the hottest social media trends. From content creators to business mindset masters to SEO specialists, these experts have it all:
1. Pretty Little Marketer: killer content for social media & freelancing insights
With over 1.5 million people seeing PLM's content every month, you can expect to learn step-by-step social media marketing content pillars and post strategies to boost your brand's growth.
Social media expert, and founder Sophie Miller is one smart cookie you'll definitely want to follow. Her digital marketing advice is in such demand that she's been appointed as a Virgin Startup Mentor!
PLM publishes a weekly round-up every Friday for trending social media, personal branding and marketing strategy tips.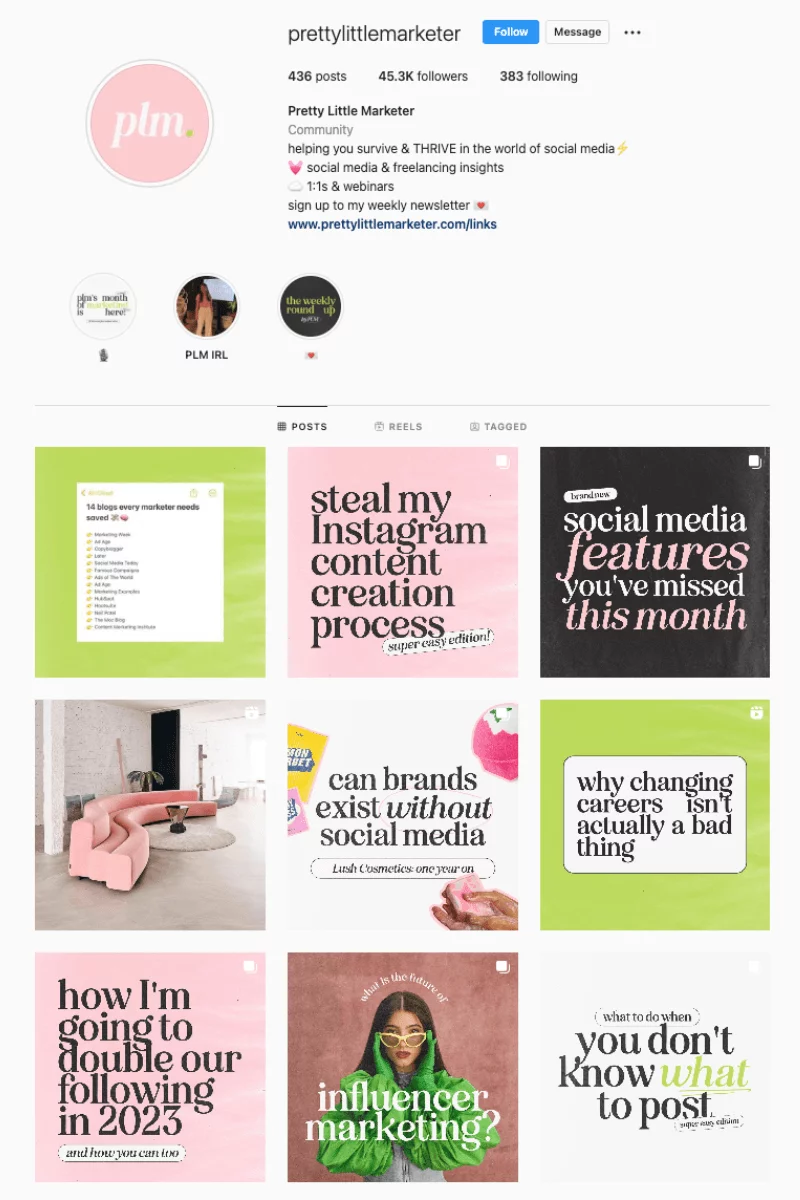 Where to follow:
The best place to find Pretty Little Marketer is on her Instagram account @prettylittlemarketer but there's also an amazingly supportive Pretty Little Marketer Facebook Group and online community for lots of in-depth group advice and help.
2. Rachel Karten: expert strategist for "the people who actually press post!"
Rachel Karten has an impressive bio, having previously led social at Bon Appétit and Epicurious as a brand builder and brand evangelist.
For the last nine years, she's dominated the lists of social media marketing strategists to follow and established her hugely popular "Link In Bio" newsletter.
Some of her most popular digital marketing newsletter topics:
Where to follow:
Follow @milkkarten on Instagram or on Twitter and don't forget to sign up for "Link In Bio".
I love the amount of social media content ideas Rachel covers, from brilliant brand campaigns to uncovering the best content marketing strategies.
3. Vanessa Lau: quick-fire tips for YouTube growth
Vanessa Lau is a social media marketing expert and multiple 7-figure online business owner who helps creators and CEOs supercharge their income, influence and impact.
After a career with a Fortune 500 company and a stint as a barista, Vanessa became a recognised Youtube master for her amazing content marketing tips and strategies. She now offers a full range of online services, webinars and digital marketing courses.
You won't want to miss delving through her playlists on her YouTube channel. She's such a goldmine of the latest social media resources and campaign strategies!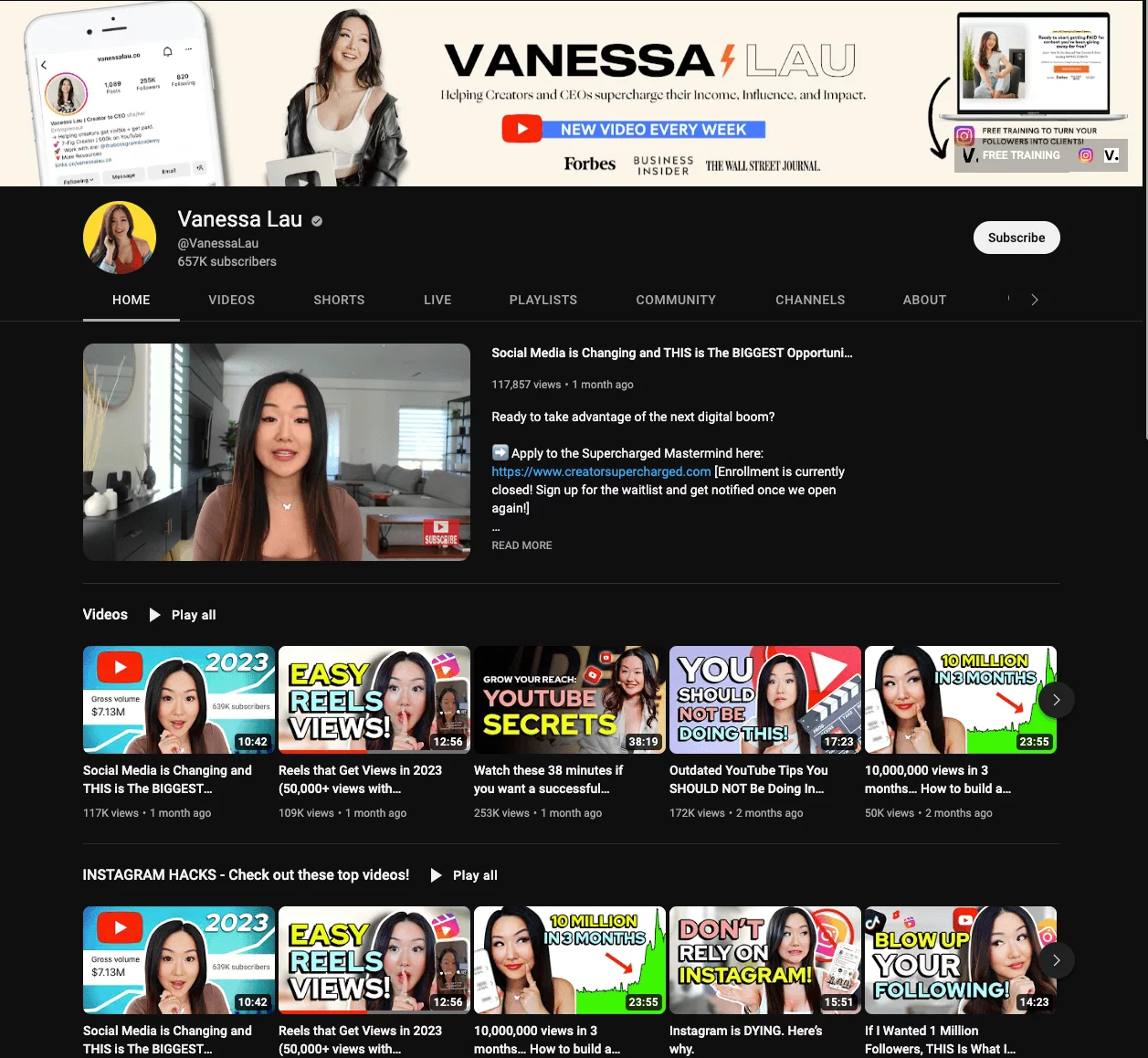 Where to follow:
Vanessa Lau is present on multiple social platforms. Catch up with her videos on Youtube or follow her expert threads on Twitter. For more bite-sized valuable information, you can also find her on Instagram and TikTok.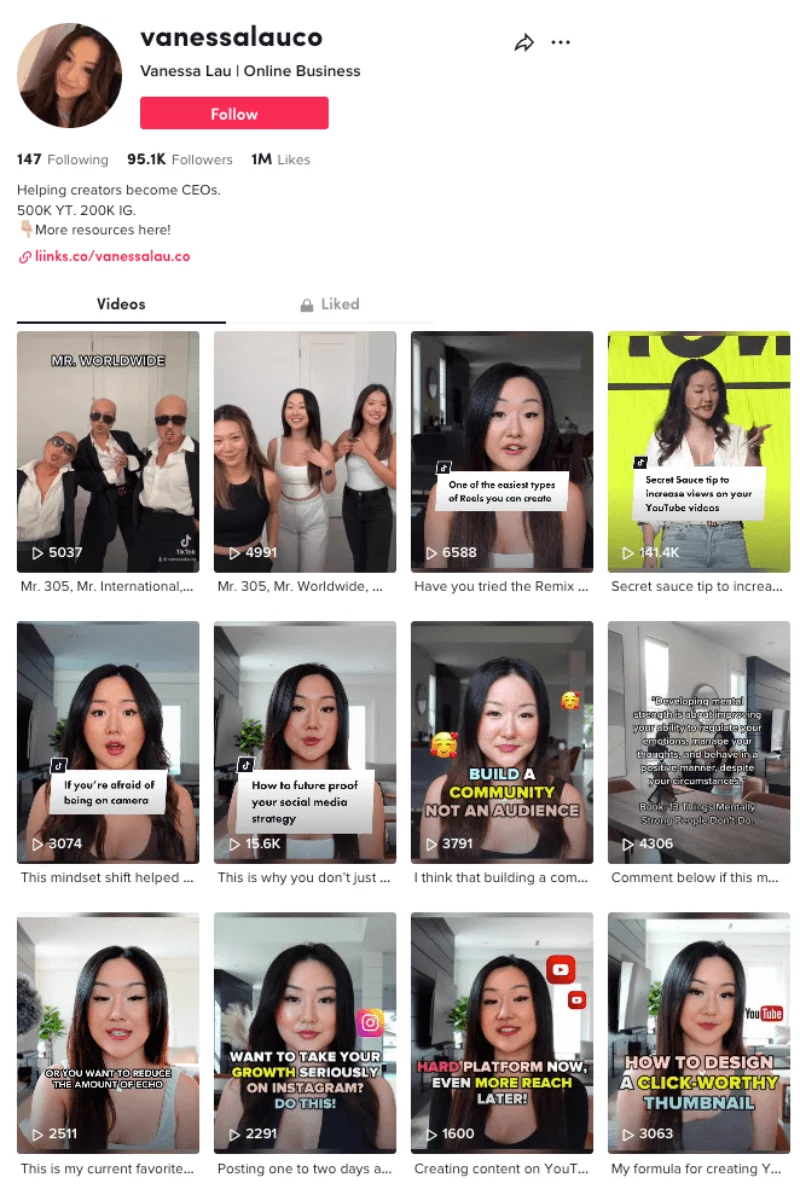 I'm addicted to her straight-talking, no-waffle, approach to delivering great social media advice and marketing strategies and I think you will be too!
4. Jasmine Star: positive mindset and social-selling guru
Jasmine Star's positive approach to life and work is the reason why she's so popular with entrepreneurs. She's carved out her place in the digital marketing space by offering great social-selling and business-building tips with bucket-loads of motivation.
Jasmine left law school to become a photographer and a decade later, with a thriving business behind her, decided to share her content marketing knowledge and skills as a business strategist.
She combines her life as a successful businesswoman, mother and wife and shows us all how we can have a life that is productive, successful and balanced.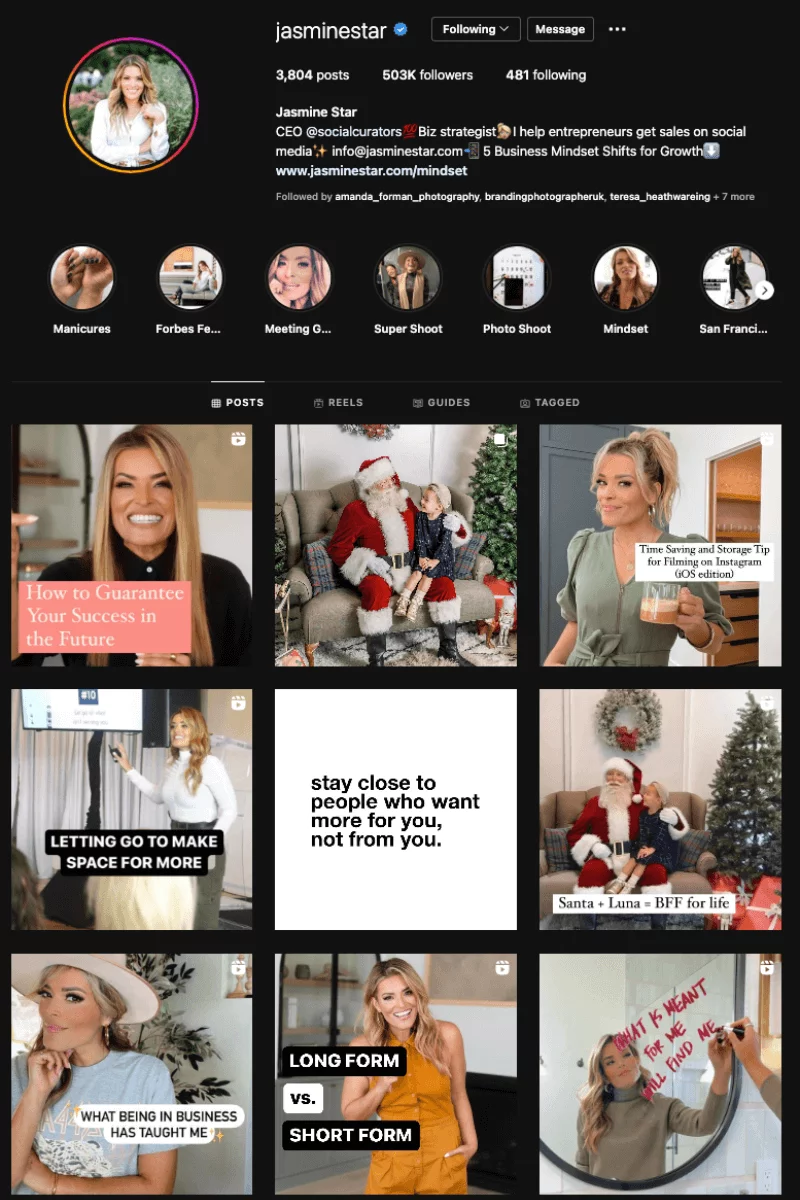 Where to follow:
Jasmine always has such supportive digital marketing advice when you need that extra motivational nudge. Follow her on Instagram @jasminestar.
5. Matt Navarra: social media influencer and commentator extraordinaire
Matt Navarra is one of Europe's most in-demand social media industry commentator experts. He has advised all the big hitters – including Meta, Google, BBC, United Nations, the British government, the list goes on!
Matt has 15+ years of industry experience and is regularly sought as a social media thought leader by top international news channels.
Social media managers from huge worldwide brands hang out in Matt's Facebook group "The Social Media Geekout" and his newsletter, "Geekout with Matt Navarra", is one of the very best with over 25,000+ subscribers!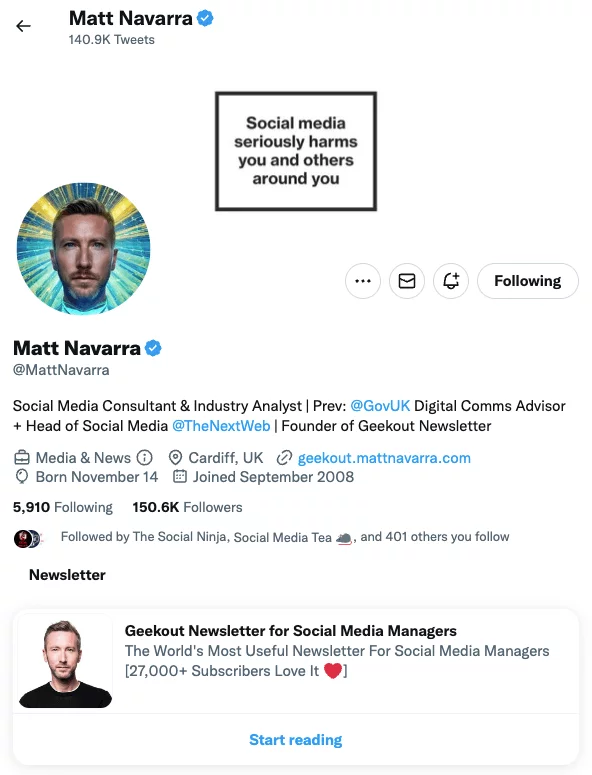 Where to follow:
If you're a social media manager, catch up with Matt for all the latest social media news on Twitter @MattNavarra, in The Social Media Geekout Facebook Group or on LinkedIn.
5. Brock Johnson: the king of Reels
If you want to know how to be the type of content creator that can create and post Instagram Reels every day, Brock Johnson is your guy!
Brock has an incredible output rate & is known for creating multiple Reels, posts, and stories every day for his followers.
His IG profile is basically a huge library of posts about the Instagram algorithm and how to master social media growth hacks for your business.
Brock's down-to-earth content marketing tips will help you get past the occasional creative block.
Check out his best posts: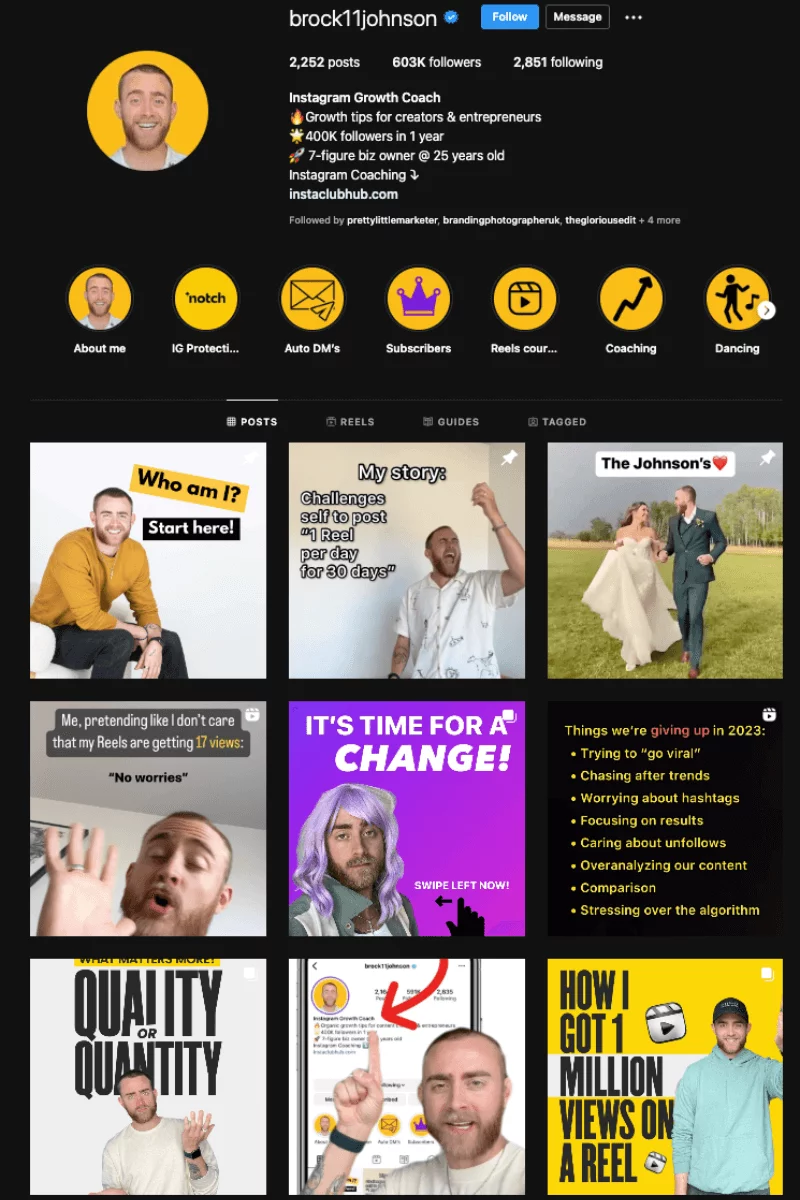 Where to follow:
If you also like a social media expert who's not afraid to make fun of himself or break out dancing, you can follow Brock on Instagram @brock11johnson. And, as you'd expect from a guy who's an expert in short-form video, you'll also find him on TikTok.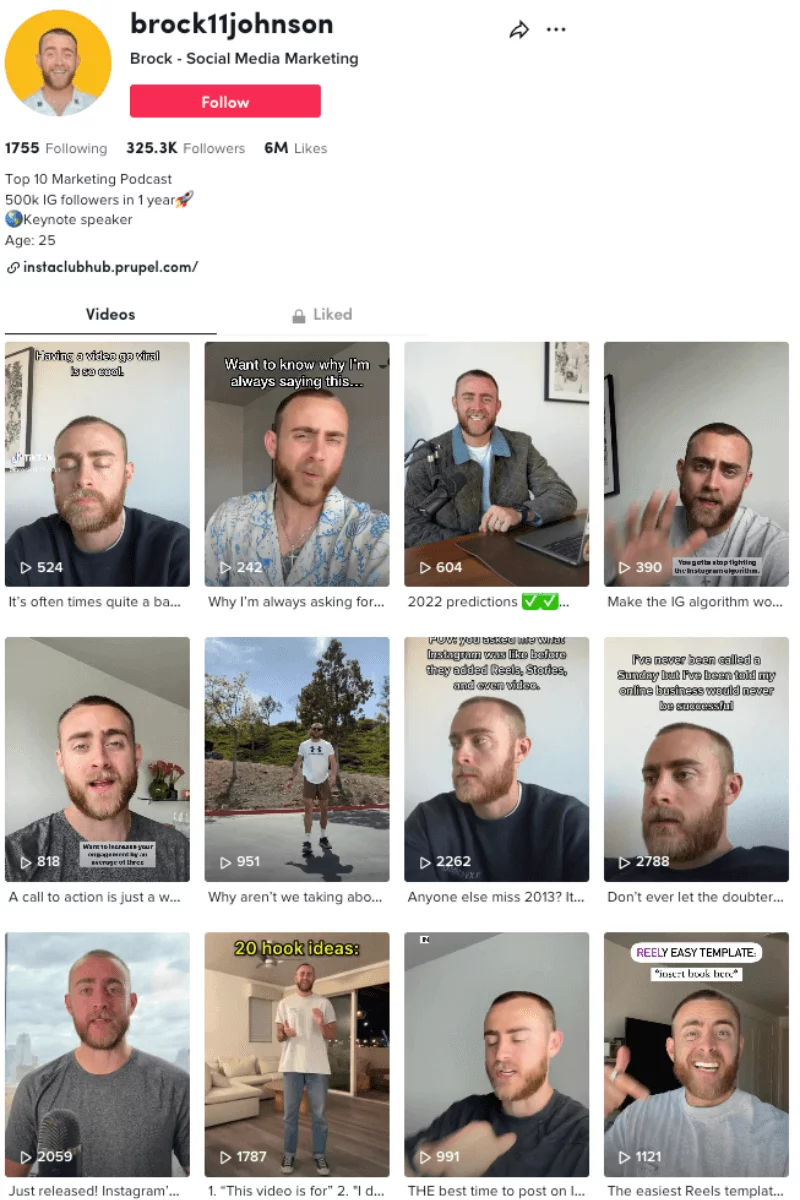 6. Mon @thesocialista: turning followers into dollars!
Founder Monique (aka Mon) is an Instagram evangelist delivering exclusive masterminds, summits and seminars. She's passionate about helping you to get unstuck with content creation and ramp up your Reels strategy.
Practical & easy to understand, Mon's bubbly personality makes her an absolute joy to watch.
Her standout social squad program is hugely popular and teaches her signature content runway framework to help you boost your sales.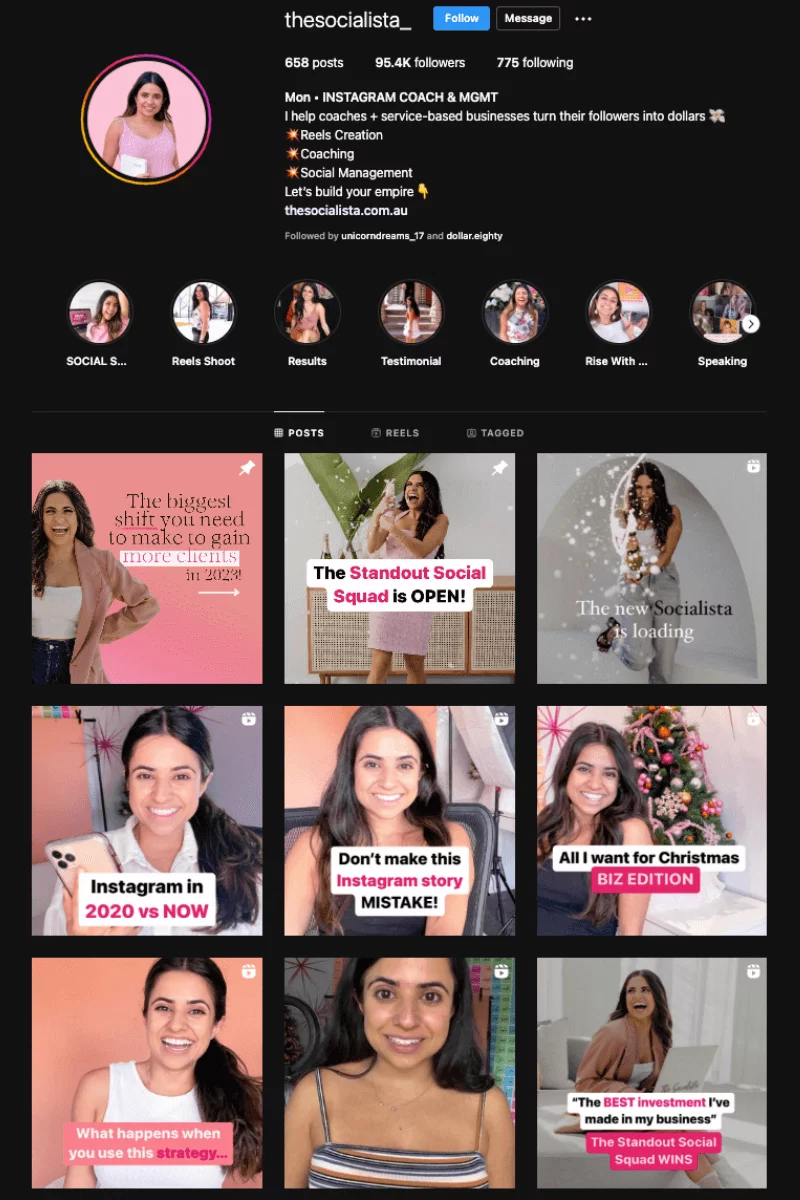 Where to follow:
Follow Mon @thesocialista on Instagram for some high-octane encouragement for your socials!
7. Peg Fitzpatrick: visibility strategist with a rockin' positive attitude!
Peg Fitzpatrick is a popular social media speaker, trainer, and social media author. She delivers the social smarts and creative inspiration for entrepreneurs and small business owners and is the co-author of "The Art of Social Media: Power Tips for Power Users".
With over 1.5 million followers across all the major platforms, she'll help you stay on top of the latest tips and tools you need to grow your business and develop your brand.

Where to follow:
If you're a fan of positive vibes, you'll find Peg Fitzpatrick on Twitter and on her Instagram account.
8. Amy Porterfield: email marketing guru
Amy Porterfield shows how to build highly engaged email lists and online marketing strategies that sell to your customers with ease.
She is the host of the top-ranked podcast "Online Marketing Made Easy" and has been featured in the likes of Forbes, Business Insider, Entrepreneur, Fast Company and many more.
Amy teaches business owners how to build, grow and streamline their businesses. She has a free masterclass "The relaxed business owners guide to building a profitable email list" where she details how she adds 1,000+ new subscribers every week with simple lead generation techniques.
I love her easy-going and friendly style and I've taken her advice numerous times (hint: it always works!)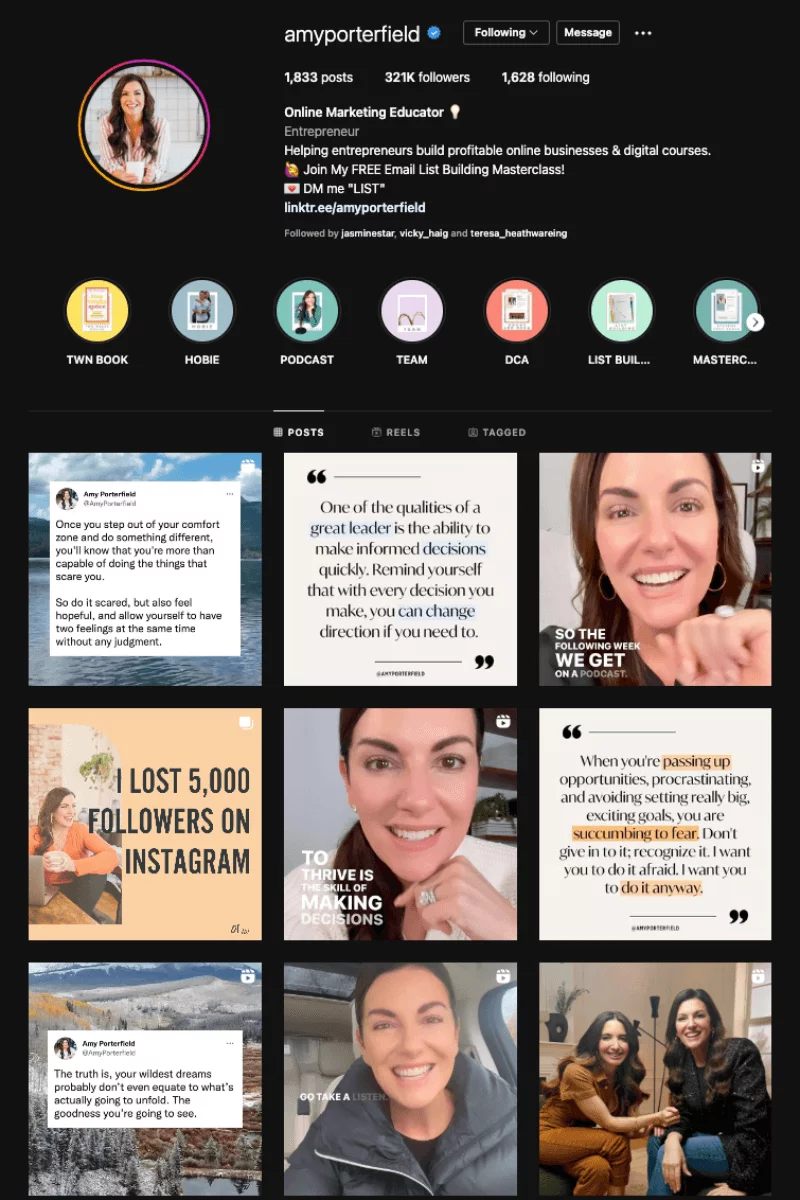 Where to follow:
Follow Amy's amazingly helpful tips and business advice on her Facebook page, Instagram or Twitter.
9. Abi @holler.academy: grow and thrive coach on Instagram
If you want to learn how to create killer social media content that converts, meet Abi, the founder of the Holler Academy. She's passionate about teaching creators, coaches, and small business owners how to become more influential online.
Abi provides daily posts on Instagram growth, how to create hero content, business tips, influencer marketing, and how to become an influential force for good in the online world.
Abi has a BA (Hons) Degree in Marketing (1st class) and a Master's Degree in Communications. She spent over 3 years as a University Marketing Lecturer and has over 6 years of digital marketing experience.
Her online social media management courses and academies deliver everything you need to know, from how to increase your engagement to the types of social media tools you should be using.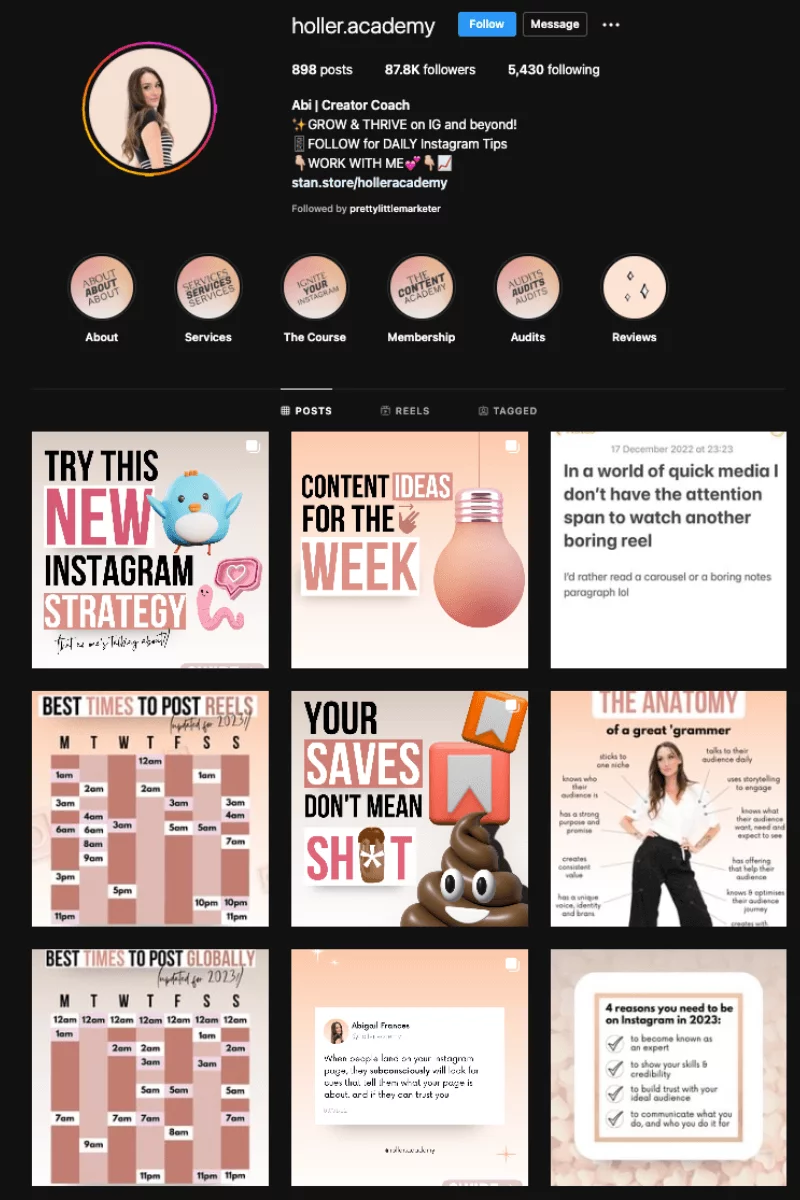 Where to follow:
Abi offers so much great information to get stuck into! Check out all the amazing resources from @holler.academy on Instagram.
10. Hello Media: the no-BS boutique social media agency
Hello Media spills the beans in order to help you achieve your social media marketing goals. They break down how to position and repurpose your content while pulling down old-fashioned marketing advice concepts currently holding your business back from the success it deserves.
This is a team effort headed up by CEO and founder Tricia Piepho, who has over 9 years of marketing and business ownership experience.
Tricia has a deep passion for helping small businesses with a holistic marketing approach to paid and organic social media campaigns, using customized solution-based social media strategies.
She and her team deliver actionable tips and motivational content about social media marketing, content creation and entrepreneurship. This friendly boutique marketing agency is a great one to add to your list if you're looking for a good all-around social media power influencer to follow!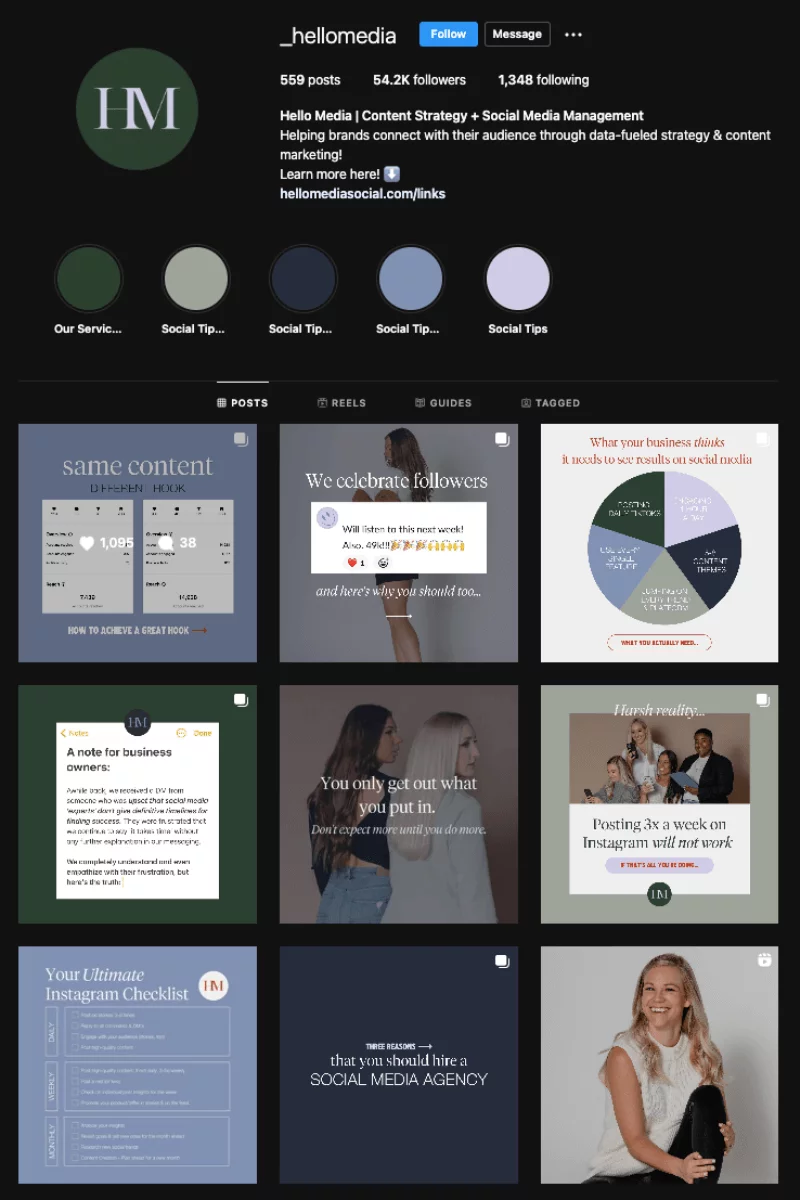 Where to follow:
The Hello Media team are easy to find on Instagram, Facebook, Pinterest, and LinkedIn.
11. Rachel Pedersen: queen of social media
Rachel Pedersen teaches busy people how to become successful social media managers, and she's got the stats to prove she's the best at what she does.
Since 2016, Rachel has produced stellar results with and for her clients & students. She grew a skincare company by 6725% and scaled a weight-loss company from $300k a year to over $3M a year in under 12 months. And if all that wasn't enough, she also helped thousands of students from 74 countries to become social media managers.
No wonder Rachel has become one of the top social media consultants in the world and has been featured on USA Today, Inc., Medium, Today, Neil Patel and Entrepreneur.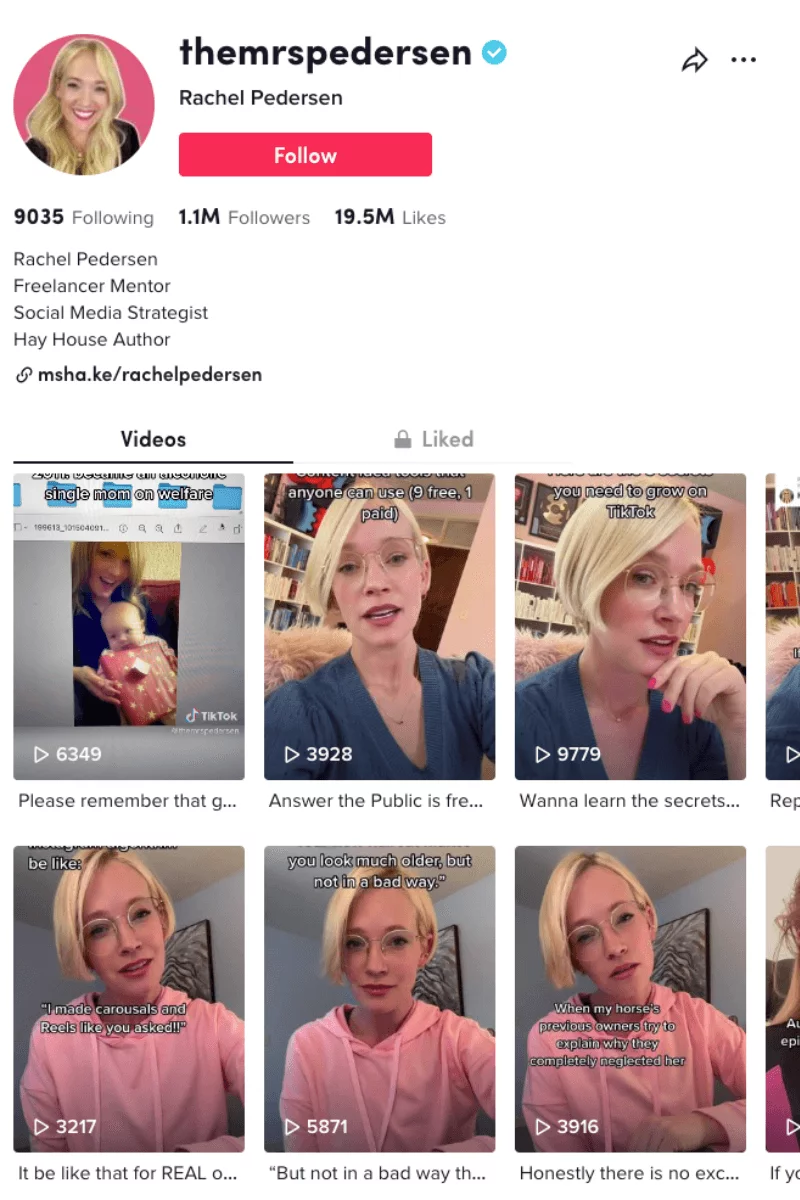 Where to follow:
Rachel is extraordinarily honest about herself, and this integrity shines throughout her programs and courses. Follow @themrspederesen on Instagram, Pinterest, Twitter, YouTube, and TikTok.
Which social media experts caught your eye?
One thing all these digital marketing gurus have in common is their genuine desire to help marketing professionals like us.
Whether you need inspiration for your Facebook marketing, tips on search engine optimization techniques, or ideas on becoming a successful social media blogger, tap into these experts' knowledge to learn how to:
boost your social media presence

take your brand to new heights

learn what it takes to understand consumer behavior

tap into the needs of your target audience

improve your online customer service

discover all the latest social media tools updates
Joanna Aitkens
Joanna Aitkens is the founder of Aitkens Media Ltd., an international social media marketing agency based in the UK. She has over 25 years' experience as a freelance writer and journalist. Joanna is also a respected guest speaker and has appeared at various events to discuss the impact of social media marketing and the evolution of business communications.