Valentine's Day 2022 – whether you like it or not, you're bound to be affected by it.
But hey, even if you don't have a significant other next to you, that's ok. Your work is always going to be there for you. Even when you don't want it to! Isn't that sweet?
As a social marketer, most likely you've already had to post something about V-day. Even more likely, you're going to have to do it next year, too. Here we'll show you Valentine's campaigns we think will go down in Valentine's Day history this year, so you can get inspired even if you hate all the commercial chaos around Valentine's Day 2022.
Find ideas on Valentine's day marketing campaigns:
Facebook Campaigns | Twitter Campaigns | Instagram Campaigns
Youtube Campaigns | Special Projects Campaigns
Best Valentine's Day campaigns on Facebook
What have we seen on Facebook for Valentine's Day 2019? It was mostly about videos, many brands and pages are working nowadays to produce as much video content as possible. As we all know the one format that is driving significantly higher shares on Facebook is videos. We've seen offers, as usual, beautiful photos, gifs, cute content or fun images for those in need.
1. Special Box from Dunkin' Donuts
2. Nutella Is Enough to Find Your Perfect Match
3. Shred Your Ex with Hooters
4. Get Your Letter Ready with Grammarly
5. Pusheen Taking Advantage of Facebook's New Feature
6. Terry Crew's Best Pickup Lines
Best Valentine's Day campaigns on Twitter
Twitter is all about proper content, full of retweets and favorites. People that are standing behind these brands, food, experiences, and Twitter itself, deserve a loving prize! Check it out, and tell us what you think about Twitter's news feed on Valentine's Day 2019.
7. Marks & Spencer Can Get You in Trouble with the Love Sausage
Are you ready for our Love Sausage? Heart-shaped, lightly-truffled, wrapped in bacon and in store tomorrow. Say it with sausages – tag who you'll be sharing your Love Sausage with this Valentine's Day! #MyMarksFave pic.twitter.com/VPQi4ENnsn

— M&S (@marksandspencer) 7 februarie 2019
8. Henson Family Dental Understands True Relationships
Schedule a check-up today! #truelove #HappyValentinesDay #hensonfamily #hensonfamilydental #dentalcare pic.twitter.com/gh6F86s9cP

— Henson Family Dental (@hensondental) 4 februarie 2019
9. Tinder Invented a Candle for all Their Single Peeps
Nothing holds a candle to being single. That's why we teamed up with @HomesickCandles to bring you our exclusive Single, Not Sorry candle. Being single never felt or smelled better. Click link to purchase. https://t.co/Qx0GgDoj6g

— Tinder (@Tinder) 1 februarie 2019
10. Twitter Loves a Good Love Story
Have you met a partner or friend through Twitter?

We're looking for the best love stories to celebrate this Valentine's Day. We'll be gifting the most heart-warming tale with a personalised set of rings. Tweet your stories to @TwitterUK using #WeMetOnTwitter pic.twitter.com/xCOvwl4Sx9

— Twitter UK (@TwitterUK) 11 februarie 2019
11. Krispy Kreme Has an Option for Everybody
No words needed to say "I love you". Gift your special someone with our premium heart shape doughnuts! ❤️ pic.twitter.com/bV1tCtIbbF

— Krispy Kreme PH (@KrispyKremePH) 6 februarie 2019
12. Epicurean Hotel Knows that the Way to One's Heart Is Through the Stomach
It's the sweetest time of the year! Join us for a Valentine's Day Edition of Cupcakes & Cocktails on February 13th from 7-9PM. Delicious libations will be served while we're taught to make Whoopie Pies! Make sure to grab a ticket for you + your ❤️, here: https://t.co/s2fXV0nHS3 pic.twitter.com/1efUEfVrvA

— Epicurean Hotel (@EpicureanHotel) 5 februarie 2019
13. Mr. Peanut Butter Plays the Dr. Love Role, and He Has Great Help
In a crunch for #ValentinesDay? I'm teaming up with love expert, media personality, and author @AskDrRuth to reopen her hotline and answer YOUR burning questions.

Tweet me using #AskDrRuth OR leave a message at 844-4-DR-RUTH. pic.twitter.com/DsXF6EqyQA

— Mr. Peanut (@MrPeanut) 5 februarie 2019
Best Valentine's Day campaigns on Instagram
Insta, your turn! Correct me if I'm wrong, but I think Valentine's Day 2019 is mostly focused on women this year. Ladies, you deserve to be spoiled. Instagram, let's see what you've got.
14. MeUndies Is Taking Care of Everybody
15. The Good Advice Cupcake Is Funny as Always
16. Reserve a Ride with Uber
View this post on Instagram
17. Lancome Love Him, Love Her, Love You
View this post on Instagram
18. Venus et Fleur & Laneige Giveaway
View this post on Instagram
19. Wholefood's Chocolate Raspberry Cake
View this post on Instagram
20. LaCroix's All You Need Is Love and LaCroix
View this post on Instagram
21. Marshalls' Swoon Worthy Gifts
View this post on Instagram
22. Starbucks' You're My Cold Boo
View this post on Instagram
24. Dunkin's Valentine's Day Donuts
View this post on Instagram
25. Canva's Treat Yourself
View this post on Instagram
26. Grammarly's Word Search
View this post on Instagram
Best Valentine's Day Campaigns on YouTube
Some real deal is happening on YouTube also. Brands are drowning in love, cheesiness but they also have the singles' back. In love? Choose pink. No partner? Choose humor. Let's see what you can enjoy:
27. Ryanair Helps People Escape the Nonsense
28. Hallmark Has Special Cards for this Valentine
Probably the Only Reddit Campaign this Valentine's
29. KFC
I want to say something about this campaign, but I can't find the words to describe it. This is some deeply fried creativity.
[WP] You and your Valentine arrive at a romantic cabin in the woods. You walk inside to discover a Colonel Sanders Bearskin Rug. Best story wins a Colonel Sanders Bearskin Rug IRL. from u/ColSandersThrowaway
Special Projects for Valentine's Day
There are a lot of creative campaigns that happen on a landing page – and for a good reason: nothing compares with the visuals and the mechanisms you can pull in your court. This is what happened in 2019:
30. Australia Zoo Has a Little Something for Everybody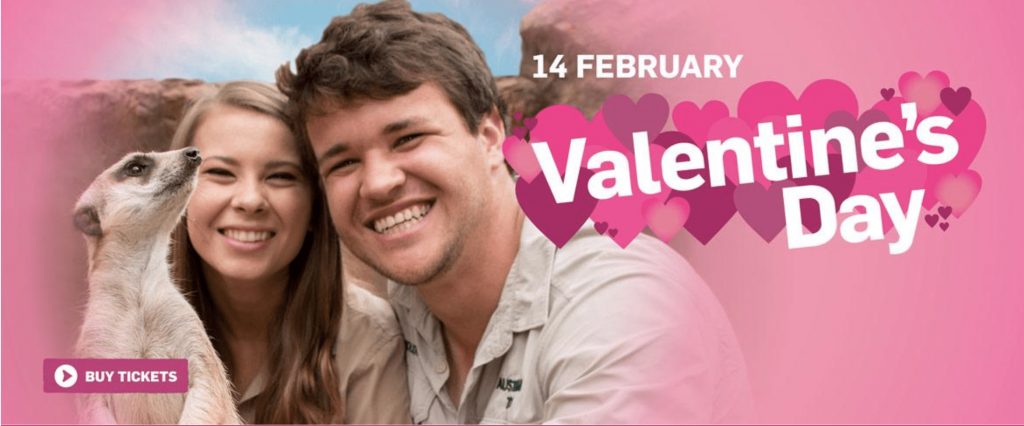 31. Dunkin' Donuts Offers Free Dunkintines

32. Google Prepared a Love Report

That's it from us. We really fell for what is happening in the month of love. Professionally speaking. Do you have other favorite campaigns? Share them in the comments!
Want to get more inspiration?