Posting authentic content on social media has the power to open up more selling opportunities, foster deeper customer relationships, and enhance brand loyalty in the long run. But do businesses prioritize authenticity? Unfortunately, the answer is not always yes.
Here is the deal: most company accounts have polished feeds. They post carefully curated content. And how they engage with their audience is also well thought-out and planned. Sure, there is nothing wrong with that, but they also emphasize vanity metrics such as likes, reshares, and follower counts, which invariably lead to unauthentic content and interactions.
BeReal, on the other hand, is an innovative social media app designed to restore genuineness to the content posted. It encourages users to spontaneously share a daily photo that captures their current activity or state of being.
Naturally, BeReal also allows businesses to stand out by embracing the real and the raw with this unique concept. In this in-depth guide, we will break down everything there is to know about the photo-sharing app and how companies can leverage it for their marketing efforts:
What is BeReal?
BeReal is a French social media app that encourages users to share unplanned and unfiltered moments of their daily lives. The app sends a notification every day, prompting users to take a picture of themselves and their immediate surroundings within a random 2-minute window.
This compels them to connect with each other through uncurated snapshots of their lives rather than curated or staged content often found on other social media platforms. Initially launched in 2020, it was not until early 2022 that BeReal truly exploded in popularity.
Its success was primarily driven by a targeted ambassador program in the US, which helped it gain traction on college campuses and beyond.
What are the special features of BeReal?
So after the BeReal app sends a random daily push notification titled "Time to BeReal" to all users within the same time zone simultaneously, it utilizes both front and rear cameras to enable them to take selfies that display their real-time activities in two minutes.
This short span ensures users do not have time to plan, strategize, or curate content. Instead, they share whatever they are doing at the moment the notification arrives, which could be at varying times on different days.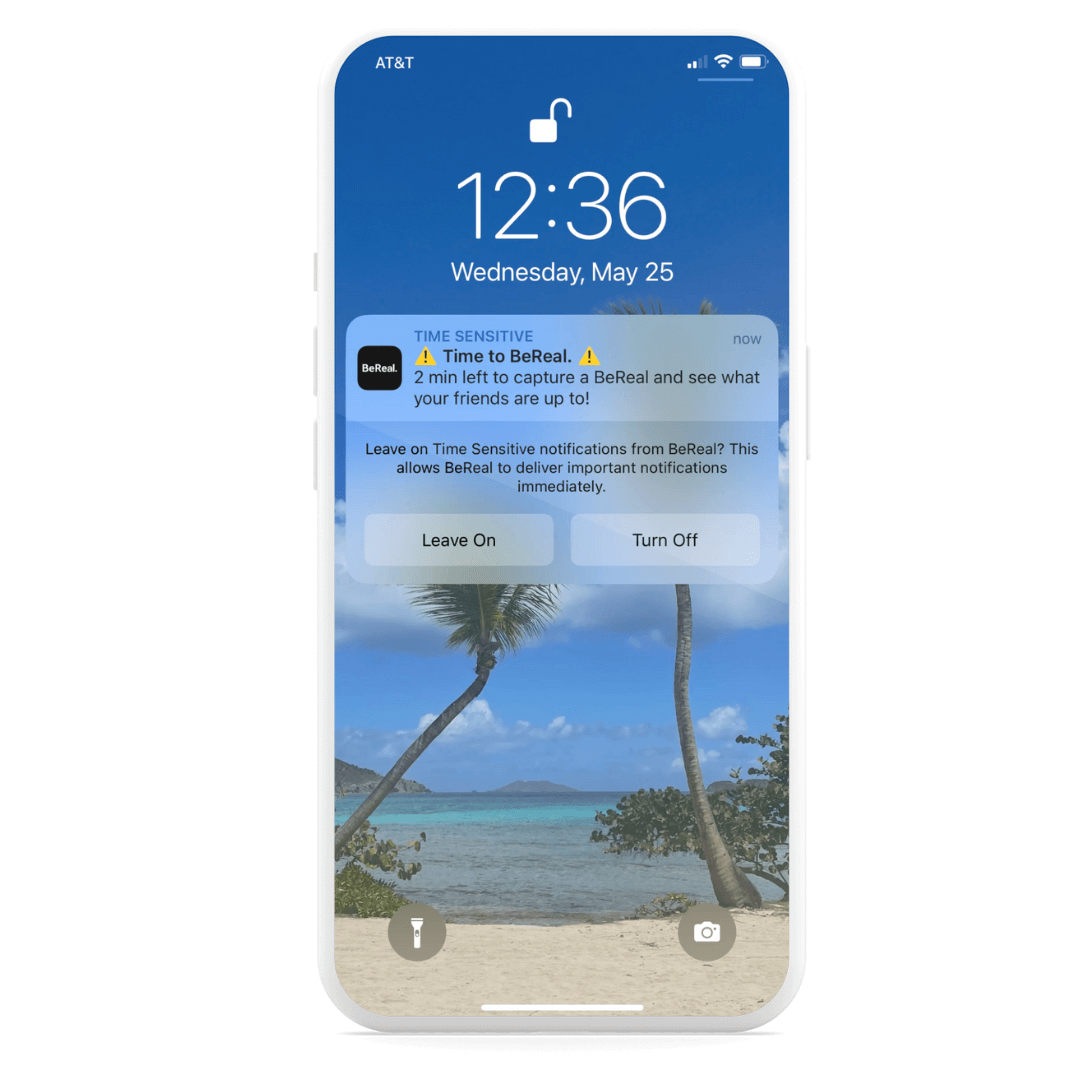 While users can retake photos within the allotted time, their followers on the app can see the number of attempts. If the 2-minute deadline is missed, the user can still post, but BeReal will label it as "posted late".
The social media app lacks a 'like' feature, but users can react to posts using their RealMoji — a selfie-based emoji reaction. With no filters, editing options, or video capabilities, content is posted in real-time. It also does not display follower counts, and no advertisements are present.
What benefits do users enjoy on BeReal?
BeReal delivers numerous advantages, cultivating a more intimate online experience for everyone on the app by:
Reducing pressure:

Users can treat BeReal as a "little photo diary" without the obligation to entertain or inform their audience.

Enhancing connections:

They can get to know each other on a deeper level as they share unfiltered moments in real-time.

Minimizing robotic engagement:

The app eliminates superficial interactions via likes, shares, and comments, which is a breath of fresh air in the social media realm.

Encouraging more authenticity:

Emphasizing instant posting promotes a more genuine and honest portrayal of the users' experiences.
BeReal's increasing popularity is evident in its user statistics:
The number of monthly active users on BeReal experienced a remarkable surge in 2022, soaring from 920,000 at the beginning of the year to an impressive

73.5 million

by August. In February 2023, the app continued growing, with more than 10 million people accessing it daily.

In September 2022, BeReal topped the charts as the most downloaded app for iPhone on the Apple App Store globally. It amassed around

13.9 million

downloads from iPhone users during that month.



The 16–25-year-old demographic makes up

43.2%

of its US user base. Interestingly, a larger portion of users, 55.1%, falls within the 26–44-year-old age range. Users aged 45 and older account for the remaining 1.9% of BeReal's audience.
Why should businesses be on the BeReal social media app?
By leveraging the BeReal app's unique mechanics, businesses can present a more relaxed and approachable image and appeal to a different audience segment. Here is why they should consider BeReal marketing:
1. Drive indirect sales
By sharing valuable and engaging content on BeReal and using its clickable links &and swipe-up calls-to-action, businesses can drive traffic to their website and attract and retain a loyal following who may be more likely to purchase their products or services.
2. Stay ahead of the competition
As BeReal marketing is not yet an 'in-thing,' businesses that join early have the upper hand and stand out more easily than on saturated platforms like Instagram. The app's user base is growing rapidly, with a particular emphasis on Gen Z users inclined towards "real content."
3. Foster closer relationships and deeper connections
BeReal is known for promoting authenticity and transparency, which aligns with the customers' growing demand for relatable content from businesses. By sharing that on BeReal, they can build more meaningful bonds with their audience.
BeReal marketing tips for businesses
Using BeReal for promoting products or services may seem challenging initially, but it gives a chance to break free from conventional marketing techniques and try something impulsive and fun. Here is how you can get started with BeReal:
1. Post behind-the-scenes content
Younger audiences appreciate humor and honesty from businesses, and they enjoy getting a glimpse of what happens "behind the camera." In fact, 82% of Gen Z buyers are likely to trust a brand that uses real customers' images in its advertisements.
Picture this: if you were using BeReal personally, you would share real-time snapshots of your activities. As a business, you can do the same and humanize your presence. If you have a similar target audience, you must try the BeReal app.
Take PacSun, an LA-based clothing brand, as an example. It uses the platform to share amusing behind-the-scenes posts with its young customer base comprising Gen Zers and millennials.
It once shared a seemingly spontaneous photo featuring three girls casually leaning against a white wall. Though not immediately apparent, the models are wearing outfits from PacSun's denim and casual wear collections, subtly showcasing their products.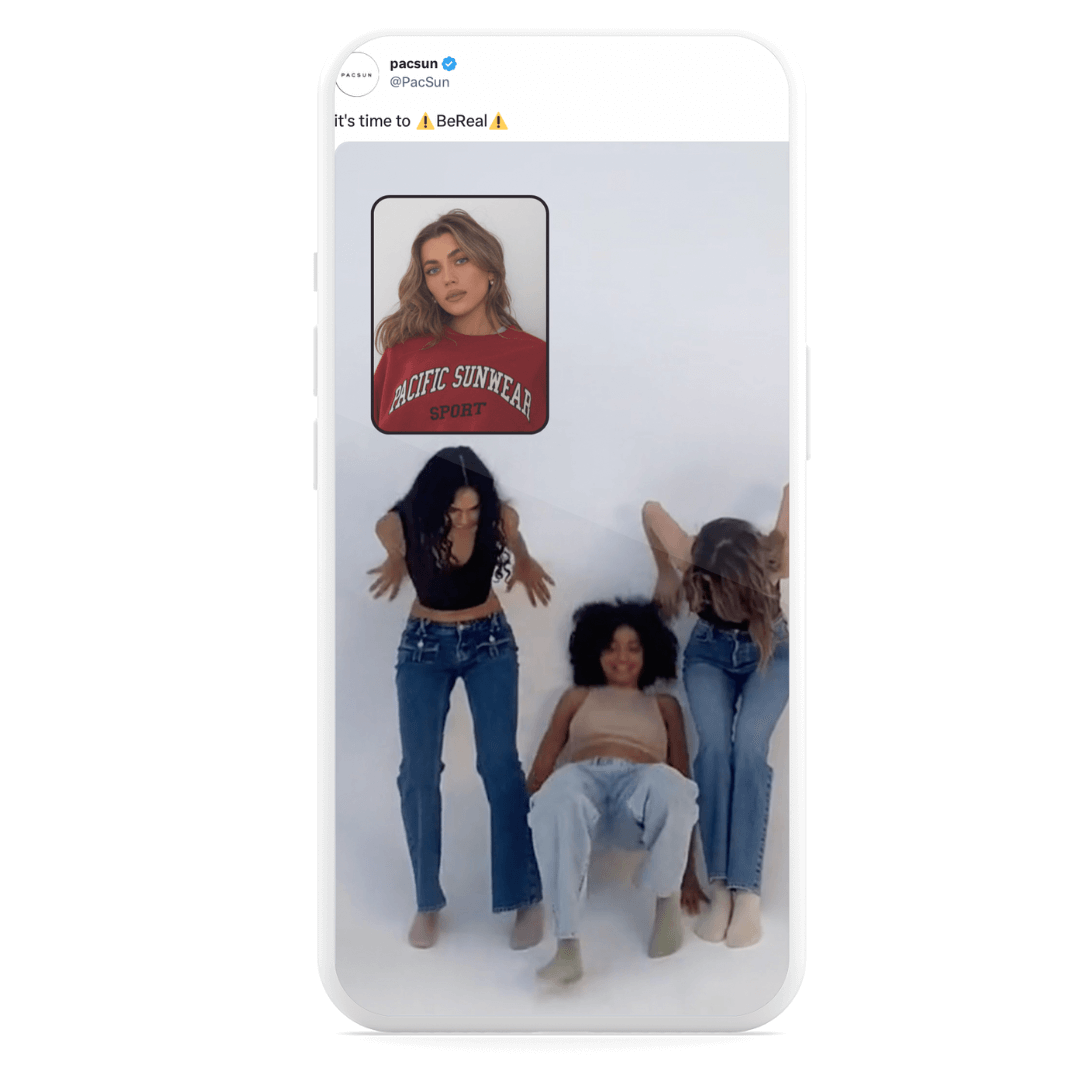 Such candid, impromptu photos can transform a brand from a faceless company to a trusted companion. With 57% of customers willing to pay more for products from a trusted brand, it is essential to "BeReal!"! Digital marketing expert Shane Barker stresses the fact that authenticity starts with transparency.
Be open about where you source your products from and how you make them. You can even create behind-the-scenes videos or a free walk-in policy to build customer trust and credibility. 

I also think that the era of overly promotional advertisements is over. People can see through it. Instead, focus on showcasing real customers in marketing campaigns.
Shane Barker, Digital Marketing Specialist | CEO & Entrepreneur
On the other hand, Rick Ramos, author & speaker argues that understanding your brand and audience is the key to successful marketing campaigns.
I would encourage people to spend the time to understand their brand and the target audience it serves. Having "living documents" for a brand in place will go a long way to help bring authenticity into your content development.
Rick Ramos, author and CMO | TransformYourMarketing.com
2. Infuse playfulness into your posts
To make the most of the platform, share simple and genuine content showcasing your brand's personality and values. Avoid overly polished and edited photos, and do not worry too much about imperfections like blurred or backlit shots.
Instead, capture raw moments and experiences that will resonate with your audience. Kiehl's, a well-known skincare brand, has successfully adopted a simplistic approach.
They actively engage with their audience on TikTok, asking, "What content do you want to see on [our] BeReal?" This two-way conversation helps build brand trust and allows Kiehl's to manage the new platform confidently.
Kiehl's has also made Mr. Bones, their skeleton mascot, the star of their BeReal account. It takes followers behind the scenes, sharing fun and engaging informative content.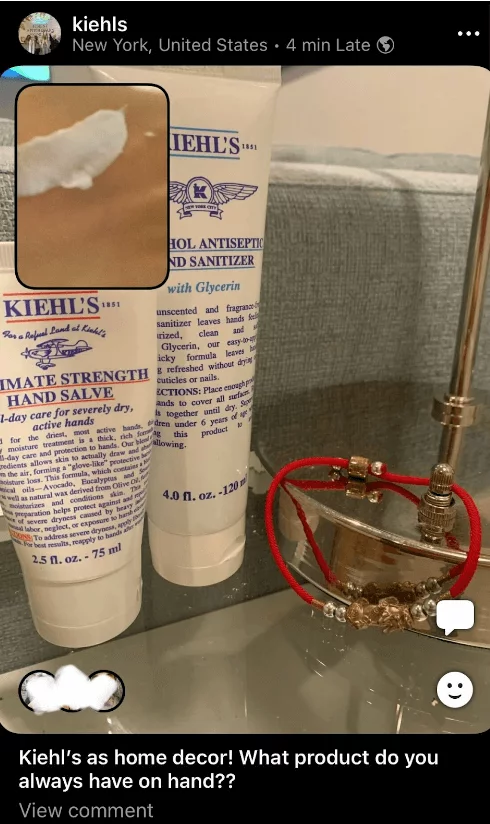 The approach provides unique insights into Kiehl's new and classic products, resonating with BeReal's emphasis on authenticity and genuine connections.
3. Look for iconic moments to share
Embrace the value in mundane situations or unexpected moments. BeReal's unpredictability, with users being unsure when the notification will arrive, has led to many going viral for sharing their incredible memories on the app!
Mada Graviet, a 24-year-old influencer from Utah specializing in lifestyle content, boasts a TikTok following of more than 578,100. In September 2022, she opened up about her upcoming surgery with her audience. However, just as she was about to be anesthetized on the procedure day, her BeReal notification rang out on the phone.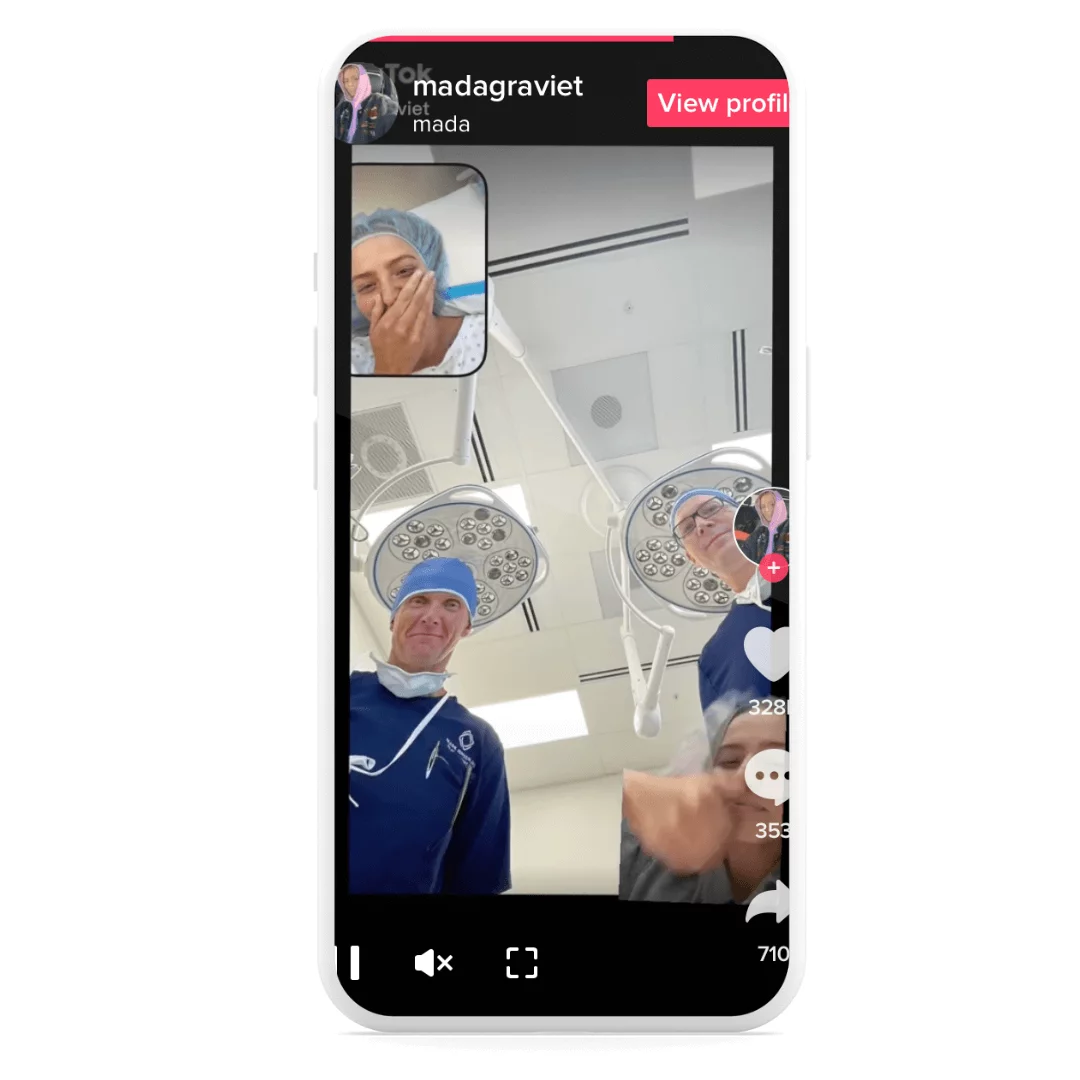 Graviet did not hesitate to post a screenshot of her BeReal (in her hospital gown) on TikTok, which garnered 2.3 million views! Viewers found the picture "iconic" and "comedy gold."
If you're aiming for a community-led growth strategy, engaging your community means sharing your journey with them. The more transparent and close you are with your community, the more authentic and engaging your content will be.

Instead of trying to create the best possible editorial line, focus on understanding and listening to your community. They will guide you in building your content based on their expectations. Think about your customers and your community, and they will return the favor!
Yoann ROS, Head of Marketing Bricks.co
In other news, Galadriel Blomljus Enhageram, a 20-year-old from Sweden, attracted attention on TikTok by posting a photo montage of BeReal posts documenting her experiences near the stage at multiple Harry Styles concerts in 2022, which obviously sparked enthusiasm on the platform.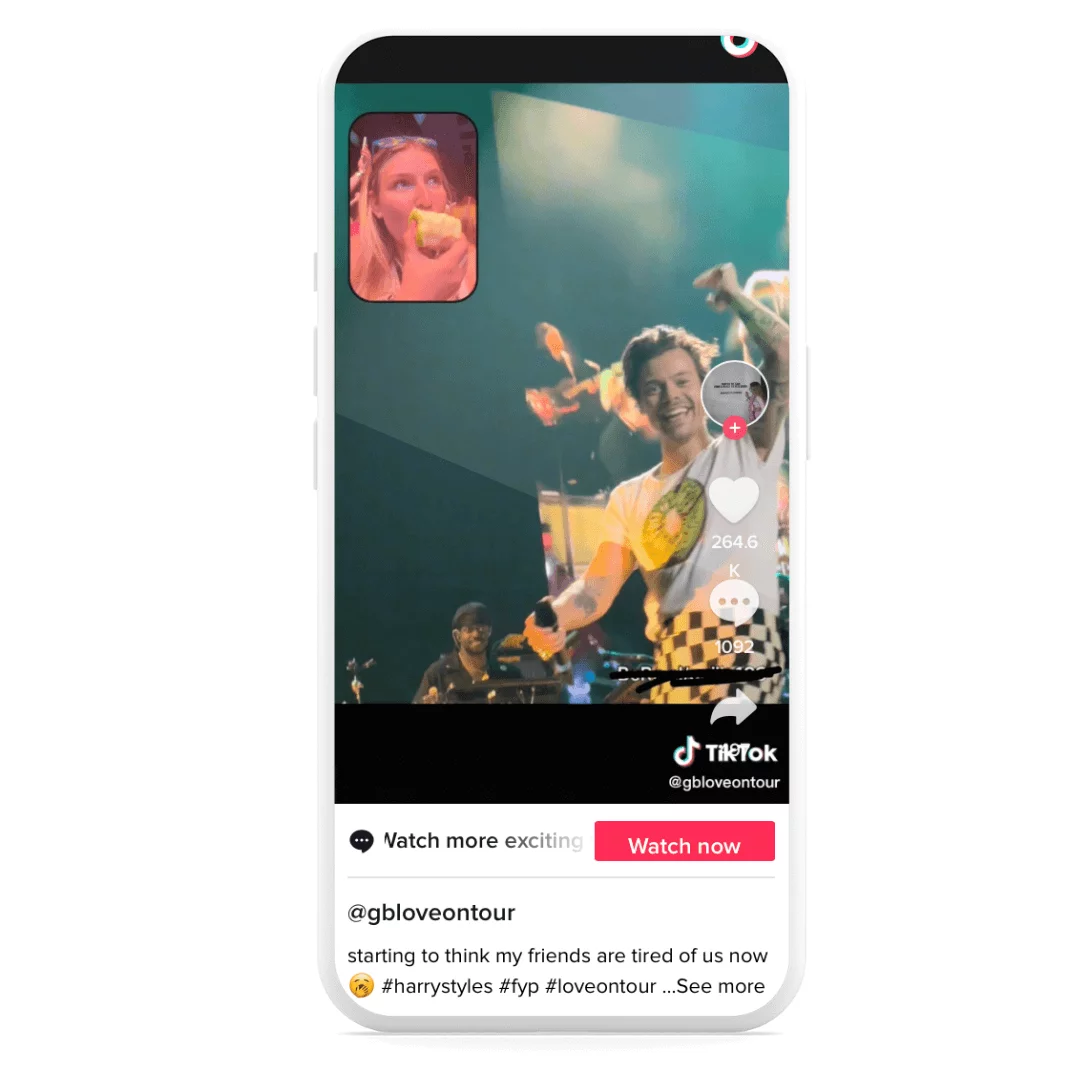 As a business, you must always look for moments you can capture and share with your audience. 
We talk all day about creating communities and engaging with customers online. But we do it behind the veil of the corporate brand. 

Sure, there are a handful of company brands across GTM strategies that have nailed it. (Some heavy hitters are Semrush, Duolingo, and Wendy's.) But we have forgotten that behind those brands are humans. And humans enjoy being with and learning from other humans. 

So when it comes to being authentic with marketing, forget the B2C or B2B labels. Try H2H.
Hannah Szabo, Content Director
4. Organize contests and giveaways
By nature, these tactics align with BeReal's principles of interactivity, enabling you to increase social media engagement and acquire new followers. Plus, people enjoy participating for a chance to win something they desire.
Chipotle, a Mexican fast-food brand, was one of the pioneers in BeReal marketing, thanks to their "For Real" campaign launched in spring 2022. Through BeReal, it increased its follower count by offering exclusive deals to those who had the brand as a friend on the platform.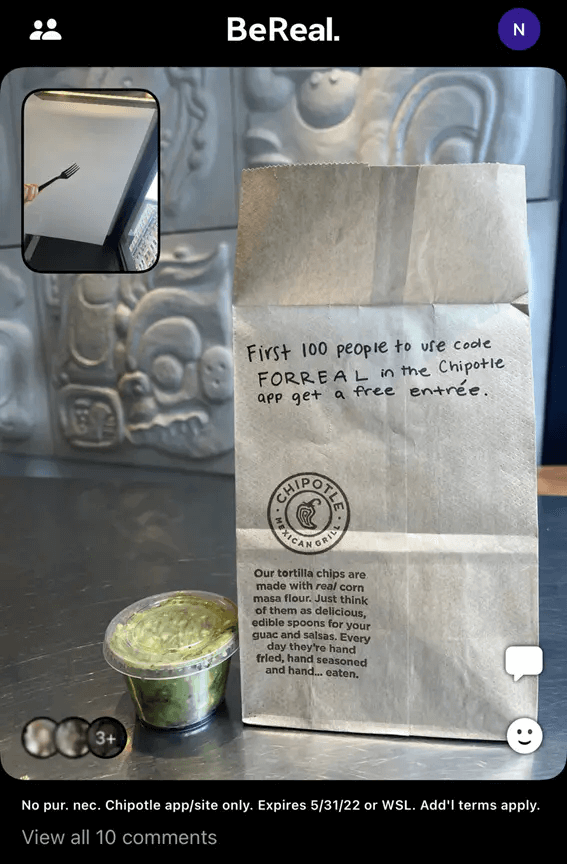 Not only this – Chipotle's BeReal marketing continued with the announcement of their annual Halloween event, "Boorito," and the launch of the "BooReal sweepstakes."
On October 31, 2022, customers dressed in Halloween costumes could visit a Chipotle restaurant, take a BeReal, and post it on Instagram with the hashtag #BooritoSweepstakes and the brand's tag for a chance to win "Burritos for A Year."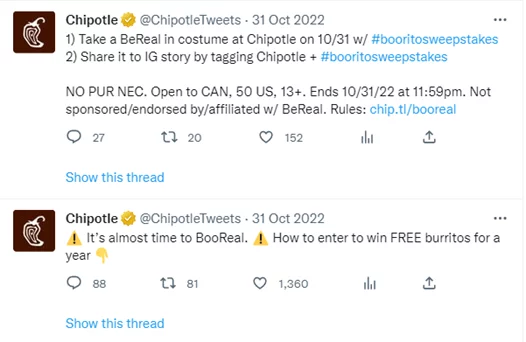 Elf Beauty also successfully utilized BeReal to promote their new products, capturing the platform's emphasis on friend-centric accounts. They offered free products to the first 150 accounts that befriended them on BeReal, attracting a significant number of followers.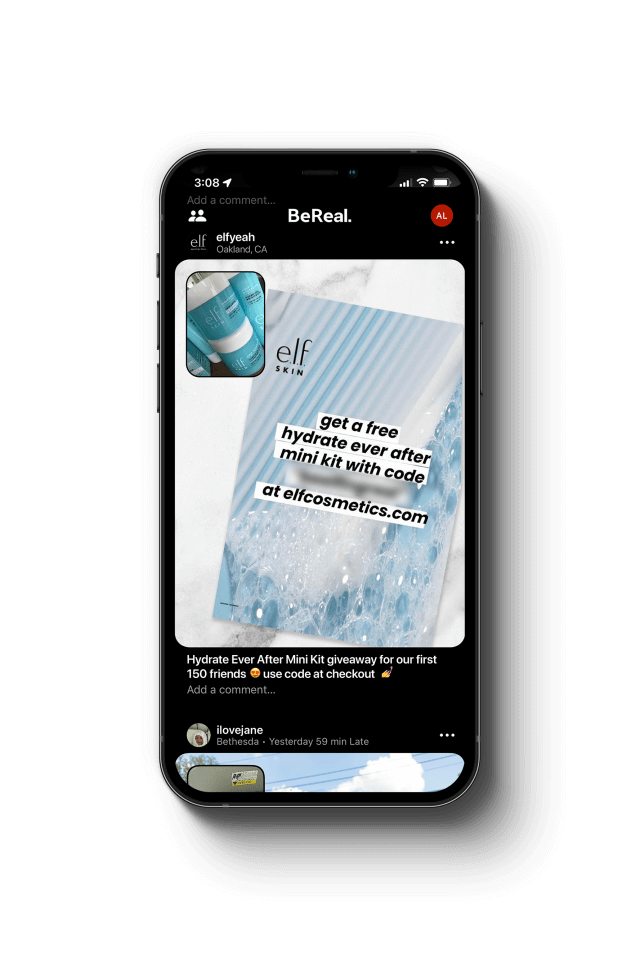 The first 150 users who sent a friend request to the @elfyeah handle received a promo code for a free Hydrated Ever After Skincare Mini Kit and free shipping. Hosting such contests and giveaways can create buzz, attract new followers, and grow your online presence.
Even if you are a small business with a limited budget for prizes, you can provide a small piece of company merch, offer early access to your new product line, or give away free tickets to a hot balloon trip or something. The goal is to be creative and encourage people to interact and connect with you.
5. Get your team involved
Managing BeReal demands accountability. Assign a team member or a dedicated group to be your brand's BeReal representatives. Ensure they understand the app's random timing and are comfortable with the "on-call" nature of BeReal.
They should also be free to post in real-time without being bogged down by your complicated approval processes. Businesses that align well with BeReal's platform can benefit significantly from sharing behind-the-scenes content – just as PacSun did!
Customers can view your brand as more than just a business by personifying it. Posting candid photos from meetings, events, or daily office life can help them see you differently, promoting camaraderie and loyalty. So make sure you appoint someone who understands this properly.
6. Do cross-promotions across social media
By sharing your BeReal content on channels with a more extensive following, you can capitalize on the content you have already created and increase awareness of your presence on BeReal. 
The collaboration between Trident Gum and Sour Patch Kids is an excellent example of cross-posting content. After announcing their partnership on BeReal with a simple image of their new product, they shared the post on Twitter to expand its reach.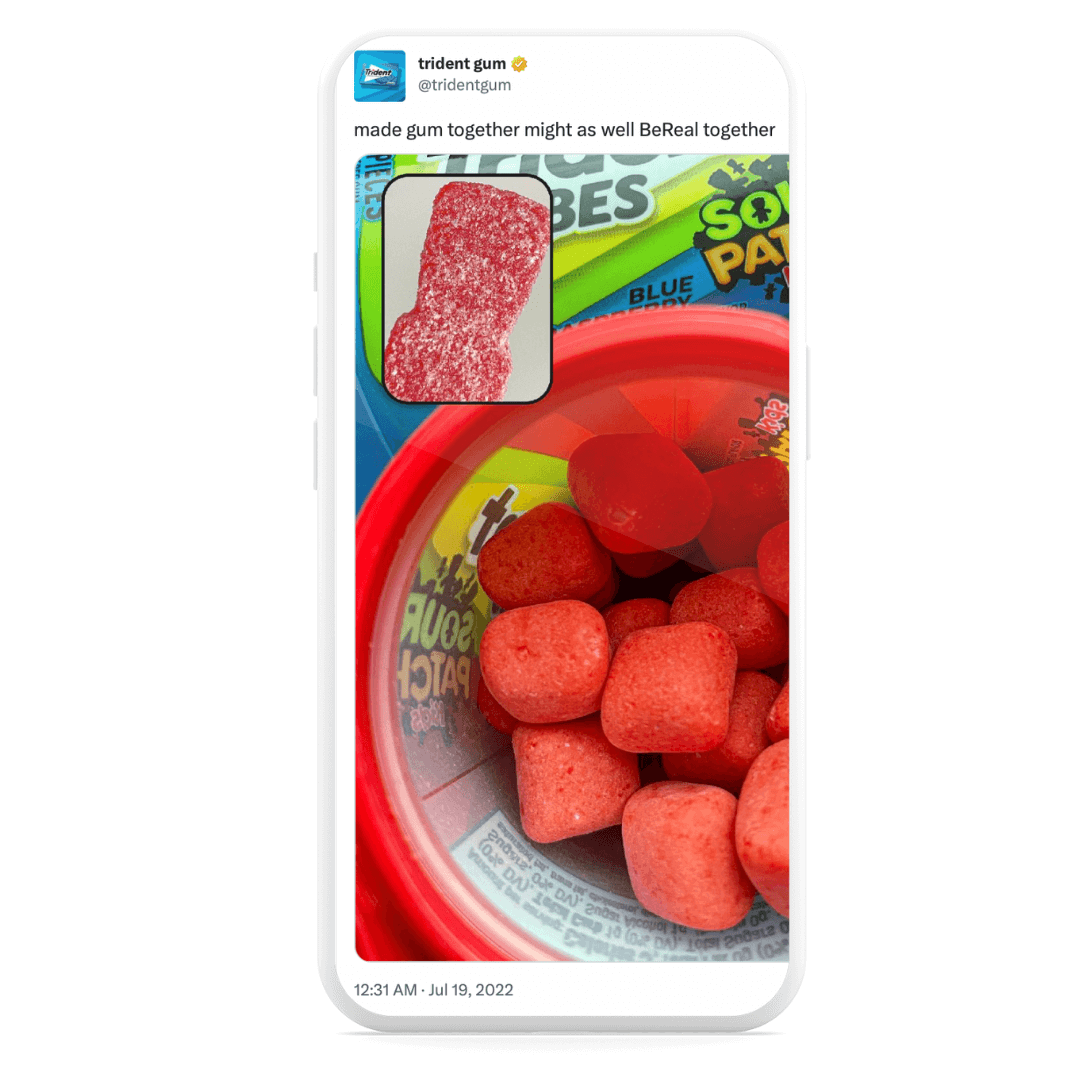 With cross-promotions, you get to boost your brand's visibility and reinforce your commitment to real-time sharing. This approach allows you to maintain a consistent brand image across various platforms while engaging with different audience segments.
7. Leverage influencer marketing and User-Generated Content (UGC)
By collaborating with influencers, you can create authentic, everyday life content that resonates with their audience and showcases your brand in a genuine and relatable manner. For a food-related brand, for instance, partnering with an influencer to capture an iconic photo of them enjoying your food can create a positive and memorable impression.
When the influencer reposts the BeReal photo on their TikTok or Instagram, it can increase the reach and visibility of the brand among their followers on other social media platforms.
Similarly, capitalizing on the unfiltered nature of BeReal with UGC is also a great idea! Encourage your customers to share their experiences with your business on BeReal and promote that on social media accounts that you manage. This exercise will create a sense of community and shared value.
What does the future hold for BeReal?
Despite the wave of downloads, some industry experts are skeptical of the app's ability to retain users and grow in the long term. They raised concerns about BeReal's lack of features and potential platform monetization challenges.
Moreover, TikTok and Instagram have already started copying BeReal by releasing a feature on their platform that does a similar thing. That can be a threat.
When BeReal first emerged on the social media scene last summer, it made an impact and had people downloading and using the app, a hard feat to accomplish in this crowded space. That being said, BeReal is always facing competition from TikTok, Instagram, and even Snapchat. As a separate social network, I am unsure whether BeReal will remain independent. 

Still, creating "real" content only available for a limited time and only by those who upload their content has a place in social media, although perhaps not as a standalone social media app. In other words, I would keep an eye on BeReal as an up-and-coming social network and perhaps experiment there, but a few years from now, the name may be forgotten…unless TikTok truly gets banned in the United States, in which case all bets are off!
Neal Schaffer, Fractional CMO, Consultant & Speaker
In addition, it is essential to note that BeReal's emphasis on authenticity and the absence of typical influencer dynamics might not be suitable for all businesses. Before diving into this new platform, they must carefully consider if the app aligns with their marketing objectives.
In the end, is it ok to be "BeReal?"
BeReal is still a relatively new social media app, and its future remains uncertain. However, there is no harm in seizing this opportunity and experimenting with content that resonates with what your audience wants to see.
Of course, avoid salesy or overly polished content and focus on genuine and relatable experiences that showcase your brand personality. By leveraging the platform, you can take the lead over competitors in your industry.
Remember: staying relevant and adaptable in the ever-changing digital landscape is critical to long-term success. So do not be afraid to "BeReal!"
BeReal marketing FAQs
1. What is the downside to the BeReal app?
The downside to BeReal is the lack of control over the content. Users cannot stage or edit their posts, which may lead to unappealing or unflattering images. This might not be suitable for all businesses or individuals who prefer to maintain a curated image online.
2. Is BeReal good for business?
BeReal can benefit businesses that want to showcase their authentic and relatable side. Businesses can build trust and nurture stronger relationships by connecting with customers on a more genuine level.
3. How does BeReal make money?
Currently, BeReal relies on private investments to fund its operations. This is common for many social media and tech startups in their early stages. It is reportedly being valued at $600 million.
4. Who is the target market for BeReal?
BeReal's primary target market includes users aged 16-44, with a fairly even distribution between the 16-25 and 25-44 age groups. The app's concept particularly appeals to younger audiences who value genuine connections and experiences online.
5. Does BeReal run ads?
Currently, BeReal does not run ads on its platform. Users can enjoy an ad-free experience while browsing their friends' daily posts. This simplicity may be a critical factor in the app's popularity and growth, but it remains to be seen how BeReal will monetize its platform in the future.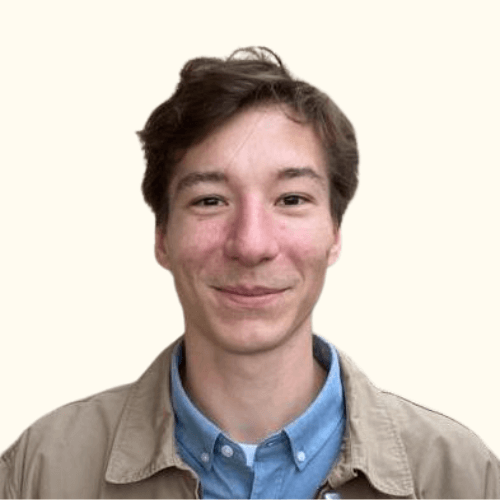 Hugo Molinaro
Digital Marketing Enthusiast & Founder of smartlinking.me. Hugo specialized in On-page & Off-page SEO. He knows how to refine sharp strategies that drive results. Striving to stay on the learning curve to keep enriching his skills, Hugo nurtures great relationships with people for a mutual harnessing of talents.