Managing multiple social media accounts simultaneously can be overwhelming. You have to be mindful of a myriad of things: the best social network to post to, image and video formats, trends, hashtags, and the ever-changing social media algorithms.
The key to efficient social media management? A streamlined workflow that helps you plan ahead, create content for multiple accounts, and monitor engagement on several platforms.
This article will show you how social media managers handle multiple social accounts for clients, how they organize everything in one place, and how using social media management tools like Planable can lighten the workload.
The 7 steps to managing multiple social media accounts:
1. Create a social media strategy
2. Build a flawless content creation plan
3. Use a social media management tool
4. Leverage a social media calendar
5. Implement smooth collaboration & approval processes
6. Schedule posts ahead of time
7. Showcase your social media wins
Why do you need multiple social media accounts?
Is more than one social media account really necessary? While having several social accounts is optional, a spread-out social media presence comes with many benefits.
Advantages of having multiple social media accounts
build brand awareness
reach a larger audience
target different demographics
provide better customer service
localize content
But it's not all smooth sailing either.
Building a successful social media strategy and maintaining several social media profiles can be a lot of work. It's important to make sure that you're using each account to reach different audiences and that you're providing value to your followers.
Challenges of having multiple social media accounts
maintain a consistent publishing schedule on all platforms
stay active on all social accounts to maintain engagement
handle negative feedback on multiple apps
export social media stats and analytics reports
How to successfully manage multiple social media accounts:
1. Establish a social media strategy
Being active on social media networks is only a small piece of a brand's marketing efforts. A robust social media strategy is the logical first step in handling multiple accounts for different brands or multiple social networks for the same brand.
When devising a social media strategy, you need to consider the following:
What are the goals?
Start with what: what is the main objective; what are the business goals; what are you (or your client) trying to get out of social media?
Who is your target audience?
Get to know the nitty-gritty of your audience: what social media platform do they spend most of their time on? Where are they located, and what is the age demographic? What are their main pain points, and how can the brand craft a message to address these?
What topics are you going to tackle?
Establish what your social media users would like to see. Is it educational and informational content? Or rather entertainment? What is your core content going to look like, and how do you plan to execute it?
What social media challenges are you likely to run into?
Be aware of the social media challenges you might encounter along the way (and how to overcome them).
We asked more than 80 social media managers what the biggest social media challenges are, so you can be more prepared when you take on more clients: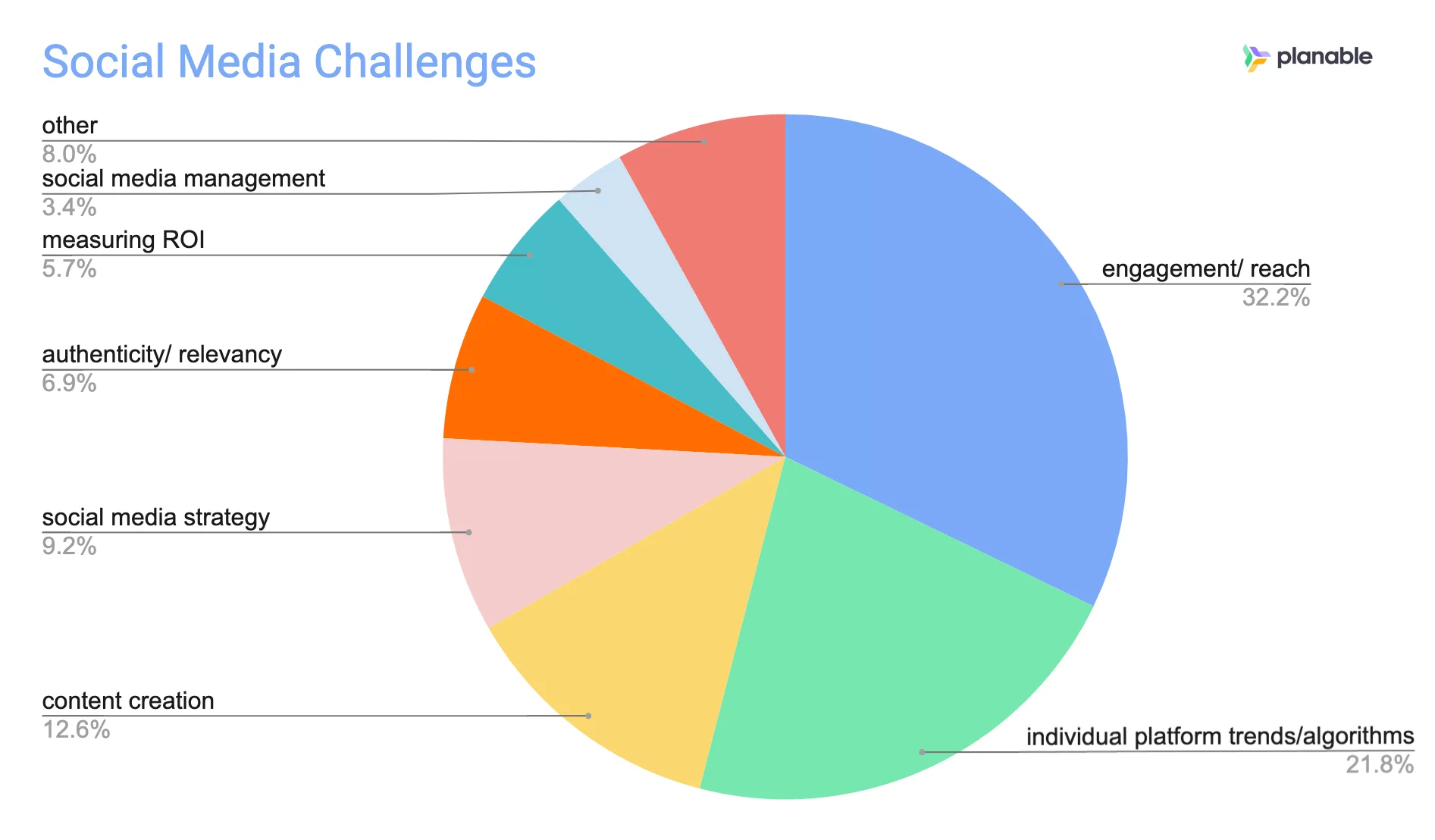 32.2% struggle with engagement or reach
21.8% answered trends and algorithms
12.6% find content creation challenging
9.2% struggle with social media strategy
2. Create content
Your social media strategy is an excellent starting point, but it has to be followed by smart content planning and creation.
Planning and writing content is intensive and requires significant research as well as a deep understanding of the brand. All social media accounts are different, and each has its own particularities. First-hand knowledge of the audience, the brand's value proposition, their business, and conversion goals will inform your content creation efforts and enable you to deliver successful campaigns every time.
For your social media marketing plan to be effective across multiple social media platforms, it should include a combination of creating new content from scratch (75-80%) and curating valuable and useful content from various sources (20-25%).
Original content
It's not easy to create content for multiple social media accounts.
audit previous social media content for each brand, business, or client you're working with. This should give you a sense of their approach and tone of voice.
brainstorm with the other social media marketers on your team or directly with your client. Set a recurring monthly client meeting and prepare questions or suggestions in advance. Or send them a list of content ideas over email.
research your competitors and see social media content is working for them. Find the social media channels where your competitors are most active and pinpoint the posts that get the most engagement (likes, comments or reshares).
Curated content
Content curation is your best friend when you're managing multiple social media accounts or multiple clients.
identify the best content sources for your social media accounts – think industry newsletters, podcasts, niche blog posts;
make the most of user-generated content – reshare reviews, photos, or shout-outs; this adds credibility and makes users feel good;
use curated content as filler content whenever you have gaps in your social media calendar – if you're handling multiple social accounts, you might have a post that falls through the cracks every now and then. Make sure you're prepared for this scenario and always have a few curated posts queued up and ready to go.
Content curation works best as a supplement and proof of credibility to your original content creation strategies. My company sells mens' underwear and socks and we stock several top brands.

While we do our own product photos and lots of our Instagram posts are original content, being able to collect media of men using the brands we carry, especially famous people, and displaying them really adds to our credibility.
Richard Clews, Founder @ Pants and Socks
3. Choose the right tool to manage social media accounts
There are many social media management tools out there to choose from.
If you're managing multiple social media accounts, the social media management software of your choice needs to offer features for easy collaboration, planning, and scheduling.
What problems is Planable solving and how is that benefiting you?

Social media posting without having to log in to all the various different social media platforms. It is assisting to drive organic social forward much easier than before.
Danielle B., verified G2 review
Planable's social media management platform is intuitive to use and offers dozens of features that will help you be more efficient and save time:
schedule the same content to different social media platforms, and publish it once or more times with the recurring post option.
when publishing across different platforms, make small tweaks with the sync on / sync off option. Makes scheduling posts a breeze!
ask and receive feedback from the other social media marketers on your team or straight from your clients.
leave comments next to the post for lightning-fast collaboration and visibility.
mark feedback as done with the resolve option to handle as many tasks as needed simultaneously. Never lose the thread of the conversation ever again!
group multiple accounts into separate workspaces to manage multiple brands easier; customize access for each workspace you create
I have a lot of social media channels that I need to manage and work with. And Planable is my best option to synchronize, schedule, and create posts in all channels separately or at once.
Yustyna H., verified G2 review
4. Create a social media content calendar
If you could only choose one social media tool, let that be a calendar for scheduling posts in advance. It's a time-saver that many marketers swear by, especially if you're juggling different brands and networks simultaneously.
Your choice of calendars comes down to 2:
Spreadsheets
You can use Google Sheets or Excel to record upcoming posts manually. Note the publication date and time, and the platform. Link out to the visual assets, write down the copy and hashtags. Tag the email address of the stakeholder who needs to approve posts.
Spreadsheet calendars are a cost-effective way to organize your content, especially when you manage social media accounts for different clients or brands.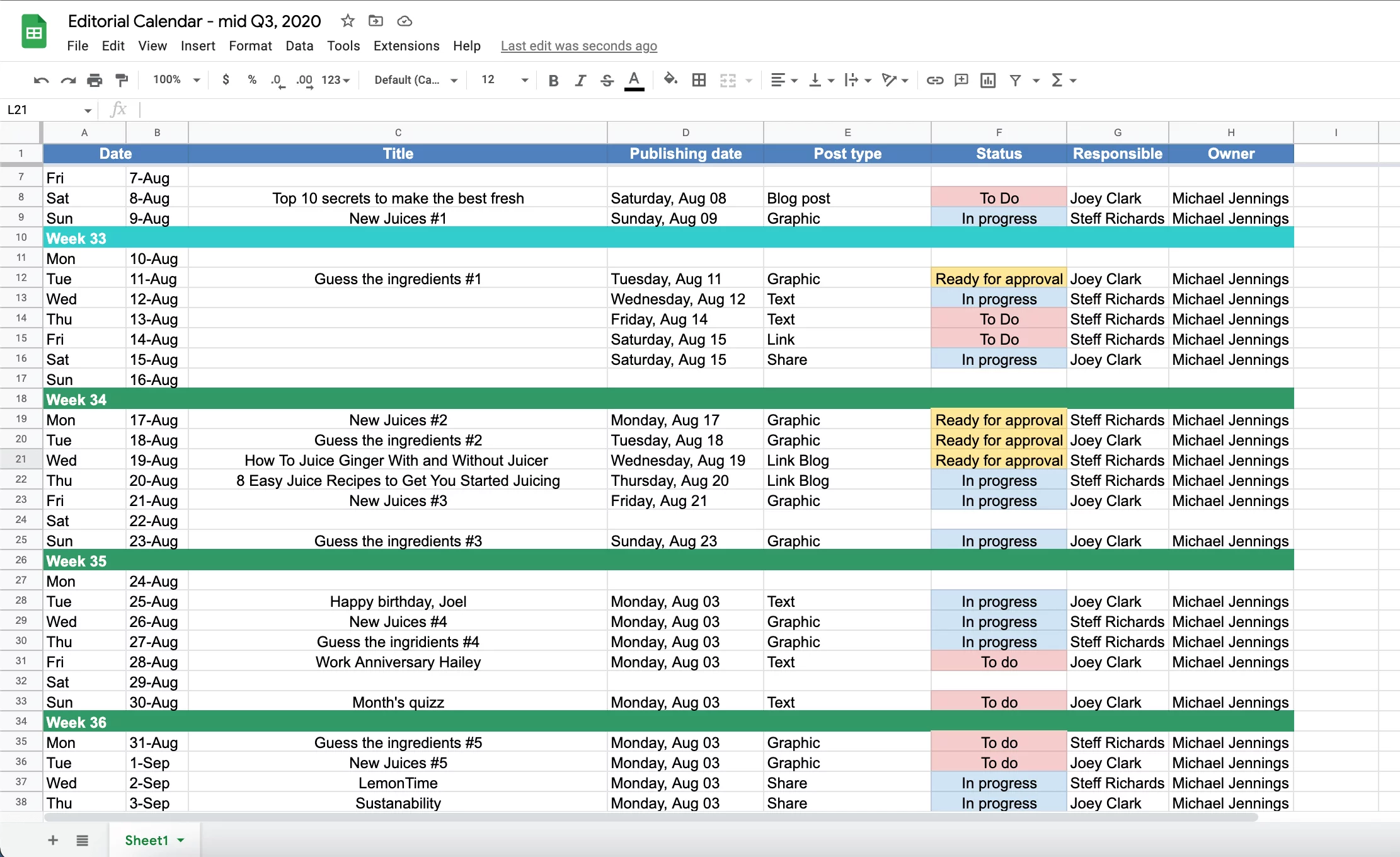 Social media tools
Social media management tools are built with managing several accounts in mind. They offer versatile calendars that make planning and organizing easy peasy and take the pressure off you keeping track of everything.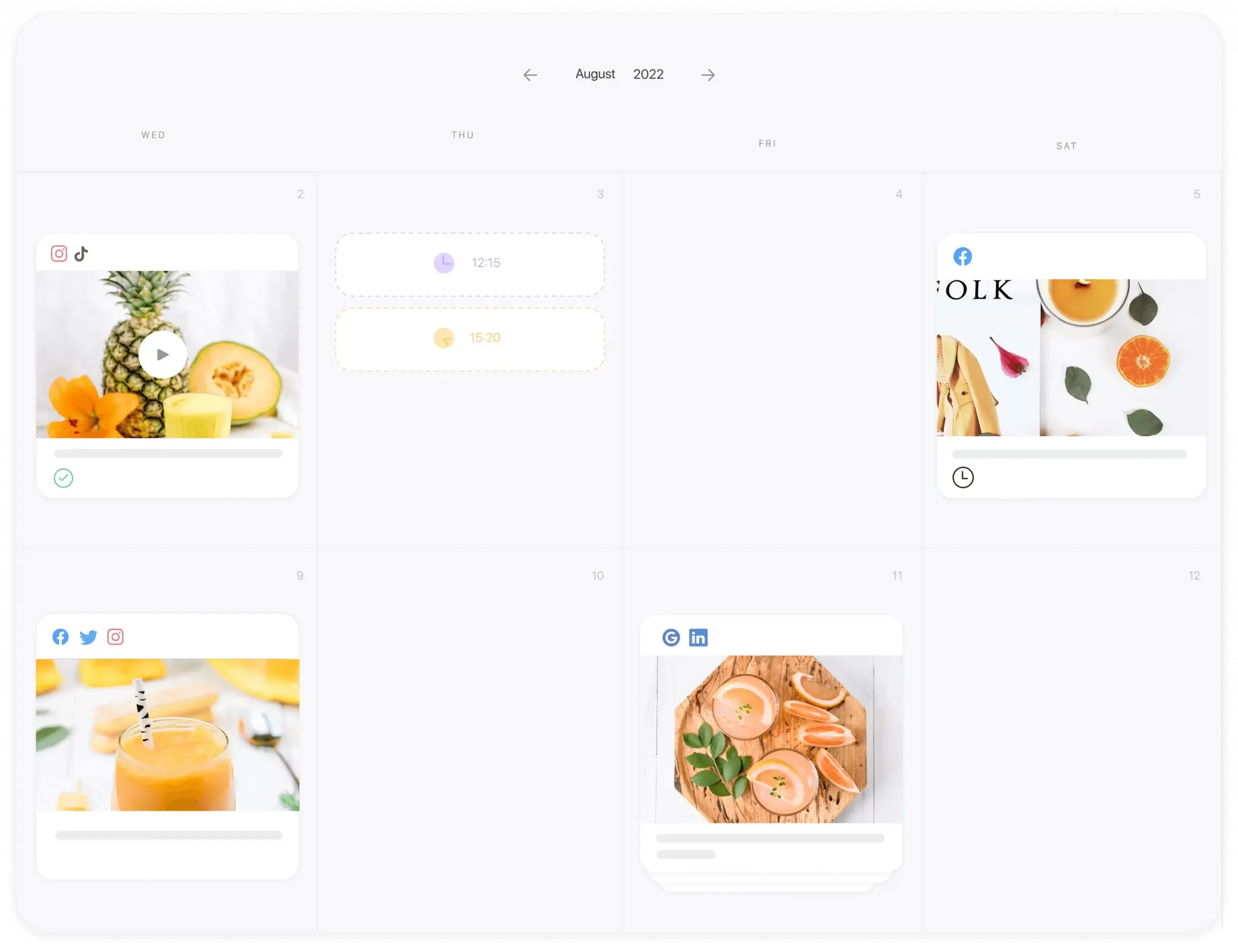 Here's how Planable's own social media calendar stands out from myriad others:
Labels make post organization smooth as butter. Color-coded and fully customizable, labels let you group posts so you can always find them in a few clicks.
Five content views: the calendar, feed, list, grid, and mobile view always tell you everything you need to know at a glance
Drag and drop posts for easier reorganization. Stay on top of editorial gaps in content and fill them in within literally seconds.
Preferred times aka Timetable ensures you can blast through scheduling posts for different audiences and time zones at lightning speed. No more learning each client's preferred times by heart!
5. Collaboration and approval
Managing multiple accounts means you have to be a multi-tasking wizard. And when there are entire teams involved, things get even more tangled.

Simple tasks like gathering feedback, keeping track of the latest copy changes, finding the final version of an asset, and double checking a post has been approved will eat away valuable hours of your day.
If you're anything like most social media managers, you probably dread requesting (and awaiting) feedback because you know the approval process can drag out for days or even weeks.
Here's what Planable offers social media teams who need to handle multiple accounts:
comment right next to the post
add attachments in the comments
share post links with external collaborators
create internal notes and internal posts
automatic scheduling of approved posts
four approval layers: none, optional, required, multi-level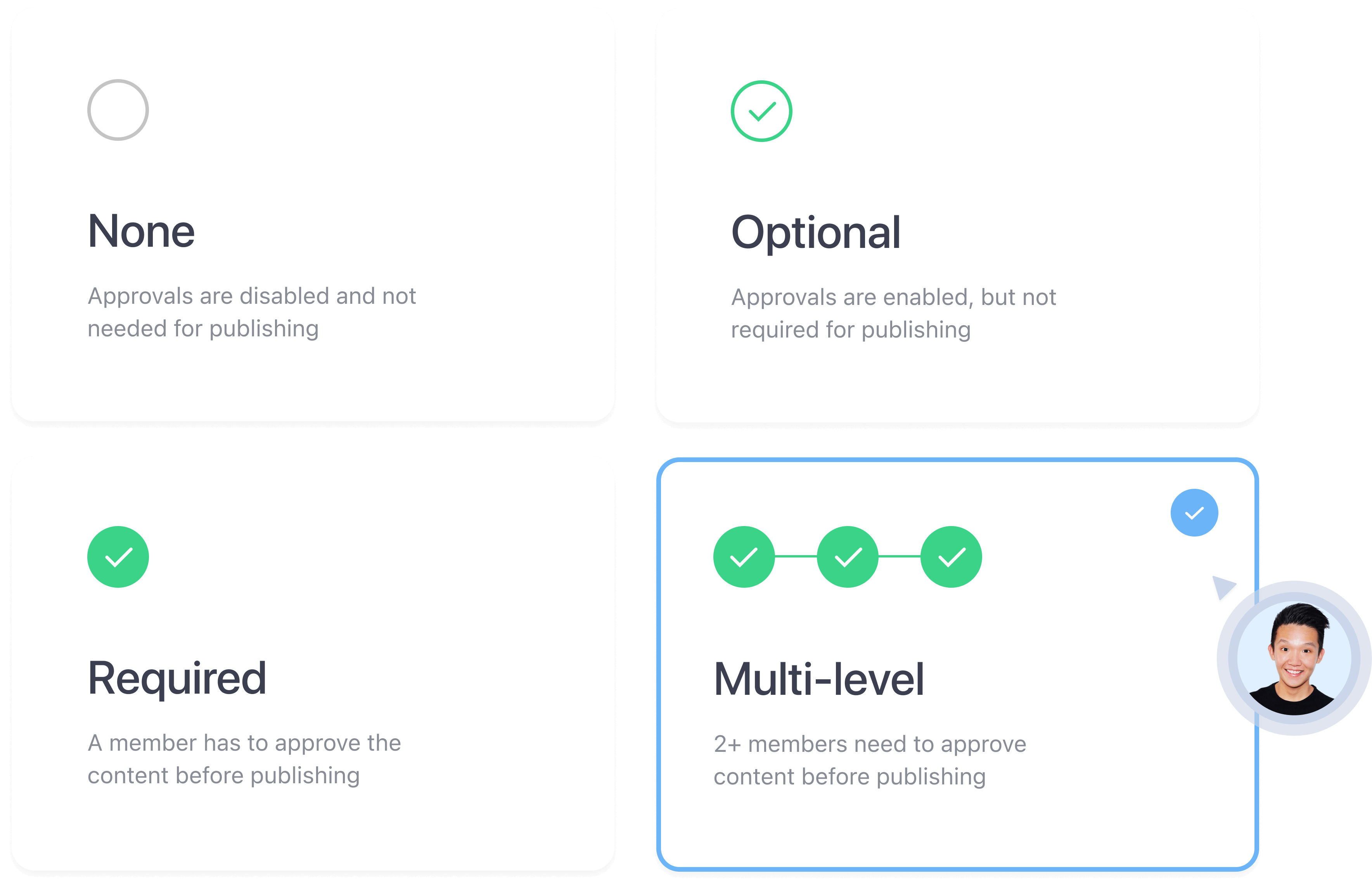 6. Schedule posts in advance
When you need to schedule content for multiple social media accounts regularly, a scheduler becomes indispensable. Scheduling tools help you automate tedious tasks so you can spend your time on other tasks that need your attention, like tracking the performance of social media posts or finding new ways to reach different audiences.
Planable can help you manage multiple social media accounts across multiple social media platforms:
Instagram
Schedule IG posts, stories, reels and carousels.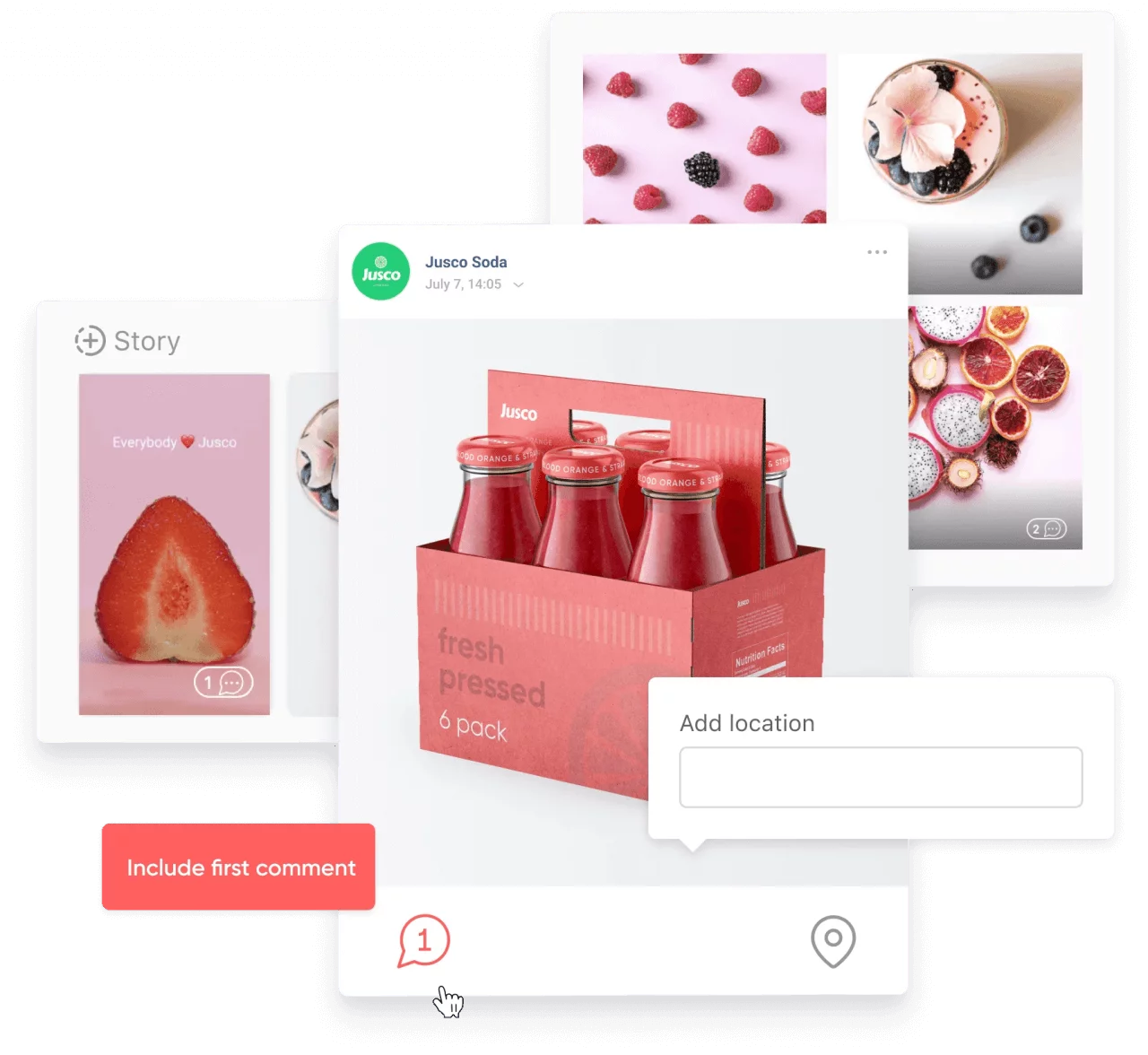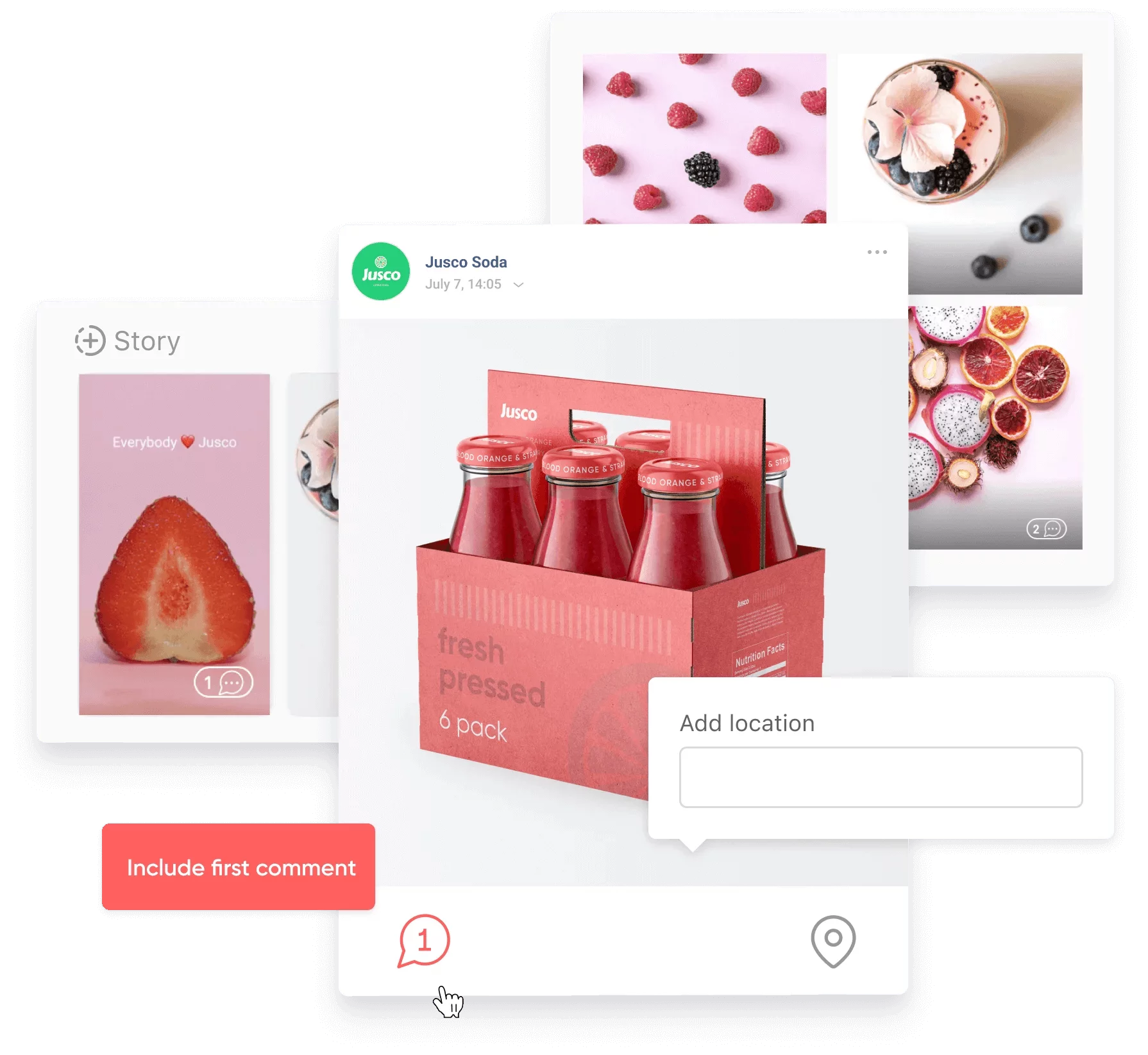 Twitter
Preview your copy to avoid mistakes and typos when you schedule tweets in advance.
Facebook
Publish posts to your Facebook page and to Facebook groups at the same time.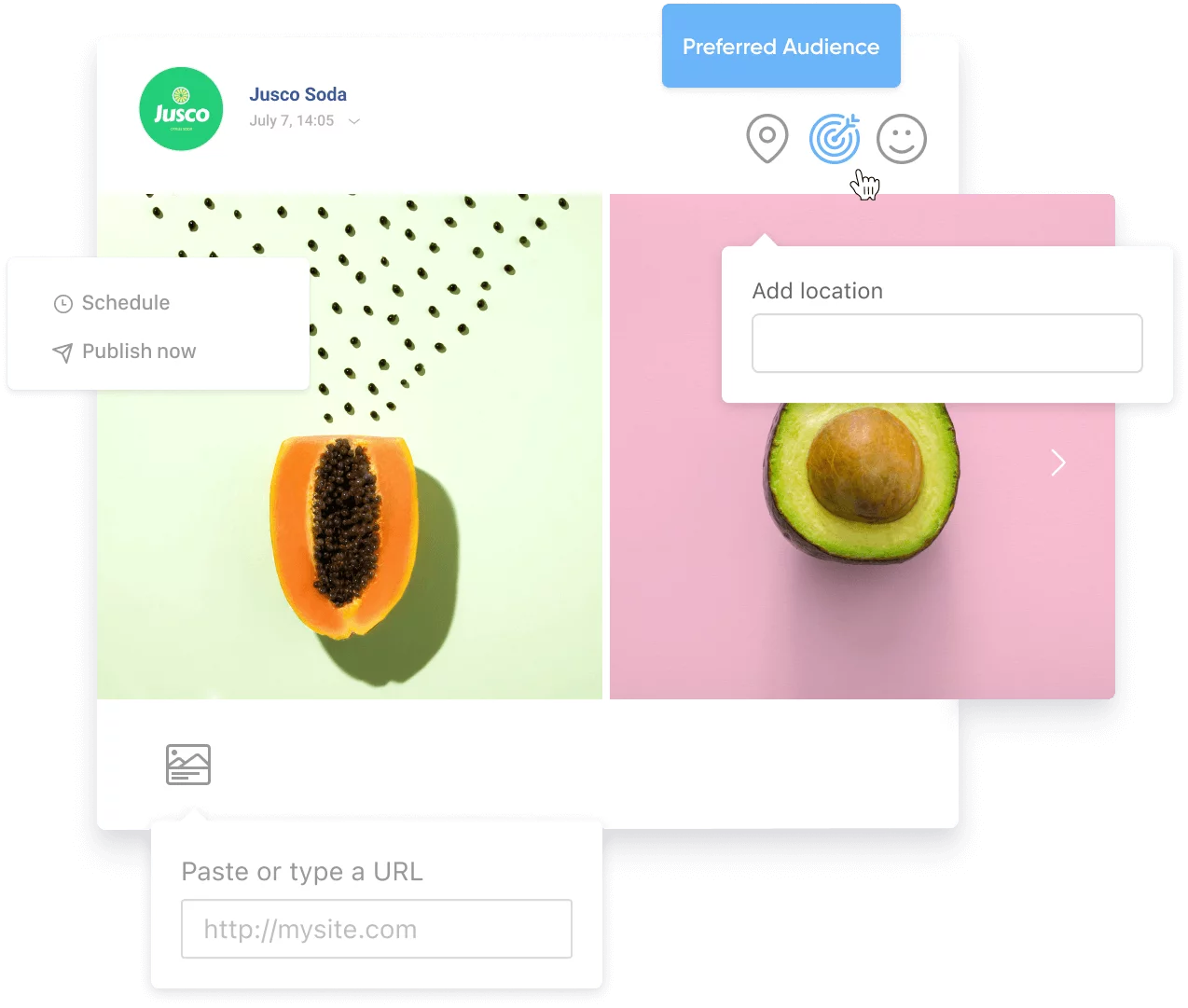 Google My Business
Connect with your local audience by scheduling Google My Business posts consistently.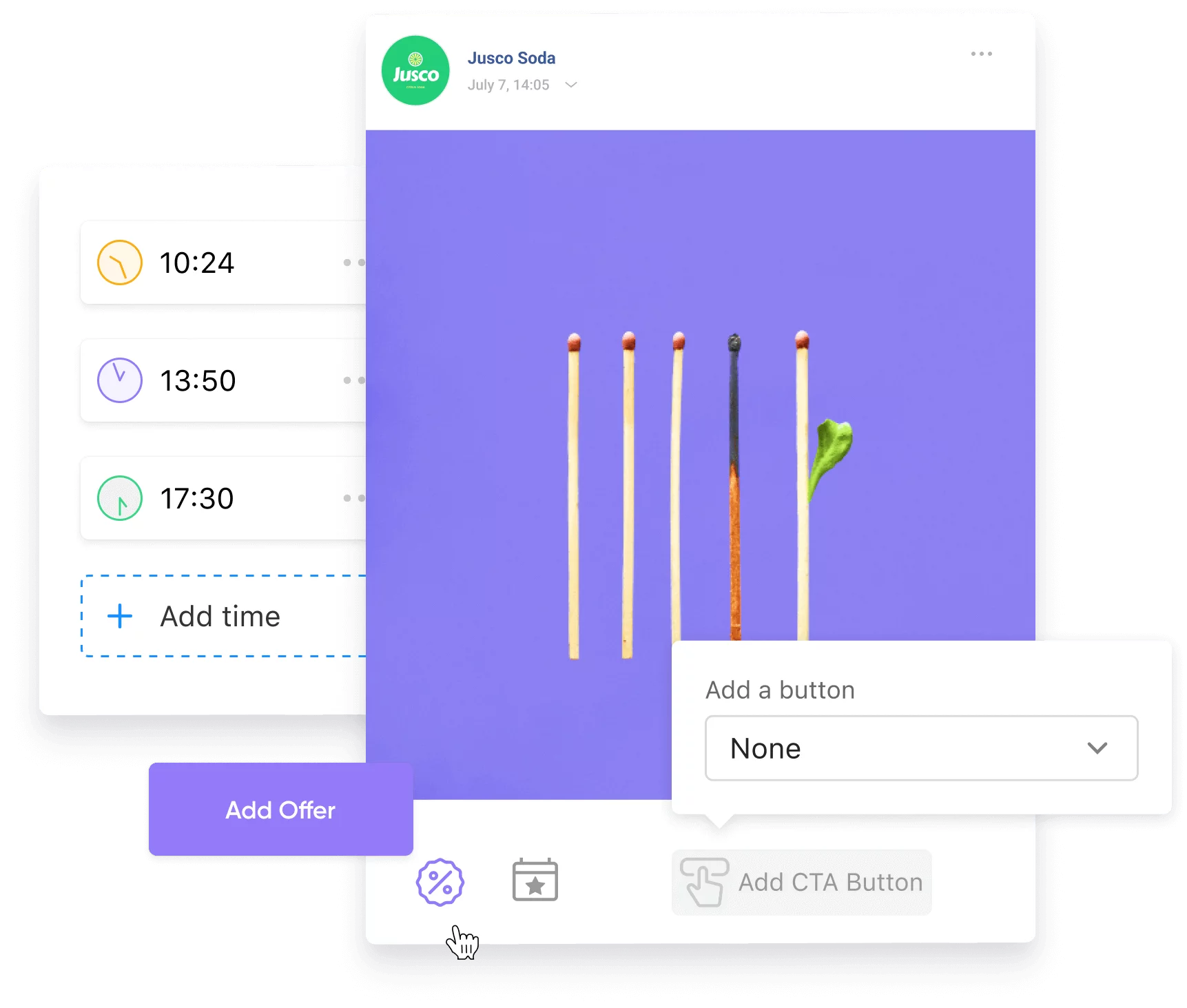 TikTok
Publish TikTok videos through push notifications.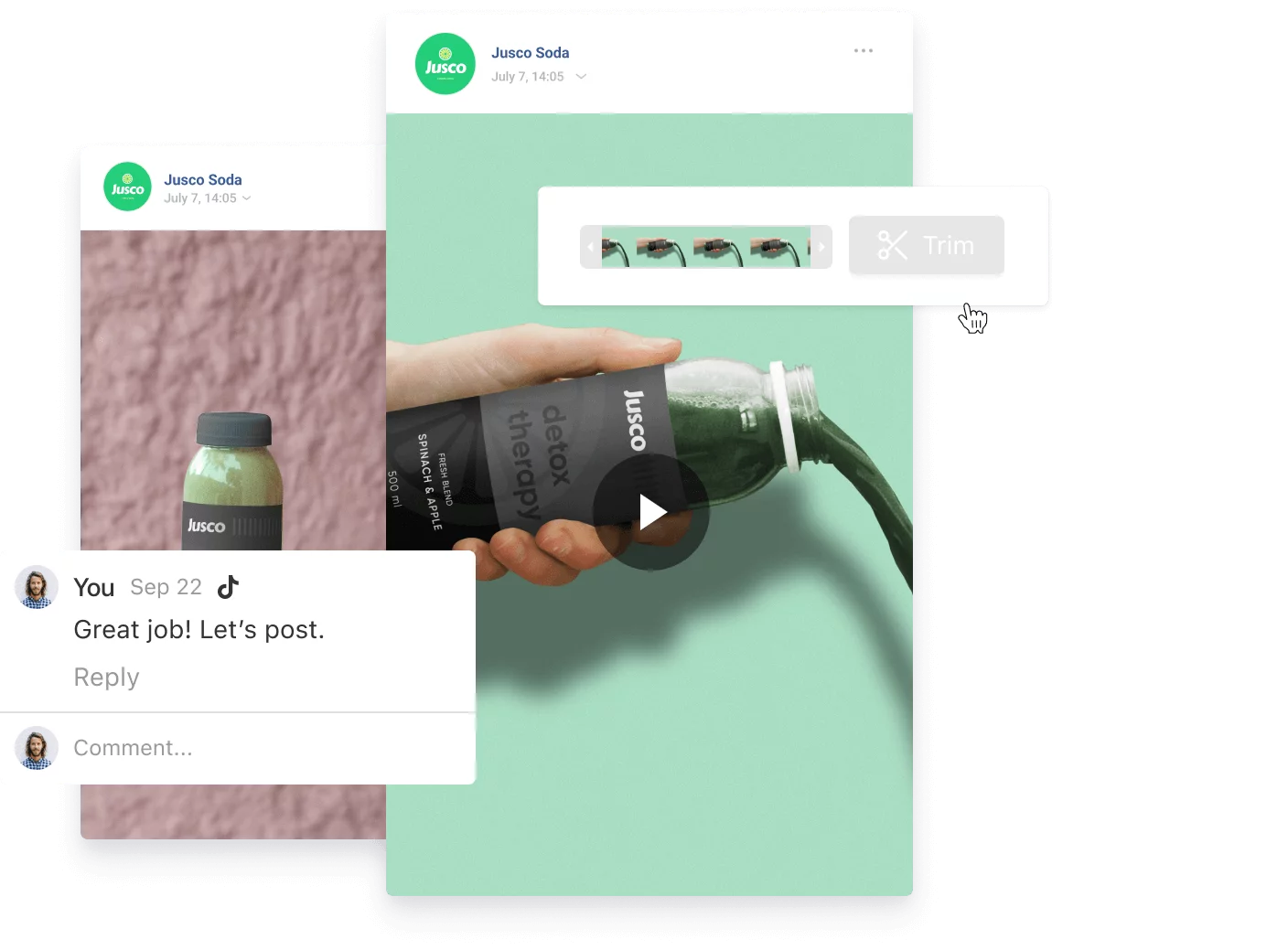 Linkedin
Maintain a consistent publishing schedule on LinkedIn for the company pages and personal profiles you manage.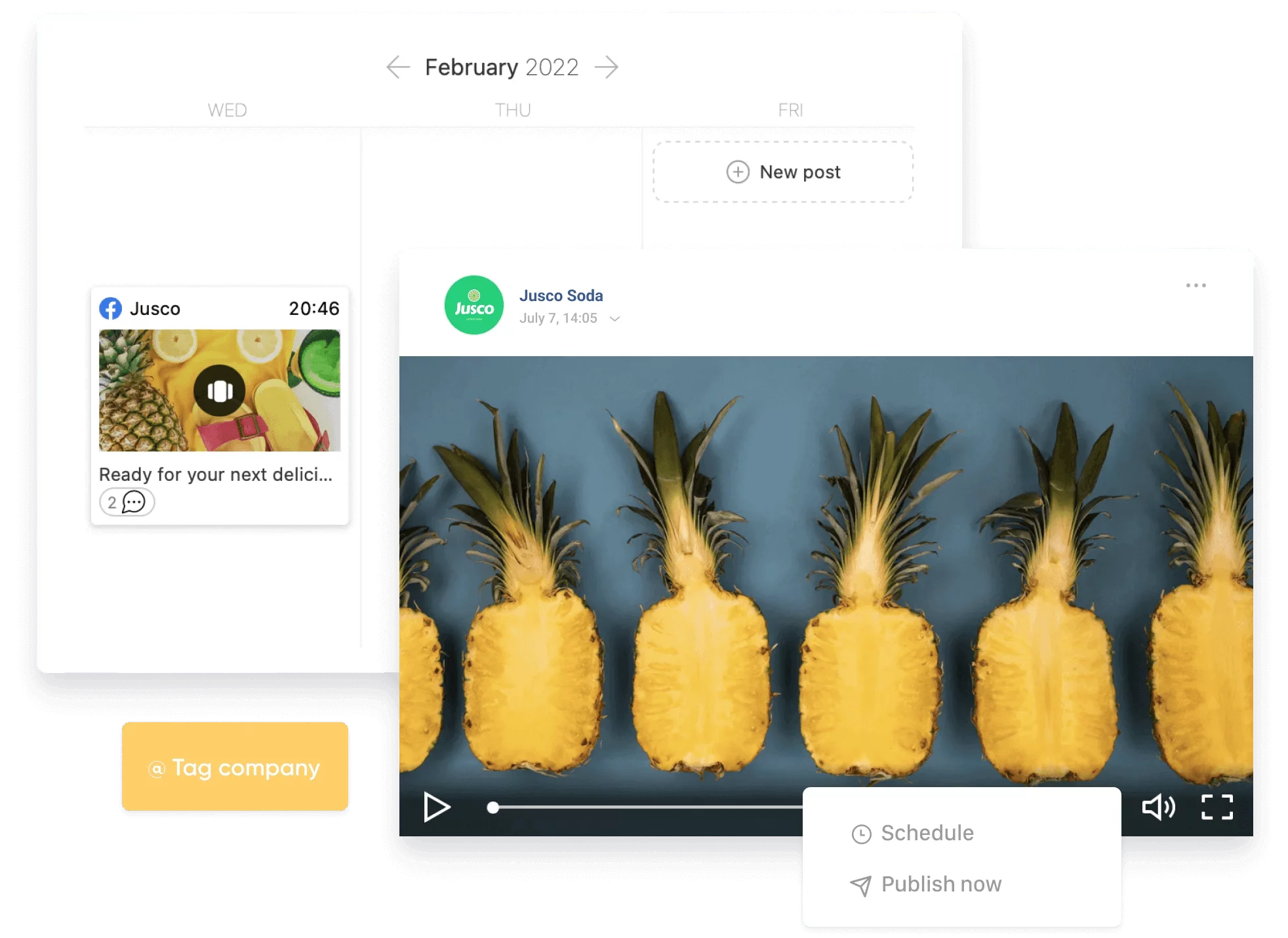 Youtube
Schedule YouTube videos directly to the right channel, no matter how many social media accounts you handle.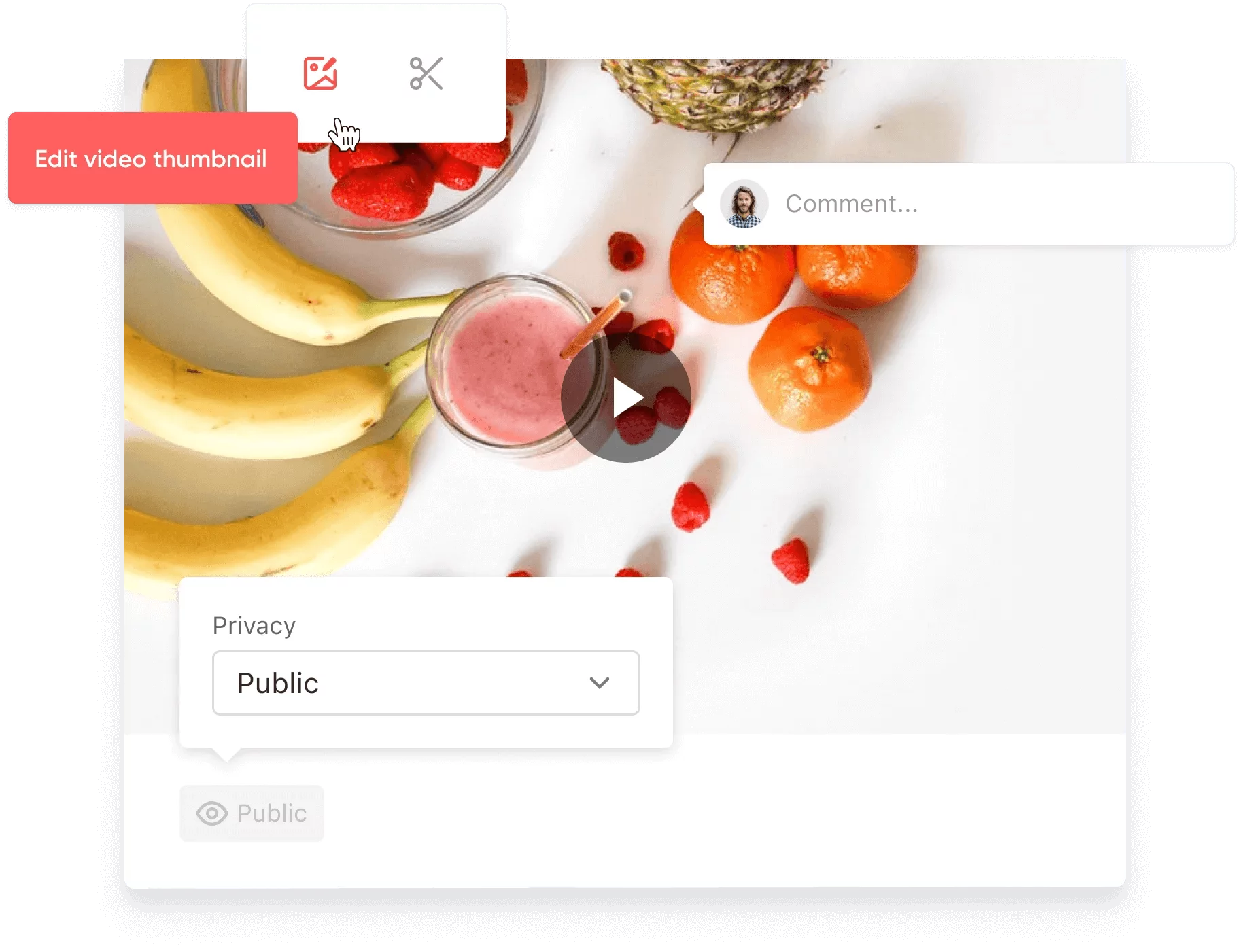 7. Present your social media wins
Toot your own horn with a social media presentation that highlights your wins. But don't gloss over underperforming posts or campaigns. Rather include them and mention any lessons learned and how you plan to tackle something similar in the future.
One of the most rewarding aspects of handling multiple accounts is interacting with many people and delivering results across various social media networks. Whether that's in the form of a social media report or a social media dashboard, going over goals and performance regularly reinforces transparency and strengthens the relationship you have with all your accounts.
Ready to excel at managing multiple social media profiles?
Managing multiple social media accounts is a time-consuming behemoth, especially when trying to maintain a consistent voice across all of your accounts. I hope you can cross daily tasks a bit faster off your list with the help of the 7 pillars I showed you!