Social media is everywhere. It drives everything from our personal relationships to how we feel about brands. We interact with people we know and love (or tolerate) on social media. But we also interact with the businesses we patronize and the customers who patronize our businesses. 
In 2022, every rise of social commerce pizza place, laser tag arena, deli, bar, and hotel has a presence on social media. But just being on social media isn't enough for your business. With all this competition, posting content and hoping that it works isn't going to cut it. As we just said, everyone has social media, including your competitors. 
The way to stand out from the crowd is by dedicating yourself to driving more
social media engagement
on your platforms. 
But
what is social media engagement
? And how can you optimize your social media strategy to boost it? That's what we're going to discuss in this article. 
What is social media engagement? 
The
rise of social commerce
is changing the way brands sell and engage with their consumers. Shopping through various social media platforms is also made possible thanks to social engagement.
Social media engagement is simply the
likes, shares, and comments
that you receive on your social media pages. Social media engagement occurs when members of your audience interact with your posts. This isn't a measure of how many followers you have but rather how your followers directly interact with you.
Engagement could also be a conversion, a click-through to your website, a newsletter sign-up, a contest submission, a mention, or any other meaningful interaction with your target audience. 
That means a business with 100,000 followers who don't interact could see less social media success than a business with 10,000 followers who regularly engage with posts.
What drives social media engagement? 
Social media engagement is how you win the social media war. It's why so many businesses have taken to
hiring employees
full-time to manage their social media accounts. They're not creating posts meant to generate more followers per se.
They're creating posts meant to generate comments, likes, and shares. 
But what drives this engagement? 
There are a few tried and true engagement drivers that help social media marketers interact directly with followers
: 
Responding to comments

Asking questions

Posting statistics

Running contests

Using stories and Reels to hype important events

Directing website users to social media platforms

And many other actions that we will cover below
But to make use of the engagement you drive, you first have to measure your success or failure. 
How can social media engagement be measured and monitored? 
The social media
rule of thirds
states that social media marketing is made up of
creation, curation, and conversation
. 

However, there is another very important step (and sadly, it doesn't start with a C). 
Observation. 
It's important to monitor your engagement to determine whether what you're doing works for your target audience. Perhaps you're a social media marketer starting with a new company. At your old place of employment, in an entirely different industry, you saw success with a specific strategy. However, trying to use the same strategy in this new location is proving fruitless.
You can't determine this unless you examine some common engagement metrics:
Average engagement rate. This is the total number of actions directly related to engagement, such as comments, shares, and likes. You measure it by dividing the total number of engagement actions by the total number of followers and multiplying the result by 100. 

Applause rate.

That is the measurement of what's known as approval actions. These include likes, loves, and favorites across your various social media profiles. You track the applause rate by dividing the number of approval actions you've received by the number of total followers you have and multiplying that by 100.

Amplification rate

— the ratio of the number of shares you're getting per post. This is important because sharing is a huge engagement you want to promote. It exposes your business to hundreds or even thousands of new eyes. Divide your total post shares by followers and multiply by 100 to get your amplification rate.

Virality rate

. That's how many people are sharing your posts compared to the number of impressions that it's getting. An impression is a unique view. To figure this one out, you divide your shares by your impressions and multiply by 100. 
Set benchmark goals for yourself based on what you're looking to generate and measure your actual metrics against them.
How to drive social media engagement: 5 ideas for engaging posts 
So now it's time to answer the all-important question, how can we actually boost social media engagement? 
Below, we've highlighted several social media engagement ideas that you can utilize for your business right away. 
Hold giveaways
One of the best ways to encourage audience engagement is through giveaways on social media.
Everyone likes to get something for nothing, and if you can offer them a worthwhile prize in exchange for something as simple as engagement, you've got a winning strategy on your hands. 
The example below shows two companies coming together to run a promotion. Both Sweaty Betty and Merrell offered a hiking bundle and generated over 11,000 likes on this post.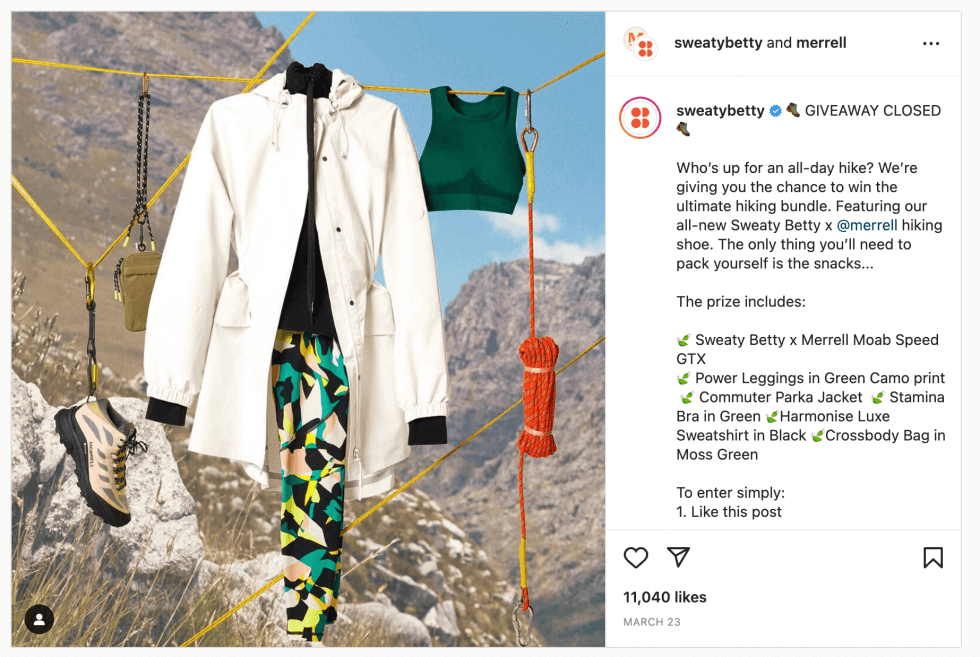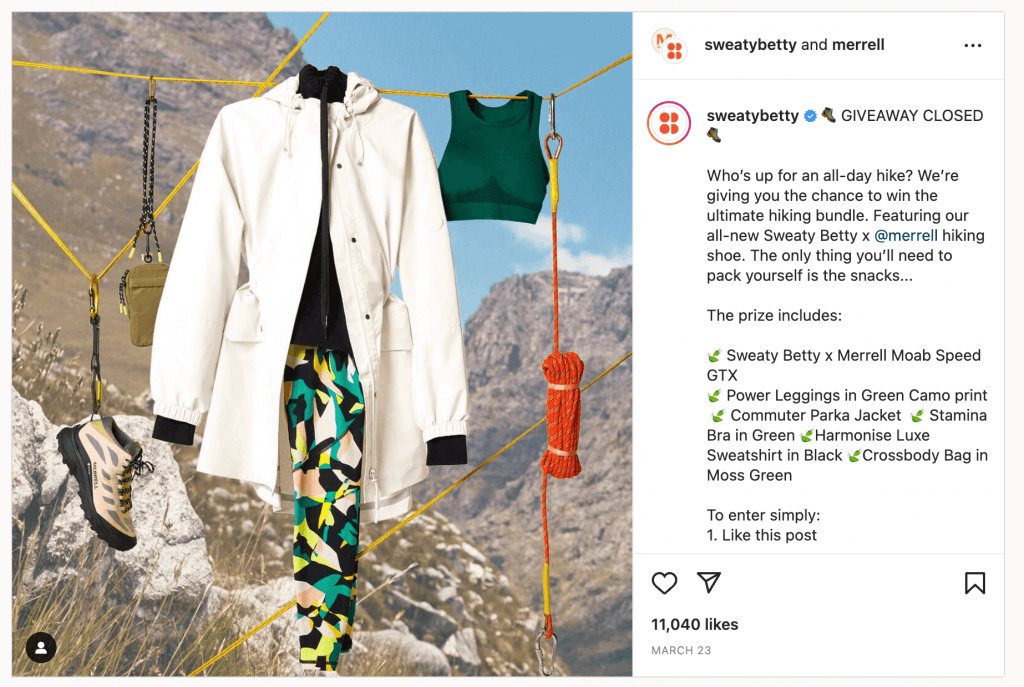 To enter, you had to like the post, follow both brands on Instagram, and tag two friends in the comments. As you can see by the number of likes this post received, it can be an impressive way to boost engagements. 
Contests with prizes worth over $1,000 receive an engagement rate of
5.8%
per 100 followers.
User-generated content
User-generated content can be a fun and affordable way to increase engagements. If someone has tagged your brand in a tweet or Instagram post, share that content (with the creator's permission).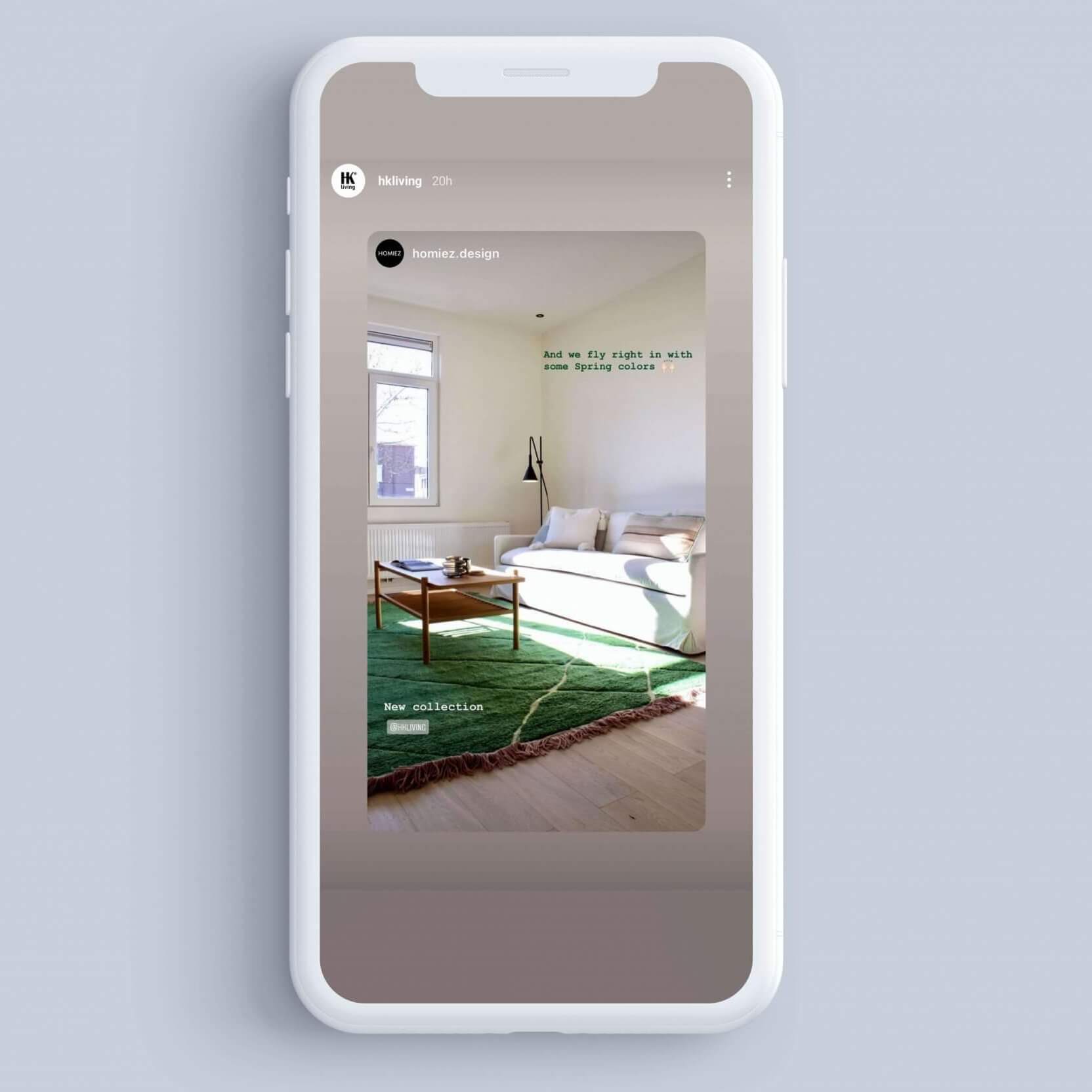 People love to see what their peers are saying about brands they're interested in. They're more likely to take action if they see a positive review. 
Oh, and you're getting this content 100% free of charge, so it's a no-brainer. 
This can also be done in the form of shout-outs.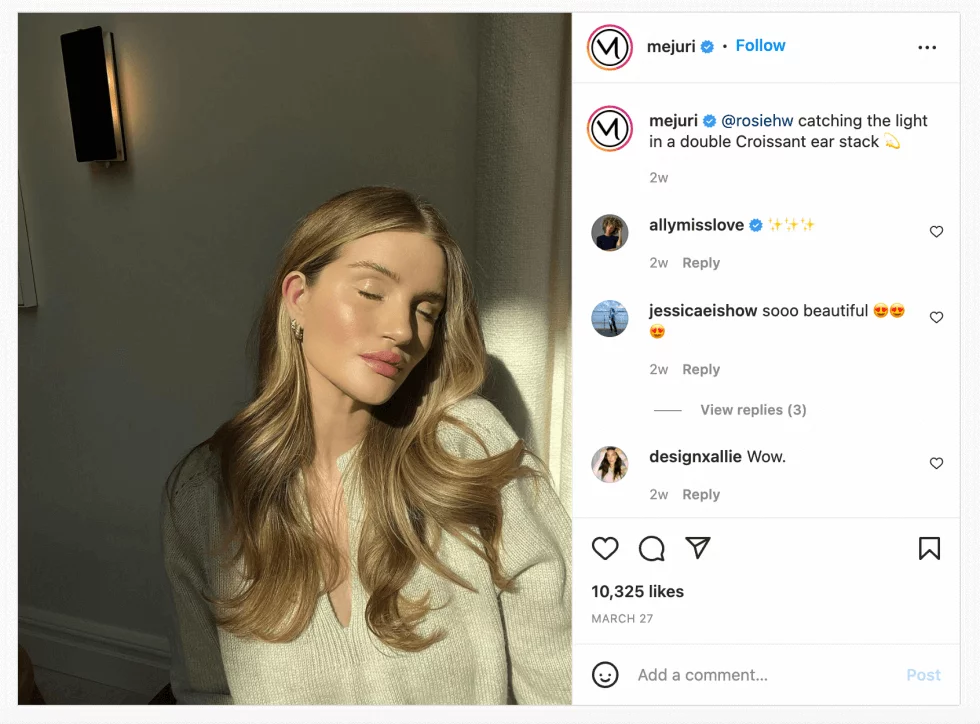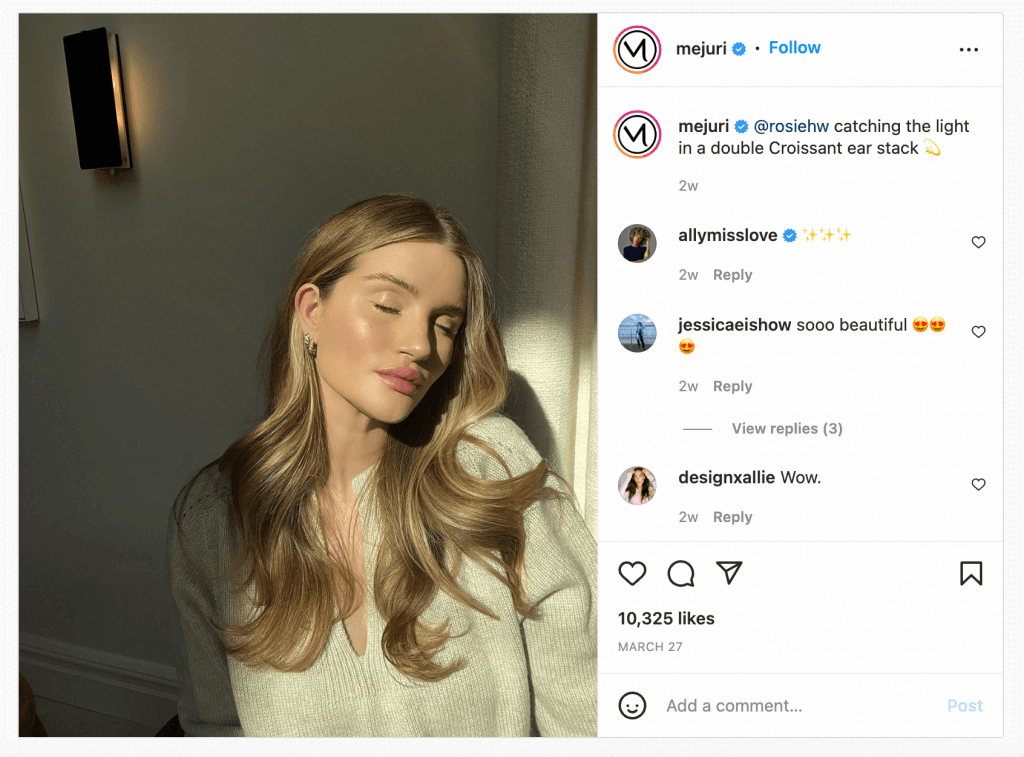 In the image above, a jewelry line shouted out a user by sharing a lovely photo of them modeling its ear stack. 
Interact with the audience
It's important to interact with your audience on social media. This is one of the simplest ways to promote engagement and start a conversation.
Here's a great example from Whole Foods Market.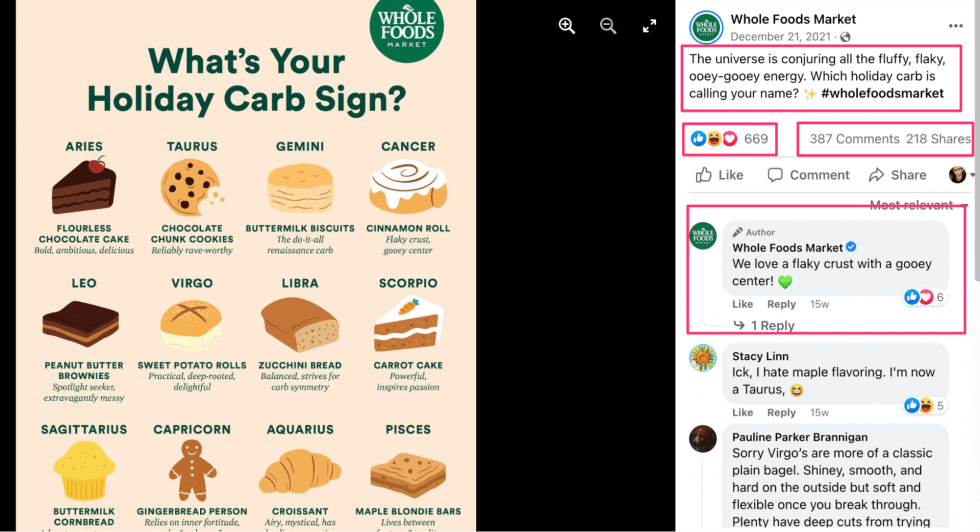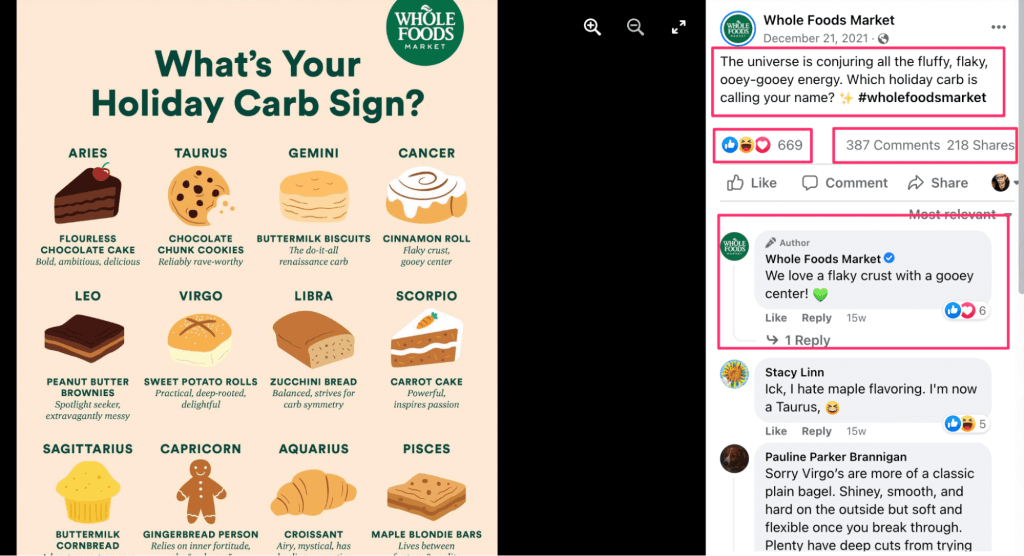 As you can see, Whole Foods shared a colorful image, asked a question in the caption, used a special hashtag, and then commented on the post to answer the question and move the conversation along.
This was highly successful with 669 reactions, 387 comments, and 218 shares. That's some excellent engagement. 
You can also directly engage with your audience through Instagram stories, which are very popular. 
In this example, a brand directly interacts with its users through a check-in.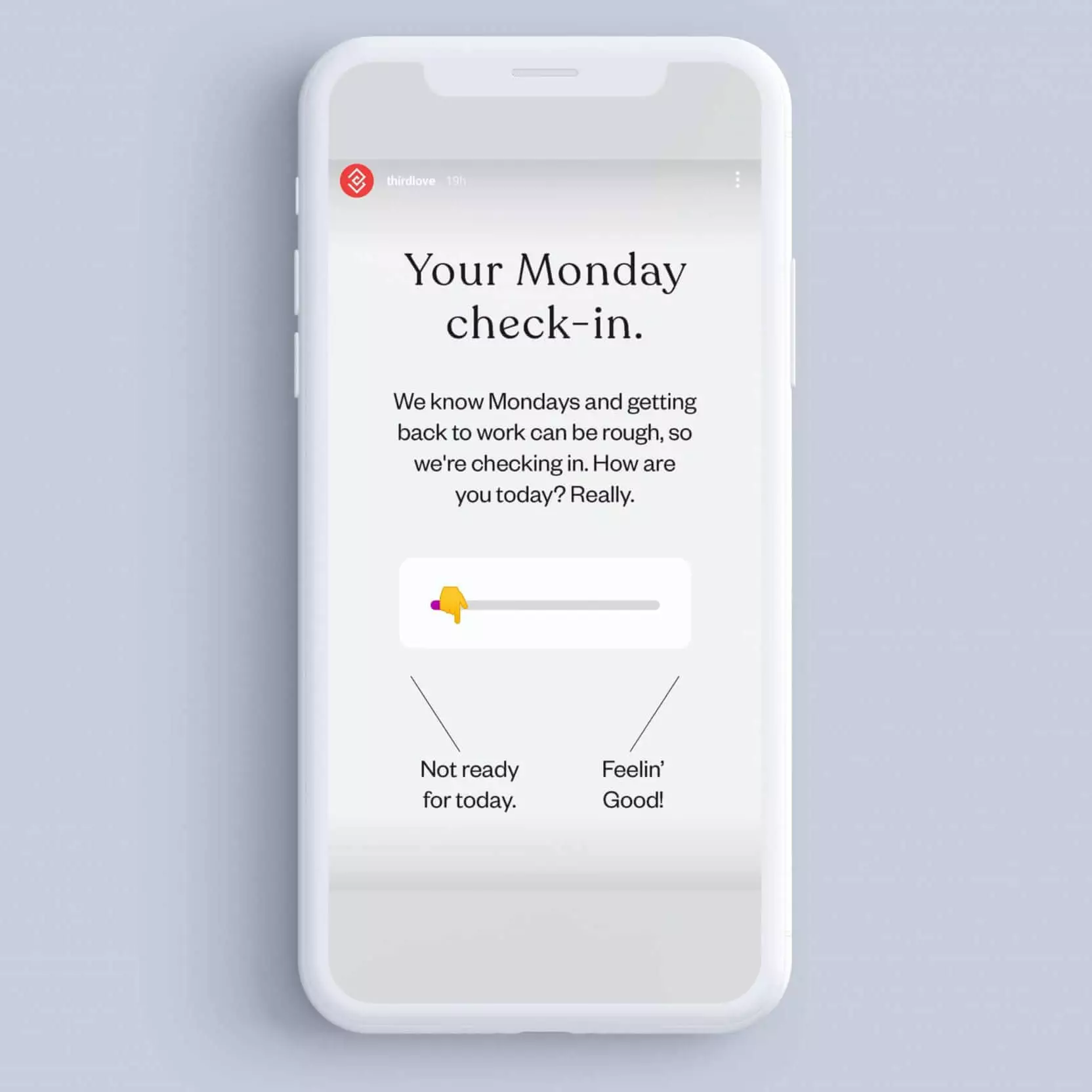 You can also ask your audience for feedback or suggestions to get their personal opinions.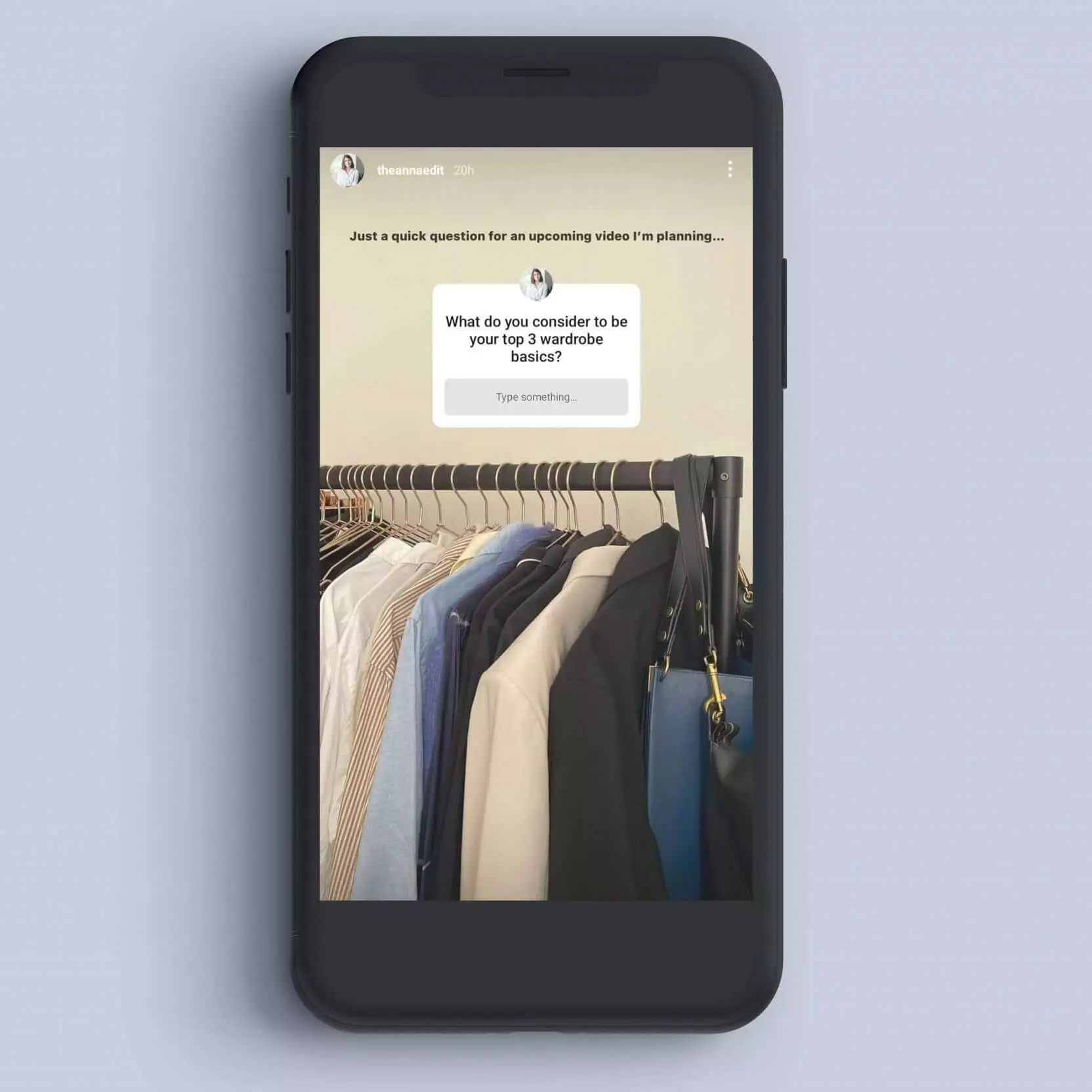 Doing this will allow you to get a peek inside the minds of your most valuable customers. It starts a dialogue that can be used to forge a relationship based on trust with your audience. 
Connect to your website content
If you have something on your website that you're trying to draw attention to, promote it on social media in a way that your audience will want to engage with. 
Remember, engagement can also be click-throughs. Hyping a useful service that your audience needs, like this
net worth calculator
pictured below, can inspire clicks and move social media users along to your site.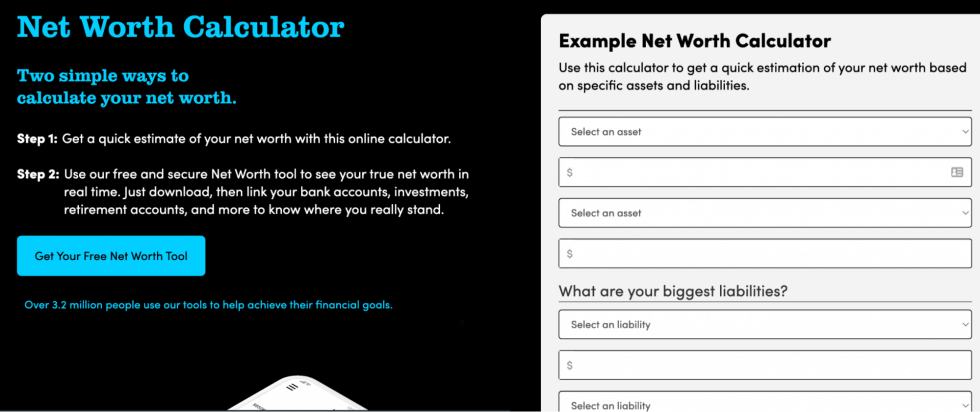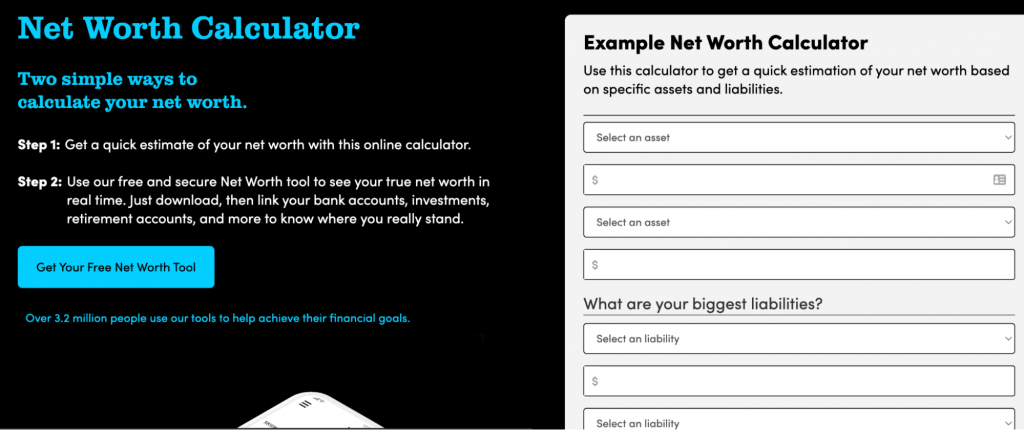 Website engagement is valuable and can directly lead to more conversions. Posting a free resource like this or a useful free tool such as an
email subject line generator
on social media can be a great way to introduce your website while also boosting engagement.
Promote social media pages on your website
If someone is on your website, it's a good idea to direct them to your social media pages as well. You can do this through social media buttons placed on your site. 
This gives customers the option of engaging with you directly, which they might not be able to do via your website. You're creating a path to engagement with this strategy.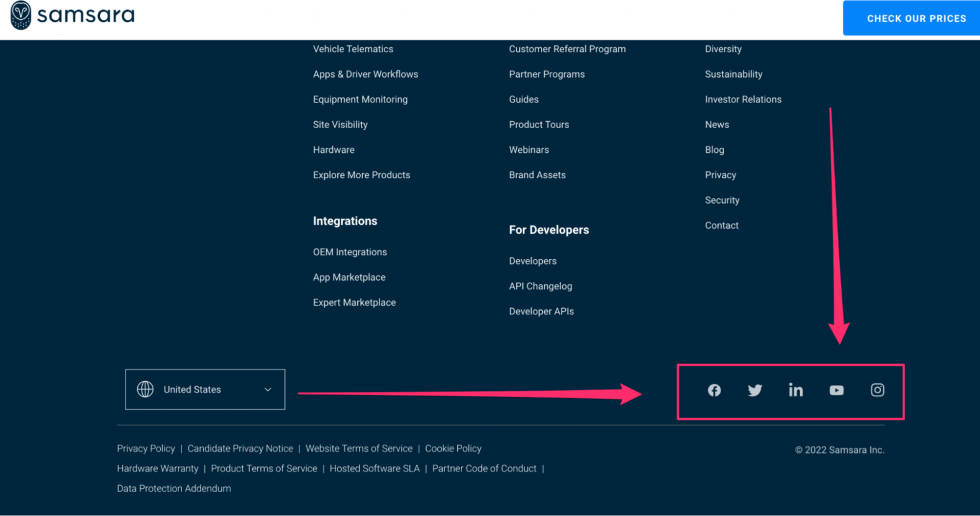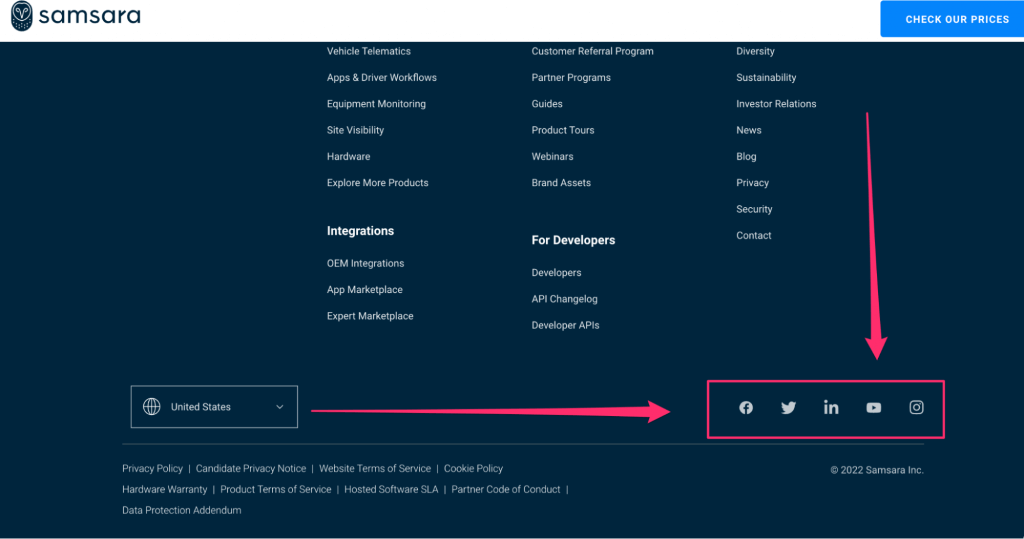 For example, website visitors scanning this page on
government fleet management software
, pictured above, can find these social media buttons connecting to Facebook, Twitter, LinkedIn, YouTube, and Instagram at the bottom of the page. They can use these to engage with this business directly through any of these platforms. It's a great example that even in "serious" industries, social media plays a crucial role.
Social media engagement FAQs
Here are a few frequently asked questions about social media engagement. 
What is the difference between social media engagement and impressions?
Your social media impressions are the number of times your posts are shown to people. Engagements are actual interactions, such as likes, comments, or shares. 
What gets the most engagement on social media?
Video is the most effective medium for driving engagement on social media. Up to
54%
of marketers claim that they receive the most value and engagement from video content. On Instagram, videos receive
49%
more engagement than photos. 
Which social media platform has the highest engagement?
Instagram posts receive the most engagement out of any social media platform by far, with an average engagement rate of
1.16%
per post. The next closest would be Facebook, with 0.27%.
Engage your followers on social media
Engagement is the foundation of effective social media marketing. It matters even more than the size of your overall audience. 
Ensure that you're taking the steps outlined above to increase your odds of engagement, creating an audience that's ready, willing, and able to interact with you directly on social media. 
Andy Crestodina
Andy's the co-founder of Orbit Media, an award-winning 40-person digital agency in Chicago. Over the past 20 years, Andy has provided digital marketing advice to 1000+ businesses and written 500+ articles on content strategy, SEO, visitor psychology and Analytics. He's also the author of Content Chemistry: The Illustrated Handbook for Content Marketing.