Is your LinkedIn strategy out-of-date or missing entirely? Time to fix that! Far from being just a job-search tool, LinkedIn has grown into a powerful platform for both employer branding and lead generation.
Continue reading to discover my best practices and expert advice from marketers for a powerful LinkedIn marketing strategy.
What is a LinkedIn strategy?
A LinkedIn strategy is a plan that enables brands to achieve marketing goals such as building brand recognition, getting quality leads, establishing industry authority, or hiring the best and brightest.
It includes goal definitions, specific steps, and key metrics to help track and measure results.
Why do you need a LinkedIn strategy?
If you're reading this, you're probably already a fan of the platform. But just in case you need to convince your boss, here are a few reasons to take your LinkedIn strategy seriously:
With a global community of more than 930 million members and 63 million companies, LinkedIn hosts 117 new job applications every second and intermediates 8 hires per minute.
40% of B2B marketers say LinkedIn is their most effective B2B tool for generating high-quality leads.
4 out of 5 LinkedIn members have decision-making power in their businesses.
33% of brands running LinkedIn ads have seen an increase in purchase intent and a lift in brand attributes.
LinkedIn's audience has double the buying power of the average web audience and trusts branded content 51% more than on other social media platforms, according to the company.
Convinced? Let's go.
7 steps to a successful Linkedin marketing strategy
A successful LinkedIn strategy is the fuel that empowers your team to fill in the gaps in the social media calendar with actionable, valuable, and goal-oriented content.
I'll walk you through the steps necessary to build your LinkedIn marketing strategy from scratch or to update an existing one so that you use the platform's tools and algorithm to your advantage.
1. Set your LinkedIn marketing goals
Your LinkedIn marketing efforts will be as successful as your ability to focus on the right goals. These goals must support and stem from your overall business objectives. Start by identifying the most important 2-3 goals for your online marketing strategy.
For a startup, this could be getting awareness and a steady flow of traffic to the website.
For an established brand, priorities might include strengthening customer relationships and recruiting top talent.
When it comes to LinkedIn Marketing, having clear goals has a major perk: consistent content. Once you've got your end goal figured out, deciding which content fits the bill and which doesn't becomes a breeze. If you're aiming to establish credibility, memes just won't cut it.

But if you want to engage professionals and build some serious brand love, then humor and transparent, behind-the-scenes communication are absolute winners. When the whole team is on the same page about the 'why,' it all magically falls into place.
Miruna Dragomir, CMO at Planable
Here are a few examples of LinkedIn goals:
Increase brand awareness by creating valuable content that fosters trust and familiarity.
Generate leads by driving traffic to the website and encouraging users to take action.
Build thought leadership by establishing key employees as industry experts.
Attract exceptional employees through employer branding tactics.
Engage with existing customers by nurturing meaningful conversations.
Grow your network of industry professionals, influencers, and partners.
Focus your LinkedIn marketing efforts on a couple of goals at a time to get the best results.
2. Know your target audience to communicate efficiently
Not knowing your audience is like talking to a (virtual) brick wall. You do your best, but the wall just won't engage.
Here are some ways to better understand your customer base before investing resources in content creation:
Use analytics to establish client demographics such as age, gender, location, and income.
Do your research and conduct interviews to discover challenges, interests, and goals.
Analyze your competitors' LinkedIn pages to see what works and what doesn't.
Research the LinkedIn profiles of some of your ideal customers. What do they post? What do they react to? What kind of language do they use?
Understand communication preferences through surveys and LinkedIn analytics.
Some of this information is readily available, while other data will take time to collect and analyze. However, the process is essential to having an effective LinkedIn marketing strategy.
3. Analyze competitors, influencers, and other businesses
Competitive analysis on LinkedIn helps you gather information about audience preferences and understand where you stand compared to similar brands.
Analyze company pages, influencers, other professionals in your niche, and even LinkedIn groups. Get inspiration from businesses that might be in another industry, but that get a lot of engagement. Here are a few things to analyze:
Number of followers
Types of posts
Visuals used
Tone of voice
Engagement rates
Profile of the people engaging with your competitors
Problems or questions that appear in the comments
Look for things that work, and that could be improved. Extract insights and adapt them to your own LinkedIn marketing strategy.
Authenticity is important in social media. Learn from others, but keep your tone of voice, stick to your goals, and find the brand identity that is remarkable to your target audience.
4. Create an eye-catching brand
The average human attention span is around 8 seconds, and it has been steadily decreasing over the past two decades. Your brand has a limited time to make an impression. And your LinkedIn page is competing not only with other brands or LinkedIn profiles, but also with social networking sites, apps, and digital distractions.
Create a LinkedIn company page or personal profile that stands out from the crowd.
Profile images
Use profile and cover images that respect all the LinkedIn page specifications, so that they show correctly on all devices. Following your brand guidelines, design images that are both impactful and compelling. The cover image is a great place to write a short tagline or message, highlight an ongoing campaign, or boast about an achievement.
Company description & information
Craft a clear, concise, and memorable company description. People visiting your LinkedIn page or profile should quickly understand what you do and why they should follow you. Don't forget to customize the call to action button to meet your goals.
Fill in all the information for your LinkedIn page. According to the platform, pages with complete information get 30% more weekly views.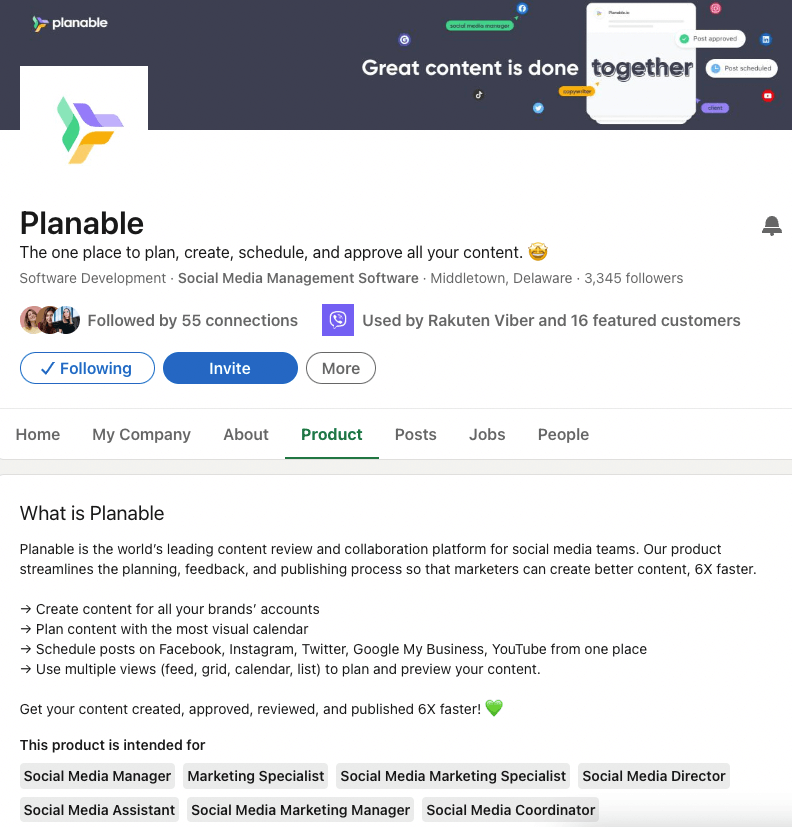 Visuals
Visual coherence makes you memorable. Make sure all social media posts and LinkedIn ads respect the same guidelines in terms of color palette, type of photos, graphics, and text overlay. Include your company logo, but don't make it the point of focus. Content should prevail.
Employee engagement
Optimize the personal LinkedIn profiles of your employees, especially the thought leaders. Provide cover photos that align with your brand and offer guidelines for sharing company news and updates. Ask your team to link their work experience back to your page, so you get more reach, but also add a human side to your brand.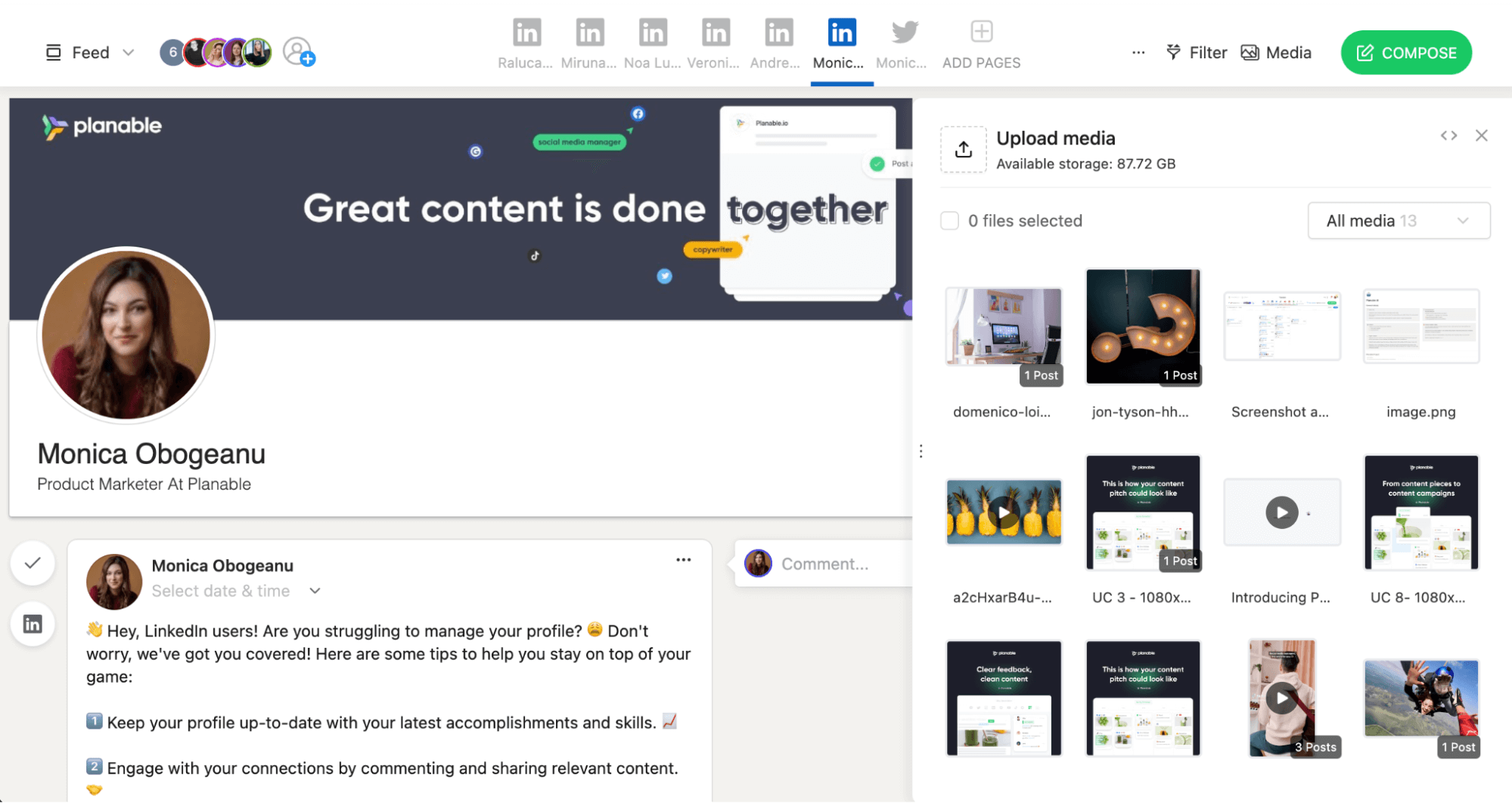 A content tool like Planable can help you bring your employees' LinkedIn profiles in one place and provide on-brand visual assets they can reuse.
Constant activity
Be present and active. You don't want people visiting your page or profile and seeing posts from a few months before.
People often forget that LinkedIn is all about building your network. So not engaging with your audience is one big mistake. Social media is a two-way conversation, and it's important to respond to comments, thank people for sharing, and engage in conversations to build relationships with your network.
Andreea Coroian, Social Media Manager at Planable
Read more below on how to stay organized and not miss a LinkedIn beat.
5. Create a LinkedIn content calendar
Consistency is key to growing your LinkedIn company page. A social media calendar is essential to stay on top of your content creation efforts. It makes it easy to plan, see what's missing, track goal achievement, ask for feedback, and get approvals all in one place.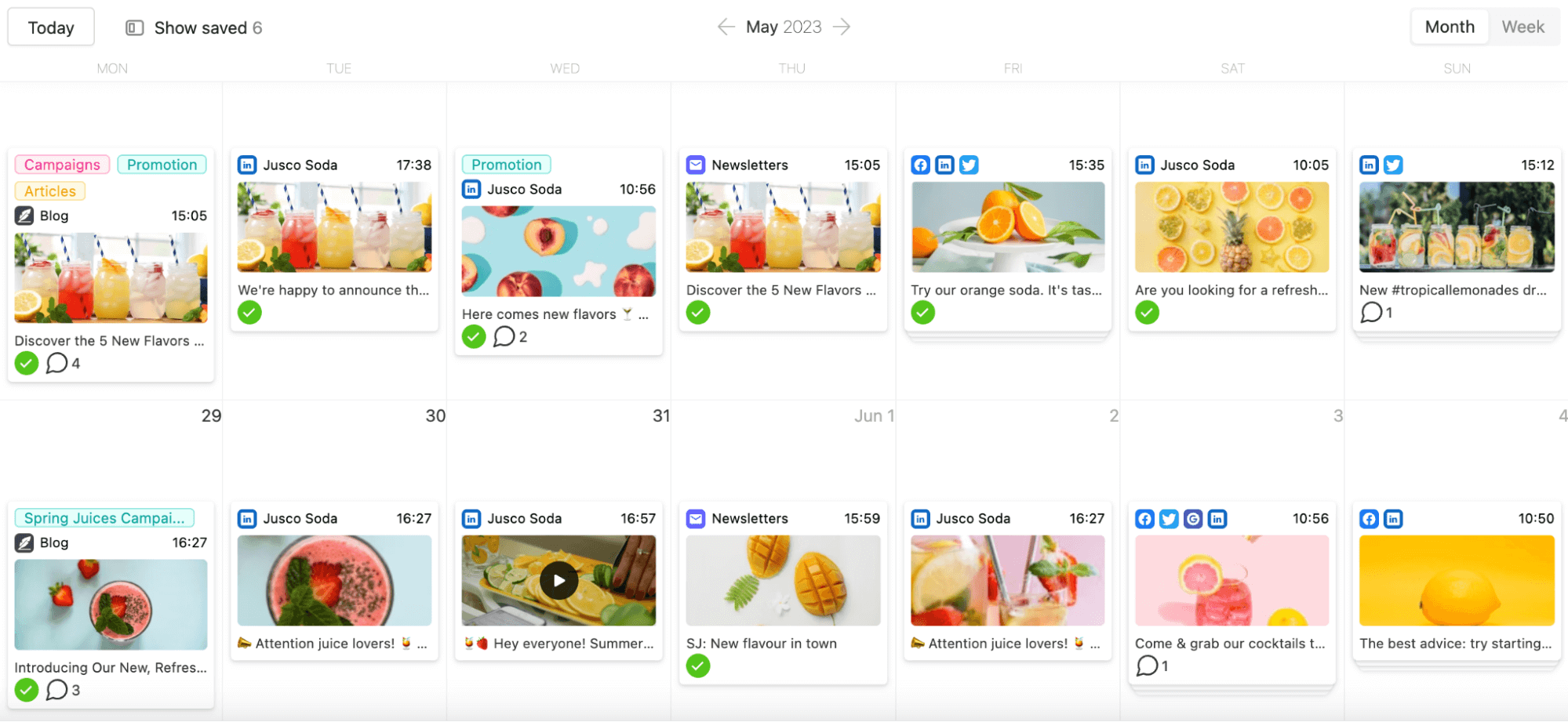 A marketing tool like Planable lets you plan for multiple social media channels while adjusting the message for each. One of the most useful features is switching between different types of views for your LinkedIn posts. For example, the calendar view is great for having everything at a glance and checking for coherence as well as diversity.
How often should you post? It depends on your resources, but aim for at least once or twice per week, if not daily. According to LinkedIn, companies that post weekly see two times more engagement with their content.
6. Post relevant and engaging content
Besides consistency, you also need the secret sauce of relevance mixed with engagement.
Every time you create a post, ask yourself: is this something that makes people curious? Will it spark conversations? Will it bring value to my followers?
If you're feeling stuck, there are plenty of LinkedIn post ideas to put in the mix:
Case studies. Talk to clients and highlight success stories.
Industry articles. Subscribe to newsletters in your niche and curate the most interesting information for your LinkedIn page.
How-to content. What have you learned and can teach others? Start with the problem and summarize the lessons learned.
Company news and updates (but make them benefit-driven).
Compelling decks. Transform blog articles or videos into slides with essential, shareable information.
Tips and quotes from thought leaders. Talk to your best employees and use their expertise to showcase the value you bring to the market.
Industry trends. Keep an eye on changes and innovations in your niche.
Statistics and research. People love data that's presented in a visually appealing way.
Polls. Use LinkedIn's poll feature to ask relevant questions and start conversations.
Make your target audience feel seen and valued, not preached to and commoditized.
Want to stay ahead of the game and schedule LinkedIn posts in advance? Planable can help with that and more: plan, approve and schedule your content for 8 major social media platforms in minutes.
7. Measure your LinkedIn performance to see what works
By now, your LinkedIn marketing strategy should be in good shape and ready to go. Not trying to stop you from celebrating with a champaign emoji, but here's one more thing on the list: analyze results and optimize your LinkedIn marketing strategy.
Company page analytics offer a lot of data to measure performance:
Visitor and follow demographics tell you if you are reaching your intended target audience or not.
LinkedIn content analytics shows engagement data so you can compare the performance of different types of posts.
Competitor analytics offers an image of how you stack up to other similar brands in terms of activity and engagement.
Your LinkedIn marketing plan is a living playbook that needs constant adjustment to yield the best results. Just like the algorithms work relentlessly on offering the best content to users, you have to keep working on your strategy.
How the LinkedIn algorithm works in 2023
No platform will let users know exactly how their algorithm works. But here's what we know so far from company updates and experience.
Content is filtered by quality
LinkedIn favors quality content because it is a professional network with an audience with high standards.
According to Sabry Tozin, VP of Engineering at LinkedIn, multiple algorithms analyze users' behaviors in order to show interesting and relevant content, jobs, and new connections. These algorithms get tweaked constantly so that they do a better job at selecting content.
Your content can be flagged as spam or low-quality if you:
Use bad grammar
Post inappropriate content
Use too many links, hashtags, or tags (tag only relevant accounts)
Post every other hour
Publish unformatted posts (keep readability high)
Talk to everyone and no one at the same time (relevance is key)
Engagement is tested with a small group of followers
LinkedIn tests content's relevance in the first hour after posting by first showing it to a limited number of users. The better the content performs, the more people will see it afterward – and vice versa. To increase your chances of getting those first engagements, do the following:
Post content when your target audience is most likely to be online and respond.
Be present and respond to comments after posting.
Enhance visibility by engaging with other people's posts as well.
Reach is expanded based on audience ranking signals
If you pass that first test, your content will make it to other people's feeds based on a few ranking signals:
Personal connections. Users are more likely to see posts from people with whom they have worked or interacted in the past.
Relevance. LinkedIn will select content that matches people's interests or that is related to topics they care about, so make sure to use relevant keywords.
Engagement probability. People will tend to see content that they are more likely to interact with based on previous behaviors.
Ongoing spam checks and engagement monitoring
LinkedIn keeps monitoring content long after you've marked it as published in your social media calendar. The better it performs, the more people will keep seeing it, so put in that initial effort into making it pop.
5 expert LinkedIn strategy tips to help you grow
Let's hear from those who have mastered the art and science of LinkedIn presence. Here are some best practices you can't miss, straight from the experts.
1. Engage with your audience
Each social platform was built with a mission, and LinkedIn's is to connect professionals. The LinkedIn feed is not an art gallery. Nor is it a high-school reunion. It's a meeting place for like-minded people who want to network in a meaningful way.
My #1 piece of advice for social media managers creating a LinkedIn strategy is to really focus on building relationships and providing value to their audience. Rather than just promoting the company or products, aim to educate, inspire, and engage your audience with high-quality content.

People want relevant insights, thought leadership pieces, and useful resources that can help them solve problems or gain knowledge. And that's what gets the engagement and community we all want.
Andreea Coroian, Social Media Manager at Planable
2. Add lo-fi content to your calendar
Lo-fi content refers to posts that require minimum effort to produce. While elaborate, well-thought-out content is great, it also eats up resources. If you're going to post frequently – and you should – grab some of that low-hanging social media fruit. Think quick quotes, easy industry jokes, reposts, or repurposed old content.
As a social media marketer, there's a unique joy in seeing a text-only post that took seconds to write outperform a highly-produced asset
says Chris Kim, Social Media Director at Airtable, in an interview with Rachel Karten.
3. Boost community interactions with creative campaigns
Get creative and use gamification techniques to boost engagement. For example, Sophie Miller, Founder of Pretty Little Marketer, recently created a LinkedIn challenge for her followers: publish 3 LinkedIn posts per week, based on provided prompts.
Here's why it was successful:
It wasn't just a made-up mechanism. It provided value to users.
It included desirable rewards.
It created a sense of belonging to a community.
Can you think of something similar for your LinkedIn page?
4. Use hooks to make people want to "See more"
LinkedIn influencers write short compelling copy to draw people in and make them read more than the 140 characters shown in the preview. And it works. Clicking that "See more" link is a great sign for the algorithm that your content is feed-worthy.
The first sentence of every post should stop readers in their tracks:
Use a striking fact.
Ask an intriguing question.
Address a pain point or challenge.
Here are two creators doing it right:


5. Share insights with your sales team
LinkedIn is part of the sales and marketing strategy, so don't lose track of the big picture. Keep your eyes out for engagements that can help other members of your team.
In the interview quoted above, Chris Kim gives another interesting tip for social media managers: if you see a client or lead interact with your posts, pass that information over to sales. A screenshot of a comment might move the needle on a deal.
3 examples of companies crushing it on LinkedIn
For an extra kick of inspiration, here are some examples of brands that are getting LinkedIn right. They communicate differently but hit the mark for their own audience.
1. Semrush
Besides having a great LinkedIn page, with clear, attractive images and a strong company description, Semrush understands that engagement is key.
Here is a post that is designed to get engagement by speaking directly to the target audience's pain points in a fun way.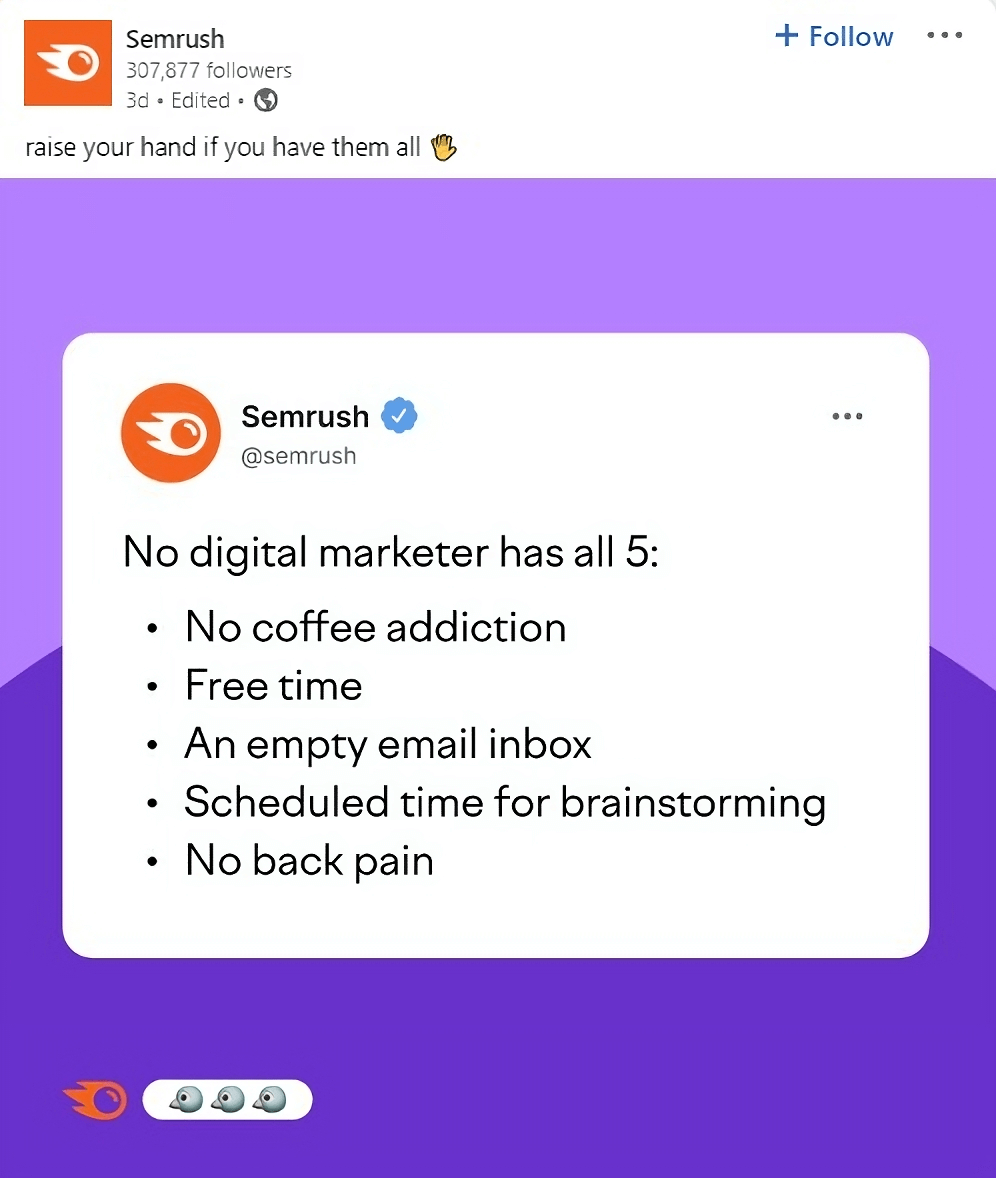 2. Yubnub Creative
"Creativity is intelligence having fun" is the promise on Yubnub Creative's LinkedIn page, and the brand delivers.
The post below takes a creative idea and transforms it into images with viral potential. It also includes a call to action – great for getting more traffic and conversions, if that's your goal.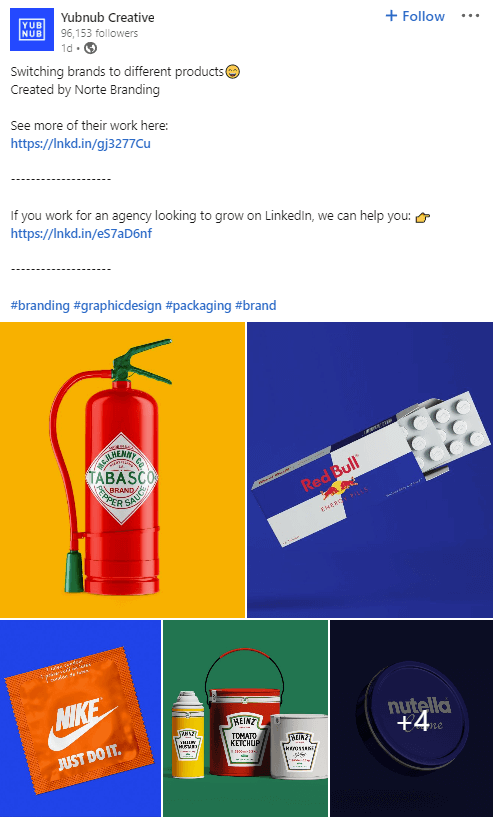 3. Mercedes-AMG PETRONAS Formula One Team
The Mercedes-AMG PETRONAS Formula One Team LinkedIn page is a fantastic example of putting people front and center. With beautiful, high-quality photos, quotes from thought leaders, and a focus on the brand's core values, it keeps fans reacting.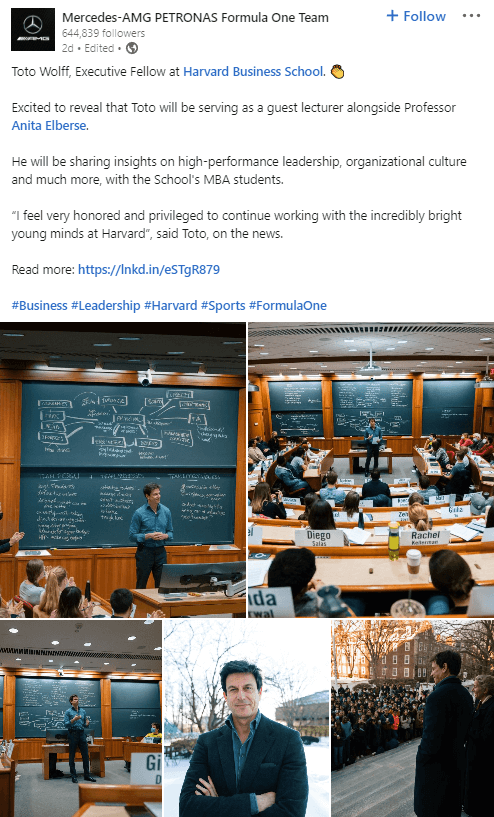 Wrap up
I hope that you have plenty of information and inspiration in your toolkit to create a successful LinkedIn marketing strategy for your company page or personal profile. Before you go, let's connect and keep the conversation going.