Struggling with what to post on LinkedIn? To any marketer, it can be challenging to write engaging posts that consistently resonate with your audience.
That's why I've put together a month's worth of LinkedIn post ideas to help you avoid the content block.
Whether you're a seasoned professional or just starting out, these post ideas will help you stand out from the crowd, establish yourself and your company as thought leaders in your industry and have a neat social media calendar planned ahead.
Week 1 of LinkedIn post ideas
In week 1 I'll focus on providing valuable insights to your LinkedIn audience.
1. Industry insights
Industry insights are a great way to position yourself as a thought leader in your niche. It might also help you to get ahead of any issues that may be affecting your target audience.
Perhaps there has been an out-of-the-box campaign that you find interesting? Or a new update that your audience may find relatable.
It can really help to open up a conversation with your audience, getting them to share their thoughts about the campaign in the comments section.
Here's how Because of Marketing does it with their post on LinkedIn about a Tiffany & Co campaign.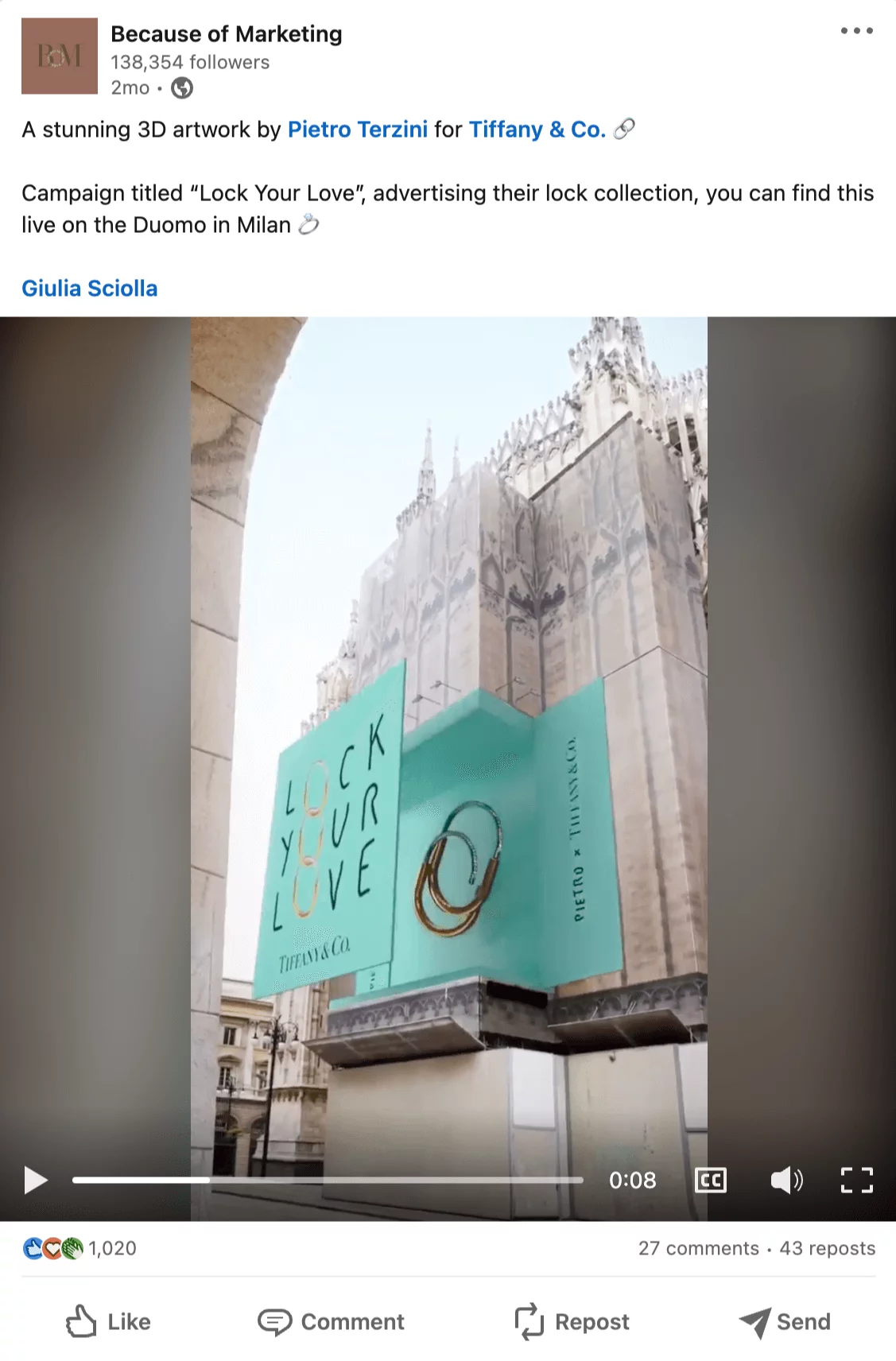 2. Long-form content
Long-form content is a great way to get into more detail about a particular topic that your audience is dealing with. Write a post that provides valuable insights and advice on how to solve it.
It's time to put yourself into your social media followers' shoes and ask yourself
"What are their main pain points?"
Try turning this into a text post, LinkedIn article, or blog post, where you can share advice to help your audience. Invite your team to add their individual insights using Planable's Universal Content collaboration tools to dive deep into the detail and write valuable content for your followers together.
3. Carousel posts
Carousel posts are a brilliant way to summarise information into bitesize pieces for your audience in a visual way.
Break down a problem your audience is having and provide insights
Share some tips and potential solutions
Post a lesson you've learned that is relevant to your audience
As your audience swipes through the content, they are spending more time than on a single image post. That increased time spent on the posts drives higher engagement and reach.
Sophie Miller used a carousel LinkedIn post to share a quick summary of what happened in the last quarter.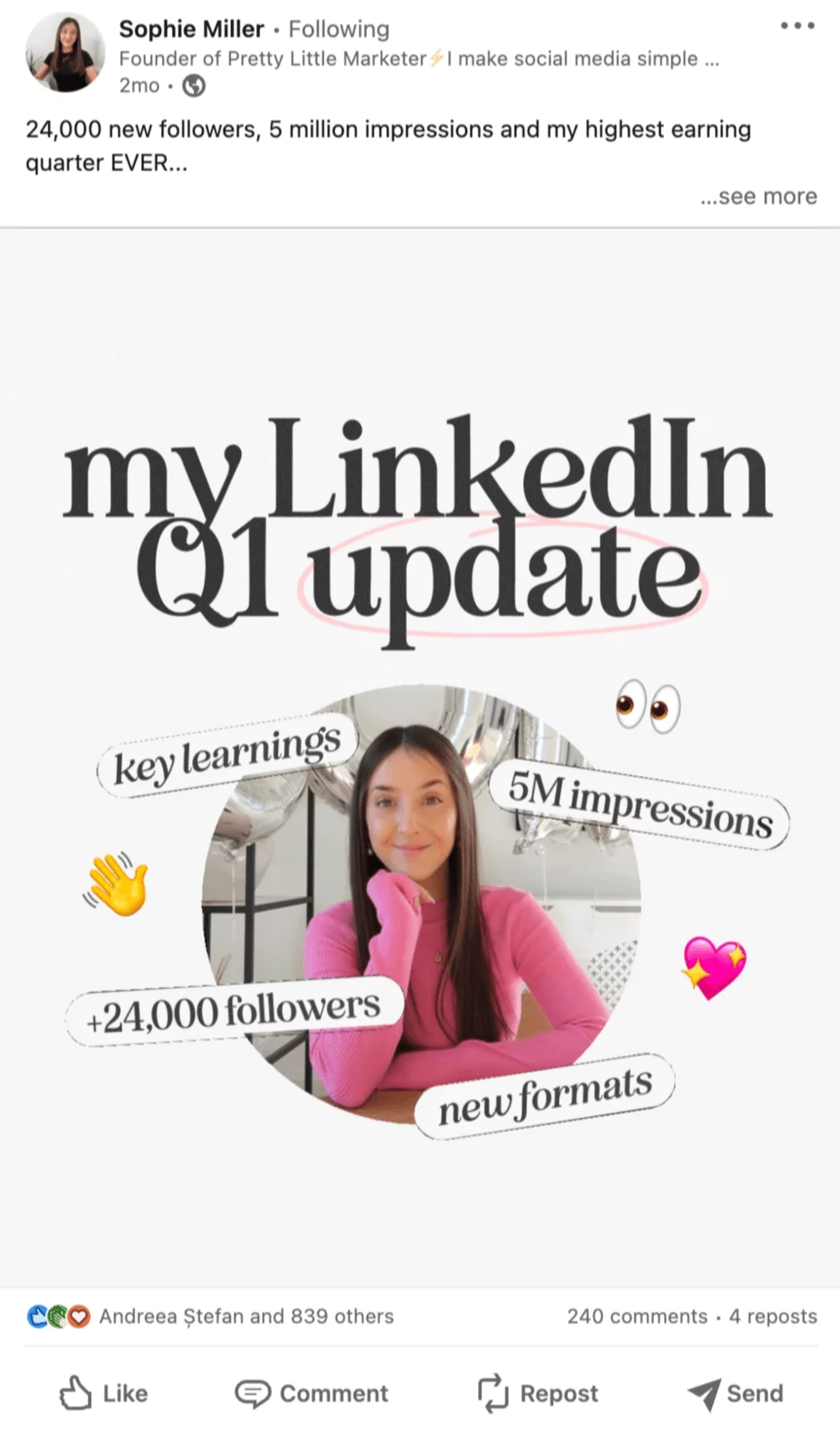 4. Thought leadership
If you're looking to position yourself as THE expert, then thought leadership content should be key in your LinkedIn content strategy.
Establish yourself as an authority in the industry by providing insightful perspectives from your field. You can implement this directly on your LinkedIn company page, or by leveraging personal profiles of company leaders.
Sharing research reports can also be a great way of showcasing your expertise and adding value to your audience. Thus they'll be more likely to engage, share and comment with their opinions.
5. Current events memes
From the Met Gala to the Barbie movie trailer, jumping on a current event by creating fun and playful posts is a great way to get your brand noticed on LinkedIn.
I recommend hopping on those trending topics with a meme of your own.
It's a great source for content ideas that will help you connect with your audience and create sharable posts along the way!
Keep in mind, though, that it's important to keep it relevant to them.
Planable hopped on the Met Gala trend to share a marketing-related meme with their followers.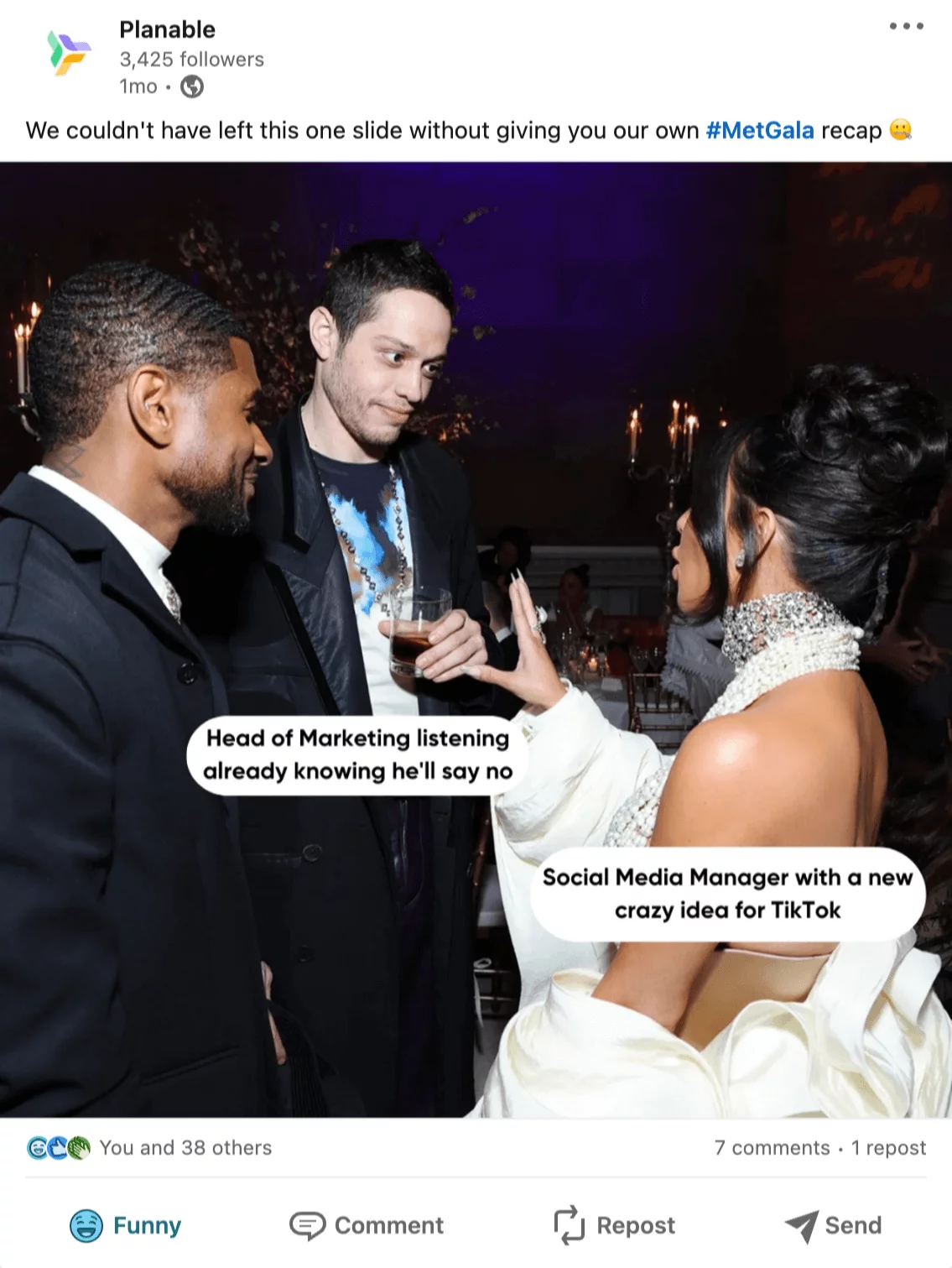 Week 2 of LinkedIn post ideas
A whole week of content ideas done!
Now that you're warmed up, it's time to move on to week 2 where I'll be focusing more on collaborative knowledge sharing on LinkedIn.
6. Helpful tips
Your followers want to read valuable information. By sharing tips and tricks on relevant topics, you can build trust with your followers and position yourself as an authority in your niche.
This can increase your credibility and lead to more engagement and conversions.
When readers find valuable information, they are more likely to share that content with their own followers, thus expanding your reach.
Notion shared a post on how to get better results, providing valuable insights that can help their followers.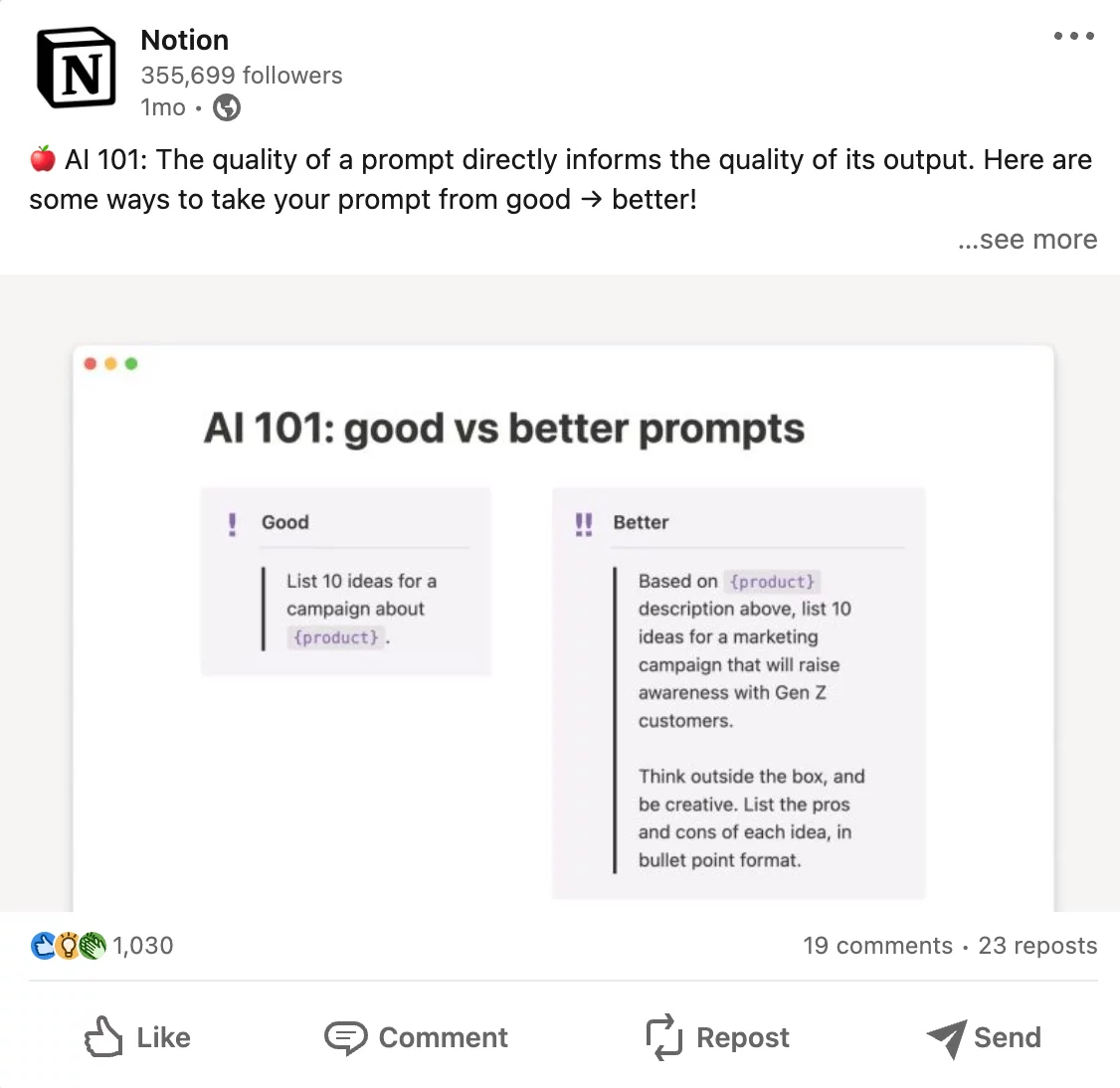 7. Expert shout-out
With millions of LinkedIn users sharing valuable content and insights daily, one content idea is the shout-out of an expert in the industry.
You could do this by either:
creating a post that highlights some of your favorite industry experts and tagging them
re-sharing LinkedIn posts from a social media expert and talking about why your audience should be interested in the post
When you tag another expert, you're helping to expand your reach across their audience. That creator or their audience will add comments boosting your engagement.
Top tip: encourage your followers to tag their favorite LinkedIn experts as a call to action.
Planable re-shared an expert shout-out post from Alt Marketing School that highlighted the Top 100 trailblazers in marketing.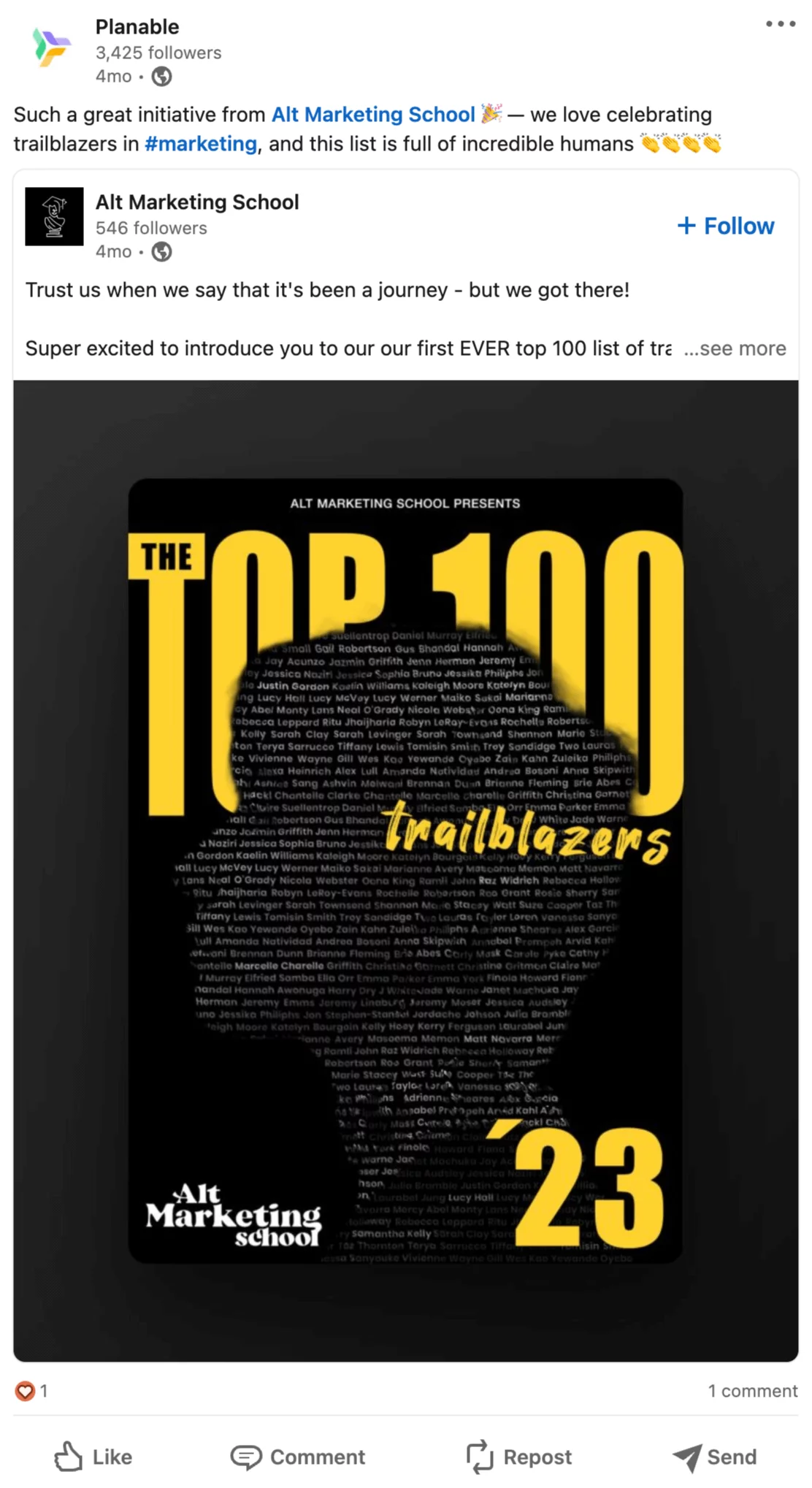 8. Industry news
Position yourself as a trusted source of information by sharing the latest trends, data, tools, and insights in your industry.
Leverage breaking news or trending topics to create posts that are timely, relevant, and resonate with your audience.
By doing this, you can develop and foster discussions in your comments section with your LinkedIn audience, driving more engagement on your content.
9. Relatable joke
Got a relatable joke that could entertain your followers? Now's the time to use it!
It can be an easy way to break through barriers and make your audience feel like they're interacting with the real you – not just another company trying to sell them something.
Humor can also help you to connect with your followers on an emotional level. By using relatable stories, humor, and personal experience within your content, you create a stronger connection with your audience.
Overall, relatable content helps make your LinkedIn posts more impactful, memorable, and effective.
Pretty Little Marketer does this with a hilarious and relatable meme post.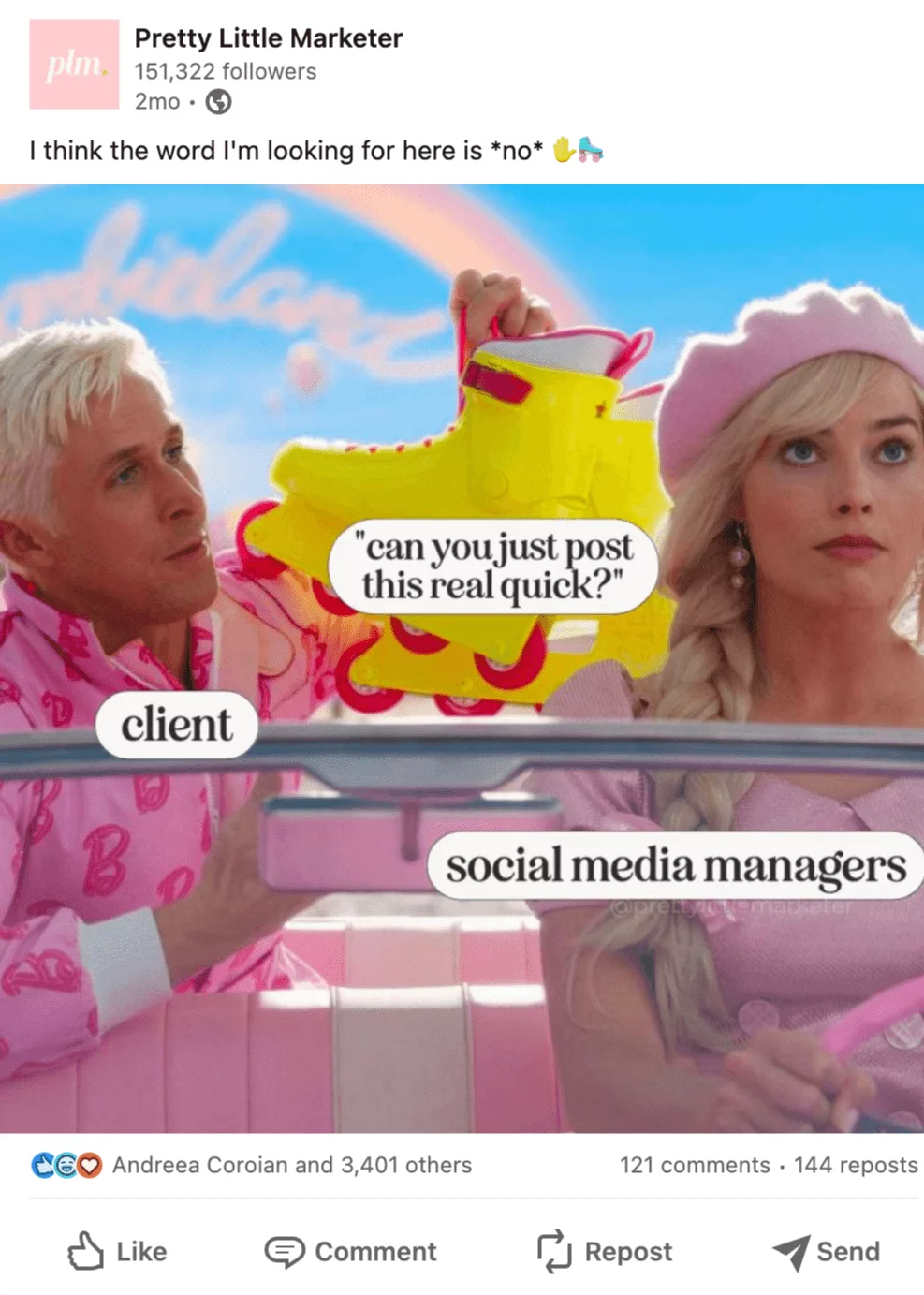 10. Blog post repurpose
So you've got an amazing blog content calendar but it's stuck on your website? Time to transform that into one or more LinkedIn posts.
Here are a few ways you could do this:
Turn it into a carousel post and highlight key points
Share text posts from a section of the blog
Share bitesize pieces of information in several LinkedIn posts
That blog content is full of beneficial information that your followers need to know. So, apart from sharing the full article once, take advantage and repurpose it into multiple formats!
Week 3 of LinkedIn post ideas
In week 3, I'll be covering content ideas for LinkedIn that showcase your company together with your customers' experience.
11. Myth debunking
Time to spill the tea and let your followers in on the secret of your industry. Pick one or two myths within your industry and create a post to debunk them.
Make your followers feel included in the business and encourage them to add comments about whether they believe the myth or not.
12. Conversation starter
The best kind of content starts a conversation. After all, it's called a social media platform for a reason.
Your audience wants to feel connected to the business and feel a part of the community.
Bring your followers into your LinkedIn page's content by opening up a discussion about a topic that is key to your followers.
Here, Sophie Miller is inviting her community to comment on what makes the best content. She has included her own opinion, which opens the comments section for conversations on who agrees or has an alternative view.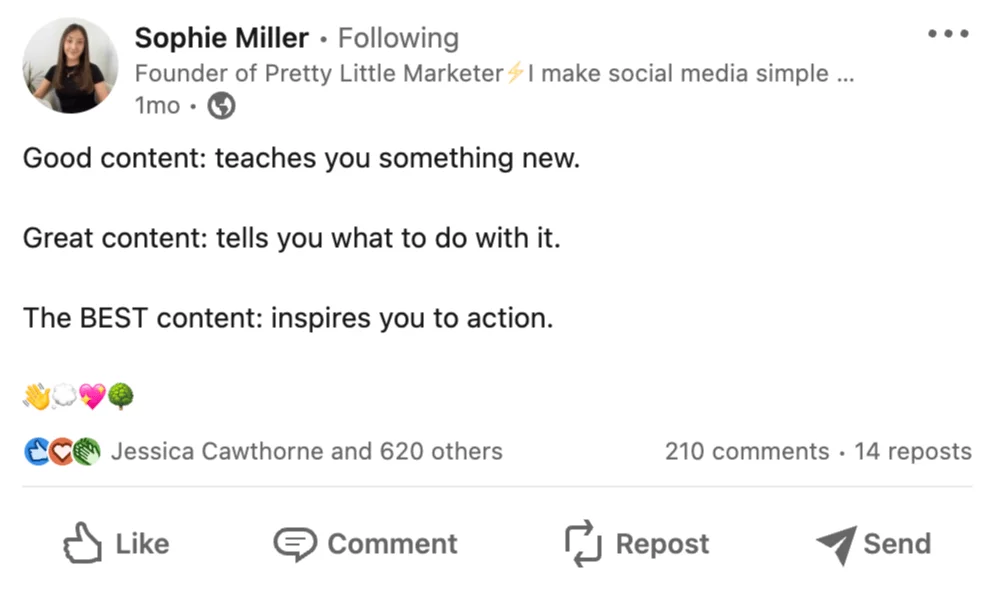 13. User shout-out
If your audience is hyping your company up, use that content. Posts containing user-generated content receive some of the most engagement, as they showcase authenticity.
Your followers want to feel they're part of the community and seeing someone recognized through a post tag, helps them to connect with the LinkedIn page.
It makes sense to showcase your customers' feedback through testimonials, photos, or videos, as it helps to show the impact of your brand on existing and potential customers.
It's always nice to see a company status update that shows appreciation for customers.
Here Airtable has shared a LinkedIn post with their customers' feedback.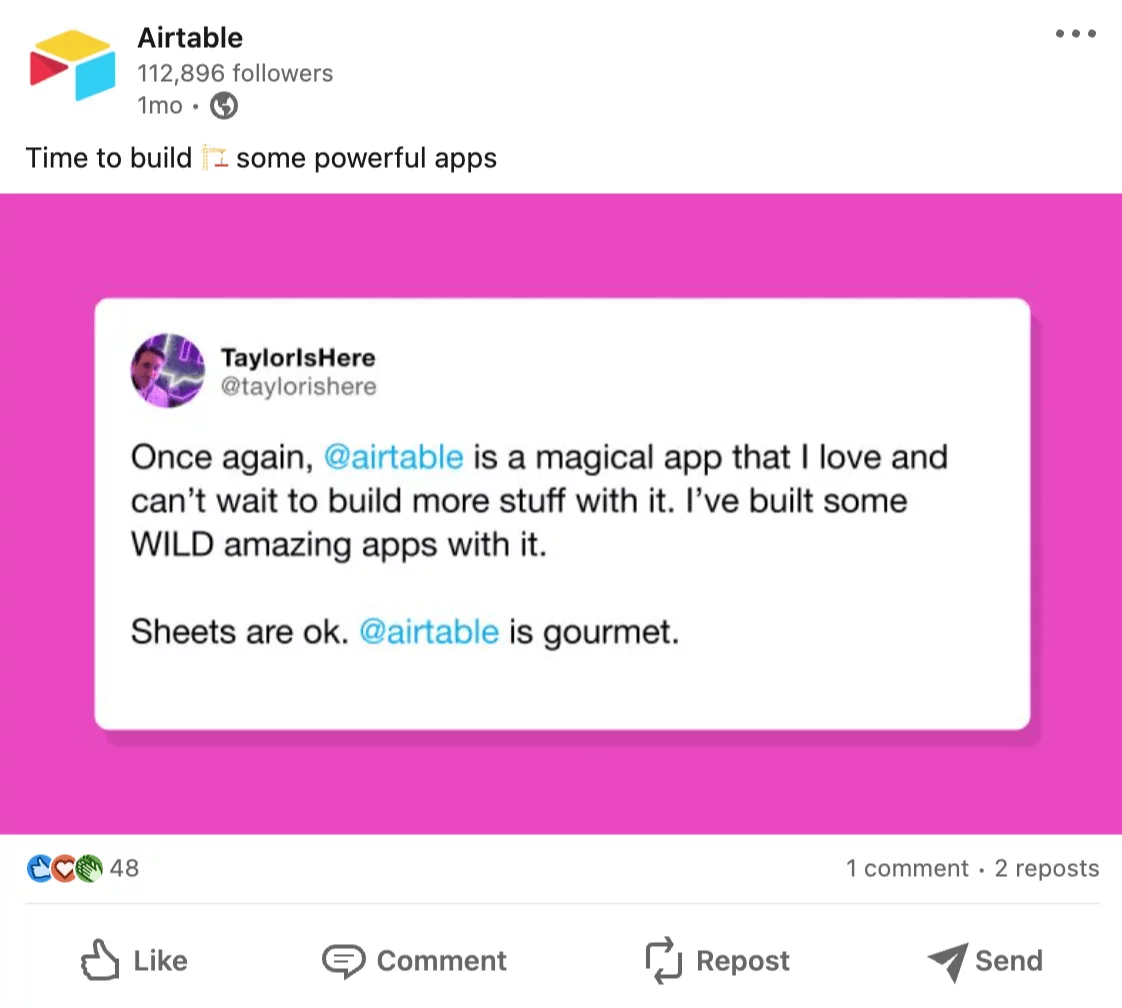 14. Humble brag
"I don't mean to brag, but…"
Whether they are small or large wins, it's so important to share your successes.
Showcase your new skills
Share a story on how a new skill helped you come up with a better idea to solve a problem
Talk about your business achievements
Superhuman shared a LinkedIn post on how they have helped their customers.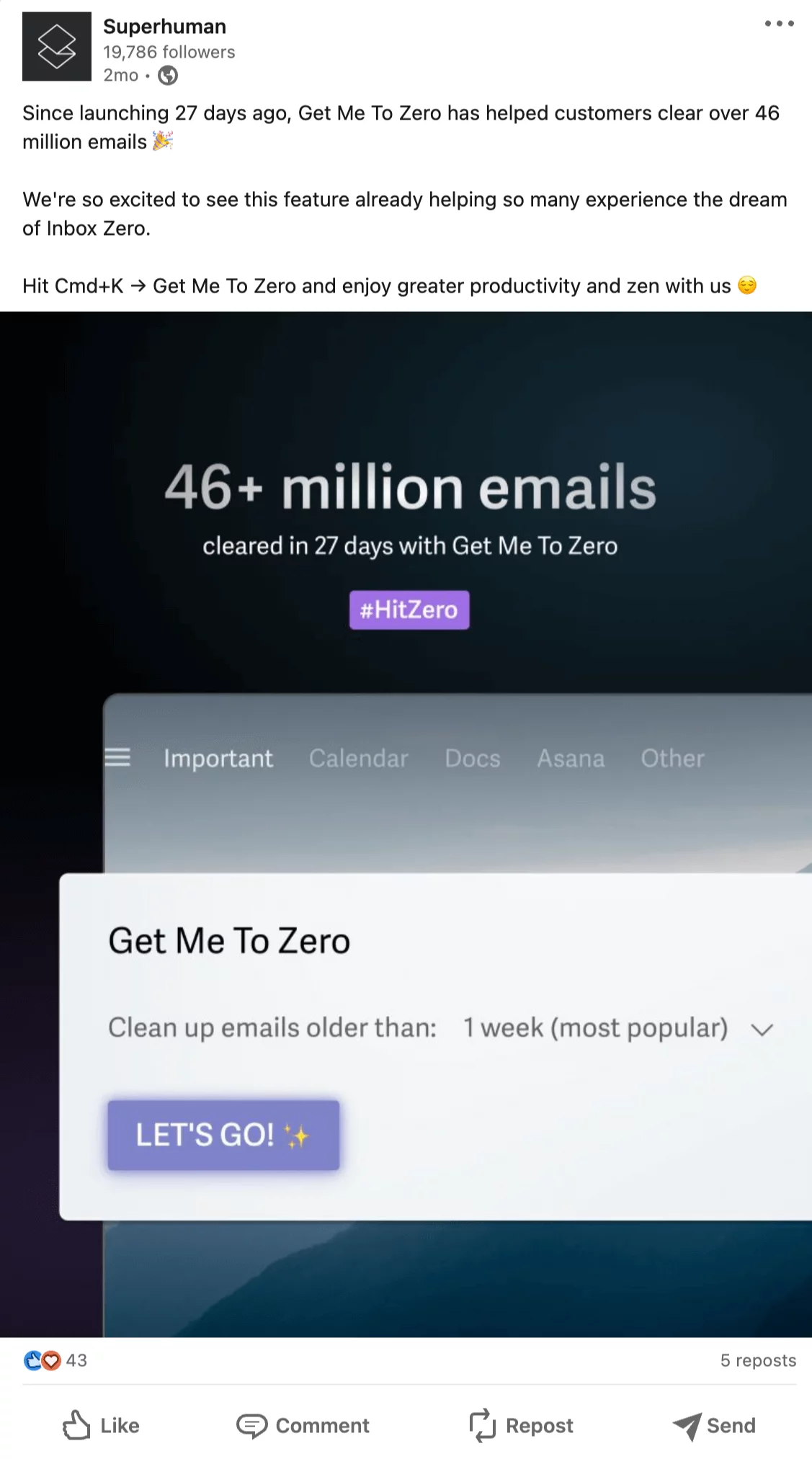 15. Milestone commemoration
Time to commemorate your company milestones with this next LinkedIn post idea.
Sharing milestones with your customers on LinkedIn helps to highlight the work you've been doing and the impact that has had on the growth of the business.
You could use this as your chance to ask for feedback in the comments, ask them to share their favorite memory, or just say a heartfelt "thank you for being a customer!".
Squarespace announced its 20th anniversary by showing how they celebrated together with the employees in a series of live events.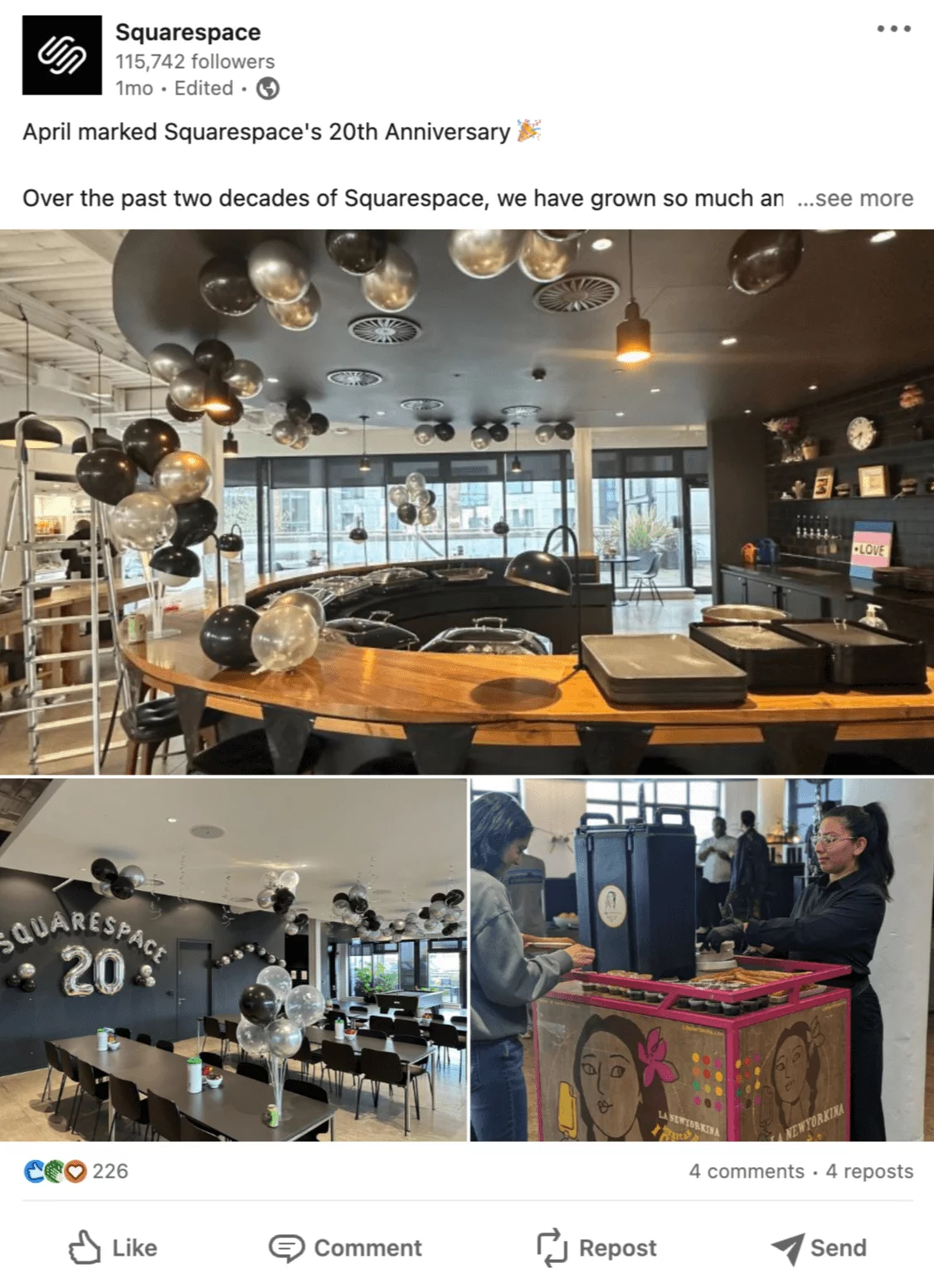 Week 4 of LinkedIn post ideas
The final week of great LinkedIn posts ideas and I'm going to dive deeper into posts that will help nurture your online community.
16. Unpopular opinion
Want to get people talking? Share an unpopular opinion related to your industry.
You'll spark up a conversation and encourage a debate in the comments section and also highlight issues that may be on your customers' minds.
You can also create and schedule a LinkedIn post with a poll to encourage your followers to engage and vote on whether or not they disagree or agree.
Here Joshua Copeland has shared a post about representation in the Cybersecurity industry.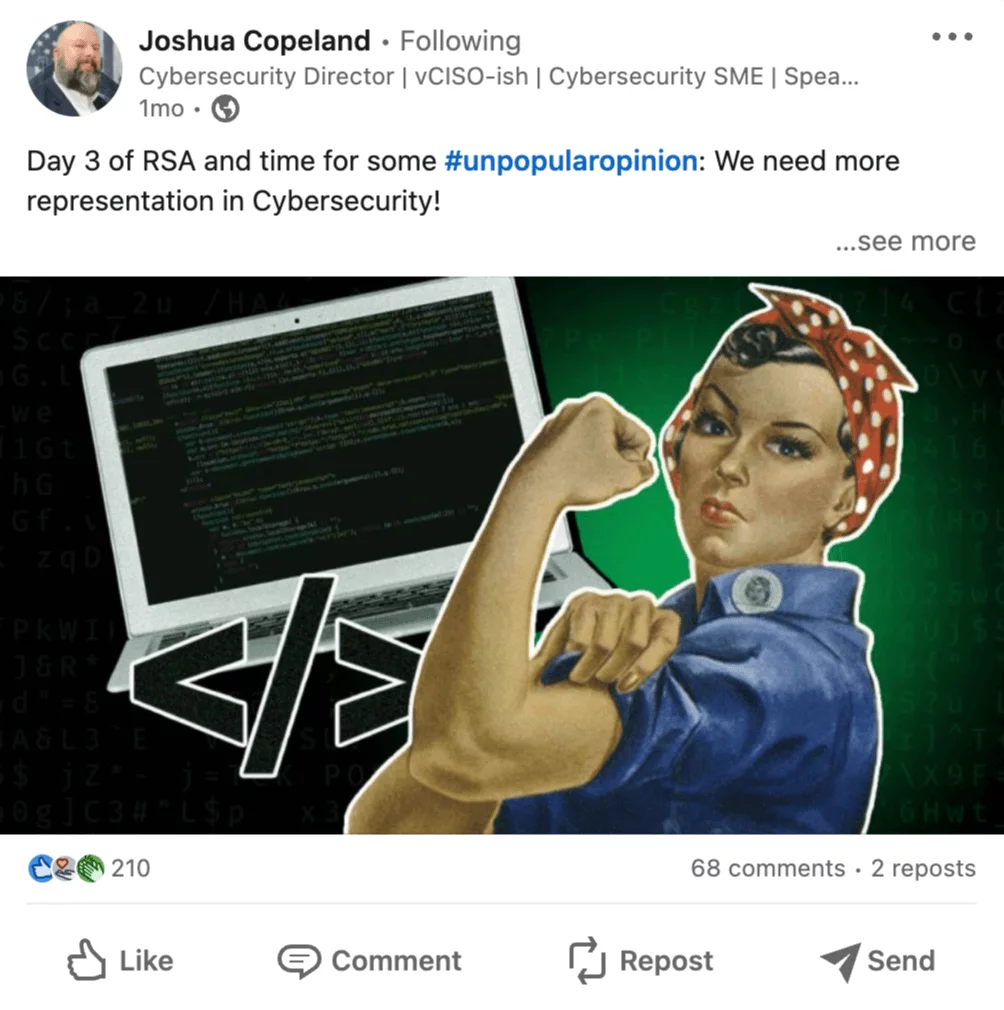 17. Question of the week
"Question of the week" posts can be a great idea when you want to encourage engagement and foster a sense of community on your LinkedIn page.
By asking thought-provoking questions related to your niche, you can initiate conversations with your followers, encouraging them to share their perspectives.
This type of post can also serve as a valuable source of feedback on your product, or your customers' pain points that you could later use in your content.
Planable shared a LinkedIn post asking their followers which quality is most important in a marketer, encouraging their audience to vote and add their opinion.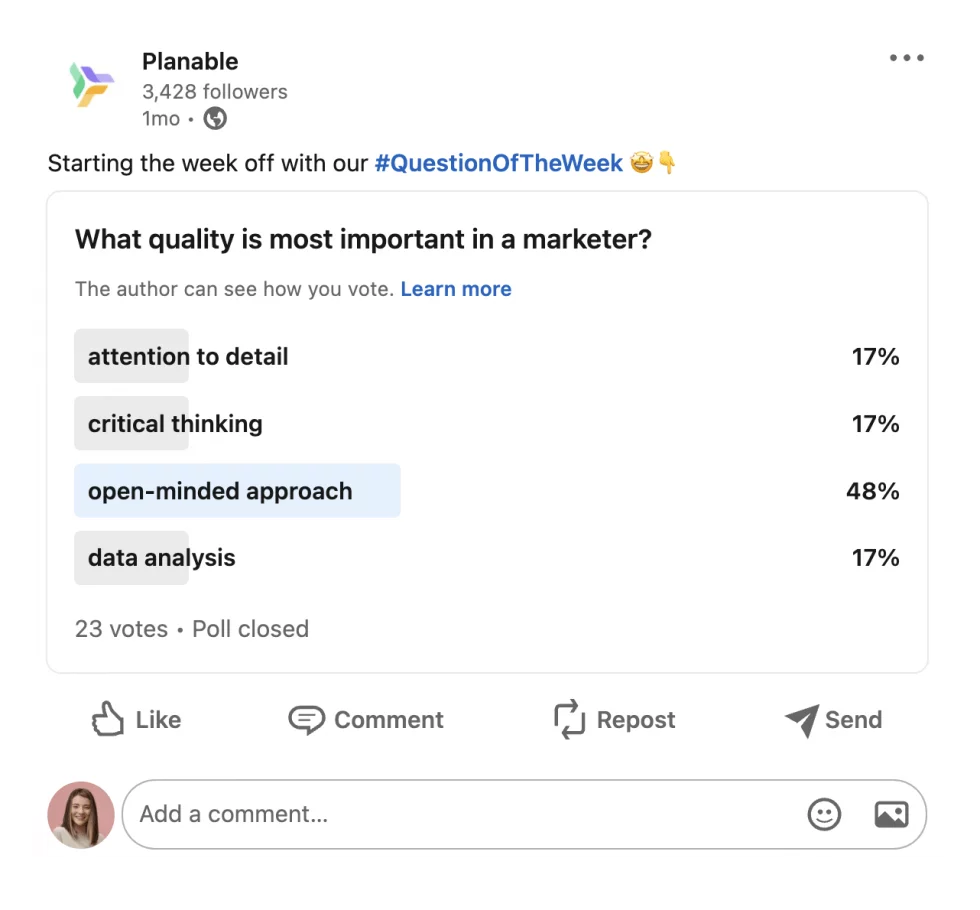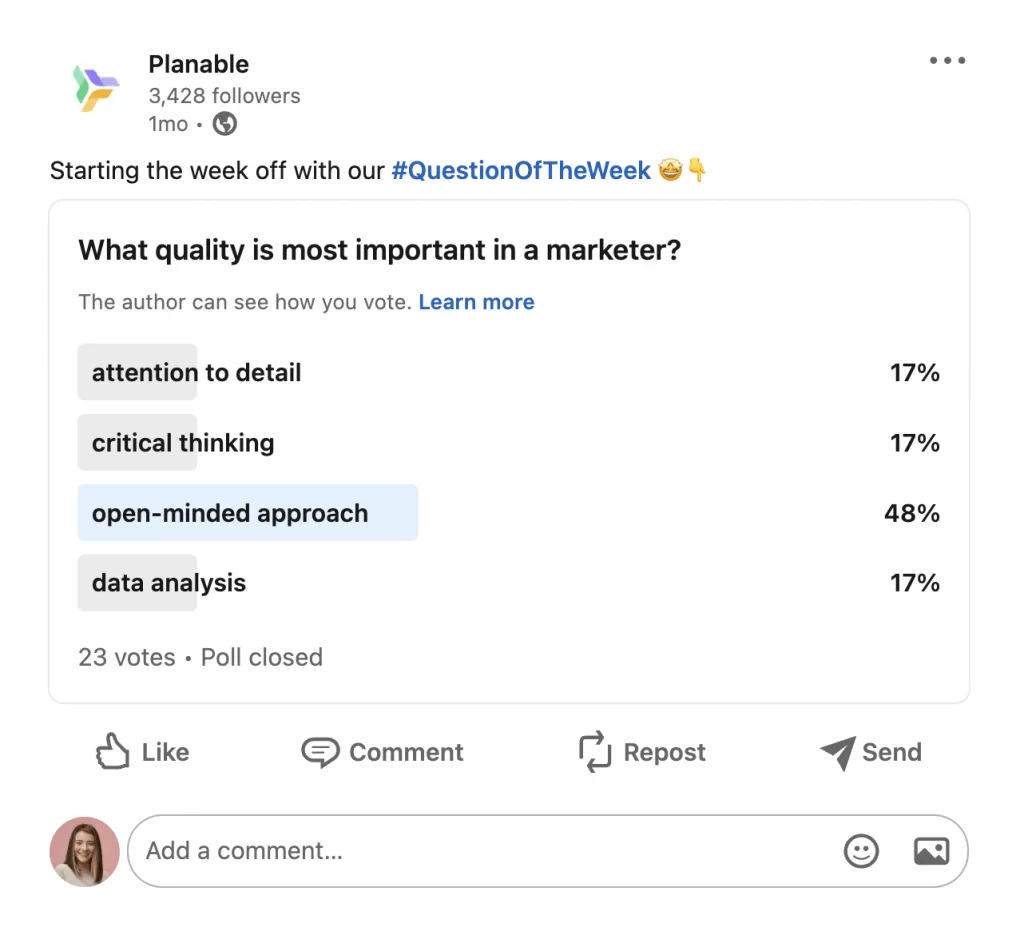 18. Celebrity meme
Just like current event memes, including celebrity meme posts in your LinkedIn strategy can be a great way to engage with your followers.
Add an industry-related joke to a photo of popular celebrities to increase the chances of your post being liked or shared.
Additionally, celebrity meme posts can be a great way to showcase your brand's personality and sense of humor.
ClickUp used a simple yet funny caption with a celebrity photo to create an industry-related meme post.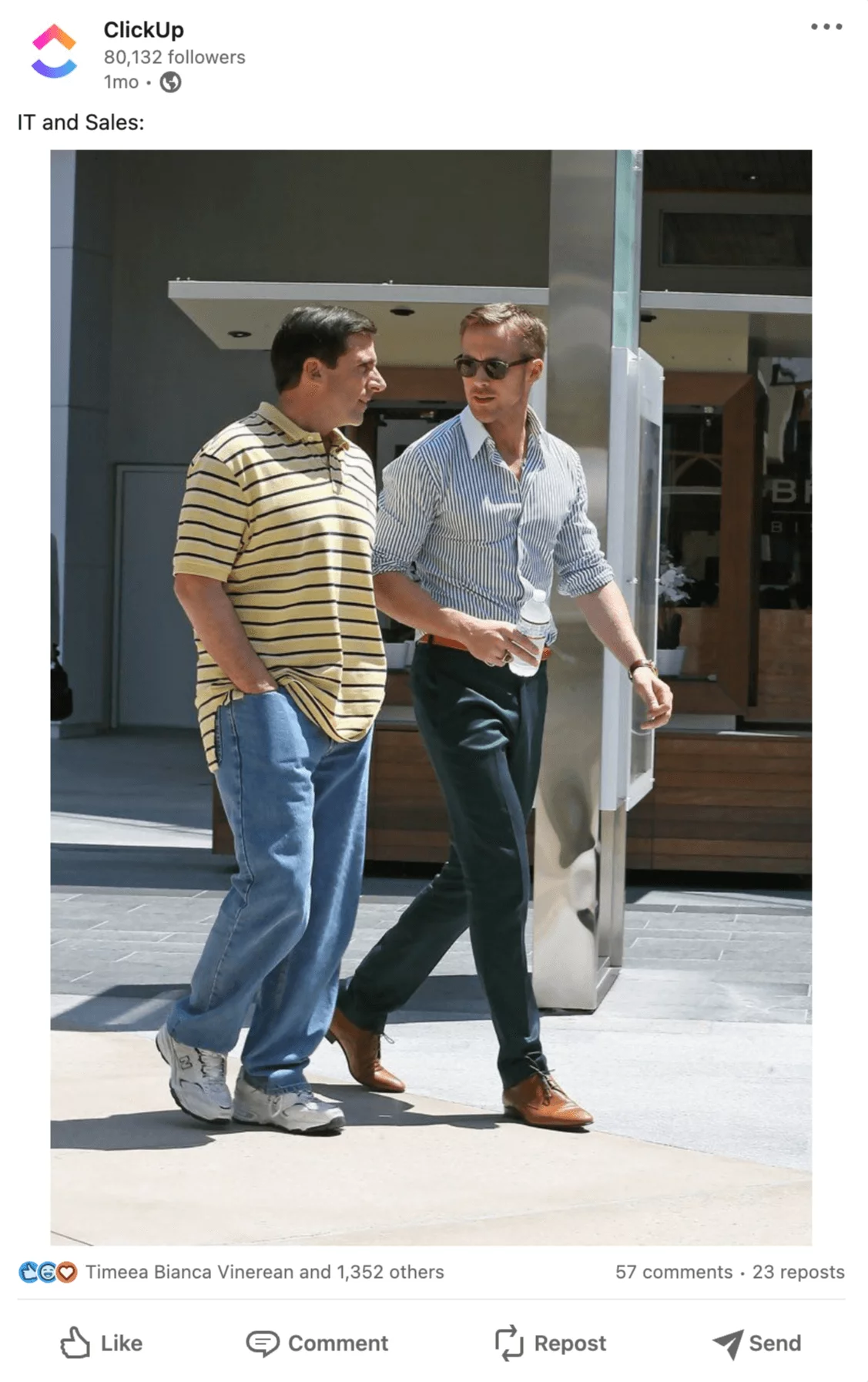 19. Employee post re-share
Got an amazing team that knows what they're talking about? Take advantage of that insight and re-share the content they're posting. Especially if it's directly related to the business.
Not only does it link back to their LinkedIn profile and audience, but it highlights the expertise within your company.
In the following example, Slack re-shares a post from their recently-appointed CEO giving insights about the company.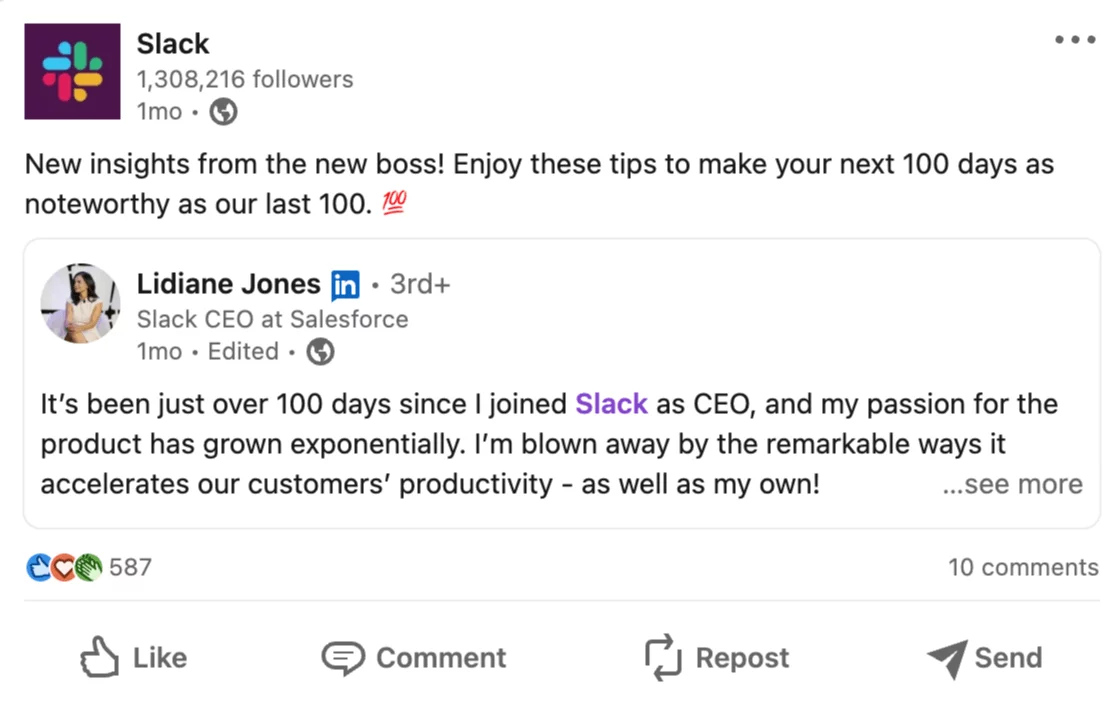 20. Industry updates
Keeping up to date with the latest industry updates is essential. This is because they provide timely and relevant information about current developments in your area.
Create a LinkedIn post that shares an update with your followers to build authority and provide your following with informative and valuable content.
This can help to build trust and loyalty, which is crucial for long-term success, and can also help attract new customers to your LinkedIn page.
Girl Power Marketing shared a carousel post that lists social media updates curated for her audience.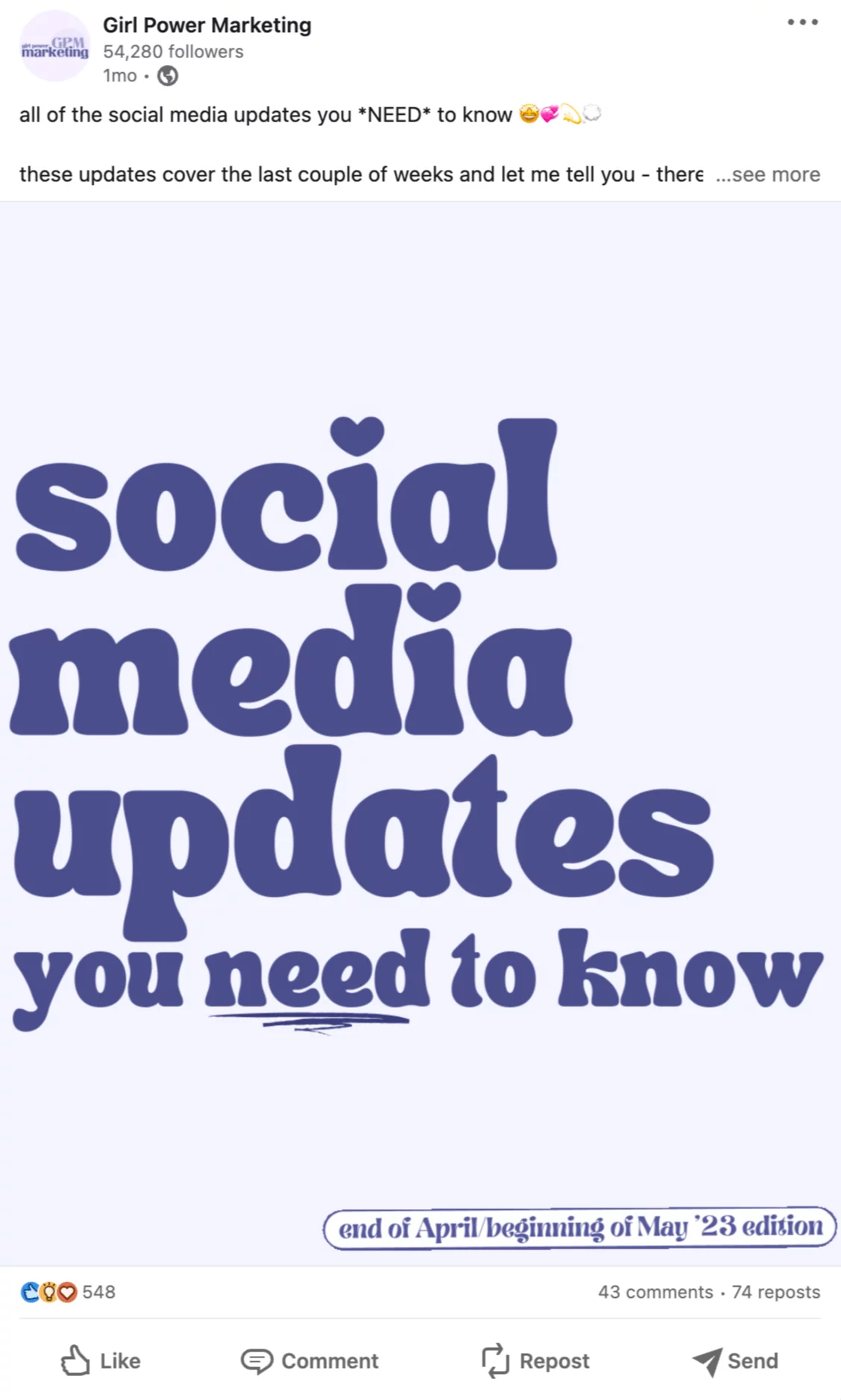 Time to publish
With these LinkedIn content ideas in your pocket, now's the time to get creative. Start with posts about your own company activity, your expertise, and industry updates. Serve your audience with great ideas that they'll resonate with, sprinkle a bit of humor, and you'll grow that audience in no time.
Jessica Cawthorne
Jessica is a social media marketer, content creator and mental health advocate. When she is not scrolling through her Linkedin newsfeed, she's crafting killer content and making connections. In her spare time, she's travelling around the world, taking photos and taste-testing all the fantastic cuisine.