Chatbots, Facebook groups, influencers, voice search, people interests. It has all been covered by marketing experts at the beginning of this year. What do they have in common? They're tactical trends – a quick boost for your marketing plans. But for how long will they be viable?
If you want to be ready for anything, you should understand the bigger picture. You need to see what's the need behind Facebook groups and why influencers have so much success. When you dig deeper, you'll notice that users influence all these trends: eyes on the people and on data!
So if you want to stay on top of things, take a step back and see what brands are already embracing the future. Here are 6 trends that will set the tone in the following years and examples of who already took the bull by the horns.
1. Personalized content – to each, their own
In the past few years, marketers learned a lot about their customers. They studied data, created audiences and automated their content. Naturally, the next big step is personalization: in order to win your users' attention, you should have a personal connection with them. They're literally drowning in content, and FOMO made them scroll and swipe very fast. You only have 3 seconds to get their attention.
In fact, users already expect to get personalized content. And marketers are aware of it. In a study from 2018, 88% of the marketers said they agree their prospects/customers expect a personalized experience. Yet, there's a lot to work on, as only 33% of the personalization is done right. This is why there is no better time to start personalizing your content.
Luckily for you, there are companies nailing it and you can learn a lot from them. Browsing history, preferences & behavior are only a few of the assets you can use to personalize your content. Yes, creative writing may work, but data-driven content guarantees success.
Amazon recommends new products based on your search history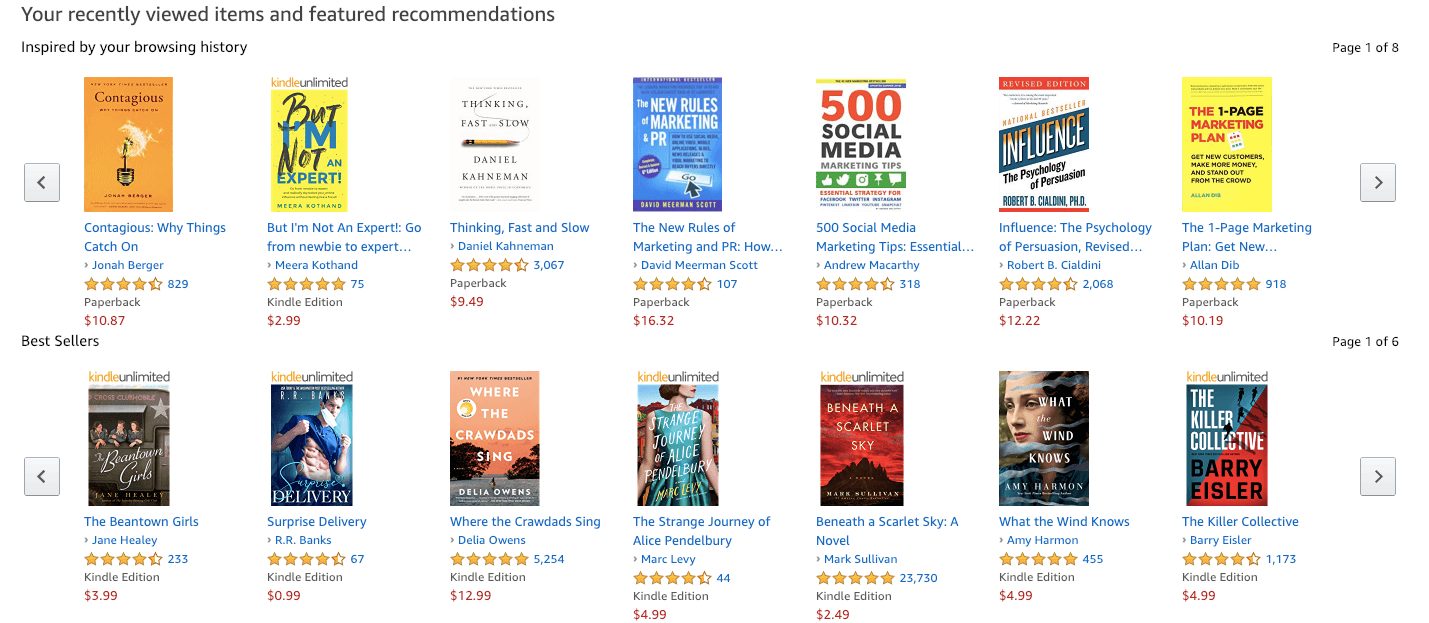 Netflix is recommending new movies and series based on your watch history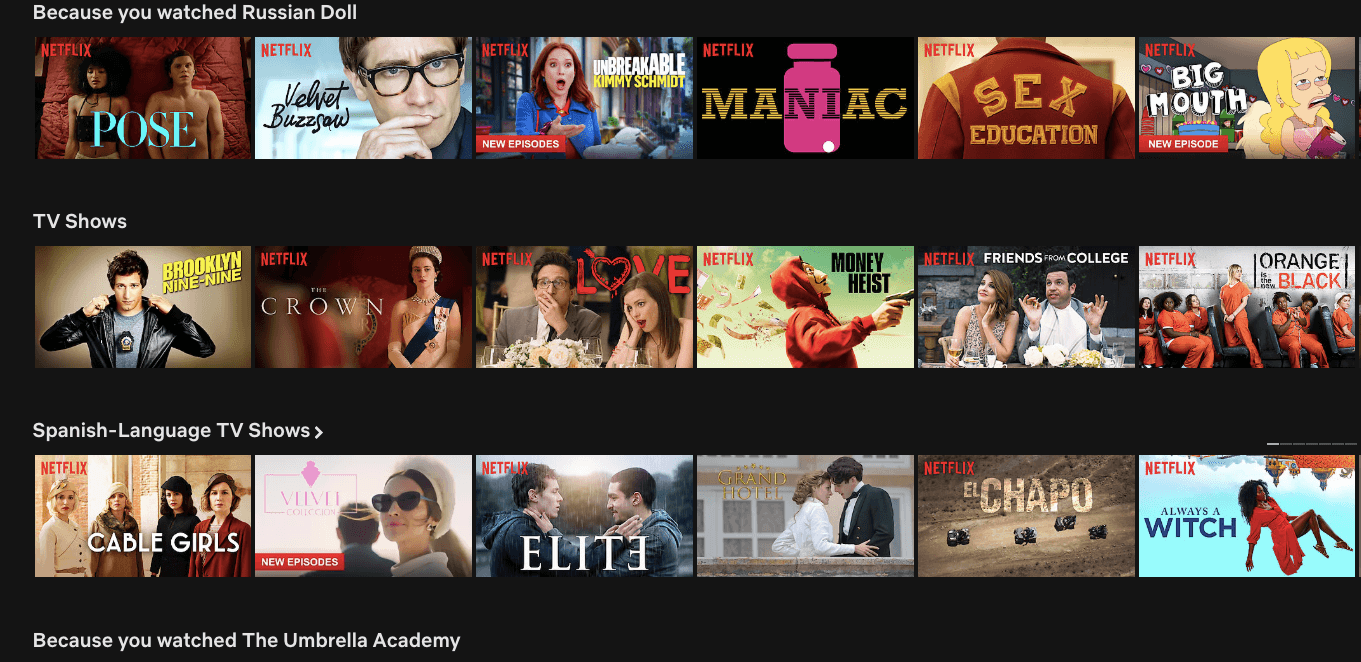 Spotify is creating playlists based on your music preferences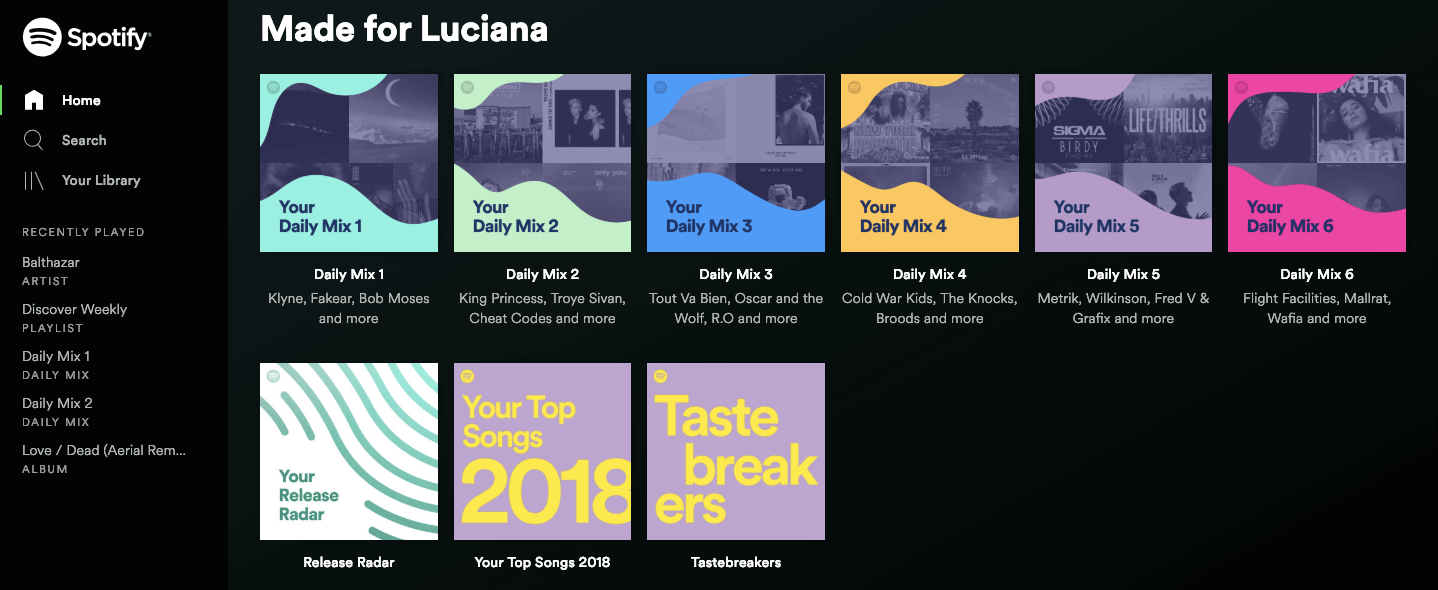 2. Experiential Commerce – long term relationships are the best
Every business' final purpose is to sell. But the question is: do you want to sell once, or do you want to create a long term relationship with your customers? Companies are starting to create entire universes around their products so they can offer a full experience to their prospects. Think about IKEA: every time you walk into their stores, you instantly feel at home. It's not just chairs displayed on a rack. You have bedrooms, kitchens, and comfy sofas you can try.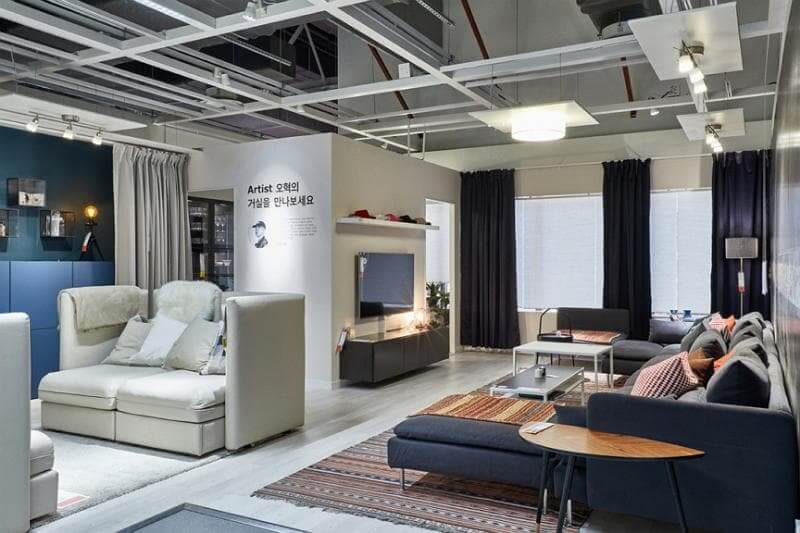 Samsung is also focusing on experiential commerce. Its popup in Manhattan has lounge rooms, huge screens, VR and even a recording studio, but all you can buy there is coffee. They understood what the future of commerce looks like: providing flawless experiences will surely get your audience hooked.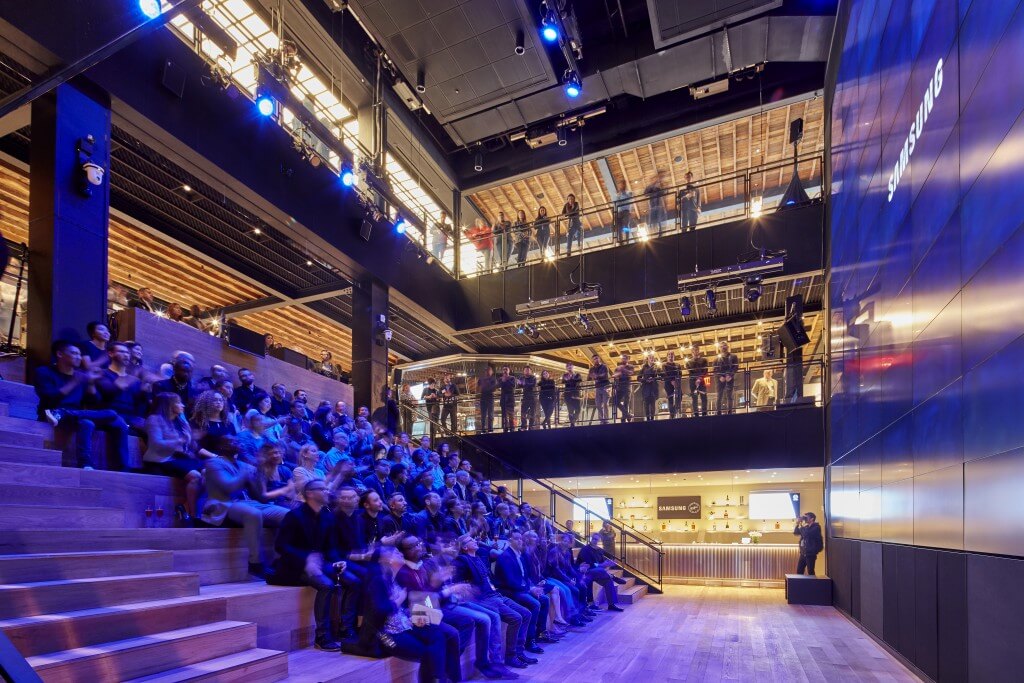 3. Data-driven creativity – eyes on the funnel
Gone are the days when we jumped to a conclusion based on suppositions about audiences. Now you can use genius tools that help you pull data about your customers across different channels. This is the era when you can stalk your users wherever they have an online presence.
Data-driven creativity doesn't mean you kill your creativity. As a creator, looking at data will help your work be more prolific, as you will understand who your customers are, what channels they use and when is their favorite time to be online.
As Kathleen Saxton recently explained, creativity is key in this data-driven era:
From #AWEurope: @KittySax explains the role creativity plays in a data-driven world. pic.twitter.com/TwfZc6mPvK

— Advertising Week (@advertisingweek) March 21, 2018
If – before – you created something, distributed it and hoped it works, now you look at data and it will tell you what content to build that will appeal to your audience. Isn't that wonderful? You can also use data in order to create forecasts. This way, you can predict what outcome you will have when investing in advertising.
You can't run from data, so you might as well use it to your advantage. Use it for A/B testing in your campaigns and on your website so you can better optimize your content. Save money and attract more customers.
Nespresso, for example, used data to understand what their audiences' interests and concerns are and matched them with what their business needs were: in this case, Nespresso positioned itself as a sustainable brand. This is the story they built:
4. Brands producing like publishers – native content
Brands acting like publishers is a pretty new concept, but big companies already embarked on this journey. Acting like a publisher doesn't only mean the brand produces more content, but it also means it monetizes the content.
This new trend is shifting the brand's budget strategy entirely. If until now, brands were expected to spend money on media, they are now producing media assets that make money. How? By simply acting like publishers and charging for media space. This doesn't mean that brands will stop spending big money on marketing – have no fear. This "acting" like publishers trend is another pillar that adds to what's already working. What is happening is brands are making money from publishing and then they're spending it on more marketing.
Starbucks is already on the rise with touchy stories and a funny approach: the recipe for brand success.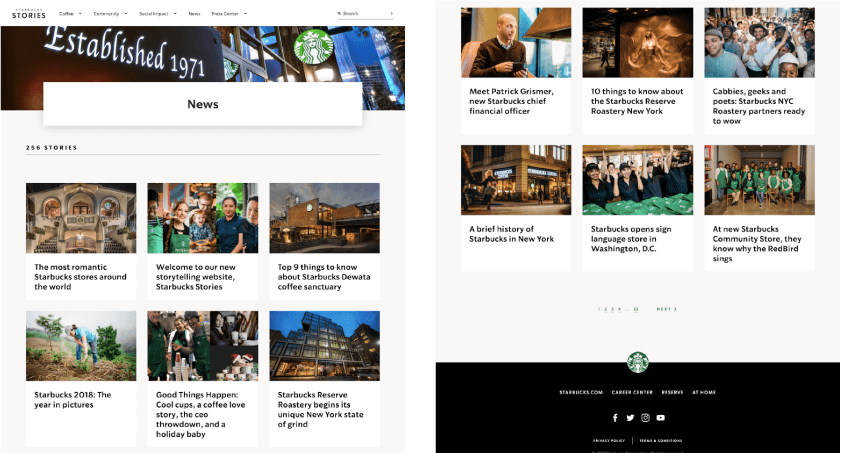 Mondelez is also trying this trend, starting with Oreo and then adding more brands like Triscuits. The company partnered up with Buzzfeed and Fox and they co-create content that… sells. Raise a hand if you ever saved an Oreo recipe!
RedBull is above being called a publisher. The content it provides surpasses what most of the publishers do. Gone are the days when RedBull was only an energy drink.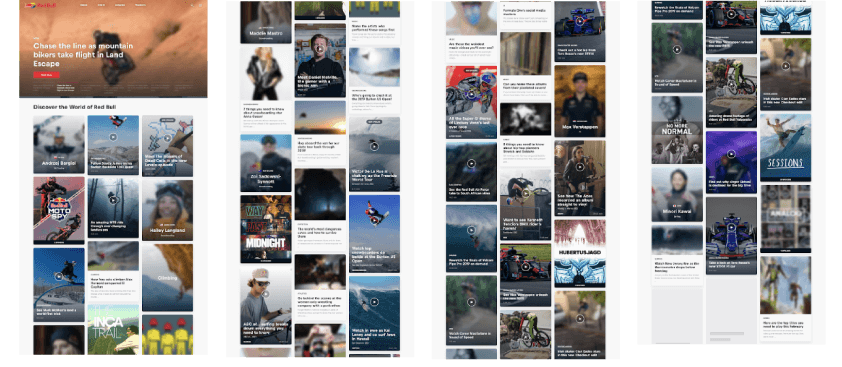 5. Businesses prefer indie agencies
There is no place for debate: companies are moving their marketing in-house. But the reason behind this shift is one that involves budgets and access. For day-to-day duties, it became cheaper for companies to invest in their own marketing teams.
More than that, things are moving so fast, it became too hard to keep the pace in terms of communication and approval.
You got your budget covered, you have your fast approvals, but what happens with the great, creative campaigns? Here is where indie agencies are taking the stage. Some of the greatest work in the marketing industry happened thanks to indie agencies, and they continue to bring the boldest concepts in the arena because they are free – they have the liberty to do whatever they want. There was a long road until businesses understood they should let creatives do their thing without any interruption.
Once businesses realized what miracles can happen when they give indie agencies free hand, there was no way back. Thank God for brave clients, right?
Here is what happened when two indie agencies (Droga5 & Wieden & Kennedy) united their forces for 2019's Super Bowl:
6. From CMO to CGO
And because most of the work is done in-house, the classical CMO job translates now into the CGO work. More and more companies are looking at their Chief Marketing Officers as they are Chief Growth Officer.
The new approach is the repercussion of finally seeing the bigger picture. If until now the CMO was focused only on marketing, the CGO now has the responsibility to take a deeper look at data, to analyze the business from multiple points of view and come up with strategies that don't impact only the Marketing department, but the entire business growth.
Coca Cola is one of the best examples right now: after the CMO position became vacant, instead of hiring a new CMO, they transformed it in the CGO position.
Final thoughts
Digitalization and technological evolution brought us to the highest level of understanding and acting based on data. Trends are now the result of changes made inside companies and the change of attitude regarding their customers.
Marketing as we know it is changing, and as always, the bold ones are leading the way. So listen more and don't be afraid to take calculated risks.
Want to get more inspiration?