As with anything these days, Instagram evolved and standing out in 2019 is a lot more than  As with anything these days, Instagram evolved and standing out in 2019 is a lot more than posting high-quality pictures and videos! Habit changed and so should we – so, let's talk more about Instagram trends. 
If you want to make it on Instagram in 2019, it definitely starts with being visually pleasing enough to actually inspire someone to press that 'follow' button… and that is one hard task to accomplish. 
But that's just the start of it. To really achieve success on Instagram in 2019, you have to go beyond that.  We're talking Instagram stories strategy, IGTV, analytics, and offline events made for Instagram (major trend right here). Also, don't forget to check our top list of Instagram tools. 
What Popular Instagram Trends to Expect in 2019? 
Brands taking influencers on Instagrammable trips

IGTV or how Instagram made vertical videos popular

Filters. Filters everywhere

Instagram shopping. Does it work?

Story highlights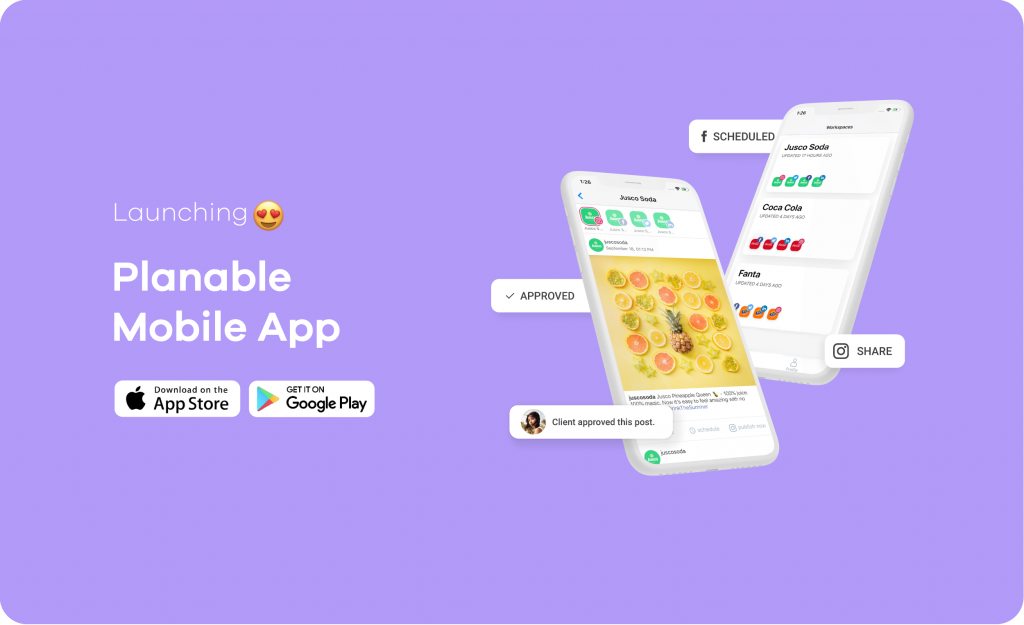 A few years ago, we set off with a mission to help agencies and brand teams collaborate better, efficient and visual on all types of content. Now we're taking social media collaboration to the next level with the mobile app and Instagram Publishing (including Stories). Find out how to schedule your first Instagram Post.
2019 Instagram Trends #1: Brands taking influencers on Instagrammable trips
It comes as no surprise that Fashion and Beauty are the most engaging industries on Instagram, according to the marketing concept.
The most followed 5 fashion and beauty brands on Instagram in October 2018 are:
Fashion:
Chanel – 30.4 million followers

Louis Vuitton – 27.3 million followers

Gucci – 28.5 million followers

Victoria Beckham – 23 million followers

Dior – 21.6 million followers
Beauty:
MAC – 19.6 million followers

Anastasia Beverly Hills – 17.9 million followers

Sephora – 15.3 million followers

NYX cosmetics – 13.2 million followers.

Too faced – 11.1 million followers.
And it's even less surprising that brands use influencers to leverage their social media presence (learn 30+ hacks about improving it). And in 2018 we've seen more offline events than ever before. It looks like many fashion and beauty brands have embraced a new strategy of creating social media content out of offline events.
When Benefit launched a new mascara called BADgal BANG they decided to invite influencers to a launch party by generating a lot of buzz (learn how to create a successful influencer marketing campaign). So, in February 2018 the brand invited 250 guests to a space themed event in London. A specially designed spaceship was the key social media moment all influencers caught on Instagram stories and shared with their community by using the #BADGalBang hashtag. According to the agency behind the launch, the event was a huge success reaching over 35 million people.
See Also – Top Social Media Influencers To Follow In 2018
Also, part of this launch strategy was taking a community of influencers on a trip to the Maldives. A truly #outofthisworld experience. Yes, this was the hashtag that influencers used to describe their Benefit Maldives experience on Instagram.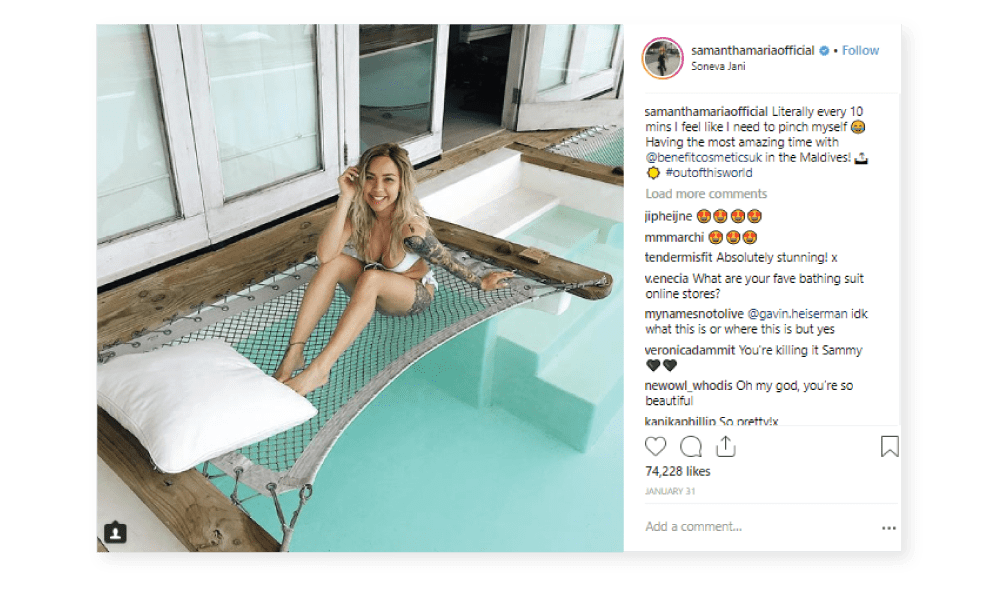 Samantha Maria is a big fashion and beauty influencer located in London. She has over 583k followers on Instagram and all the #outofthisworld posts gathered over 100k likes and loads of engagement. Kinda worth it, I'd say.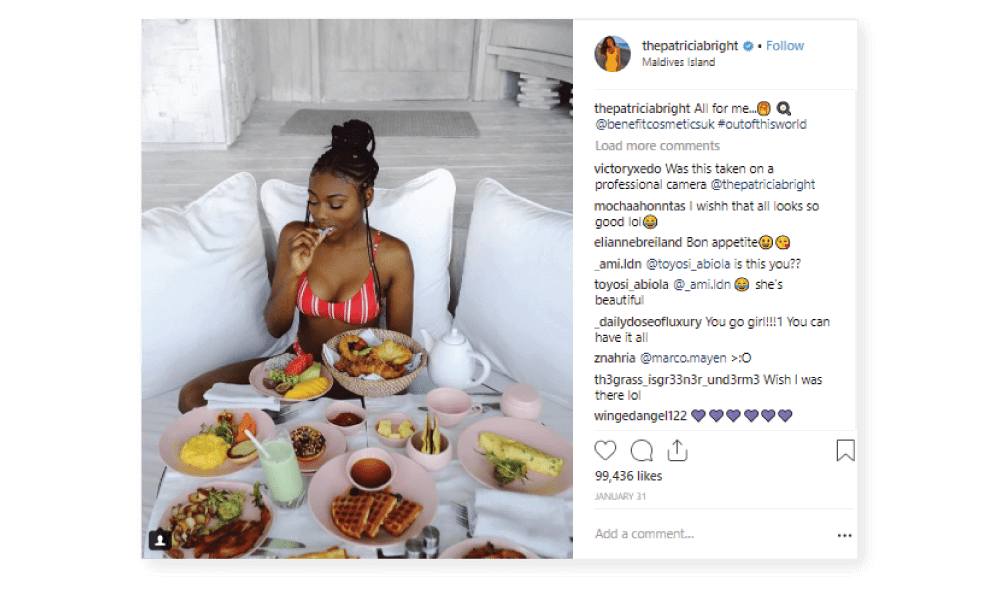 Patricia Bright is another big Instagram influencer who took part in this benefit product launch in the Maldives. All the #outofthisworld posts generated over 100k likes and hundreds of comments.
And this trend is here to stay. More and more brands are creating offline Instagram worthy events as part of their social media and PR strategy. Inviting influencers and journalists on press trips and launch events is the perfect opportunity to create buzz, social media engagement and sales. Yes, sales! Influencers will tag your brand in Instagram photos and stories, use the brand's hashtag, location and, in the end, inspire followers to visit your business or buy your product or service.
2019 Instagram trends #2: IGTV or How Instagram Made Vertical Videos Rock

Who would have said, two years ago, that vertical videos will become popular? I sure didn't.

Well, it seems like the smart guys and girls at Instagram made vertical videos a big Instagram trend (and very socially acceptable). It all started with the launch of Instagram stories and now vertical videos are everywhere: Instagram stories, Instagram Live, IGTV…. And on Youtube, as well. Did you notice how some artists launch 2 or 3 videos for the same song? But different video formats. Like Dua Lipa's new song "Electricity"
It makes total sense for an artist like Dupa Lipa who's targeting mostly millennials, to release a vertical video. That's the way millennials consume video content in 2018, on their smartphones. So yes, vertical videos are here to stay as one of the 5 major Instagram 2019 trends.
How Brands Are Using IGTV
Jamie Oliver uses IGTV to share recipes in 5 minutes. Whilst Fenty Beauty (Rihanna's make-up brand) shares makeup tutorials like the one below: Cleopatra Halloween Makeup Tutorial.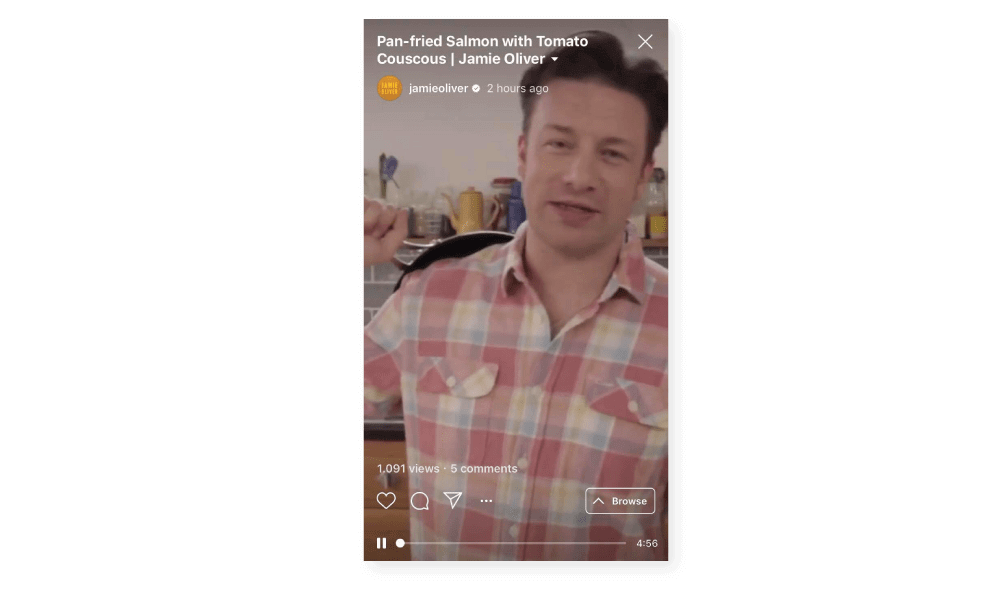 Launched in June 2018, IGTV is still just beginning to become a popular medium for brands and influencers which only means that now is the best time to hop on and start creating personalized content.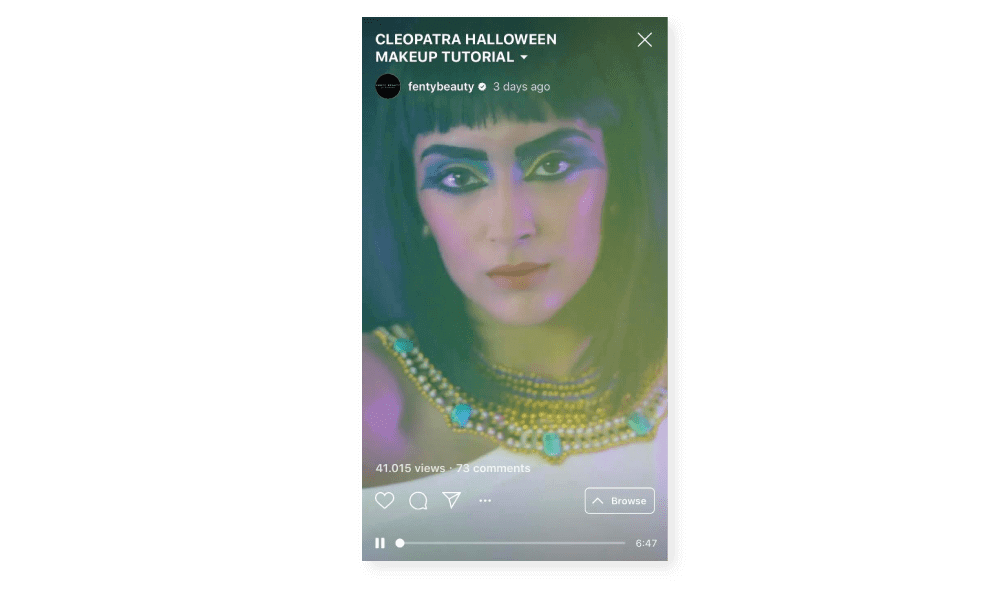 2019 Instagram trends #3: Filters. Filters everywhere.
Kylie Jenner has her own Instagram filters (that puts on a lip liner and colorful lipstick, of course!), Liza Koshy, Rihanna and even Buzzfeed have personalized Instagram filters. And we all know, celebrities love a good filter. Oh, and you need to follow their accounts to unlock these filters. Smart, right?
All these filters show how augmented reality is actually part of our lives. Or better said, our Instagram lives.
2019 Instagram trends #4: Instagram Shopping
It's gotten very easy to shop directly on Instagram thanks to the multiple ways brands and influencers can embrace this new way of selling. The link in bio, swipe up, sponsored or direct links in photos. It's all about easier mobile purchasing, one of the most influential 2019 Instagram trends.
And it makes a whole lot of sense. On average, Instagram users spent 53 minutes per day on the app. In this time you'll be tempted to buy a lot. Starting from influencers promoting the latest mascara, to buying the new Zoella book.
How to Use Instagram Shopping:
Anine Bing is a women's fashion brand by the model-turned-blogger Anine Bing. She launched her clothing line in 2012 and one of their social media and sales strategies is to use direct buy links in their Instagram posts. And this fashion brand uses Instagram shopping – direct buy links at every 2 to 3 Instagram posts. Shopping made easy!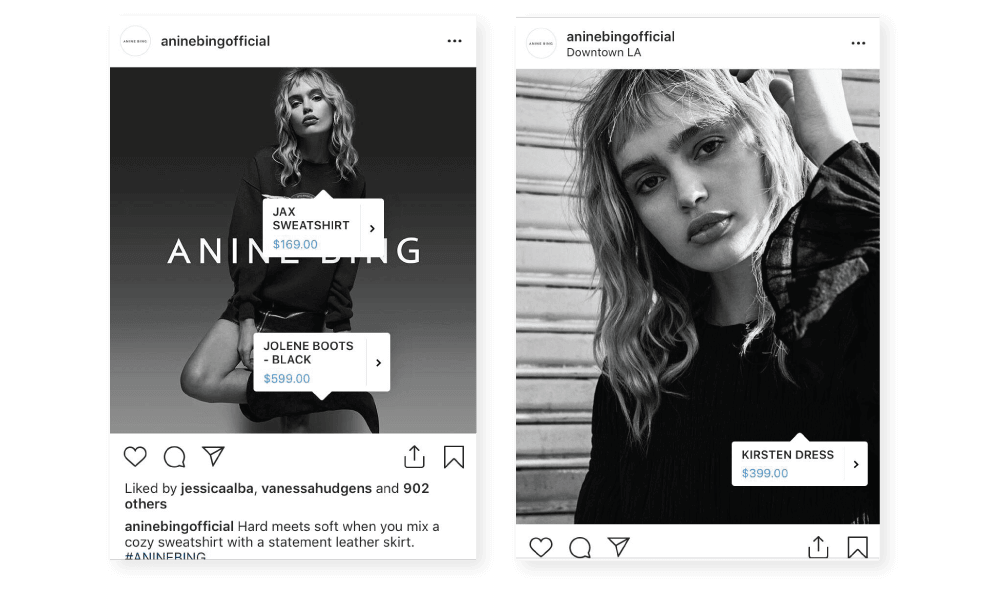 Zoe Sugg is a Youtube phenomenon mostly known as Zoella. She's a social media influencer and has a massive following on every social media channel. Recently, she launched her new book called "Cordially Invited" and before actually launching the book, you could have registered for pre-order. And the way she did that was through Instagram stories using swipe up links.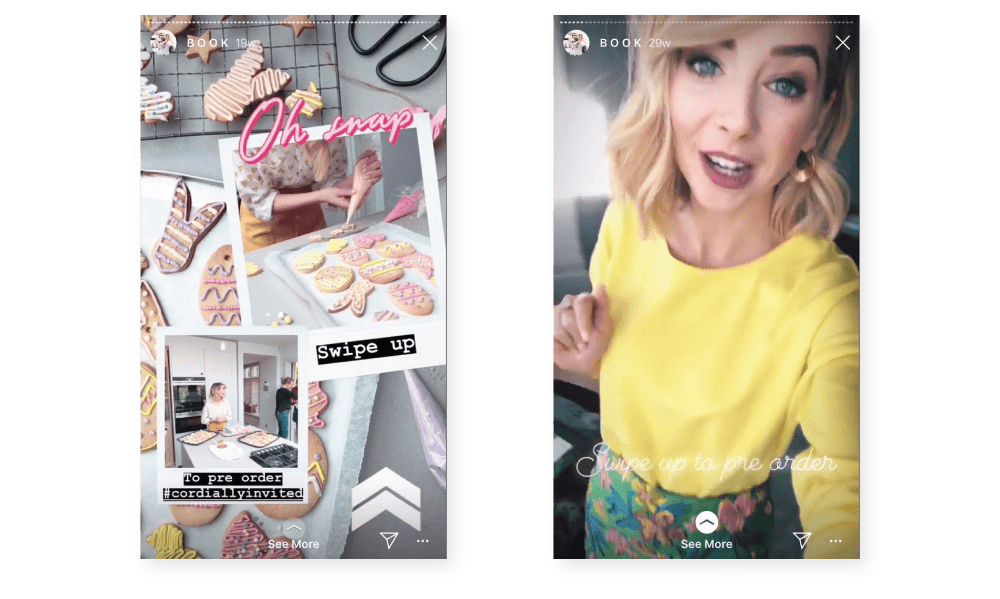 It's all about testing when it comes to Instagram Shopping. What works for a certain type of audience won't necessarily convert for others. While brands may use direct buy links in their feed, influencers will probably use Instagram Stories to convert followers into customers. So, unfortunately for you, social media experts, you will again have to test it out. 
2019 Instagram trends #5: Instagram Story Highlights
When Instagram launched Stories, it was kind of a big deal. Last year, this feature got even better, when Instagram added Stories Highlights.
Why is this so valuable for influencers and brands? Easy, because unlike Instagram Stories that vanish after 24 hours, highlights allow you to curate clips and group them permanently on your profile until you delete them.
Since for many influencers, Instagram is the new blog, they can use Instagram Stories Highlights to put a focus on new product recommendations, topics, tutorials, and events. Or even present themselves in just a few stories.
See How Brands and Influencers Use Instagram Stories Highlights 
Lydia Millen is a UK based fashion and beauty influencer. She uses highlights to gather Instagram Stories about her wedding, home decor, fashion, wellness, beauty, and positivity. And she designed her own Instagram Stories Highlights to fit her brand.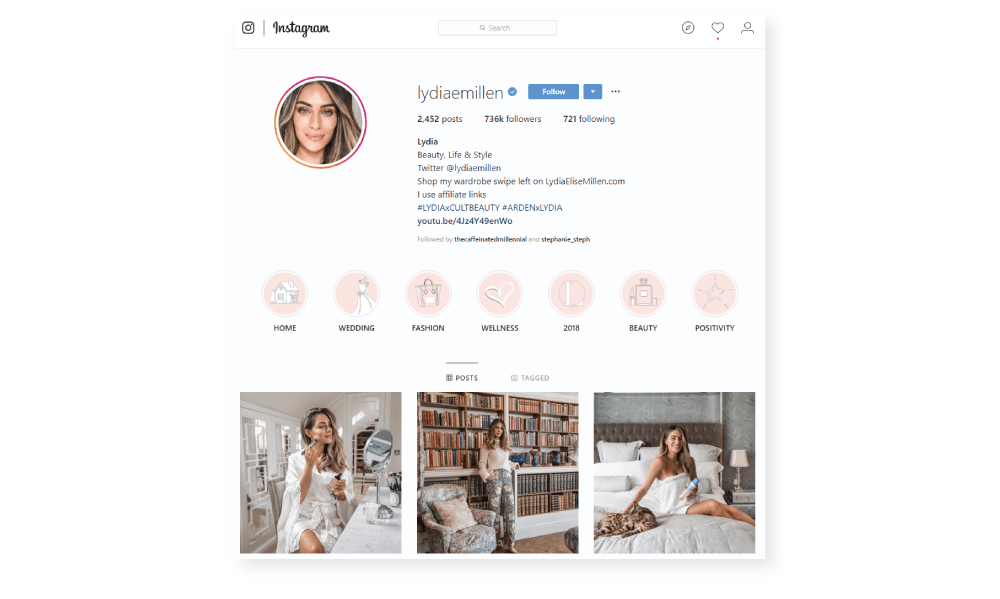 H&M uses Instagram Stories Highlights to group collabs, knitwear, coats, and other collections. Seeing the new H&M collections is just one Instagram Story away.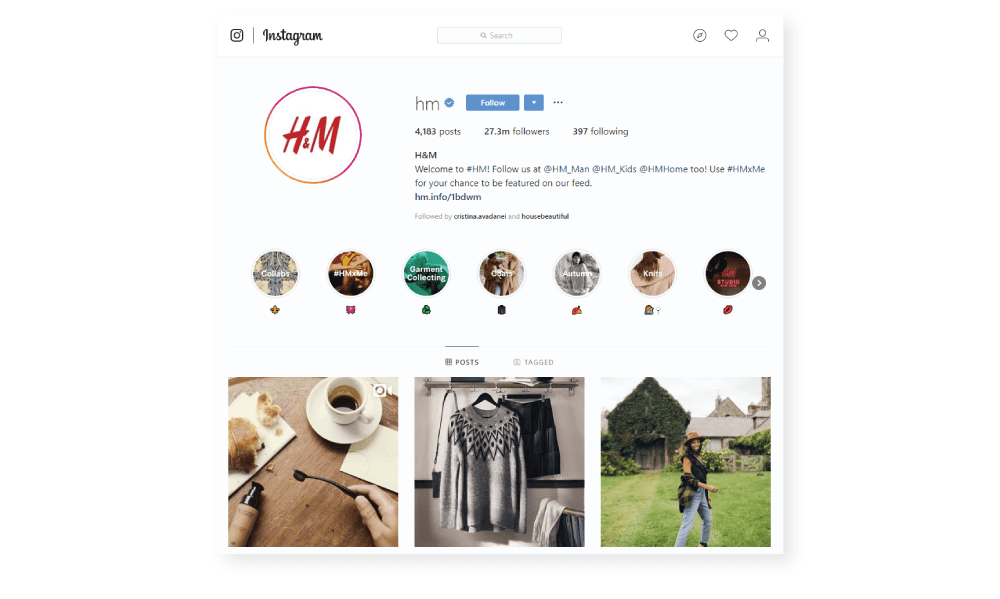 Ambitious Kitchen uses Instagram Stories Highlights to preview all their different topics and recipes shared on their blog. And they have custom designed Highlights icons to match their branding, which you have to admit – is very creative.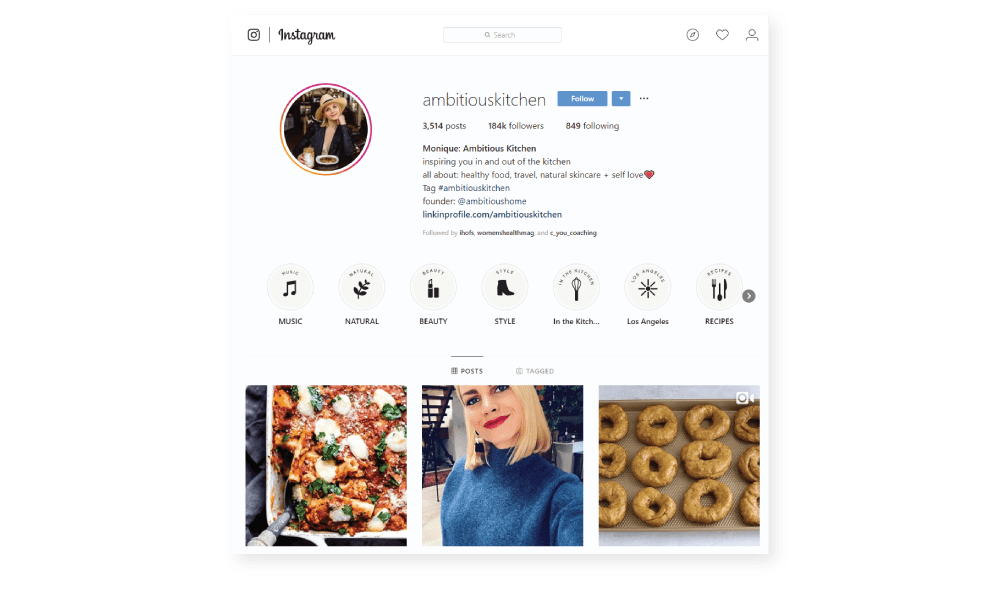 Anthropologie is a brand that knows how to use Instagram Stories and Highlights to their advantage. Besides designing new content especially for this medium, they also engage with their community in the right way, through hashtags of course. #MyAntro sections feature Anthropologie fans tagging their account. For #AntroHome collection they style new houses and have to swipe up links from where you can buy items. Cool, right?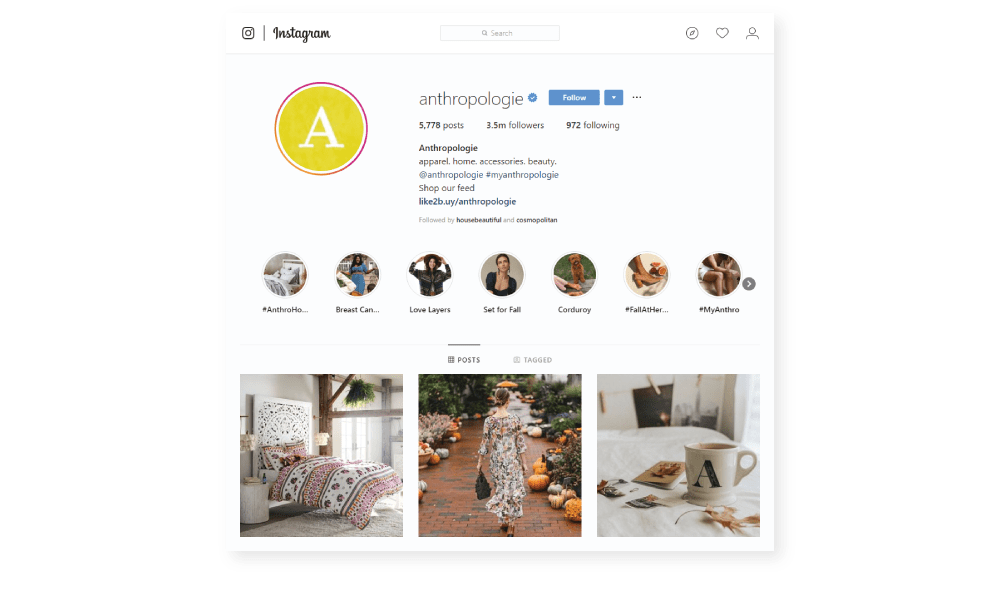 So, when it comes to Instagram Stories Highlights I would recommend making your own hashtags and using icons to match your branding. If you don't have any ideas on how to do that, simply download these Instagram Stories Highlights specially designed by Flipsnack.
From travel to fitness and inspiring quotes, you can easily use these icons to group your Stories into creative Highlights that users will want to press play and watch. 
How to Create Instagram Stories Highlights:
Go to your Instagram profile and click the "NEW" button next to "Story Highlights"

Select your stories, choose a title and select your cover photo. You can choose thumbnails from different stories but I'd rather recommend using icons.

To edit or remove a highlight, just tap and hold that highlight on your profile.
Being relevant on Instagram in 2019 involves a solid social media strategy. It all starts with curating your content, to make an aesthetic profile that will catch the attention. Staying close and relevant to your community by creating Instagram Stories and making use of Instagram Story Highlights. And most importantly, do more than connecting with your community online: create offline events to encourage that perfect social media moment and meet up with your followers in real life.
This article was submitted by Adelina, Content Marketing Specialist @Flipsnack.