A social media approval process is the foundation of great social media teams. It simplifies and empowers collaboration. It helps Social Media Managers involve multiple people with various points of view, backgrounds, product knowledge, and audience insights.
Use a social media approval tool, and you'll never again have to chase down stakeholders to get their OK.
This article will teach you everything you need to know about creating and using a social media workflow:
What is social media approval?
A social media approval process is a virtual thumbs-up that signals a social media post can be published. Social Media Managers rely on content approval to receive the publishing green light. This final OK comes from clients if you're in a social media agency or from internal stakeholders if you're in-house.
Think of your social media approval process as a stamp of approval. It gives you the peace of mind that multiple stakeholders have reviewed the social post's message, copy, and visuals.
A streamlined approval process ensures: 
✅ smooth and timely collaboration;
✅ error and typo-free posts;
✅ consistent brand voice;
✅ continuous learning of client preferences;
✅ zero missed deadlines.
An automated approval workflow is lifesaving, especially if you manage several social media accounts or produce content in high-stake niches like medical, financial, or legal.
A tool like Planable can help take your approval process to the next level: less last-minute scrambling to get things done and more time to be creative and explore new trends.
Who can benefit from a social media approval tool?
Whether managing multiple social media accounts or only one large brand, here's who could add a social media approval step to their process:
freelancers who offer

social media management

services

social media agencies

companies that have at least one full-time

social media manager

in-house

companies who work with a freelancer or external

social media agency

companies where social media is a collaborative effort across different teams or departments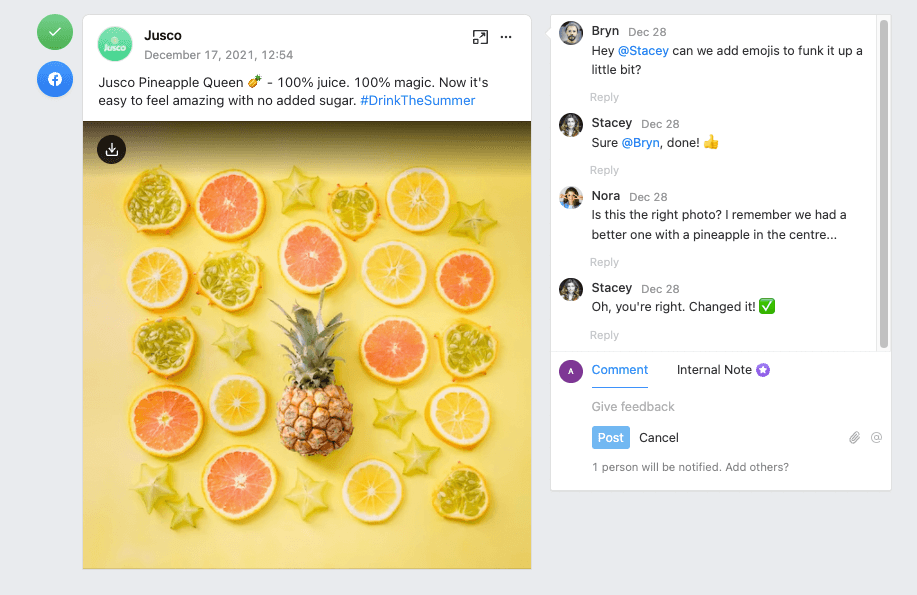 Still on the fence about needing social media approval?
45% of the marketers surveyed are losing 5.4 days on creating over five pieces of content per week.
If you still need a Zoom meeting, a phone call, or a thread of emails to collaborate on content, you could save valuable time with the right social media management tools.
Take this self-assessment test to establish if you need content approval:
Do you publish content regularly? I.e., not sporadically whenever something post-worthy happens.

Is there more than one person involved in creating and scheduling content? I.e., do you have someone on the frontline who sends you assets like photography, news articles, or quotes?

Does anyone else pitch social content to be published? For example, content about the company from the Branding team or new job openings from the HR department.

Are team members localizing social content and posting it with audience targeting?

Do you manage more than one brand and have at least two stakeholders?

Does pushing the publish button give you anxiety?
"Yes" to any question means you need an approval process.
Types of social media approval workflows
The brand or client you handle dictates the type of approval you need for your social media content. We've identified three different set-ups that can adapt to any workflow:
Approval type #1: Optional
This is for the open social media approval workflow.
It's suitable for teams and Social Media Managers who love to invite people in but don't want to impose approvals.
You can have dedicated approvers in your workflow, but if they don't get the chance to approve content in time, you have the flexibility to push the content live.
Optional social media content approval is best suited for brands that are in the early days of growing their social media and are in a non-regulated industry – i.e. approval of HR and legal departments are not mandatory.
Approval type #2: Required
For safety and security, the required option means no one can hit that publishing button until one of the approvers has given their A-OK.
Once the involved stakeholders approve the post drafts, scheduling content is automatic.
This option helps agencies keep a trust-based relationship with their clients.
Required social media content approval is best suited for:
brands with a medium-sized following in a non-regulated industry – i.e. 1-2 team members can review and approve;

small teams that include a Content Creator and a different

team member

who approves the content.
Approval type #3: Multi-level
Much requested by so many team members, this has been making Planable customers happy. The multi-level approval process means you can set up multiple approval layers and add stakeholders to each layer.
You can have multiple stakeholders per level, meaning any one approval will move the status of the post forward, making your life easier.
Planable is a social media approval software that offers all these approval options to improve your entire process:
Your social media strategy can only benefit from a flexible approval workflow. And Planable ticks all the boxes by ensuring safety, efficient collaboration, and visibility.
How to build your perfect social media approval process
Using multiple channels to get social media approvals is a no-go. 
You lose precious hours each week checking multiple places for the latest visual and copy. And nothing is more frustrating than missing essential feedback. Not to mention it's hard for non-social-media-savvy stakeholders to imagine what the final social media post will look like just by looking at a visual on Drive and reading a caption on email. 
Time to focus on the backbone of crafting the ideal content approval process.
A smooth social media approval workflow enables you to:
require approval from the right people;

notify stakeholders there's new content to approve;

enable real-time collaboration;

offer easy content access and the ability to provide feedback;

auto-schedule approved posts.
Here's how to map out your unique approval process:
1. Outline each stage of content creation
Your approval workflow is the path your content walks down before going live. From ideation, creation, review, and approval to publishing. 
Start by pinpointing the steps each piece of content has to go through before going live:
ideation

copywriting

design

review

approval

publication
Each content creation journey looks slightly different, so add in any missing intermediary steps.
2. Decide who is a part of your approval process
Identify who contributes to each stage of content creation. Think in terms of required and optional approval.
Some of the people involved in the approval process might be:
graphic designers

clients

concerned departments (for example, HR or legal)

Marketing Manager

Social Media Director
You can then split this list into 2 phases:
a. Directly involved
It's usually the higher-ups: the Team Manager, the Brand Manager, the Marketing Consultant, or the Account Manager.
In smaller teams, it can be the Head of Marketing or CEO. This category often sees content after it's been proofread.
b. The second line of approval
This usually comprises people who should see the final form of the social media content (proofread, typo-free, and almost ready to go). That's either because they're very high-up or because their feedback is only relevant if the content is 100% done.
Think of the legal department. Involving them too soon would waste their time and make their feedback irrelevant.
Most often, the people involved in the second line of social media approval are the client if you're an agency or the internal stakeholders if you're in-house. Upper management, product managers, or line of business stakeholders. It should look something like this:
It's ok to have a few people whose approval you only need every now and then. You can have more layers to your social media approval workflow, giving you free rein when mapping your team out.
With a solid social media approval process, nobody will feel the pressure of deadlines or missed feedback because everything is visible, so nothing gets lost in translation.
3. Connect the dots
The last (and probably the most important) step is to decide how your social content travels seamlessly from one stakeholder to the next.
You want to avoid bottlenecks that can easily pop up when multiple people are involved in the approval process.
As to where your marketing approval process should happen, this is an important one. The environment can make or break content approval.
a. Manual approval processes
With the spreadsheet-and-email route, your approval processes will look like this:
Create content for different social media platforms in your spreadsheet

Add in the copy and visual (optional: reach out to your graphic designers or video editors if you need anything special)

Send your manager the weekly/monthly content spreadsheet

Gather feedback from your manager(s) via email, chat, or in the spreadsheet

Implement the feedback

Check again if it's good now

Get final approval from your manager

Send the post drat to all the other stakeholders

Receive feedback from the same few who always reply

Wait a bit longer before sending a kind reminder

Schedule the post without a final green light.
All the individual steps of manual content approval make it both time-consuming and error-prone. Chasing down feedback and approval via several avenues (spreadsheets, email, chats) takes time and energy that could otherwise be better invested in content creation.
No wonder manual content approval can be daunting for any Social Media Manager.
A social media approval tool can make the content approval process flow seamlessly.
b. Automated approval processes
To scale your social media content services, you need to speed up your processes without leaving any room for errors.
An automated approval process is the ace up your sleeve when it comes to version control, permissions, and locking content to prevent further edits.
With Planable's software, your social media content approval process could look like this:
Set up your social media approval process

Request approval:
optional approval process: request approval from a user – the post will be published with or without approval.
required approval process: request approval from a user – the post will only be published after it's been approved.
multiple levels of approval: request approval from multiple stakeholders – the post will only be published when at least one stakeholder from each level has approved it.
Features of a well-oiled social media approval workflow
An ideal social media approval process doesn't only have to be well-structured. It also has to be safe.
Here's what to look out for when comparing social media approval tools:
Version control
One of the great things about our software is that we save every version of your post for you. And the details surrounding each action regarding the post.
When creating social media content in Planable, you can see a log like this:

That creates accountability and removes the "whodunnit" discussions. Also, it saves time as you can restore any previous post version if you change your mind or make a mistake.
Permissions
To avoid accidental publishing or edits, you have complete control over the level of access your marketing team has in your workspace. You can grant approval access only to the ones involved in your review workflow and avoid unintended greenlights.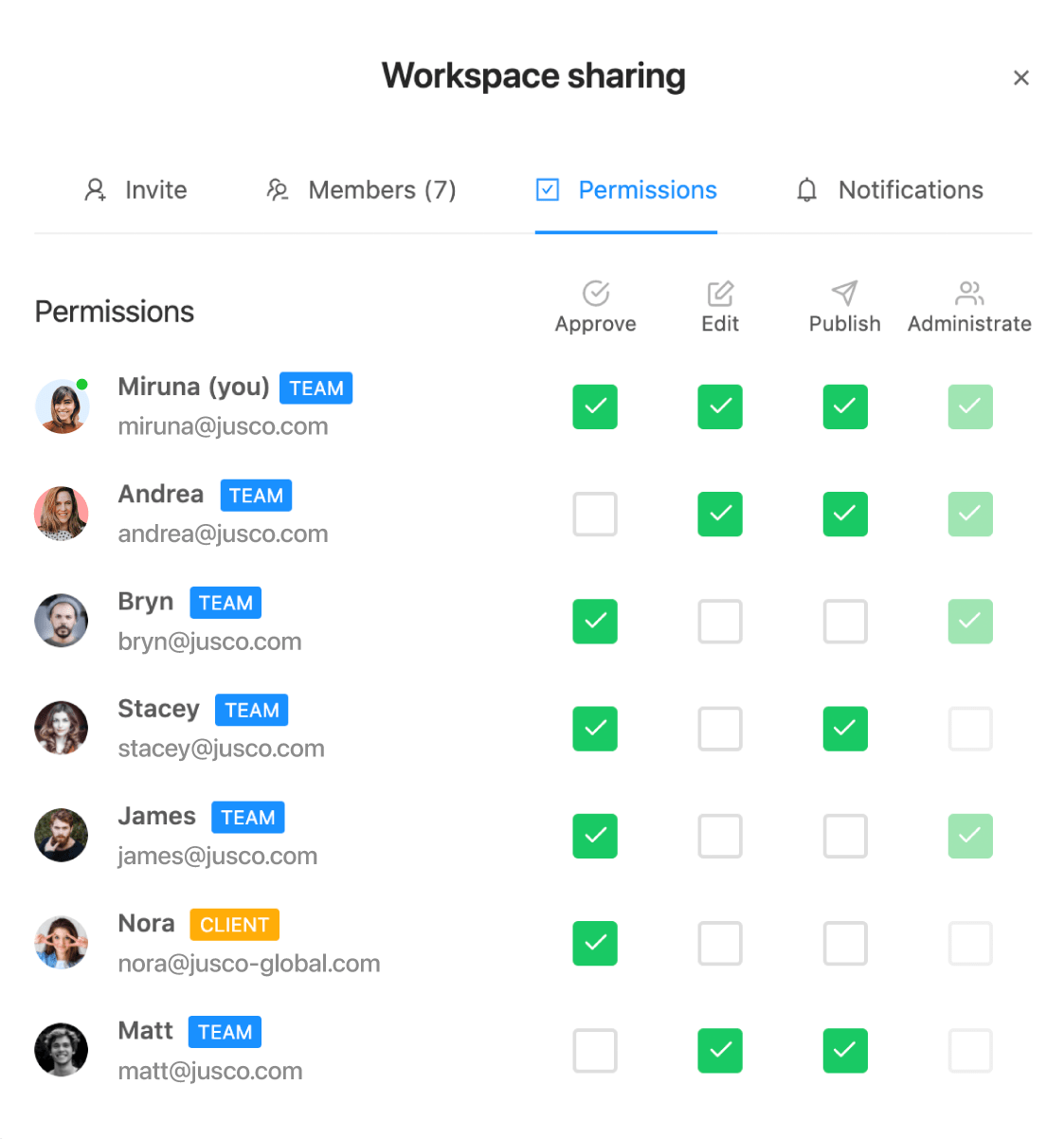 Locking content
This third better-safe-than-sorry feature allows you to prevent further edits of your posts after they have been approved. After the copy and image get the final get-go, it only makes sense to lock the post in its current form.

Comments
Your entire social media team should be able to discuss posts in context. This eliminates the need to explain what you're talking about or to reference the row and column in your spreadsheet.
Planable's commenting feature allows for everything you'd need: tagging people, attaching files, creating threads, and resolving comments.
Internal notes & posts
Because not everybody should see everything, we enable internal conversations as well. You can tag your workspace members as "team" or "client", allowing you to hide internal posts and notes from the client or stakeholder.
Request approval
Consider this feature the "Buzz" or "Nudge" of today's age. If a team member or stakeholder forgets to give you that approval, you can "Poke" them through this feature.
Want to see how we stack up against the competition? Check out why Planable is the best free Sprout Social alternative!
Why Planable is the best social media content approval tool for you
Created with social teams in mind, collaboration and approval are at the heart of Planable. So you can create content, approve posts and organize your social media calendar all in one platform.
We love showing marketers just how beautiful their content will be once it's live. With 100% accuracy.
Whether you manage multiple social media channels or a single platform, people have to be on the same page about what the content will look like in the end.
Live previews

. We have a beautiful feed view that allows users to scroll through content as they would on the native platform. We made it our mission to avoid unnecessary extra clicks. There's no "preview" button in Planable. Because everything

is

a preview.

WYSIWYG

. You can see what your social media posts will look like, and you can preview them while creating them. Copy-pasted a link? The thumbnail is generated in seconds. Added a video? You can play it. Absolutely any change you make, you make it while seeing how it will look in the end.

Calendar view

. This view is about visibility across your social channels and campaigns. Our

social media calendar

offers the chance to see everything at a glance. Distribution, balance, and strategic times. And if something's off, the drag-and-drop feature makes it oh-so-easy to rearrange your content calendar. Your publishing process has never been

this

smooth!

Grid view

. Instagram is unique, and we love it for that. This is why it needs its own view to ensure that your entire

grid looks as beautiful as the feed

. And if something's off, you can play with your posts by dragging & dropping them.

Direct publishing

. Publishing on the most visual platform can be painful if you do it manually. Or via push notifications in the middle of the night. On your phone. While you sleep. Because that's when your audience is the most engaging.

Planable has direct publishing features, no matter your favorite social media platform. Instagram included. Say goodbye to using your mobile phone for publishing. Start enjoying your life again. The way you deserve.
Ready to take your social media approval process to the next level?
Any marketing manager's arsenal should include a social media content calendar, a scheduling tool, and an approval tool. These social media management tools boost your team's efficiency and make your life easier. Just imagine how many extra pieces of epic quality content you can create with more free time on your hands.