How can social media management tools for agencies help you give your clients a competitive edge on social media?
The key to customer success is choosing the best social media management tools to efficiently handle your clients' social media presence. As a marketing agency, you have to manage multiple social media accounts for all of your clients, and you need to do it efficiently.
In this article, find the eight best social media management tools for agencies and learn how to choose one for your specific case. Let's go!
The challenges of client and agency relationships
Marketing agencies and clients collaborate on slightly different terms than in-house specialists. Although such a collaboration comes with a bunch of advantages, it also brings up some challenges.
Tight budgets
Often agencies encounter clients who want fast and furious results with less than a generous budget. While possible, such a setup begs for optimization and carefully tailored decisions to ensure every move is efficient.
Miscommunications
Creating and carrying out a social media strategy is no easy task — both parties must stay in touch constantly. Lack of communication and common ground can result in missed deadlines, controversial concepts, and an unsatisfying outcome.
Time management
Social media managers handle multiple clients. That includes planning the content, creating and publishing it, gathering analytics, and keeping an eye on the client's mentions across the net. To deal with such workload and stay consistent quality-wise, agencies have to take on a godly level of time management.
Workflow blockers
Including too many people in the process delays approval and feedback; including too few may cause miscommunication. Building an efficient workflow is vital to ensure the social media strategy bears fruit.
4 features to consider when choosing social media management tools for your agency
The challenges above sound dire, but fear not! If chosen right, the social media management tool will help you tackle those and more. These tools enable your team to streamline social media efforts and provide clients rich and highly performative content.
Here are four key features you might be scouting for when choosing your social media marketing platform.
1. Collaboration feature
Most social media management tools offer scheduling and publishing features. But what comes as a game changer for agencies is the collaboration mode.
Look for a tool that provides collaboration on all types of written and visual content. Then you can consider the miscommunication challenge crossed off the list.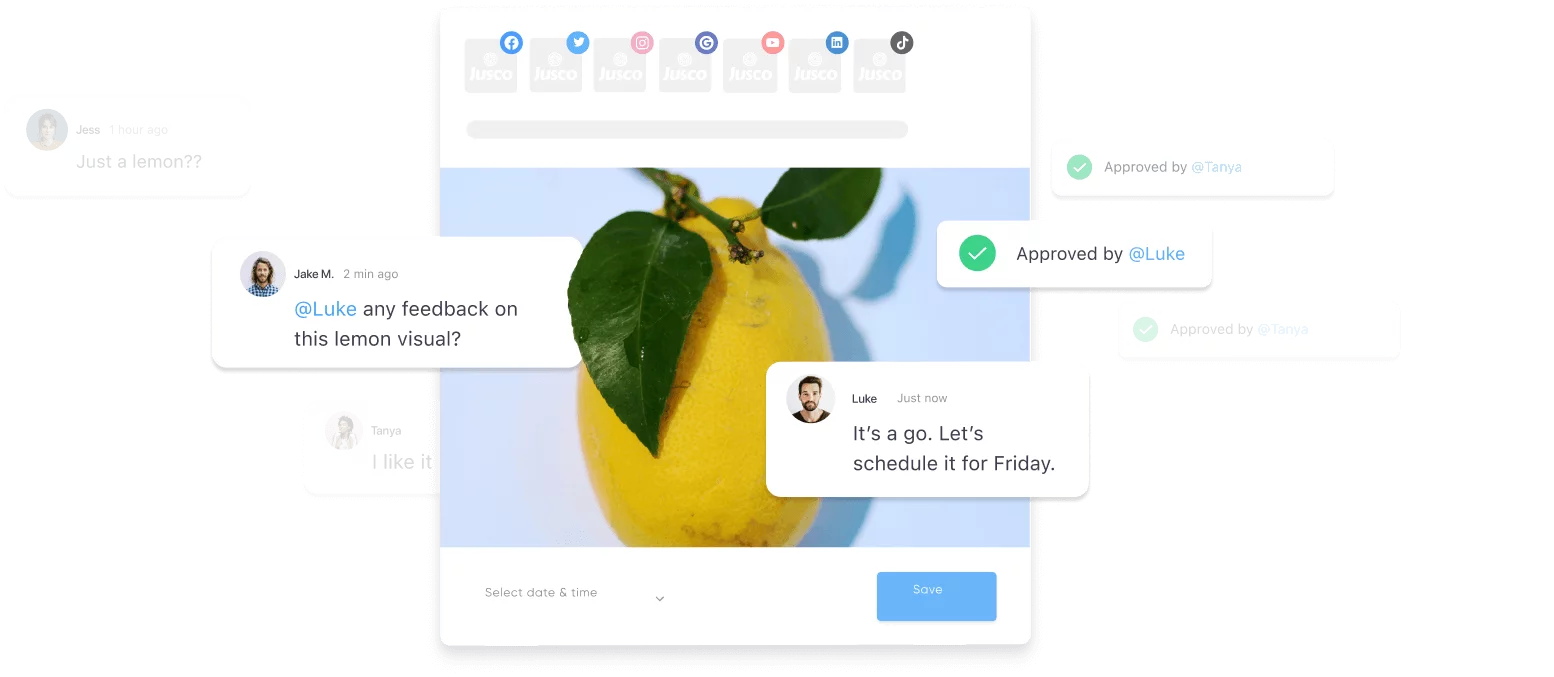 2. Roles and permissions
Differentiating the team working on content and clients accepting the final result speeds up your process and improves communication.
It's like building an ecosystem shared with your client: appoint who can see the internal comments, edit and create content, and who can view, approve and schedule posts.
3. Visual planning solutions
Visual representation of social media strategies spread across multiple social media profiles helps to see the big picture. Mockups and extensive calendars come in handy.
When choosing your social media management platform, ensure the content calendar is clear and transparent for your team and the client.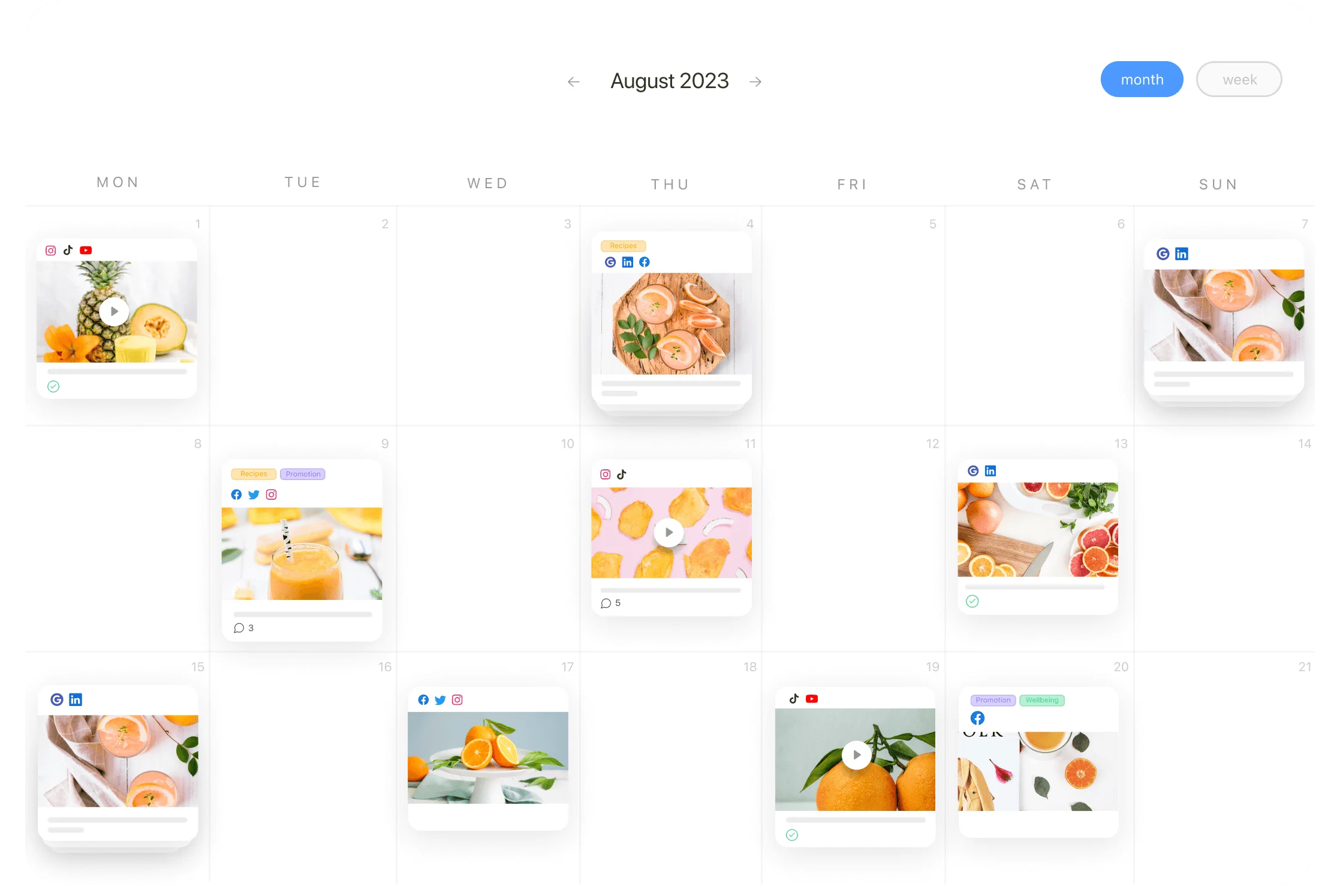 4. Set of social channels and integrations
Make sure your platform supports the social media channels you work with the most. For example, some tools offer integrations with blogging platforms and email clients but lack Pinterest publishing solutions. This can be a dealbreaker for your particular case.
The best social media management tools for agencies in 2023
Here are eight helpful ideas on which tool for social media marketing to choose. Analyze your requirements and budget to find the tool that fits your marketing agency like a glove.
1. Planable — top social media management system for collaboration oriented agencies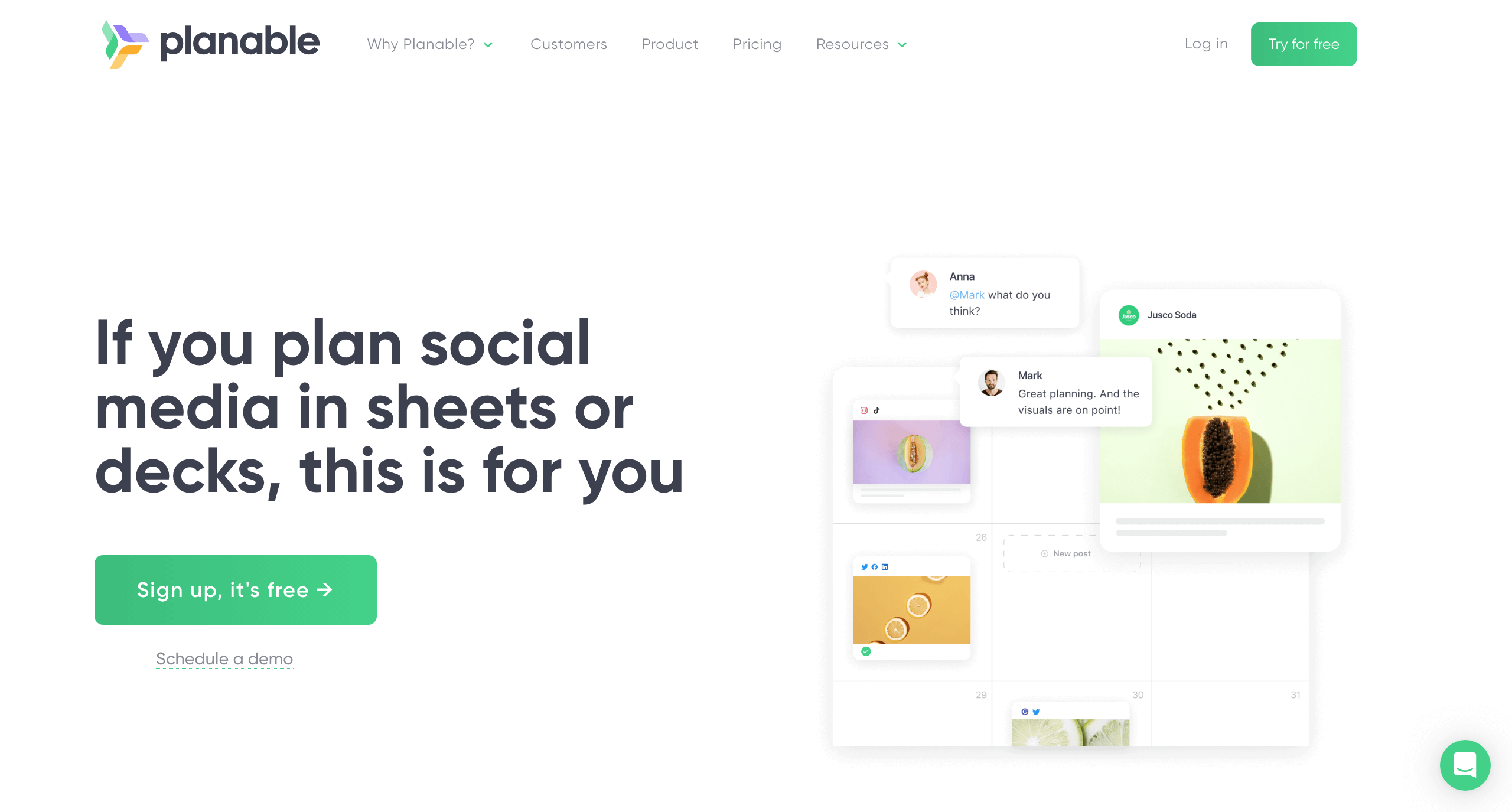 The cornerstone of Planable is seamless and efficient collaboration. Planable provides the flexibility to create, manage, and collaborate on all sorts of written content, including social media posts, blog articles, emails, briefs, ebooks and more.
Planable enables teams to set up custom collaboration processes, no matter how big or small the team is. Social media marketers can choose from four levels of approval: none, optional, required, or multi-level.
Combined with separate roles for team members and clients, it accelerates the review and approval process and prevents unfinished content from going live.
Features
Vast team collaboration options that enable marketers to create social media posts in real-time next to the feed mockup;
Customizable approval workflows to make sure the post goes live when it's ready and accepted by all the necessary people;
Content editing features for pictures and videos to polish content right on the dashboard;
Sync on/off allows to group content to publish it across several platforms simultaneously;
Visual social media calendar and feed mockup for a bird's eye view of the content strategy ahead.
Supported platforms
Instagram, Facebook, TikTok, Youtube, Twitter, LinkedIn, Google My Business, and Pinterest.
Drawbacks
Planable doesn't provide built-in analytics and reports for social media campaigns.
Pricing
Planable offers 50 scheduled posts for free. The paid plans start from $11/month per user and are calculated based on users, number of required workspaces, and set of features.
Takeaway
Planable is a powerful and highly customizable tool for agencies, in-house marketers, and individual creators alike. With flexible pricing and advanced collaboration features, Planable can become a tailored solution for your agency and empower streamlined, efficient workflows.
2. Sprout Social — upscale social media management tool for social media monitoring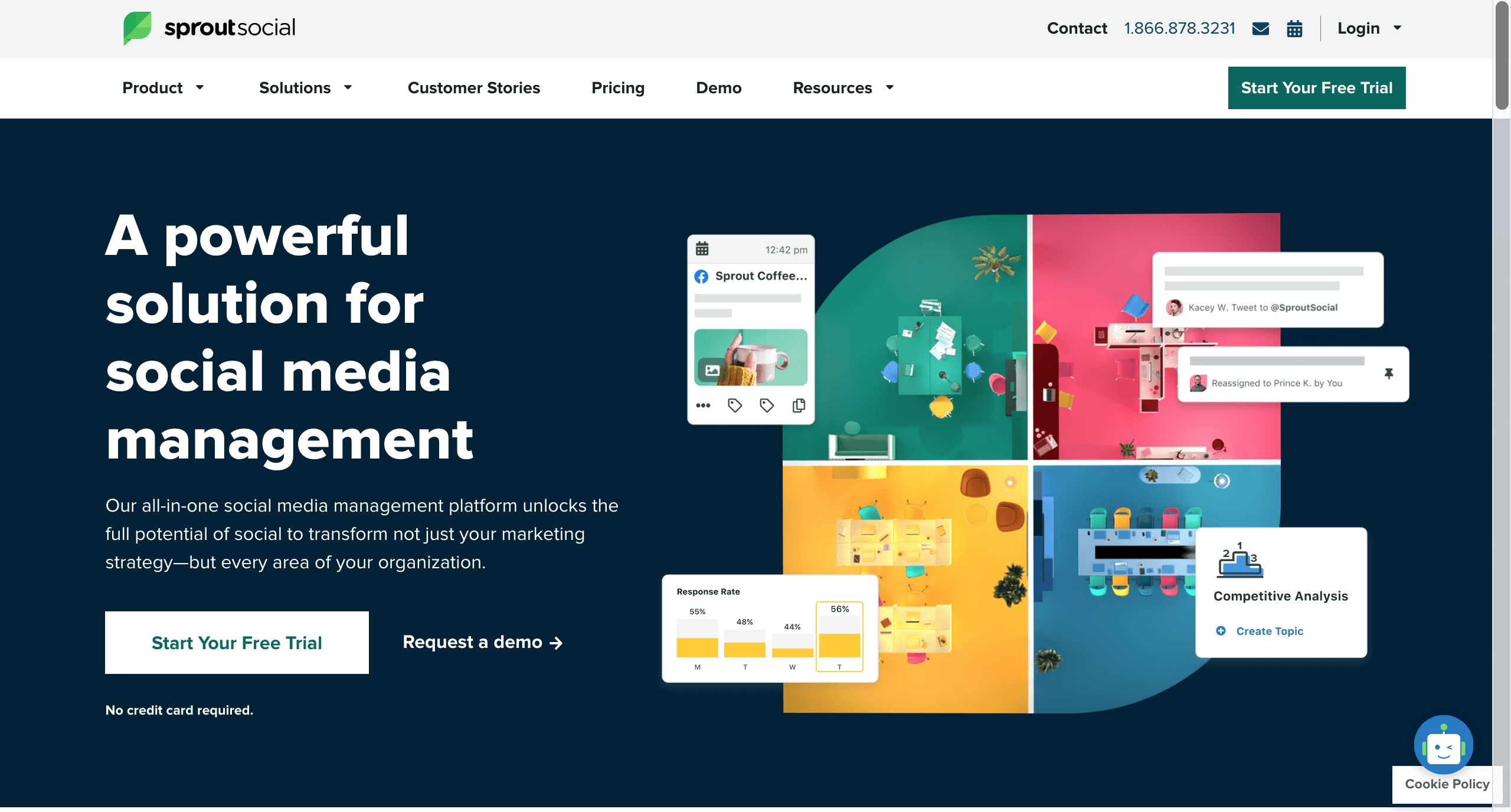 Sprout Social is a multitool in the world of social media management. You can manage and publish social media posts across multiple accounts and channels while tracking campaign performance.
The platform provides a wide range of extra features — with an impressive price tag, though.
Features
Overall social media management and visual content calendar;
Built-in analytics and reporting across multiple platforms and accounts;
ViralPost feature to identify the posting time for maximum social media engagement;
iOS and Android mobile apps for mobile access.
Supported platforms
Instagram, Facebook, Twitter, Linkedin, Pinterest, TikTok, YouTube, WhatsApp, Facebook Messenger, and Google My Business.
Drawbacks
Sprout Social is expensive: its paid plans start at $249 per month, and the company bills additionally for each new user. Social media listening and some analytics reports, are extras and are not included in standard plans.
Pricing
The platform gives users 30 days of free trial and four paid plans starting from $249 per month (each additional user is $199/mo).
Takeaway
Sprout Social is a robust platform that helps gain an in-depth understanding of the audience and their social media expectations. However, its price makes it a better fit for bigger agencies with generous budgets.
3. CoSchedule — social media management tool for automated social media posting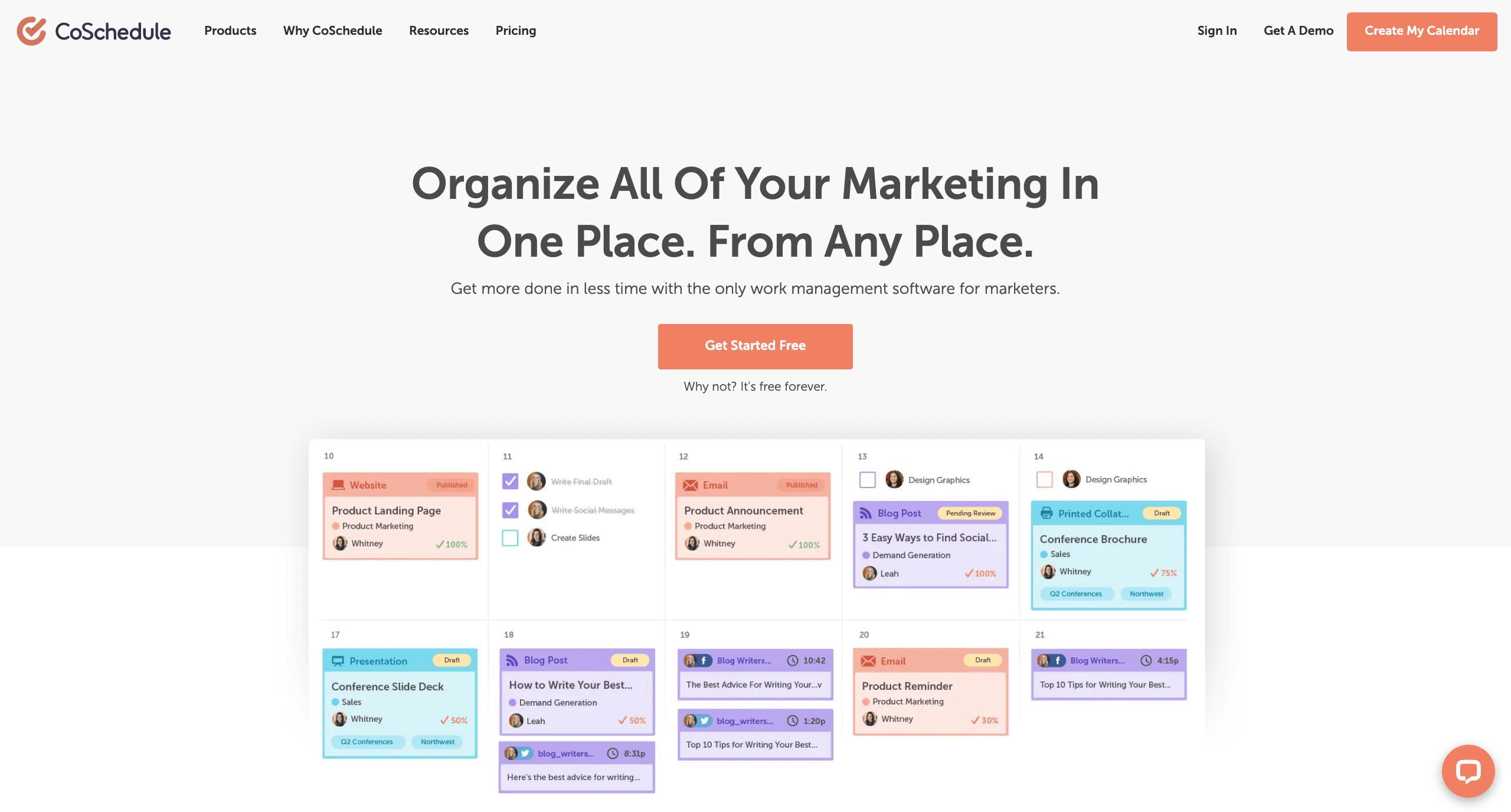 This social media marketing tool concentrates on organizing social media workflows around content creation, offering a marketing calendar to help brands streamline their social media efforts. CoSchedule enables you to create and publish content and track the results with built-in analytics reports.
The company offers three major products: a free marketing calendar, its paid pro version with extensive features, and a custom-made marketing suite.
Features
Marketing calendar with all the scheduled content, including social media and blog posts;
Bulk scheduling and ReQueue feature to autofill your content plan;
Unified dashboard for managing the content creation process and tracking the progress;
Team collaboration feature for team members and clients to share updates and give feedback.
Supported platforms
Facebook, Instagram, Linkedin, Twitter, blog, and email client integrations.
Drawbacks
CoSchedule doesn't offer social listening, mentions tracking, and social inbox, which can be very useful for agencies working with clients. Its free version only supports publishing in two social media profiles and doesn't include advanced scheduling options.
Pricing
The basic marketing calendar is free, and the Pro version is $29/month per user.
Takeaway
CoSchedule is a neat instrument for social media management, but it might lack some customization and power-ups. Nevertheless, it stays a good option for professional marketers and marketing teams trying to tone the chaos down.
4. Hootsuite — social media tool for performance reporting agencies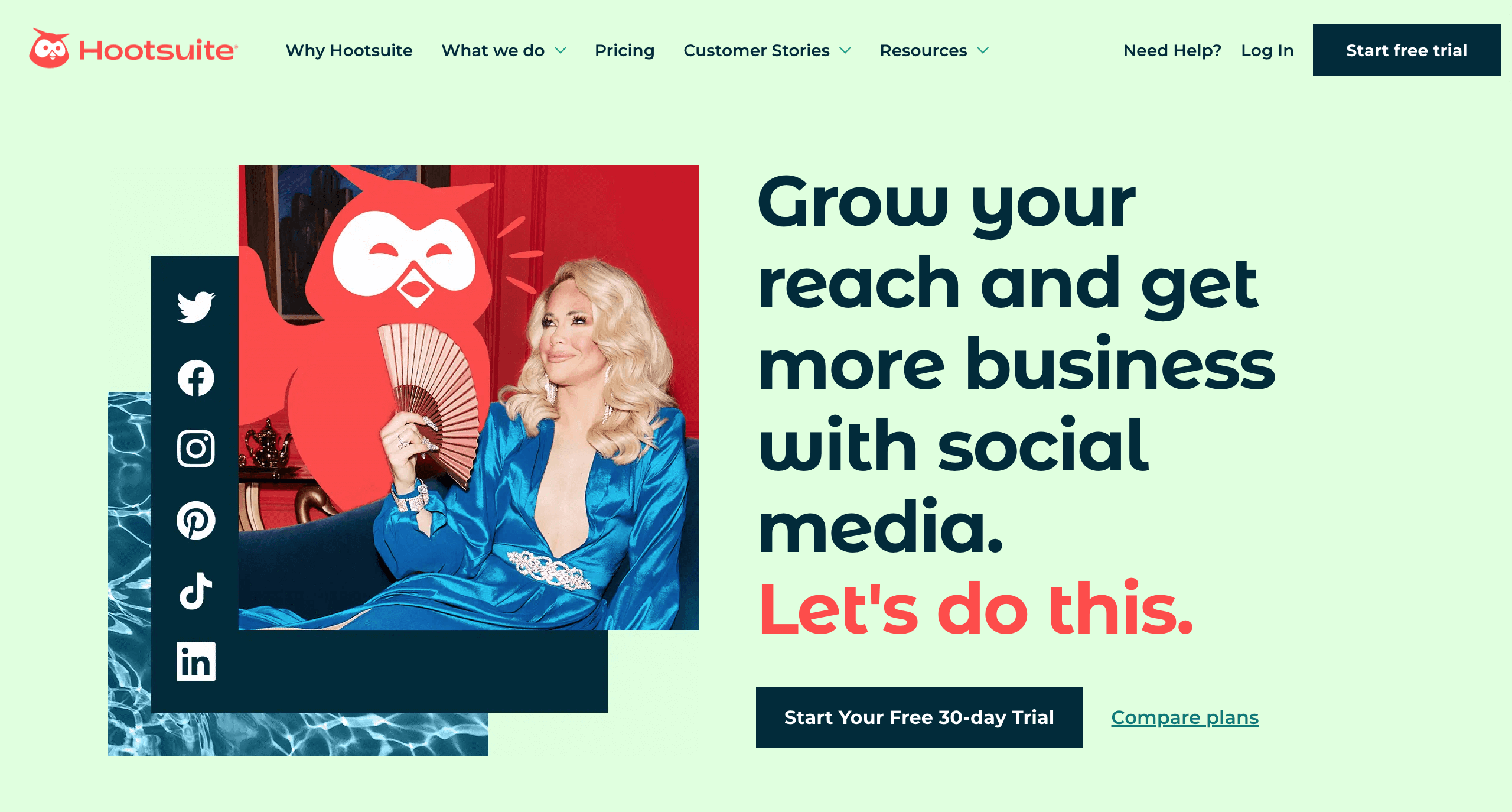 Being one of the social media management pioneers in the market, Hootsuite allows users to manage different social media platforms from a single dashboard. The interface provides a wholesome overview of the marketing activities and enables you to swiftly jump on a brand's mention thanks to a single social inbox.
Hootsuite used to offer a free plan that would include up to 30 scheduled posts a month. Now, the company switched to a 30-day free trial period instead.
Features
Schedule social media posts and gather analytics from marketing campaigns;
Single social inbox for all brand's incoming messages and comments across multiple social media platforms;
Social listening capabilities: brand mentions, hot topics, and relevant content monitoring;
Client management for multiple client accounts.
Platforms supported
Instagram, Facebook, Twitter, Linkedin, Pinterest, TikTok, YouTube.
Drawbacks
Most of the features required for agencies are only available in more expensive plans. UX-wise, Hootsuite could be more user-friendly and easier to navigate.
Pricing
Hootsuite provides 30 days free trial period, and four paid plans starting at $99/month.
Takeaway
Hootsuite combines several social media marketing tools in one platform, offering in-depth analytics and an extensive dashboard. However, the agency might have to pay a significantly higher price to take leverage of the majority of features.
5. Agorapulse — agency social media software for social listening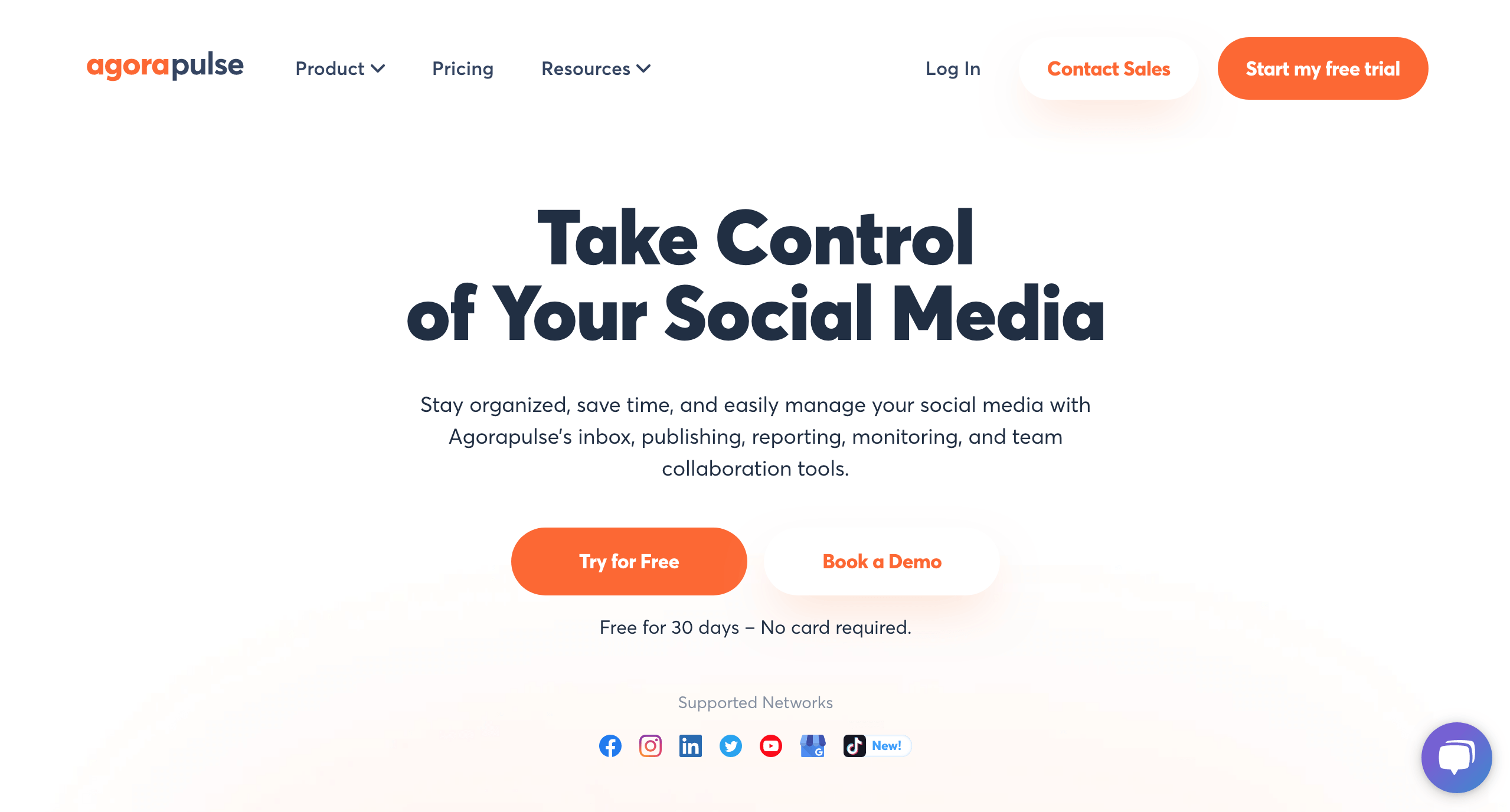 Agorapulse is a user-friendly and well-crafted social media management tool. Among its social media tools are social media scheduling and posting, social media monitoring, and others.
In addition to a classic package of features, Agorapulse offers an exciting tool for audience analysis — labels. The platform lets you identify the most engaged and devoted followers, categorize them, and track your previous interactions.
Features
Social media calendar with all scheduled, queued, and published posts for all major social media platforms;
Social listening and a customizable unified inbox to gather all the mentions, comments, and reviews;
Clear reports on social engagement and social media insights that can be sent to clients automatically;
Media library to keep on-brand content and drafts for future social posts organized.
Platforms supported
Instagram, Facebook, Twitter, Linkedin, TikTok, YouTube, Google Business.
Drawbacks
Agorapulse doesn't support posting to blogs and Pinterest. Collaboration features, social listening, and Instagram visual grid are only included in more expensive plans.
Pricing
Agorapulse has a free plan, and four paid plans after a 30-day trial starting from $49/month.
Takeaway
Agorapulse is a good option for mid-sized agencies and businesses. It's a nice balance between features and pricing unless your agency deals with more than 15 social media profiles — in this case, it might get costly.
6. Zoho Social — comprehensive social media management software with CRM integrations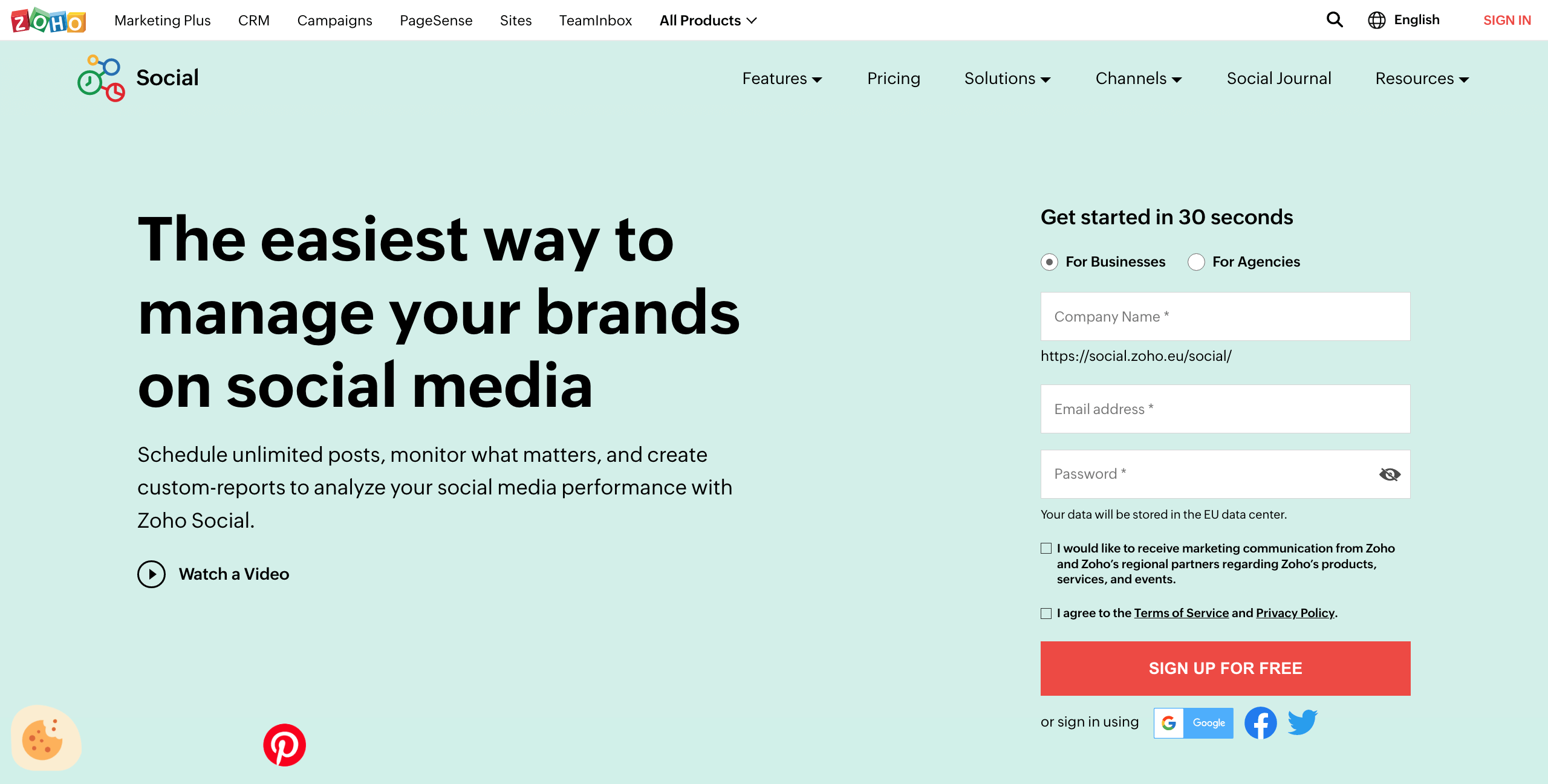 Zoho Social is an easy social media management platform for gathering actionable insights on social media presence. Social media managers like Zoho for two significant reasons: its clever predictions on the best time to post for each account and its vast statistics and detailed reports.
Combined with an integrated customer relationship management system to manage leads, Zoho gives a good dive into audience specifics to make the social media strategy more relevant.
Features
Smart data-driven scheduling to publish posts during high engagement time;
Collaboration mode that includes chats and video calls, different roles, and workflows;
Monitoring dashboard with listening columns to stay tuned into the brand's context;
Various social media analytics and reports for campaigns, including personas reports.
Platforms supported
Instagram, Facebook, Twitter, Linkedin, Pinterest, TikTok, YouTube, Google Business Profile.
Drawbacks
Zoho Social doesn't customize posts for different social media. It also lacks advanced content creation tools to create custom images or graphics. The software doesn't capture Instagram tagging and mentions well.
Pricing
Zoho Social offers a 15-day free trial period and five paid plans starting from $15/month. Zoho has two separate paid plans for agencies with a more complex approach to features.
Takeaway
Zoho Social is a good option for small businesses and social media agencies. It offers multiple options price-wise and has a nice set of functionality for managing several brand accounts from one dashboard.
7. Later — best social media tool for content and social media marketing agencies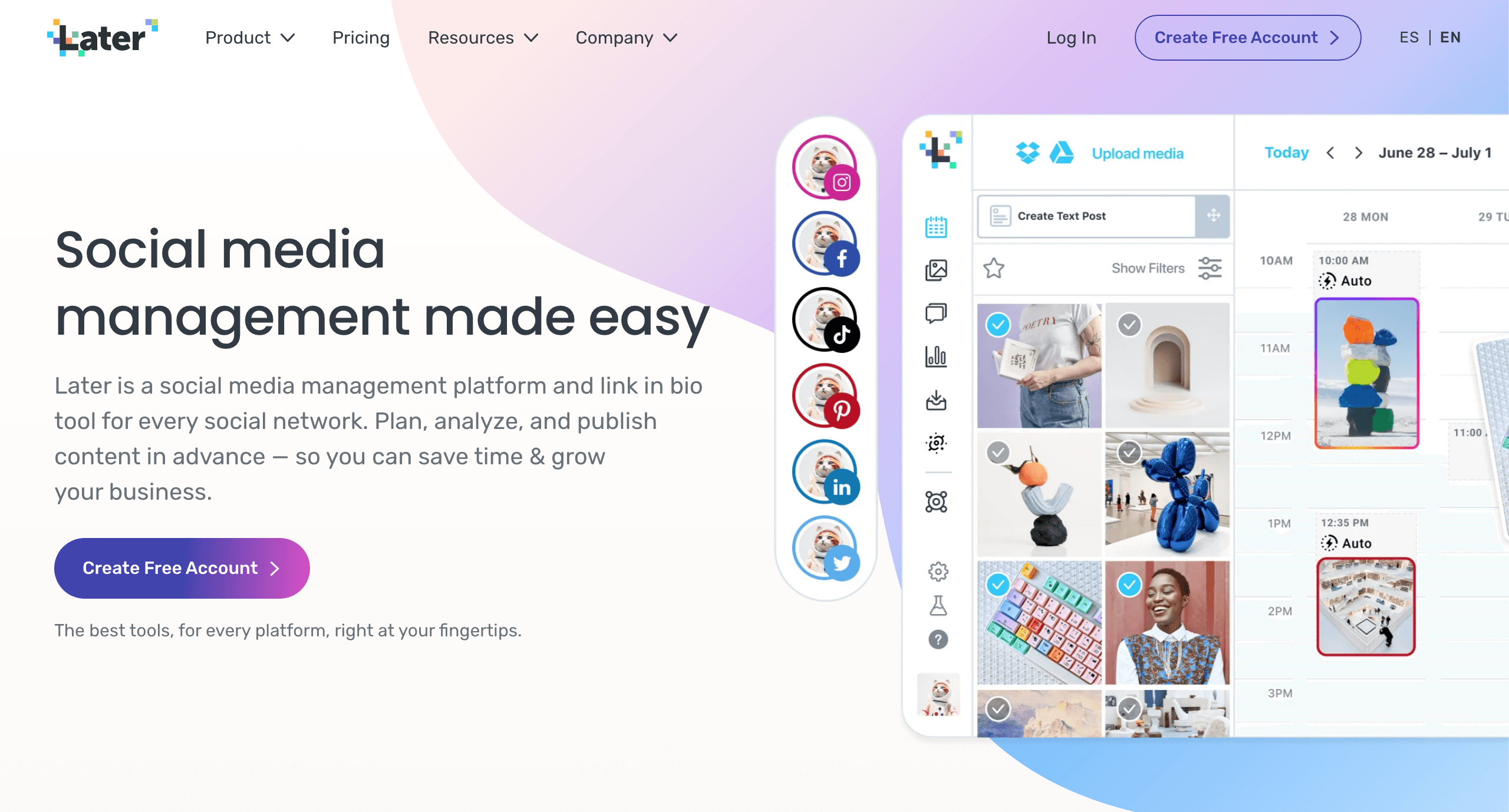 Later started as Instagram-only social media tool, and it shows — the main focus of Later is being visual. It's a straightforward platform that might be a better fit for individuals and creators rather than agencies. The content calendar is neat and works great for video and visual social media.
Features
Visual mockup of the feed to maintain an aesthetically pleasant brand identity
User Generated Content allocation through relative hashtags
Linkin.bio tool to create a customizable yet easy lead magnet in bio
Best time to post feature, basic analytics, and personal insights.
Platforms supported
Instagram, Facebook, Linkedin, Twitter, Pinterest, TikTok, and YouTube.
Drawbacks
Most features, such as feed mockup and best post times, are only available for Instagram. Other social media platforms use the scheduling and auto-post features only.
Pricing
Later offers a free plan with ten monthly posts and three paid plans starting from $18/month.
Takeaway
Despite adding various social media platforms into the integration pot, Later remains Instagram-oriented. Therefore, if your agency mostly manages Instagram accounts and concentrates less on other social media, Later can be a suitable option.
8. Buffer — marketing agency tool for reporting and social media management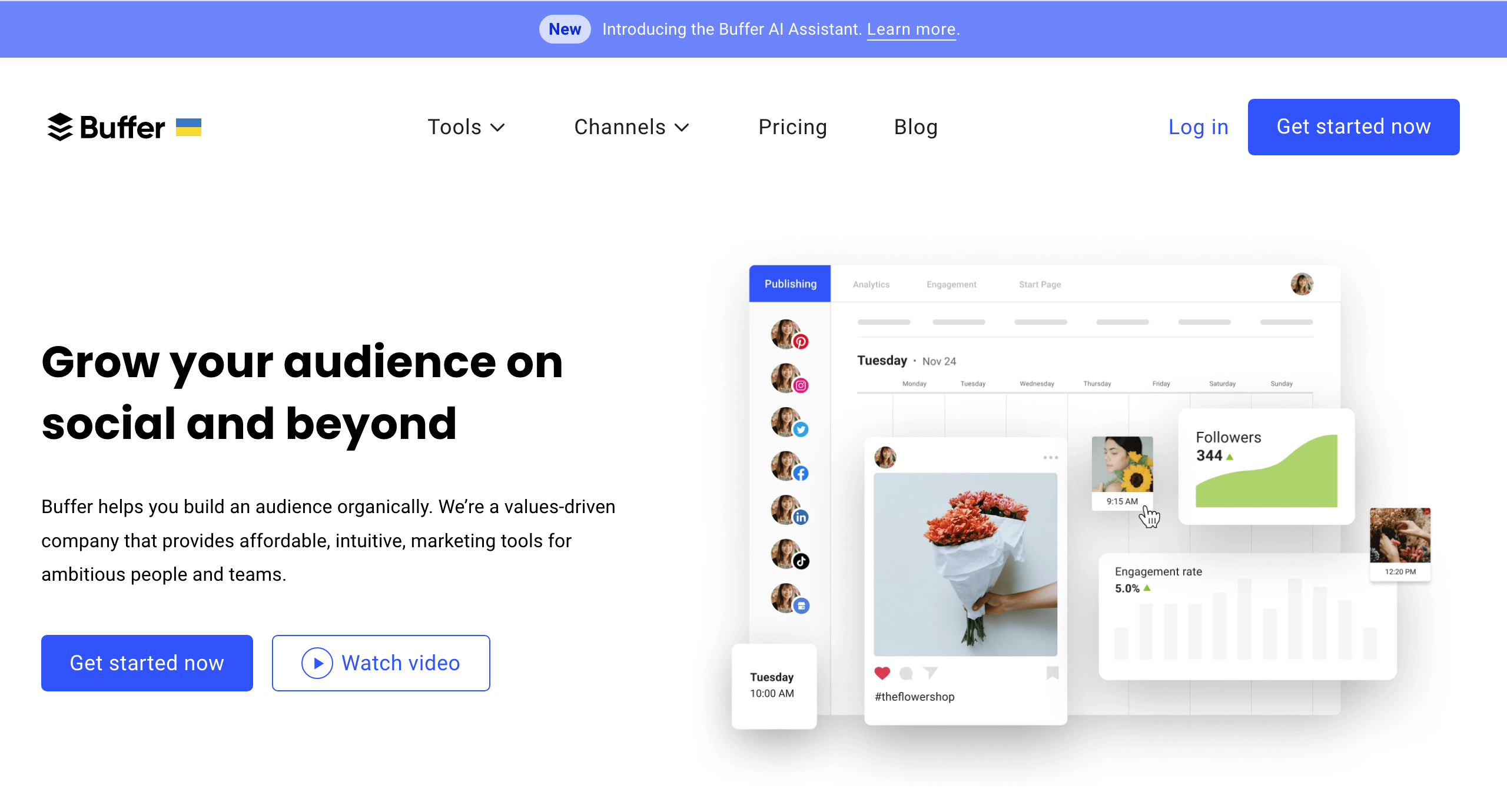 The core functionality of Buffer revolves around scheduling and publishing content to make it as efficient as possible. The platform itself says it concentrates on organic audience building, and the main features support this statement. The integration with Shopify makes it an excellent option for agencies with eCommerce clients.
Buffer's controversial thing is pricing: unlike most platforms, it bills for every additional channel instead of users or a particular set of features.
Features
Recommendations on time and type of content to publish for maximum engagement
Social inbox on a dashboard to keep tabs on all the comments, messages, and mentions
Collaboration mode with permissions and approval flow
Easy account management features
Platforms supported
Instagram, Facebook, Linkedin, TikTok, Google Business, Pinterest, Twitter, Mastodon, Shopify
Drawbacks
The built-in reports are more on the overview side. Instagram stories can only be published manually with a reminder. Some users mention failed posting occasionally due to the accounts unlinking.
Pricing
There's a free plan with up to 10 scheduled posts per channel a month and three paid plans starting from $6/month per channel. There's a special agency plan starting from $120/month.
Takeaway
Buffer can be a good option for small businesses or brands with particular social channels. However, Buffer may be tricky for digital marketing agencies due to its channel-based billing.
Find the best social media management tool for your agency
Social media management tools vary greatly in features and functionalities. For a marketing agency, choosing the right social media management tool is essential to build a seamless workflow and deliver top-notch results. Find the perfect fit for your organization's social media strategy – this list is a great place to start!