Google Chrome is the king of browsers. It's efficient, simple and customizable. The best part about it? Customize it as much as you want in any way you want. You can discover the best Google Chrome themes, great apps like Coupler.io google sheets integrations a great work assistant to make your life easier with the best Chrome extensions for the professional activities you do.
For a social media marketer, a Chrome extension is an ace up their sleeves. They let you get a bunch of new and useful gadgets to do your job better, be more dynamic – and have fun while you're at it! Do you want to make your Google Chrome optimized for work?
We've got the 17 Best Chrome Extensions for you!
Grammarly is free and one of the best Chrome extensions for improving your writing skills and knowledge. This is basically Jarvis to your Tony Stark – it helps you with what you just can't do. Grammarly is here to help you write with absolutely no grammatical mistakes. Instantly fix over 250 types of errors, most of which Microsoft Word can't find. Grammarly makes sure everything you type is easy to read, effective, and mistake-free. Grammarly helps you find synonyms and definitions right ahead in your tab.
Grammarly's Chrome extension runs in the background, and if your copy is clean, you'll see a green icon. Even Forbes magazine wrote "Grammarly quickly and easily makes your writing better." according to their landing page.
By the way, like their page on Facebook – "Grammarly". We love it! Great ideas, cool stuff for social media marketers, and good inspiration for any of your companies that you are working for. In conclusion, try Grammarly for free and see how it works or give Grammarly Premium a shot. You'll like it!
If you work with social media –  in many ways, you are responsible for a lot of people's happiness and good feels all day long. But sometimes, it's you who needs a pick-me-up to keep going and create great content. The Momentum is the right choice in this case for the best chrome extension to start your day with a great mood, remind which activities are coming on and get right away to work.
It transforms your new tab page in a beautiful new landscape every day, and it even greets you! The Momentum Chrome extension also allows you to set your goal for the day and keep track of a long to-do list. It tells you the local weather, and a motivational quote at the bottom of the page –  to make sure you make it through hard days. As a social media marketer, we think it's a really good chrome extension to start with if you don't have any.
Did you ever have to figure out the perfect time to post? We did, and know how hard it is. Now that your page has followers in different time zones. You've basically got double work options – set different alarms for your phone or work from a hotel's reception desk. Unless you use Planable to schedule your posts and collaborate on social media campaigns.
The Figure it Out is another Google Chrome extension that lets you add up to 10 time zones to your new tab page, for scheduling posts or setting up meetings with different regions super easy. Figure it Out also lets you know about regional national holidays, so you can plan accordingly and post something to your favorite Facebook Pages or maybe create a special contest for let's say – National Chocolate Covered Raisins Day. All the best Chrome extensions have to improve your work or personal life and that's what FIO does.
Click to download the Figure it Out chrome extension.
Pinterest has a very specific group of followers. More and more, social media marketers need to reach that group – but working effectively on Pinterest takes a lot of time, and ain't nobody got time for that. This social networking is great for consumer base companies with great photos and picture that you can share on social media. If there is anything in Food, Fitness or Beauty, then you just have to be there!
Pinterest's Chrome extension in our list goes on the top of your browser – making it easier for you to pin things and save creative ideas you find. You can also edit the description and add any context you feel is important. If the tiny icon isn't enough of a reminder, as you scroll through a page hovering over an image, it will bring up a tiny 'Pin it' button which you can click to the same effect as the extension.
StoryXpress Recorder is a flexible & lightweight Google chrome extension that allows users to record Screen, Webcam, or both, with even Offline Recording functionality!
Our Freemium tool is suited for Remote Communication with internal/external stakeholders. Customer success, sales & marketing teams are our majority users. You can reduce the load of Zoom fatigue & long text conversation threads.
Ever had to frantically search for a hashtag's meaning or completely invent a new one? No more of that stuff with this amazing Google Chrome extension. Get a color indication of hashtag strength as you type (in Twitter, Facebook or any other site). Find out if you need to use hashtags just by 4 simple colors – green, blue, red, or gray. You can also compare groups of hashtags or get alerted in real-time if any of your hashtags emerges.
The RiteTag extension is truly one of the best Chrome extensions to research hashtags and get the best ones right away for your business or personal account. Social media marketers can check how used are the hashtags they want to add or search for new ones that you didn't even know about. The only problem is that it's paid – but it sure is worth the cost.
Social media marketers know a good GIF when they see one. After all, they can single-handedly increase engagement and click-through on your social media messaging. They are fun, also and you can get lost in Giphy every time you are searching for a perfect GIF. Yeah, been there, done that, right?
Giphy lets you find any GIF you want –  even some that you were not looking for but could work great, which makes it one of the best Chrome extensions out there for searching GIFs. This is the biggest library of GIFs and as social media marketers are gold diggers, this Google Chrome extension is their gold and mine. Find the right GIF, and either drag and drop it into your message or right click and grab the image URL. No need to leave the tab or window!
How many times did you have to edit a post just because a link was broken? Did you have to suffer through the embarrassment of finding that out from the client? Or, even worse, from a follower? Frustrating. But hey, it's ok – that's what we added this Google Chrome extension for you in this list – it checks all the links on your webpage. Any broken links are highlighted in red, so you can go in and fix them before you make the final step to posting.
It's basically focused on social media marketers and content editors. 'Check My Links' highlights which link are valid and which ones are broken, simple as that. You can test a favorite page with over 1000 links in just over a minute and find 40-50 dead links. It's impressive speed, great usability and functions make it really one of the best chrome extensions for social media managers. The extension works perfectly for your needs to check high-priority pages quickly and easily.
Although this is mainly an SEO tool, if you manage posts on the blog this is a great tool to keep track of your links' health. Click here to download this extension.
Pocket is great for when you'll read an article, but not like… now. It's like a fridge for articles – it keeps it fresh and right at hand. The Pocket Google Chrome Extension lets you add new articles just by adding the link, and then read them when the time's right. And we've got a small secret for you – it's a perfect way to go around paid articles from sites you like!
It automatically syncs to your phone, tablet or computer so you can view it at any time, even without an internet connection. In one click add it in Pocket or categorize it by adding some tags. See related recommendations for you based on your choices and articles you are reading. Is it the best chrome extension to hack your time during the commutes, on your way home or just to relax a bit? We would love to know what you think and how often you use it.
If you are a hustler, it's a must-have Google Chrome extension! This is my personal favorite on the list of best Chrome extensions. Hunter solved my problems in searching of people's e-mail and saved me so much time.
The easiest way to find contact details of anyone anywhere on the web in just one click. When you are on a website, just click the Hunter Chrome extension, it will find all the emails related to this website and the technique used to create e-mails, by first name, last name, combinations or other methods. When you visit LinkedIn, select the profile you want contact details from and just click the chrome extension. It will automatically extract all the data you need, save your leads and export it to a .csv file or automatically sync it with Pipedrive, Salesforce or other CRM through Zapier.
ContactOut is a nifty Chrome extension that helps you easily find the email address and other contact details of anyone on the Internet. All you need to do is head over to your prospect's LinkedIn or Github profile, click on the extension, and the tool will do the rest of the work for you. If you are looking for someone who is not on LinkedIn or Github, however, the tool also provides you with access to a very comprehensive search portal that lets you find practically anyone on the Internet. All of this is made possible with the tool's access to a database of over 1 billion email addresses, all of which are triple verified for accuracy.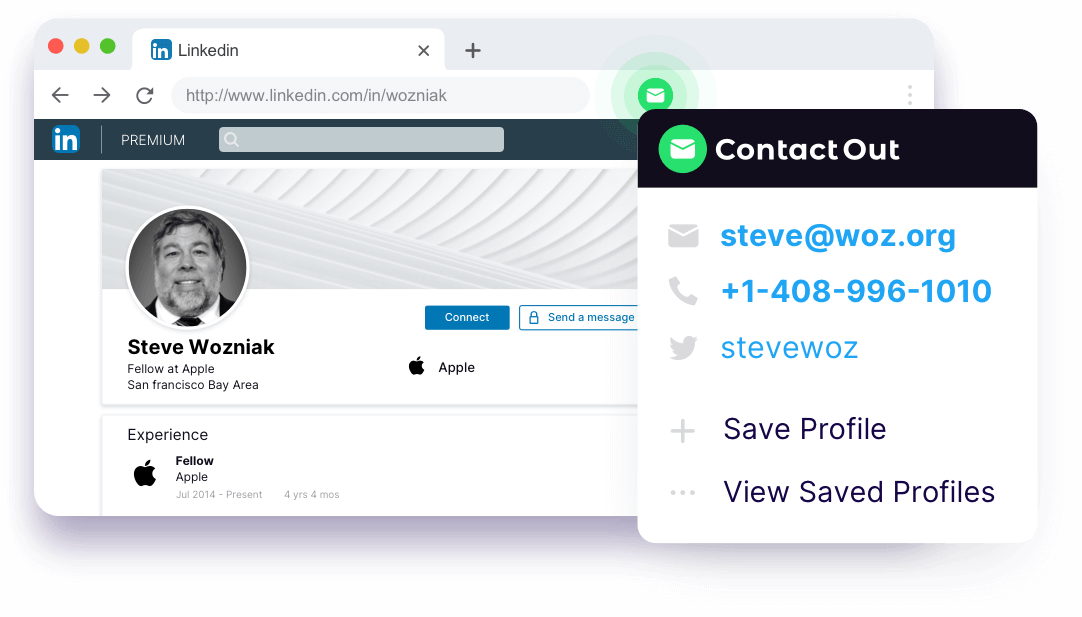 ContactOut also features a dashboard that lets you easily save and organize the data of your LinkedIn prospects. Email campaigns, yet another useful feature, lets you send emails and automatic follow-ups to your leads as you search for them on LinkedIn.
Probably, you are the only one social media marketer in the team, which means that some of the design work is done by your own hands, either in Canva, Moqups, Sketch – ColorPick Eyedropper is the best chrome extension to improve your design knowledge. Help you choose the colors to use or identify others you've liked so far. It assists you with color related tasks – both advanced and basic.
Pinpoint accuracy to select by the exact pixel you need and adjustable zoom are two main features of this Google Chrome extension. It's really simple and easy to use. You can pick any color on the current web page and store it in history or copy to clipboard.
UTM parameters are simply tags you add to an URL — when your link is clicked, the tags are sent back to Google Analytics and tracked. With UTM parameters, you can tag your links to gauge the effectiveness of your campaigns and identify the best ways to drive more visitors to your website. That's why Google Analytics URL Builder is the best Chrome extension to use for building UTM parameters.
A must-have chrome extension for every social media marketer, content manager, growth hacker, and digital marketing specialist. Helps you to easily create UTM tags in the same tab you are working by every parameter you need, and track them directly into your Google Analytics. Bit.ly and Goo.gl shortening support, fast tags and presets, auto generate the final URL and copies easily into your clipboard. This Google Chrome extension does not collect your tagging data or browsing activity. Even Google recommends it. Download here.
A social media marketer has to be very versatile in its skills and does many of the things at the same time. Mixmax: Email Tracking is the best chrome extension suite for your Gmail or Inbox work with clients, teammates, influencers and other important stakeholders in your daily workload.
It tracks opens, clicks, and downloads in your emails. Helps you to easily schedule meetings and select the most appropriate time for it. Use templates to write a faster e-mail and improve your outreach. Track your results with daily dashboard report to check how your emails improved during the day. Use snooze, set reminders to send an e-mail and send the email later, let's say tomorrow at 9 am in just a couple of clicks. Mixmax Google Chrome extension automatically extracts metadata out of your links, presentations, SoundCloud files and images to improve readability to both you, and your conversationalist.
Right Inbox saves you time on repetitive tasks and helps you to send better emails, in less time consistently. Join more than 250,000+ professionals that have added Right Inbox to Gmail for next-level email productivity.

Right Inbox's most effective feature for social media marketers is their email tracking tool. See what clients, freelancers or influencers opens your emails and clicks on your email links in real-time. All the information you need to act effectively is only a mouse-hover way. You can also write emails now, schedule to be sent later for perfect timing with the email scheduling feature. Turn your most effective emails into templates you can insert and optimize with one click in Gmail.

Facebook, Twitter, LinkedIn, Pinterest, Instagram, Evernote and many other social media networks or websites you use, as social media marketer, have… exactly! Passwords! There are too many of them, especially that for security reasons it's best practice to use variations of your favorite password or some keywords combined with numbers, date, ALL CAPS letters or other characters on your keyboard.
1Password is a password manager that goes beyond simple password storage by integrating directly with your web browser to automatically log you into websites, enter credit card information, fill registration forms, and easily generate strong passwords. Its Google Chrome extension helps you to easily paste login and password to any of your saved websites, with a short-key or in a couple of clicks. With 1Password all you need is to memorize just one single password and then you have the access to all the ones you saved. It helps to stay organized and keep all the data in one single space. Store everything from online accounts to social security numbers. Use tags and powerful search to quickly find what you're looking for on any of your devices. Add it to your Chrome browser here.
Every week there is a tedious work to search for stock photos, usually for free, because the company you are in has no budgets for that. Research for landscapes, portraits, people at the party, working woman at the table, men in the office and many else. Unsplash Instant helps you well… instantly!  
Beautiful photos from Unsplash every tab you open a new tab. Download photos directly to your computer and save them for later to use them in your content or next social media post. As a social media marketer you will probably create a collection to use for your projects, job or ideas and this is the best chrome extension to use for great photos. Sync with your Unsplash profile directly there and enjoy beautiful stock photos right in your browser.
Express VPN
It's very easy to use extension that has servers spread across 148 different location in 94 countries. When you're looking to use free services, such as Moz Open Site Explorer, Express VPN will help you by changing the IP you have at the moment and faking that you're in another country, that will allow you to browse multiple searches. To learn more about ExpressVPN and its Chrome extension, click here.

AeroLeads is another Google Chrome extension, it offers you a common platform to appropriate precious contact details and generate actionable insights in one single place.
It's a data mining tool which you can effectively use to find the perfect match for your requirement, directly from its repository of millions of potential leads. It essentially makes things easier by helping you uniquely connect with a reader and blogger, who can in turn help get your more relevant traffic in the near future.
It replaces all instances of the word "millennials" in your browser with "snake people". You think it's not funny, right? We thought the same. But then we checked it out, and all we can say is LOL 🙂

Vlad Calus
Dropped out of college, moved to another country with 2 of my friends and built Planable (Techstars London '17), social media collaboration platform, at 19 y. o. Forbes 30 under 30