The first quarter of the year is already up. Some of you believe your social media strategy is set. Some may say it's a "work in progress." While some are still wondering where to start. However, this piece is for you no matter which category you fall in. You know why? Because it's never too late to learn about the 16 must-have social media tools!
Social Media Marketing is not a joke.

Deciding which tools to choose for designing the right social media strategy is a constant battle. Moreover, the target audience and the type of social media posts are different for each company. So, how do you get out of this mess?

Well, for starters, have a look at this list of tools that might just make things easier for you. Secondly, try to experiment with your social media posts.

Third, let's move on to the tools already!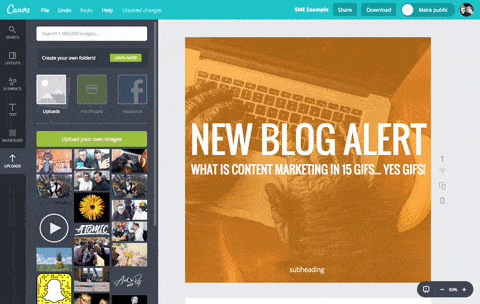 We put this tool first, partially because of its ease of use and partially because of its amazing visual content. Canva can help you create visually stunning social media posts. It has a simple drag-and-drop format and allows several team members to work on one project. Moreover, it offers an array of visual content options like background transparency, thought bubbles, photo enhancers, and design grids.
You can choose to create visual content from a wide variety of categories. In fact, you can select pre-made templates for infographics, posters, and social media posts (like Facebook posts, Tumblr covers, Instagram designs, etc.)
Bonus point:  Free icons are always a plus point, right?

But if Canva doesn't have exactly what you're looking for, there are plenty of other incredible online graphic design tools for you to try out.
Interactive content is now being dubbed as the 'future of marketing'. Now we are not saying that this is the absolute truth. But we are saying that interactive content is a necessity if you want higher audience engagement. In fact, interactive content is 2x more engaging as passive content.

You say 'interactive content', we say 'Outgrow'. Let us explain why. Outgrow allows you to create interactive quizzes, calculators, polls, e-commerce recommendation quizzes, and chatbots. Quizzes are further classified as Outcome and Graded. Graded Quizzes are like the surprise tests that you gave in school, only much more fun! It catches your audience and boosts your lead gen game. Exhibit A: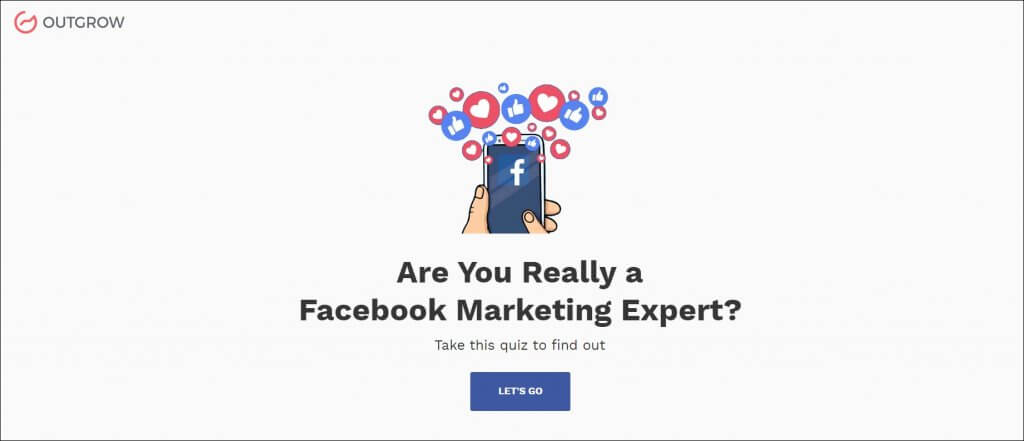 On the other hand, Outcome quizzes provide a personalized result on the basis of the options selected by the prospects. It can look a bit like this: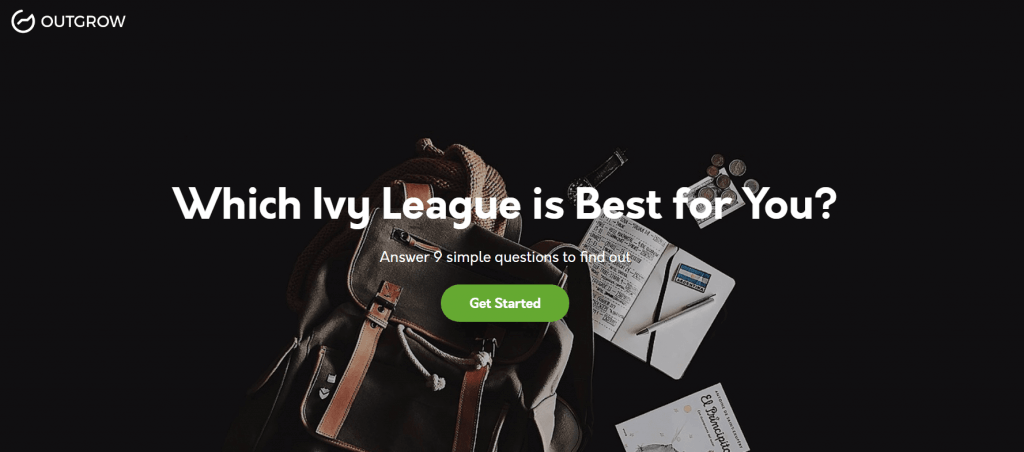 Want to read up on the rest of the interactive content types? Head on over here.
Outgrow's wide variety of interactive content types, pre-made templates, and layouts are optimized for higher conversions and better social media engagement. However, their powerful funnel analytics takes the cake here. It provides your conversion rates at each stage of the sales funnel and detailed analytics for each user. You can embed these interactive experiences in your social media dashboards and ads.

Bonus point: Their 24*7 customer support means no coding knowledge required to create these.
Planable is literally a centralized hub for all your social media content, feedback, and ideas. As social media marketers, we often engage in time-consuming preview processes for our scheduled posts. This leaves extremely little time for experimenting with our marketing strategies.
It allows you to preview your social media posts as though they were live. You can create engaging visual content along with your team members in one go. In fact, they call it "content creation on steroids". It is rich in details and allows you to duplicate posts for the intended channel separately.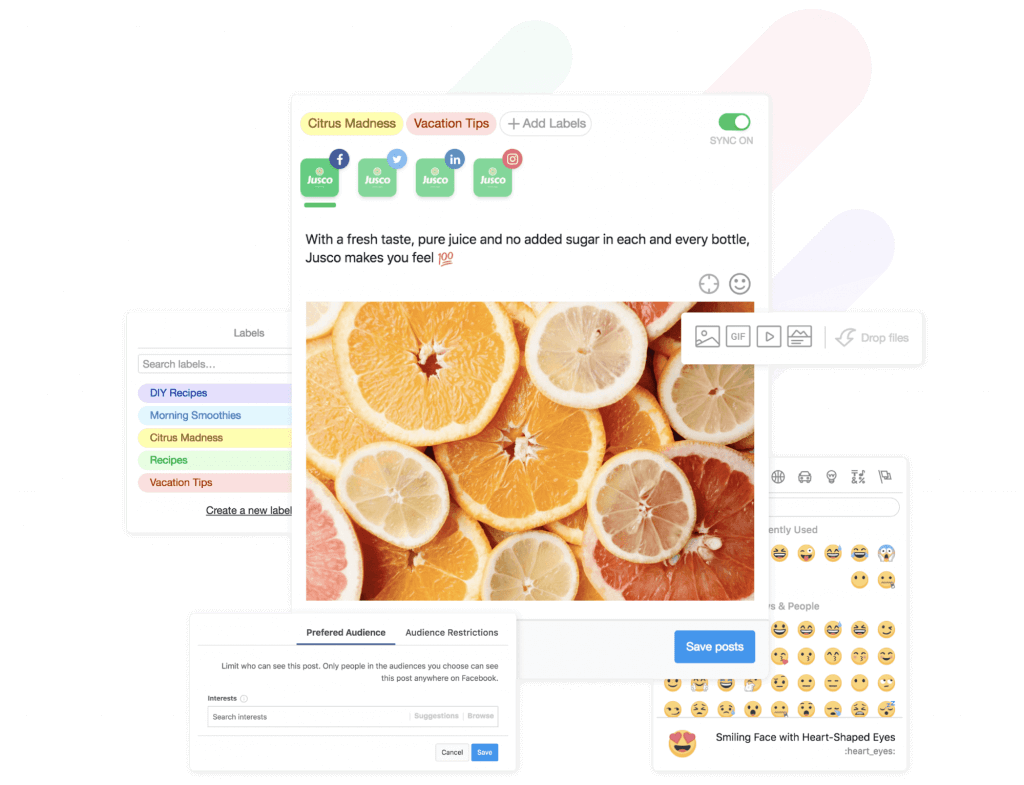 With Planable, you can streamline your marketing efforts by adding your posts into a predefined time slot and power up your social media scheduling. See how it compares to Sprout Social, Zoho or Hootsuite.
And who doesn't love a one-stop solution for their social media marketing efforts?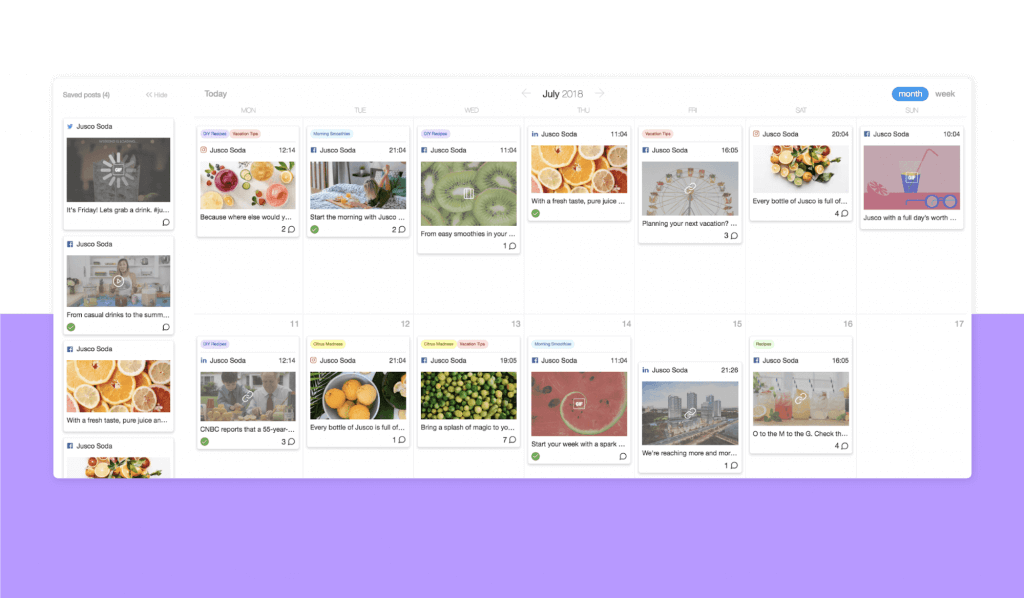 Bonus Point: It allows you to gather feedback where it makes sense, right next to the post. You can tag team members and choose to send notifications to the right people.
If you're migrating from ContentCal to Planable, let us help. Book a demo here.
What's better than well-written social media content? Optimized social media content. Buzzsumo helps you with the latter.
It helps you discover the most shared content across all social networks and provides you with detailed analysis reports. Moreover, it helps you get an analysis of what your competitors are posting. How? Well, it can help you track your competitor's content performance and do detailed comparisons. Additionally, it alerts you when an author or competitor publishes new content related to yours.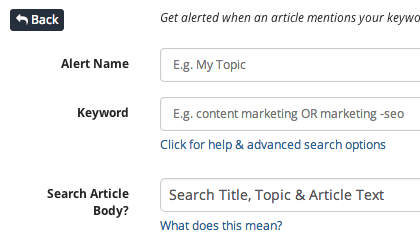 Furthermore, it can help you find influencers in any topic area, review the content they share, and amplify it.

Bonus Point: Exhaustive nature of analytics for your content marketing efforts and instant search of up to 12 months of data.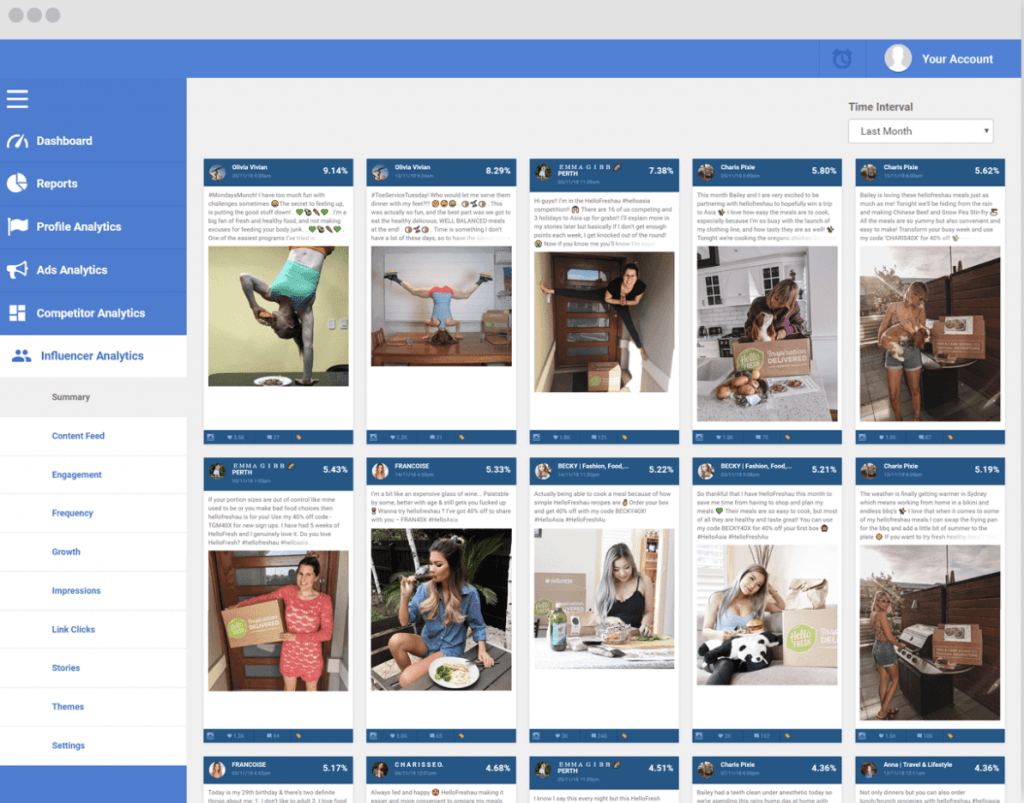 Social Status is an in-depth social media analytics tool for Facebook, Instagram, YouTube, LinkedIn and Twitter. The product has 4 different analytics tools including Profile Analytics to track the profiles and pages you admin. Ads Analytics lets you track all your paid social campaigns. Competitor Analytics provides competitor analysis and benchmarking. While Influencer Analytics is for tracking and reporting on your influencer marketing campaigns.
There's also a Reporting feature that enables you to export reports to PDF, PowerPoint, and Google Slides. Reports can be customized and white-labeled too. If you're more of an Excel heavy, you can always convert PDF to CSV file and get a better overview of your report. 
Social Status have also published a downloadable PowerPoint social media report template.
Mention can help you with real-time media monitoring by giving you live updates about your brand from web and social media. In fact, it allows you to easily monitor over 1 billion sources daily including social media, forums, and blogs. Moreover, it can help you hear whatever is being said about your brand on the web in real time. Consequently, you can reach out, respond to comments in real time, and grow your community of brand ambassadors. What's more, you can find influencers that can spread your message through their influencer discovery tools.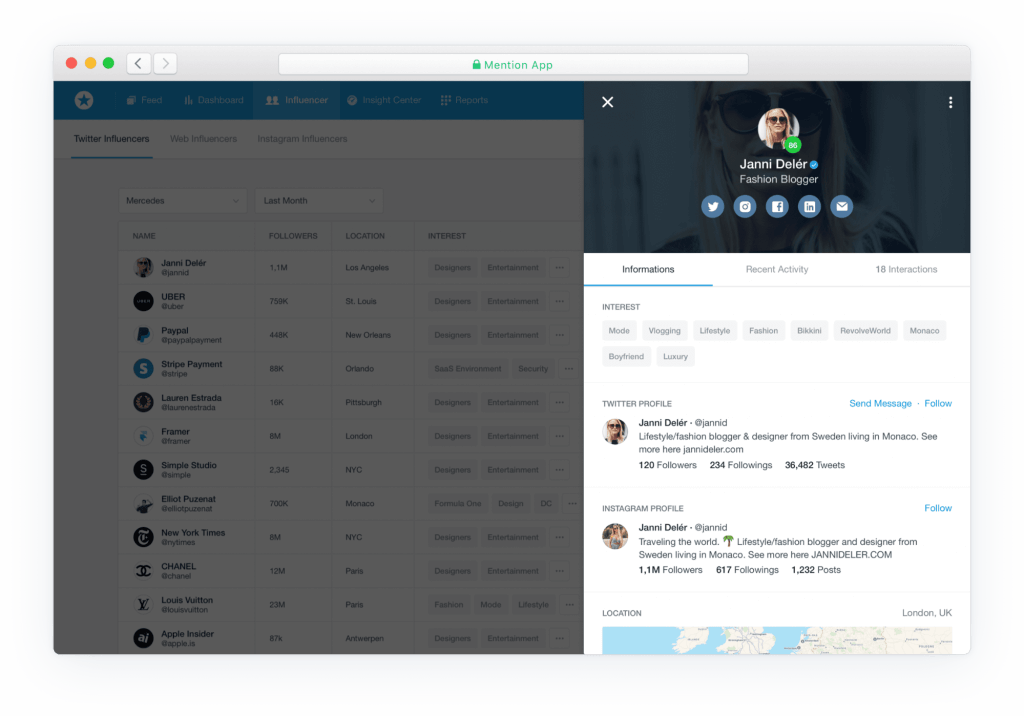 Most importantly, their insight center can help you dive deep into your monitoring data, experiment with new graphs, and discover trends you'd otherwise miss. This includes key metrics like brand sentiment, reach, influence score, and gender.
Related Read: Best Lead Generation Tools You Need To Try
Let's be honest, creating and managing ads for social platforms is hard. Thankfully, this social media management tool is all we need to sort that out.
You can choose to create campaigns on Google, Facebook, Instagram or through AdEspresso's campaign creation flow. What's more, AdEspresso analyzes your Facebook campaigns and provides actionable daily in-app tips. This allows you to pause underperforming ads and multiply the ones that work.
Adespresso allows you to create different variations of your ads and simplifies your experimentation process.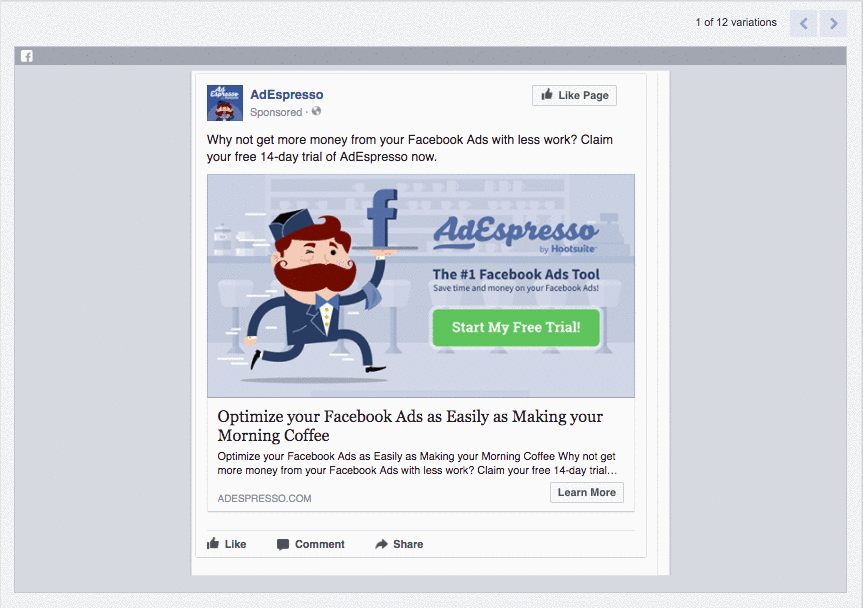 Furthermore, this tool connects your CRM or email marketing tool with your Facebook Ad Account – keeping your leads, contacts, and audiences in sync. With their campaign approval feature, you can send emails to your client or customer and have them approve and publish your campaign. Tip: try to generate email copy for times when you're in a rut or run out of ideas. You can also share a link with your clients to have them review all of the campaign settings for greenlight.
That's social media management simplified, isn't it?
Did you know that 92% of consumers say they trust earned media above all other forms of advertising? Tagboard uses hashtags to search for and collect public social media content from Twitter, Instagram, and Facebook. Consequently, it helps you quickly transform real-time content into impactful displays for your live broadcast, venue screens, web, and mobile platforms. In fact, you can close the loop by notifying users that they've been featured. Set automatic or manual replies with Twitter and Instagram.
Moreover, it can help you block offensive or negative content, and use keyword filters to automatically remove or promote posts.

The feature of Tagboard Live helps you streamline your workflows for your live events. You can easily manage high-volume content with one simple, responsive, and intuitive interface.
Links are an asset for every business, and as such, they need to be monitored, updated, and reassessed over time. With Rebrandly, marketers are able to brand, track, and share short URLs using a custom domain name. The tool also gives you the opportunity to scale your linking efforts and offers the ability to grow and target specific audiences with shortened links. 
You will also receive handy analytics and learn about who's clicking on your links with Rebrandly — such as what country the clicks are coming from, the most popular times or days your audience interacts with your links, their language, location, browser, and devices, etc. You can see what the dashboard looks like below:

Bitly defines its tool as a "tool that helps businesses brand, measure, and optimize their links to build the best possible customer experience". And honestly, we couldn't agree more!
Bitly can help you put your brand across every channel and device with branded links. It helps you create seamless, highly personalized mobile experiences with deep linking. Moreover, it can help you collect and analyze cross-channel analytics so you can optimize them later.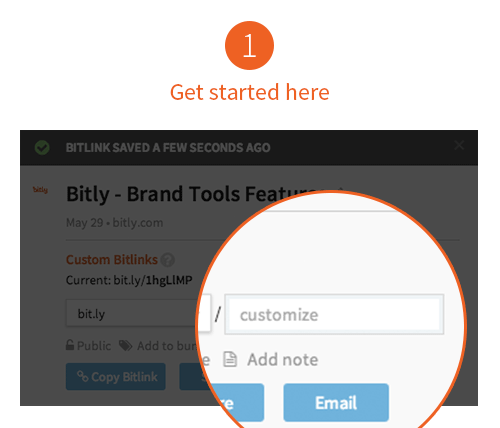 URL shortening becomes a necessity in the social media sharing process. But Bitly goes one step further. It provides you with 'branded links' that drive CTR up to 34%.Branded Short Domains replace the "bit.ly" in your links with your brand name, allowing you to take total control of your content. Moreover, their Mobile Optimizer tool can help you create mobile deep links that detect the best experience for your users and route them accordingly.
Furthermore, it helps you organize your account in a way that suits your company structure and workflow. For instance, Brand Manager allows you to 'segment account activity and analytics by the department, location, channel, brand, or user to collect meaningful insights into how teams perform individually or how your company performs as a whole'.
Venngage is an online design platform that helps marketers create easy-to-edit and professional designs. Venngage also has a Map maker that can create stunning designs, have imaginative mind maps like no other. Browse mind map templates specific to strategic planning, HR, brainstorming, nonprofits, and more.

12) Agency Vista
If you're a social media marketing agency, then you know how difficult it can be to manage your clients without automation. We recommend joining Agency Vista, a marketing agency network that can provide you with a wealth of tools to help your business. Each verified profile comes with a free white-labeled customer intake questionnaire that can be customized to your brand so that you get the right information when onboarding your clients – making it that much easier to manage their social media and scale their online efforts.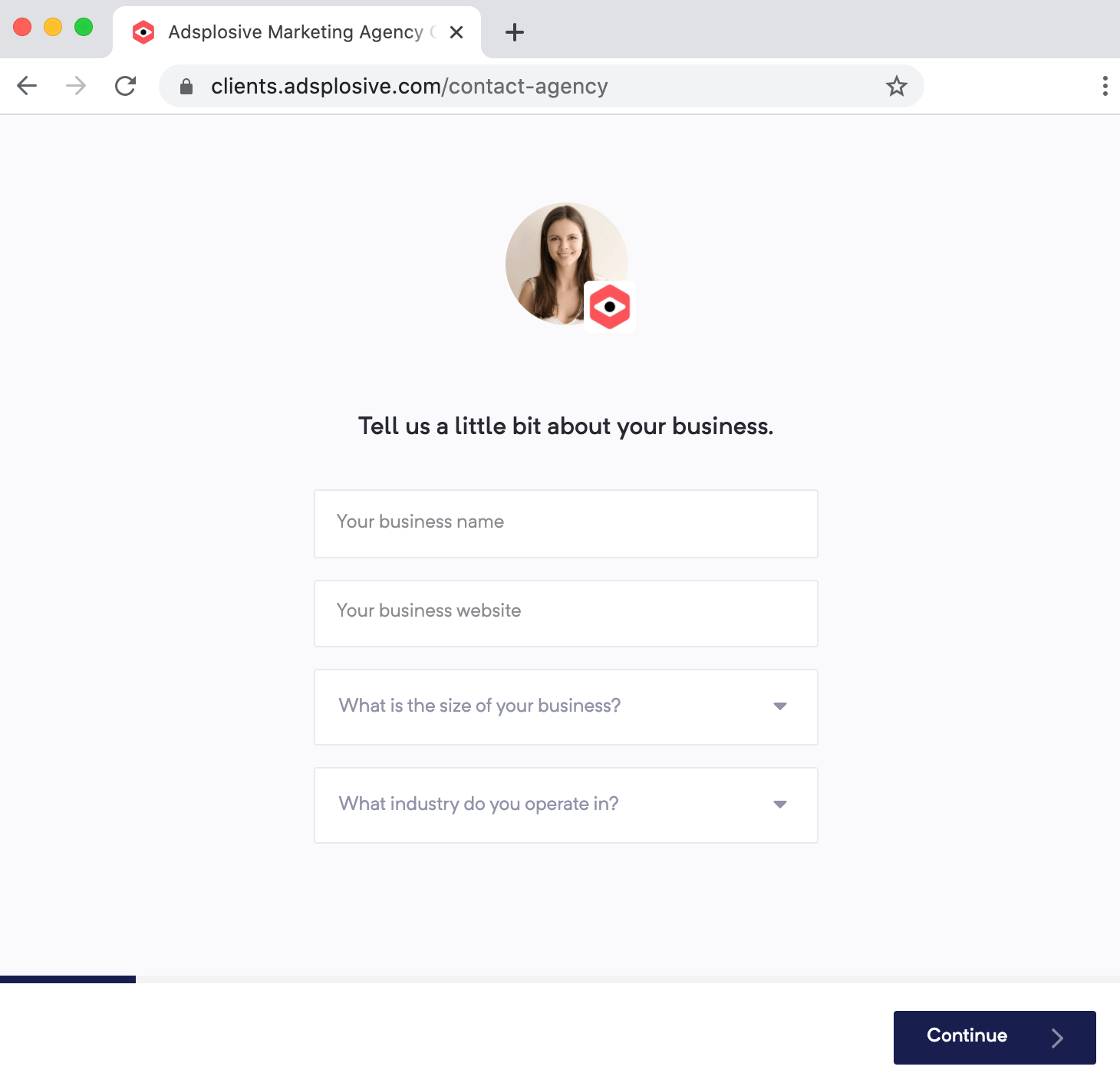 Woah, that was a lot of information. But we hope it helped you gain a rough (okay sorry, extremely detailed!) idea about the tools you need to conquer the marketing scene.
13) Brand24
Brand24 is an effective social media monitoring tool. It has a dedicated integration with Instagram, Twitter, and Facebook that is compliant with all the latest regulations and guidelines.
Brand24 gives you instant access to mentions across blogs, videos, podcasts, reviews, news, and more sources. Thanks to extensive analytics, you can measure keywords performance and engagement on the Internet.
It lets you monitor what people are saying about you across the Internet, engage with clients and influencers, get more customer insights than ever before, identify sales leads, and monitor competition—everything you need to stay ahead of the game!
Brand24 is the perfect solution for companies who want to stay on top of their game. You'll never miss a message or a potential opportunity again.

ClickUp is a workflow and content management solution that offers advanced features to help your team #gettasksdone efficiently. With the customization capabilities in ClickUp, small to large teams are able to bring everything into a single field of view and handle various aspects of their work—all in one place.
It offers a customizable Mind Map view to help you visually plan your content; easily create beautifully outlined Mind Maps to break down complex ideas and map out a clear path for task execution.
For content organization, take advantage of the robust Hierarchy levels in ClickUp. Store your assets in a Space, Folder, List, tasks, and subtask level, and always know where everything is.
ClickUp also offers various features for seamless collaboration. Use Proofing to create and assign comments directly in task attachments, create custom Forms to collect important information from clients, assign multiple assignees to a task, and so much more.
Wouldn't it be great to see where each of your tasks stands at any time?
Easily track what stage your social tasks are in and stay on top of your social media schedule by creating Custom Statuses that accommodate your unique workflow. For extra visibility and clarity, simply add Custom Tags to link related tasks together and color code task items by social channels using Custom Fields.

As for viewing your social media content calendar, choose from multiple view options including Calendar, Board, and List view. Best of all, ClickUp is available on mobile. Download the app to view and edit your social calendar, tasks, and more, wherever you go.
Bonus: ClickUp offers a feature-rich Free Forever Plan and 24/7 customer support.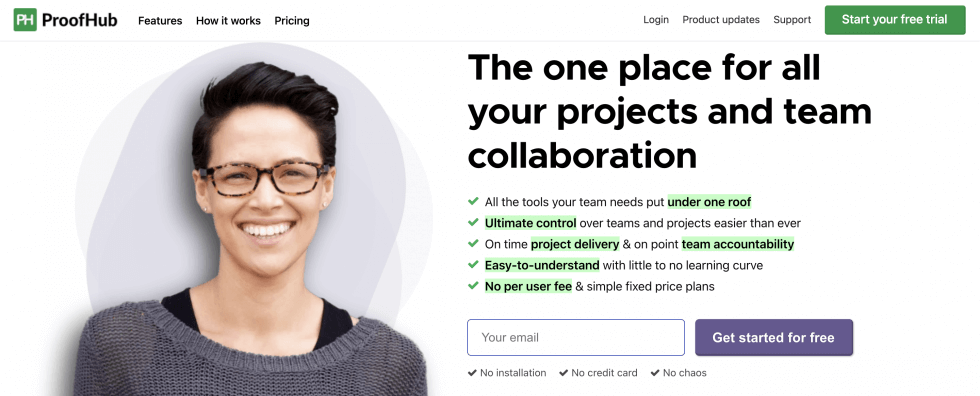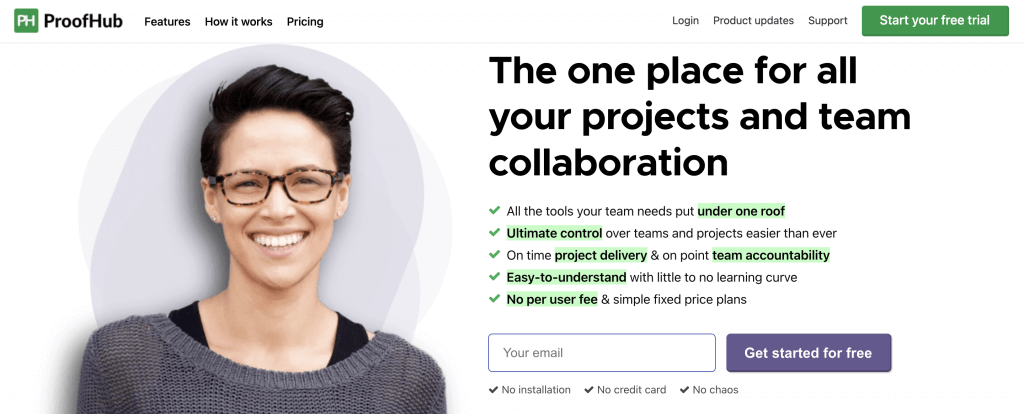 ProofHub is an all-in-one project management and team communication solution that packs a lot of functionality into a small package. It allows teams to track team and individual progress, define milestones, effectively communicate, respond to job requests, manage tasks, fulfill deadlines, measure time, and assure high-quality work.
The program replaces multiple office tools, including Team Calendar, Team Chat, Task Management, File Storage, and others. ProofHub can be accessed from any place, making remote team management easy.
ProofHub can assist teams in managing everything from online proofing to defining and assigning custom roles and tasks, time tracking, task dependencies, and calendar modifications as deadlines change.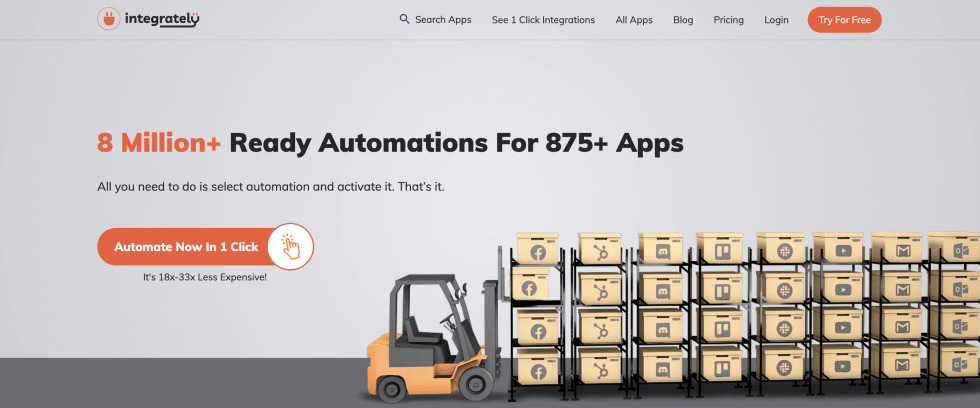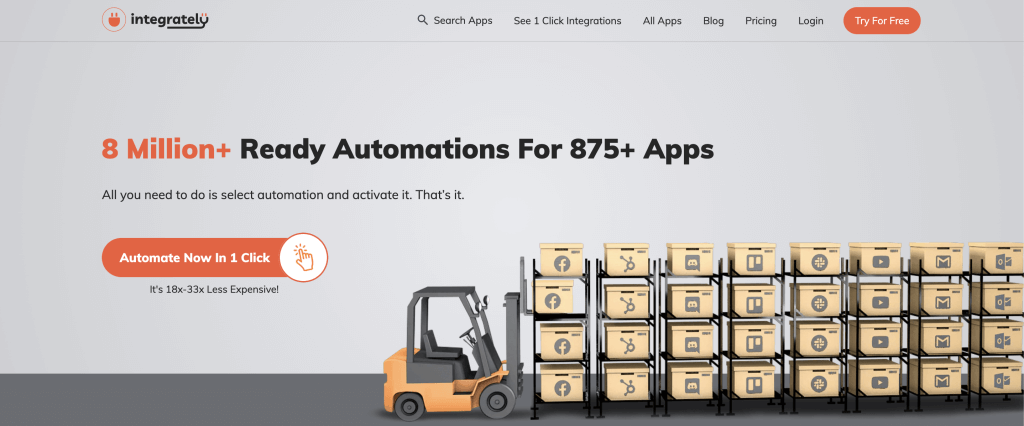 It's an all-in-one integration platform that lets you automate not only your social media tools but several other apps, all from one place. You can save time and effort by automating repetitive tasks and focusing more on improving productivity.
Supporting more than 875+ apps and millions of ready-to-use 1-click automations, Integrately can automate your business processes in a matter of minutes. Focused on helping even the most non-technical people, it has a 'zero' learning curve.
17) SocialBee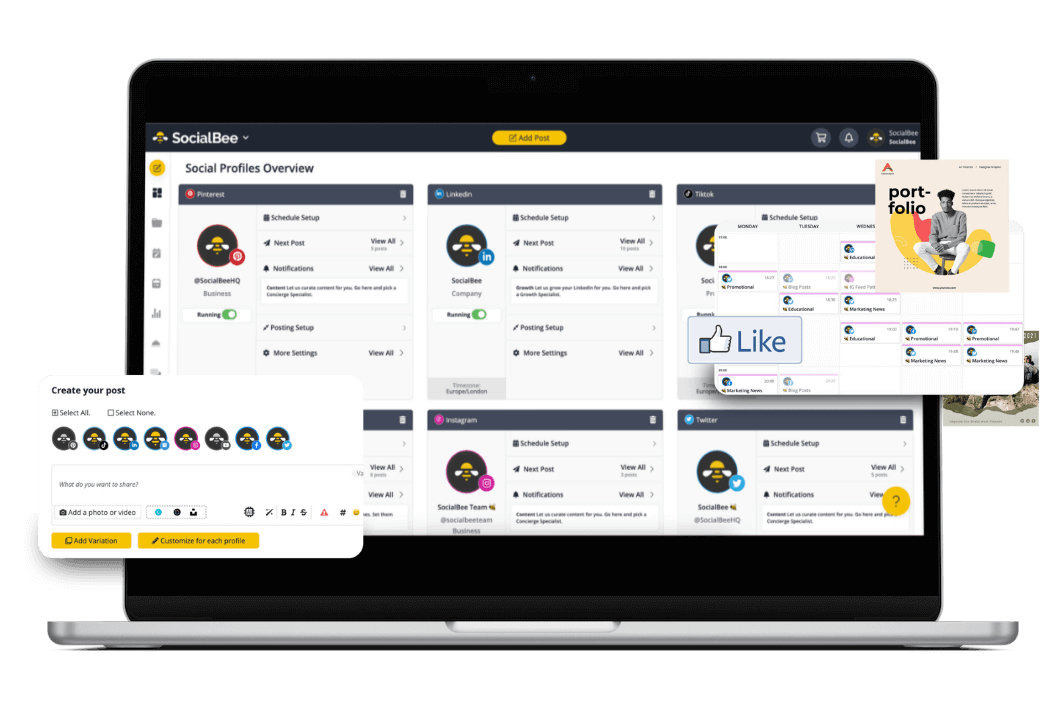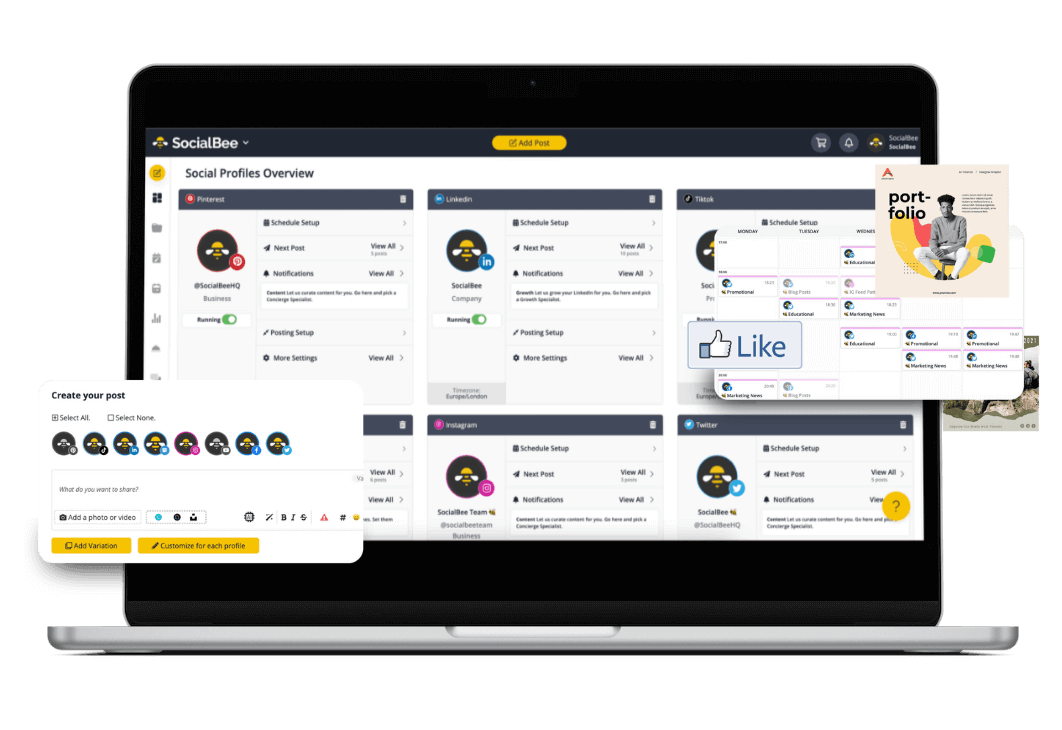 SocialBee places a strong emphasis on both productivity and affordability, making it a noteworthy choice for small businesses. It also was quick to adapt to the AI trend and create its own AI caption and image generator that enables the creation of engaging posts and ensures a consistent flow of captivating content. 
SocialBee integrates with social media platforms like LinkedIn, Twitter, Instagram, TikTok, Facebook, YouTube, Pinterest, and Google Business Profile.
Acknowledging the interactive nature of social media, SocialBee's social inbox keeps users on top of comments, messages, and mentions so they don't miss any important interactions. 
Equally noteworthy is the platform's analytics module, offering insightful metrics such as followers, likes, and views across various social media platforms, empowering small businesses to fine-tune their strategies and enhance performance.
Bonus Mention: Monday.com
Manage your social media with Monday.com and organize, schedule, and design your content all in one visual workspace.
Woah, that was a lot of information. But we hope it helped you gain a rough (okay sorry, extremely detailed!) idea about the tools you need to conquer the marketing scene.
This article was submitted by Etee Dubey, a full-time Content and Outreach Specialist at Outgrow.