Brands are doing everything to capture and retain customers. They are choosing powerful and effective customer acquisition channels based on their audience preferences. However, the real problem begins when you sit down to develop a digital advertising copy that will put your brand in the forefront for all the right reasons. 
In this article, we will mostly refer to Display ads and Social ads and go over how to design a perfect digital advertising copy. The first step is to be wary of what challenges may lie on your way. 
Digital advertising targeting issues
Digital advertising is supposed to create huge impressions. However, Nielsen Digital Ad Rating results show that almost 56% of the campaign impressions are lost due to off-targeting, out-of-view audiences, and fraud issues. 
These issues are strong enough to hamper ad performance, and unknowingly drive all ad spends to the drain. The Measurement Breakthroughs report from Nielsen lists down three significant challenges you might face while implementing digital advertising: 
View: Whether the ad audience got to see the ad in the viewable portion of the screen. 

Invalid traffic: Ad impressions from bots, adware, or other such categories that must not be monetized. 

Off-target impressions: The campaign section that did not get delivered to the targeted audience.
Marketers have potentially worked around these challenges, but strategic measurement continues to be a steep climb. This comes high on the fact that almost 74% of CMOs have little to less confidence in measuring their ad campaign performances.
Ad measurement is evolving consistently. It is essential that marketers get a grasp on understanding the facets of a digital advertising copy that will work. It begins with understanding which ad audience will be most effective for their ad campaign. 
How does this work? 
In paid ads, you actually acquire customers for free. Once your ad costs are reimbursed, you continue using your usual marketing tactics to nurture and optimize their lifetime values. Good digital advertising drives more traffic to your pages, and more traffic means they start ranking higher in search engines. It's a win-win scenario if you can design an excellent ad copy. So, let's get going. 
Doing digital advertising copy right
Paid ads can trigger better search engine ranks, but a single campaign will not do the magic. To create a steady influx of leads and customers, you must build a proper system. 
Choosing the right source
It begins by identifying the source of traffic. Ideally, the most voted sources are Facebook and Google. These two sites drive almost 80% of the referral traffic, which is a lot higher than what all other platforms combined. 
However, it depends a lot on what you are trying to do. Google is a place where people come to search for information. It is more like the Yellow Pages. Google ads require you to bid on keywords so that your target buyers find you. It is more like narrowing down your reach. 
Facebook, on the other hand, lets you expand your reach. People will see ads and promoted posts while scrolling through their newsfeed. If you invest some more, your message will also start appearing in the newsfeed of your target audience. Social media platforms give you the option to collect behavioral data, so it is always a more compelling choice. 
Understanding your target audience
While clarity about ad platforms is important, it is also essential to have a clear idea of what ads to run and why. The answer to this lies in understanding your target audience. 
A customer always goes through three specific stages (awareness, consideration, and decision) before they convert from a lead to customer. 
Awareness is when a new prospect first discovers your brand and also gets to know that you have a solution to their problem. 

Consideration is when the prospect has converted into a lead but is still evaluating if you are the right choice. 

The decision is when the lead is confident that investing in your brand will help them solve their problem in the best possible way. This is the stage when they are ready to take the final action – purchase. 
This entire process is called the customer journey – starting from the point when it first comes in touch with your brand. Post decision stage comes retention, where you implement marketing tactics to retain your customers. A happy customer makes way for the next step: advocacy or referral. 
While your customer goes through all these stages, they also go through different customer "temperatures". In the digital ads world, we call them cold, warm, and hot. 
A new prospect may or may not convert into a lead. A lead that converts may not become a customer. 
At each stage, a customer has a different type of relationship with you. In the awareness stage, they have just begun to know you. They are simply warming up.
These leads represent cold traffic. 
When they get to know about your brand as they proceed to the next customer stage, they turn into 'warm' leads.  
As they slowly move into the decision phase, deciding in your favor, these leads become 'hot.' They are ready to make a purchase or have already made a purchase from you. 
Throughout these stages, various marketing activities are used to push them down the marketing funnel. Lead scoring, lead nurturing, drip marketing campaigns, and digital advertisings – all play an important role in activating leads from one stage to another. 

Specifically, digital advertising comes in handy for your hot traffic. This is the traffic that you need to monetize. Your main goal should be to transform the warm traffic into hot traffic. From leads to loyal customers who are willing to buy from you over and over again. And you do that by matching your ad copy with your traffic's status. 
Elements of a high performing digital advertising copy
Every digital advertising copy consists of 4 key elements: clarity, ad scent, color check, and ad offer. With these 4 elements in place, you cannot make a mistake with your digital advertising copy. Below are some fantastic digital advertising examples with perfect ad copy. 
1. Clarity
Your digital advertising copy should be clean, simple, and easy to understand. It must resonate with the purpose it is meant to serve. An ad copy that confuses your users will do no good. 
But that doesn't mean your ads can survive without creativity! 
Digital advertising should have a clear call-to-action button. Your users must know what you are offering and must have the option to take the immediate next action. 
For instance, check this ad copy from Monarto Zoo. There is a call-to-action button that is multi-functional. It not only invites you to come and visit the zoo but also explains and gives a context to the image used with it. 

The graphic is simple and direct. Many ads lower the prominence of their call-to-action buttons to direct the focus towards the ad copy. But Monarto Zoo turned their call-to-action into a key message – making it bold, loud and clear. 
If we are talking about creativity with clarity, then this ad by Curtis Tea is a must mention. This visually strong ad relies heavily on the sense of smell and taste. Curtis Tea could have gone all the way in writing down how the tea smells of oranges and chocolate. But they took their creative liberty to show the taste by rendering an orange in the shape of a teapot. 

In an age where there is a myriad of other brands trying to take the limelight from you, an ad like this simply creates a lasting impact. 
2. Ad scent
Ad scent refers to the consistency throughout your campaign. Lack of consistency will result in lost trust for your audience. 
Every time your user clicks, it creates a simple visual cue or scent. This ensures that they are on the right track. If at any point they lose the visual cue, then they may feel they are misled and will exit. 
This means, when building your digital advertising copy, make sure it is consistent throughout your campaign. Keep in mind three things: 
Use similar images and patterns on each campaign piece. 

Use similar phrases and lines across the campaign. 

Keep the offer consistent throughout the campaign. 
Ad scent has the key to success; do it right, and your conversion rates will go up, lowering your costs at the same time.
For instance, check this ad from Whole Foods. The line 'FREE Instacart delivery' which redirects users to a landing page with a similar headline – Free Delivery Credit. 

If the landing page had a content talking about how rice is good for health, then it would be confusing. People would not know what to click and what to do next. 
3. Color check in digital advertising
When designing digital advertising, it is very important to keep a check on the color you use in it. Color has a substantial impact on how your ads will perform. You must create a color palette for your brand that you can use in all your marketing activities. 
However, in digital advertising, colors also emote. Specific colors are associated with certain kinds of emotions. Color can act as an emotion or motif. 
Take a look at this ad from French dentist office Centre Dentaire Paris Loft. They use the color as a motif. The otherwise yellow objects are depicted in white color along with the tagline 'We don't like yellow'. The use of incorrect color or deviating from the normal is jarring and captures attention in a snap.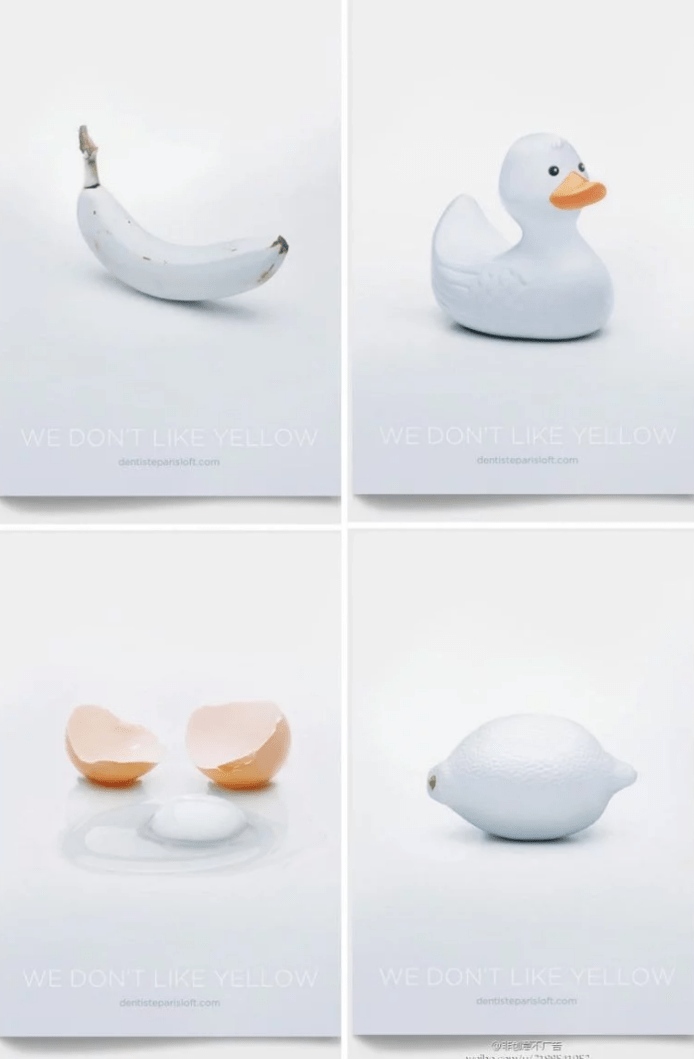 Before you design your ad copy, make sure to go through this color psychology guide from Shutterstock. 
4. Offer 
Make no mistake: your ad offer is not similar to your product or services. You build a business around a product, but your digital advertising campaign is built around a proposal. 
Your digital advertising offer is a unique message based on your products or services or a combination of both with add-ons. The key elements in an offer are: 
Deliverables

Pricing details

Timespan or offer validity

How to claim the offer
You may have one product, but you can design offers around it in multiple ways. For example, this ad from Toonly gives an offer to create animated explainer videos at 75% off.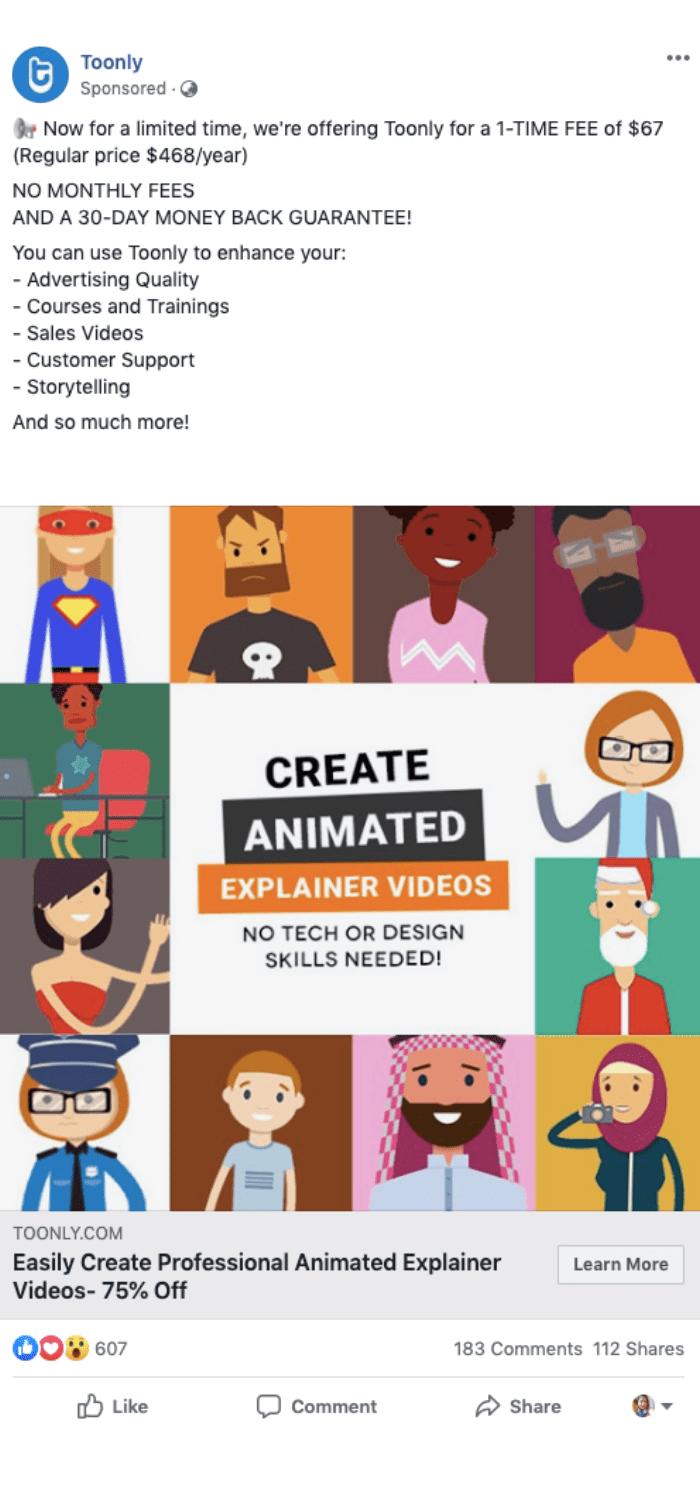 Your offer acts as the starting point of the entire customer journey funnel. You get it right, and everything else will start falling into place. It also works the other way round – make a bad offer, and everything else will start falling out of place. 
Your offer largely depends on the copy you've added. For instance, in the ad from Toonly, the offer copy is clear. It gives you details of what you will get in this offer. 
Designing a perfect digital advertising copy requires a lot of testing and measurement as well. Unless you are testing your ads and measuring the metrics, you cannot conclude if your digital advertising is a success or not. Some of the essential parameters to measure are: 
CTR or Click-Through Rates: If your CTR is high, it indicates that more prospects will move from one stage to another inside your customer funnel. CTR = no. of clicks/no. of impressions on the ad. 

CPA or Cost Per Acquisition of customer: This helps you to measure the entire ad spend. CPA = amount spent/no. of customers generated. 

CPL or Cost Per Lead = amount spent/no. of leads generated. 

CPC or cost per click = amount spent/no. of clicks on the ad
[PS: The "/" symbol in the above explanations indicate "divided by" function].
Build smart and engaging digital advertising
Digital advertising is not just restricted to driving traffic to your ad and landing page, but also engage this traffic over social media and other customer-facing channels. 
The to-do's of designing the right kind of ad copy largely depends on your business type and what you want to achieve from your ad marketing. However, here are some tips that can help you smarter, interactive, and engaging ads for your target audience. 
Keep your content minimal but strong
Content has a lot of power, enough to turn the tables for your brand. However, it isn't necessary to force in long lines describing how good you are or how much value you can add. Keeping your ad content minimal and strong is what it takes to hit the bull's eye. For instance, this ad copy from Land Rovers is all kinds of wow. Just two words and this brand grabs the spotlight effortlessly.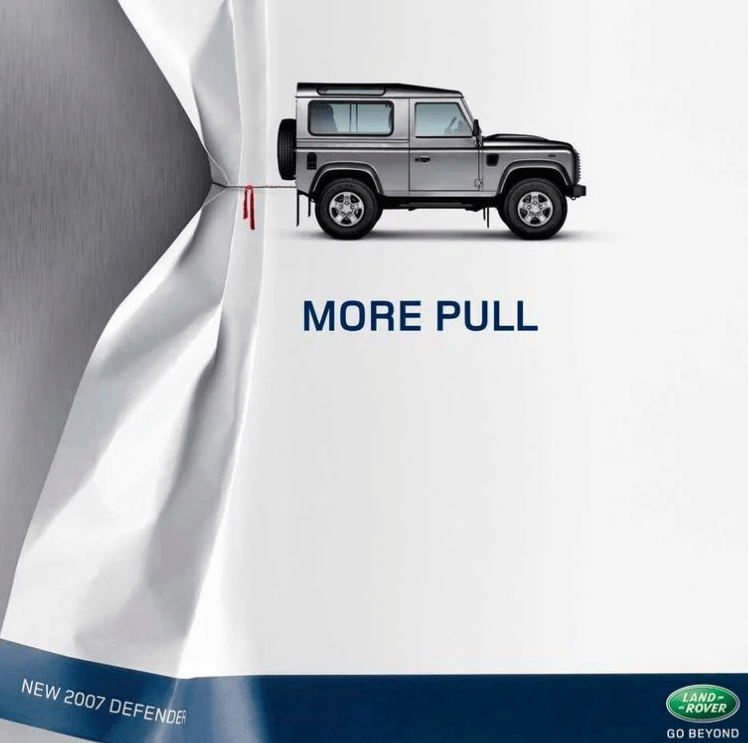 A strong visual, short, and crisp ad line – the ideal version of a smart ad. Such ads create a mind-image that helps in brand recall. Once you see an advertisement like this, you know you won't forget it for quite a long time. 
Use popular symbols for better digital advertising exposure
Your ad copy should be such that your audience can connect with you even when they are not looking at your ad. There are so many symbols with which we communicate daily – be it location pins, business maps, road signs, app icons, etc. Using such common symbols in your ads creates a sense of connectivity as well as makes way for brand recall. Take a look at this ad from Capacitate. They have used a customized version of the location pin to indicate their capability of putting a business on the map. This not just creates a strong visual impact but also appeals to the tech-savvy people who use online maps so frequently. 

Conclusion
Today's buyers are interactive in nature and like to shift from one channel to another. Marketers have forayed into personalization with digital advertising to provide customers with unique brand experiences. 
Today, digital advertising has gone beyond being just a customer acquisition channel. With new ad technologies and innovative ways of designing ad copies, businesses have discovered new ways to attract customers and retain them. 
By including digital advertising in their holistic approach to advertising strategy, marketers have become more concerned regarding the ad copies they write. As you continue using digital ads for customer acquisition and nurturing, make sure you create a copy that has the power to last long after your ad campaign is over. 
Need some help in organizing your digital advertising copy? Planable is a great resource that enables you to see everything on one single page. Give it a try! Also, don't forget to track the impact of your effort using web analytics with Finteza. 
This article was submitted by Ankit Prakash, technology entrepreneur at Aritic.