Ever thought about becoming a digital marketing freelancer? Questioning your career is absolutely normal, we're all constantly looking for something better. Whether you're thinking about quitting your day job and trying to become a freelance marketer or you're already freelancing and want to improve, keep reading to learn everything you need to know about becoming a freelance digital marketer.
Here's what we'll cover in this piece.
What is a freelance digital marketer?
What does it mean to be a digital marketing freelancer?
A freelance digital marketer is a professional with multiple ranges of skills from content and copywriting to social media, search engine optimization, ad creation, building websites, strategy building, and design. Digital marketers engage in online communities, join conversations on LinkedIn, and share great content on Facebook. They try to do anything they can to ensure their clients reach their goals (sales, generating leads, meetings, sales calls).
You might be surprised when I tell you that it can be anyone from anywhere.
It can be an 18-year-old at the start of his career or a 40-year old that comes from technical engineering. Freelancing in itself is a lifestyle that anyone can adopt at any point in their life and career, and it matters how and where you do it, not your past, school, jobs, or companies.

I'm a big believer that anyone can do marketing. And please don't take any offense to that. What I mean is that when I dropped out of college, I barely knew a thing or two about the world of marketing. But I've learned everything by myself googling, reading marketing agency blogs, talking to experts from online communities, influencers, podcasters, social media managers working in agencies, CEOs, and employees – EVERYONE. Yes, I really embraced the wonders of the internet.
I talked with all the people I could learn from.
I started to share my experience with them. And started taking courses – because again, internet comes to the rescue with dozens of courses on marketing and social media, like these ones.
And that's the best part of it.
When thinking about the pros and cons of digital freelance marketing:
Digital marketers love that they can sometimes work for themselves, travel around the world, save on commute, and unnecessary meetings that you can do via an online conference calls platform. At the same time, sometimes they're struggling to work alone.
What are the pros of working in digital freelance marketing?
Live

wherever you want

(Bali, Hong Kong, or Sydney).

Get to create your own schedule and be your own boss!
Build your own team and outsource work if you want to.

Save time and money on daily commuting when you work from home.

Enjoy a different office every day – choose any coffee shops or co-working space or just space that resembles an office.

Choose the clients and projects you'll spend your time on.

Work as little or as much as you prefer.
What are the cons of working as a freelance digital marketer?
No fixed salary – you have to be crunch the numbers and make sure you're earning enough.

No company benefits, such as health insurance, 401k, free gym membership, etc.

You're a one-man (woman) show – account, writer, designer, and analyst, sometimes it might get overwhelming.

Distractions everywhere! Netflix, bed, food.

The sales part of freelancing can be very time consuming.
Lack of co-workers might feel isolating and not motivating.
You will be in charge of sales and marketing yourself.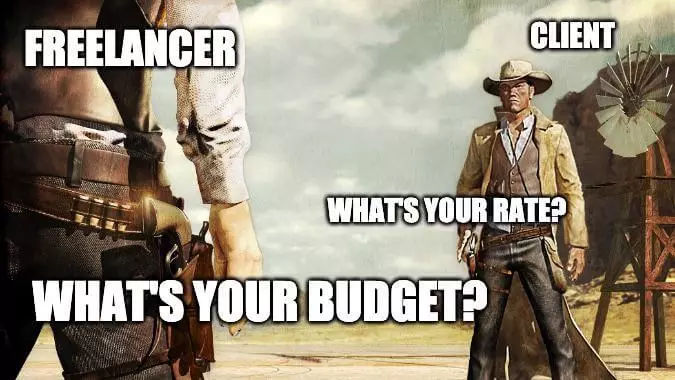 What's the digital freelancer day-to-day?
When working as a digital marketing freelancer – learning becomes a daily thing, because as I mentioned earlier – it's a one-man (woman) show. There are multiple responsibilities and tasks to do, and they vary every day, depending on clients.
A digital freelancer can learn anything from Photoshop to web design or HTML. Which is quite exciting for some of us.
These are just some of the responsibilities of a freelance digital marketer:
1. Create a digital marketing strategy
2. Send monthly reports to the clients by using free marketing templates
3. Set up KPIs
5. Create interactive PDFs, eBooks, presentations, or any other promotional materials
6. Design case studies
7. Start a podcast (here's a list for inspiration) or webinar 
9. Write newsletters
10. Write copy for the website
11. Build the marketing funnel
13. Improve conversions and CTAs
14. Create social media calendars
15. Hold a webinar
16. Design a website with portfolio website builder (and monetize it)
17. Stay active in relevant online communities
18. Have a client meeting to discuss the next steps
19. Create Facebook or Google Ads
20. Search Engine Optimisation
21. Join an in-house affiliate program
22. Build backlinks for website authority
23. Improve website speed
24. Take sales calls
25. Onboard new clients
26. Create QR codes (bridge the gap between traditional and digital marketing)
I know it might sound overwhelming, but there are dozens of productivity tools for better results. In case you're looking for a digital marketing freelancer, you can use the list above to quickly build the perfect job description and help guide you through the requirements of your ideal candidate.
Did I miss anything? Let me know by tweeting this article and tag me on Twitter (@vladcalus)
What skills should a digital marketing freelancer have?
Firstly, set your expectations right.
Freelancers sometimes run in circles multitasking. It sometimes gets to situations where everything is chaos – there's a half-written tweet, a few paragraphs of an article, some pieces of design left in the trash, a client meeting starting in 10 minutes and there's always something to catch up on. There's a lot to learn in freelance marketing. You can become an expert in marketing by learning all types of skills or choosing something to specialize in. Also, always keep an eye on marketing trends. 
1. Email marketing
Some of us really hate e-mails, eblasts, and newsletters. And that's why marketers have to learn the witchcraft of building the perfect newsletter, onboarding e-mails, outreach messages, or product updates. It's a much-required skill. As an email marketing freelancer, you'll highly improve your copywriting skills that will prove to be useful in other areas of your freelance job.
Some of the basics you need to learn are the following:
I also found these email newsletter examples to be highly useful if you're looking for inspiration. 
PRO TIP: Even the best-written marketing email can only go so far if it doesn't reach the recipient's inbox. Fortunately, free spam checker tools like MailGenius help make sure your marketing emails get delivered (and opened) instead of getting lost in the spam folder.
2. Content Marketing & SEO
If you're a Jedi with words and you type with the speed of light, then skip this part. Content marketing is everywhere. From billboards to Amazon products, articles, and websites. It's one of the most useful skills for any digital marketing freelancer in my opinion, as any of them should be able to create a great copy. Did you know that Welcome Emails have an 82.57% Open Rate? That's your perfect chance to charm your users with the perfect sales pitch. 
I recommend checking out this piece by Inc. to learn more about Content Marketing. If you want to go more in-depth, I suggest signing up for Planable Academy. Upgrade Your Content Marketing OS.  You'll learn from 20 experts who are at the front of content creation and workflow management. In each of the 6 chapters, you'll deep-dive into every step of the modern content workflow. In the end, you'll get clear guidelines on what to do next. The best part? It's free.
Also, you can use some SEO tools that could help you in this process such as Ahrefs, Semrush, SERanking, Moz, Linkio.
You'll also have to master what SEO means, how to build links with other blogs, rank on the first page of Google, optimize your website speed, and constantly outreach the website. It's hard and constant work but pays a lot- min. 500$ / month.
3. Analytics
I'm not a data geek myself, but in the world of digital marketing, you should measure everything. It's one of the greatest things about this industry – data is everything. Ideally, your analytics approach should be divided into three steps – capture data, analyze, and interpret it. Taking data-driven decisions should be one of the most important pillars and values of each marketer.
With Google Analytics Academy you can learn analytics with free online courses, learn about Google's measurement tools so that you can grow your clients' business through intelligent data collection and analysis.
Additionally here's a great piece by Link Humans – The Complete Guide to Analytics in Digital Marketing.
4. Facebook, Google Ads & Social Media
Facebook Ads Manager is amazing, but a lot of small businesses and brands find it very complicated. And that's exactly where you come into the game. There are A LOT of brands looking for someone to manage their Ads and this is definitely not a full-time job.
I'd say it's more about monitoring the Ads and making sure you constantly optimize them. Also, learn more about sentiment analysis to understand how to better optimize your ads.
I totally understand the fear of facing the dragon. The first time I looked at Ads Manager I saw it as a complicated puzzle, and I just started poking holes. After a bit of research, I understood where to start from, found the best tips, and then chose it as one of the main platforms for my marketing strategy.
You don't have to pay for Udemy courses to learn how to do Ads – it's all online. Creating good ads is actually the trick. In the learning process, I suggest you create a fake page, put some cents into it and play around with all the ad formats available. There's nothing like practice when developing a new skill.
You'll have to master both the arts of design and copywriting, to understand who exactly is the audience you're targeting, their desires, needs, problems, and how you solve them. You'll have to learn to convert your audience to website visitors and then to paying customers. Facebook Blueprint is one of the best resources if you want to learn how to do ads. In case you're looking to learn more about Google Ads, here's a great resource.
Where can you find the best freelance digital marketing jobs?
Freelancer is not a typical employee in a company. They can easily choose from any variety of clients, depending on the budget and job required. Digital marketers working as freelancers provide their own conditions and consultancy on an independent basis. And a lot of them find their next client on one of the following platforms:
Make sure you have a great description on your profile, a good profile picture, and a personalized message when looking to apply for a job. It will highly increase your chances. I'd also recommend you to read this piece. Oh, and don't worry about the logistics for payment – there are tools such as Bonsai to help you with that.

What's the salary of a freelance marketer?
LinkedIn recently introduced a new way to help its users and companies with their recruiting processes by showing salaries across countries, positions, and cities. It shows estimated data and salary ranges for open roles available on  LinkedIn jobs. Numbers are either provided by employers or are estimated ranges from data submitted by members. The tool can be adjusted to reflect a professional's experience, skills, education level, company size, industry, and location.
We can see that based on 1205 responses submitted by LinkedIn members who have this title in the United States, the average salary for a digital marketing manager is $72,000/year, in a range between $45K and $102k.
From these numbers, you can figure out some desirable hourly / monthly rate for you.
Let's see what Glassdoor says:
5 tips to find your next client as a digital marketer
It's one of my favorite hacks. So, what's the story? You can find your next client on Linkedin, as it's a growing platform meant exclusively for professionals and it has over 300M users worldwide.
What should you do?
Step 1: Install a software, such as Dux Soup/Meet Leonard
Step 2: Choose the people you want to reach using LinkedIn Search
Step 3: Automate View Profile using the tools above
Step 4: Automate Connect Profile with the people from Step 3 (with a personalized message)
Step 5: Scrap their e-mails using Hunter.io or FindThatLead
Step 6: Send them a personalized email (take care of GDPR! If they're in Europe, don't do it)
Step 7: Follow up on Linkedin and email
Step 8: Set up a meeting
2. Optimize your LinkedIn profile with the best keywords and description
As I've mentioned, Linkedin is an amazing place to look for new clients, besides dozens of other marketplaces. Make sure you optimize your Linkedin profile with all the necessary details to target exactly the types of clients you're looking for.
Some tips on optimizing your profile:
Fill in every section

Make sure you have a professional headshot – it improves your chances to get your profile viewed with 14x

Add an inspirational cover photo (you speaking at an event, guiding someone or working)

Ask friends and connections to endorse your skills

Create a vanity URL

Get recommendations from past clients

Optimize your profile for search engines with keywords matching your description, for example – Digital Marketing Freelancer, Expert in SEO

Showcase your past work, clients, results, and numbers!
If you're lucky enough, people will view your profile, check out your headshot, cover photo, and headline. Consider complementing your efforts with tools that can help you boost your efforts in getting people to your profile. Now they're reading your bio, checking your website, and looking to connect. Bam! Great job.
LinkedIn is your main landing page to get new clients.
Be specific in describing what you do, and how you can help other people!
3. Bring value for free
Another secret for rocking the freelance digital marketing world is being generous. It takes time, but it's beneficial without a doubt. Go to several Facebook/LinkedIn Groups (or your profile) and offer people your help in any marketing related problem (that you know). Here's an example of a message
"Hey, awesome community!
I'm John, a digital marketing expert with more than 5 years of experience and I'm here to help. I'd like to offer to anyone interested a free 20 min consultancy on how to optimize your website and social media marketing strategy.
Interested? Drop a comment below."
After that, you already have lots of leads and tons of people that can recommend you or intro to other companies needing a professional like you. You can also invite people in the Facebook/LinkedIn Groups to join a free webinar where you share your digital marketing knowledge. This is an effective way to interact with your audience and show off your expertise. Plus, hosting a webinar nowadays is simple, as there are tons of excellent webinar services that can help you handle the job.

4. Engage in conversation
Give feedback to the people you think can improve their Facebook company page or Instagram profile. Just go right there, and write them a personalized message with a few things they can easily improve directly to get better reach and conversion on their product. There are a lot of rookie mistakes multiple brands still do such as:
Bad profile description

No CTA on the page

Low-quality profile picture

No engaging photo

Lack of links

Bad Ads
It's exactly your chance to tell them how you can help, share a few suggestions, and present yourself in the message. If they're interested in knowing more, schedule a call and offer your services.
Over the past few years, I watched Facebook groups skyrocketing. Position yourself as a freelance digital marketing consultant and make sure people understand it. You can start by sharing the latest social media news in the Facebook groups you're part of. This way, your name pops up more often than the other – engage, talk, ask a question, and follow up with people to make sure you establish a personal connection. You can also explore the best Facebook groups for entrepreneurs and potentially find new clients there.
You can also write an eBook (like this one I published recently on building marketing teams of the future) and share it in multiple Facebook Groups or Guest Post. That's a tactic to collect leads and follow-up with an offer for your services.
One more idea that's time-consuming but brings good results, is by starting your own course on one of the popular platforms such as Udemy or Skillshare. Aside from proving your expertise and gaining credibility, you'll get people to know you, get opportunities as a speaker or interviews and it may go way beyond a standard omnichannel marketing strategy.
Digital Marketing Freelancing FAQs
Freelance vs full-time
There is no easy "yes" or "no" answer to the question "is freelance better than full-time?" This might not be the breakdown you were expecting, but it all boils down to you. What is your personal lifestyle and what are your expectations from freelancing? What would you be giving up if you went from being a full-time employee to freelancing? On the other hand, what would you gain?
It might not be a glamorous answer, but making a pros and cons list will shed some light on this tough-to-crack nut. Only you know where the balance tips.
Is becoming a freelancer truly worth it?
Freelancing is not for everyone and you might belong to this category. Before you go all-in, do some soul-searching and think hard about what you want to get out of it. Are you looking for more income or flexible hours? With freelancing, clients ebb and flow, so if you're not comfortable with hustling, wearing various hats and multi-tasking, it might not be for you.
What's the best way to start a freelance digital marketing career with no experience?
The first step would be to get on a first-name basis with everything digital marketing. Curiosity and hunger for knowledge will take you far. Don't overlook SEO: take some online courses and optimize your website to gain some experience. If you want to become a well-rounded freelance digital marketer, spend some time learning about Ads (primarily Google and Facebook). Spend some time on analytics tools to learn how to interpret data, measure KPIs and create customized reports.
You might also want to join a community of marketers like Acadium where you can launch your marketing career for free learn the basics of marketing to start building your portfolio, or even find an apprenticeship to skyrocket your career.
How can you get your first freelancing gig?
If it's an option, get an internship to start accumulating experience ASAP. Whether it's paid or unpaid, you will gain essential skills that you'll later use running your own gigs. If you already have some experience but you're unsure how to get started, start networking (reach out to connections on LinkedIn or past co-workers) or browse the many sites that list projects and tasks for freelance digital marketers.
How do you know if freelancing is for you?
Unfortunately, there's no shortcut to figuring out if freelancing is for you. The first months (or even years) of freelancing are almost never smooth sailing. You need to keep grinding to build up your reputation and start accumulating loyal customers. Sometimes it gets easier. But other times, it doesn't. This fast-paced, hustling environment is not for everyone. If you want to dip a toe in the stream of freelancing, consider taking up a couple of projects alongside your full-time job and only make the jump to freelancing once you're fully confident the lifestyle suits you. Remember it's always ok to change your mind if your priorities shift or if you're unhappy.
How to easily collaborate with your clients
When it comes to seamless social media collaboration, Planable can be your go-to app.
Save time
Time is money. Especially for freelancers. From having all clients centralized in one place to the much cleaner inboxes, everyone will enjoy the actual productivity and efficiency of the new system.
Become more productive
Every new client you'll take on means that communication needs add up, and inefficiencies along the way cause more wasted time. With Planable you can pick an hour you want to spend to go through client feedback and your days stay organized. Whereas with Google Docs and emails the days will become hectic. You might check emails in the morning, get 20 different messages with feedback from the same client asking you to check this and that. It will never come at the right time.
I always say marketers don't focus enough on the operational side of things. We always postpone looking at this issue because we're too busy and because it's not an exciting project. The right workflow, however, can change the way any digital marketing freelancer runs.
Safe client management
When clients are onboarded in the wrong processes and setups, miscommunication is a big risk. Losing pieces of information and feedback can lead to frustration from both parties. It makes you feel guilty and overwhelmed by the scattered messaging and the client feels like they're not being treated with responsibility.
Clients don't and shouldn't understand how complicated it can be for a freelancer to manage multiple brands at once. With Planable, everything is centralized as it's all in that one place. Clients know that's the place to leave feedback and they're happy with it.
Automated publishing
Once you're done with collaborating on your posts, you can easily schedule them to go live. In fact, there's a magic button that enables you to automatically schedule posts once the client approves them. So. many. saved. hours. Plus, we just released the direct publishing feature for Instagram. Which is huge for the marketing community. Why? Because now you won't need push notifications for every damn post. You can become the best Instagram freelancer combining Planable's grid view & automated posting. Want to give it a go?
So, could this be your path? If yes, great news won't stop here. Planable has a free plan now. Sign up here and make your freelance work shine.

Vlad Calus
Dropped out of college, moved to another country with 2 of my friends and built Planable (Techstars London '17), social media collaboration platform, at 19 y. o. Forbes 30 under 30