As people rely more and more on various communication channels, businesses should adapt and reach their audiences wherever they may be. That's the reason why omnichannel marketing is touted as the current marketing must-do.
No, omnichannel marketing is not just another digital marketing buzzword. It is a communication strategy that's quickly proving to be the best way to bring businesses closer to their customers and provide a seamless experience from the first encounter, all the way through to the last.
While all that sounds great, how can you adopt it, and what can it really do for your business? Before you get into the details of omnichannel marketing, however, it helps first to understand what it really means.
What is omnichannel marketing?
Omnichannel marketing is a strategy wherein various marketing channels work in tandem to provide an integrated and holistic experience to customers. When businesses engage in this, their aim is not only to make a variety of channels available. Each channel must play a role in the larger scheme of things. The larger scheme being a complete and seamless customer experience, either it's self-service or customer support. 
Marketing over a variety of channels is nothing new. In fact, omnichannel marketing was born from a similar concept called "multichannel marketing." But while the differences might seem minute on the outside, the intent and processes involved in omnichannel marketing are vastly different. Even the results businesses stand to gain are incomparable.
Multichannel vs. omnichannel marketing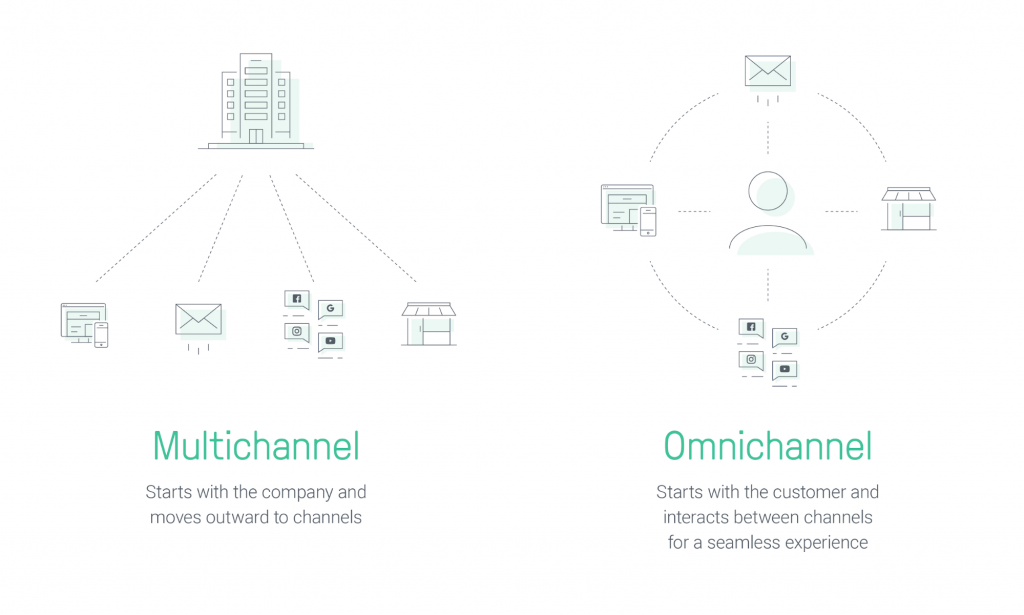 A good way to comprehend why omnichannel is superior to multichannel marketing is to understand what drives each one.
With multichannel marketing, businesses are at the center. While multiple channels are made available to customers, communication starts with the company and moves outwards, in relation with the customers.
On the other hand, a business engaged in omnichannel marketing places the customer at the center and allows them to choose what channels work best for them in any given situation. Businesses are able to provide the same level of customer service no matter what channel is in use. That means each and every channel needs to have access to the same updated customer database to provide the seamless experience required to adopt this strategy. Plus, at every interaction, the message should always be relevant to the customer and based on wherever they are on the customer journey.
For example, a customer who hasn't made a purchase in some time can be emailed some product recommendations based on their previous purchases. When they open the email, they may be enticed to view one of the items on your website. If they don't immediately purchase it, you can use Facebook ads to remind them of the item and show them similar others. You can even send an SMS containing a time-bound code for a discount or free shipping to convince them to make the purchase already.
In this case, you've used email, your website, Facebook, and SMS to guide a previous customer through another purchase. In contrast, multichannel marketing would use the same channels but with the same message on each one. It aims to be present in various channels, in hopes that the customer would be affected by at least one. With omnichannel marketing, each channel plays a different role in the service of the same goal. 
The proven benefits of omnichannel marketing
Multichannel marketing is undoubtedly a significant step toward engaging customers. However, when you already have a robust following and a clear-cut marketing funnel, omnichannel marketing can be the upgrade you need to boost engagement and maximize conversions.
Perhaps the best way to describe the benefits of omnichannel marketing is through data gathered by Omnisend. Omnisend is one of the most popular email marketing software but excels in omnichannel marketing automation. Based on figured collected from campaigns launched on their platform, omnichannel campaigns regularly outperform single-channel ones by 250% in terms of both engagement and conversion rates. And it works perfectly for small businesses too. Starting email marketing for small businesses can boost revenue, retain loyal customers, and even increase your customer base.
In addition, Omnisend has found that omnichannel marketing doesn't only boost engagement and conversion rates but also online spend. According to their data, customers exposed to an omnichannel experience reward that brand with 13% more purchases than those who receive communications using only one communication channel.
If that's not enough, Omnisend's data shows that omnichannel marketing boosts customer retention as well. They found that marketers that use this approach enjoy customer retention rates of around 90%, much higher than single-channel marketers. This is supported by the results of a study by the Aberdeen Group, where companies with strong omnichannel engagements enjoyed customer retention rates as high as 89%. That's a vast difference from the 33% enjoyed by businesses with weak engagement. 
How to execute an omnichannel marketing campaign
There is no single correct way to engage in omnichannel marketing. It will vary not only between industries but also between individual businesses because of their different brand personalities. However, there are a few universal tips to guide you through developing the best campaign for your business.
1. Focus on the customer experience
If you focus on providing the best customer experience possible, the sales will soon follow. Make it easy for your audience to get the information they need to make buying decisions. Connect them to relevant resources and knowledge bases as you guide them through their buyer journey. And, let them do so in the channels that they're most comfortable with.
By making the customer experience the center of your business goals, you're setting your company up for success. That's not just in terms of sales but also in establishing an excellent reputation for your brand.
2. Take control of your inventory
Proper inventory management and inventory tracking are vital in any product-based business. But for a business engaged in omnichannel marketing, it's even more critical. If you're allowing your customers to make purchases through different channels, make sure your inventory is updated across the board.
Imagine allowing an in-app purchase for on-site pick up so buyers can get their items sooner. Then, they find out that the item they purchased isn't available. That's an incredible inconvenience that they will perpetually associate with your brand.
3. Use data to understand your customers
Assuming that you know your customers could easily be your downfall. Of course, you have a target audience. But do you really know who they are beyond their basic demographics? Never make assumptions, especially when data is around to give you solid insights.
Always study your data to determine the best ways to appeal to and communicate with your audiences. This may not always be an easy task. Luckily, there are good omnichannel marketing tools that will not just track data for you but also provide actionable reports for your continuous improvement.
4. Segment your customers into precise groups
Tracking your customer data starts at your first interaction – usually, when they submit personal information to sign up at your website or subscribe to an email newsletter. You use this data later for sales prospecting and promoting. But it shouldn't stop there. Record every interaction with each customer, and you'll have an incredibly valuable database.
When you're correctly tracking data, you have everything you need to segment your customers into the right groups. Among the best ways is to separate them based on where they are in the customer journey and address them accordingly.
5. Take personalization seriously
There was a time when marketing personalization merely involved addressing your customers by name. While it's true that 56% of buyers prefer retailers that recognize them by name, marketers now need to go beyond that to make a real impact. Thankfully, technology opens up plenty of possibilities for personalization. 
Apart from sending your customers the most relevant messages based on their segment, you're able to do so in the channel they prefer. Plus, there are tactics like Facebook Remarketing and Google Customer Match to provide even more relevant messaging on different channels.
6. Be present at the right time, in the right way
Digital audiences are now more aware of sales pitches disguised as help. Plus, contrary to popular belief, most people like to solve their own problems. They want to find information on their own. But it should be easy for them to do so. So, when they're not asking for it, don't bombard them with messages pretending to be helpful.
But, when they actually do ask for help, make sure you do so in the right way. Automated touch-tone phone systems or a chatbot that make it more complicated to access simple information could get incredibly frustrating. To provide the best customer experience, you need to let customers get help through a variety of channels, in the most convenient way possible. 
7.  Get your entire company to work together
Omnichannel marketing can only work if everyone in your company works towards the same goal. Each person in your organization needs to understand the role they play in providing a seamless, integrated customer experience across all channels.
While your adequately trained staff will be the lifeblood of your business, they can't do their jobs well without the proper systems and company processes in place. Make sure your tech infrastructure is all set up to give them ample support. 
Omnichannel marketing is, by no means, an easy endeavor. It will involve quite a bit of change in your entire business process. Thankfully, there are tools available to support you across all channels and through the whole customer journey. With a powerful enough tool, you can set up automated processes to enjoy endless leads, great sales, and maximum brand engagement.
That was it for today, start connecting your channels by creating your first post in Planable here.
This article was submitted by Whitney Blankenship, Content Marketing Manager for Omnisend.