In 2016. eMarketer surveyed over 500 social media marketers asking them which social media produced the best ROI. Without a doubt, Facebook was a clear winner when it came to return on investment in push marketing. That being said, it is obvious why everyone and their mother wants to advertise on Facebook.
As the most used social media, Facebook is the perfect choice for anyone that wants to extend their reach and increase conversion. But things are not so simple, it is exceptionally easy to pump money into this Facebook strategy and not get much in return. So to increase your chances of success, this article will teach you what you need to know about running effective Facebook ads, here's what we'll cover in this piece:

1. Tips & tactics  

First, let's dive right in into the good bits – the tactical tips and tricks that you can implement right away for the campaigns you're already running.
a. A/B testing
What is split testing? It is a trial-and-error way of experimenting with various elements in your ads to find out which of them are performing better. While it has somewhat become a buzzword in online marketing, to its core, it's still a very important aspect of achieving success.
Here you can see how I recently split test the headline and description of an ad.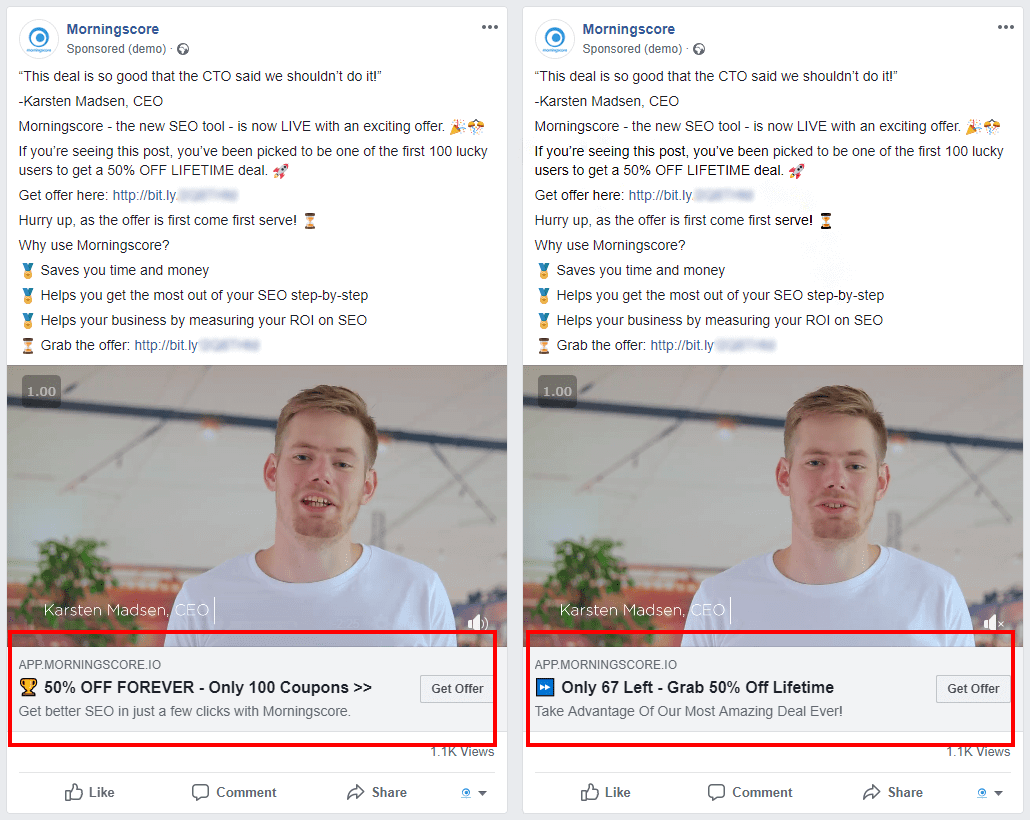 Why split test?
Surprisingly, even absolute pros admit that despite their years and years of experience in the industry, they are still sometimes completely taken aback by the results of their split tests. And I've seen this happen over and over again with assumptions for both website layouts and ad performance.
Why does this happen?
Everyone sees the world through their own prism of perception.  It's very common for marketers to feel like they fully understand they target, relate to it, and know exactly what they will react to.  The truth is, you can never truly know. Not like clear data-backed evidence does. So, instead of shooting in the dark and picking favorites, with split testing you disregard your beliefs and make variations of ads.
What's in the core of split testing your FB Ads?
The idea is that you change different aspects of your ads such as the headline, image/video, the call-to-action, audience, etc. Take a look at an example:

Here, we split tested 4 ads in a campaign to see which one performs better.
And that's what the ads looked like: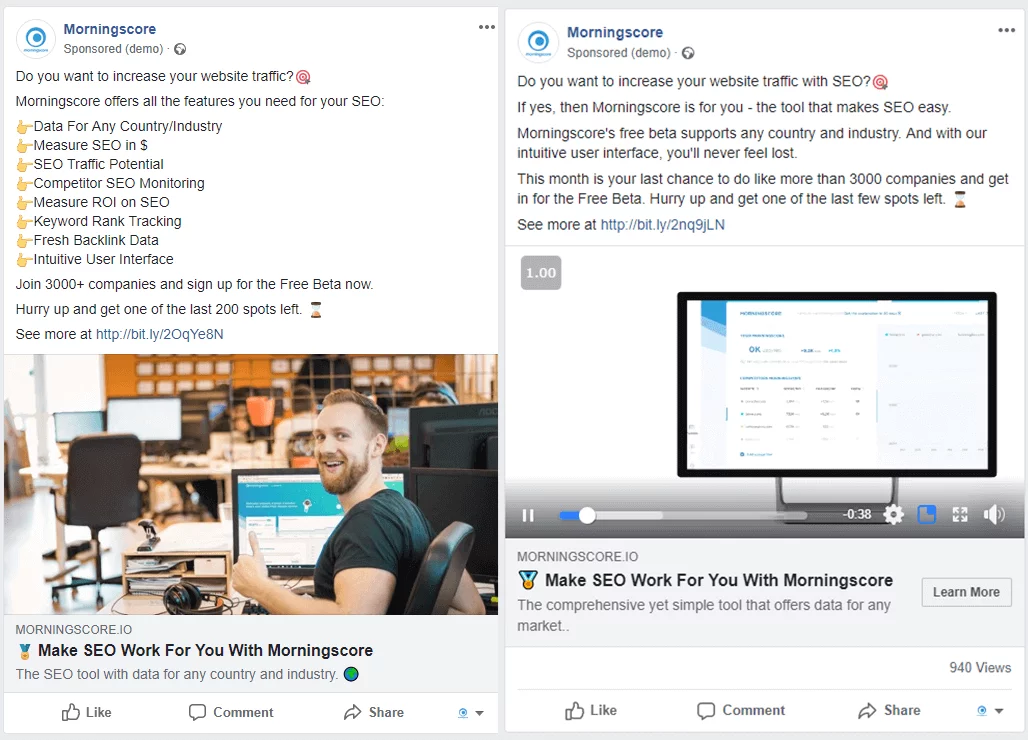 One thing we always do when creating ads is to have two visual elements and two versions of the ad copy. With those elements, we create 4 versions of the ads so that we quickly see which ones are optimal in performance.
How to do A/B test:
Create 2 visuals (e.g. an image and a video).

Write two ad copies (e.g. one that focuses on features and one that focuses on benefits).

Make four similar ads by alternating the texts and visuals.

Once you have the one that's performing better, repeat the process to test the results again.
b. Make it look less like an ad (and more like content)
The Facebook newsfeed is swarming with content. Posts from friends, groups, pages we follow and ads all intermingle in an endless track of images and text. Users learned to simply skim the newsfeed in search of engaging content. And let's be honest, ads do not traditionally fit into this group.
That is why people tend to ignore anything that looks like an ad. Conversely, organic educational, informative and entertaining content draws people's curiosity in. That's why the goal for your ads should be to make them look less like an ad and more like content.
There are a few things that you can implement right away to improve the performance of your ads:
Use less text overlay on the images. That is a big one. Not only does Facebook limit the reach of your ads if you use a lot of text in the images of your ads but also your audience becomes aware of "the sale".
Remove the "Learn More" button.
This is one of the big "giveaways" when it comes to ads. Since organic posts don't have buttons, ads tend to stick out for this feature. Therefore, it's a good idea that you split test how your ads are doing without the button.
Here's how:
When creating an ad in Ads Manager, scroll down to the end of the Create Ad section.

Click the drop-down menu for "Call to action".

At the top, you will find the "No button" option.

c. Budget & scaling
Understanding budgeting on Facebook is important for the performance of your ads. Most SMB don't have millions (or even thousands) to spend on ads so there are a few factors that come into play here.
First, you have to shift your focus from budget to ROI (or ROAS). Meaning, what's really important to you is how much you gained compared to how much was spent. In other words, for every $1 you invest, you should be getting more than $1 in return.

Second is scalability. Understanding the way Facebook optimizes your ads based on your scaling is important and there's an optimal amount of ad spend to increase per day. Facebook is interested in protecting small advertisers, so you can't just go and increase your budget with a large amount at once. Ramping up the budget drastically will blow out your campaigns. The workaround here is to systematically increase your budget by no more than 15-20% per day.
If you have just a few campaigns running, you can do that manually.
However, to make things easier when it comes to multiple campaigns, you can set this as a rule in Facebook
1. First, go to Ads Manager -> Automated Rule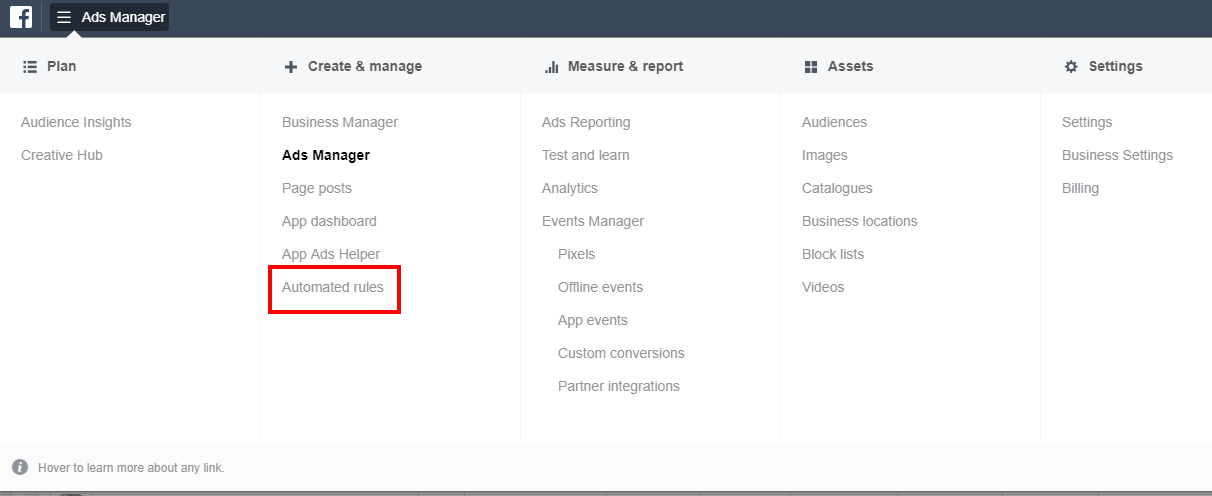 2. Next, click on the green "Create Rule" button in the top-right corner and fill out the rule.

d. Use Page Post Engagement ads (PPE)
If you're not doing it, you should run Page Post Engagement Ads. Why? Because even though social proof on Facebook is not as important as it used to be, it still plays a major role in a person's decision-making process.
What are PPE ads?
They are ads that generate likes, comments, and shares on your posts. Generally, very promotional posts will do poorly in PPE campaigns so always try to make your ads shareable by portraying an emotion.

Why run PPE?
Not only is it a great way to increase your conversions with social proof, but it's also a great way to let people segment themselves. If someone takes the time to engage with your post and page, you can easily put them in a warmed-up category and continue engaging with them through your flow/funnel using remarketing.
How to do that:
All ads that you create generate a unique ID that can be reused in any other campaign. In the Business Manager, under Page Posts, you can see the ID of each ad you've created. Now you can copy that number and start setting up a new campaign.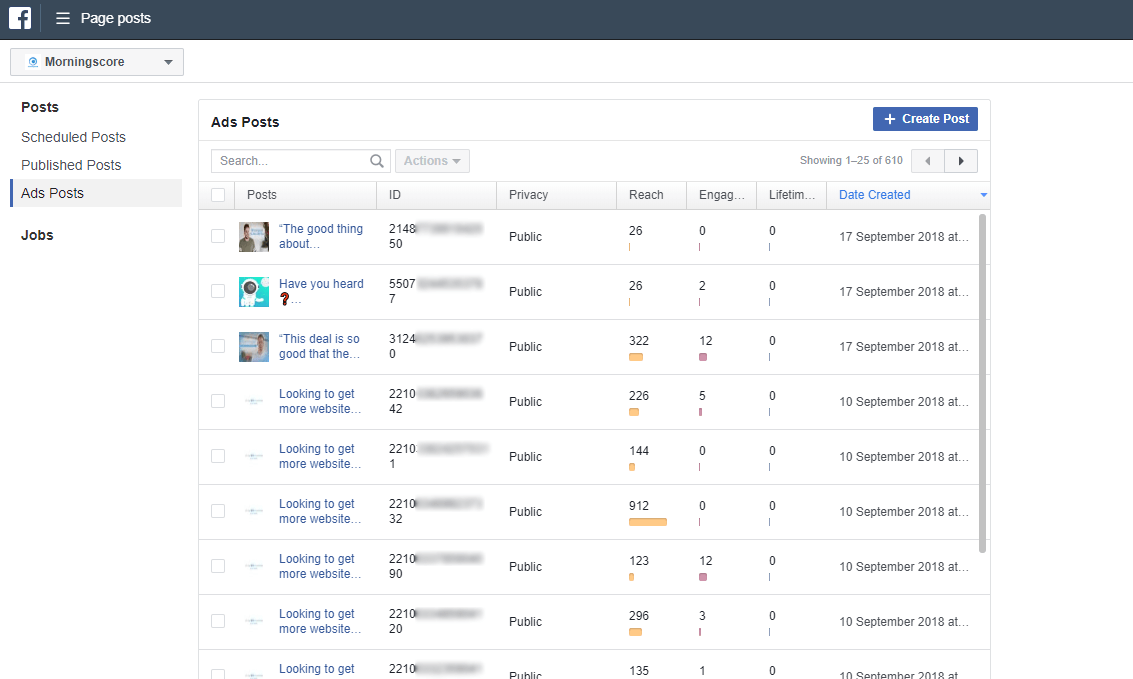 When you're prompted to create an ad, you can select "Use existing post" and right below the Select a post drop down menu click the link "Enter post ID". Paste that long number you got before here and watch the likes pour into that same existing post!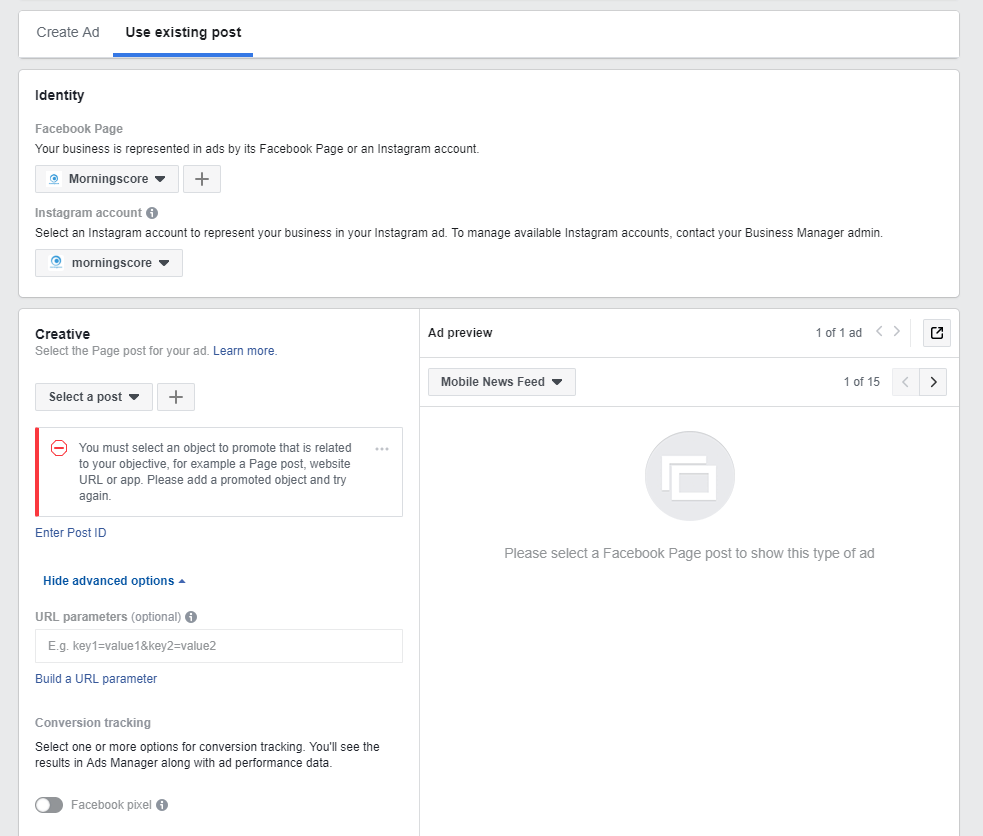 Important! Editing your ads at any point will reset all social proof. That's why you should make sure that everything is set up properly before you start investing in PPE campaigns.
e. More similar content & branding
Stay true to your brand in your ads. The best way to achieve this is to imagine going to McDonald's. They have thousands of fast-food restaurants all around the globe, but regardless of which part of the world you're in, you always get the absolute same service and feeling when you enter. Do the same with your ads and use regularly the same fonts, colors, and phrases.
f. Facebook Ads Objectives
Set objectives/KPIs – e.g. CPC under $1, CTR +1%, CPA < $15, Website Conversion Rate > 2%, etc.
Turn on/off based on your marketing goals.

Conversions are not the only way to measure success, likes and comments are also valuable. That's why it can be very effective to retarget the users who have engaged with you before but haven't made a purchase and give them an alternative to follow your Facebook page/read a blog post.

In most cases, the rule "more engagement equals more conversions" applies.

Types of Objectives in Facebook Ads.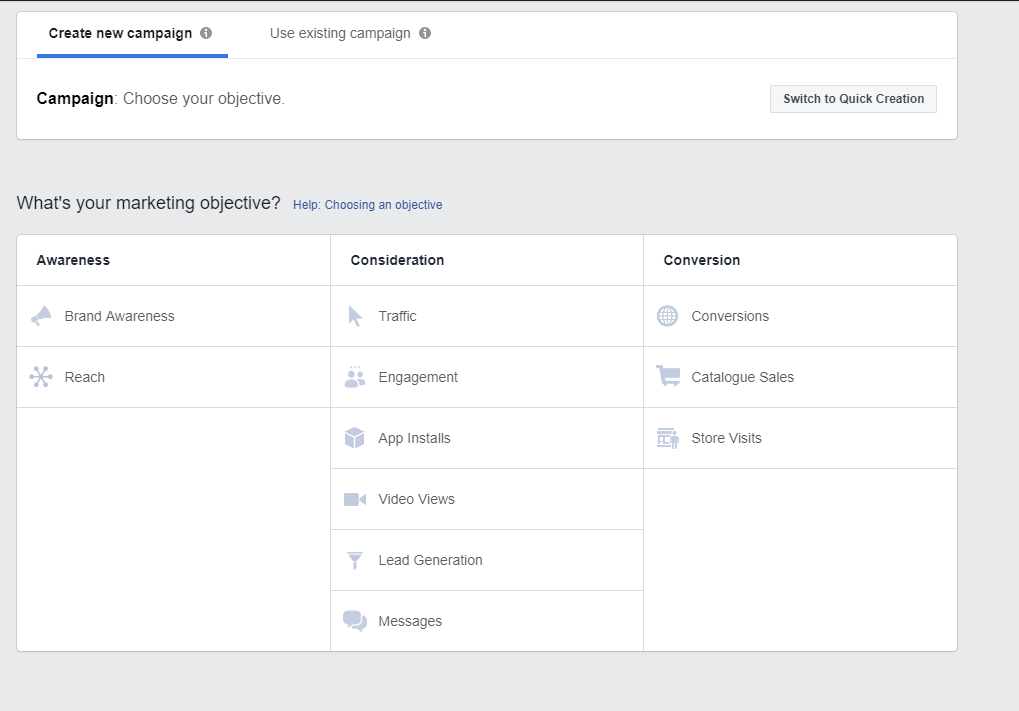 g. Always use shortened links 
Use bitly (or similar) links in your ads so you can track the clicks. <a name="tactics"></a>Facebook and Google analytics are very powerful systems but never rely on the default data. Use UTM codes in all your links that are used in the ad and shorten them through bitly to keep things clean in the ad copy.

h. Videos do better than photos
Generally, since video is a type of longer-form content, it does better in cases where more engagement equals more results. However, regardless of past A/B testing, always start off with at least 2 ads – one photo and one video – so you can see how your audience reacts. This is especially important for running international campaigns.
i. Take advantage of lookalike audiences:
Please take advantage of lookalike audiences. Honestly, I haven't seen anything so powerful until I saw the results of my first campaign with lookalike audiences.
Facebook is very smart when it comes to lookalike audiences and you'll be disappointed to know how broadly they define interests. Even liking a photo that's somewhat related to a topic will get you added to that topic's group of interests.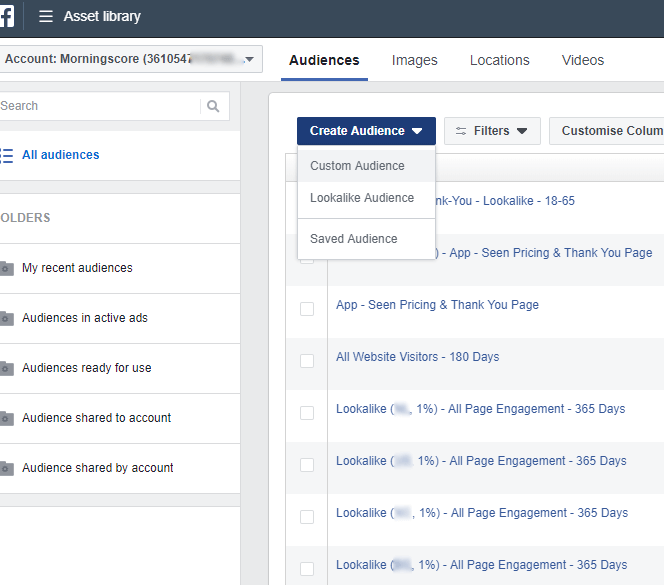 That's where lookalike audiences come in handy. But generally, stick to the 0-1% of users as otherwise your audience will get diluted.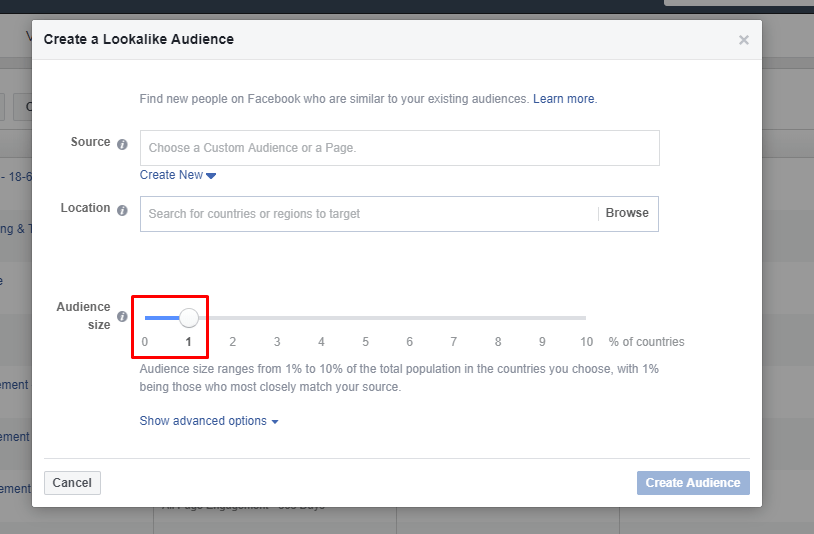 Also, whenever you want to try 1-2% or higher, remember to split test those lookalike audiences! Which leads me to my next point:
j. Get your pixel set up – properly
The Facebook pixel is a short snippet of code that Facebook provides you with for free so you can track your website visitors and their behavior on your homepage (some additional set up is required). Here you can see an example of the pixel on Morningscore using the free Chrome extension Facebook Pixel Helper.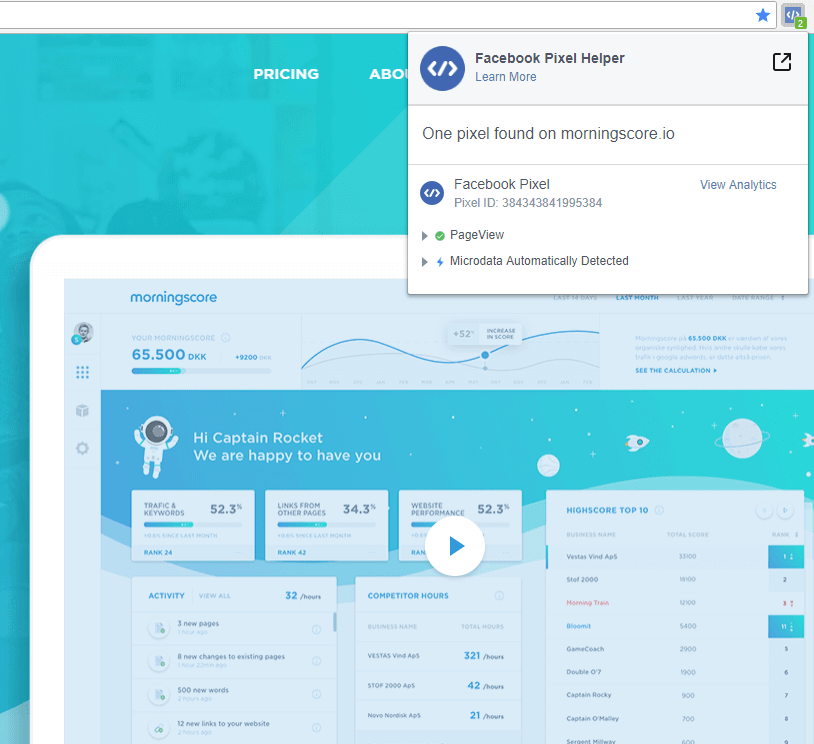 After your pixel is set up, go to Audiences in Facebook's Business Manager. Here you can create an audience of all your visitors, visitors on specific web pages, or people who made a purchase. After you've done that, you can create a new lookalike audience that's most relevant to your goals (ultimately sales).
k. Ad Copy Tips
Help your user visualize the end scenario.

Show the upsides of using your product (also known as ownership benefits).

Show the users the value – pinpoint a pain and show how your product will solve it, what are the benefits of using the product.

Show the downsides of NOT using your product.

Include stats to the benefit or a downside (50% saved!).

Less selling.
l. Tips for the ad creative
Have the ad reflect your brand and website style, or you might risk confusing the user. The ad should give them a glimpse of what they can expect if they click on the CTA. Use high-contrast images.

Using visuals will make the content more memorable and more likely to be shared.

Use contrasting colors to the ones Facebook is using to make sure your content doesn't blend in (do not use blue or white!).

Less text overlay.

Above all else, make sure that your visual hints at or compliments the ad copy.

Make your ad entertaining – FB users are most likely scrolling through their newsfeed to pass the time, give them something worth stopping for.

Depending on the product, consider using an image with people – faces, especially those making eye contact are very attention-grabbing, our brains are hardwired to notice them. Another way to use them is to have the model look towards your product or text – we tend to follow the gaze which helps direct the users where to look.
m.  Call-To-Action 
Include a clear CTA (just one) for your user (like, share, try, get, buy, shop), preferably with a sense of urgency – "Only 30 free spots left!", "Only today" – this will save the user some steps since he will know exactly what to look for on your website
n. Ad structure: 
Think about the objectives of each element of your ads. What are they supposed to do? Here's the formula that I normally use:
The image's purpose is to capture the attention. Use images that stick out and provoke emotions (gratefulness, happiness, success)

Use emojis in your copy and headline as it will draw the attention (and therefore increase the click-through-rate)

The ad copy is something the user should immediately be able to identify with. That's why I almost always start with a question/problem that resonates with my target audience (i.e. Do you want X solved?). Don't ask rhetorical questions that make them feel stupid.

Generally, for e-commerce products and when promoting brands, keep the ad copy short and put value in the first spot. Write short and sharp direct response copy – make it simple and easy to understand. Include three things – what is your product, what is the benefit for the customer and what should the customer do next.

For longer-type copy (for example for coaches or consulting services), state the "good, bad, and alternative"
The good: Describe the positive outcomes of their desires as vividly as possible.
This is the scenario where they want to be in. To do this effectively, you'll need to understand your target market. The way I go about this is to find related Amazon products and go through the reviews, read comments in forums or websites that promote similar products (e.g. AppSumo for SaaS) and watch YouTube videos related to your topic (especially promotional/marketing videos from your niche). If you've already worked with clients, use the testimonials from them.
The bad: Here's where you describe the problems your target audience is facing. The same can be said here. A tactic I apply here is to frame their hardships as a question in the beginning.
The alternative: This is where you handle their objections. By knowing what they prioritize, you can easily figure out what their biggest struggles are. From there, it's all a matter of reframing objections. Your ultimate goal here is to shift someone's perspective from their expectations to the end goal.
If you're working with clients, the best way to get this information would be to ask these questions in your discovery phase. Alternatively, talking to your actual customers will always help you uncover their needs and fears.
o. UTM codes:
UTM stands for Urchin Traffic Monitor and it is a web statistic analysis program that Google uses to gather data for Google Analytics. It is a small piece of code which, when added to a URL in your ad, sends data to Google Analytics letting you track how effective your online marketing strategy really is.
This tracking URL saves you loads of time since you can bypass creating custom landing pages just for the sake of campaign success tracking.
Not only will you be able to track which particular ad the user clicked on, but you will be able to track their behavior on your website afterwards too.
Seeing a user click on the ad, but then bounce from your landing page can be a clear sign that the content of the ad and page didn't match the user's expectations.
Then you can do one of two things.
Either change the landing page so it matches the ad better.
Or, remove this ad from your campaign and go with the ad with the next best CTR and lower bounce rate.
This is a very useful element of any campaign that has multiple ads since it allows you to differentiate which ad has the best click through and conversion rate and lets you perform an efficient campaign analysis.
The data collected in this way can be further used to create new campaigns using the elements of the most successful ads.
2. Ad formats 
Let's look at the most common ad formats you will come into contact with.
There are several ways you can achieve your goals, but the type of ad you choose will vary widely based on your objective.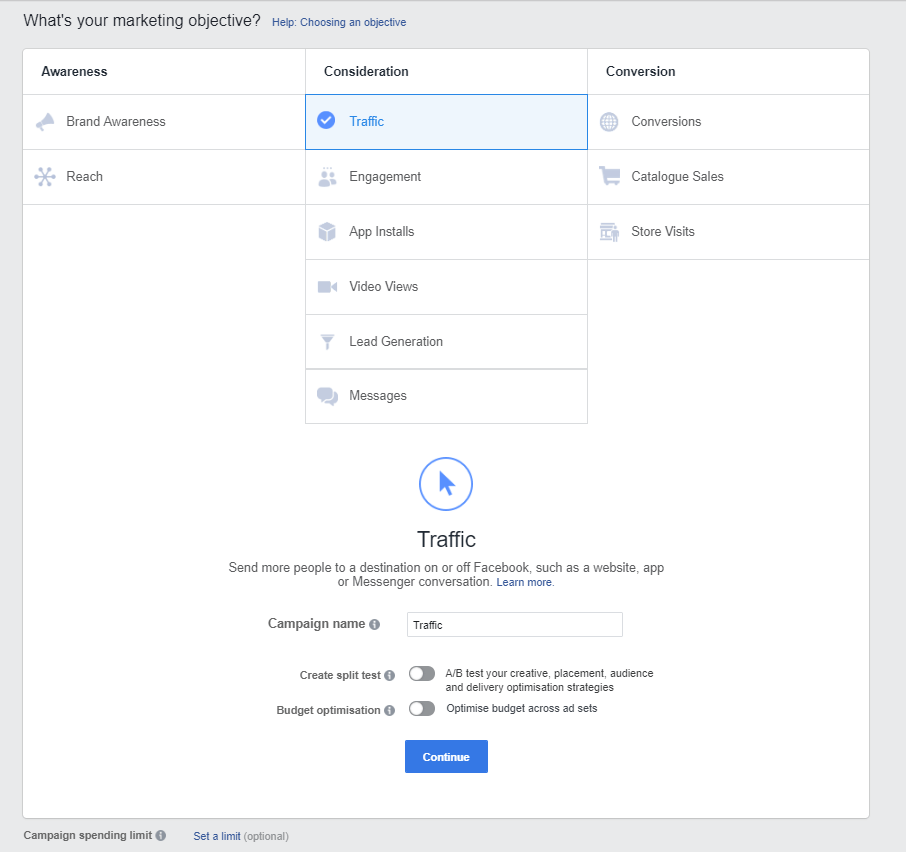 Here is a list of ad types categorized by what you are trying to achieve.
a. Sales:
Carousel Ads
An ad format that displays up to ten product cards with an image (or video), headline, link and a call to action for each. Users need to either swipe or click through the carousel to see all the cards and Facebook automatically sets the most clicked on the card in the first place.
Carousel Ads can either be used to display multiple products offering variety to the user or they can be used to convey a story.
Catalogue / Dynamic Ads
Used for remarketing, dynamic ads are displayed to users based on past actions on your website or mobile app. They require you to upload a product catalogue and then the right products will be automatically promoted to the right target group.
b. Leads:
Lead Ads
A type of ad that when clicked on opens a pop-up form. Facebook fills out as much of the information as they can (name, email, phone number, address) to save the user's time. In this way, you receive a quality lead without forcing the user to leave Facebook. The simplicity of the whole process increases the chance of user compliance and is a great way of, for example, building an email list.
Instant Experience Ads
Previously called Canvas Ads, the Facebook IX ads present an immersive experience that lets you market your product or services natively in Facebook so that your user doesn't have to leave the platform once they click on it.
In the Instant Experience builder, you can add and edit many elements like text, CTA buttons, carousel cards, images, etc.
You can also take advantage of this type of ad for websites that are not optimized or don't have a modern interface.
c. Engagement:
Page Likes
Ads created to promote your page and increase page likes in order to expand your organic reach. They include a "Like Page" CTA but require engaging content to succeed.
Page Post Engagement Ads
Photo Ad
The easiest ads to create, used for brand awareness, conversion, getting traffic and more. They include one eye-catching image, a call to action and a link with a bit of copy. It's best not to have too much text in the image itself.
Video Ad
An ad using video to tell a story and leave a lasting impression. Facebook recommends keeping the video duration under 15 seconds. These ads can be used for retargeting purposes, those that watched the video can be retargeted based on how much of the video they saw.
Text Ad
Page Post Text is a type of engagement ad that consists only of (like the name suggests) text. However, it will have a lower engagement than any other ad type, so it is recommended to avoid this type.
d. App Installs:
Mobile
The ad to use if you would like to get more installs of your mobile app. Consists of ad copy, image, and a CTA to "Install Now". It will only be displayed to a mobile user and is great for conversion. The add can be fine-tuned to target specific devices, iOS/Android users, or users currently on a WiFi connection.
Desktop
An ad type that will be displayed when a user is browsing through the news feed using a desktop computer. It includes a short ad copy, image, CTA with "Install Now" or "Play Now" and an image.
Instagram Mobile App
You can use the Facebook Ads Manager to set up Instagram Mobile App Ads. Instagram is the perfect targeting opportunity for mobile users. Their user base is huge and will give you plenty of chance for acquisition and conversion. Similar to the other App installs ads you will need a good image, a small amount of ad copy, a link and a CTA like "Install Now".
e. Store Visitors
Offer Claim Ads
Used to attract people to brick-&-mortar stores and target people already engaged with your brand or users that did not complete your sales funnel. It contains an image, a discount offer and a "Get offer" CTA. Only users that clicked on the CTA will get details on how to redeem their discount.
f. Event
Brand Awareness Ads – Using location-based targeting, this ad is meant to attract visitor to your physical store or an event. They encourage discovery and increase awareness, but high-quality content is needed to get users to engage.
Now it's your turn
I genuinely hope this guide gives you the tools you need to improve your campaigns when it comes to Facebook Ads. As the competitive space for ads gets more advanced, your primary focus should be on having a positive ROI from your campaigns.
What are your thoughts? Did I miss out on any important information? Have you tried split testing before and how did it work? I'd love to hear your thoughts or help you find a solution to your specific case so feel free to get in touch with me! Also, don't forget to check the Facebook Debugger to optimize your links when sharing them on Facebook. 
Oh, and don't forget to try Planable's amazing Social Media calendar – it really is a lifesaver.
This article was submitted by Martin, currently in charge of marketing for a Danish SaaS startup called Morningscore.
If you're interested in reading more, check out these awesome resources: