No doubt you've already heard about the many possibilities for digital marketers when it comes to advertising on Instagram. You may have also heard about Dynamic ads and have some understanding of what they offer and how they work.
What we want to provide you within this article is a useful and definitive guide to these Dynamic ads for Instagram, no matter your current level of understanding.
So let's dive in, starting with a quick look at the social media platform.
In June of last year, Instagram surpassed 1 billion monthly active users, so to say that it is becoming something of a household name is a slight understatement. Since the takeover by Facebook in April 2012, the visual-focused social media platform has risen dramatically, from 50 million users to this latest 1 billion milestone.
Combine this with the fact that 60% of users (about 600+ million people) have used Instagram to actively seek out and discover new products, and you start to see why it is becoming the number one tool for digital marketers.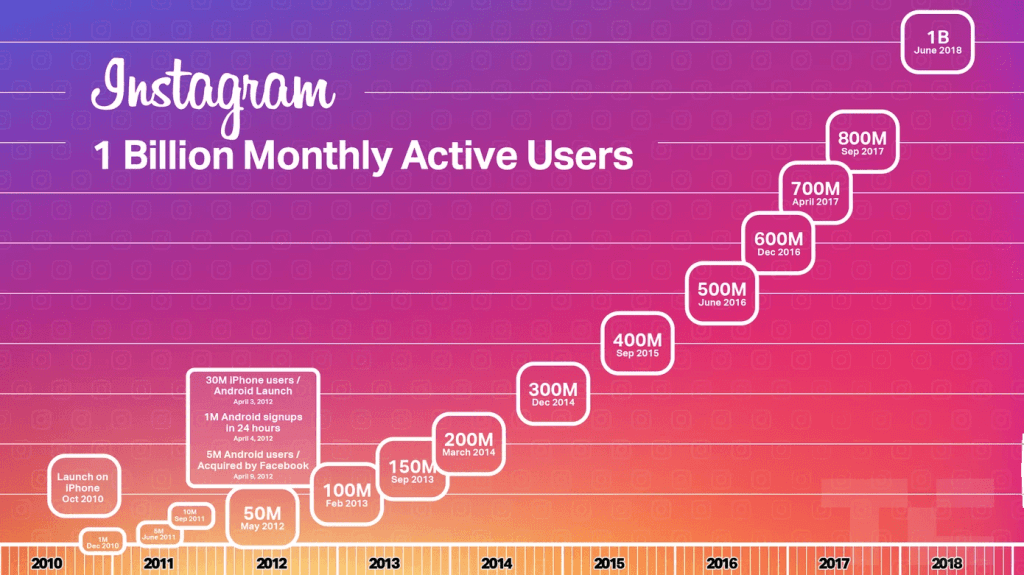 Why Use Dynamic Ads?
The major attraction with choosing to use dynamic ads is that they make the process as easy as possible for the user.
In this article, we'll explore the different options available to Instagram advertisers, looking at how each ad format works, Instagram's requirements and pull out some excellent examples for a bit of inspiration!
Then we'll give you a step-by-step outline of how you can get started with dynamic ads, plus a few best practice tips to achieve optimal results.
Single Image ads
If you have used Facebook advertising in the past you may already be familiar with the concept of single-image ads. As the name would suggest, each of these dynamic ads contains a large image, ad text and a call-to-action such as 'Learn More'. Each of your single image ads will appear in your audience's feeds, in amongst organic posts from friends and businesses they follow. It's also important to make sure your photo size is optimized for Instagram depending on the format and content.
Single Image Ad requirements:
Caption: up to 125 characters

Media type: image

Recommended image size: 1080 x 1080 pixels or 1200 x 628 pixels (the typical Facebook ad image size)

Image format: .jpg or .png

Max. file size: 30 MB
Example:
The example below is a single-image ad from Glenmorangie.
Why does it work well? This ad is effective because it combines bright, brand-associated colors, humor, and effective caption text. For users scrolling rapidly through their feeds, an eye-catching image which makes them smile and includes a CTA is an effective strategy for Instagram.

In-feed video ads
Much like the previous single-image ads, these in-feed video ads will be displayed within your target audience's feeds. The way in which they differ is that they provide a more eye-catching and engaging way to draw in your users and increase brand awareness.
Vertical Video
– Resolution: 600 x 750;
– Aspect ratio: 4:5;
– Max size & length: 4 GB/60 seconds
Landscape Video
– Resolution: 600 x 315;
– Aspect ratio: 1:91:1;
– Max size & length: 4 GB/60 seconds
Square video
– Resolution: 600 x 600;
– Aspect ratio: 1:1;
– Max size & length: 4 GB/60 seconds

Example:
The example here is an in-feed video ad from Volvo. It contains an element of interaction with viewers scrolling through their feeds by encouraging them to place their thumb on the screen.

Why does it work well? The ad isn't overly self-promotional but is instead providing engaging content for its users. It blends in well within their feed and immediately captures their attention, without pushing them to make a purchase.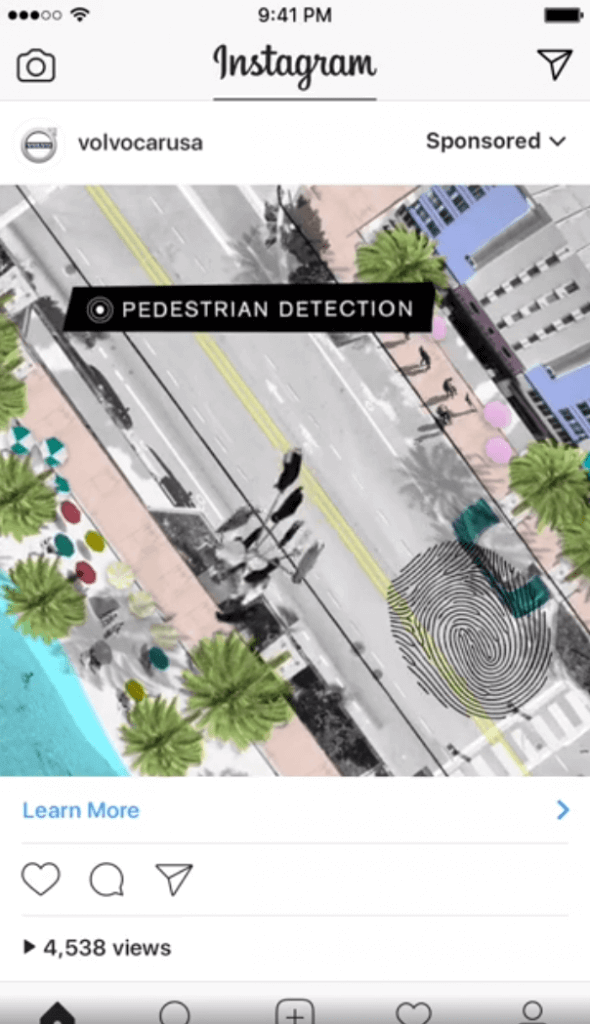 Carousel Ads
Again, anyone who has used Facebook advertising will already be familiar with the concept of carousel ads. These follow the same format, allowing you to add up to 10 different product images or videos into a single ad, which will appear among organic posts in the feed.
They offer advertisers the chance to give users more of an insight into your brand, by scrolling through a viewing additional, valuable info about your products.
Instagram Carousel Ad Requirements:
Caption: up to 125 characters

Media type: image or video

Recommended image/video resolution: min. 600 x 600 pixels, max. 1080 x 1080 pixels

Image format: .jpg or .png

Minimum number of cards: 2

Maximum number of cards: 10

Image ratio: 1:1

Video aspect ratio: 1:1

Minimum video length: 3 seconds

Maximum video length: 60 seconds

Video thumbnail image ratio: Should match the aspect ratio of your video. If not, thumbnail auto resize is available.
Example:
The example pictured here is a carousel ad from GMC. They have chosen to use only 4 images to present an interior view from their latest model of car.
Why does it work well? By using stunning imagery and cropping each photo, this ad lures users into scrolling across the carousel and viewing all the images. This combination of high-quality images and engaging ad text makes for an effective ad which attracts users interest from the start.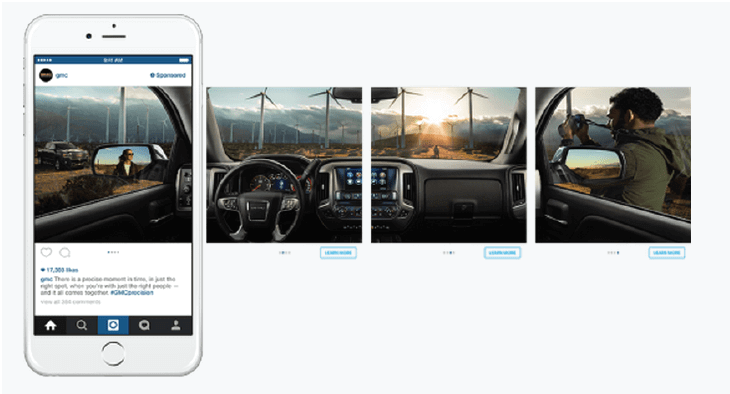 Setting up your Dynamic ads for Instagram
Now that we've had a look at the different options available for marketers when it comes to advertising on Instagram, we can study how you can actually get started.
Facebook Business Manager is the place where all ads are created and managed, no matter if they are for Instagram, Facebook or their Audience network. If you haven't already created an account, do so now – the signup process should only take a few minutes.
Once you have set up you're account follow this step-by-step guide below. We've provided screenshots to show how each task should look.
The first step is to setup your Tracking Pixel for your online store.
This is simply a piece of code that's placed on your website to report conversions and get insights about how people are using your website
Fortunately, Facebook offers an easy step-by-step guide for how to do this so I won't repeat the details here.
The long and short of it is that you simply have to create your pixel in Business Manager, assign an ad account and then choose whether to manually add the pixel code or set up an integration with an e-commerce platform like Shopify or Woocommerce.
Ensure you have high-quality product data.
It's one thing to create engaging ads in any of the formats mentioned above. But it's another thing entirely to provide the best quality product data which is actually going to convince your audience to make a purchase. Both are vital to your overall success.
Selecting a quality, value-for-money feed management tool means you can include everything Facebook requires of sellers on Instagram. Not only this, but you can include as much extra information in different categories as possible, to make sure you are reaching the right audience with perfect, optimized product data.
All it demands on your part is to take the time to find a feed management tool that can get your product feed fully optimized before you import it to Facebook.
Begin setting up your Instagram dynamic ads campaign
Once you have this feed management tool, you can talk to them about setting up your dynamic ad campaigns, or else refer to the Facebook guidance on setting up your catalog and importing your product feeds.
Once that's done, let's look at how you can set up your campaign in a short space of time.

From the ads manager in the account overview, click 'create' and then 'Switch to Quick creation'

This will open up a new window (pictured below), in which you can name your campaign, select how the buying process should happen (Auction).
Next, select 'Catalog Sales' as the campaign objective and choose the catalogue which you want to promote.

Once you select a name for your ad set and the ad itself, select Save to Draft.
It will then be added to your Ads Manager overview for further action.

Targeting your audience
As mentioned at the beginning of this article, one of the main attractions for Instagram (and Facebook) dynamic advertising, is the ability it offers marketers to set up accurate audience targeting.
In this next section, we'll pick up where we left off above and take a look at how we can begin making use of Facebook's advanced audience targeting options for your dynamic ads.
From your Ads Manager overview, select the 'ad sets' tab, choose the ad you want to use and click on the pencil icon (pictured below)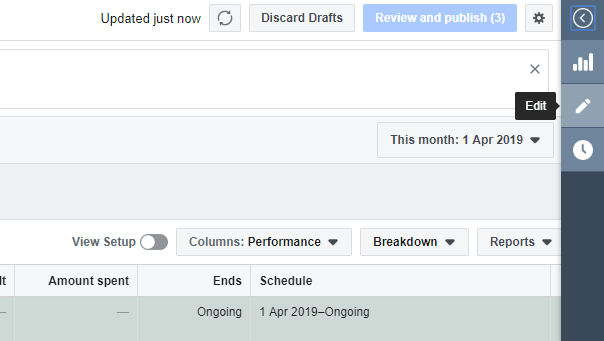 This will bring up a slide-out menu. Once here, choose which products you want to promote – as well as your budget and scheduling.

When it comes to selecting your budget, set it as large as your business can allow. Artificially constraining your ads with a low budget will cause you to miss opportunities to drive conversions.
Now scroll down and you will be brought to the audience section of your ad set. Here you'll see that there are multiple possibilities available to digital marketers:
E.g. Viewed, added to cart but not purchased, Up-sell or Cross-sell products.
Select the option which is most relevant to your goals for your ad campaign.

The next option you'll be able to scroll down to Placement. It's recommended by Facebook to include automatic placements for your ads, as their algorithm will be able to target your audience in the most optimal places.
The more ad campaigns you run, the more you will be able to trial all the different options available. For now though, let's select 'link clicks' under Optimization & Delivery as our means of establishing how Facebook will deliver these ads (other options include Conversion events or impressions).

Now minimize your pop-up to get back to the Ads Manager screen. From here, select the Ads tab and select the pencil icon as before.

Now you can connect your Instagram account to the ad set. Under 'Creative' you can choose which type of dynamic ad you want to use.

In this process of creating your dynamic ads, the product images will be taken automatically from your online store. Scrolling down will allow you to customize your images, headline and description text, Calls-to-Action and urls.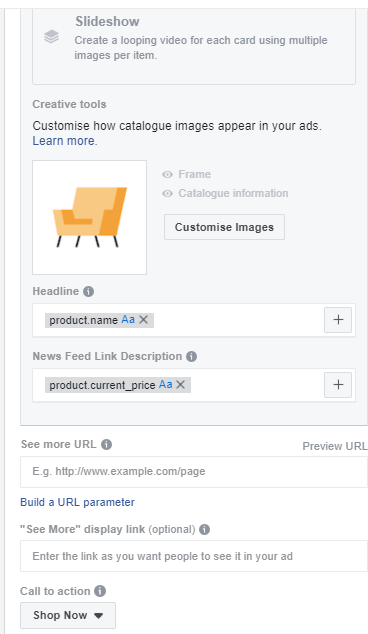 The final step is simply to make sure you have your Facebook pixel selecting for tracking conversions and audience behavior for targeting.
When you are done, simply click 'Publish'. Your ads will first be reviewed by the Facebook team before being published.
Summary
We've deep dived into why more and more digital marketers are turning to Instagram for their online sales, what their options are when it comes to Dynamic ads and how you can set up your own campaign and start selling.
When you get more familiar with the setup process and management of your ads, you can trial and A/B test different formats and styles, using Instagram Analytics to get valuable insights. As a starting point though, when targeting people who viewed specific products on your website, carousel ads are the recommended format because they showcase all of the products that are of interest to your prospect.
Pay attention to the requirements listed for each ad type above. Ensuring that you use quality imagery and video is good practice generally and will ensure better performance of your ads.
Increasing your Instagram sales doesn't have to stop with Dynamic ads though. Planable has created the perfect tool for creating and scheduling content for your Instagram account. You can plan and customize all your posts and stories, collaborate with your team and stay up-to-date in a few clicks. Find out more about Planable's Instagram tool here.
This article was submitted by Ben Culpin, a content marketer for WakeupData.