We think we've figured out what you need to make your social media images work perfectly with your content plans.
We're the first ones to point out: there's a lot of content covering the best use of social media images out there. We definitely don't want to add to the buzz, so we won't bore you with the obvious.
So we thought we'd help by building an infographic to become your go-to guide when it comes to Facebook, Twitter, Instagram image sizes,
and
5 tips & tricks on keeping it beautiful
. We first wrote this piece back in 2018 and the interest marketers have shown for it goes to prove that it has become the go-to guide. So here we are in 2020 still updating this infographic helping you keep your social media presence tight and to the point. 
I have to mention though, you know in Planable you can always accurately preview how your images will look like and how they fit each social network format, right?
Instagram Image Dimensions
Instagram feed photo sizes: 
Instagram profile photo size: 320 x 320 px
Instagram portait image: 1,080 x 1,350 px
Instagram square image size: 1,080 x 1,080 px
Instagram landscape image: 1,080 x 608 px
Instagram stories sizes:
Story size: 1,080 by 1,920 px
Instagram carousel sizes:
Landscape: 1080 x 566 px
Portrait: 1080 x 1350 px
Square: 1080 x 1080 px
Instagram Reels sizes:
Reels size: 1080 x 1920 px
Cover photo: 1080 x 1920 px
Instagram ads image sizes:
Landscape: 1080 x 566 px
Square: 1080 x 1080 px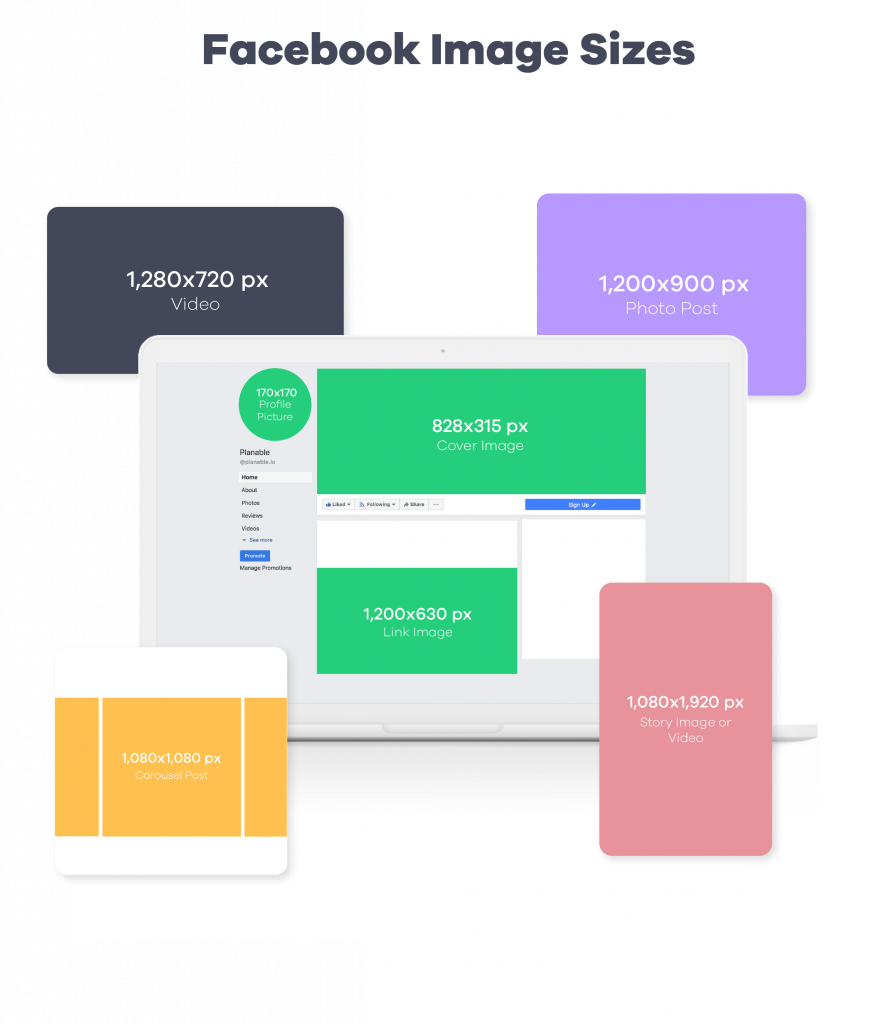 Facebook Image sizes: 
Facebook cover image size: 828 x 312 px
Facebook profile picture size: 170 x 170 px
Facebook link post image size: 1,200 x 630 px
Facebook Story image or video size: 1,080 x 1,920 px
Facebook Carousel post image size: 1,080 x 1,080 px
Facebook photo post size: 1,200 x 900 px
Facebook video post size: 1,280 x 720 px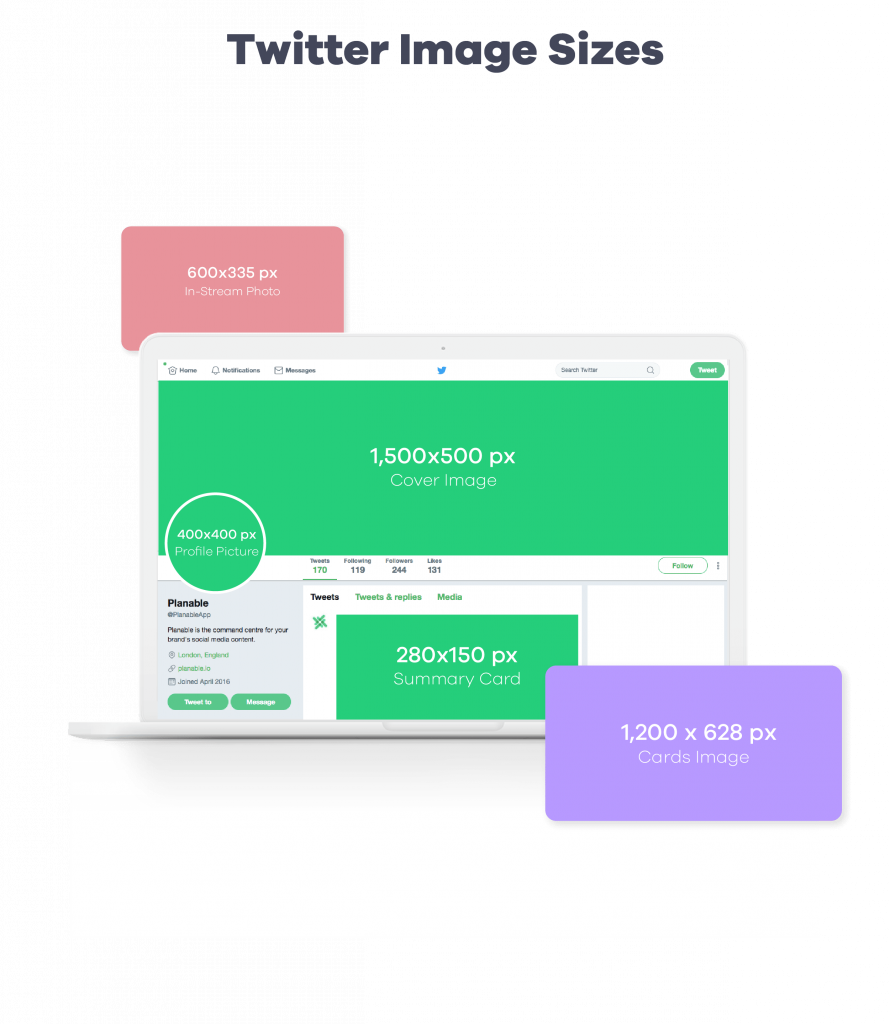 Twitter Image sizes: 
Twitter header photo size: 1,500 x 1,500 px
Twitter profile picture image size: 400 x 400 px
Twitter Summary Card size: 280 x 150 px
Twitter Cards image size: 1,200 x 628 px
Twitter in-stream photo size: 600 x 335 px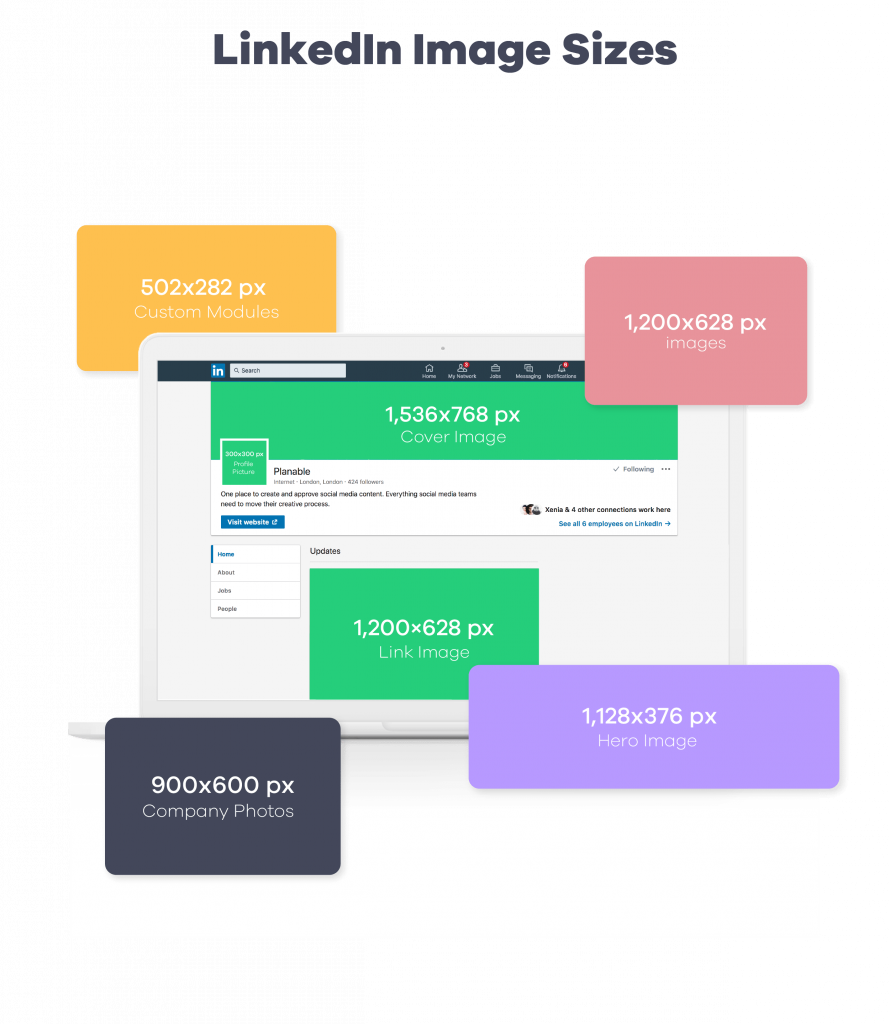 LinkedIn Image sizes: 
LinkedIn cover photo size: 1,536 x 768 px
LinkedIn profile picture size: 300 x 300 px
LinkedIn link image size: 1,200 x 628 px
LinkedIn images size: 1,200 x 628 px
LinkedIn Custom Modules size: 502 x 282 px
LinkedIn Company Photos size: 900 x 600 px
LinkedIn Hero Image size: 1,128 x 376 px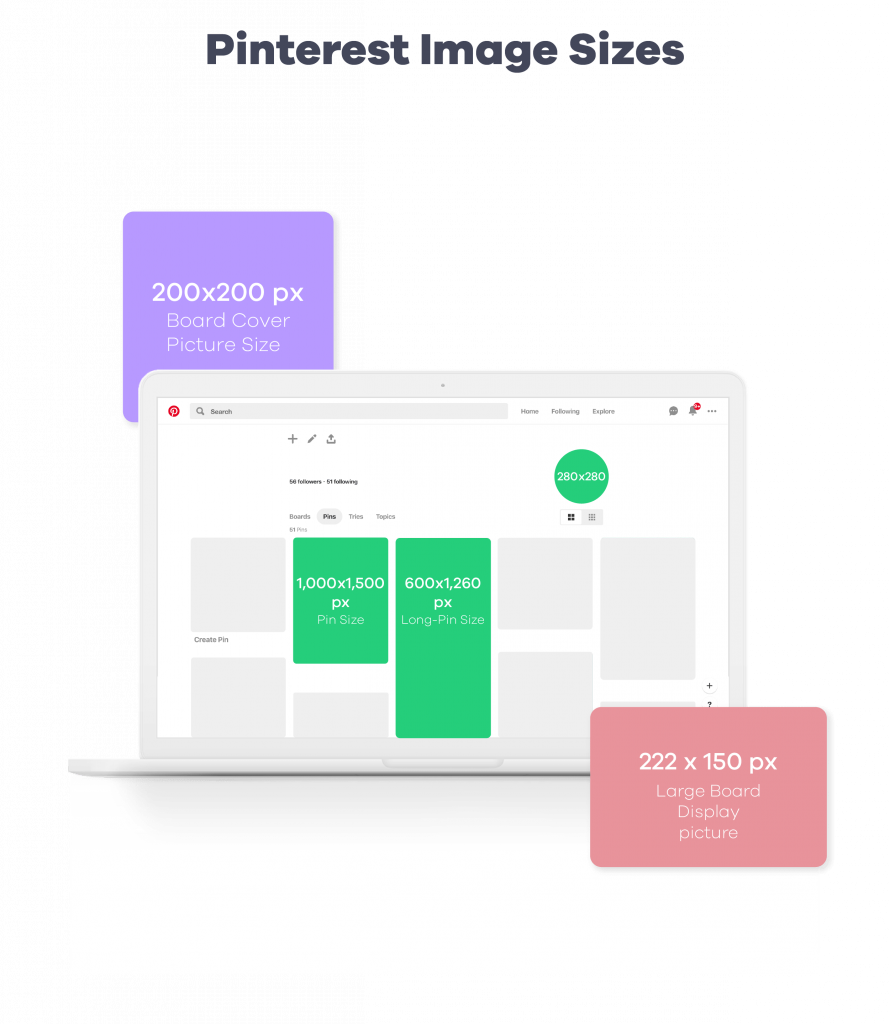 Pinterest Image sizes: 
Pinterest profile picture size: 280 x 280 px
Pinterest Pin size: 1,000 x 1,500 px
Pinterest Long Pin size: 600 x 1,260 px
Pinterest Board cover picture size: 200 x 200 px
Pinterest large Board display size: 222 x 150 px
1. Image + Copy?
Hell yes! A great copy with a cool, empowering image in the background always catches the eye is a great content promotion strategy. Keep in mind what your focus is (copy or photo) to not make the overall image too crowded – space is always highly appreciated.

2. Logo on image?
We'd suggest not to, or at least only on limited occasions. Since you plan on your users to see that image on your own social media pages – a logo is redundant and just makes it more crowded and "branded". Understand the sentiment, context of your customers, and don't be scared to pass on opportunities to show the logo. If you do choose to add a logo to the image, use a logo maker that gives you preset files that are suited for your image in terms of size and opacity. Flaticon has a great library of logos you can use for free, and even has a logo maker with presets for each different size.

3. Bold images?
We all love color and inspirational imagery but don't try to be too bold unless that's your brand on social media or unless you plan to make it so. Otherwise, it creates confusion in what your fans should expect from you. Be consistent.

4. Standardized stock photography?
Please no. Avoid that as much as possible. We all know that classic image of a man/woman in an office/factory, holding some piece of technology and casually looking at the camera with a huge unnatural grin. Keep the photography relevant but natural. There are amazing stock-image websites that will help you with infinite choices for all your social media images. Some of them are Unsplash, Pexels, Freepik, Deposit Photos (for which you can get a great deal now on Appsumo – 100 photos for only $49)

5. And always the "Know your customer" eternal advice.
We say it because we care – social media is tough because brands are trying to fit in – that's exactly why knowing your customer is so important in this context. What they like, what they don't like, what they find offensive, what draws their attention. Just like any other part of your business, knowing your customer's preferences and behaviors will do the trick.

You know the rules and the guidelines. What's next?
It's time to put your social media posts out there. The quickest way to plan, collaborate and schedule your pixel-perfect images is via a dedicated tool like Planable. We're a visual social media collaboration tool that lets you create content the way you deserve. I'm not saying more, but just in case you want to give it a try, you should know it's free.
That's what we have as a quick guide for your social media images. Did you come across any other tips or issues? Let us know.