Although Facebook has lost its "coolness" over the past 5 years or so with all these mom and dad profiles, it is still extremely effective in terms of promotion and digital marketing. With over 1 billion users who are avid group members and active on a daily basis, creating a Facebook community is among the main building blocks of any successful digital marketing campaign, regardless of the niche your business operates in.
With this in mind, we are pretty sure Facebook is a social media behemoth that isn't going to disappear from the digital marketing landscape anytime soon, which is why investing in this network has a huge potential to help you grow your business.
Naturally, one cannot just create a Facebook group and sit around waiting for members to join in miraculously. Some rolling up of the sleeves has to take place.
We are here to help you with your community management strategy and provide some useful and actionable tips on how to polish your social media management skills and grow your Facebook community in just a few weeks.  
1. Define the main goal of your Facebook group
First things first… Your community must have a clear and, if possible, unique goal(s). You won't be able to trace and reach your target audience if you don't have a clear overview of what the purpose of your group is.
Think about the following questions:
What is your niche?

Who will (and why) be joining your group?

Will your group promote a product/service?

What type of interaction do you want to have with your members?

What will be the purpose of your interaction?




(Hints: getting tangible feedback about your business; gleaning valuable data on your target audience so you can reach more of them; awarding the most active users for their engagement as a form of an incentive program… but more on this later on)

How will you be using the feedback/suggestions your members give you to improve your business?

How can you make them interact among themselves?

What type of content will you be providing them with?
Should you manage to answer most of these questions, you are likely to end up with a strong and purposeful community in no time.  
2. Give your group a catchy yet effective name
As far as the name is concerned, we will leave that part to your own creative juices. But what we are going to give you is a few pointers when it comes to the potential effectiveness of your group's name.
Namely (no pun intended), the name of your Facebook group should be well-optimized in terms of search. Going with a name that is packed with keywords relevant to your niche is a must because Facebook's search bar acts like a regular search engine. This is where the right keywords come into play – to make your group more visible to your target users.
3. Choose the right type (privacy) of your group so people can find you more easily  
In order to lure the fitting and relevant users and assemble a congruous society, you must opt for the right level of privacy of your Facebook group. The options you have include:
Public

Closed

Secret
Taking into account that you are most likely trying to create a group that will have a huge growth potential, we advise you to set your privacy level to public. This way, your community will have the right type of scalability and it will be much easier for the target user to track you down and join your community.
The trick here is to keep the users who don't belong in your group at bay, and attract a lot of like-minded ones who will be able and eager to interact with one another and thus keep your group alive and your posts engaged.
4. Give your target audience the content they want/need
When it comes to any social media format and any type of digital marketing, quality content is what it's all about. After all, you cannot become a successful salesman if you do not have a quality product/business to sell in the first place (unless you are a telemarketer, that is).
Only if you can come up with an actionable, informative, fun and original piece of content for your audience, will you have what it takes to attract new members and grow a healthy and organic community.
Creating great content, collaborating on it, and keeping a constant schedule and style isn't easy. It's even more complicated when you manage more than one group or if you're not the only one involved. Luckily, you can use Planable to connect and create content for all your Facebook groups.
Make sure you keep track of how the posts you create are performing as your community starts to grow. Once you learn what type of content triggers engagement and starts conversations among your users, go ahead and focus more on that kind of posts. It's all about keeping your group alive and the level of interaction high.
Bonus tip:
A lot of groups and communities end up focusing only on the content THEY create, but running a successful FB group is much more than posting just your own, original content. Sharing interesting and engaging content from other agencies, websites and sources is a great way to stay in the loop and get in touch with other successful communities that can help you promote and grow your own.
5. Treat your members like family and engage with them as frequently as possible
One of the most important aspects of running a prosperous FB group is treating your members like your peers. Interact with them on a daily basis, ask for their feedback and come up with an effective incentive program through which you will be rewarding your most active and most valuable users.
This way they will feel like they are truly getting something in return, and will feel like relevant members of a great community that indeed works towards something better.
An example of how your group's admin should treat your most active members: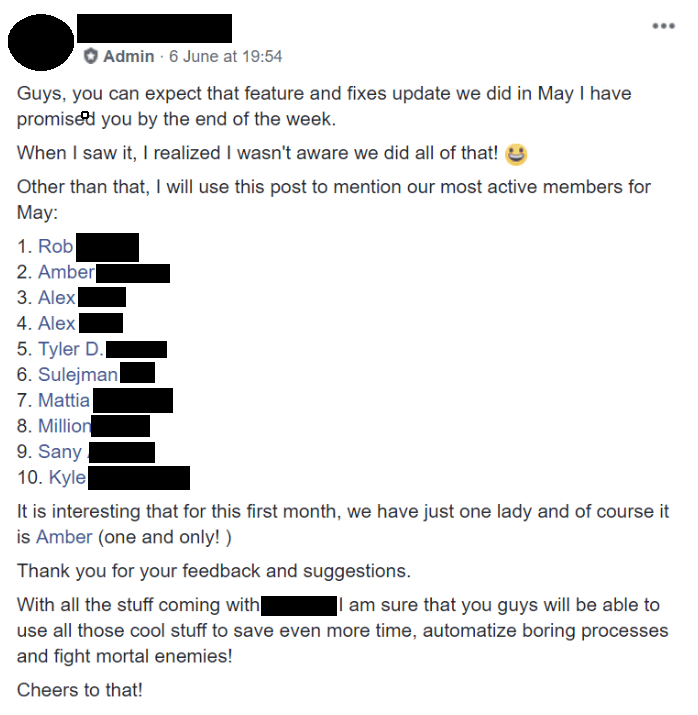 This type of motivation will work wonders for the growth of your group, and these top members will soon become priceless advocates of your business/agency/product/brand, so make sure you (or your admins) are not reluctant or (even worse) too lazy to interact with your audiences via likes and comments. Ideally, you should be able to provide answers to ALL of the questions your members ask and try to be as swift as possible.
Also, make sure you know WHEN to post and engage with them. Timing can be vital here, so conduct a little research and find out when exactly during the day your members are most active and try to post your best and most engaging content then. General rule of thumb is that most Facebook users browse their news feeds around 11am and 7pm, however, this information depends highly on your target audience.
If you cannot manage your Facebook community consistently all by yourself, try hiring people (admins) who will be able to keep it well-organized and alive by consistently posting, commenting and sharing. Note: You can also use a social media scheduling/managing tool for these purposes, like Planable).
Bonus tip:
Insert a link to your Facebook group in your newsletter emails. Although the users who are getting your emails are likely already members of your FB community, this move can't hurt.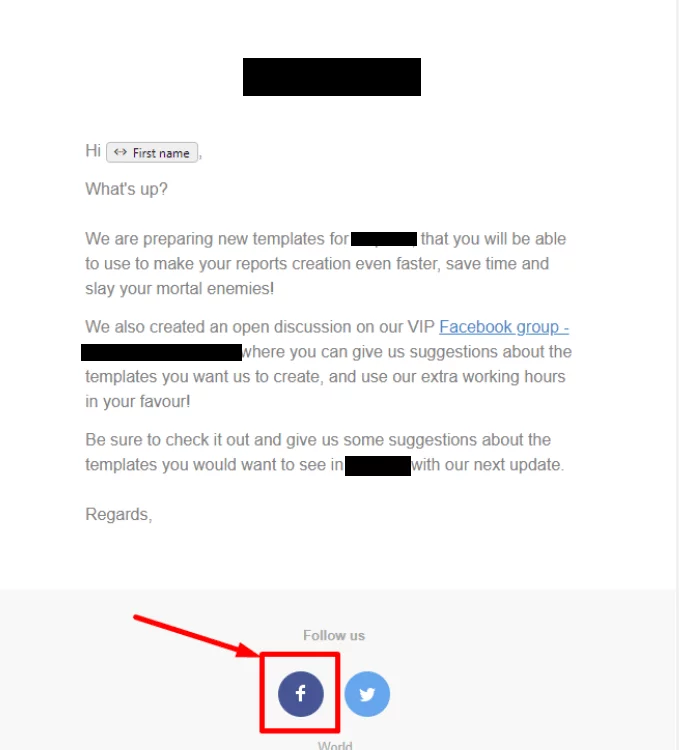 6. Boost organic reach via word-of-mouth
If you are looking for ways to avoid using Facebook ads to promote your group, word of mouth is among the most effective ways to organically reach new users and grow your society.
According to some estimates, word of mouth is about 10 times more effective means of promotion than traditional paid advertising. It seems like users are indeed fed up with numerous pop-ups, intrusive banners, and ads that are swamping their screens (and lives), which is why word-of-mouth is expected to soon become the number 1 means of advertising and seriously jeopardize the already volatile reputation of rented spaces across the web.
How to generate word of mouth:
Make sure your business has something new to offer

Point out the problems you are able to solve and how you can solve them

Create a family-like community in which users will be treated with respect and where their voice will be heard
Bonus tip: Find popular influencers from your niche to endorse you
Word of mouth works best if those mouths are attached to the body of an influencer. Try contacting relevant and approachable influencers who have a good reputation and see if they are up for promoting your Facebook community to their (presumably many) followers. Of course, make sure you offer them something in return.
Here a graph showing how a certain FB group managed to boost the number of their members in just a couple of weeks:


7. Actively monitor your metrics with a data tracking and reporting tool
Once you have a decent number of members in your Facebook group, it is time to monitor the data it generates and make the most of these metrics to polish up your campaign and grow even further. Although there's a myriad of metrics tracking tools available out there, we recommend Reportz.
Reportz is a user-friendly and effective third-party analytics and reporting tool that can help you glean valuable insights about your content, shares and overall metrics that your Facebook group generates. With this software you will be able to:
Learn which posts exactly generate most engagement (so you can create more of them)

Keep track of the overall success of your campaign

Monitor your organic/paid reach

Keep track of the demographics of your audience and use it to your advantage

Have insights into impressions, check-ins, fan ads, page interactions, stories, unique clicks…

Monitor your CTR
Once you have all this useful data in one place, you can use it to pivot your campaign in the right direction.
Summing Things Up
Running a successful Facebook group has a lot of moving parts, and you should make sure all of them are well-oiled at all times. Each and every step mentioned above can make or break your FB group growth strategy. But at the end of the day, it all comes down to knowing how to gather like-minded people who will together build a community of users who share the same interests and goals.
You are the one who must act as the fulcrum of this community and keep everything in balance. Remember, your members must feel like:
they truly belong there

they are making an impact

they are getting relevant content/service on a regular basis
Only then will they become supporters, promoters and true advocates of your brand. Also, don't forget to check the Facebook Debugger to optimize your links when sharing them on Facebook. 
If you're interested in reading more, check out these awesome resources:
This article was submittes by Radomir Basta — Co-founder, CEO and lead SEO strategist at
Four Dots