If you are using social media for marketing you might be wondering how to create social media posts that actually convert. It's not just about posting pretty pictures (although they can sure help), you need to have a strategy and take actions that bring measurable results.
So, if you are looking for social media marketing tips that can increase your business, read on and get ready to rock with your brand-new social media strategy!
Here's a step by step guide:
1. Define your conversion goals

The first thing you need to do is to establish what type of conversions you're looking for. Depending on your industry and type of business, your focus will be on sales, leads, engagement or traffic acquisition.
After deciding your objectives, the next step is to figure out how to get there step by step, one post at a time, by setting up measurable SMART goals. You can read more about how to set up SMART goals for social media here.
Just remember that every micro conversion helps visitors make the macro conversion, so it's all about setting the right goals along the way.
2. Research your competition
If you look and listen closely, you will find a lot of social media ideas just by analyzing your competition. Think about it, your competition has the same audience as you do, so you can't just ignore what they are doing. Researching your competition will save you time, and you can use their experience to create your own highly converting social media marketing strategy.
Check out what they're doing and how well they're posts are performing on social media, and try to be one step ahead.
Facebook and other social media platforms allow you to analyze your competition right from the insights, but you can also use other apps such as Planable to get you started.
Stay unique and add value to your niche, so don't just copy what they do, but don't be afraid to keep an eye on them and gather experience. After all, it's better if you can learn from other's mistakes (and successes).
3. Use faces in your social media posts
Yes, people love to see faces on social media! Use this to boost your social media engagement. Studies show that faces will help you sell more, and social media posts that include faces can lead to 102% more clicks.
But don't just use boring stock photos, everyone is already sick and tired of them. Instead, research the right kind of faces that have an authentic expression. It's important that your audience can relate to the faces seen in your posts.

4. Use appealing images and design
When it comes to social media images, don't underestimate the power of appealing design. A CMO-Council report shows 65% of senior marketing executives believe visual assets are an essential tool for communicating their brand's story.
If time is an issue and you don't have design skills, try using a tool to design a social media post in minutes! Here's how easy it is:

Sign up

Choose template

Edit

Save

Download
5. Include a call to action
Don't be afraid to tell (or write) people what to do by including a call to action. Remember your goals and give them a twist, make them about your users, not about you. Remind them "what's in it for them", like Asana did with this powerful social media post.

You can use a clever text, or overlay an image with a clear-cut CTA before sharing it with your followers. Get creative: add boxes, circles, or arrows to your copy to get people's attention.
Remember every social media platform is different, so personalize your CTA to match the platform you are designing for.
6.  Be specific, use numbers (preferable odd numbers)
Studies show numbers attract and retain users' attention. We are programmed to search numbers and connect with them, so any social media design that contains a number has increased chances of generating conversions. In fact, we also search for numbers when we are trying to learn new things.

Source: Content Marketing Institute
Also, odd numbers more are more psychologically appealing. It seems our mind considers them to be more natural and more credible.
They improve engagement, increase click-throughs, and attract more eyeballs. Odd-numbered headlines have 36% more clicks and a 20% higher CTR than non-numbered or even-numbered ones, so you should consider using them also in your social media strategy. Large numbers also tend to perform better than small numbers, because users feel they are getting more of something.
Here's an example of how you can include numbers in your social media design to attract and retain your user's attention. Remember, it's all about being specific, engaging and creative!

7. Add urgency (now)!!!
Creating urgency works very well if you are looking to drive immediate action or temporarily boost your sales through social media posts. Most of the times, it only takes one word… 
Try to be creative and find unconventional ways to make people feel FOMO (Fear of Missing Out) and take a decision they might otherwise postpone. For example, you can use a Facebook live video to promote a limited special offer or a Giveaway.
8. Give your posts a human touch. Keep it social: keep it funny, shareable, cute!
In order to succeed on social media, you'll need to humanize your brand, giving it an individual voice. It's easier if you don't take yourself too seriously and remember to have fun! This way users will feel the human side of your business and connect with you in a meaningful way. As Isra García mentions: "The Human Media challenge lies in identifying the human part of the Internet, as well as persons and emotional part of businesses – I would dare to say that even the interpersonal part."
A good laugh is always a great way to cheer up the atmosphere, and when we make users smile on social media, they feel connected in the same way we do with a friend. So don't forget to have fun when you design a social media post.
You can always create social media content by capturing the funny moments at your workplace, or from trips and team buildings. Also, don't be afraid to share an industry joke or make fun of yourself. Check out the hashtag #BadStockPhotosOfMyJob for some inspiration.

If and when appropriate, you can use memes, jokes or even cat pictures; but don't overdo or over think it, there's nothing worse than trying too hard to be funny.
9. Encourage fan-to-fan communication
Remember social media is mostly about being social, so don't just use it as a traditional marketing tool where your brand communicates and the audience listens. Great communities are all about connecting people that share the same values and passions.
As of January 2018, Facebook's news feed is all about meaningful interaction, so if you want your posts to be seen, you must encourage fans to talk to each other.
On Pinterest, shared boards are a great way to get users to interact with each other and create together.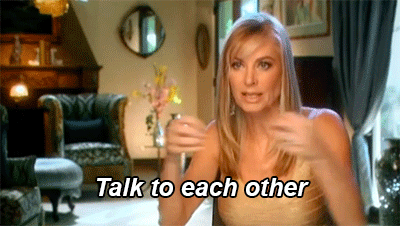 10. Experiment, test, and measure
We sometimes tend to create a social media post as we would like to see it, or we might rely on our experience. But every audience is different and the rules of an engaging social media post are ever changing.
That's the beauty of it; you never stop learning! So don't be afraid to try something new, but always keep an eye on the numbers and measure the results. If you find something that works, do more of it and then test the variations.
When it comes to social media posts, not everything works the same for everyone, you might have to forget everything you learned in theory and… just do it!
Now you are ready to design social media posts that convert and engage your audience. Feel free to test all the techniques above and let us know what worked for your brand!