Let's start by getting something out of the way: social media is here to stay. When more than three billion people around the world use social media every month, we can be sure that we are not dealing with a passing trend. Channels and formats may change, but a strong online presence can do wonders. Using eye-popping videos, pixel-perfect images, and engaging storytelling, social platforms help brands increase awareness, connect with their potential customers, and boost sales.
However, gone are the days when businesses used to post anything on Facebook and get huge amounts of reach, engagement, and sales. In a world where Internet users are constantly bombarded with content, people have become less receptive to brands' messages. Marketing teams already know that not all content needs to be shared everywhere. 
That post suitable for Twitter may not be a good fit for other social media platforms, while that LinkedIn image that performed so well might not get any reactions on Facebook. After all, people don't dress the same at a party and at work. They don't make the same kind of jokes with our friends and with our grandparents, right? It's the same with social media. Different environments and audiences require customized content.
Is this something that the client truly understands? How do you showcase your work in such a way that points out the advantages of personalized social media content? This is not a guide on how to create a social media portfolio, but keep in mind that having a great portfolio is just the first step towards making your clients understand your vision and skills. Properly showcasing your work can help you make a good first impression on potential clients and build a stronger relationship with existing ones. With this in mind, let's tackle the topic of presenting your social media work to clients. The smart way: with the right social media marketing presentation. Ready, get set, read!
Go behind the scenes and come out with a list of goals
Why does your client want to have a social media presence? Presenting your work the right way is tied to setting expectations early on and avoiding unpleasant surprises. Does the client need brand awareness? Or perhaps the company has just overcome a PR crisis and wants to make sure the brand regains users' trust by being transparent, proactive, and accountable.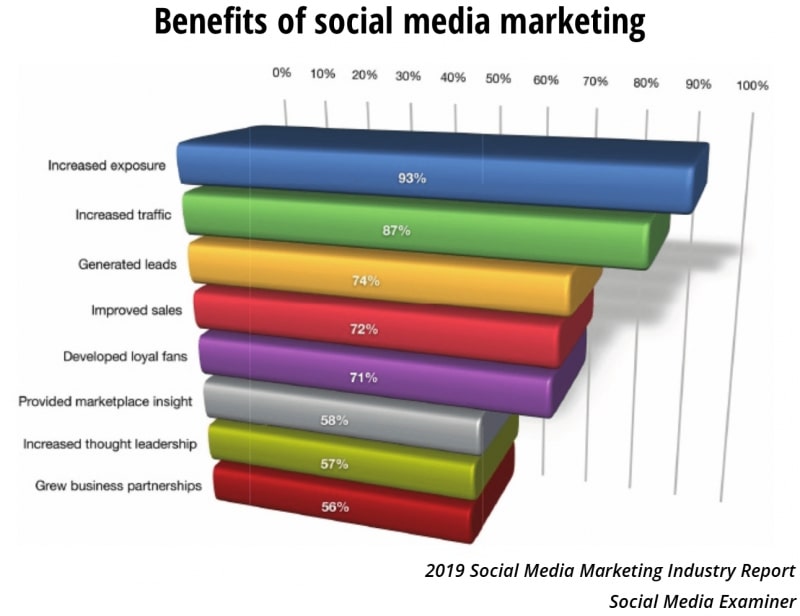 Whatever the reason, you need to go behind the scenes in order to set a clear list of goals and objectives and don't skip your project discovery phase. Prepare an audit of the client's existing social media presence, do a competitive analysis, understand the brand's audience, and come up with content that is tailored to their needs. You can't skip these steps if you're looking to build a long-term professional relationship with your client and get the desired results.
After doing your research, think about the extra things that can help you make a great first impression. It is not enough to know about the client's past social media activity, but also about the company's values, their overall website performance or technicalities they use (technical SEO matters like schema markup for instance). You can show them you're really interested in their business by making content suggestions that support and emphasize their core values. It might help if you have similar clients in your social media portfolio to prove your experience in that industry, but it's not mandatory.
What is a social media portfolio? you may ask. Think of it as a set of pieces of creative work that you can use to demonstrate your social media skills. It can be anything from past posts to analytic reports. Since this article is not about this specific topic, you can check out this article from Social Media Pro on how to put together a portfolio and portfolio ideas for inspiration.
Now back to the client.  Don't be afraid to address both the brand's strengths and weaknesses. If you are going to work with this client, their problems become your problems as well. Collaboration is one of the most common challenges in any business. The marketing department makes no exception.
The good news is that you can learn to improve content collaboration and build a better creative workflow. It doesn't happen overnight. There are some shortcuts though. Like taking a course created by content marketing experts. The free Academy by Planable takes a deep-dive into every step of the modern content workflow and offers clear guidelines on what to do next.
In their constant running pace, social media marketers never stop to take a helicopter view and identify the obstacles. How efficient are clients' processes when it comes to content? How much time and resources are lost due to poorly defined workflows? According to the
"Content Marketing. Behind the Scenes" report
by Planable, it takes 5.4 days from the creation to the actual publishing of a piece of content, while a third of the time is spent on collaboration. With over 11 social media posts being published every week, you can agree that a lot of time goes into reaching that breathtaking point when the post is ready to go live.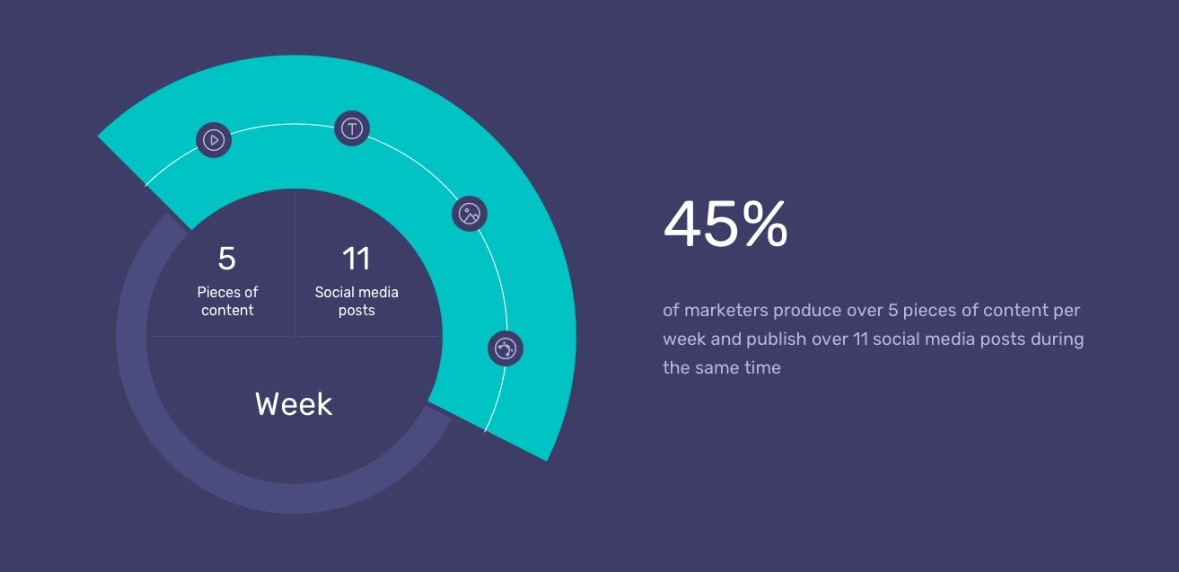 Getting to that special moment when the client's truly happy with your work can involve endless email threads with Google Drive links, images, and video attachments. Add a couple of phone calls where the client rants about "the copy on row 7, column E", and you can accurately picture a social media manager's nightmare. Giving and receiving feedback is complicated when the context is missing and workflows are visibly flawed.
Fortunately, new tools are available to match the modern technologies being used in marketers' day-to-day activities. There's no need to rely on spreadsheets, phone calls, and emails anymore. Presenting your ideas for a brand's social media accounts should be done using a dedicated solution, right? Well, there are a lot of professionals who still use the solutions mentioned above. 
How to choose the right environment to showcase your ideas
So you found out what your client needs in terms of social media presence, you understand the target audience, and you've come up with some brilliant content ideas. Hooray! Now it's time to start thinking about the way you are going to showcase those social media slides to your client. 
Are you planning on sending a social media Powerpoint presentation with slides for each platform? Have you already asked your designer friend to create some mockups in Photoshop? Or maybe you still have those secret test pages where you preview how your posts are going to look like. All of these solutions can work just fine up until the point when the client needs you to do a couple of changes. Then, a couple more.
Here are 7 things to consider when choosing the right environment to showcase your work:
It has to allow the marketing team and client to see pixel-perfect content previews of the social media posts;

Any format, whether it's text, video, gif, link, photo, album, or carousel, should be easy to show; 

Your social media work should be rich in emojis, active hashtags, page tags, or gifs. Your client needs to be able to see them as they will appear live;

It has to allow your posts to be adapted to the intended channel accordingly, whether there are image formats or character limits;

Ideally, your client should be able to visualize content by week or month and see everything at a glance across all the pages;

It needs to make collaboration easy for your team and clients. Changes to the original work are inevitable, so make sure to plan ahead. For instance, your solution should make it possible to give feedback right next to the posts, to add attachments to comments, resolve comments once feedback is implemented, and collaborate in real-time;

Whatever solution you choose, make sure it improves your team's efficiency. No extra clicks, no need for extra communication channels to give and receive feedback.

Everything should be automated; Push notifications should be an exception. This is why Planable has the option to directly publish your posts (Instagram included) without manual work.
Let's take a moment to analyze 4 environments you could use to present your work and explore what each of them allows you to do.
1. Powerpoint presentation or Keynote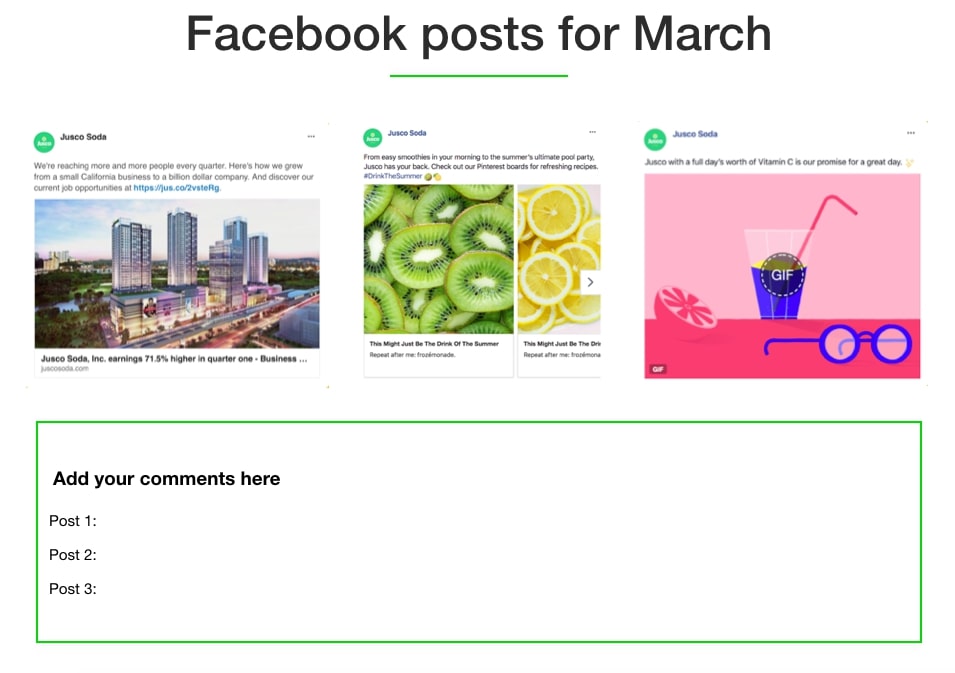 Social media PPT presentations or Keynote slides can be distributed easily to the team and clients. You can use text, photos, illustrations, drawings, tables, graphs, and movies to effectively walk your audience through the presentation. So far so good. You can choose to structure your work by social media channels (Facebook/LinkedIn/Instagram/Twitter posts), time (month/week/day), or formats (single image/video/carousel/gif, etc.). 
Unfortunately, even if you go the extra mile and manage to create previews of the social media posts and add them to your presentation, these are often incomplete. Take the carousel, for example. Showing the rest of the cards would imply extra mockups or a separate email with links to Google Drive, where you would have a folder with all the images.
The same applies to the gif. The client cannot see what happens when its customers click on this format. This means using extra means of communication such as endless email threads with Google Drive links, images, and video attachments. It's becoming complicated, right? But wait, there's more…
Collaboration problems don't stop here. Giving and receiving feedback is difficult when workflows are visibly flawed. Real-time collaboration is essential to the relationship with the client and the marketing team. You need to have clarity over who suggested what and when, be able to implement the feedback easily, and not waste time with multiple files in different environments. Perhaps spreadsheets are better? Let's see.
2. Spreadsheets

We really tried our best to come up with the benefits of using spreadsheets for presenting your social media work. Truth be told, it's hard to find any advantages. Even if we add real-time collaboration and well-organized media folders to the list, for every benefit we can find, at least three other issues occur. In short, creative people like content marketers shouldn't be wasting their time, creative spirit, and energy in logistic nightmares. So much so that I wrote an entire article about it. Yep – read it
here
. 
The main issue when it comes to this environment is that you can't visualize how your posts are going to look. These rows of text which offer you zero context also make it harder to see what stands out and is not on brand. Moreover, when clarity is lacking, a lot of time is wasted and productivity suffers. Most of the time, in addition to spreadsheets, marketing teams also need to exchange emails, use chats, organize meetings, make phone calls, and maybe even send texts. Who has time for all of that? No one.
We need an environment that resembles the final result. Experience has shown that using your imagination is only going to cause more problems. This is why some marketers have decided to create test pages. This leads us to analyze the next environment to showcase your work. Maybe the third time's a charm.
3. Social media test pages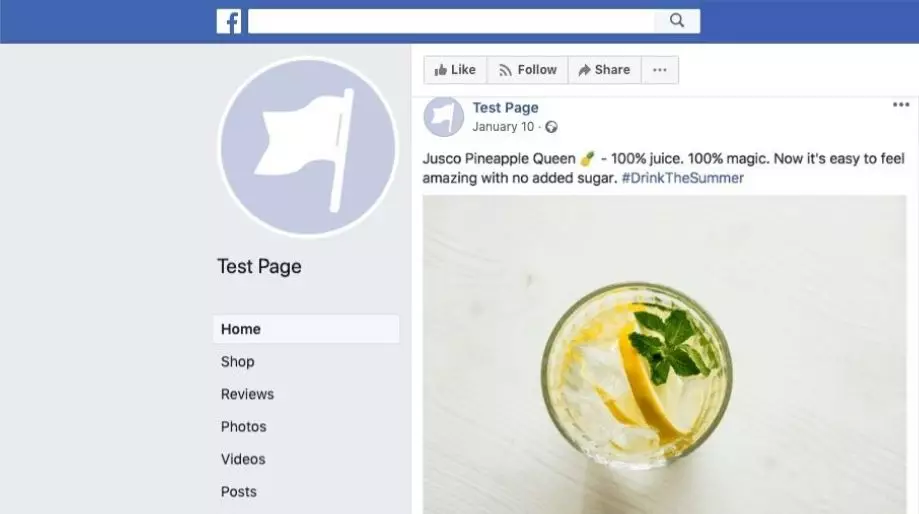 Social media test pages are the closest you are going to get to the actual outcome of your work. These previews allow everyone to see what the posts are going to look like on the official pages. You can also invite your team and clients to post and leave feedback in the comment section of each post.
Even though it is time-consuming, a lot of agencies and social media managers still use this method to showcase their work. This proves that seeing social media posts as though they're live before approving them is something that clients want and need.

But you're the marketer here. You need to think about both the upsides and the downsides. Before embracing this solution, bear in mind that you would have to create one test page for every social media platform that the client is using. What happens when the person who is responsible for approving the content does not own a social media account on a particular platform? Another thing to take into consideration is the privacy issue. Your client trusts that no other people get to see that jolly Christmas campaign before it's (at least) December.
Fortunately, you don't need to look for solutions to these kinds of problems. It's 2020. There are tools out there that solve both the challenge of presenting your work and receiving feedback. It's not a secret. In fact, thousands of marketers have already chosen this type of solution. Fast collaboration. Easy planning. And support that will never, ever leave you hangin'. A modern alternative that doesn't even break the bank.
4. Planable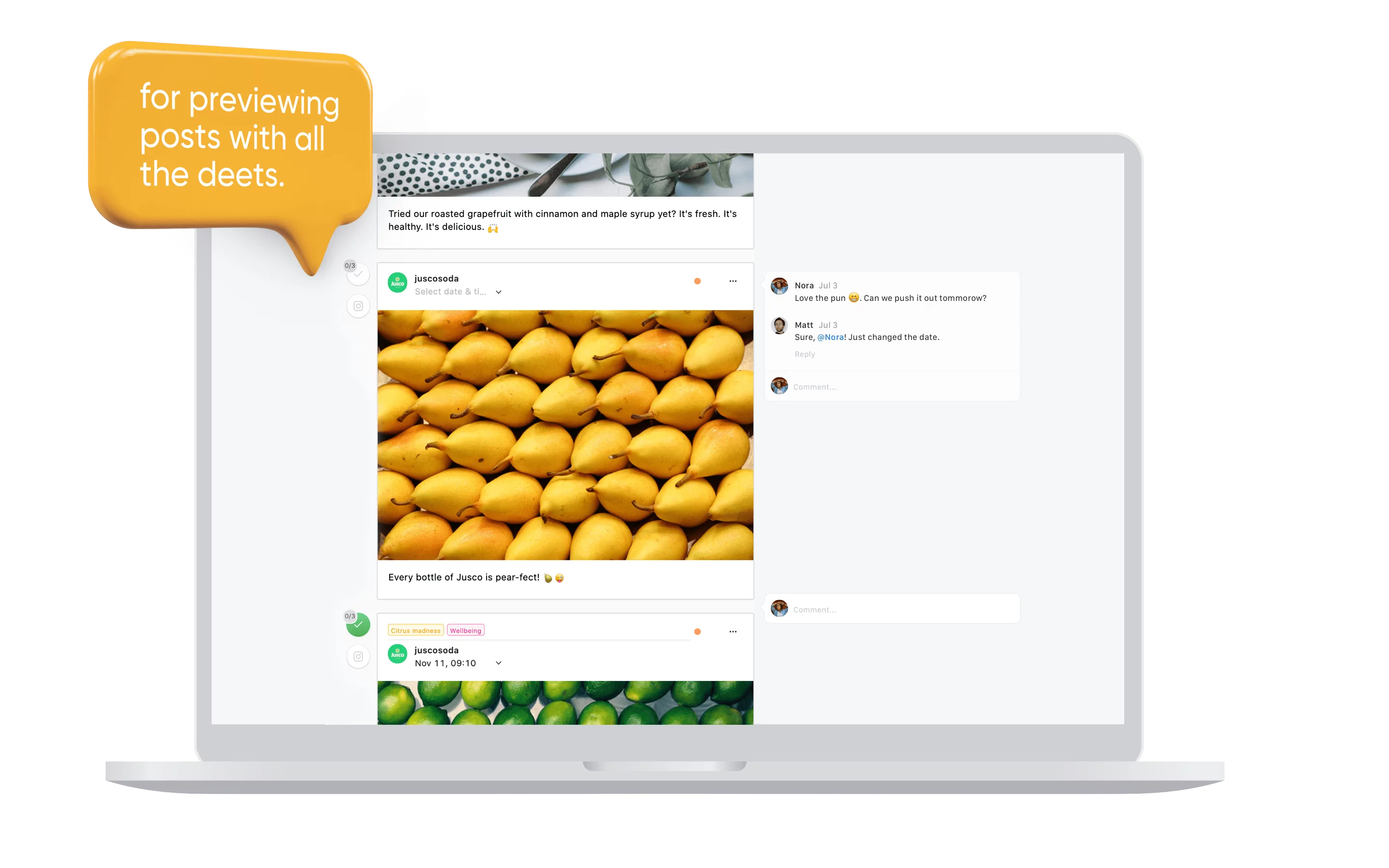 You guessed it. A dedicated tool is the right choice. 
Planable offers one place to create, collaborate, showcase, and approve social media content. We help you preview Facebook, Twitter, LinkedIn, and Instagram posts exactly as they will appear when published. It was built by marketers for marketers, so every need they may have has been carefully taken care of. This tool is one of the best marketing presentation formats you can think of. Here's the detailed process step-by-step:
After signing up in Planable and completing the onboarding process, you'll be able to

create a new company

to start creating content. What is the role of this so-called company? It offers the best way to organize your resources (workspaces, pages, collaborators, and clients) in your Planable dashboard. Yes, everything in one place. Sounds great, right?

Next, you get to

choose what best describes your activity

. If you manage multiple brands on your clients' behalf, "agency" is the way to go. If you manage your own brand, "brand" will do the job. Pretty straightforward. 

Get the party started. 🥳

Invite your team and clients

. You just need their email and you can grant them the permission that's suited for them. In case you don't know the address, we do it by link too, so no worries.

Afterward, create a workspace, add a name, and then

connect all the social accounts you need

(Facebook, Twitter, Instagram, LinkedIn). This is where the magic happens.

Start posting!

After creating your first post,

you can gather feedback where it makes sense, right next to the post. Tag team members and choose to send notifications to the right people. Yes, including your beloved client.
Next, the sky's the limit. Here are some of the things you can do:
spruce up your posts with emojis, active hashtags, page tags, and a Giphy integration;

create content for multiple pages at once but adapt your posts to the intended channel separately;

drag and drop your media files and see your ideas brought to life in real-time; 

use the Media Library to store your files and keep track of where they've been used before;

give feedback right next to the post and feel free to add attachments to comments; 

easily resolve the comments after the feedback has been implemented;

enjoy the holy one-click approval. We know for sure that your client will be delighted;

opt to automatically schedule your posts for publishing after approval; Instagram included;

add labels by topic, campaign, brand, favorite color, or anything you can think of;


use the filters to sort through content. Filter posts chronologically, by timeframe, status, file type, and labels;


save time by adding your posts into a predefined time slot and power up your social media scheduling.
Your client can be sure that what he sees is what he gets. There's no room for misunderstandings. Using Planable, you know for sure when a post is ready to go live. That's the beauty of it.
Now you're probably wondering how long it takes to learn this tool. With Planable, there's no learning curve. Its ease of use is something we pride ourselves on. It takes less than 5 minutes to get going. With zero technical headaches. Or any type of headache at all.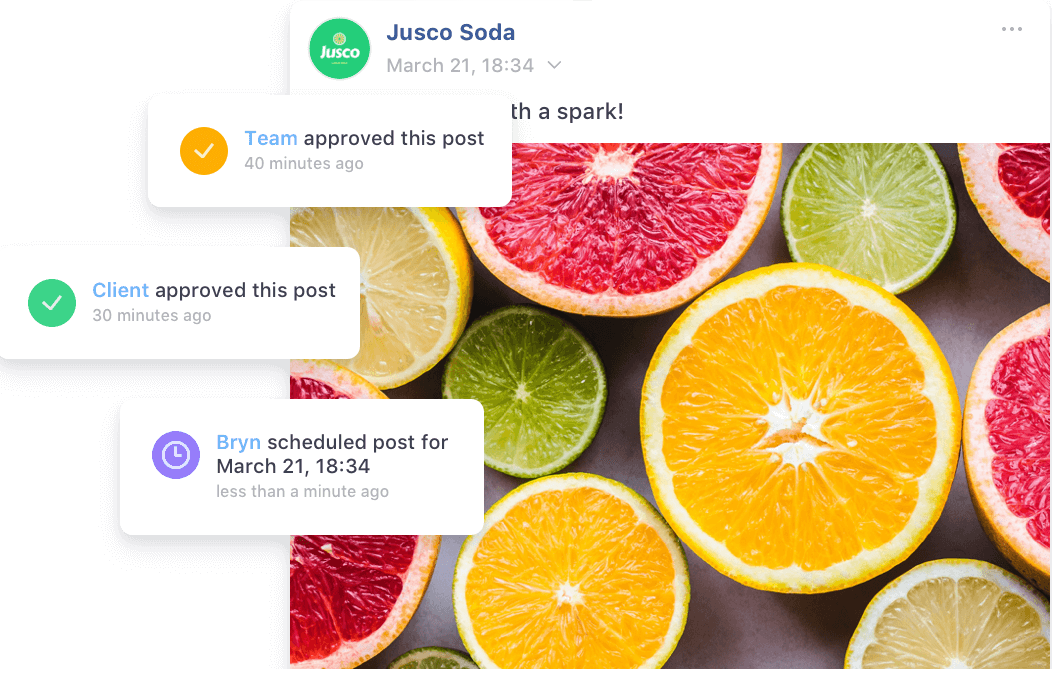 The future's bright for those who use editorial calendars
We don't think this article would be complete without picturing the future of your professional collaborations. Let's imagine you've already presented your work and the client is looking forward to seeing more. This might not be breaking news, but planning for the future is no piece of cake. 
Remember those minor (but real) panic attacks that you experienced every time you missed out on international day marketing campaigns? You know, like that time you realized the International Cat Day went by without you posting anything on that petshop's Facebook page you manage. Holy Meow! Well, fellow marketers, this is the moment when editorial calendars enter the scene to save the day.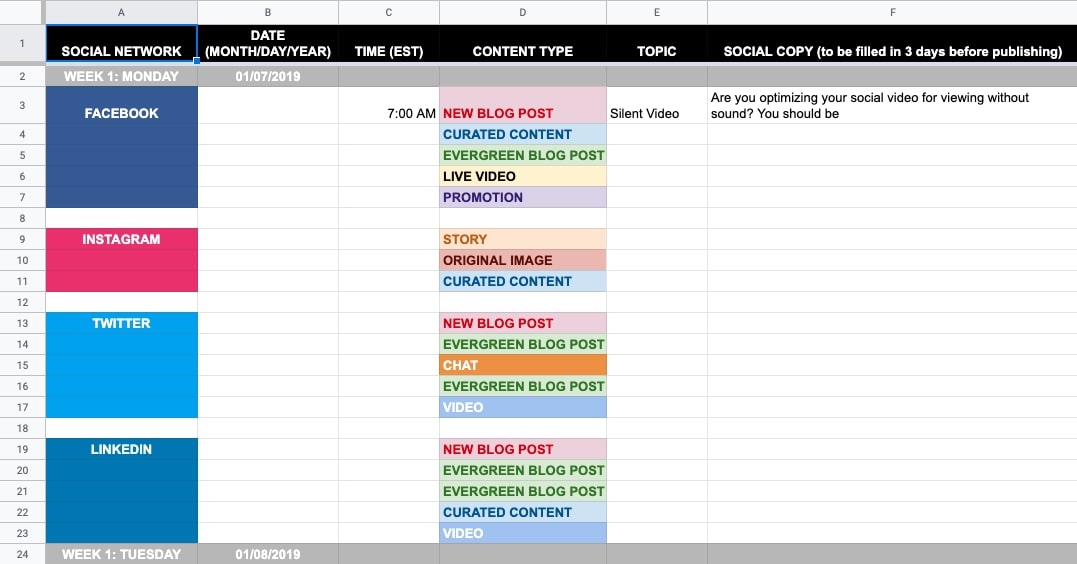 This doesn't really look like the hero you had in mind, does it? Even though it's better than no planning at all, managing a social media calendar in spreadsheets can cause you a lot of headaches. Yes, it will help you consistently show up in your audience's feed in the future and have fewer typos, but the visualization and collaboration problems aren't going anywhere.
With Planable, on the other hand, you can visualize content by week or month and see everything at a glance across all your pages. You can strategically plan and schedule your content by drag and dropping posts in your predefined time slots. One calendar, one integrated social media marketing strategy presentation across multiple channels.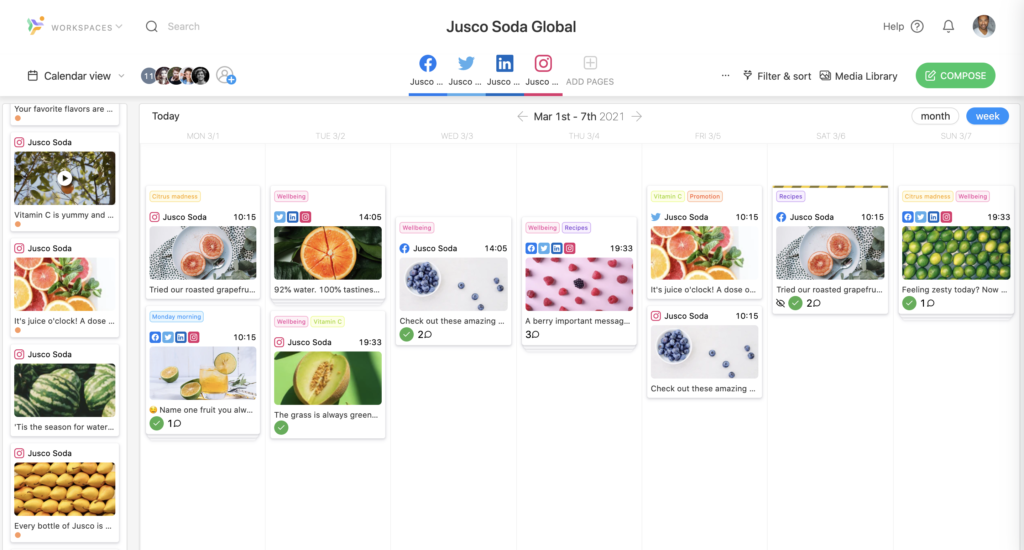 In 2021, the most appreciated brands' social media accounts are the result of hundreds of hours of work. There's no doubt about that. How can a client that follows similar companies' accounts understand what his social media presence will look like if you're sending him an excel, a presentation, or an email? 
Your work needs to be showcased in a visually-oriented way. Give your client a true representation of the end result. Don't let him see a link, 3 rows of text, and 4 images instead of a Facebook carousel post. Give Planable a try.
I'll leave you with an awesome piece of news. Planable offers a free plan. You can now explore all functionalities at no cost with a limit of 50 total created social media posts. When you reach that magical number, hopefully, we won you over and you'll upgrade to a paid plan. Give it a spin.