With over 445 million monthly active users, Pinterest offers incredible opportunities for many businesses looking to sell products online.
Were you aware that Pinterest strongly influences users' purchasing decisions, with users seven times more likely to say it's the most influential platform in their purchase journey? Its reputation as a top shopping destination makes it an accessible and attractive option for small business owners looking to expand their reach.
Selling on Pinterest is perfect if you're looking to connect with and inspire new audiences – weekly Pinterest users are 2.2x more likely to say it's the most influential platform in their purchase journey vs. other social platforms.
Why sell on Pinterest
Most Pinners (70%) describe the platform as their go-to for finding new services and products they can count on. They're on Pinterest specifically seeking out new products and trends and are saving aspirational products to their Pinterest boards.
As a visual search engine, 9 in 10 Pinterest users are on the platform to plan future purchases and will save your products for when they are ready to buy. It makes sense that you can shop from Pinterest as an e-commerce platform.
Pinterest is a solid driver of website traffic. This translates to more blog post views, more email subscribers, and, ultimately, more paying customers.
If you have an online store, Pinterest is the perfect place to share your content. In just a few clicks, you can publish Pins that have the longest lifespan of any social platform – it's normal for pins to drive traffic to your online store months after they were first published – which means your investment in creating pins for the platform is time well spent.
With more than 25% of users' time spent shopping on Pinterest, it's no surprise the platform makes it super easy to create shopping pins for your products, so users can buy from your business in just a few clicks.
You can repurpose your photo or video content from another social media platform and make it relevant for Pinterest audiences. This can be a great way to maximize your time and repurpose your existing creative resources.
Pinterest also has some features that make interaction with the platform highly entertaining. The 'try on' feature is a fun way to interact via your mobile device, and it can be used to try on both make-up and home decor: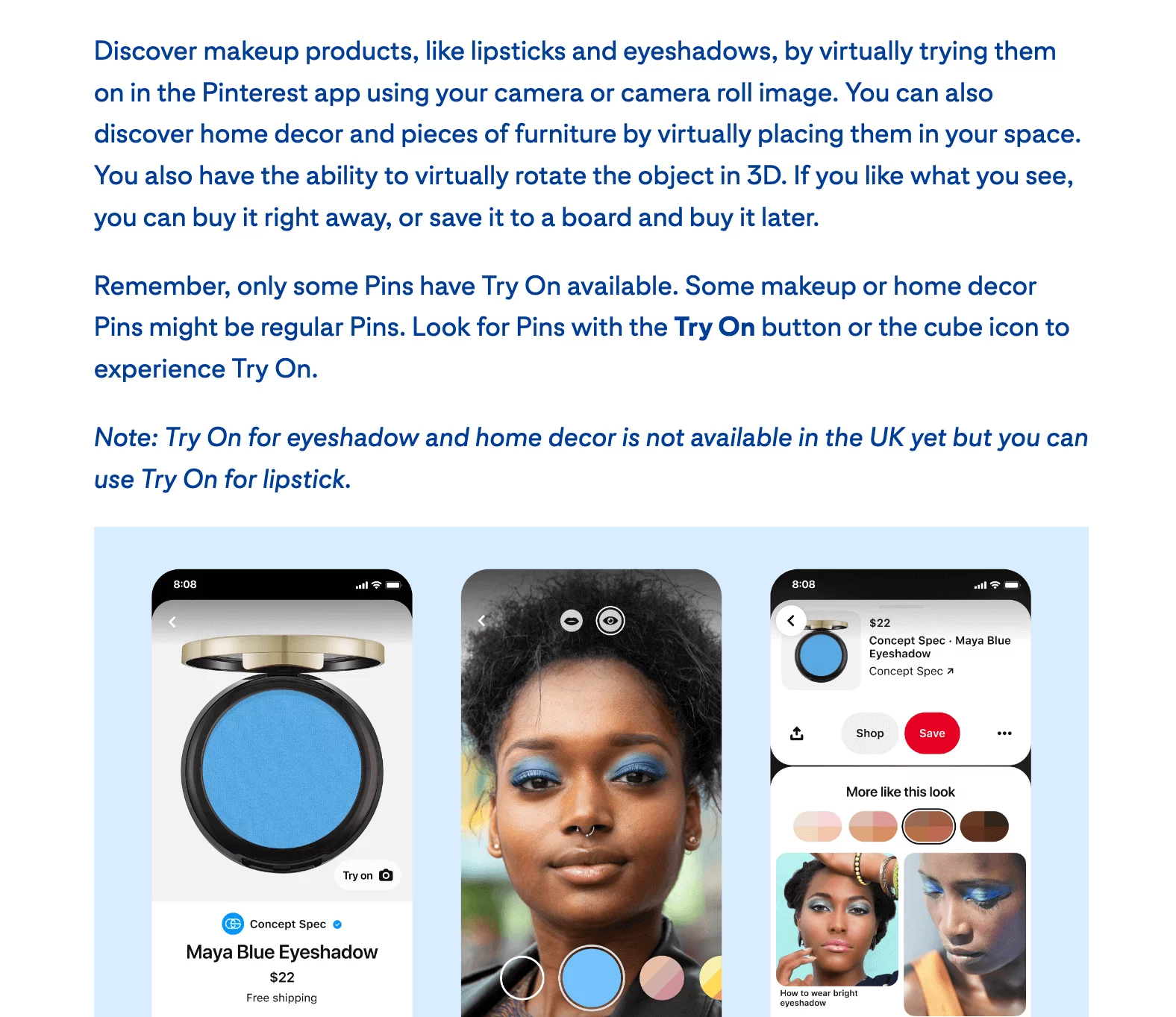 How much does it cost to sell on Pinterest?
Selling on Pinterest is completely free. All features on the popular platform (from setting up a business profile to creating pins) come at no cost.
Pinterest doesn't charge fees for selling on its platform. The only expense comes into play if you pay to advertise and run promoted pins on the platform. 
Pinterest ads can be a wise investment once you know the content that is most popular on the platform. You can sell products directly on the platform or drive traffic to your own product landing page.
Selling on Pinterest: requirements
To start selling on Pinterest, there are several straightforward steps to take, from setting up a business account to creating pins that showcase your products in the most visually appealing way.
1. Get a free Pinterest business account
A Pinterest Business account is easy to set up from scratch. If you have an existing personal account, you can convert to a new business account.
2. Claim your business website
It's important you claim your business website to keep track of pin performance and track analytics as well as link to your online products and generate sales. There are three different ways to claim your website on Pinterest: by adding an HTML tag, uploading an HTML file or adding a TXT record to your website DNS.
3. Verify your account
You may also wish to consider applying to verify your account, so Pinterest users see you as a trustworthy source and platform user. The verification process isn't required to sell on Pinterest and isn't open to all users, but it's something to consider.
4. Become a verified merchant
Pinterest's verified merchant program shows Pinterest users you are a vetted and trusted seller. The verified merchant program will help you learn how to sell on Pinterest and access additional benefits, such as merchant features.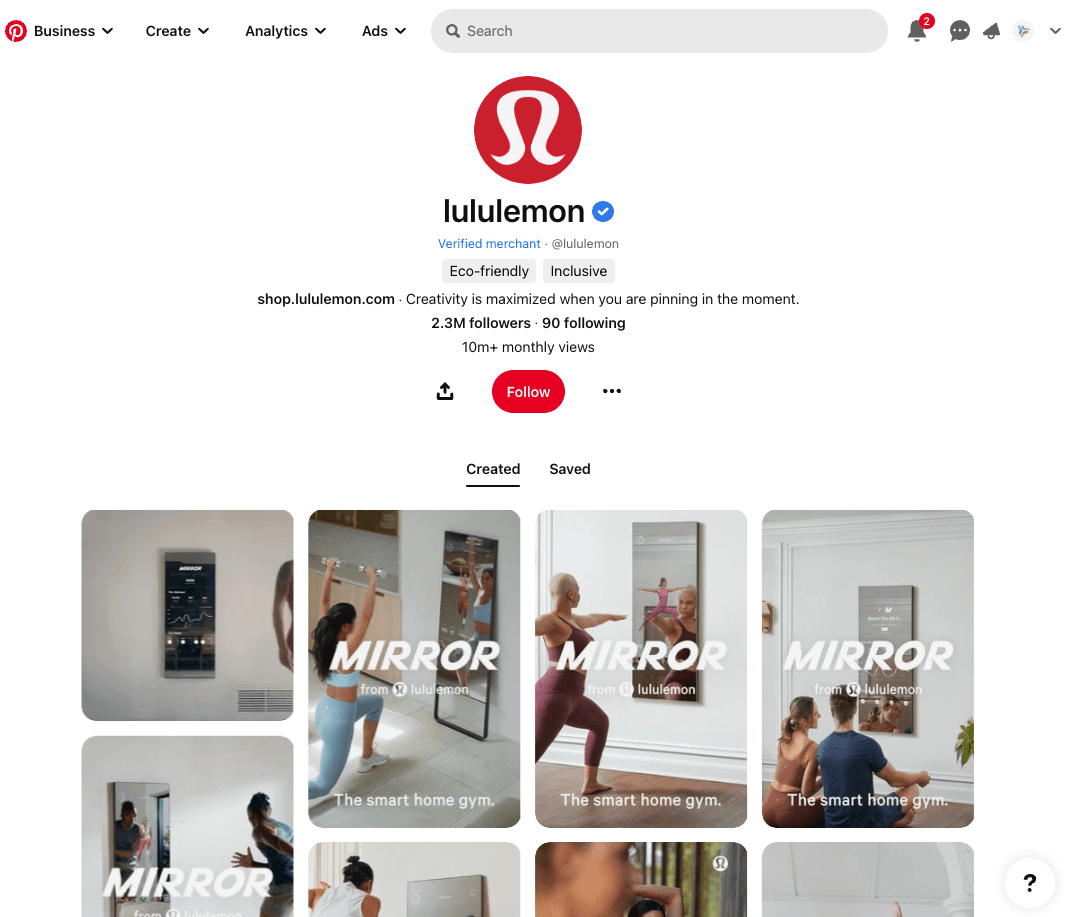 There are some entry requirements, and you do need to have had a business website and Pinterest account for a period of time before you will be eligible. 
5. Check Pinterest catalogs requirements
If you have an online catalog, you can upload this to Pinterest, so your products are even easier to buy online. There are integrations with all of the usual selling platforms, such as Shopify and WooCommerce. Check out the full guide to connecting your shopping data source to Pinterest catalogs.
Selling on Pinterest: steps
Pinterest delivers a seamless shopping experience, allowing users to land on your website to complete a purchase, or purchase products directly from the platform using "Product Pins". 
Let's explore the steps you need to take to sell effectively on Pinterest:
1. Personalize your Pinterest profile
Make your Pinterest business profile your own by customizing your profile picture and adding useful information for your audience. Remember to make the most of Pinterest SEO and fill your description with relevant keywords, so you're most likely to be found by anyone searching for relevant keywords. With a business account, you can also add Idea Pins to a highlight, showcasing your most relevant content and/or most popular products to your audience.
2. Decide what kind of content to create
As part of your marketing strategy, it's important that you decide in advance the content you are going to share to Pinterest. A solid content strategy includes creating a range of visual and video pins that showcase your business differently. Spending time on your content strategy will help you make the most of the long life of Pins, and create Pinterest content with a broad appeal that will benefit your business in the longer term.
Growing your Pinterest account is a long-term project, so think carefully about your target audience and future customers and create content that is likely to inspire your audiences for the longer term.
3. Create niche boards
Creating niche Pinterest boards that appeal to your ideal customer is a great strategy. This means you can make the most of the platform's visual nature by sharing the very best of your own content in a creative and establishing yourself as an expert in your field.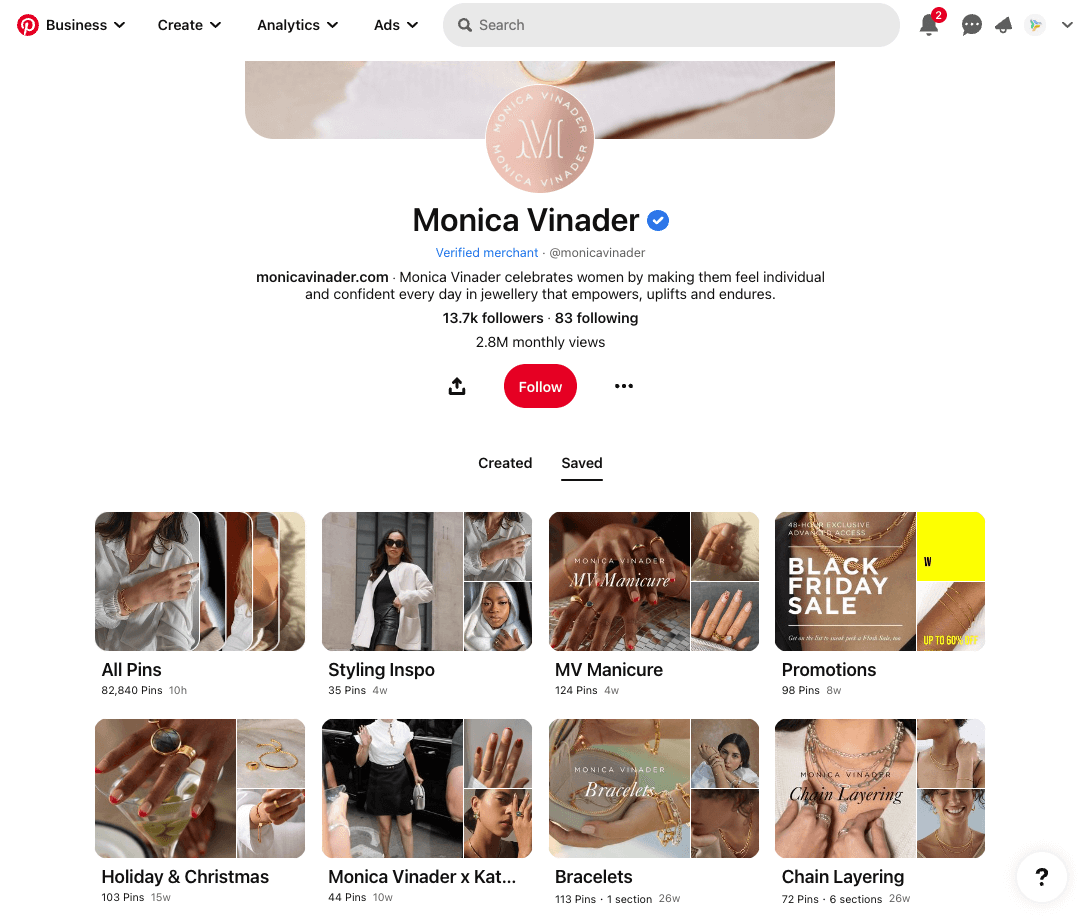 Niche boards are a great way to build trust and credibility with online shoppers. They help your business to showcase its products and services in a focused and targeted way, which increases the likelihood of attracting potential customers and succeeding at how to sell on Pinterest.
Pinterest analytics will also help you find your most 'viral' boards and pins, meaning you can create more useful content that your audience is looking for.
4. Create Pins for your products
When you create product pins, you can link directly to those products in your online store. Depending on where you are, users can be sent straight to your checkout page, making how to sell on Pinterest super easy for both buyer and seller.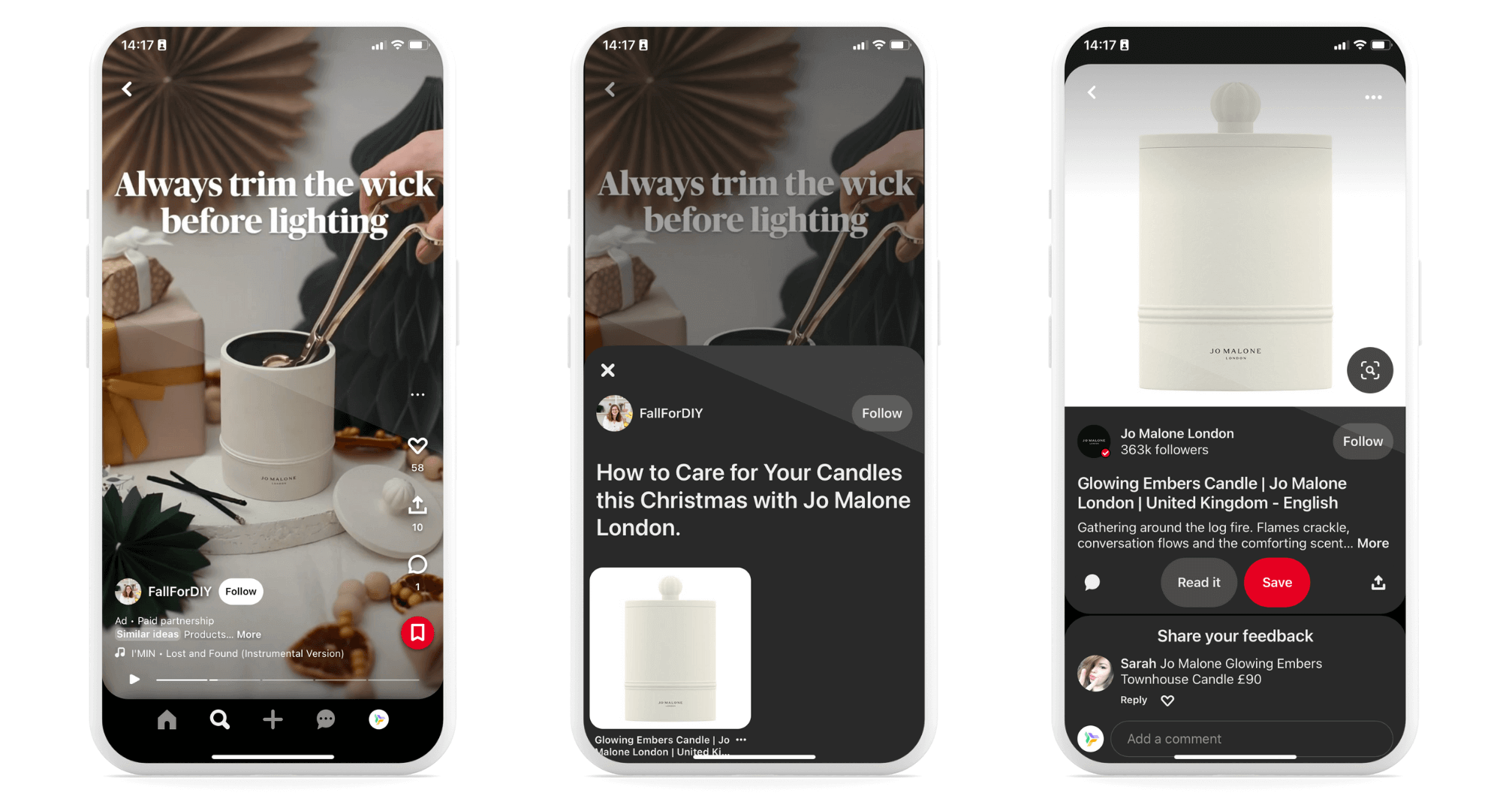 Idea pins are a great place to tag your products, and each idea pin can be up to 5 minutes long, allowing for plenty of creativity in your content creation.
5. Use Rich Pins
Rich Pins automatically syncs information from your website to your Pins. They also give the Pinterest user extra information above and below the image when they click into the rich pin, and you can create rich pins for recipe pins, article pins, and product pins.
Rich pins are free to use and available to anyone with a Pinterest business account. They are a useful way to engage your audience and share your best content. They're also a great pin style to use with influencers who can create user generated content for your business.
6. Use Collection Pins
Collection Pins work incredibly well if your business sells a range of products, allowing users more exact or similar products. Once someone taps on a collections Pin, they'll be able to tap to view and shop exact or similar products. These can be a great way to shop and link products, leading to higher conversions for your ecommerce store or online business.
image title: collection pins example
alt text: a collection pin that lets you search for a specific type of sunglasses
7. Optimize account + Pins
Like all social media platforms, optimizing your account, your boards, and all your Pin titles is essential to gain the most benefit from your organic and paid content. If you want to maximize how to sell on Pinterest, optimizing your descriptions is often where you can make significant progress in using keywords your customers are searching for.
8. Encourage others to pin your blog content
A useful strategy can be to encourage your audiences on other social media platforms to Pin your blog content on their personal Pinterest accounts. It's easy to add a pinnable image to your blog and a link to Pinterest. This helps you to reach new audiences and visitors to your business Pinterest account.
9. Stay active on Pinterest
Any digital marketing manager will tell you that engaging and being active on a platform is always a significant factor in the success of your content. On Pinterest, you can elevate your efforts by joining group boards to connect with relevant business accounts. These can include everything from large brands to small businesses. Pinning other content to some boards can help you as a group to reach your target audience and make more sales.
Pinterest offers many resources to businesses looking to improve and make the most of the visual platform. If you're looking for support to help you learn anything from how to start tagging pins to tips on setting your ad spend, there's help at hand in both the Pinterest Academy and the Pinterest Business community.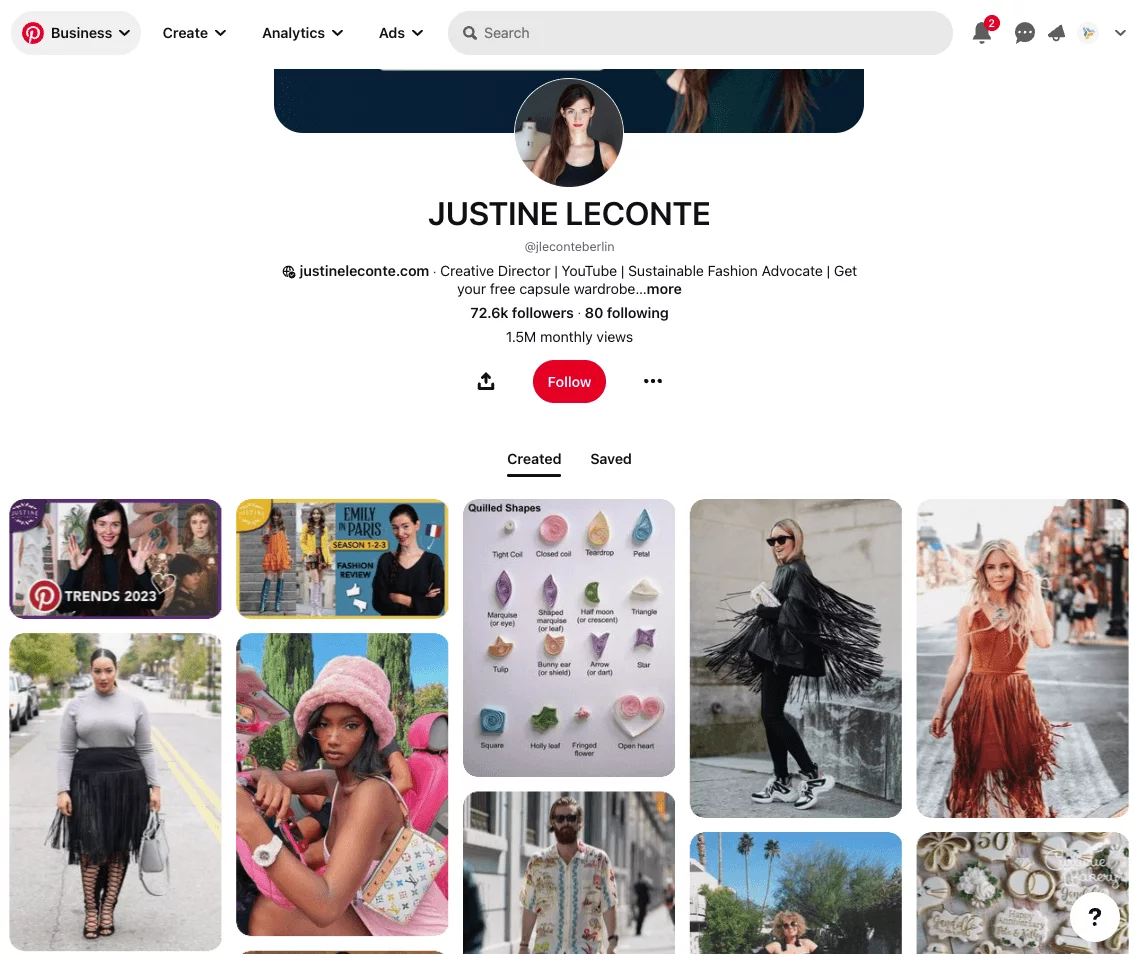 Selling on Pinterest: disadvantages and limitations
While learning how to sell on Pinterest can be effective for your business, it's important to be realistic about the difficulties you might encounter.
The sheer volume of content on Pinterest can make it difficult for businesses to get noticed and gain traction. This can be incredibly challenging for small businesses that are just starting or have a limited presence on the platform.
With a clear understanding of your target audience and their interests, businesses may be able to create content that resonates and reaches potential customers.
Businesses may also need help managing their Pinterest presence on an ongoing basis. Creating and curating content, responding to comments and messages, and staying up-to-date with the latest trends and best practices on the platform can be time-consuming and resource-intensive.
Small businesses may need help to see the benefit of investing in Pinterest before they begin to see results. We said earlier that existing Pins have a long life on the platform, so you also need to be prepared for Pins to take some months to perform for your business entirely.
Selling on Pinterest FAQ
Is it possible to sell on Pinterest without a website?
It is possible to sell on Pinterest without a website using e-commerce platforms such as Shopify, which offer integrations with Pinterest that allow businesses to sell their products directly on the platform. Depending on where in the world you are, businesses can create a Pinterest shop where users can purchase products directly from the platform. You can drive traffic to any other social media platform, which can be an effective alternative if you sell on them.
What sells best on Pinterest?
In general, products that are visually appealing, unique, and offer a high degree of value perform well on Pinterest. Pinterest audiences enjoy a wide range of interests and niches, but some of the most popular categories on Pinterest include fashion, beauty, home decor, food, and DIY crafts. Products that cater to specific interests and passions, such as niche hobbies or subcultures, may also have a higher chance of success on the platform.
Do Pinterest creators get paid?
Pinterest now offers a Creator Fund where you can apply for funding directly from the platform. The fund takes applications periodically.
You can also partner with brands to create content for the platform, using the paid partnership tool and tagging them in your idea pins. Brands can then create shopping ads or a promoted Pin to amplify their content further and encourage audiences to their online store.
Start selling on Pinterest
Pinterest is a high-intent search engine, and shopping resource with a high degree of positivity and inspiration, which might make it the perfect choice for your business if these are traits you look for in your ideal customer.
You can dive into the world of promoted pins and collections ads, but do remember that selling on Pinterest can be completely free. There is no cost to you in setting up an account, creating boards or creating a range of product-rich pins.
One of the best ways to decide if your business should start learning how to sell on Pinterest is to log on to the platform and hit the Pinterest search bar. Are potential customers already finding lots of relevant content similar to yours on Pinterest? 
If so, now might be the time to begin dipping your toe in the world of Pinterest and setting up a standalone business account. It's probably not a platform where you will achieve overnight success, but your content lasts much longer on Pinterest, so think of it as a long-term investment in driving traffic and nurturing audiences. Pinterest is a forward-thinking platform, and people use Pinterest in precisely that way: they're planning for the future.
Creating a free business account on Pinterest today could prove to be a significant and positive business decision that your future self will thank you for!