When you finally launch your app on the app stores you might breathe a sigh of relief that all the hard work is done. Unfortunately, that's not entirely true. This is now the time when you need to create a demand for your app. The app industry is growing day by day so the battle for attention is becoming more and more difficult. You need to find a creative way to stand out amongst all this noise and keep your app users engaged. One way to do this is to market your app on social media. 
It's a key part of any good app promotion strategy and is a great tool that is, for the most part, completely cost-free. This makes it readily available to even the smallest apps with little to no marketing budget.
What social media platforms are available for mobile app builders?
With 2.19 billion active users, Facebook remains at the top of the chart as the most popular social media network and a very powerful channel on which to promote your content. The idea is to build your following through sharing great posts that your target market can relate to and create a general buzz around your app. Of course your end goal here is to encourage downloads, however, you still don't want to come across as too 'salesy'.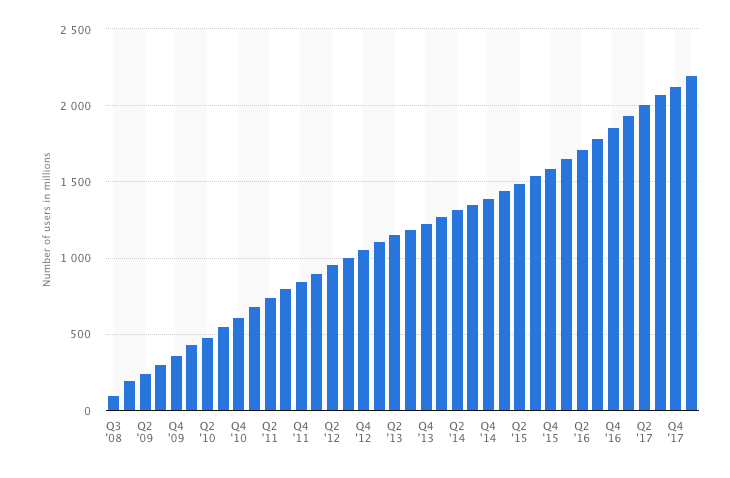 You can start off by growing your following organically through interacting with and inviting your target audience to like your page. It's also worthwhile to join relevant groups to participate in a conversation and share about your app here when it might be deemed appropriate. Provided there is a demand for your app, and the content you share is high quality, you should start to see your page likes grow relatively quickly. However, unfortunately, Facebook's algorithms have changed and with that, the potential in reaching your users organically is quickly dwindling away as it now favors paid content. So if you want to have the best chances of reaching your potential users, you probably will need to boost your content with a little money.
Twitter
It's a bit more restrictive compared to Facebook as it only allows 280 characters for each tweet. It's a great platform for building your network and communicating directly with your target users. Utilizing the trending hashtags for each day is also a good way to get noticed. However, it's important to do your research. Don't jump on the bandwagon for a hashtag simply because it's trending. This can end really badly. For example, back in 2014, the hashtag #WhyIStayed was trending to help raise awareness on domestic violence. So what DiGiorno Pizza might have thought was a bit of light humor was actually really distasteful, and therefore damaging to their brand.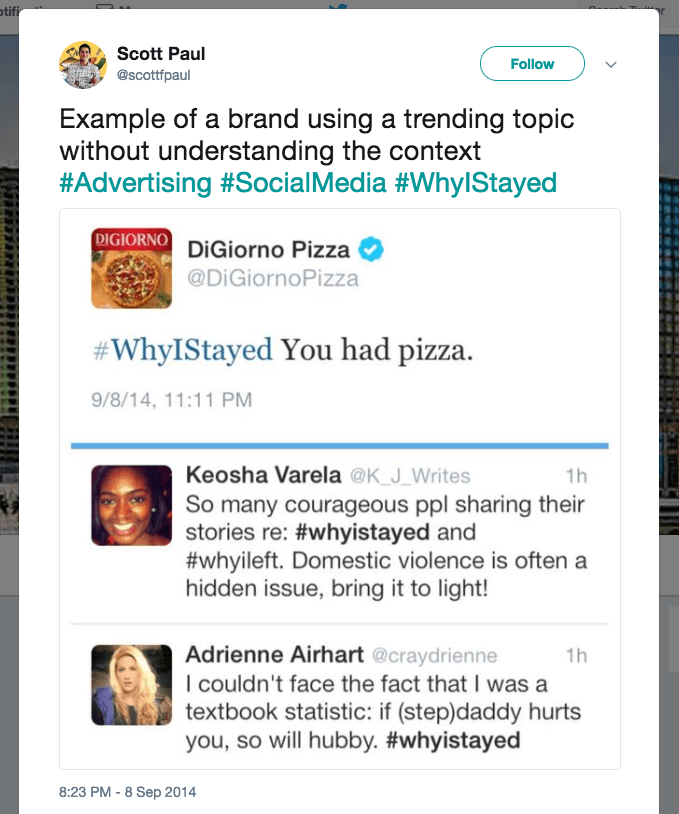 With Twitter, you can reach out to and participate in a conversation with influential people in your niche by simply tagging their handle. Having one of these influencers respond to you, and/or retweet your post, is great exposure as it can instantly put you in front of hundreds or even thousands of your target audience.
It also works well as a form of customer support as your users can reach out to you directly to ask a question and (hopefully) receive a pretty quick reply.
Instagram
It's very much a visual platform where it is more about image and video, and less about the content that goes under it. With its ability to upload temporary 'stories' that last for only 24 hours and include links to other pages, hashtags and are easily discoverable, it is definitely worth having a presence on Instagram. Again, you don't want to use this platform to be completely 'salesly'.
Get creative and share some visual content that would be of interest to your users. No one wants to see a grid full of in-app screenshots. An Instagram grid which is 'aesthetically pleasing' always gets the most followers so pick your content out carefully. This is also a great platform on which to partner with influencers. Find out who a large number of your target audience follow and reach out to these influencers about a paid promotion. This can be costly but if you have the budget it's an excellent way to boost downloads and followers.
Quora
Perhaps a platform that often goes forgotten about as a tool to market your app on social media. Essentially it is a Q&A platform where people can ask or answer questions or just browse through the discussions and topics without taking part. If you like an answer, you can upvote it. The more upvotes you receive, the higher you rank on the page and therefore the more views you're going to get.
When it comes to marketing your app on Quora, the idea is to find relevant questions that you can provide with a valuable, professional response. For example, if your app is a weight loss app you might go searching for questions related to this subject. Make sure to actually answer the specific question and then suggest how your app might be able to provide further help in this area. Include useful links to your website or app download page and hopefully, you'll see a few new leads coming in via this channel.
How Market Your Mobile App on Social Media
Now that we've covered some of the different platforms you have available to you, let's take a look at a few tips for making sure you market your app effectively.

Infographics are a powerful way to highlight your content and share this with your audience, but it's almost an impossible task for someone who's not a designer. That's why it's best to bring help and learn the best practices on creating an infographic.
Publish regular social media calendar 
If you go to the effort of giving yourself a presence on a number of social media networks, it's important to keep each one of these pages updated. Nothing will put make a user think "this is a dead brand" more than a Twitter account that hasn't been used since 2013. Regular activity will keep you appearing frequently on the timelines of your followers and lowers the risk that they forget all about your app.
High-quality content rocks!
On social media, your content is king. If you want your following to grow then you need to make sure the stuff you are putting out there is of a high standard. This is when you need to get creative and create some content that you think your users will want to engage with. As mentioned previously, avoid being total 'salesy'.
You won't gain followers from posting a screenshot after screenshot of your app, proclaiming how great it is and begging for downloads. Think outside the box. Say your app is a fitness app, you could post recommended workouts, related blog posts, healthy recipes etc. You can see an example below from Strava, which is a running app. This is the sort of content that is considered valuable to their followers.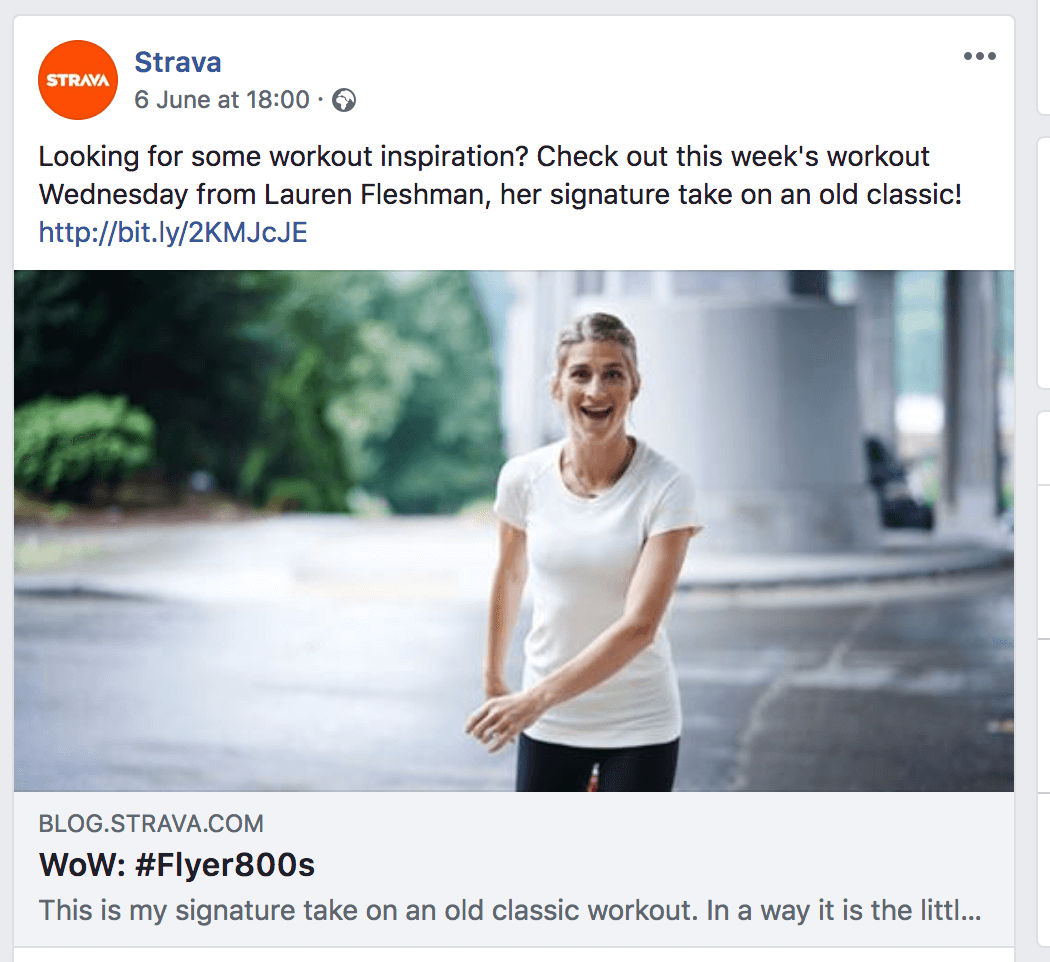 Schedule your social media calendar in advance.
There are plenty of great tools that will allow you to schedule your posts in advance. This takes away the pressure from this having to be a daily task. It also means you can relax over the weekend and when your social media marketing is off on annual leave, knowing that you have it all covered.
Do some research and figure out what the optimal times of the day are for posting i.e. when the majority of your followers might be browsing on social media. It's worthwhile to schedule your posts to go out during these times if you want to receive the highest levels of engagement.
Engage in conversations
Being responsive to the messages and comments you receive is so important. Just because you have your social media scheduled weeks or even months in advance, this does not mean you should just forget about your page. It's necessary to keep checking in on a daily basis at the least. Social media strategists should show the human side of your brand and to be able to engage with your users and followers. So if there is nobody there to see or respond to any comments, questions or messages then it's pretty pointless.
Take the time to respond to the positive feedback, but be prepared for the negative too. While it can be tempting to delete any negative comments and pretend they were never there, this is definitely not advised. Listen to what they have to say and see what you can do to solve the issue and redeem yourself. Where possible, take the conversation to private message so that it is no longer a public conversation for all to see.
Collaborate with social media influencers
According to Twitter, 40% of users have made a purchase after the recommendation of an influencer. Using influencers lets you reach out to an already engaged and receptive audience. They can be costly, but their followers look up to them and view them as a credible source so the potential in partnering up with an influencer can be huge.
However, it's important to find the right influencer. You need someone who's following is as close as possible to your target audience, and also someone who will be equally as passionate about your app as you are. Have your own ideas for how you'd like them to promote your app, but be prepared to listen to theirs too. Don't forget that they know the best ways to engage their audience.
Offer incentives 
Finally, you should definitely consider using incentives throughout your marketing on social media. This a great way to quickly increase your following. A simple like and share competition can get people talking and help increase your visibility amongst hundreds or even thousands of people who haven't yet liked your page. Just try and keep the prize relevant to your target audience. Having a high following on social media means nothing if these aren't potential users. Choose quality over quantity.
Conclusion
Creating an app and marketing your app on social media requires time, thought and effort into creating memorable and shareable content. But when done well, you will have created a unique community-centered about your app that helps you drive new downloads and keeps current users engaged. So whether you are going to be launching a new app soon or your app has been on the market already for a number of years, it's never too late to start benefiting from a presence on social media.