"The first rule of social media is that everything changes all the time. What won't change is the community's desire to network." – Kami Huyse
It feels like there are new ways to reach wider audiences and make your business thrive every day.
There's always something new that you should be trying, and it can be exhausting to keep up with it all. Not to mention the fact that it can get so complicated.
Sentiment analysis might seem like one of these new and pointless things, but it is actually pretty essential if you want your business to be a successful one. Don't worry either, it's simple to explain as well, and there's nothing super complicated about it.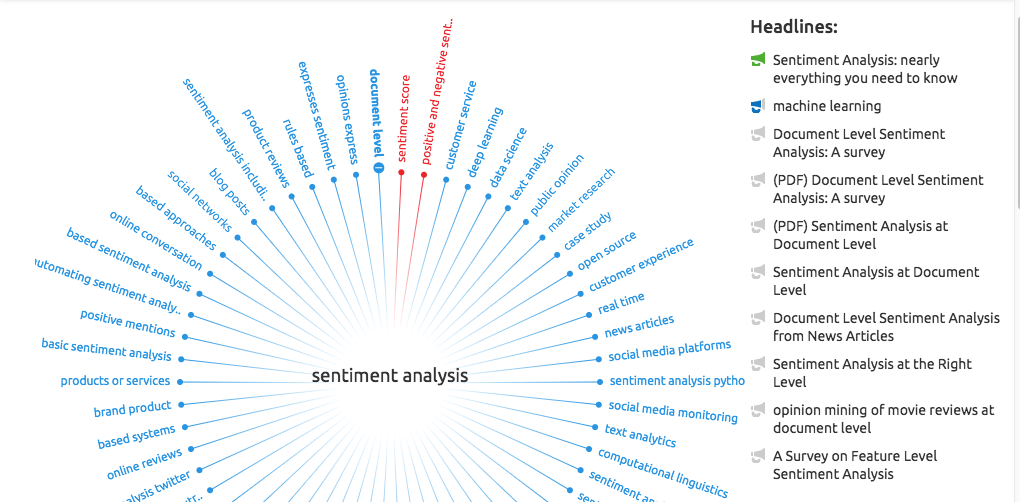 What you will learn
In my layman's guide, I am going to tell you all about the way in which sentiment analysis works, and the platforms it can be used across. Here's a quick rundown of what you can expect to find:
How does sentiment analysis work?
Let's say you have an international business with a popular Twitter account. You're getting loads of mentions each day, and it's hard to go through them all to find out which ones are complementary, and which are…not so much. A sentiment analysis tool scans through every single tweet that mentions your business to figure out what the emotional tone behind them is.
It's able to tell you if it is a positive tweet, a negative one, or just neutral. Of course, it is possible to get even more complex and have the tool determine the exact emotion, but this is something you can consider later. To start with, just finding out if people are speaking about it positively or negatively is helpful. It means that you can see where you are going right, where you are wrong, and the areas that need to be improved.
There are so many different levels to sentiment analysis, and this is what makes it such an interesting tool to use. As you get used to the way it works and learn more about it, you will likely find yourself upgrading to the more complex versions. These are able to tell you specific emotions, or just expand the range of polarities available in the results. For now, however, it is best to start out with the simple version.
Sentiment analysis and social media
"Social media will help you build up loyalty of your current customers to the point that they will willingly, and for free, tell others about you." – Bonnie Sainsbury
You'll be using sentiment analysis on social media, as it is a social listening tool that helps you to get better insight about what your customers are thinking. Online sentiment analysis could not be easier to use, especially with the right tools, and it is available across all social media platforms.
Twitter
This is the most popular place to use sentiment analysis, probably because it has such a large audience and is used for talking about the service offered by businesses. Plus, because each of the tweets is quite short, it can make the process faster and more accurate as there is less text to try and analyze for a tone.
Facebook
Google Sentiment Analysis tends to be the first choice for those who are trying to determine the tone on Facebook. It works well in addition to the reaction buttons that the platform launched, giving you a good indicator of what the general feeling in the comments is. Facebook is often easier because the reactions to a post alone can usually tell you how people are feeling.
Instagram
Sentiment analysis tools are not generally used on Instagram. It's not usually a website that people think to use it on, and while it can be, there isn't a great deal of data for it. This is interesting considering that Instagram is the top social media platform for marketing, businesses, and personal posting.
LinkedIn
A popular platform for professionals and businesses, sentiment analysis, does serve many uses here. Social listening is good in every situation, and it is important to see how the corporate world is responding to you, your company, and your ideas. There isn't a favorite tool for this platform, but I am a fan of Brand24.
How it can be used to find new opportunities
Optimise your brand's digital profile using Sether's Sentiment Analysis and make sure you are getting good vibes from your online tribe. Discover all our features and get started: https://t.co/pAdXMKsjxY.#SentimentAnalysis #BrandManagement #DigitalMarketing #Sether pic.twitter.com/CuVfXZ5Qau

— sether (@setherplatform) May 20, 2019
The thing with sentiment analysis is that it can help you discover a whole new way of running your business. You are able to see exactly what people think of your recent marketing campaign or a new product you have launched. It is a moment that teaches you how to react, but also how to change in order to better suit your target market. If you don't try and learn from your customers or understand them, you are going to end up being stuck. Your customers are everything, and it is vital that you learn what they love and hate.
Aside from the opportunity to relate better to your customers, you are also able to check out how your competition is doing. What are they doing better than you? Are there ways in which you can change your operation to better compete with theirs? Keeping a close eye on the competition is one of the many keys to success. Many tools, like Brand24, allow you to keep constant track of what they are doing, with real-time analysis and comparison.
There is also the chance to find influencers for your brand, and this can be a helpful step to take. Essentially, an influencer is there to promote your products or company through social media. They tend to have a large following so that loads of people will see the reviews and walkthroughs, and therefore be encouraged to try or buy what you have to offer. With an increasing number of influencers to be found on social media platforms like Instagram, there are plenty to choose from.
You can use sentiment analysis to discover who these influencers are and what they are saying about you. It's a good idea to pick someone that has a lot of good things to say about you, as well as a large follower base. You should also ensure that their posts get a lot of "likes" and comments, and this means that people also like to engage with their content and that they don't just have a load of followers that they have paid for.
In recent years, more and more businesses have realized how beneficial it can be to work with an influencer to widen their reach and spread the word about their brand. Once you have uncovered them using sentiment analysis, all that's left to do is pitch them with your product. Usually, people offer them a free product to review and a discount code for their website that they can pass out to their followers.
In addition to discovering opportunities, it can also show you where a potential PR crisis is brewing. It only takes one ignored complaint for internet users to spiral into a rage, and that is why they must be addressed quickly and professionally. Bad news spreads faster over the internet than anywhere else, and angry customers are often the easiest way for a business to fail. It's the last thing you want, and so you need to keep it under control.
Twitter doesn't care about sentiment analysis, if you like or don't like something, if you tweet about, reply to a tweet about, or search a topic it will show you more of that topic

They want your anger, annoyance, possible pain as long as it drives clicks pic.twitter.com/LTiwMUgYR0

— zedster (@z3dster) May 27, 2019
This is why real-time notifications are such an important thing to have activated. You can choose to be notified about the negative comments only, and this will alert you to any unhappy customers. As a result, you have the chance to nip any bad vibes in the bud. You can resolve the issues quickly and professionally, which shows other potential customers that you care about what they think and are willing to do whatever you can to resolve it.
Real life of examples of sentiment analysis
"We don't have a choice on whether we do social media, the question is how well we do it." – Erik Qualman
I have a lot of fun examples of sentiment analysis and the way in which it is used. Most of them come from Twitter, as sentiment analysis programs tend to find the most interesting examples there. While I have dotted a few examples throughout this piece, these are a few of my favorites.




Does sentiment analysis have any drawbacks?
Finally, we take a look at the negatives.
The main issue with sentiment analysis is that it is not entirely sure how to read sarcasm. This is something that even we have a problem with, and irony is just as difficult. While it remains accurate the vast majority of the time, you do need to take the sarcastic posts into account when you are scrolling through the results. Similarly, context can be a challenge because it is a machine that is reading through the messages.
Image-based texts, like emojis, are also difficult for sentiment analysis to read. This is because many machine algorithms have not been taught how to process them. Therefore, the sentiment of a piece of text could be easily misread if the tone behind the emoji is not taken into account. However, it is possible to manually teach many of these programs how to read emojis. Equally, there are some that come with these capabilities pre-installed to make life a little easier for you. Make sure to check beforehand, however, so that you know if it's able to read them.
Neutral text can be a tricky area to cover as well because the definition of neutrality is quite vague and mostly subjective. That means it is open to personal interpretation. A lot of the time, these will be flagged as neutral, but it is important that you read them and do not disregard them. Here are some examples of what you would normally find within a neutral text:
Desires and wishes: things a customer would like to see implemented in the future. Not comparisons though, as these tend to be positive or negative.

Irrelevant information.

Objective texts that do not contain explicit opinions on the topic or product.

To conclude
Hopefully, I have been able to teach you more about sentiment analysis and the way in which it works. It's not a very complicated process when you look at it from this perspective, and it doesn't need to become any more complex than this. All you need to remember is that it can be one of the most important features when determining the success or failure of a company. Using sentiment analysis means knowing what your customers want from social media.
Want to get more inspiration?
This article was submitted by Milosz — find out more on his blog miloszkrasinski.com.