Marketing provides limitless possibilities for content creators. Print? Radio? 3D videos? WhatsApp newsletters? It has all been done before. And you can do it, too. But content marketing can take many forms and each of them can be used in your favor.
The amount of content formats has its own name: marketing collateral. Do you have any idea how many types of content are out there? Enough to never get bored creating the same thing over and over again. Don't have time to read? See the video version of this piece below!
So today I decided to write about market collateral and all types of content a marketer can dream of. The old ones, the new ones, the futuristic ones. Don't get me wrong, I'm a sucker for new content formats, but I feel bad every time I forget about more "traditional" patterns. And that's because they proved their success surviving all these years. So I did my best to not miss a single content format, but in case I did, ping me and I'll add it.
This is going to be a long journey but stay with me until the end and learn everything about collateral branding that fits your business. Because even though you'd have the resources to do everything, it doesn't mean it will impact your audience, right? The subject is too large to end it with a simple marketing collateral definition. Or with the answer to what is marketing collateral. We need examples. So follow through.

Top 10 types of marketing collateral you can start with
I chose 10 marketing pieces to start with. They are not necessarily easy to create, but they have a great impact. And yes, they are the "hip" formats of the moment.
1. Blog posts – long-form articles
Articles on your blog are a great asset for both promoting your brand and attracting visitors. Original content marketing is what will help you the most, and blog posts are the tool to inform your users and readers about your activity, product, and services. But it also helps you position yourself as an expert.
Pro Tip: Be sure to add compelling visuals to your blog posts. Images, screenshots and annotations for example are a great way to get new readers to stick and engage with your entire post. Read more about creating graphics for your blog posts.
When you add an SEO strategy, you get to reach the people you really want: those who seek quality information. Have a look at how Slack creates blog posts:

If you are a solo entrepreneur or have a small team, you can always hire quality freelance writers to help you create consistent content.
2. Case studies – the success of others working with you
Case studies are a genuine form of showing what you did without bluntly bragging. Use them to teach others your success recipe. They are bigger than blog posts and are usually dedicated to those interested in your way of doing business.
In the marketing funnel, case studies are the step before a user decides to interact with a salesperson. Users that are reading case studies are very close to signing up, so this type of marketing collateral is also a way of knowing which visitors are likely to buy.
For inspiration, I recommend you take a look at some of the customer stories from Intercom here: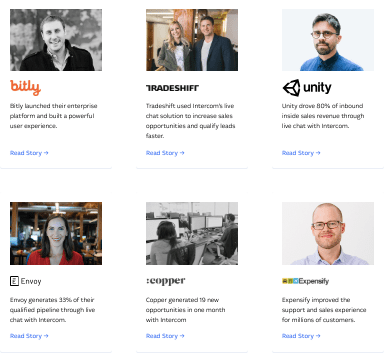 3. Email signature – your business' resume
One of the simplest types of marketing collateral is your email signature. You can easily use a template for all your employees and add all the important details of your business.
Phone number, address, website, and even slip a link to an important project you want to promote. Even though the email signature is a small piece of content, think about it like this: you put it in the inbox of every person you interact with, and they won't feel any intrusion (you can even create an electronic signature to give it an extra flair). Here's how Xenia, our CEO does it. And trust me, she's the queen of emailing. Discover many more email signature examples here.

4. E-books – they increase the user base
E-books are basically traditional books made easier to read in the 21st century. The advantage of e-books is they are saved in multiple formats and can be read on any device that has a screen. Well, I don't know about smartwatches but if you insist, you can read while you run.
For marketers, the e-book written by somebody in the business is usually a compelling, yet brief version on a specific subject. Making an ebook for your brand will provide an opportunity for you to deliver great value for your prospects, build a relationship, and establish credibility.

How is this marketing collateral? You can give this e-book for free, or you can trade it for an e-mail address. From there, you can start the relationship and transform prospects into customers.
So yes, if you want our latest e-book, don't be afraid to download it here:
5. Landing pages – for specific messages
Basically, landing pages are part of your website. I want to talk about them separately because visitors usually treat them differently. While the website works as marketing collateral that talks about the entire business, landing pages are focused on only one aspect, providing a targeted message for what you need to emphasize at that given moment.
Even though the landing page respects the brand rules, it usually has a lot of media files, videos, call to actions and even registering forms.
This is our landing page for the Social Media Job Title Quiz we launched recently. Yes, you can try it hourself here. And here is a great resource if you want more landing page examples. If you're looking to build a high-converting landing page, check out some of the best landing page builders. 

6. Newsletter – best way to tackle the inbox
Cold emailing, done right, is a good way to expand your customer base. Once prospects are engaged, you can continue getting in touch with them through newsletters.
Newsletters – and e-mail marketing in general – is still an important marketing collateral tool, as you can use it to inform your subscribers and then generate sales. You can opt to enlist the service of reputable email marketing companies, but you can also do this in-house. Today there are plenty of cheap email marketing tools and mass email services that are very affordable and have plenty of functionality. For example, you can use a form builder to create a signup form for your newsletter.
This makes it very easy to start sending valuable news and information to your leads. Even though the main reason you use newsletters is to keep in touch with every prospect, you can also use it to become an authority and increase ROI.
Newsletters are a great way to promote all your pieces of marketing collateral. Did you just publish an e-book? Did you write a new blog post? Have you upgraded your product and explained its benefits in a video? You can let your audience know about it in your next newsletter.
Here's one of my favorites newsletters from WeRSM:

7. Testimonials and reviews – the real opinion
Yes, it's time to contact your favorite customers and ask them for feedback, testimonials and reviews. The importance of this lies in the fact that lately, most customers don't make a decision without seeing what others experienced.
More than a website on point and a cool presence on social media, genuine testimonials and reviews are proving that your business is what they need and you have outstanding services.
Look at how Dormify does it. They collect testimonials & reviews from parents, even though their kids are the end user. And that's because they know who is making the decision to purchase.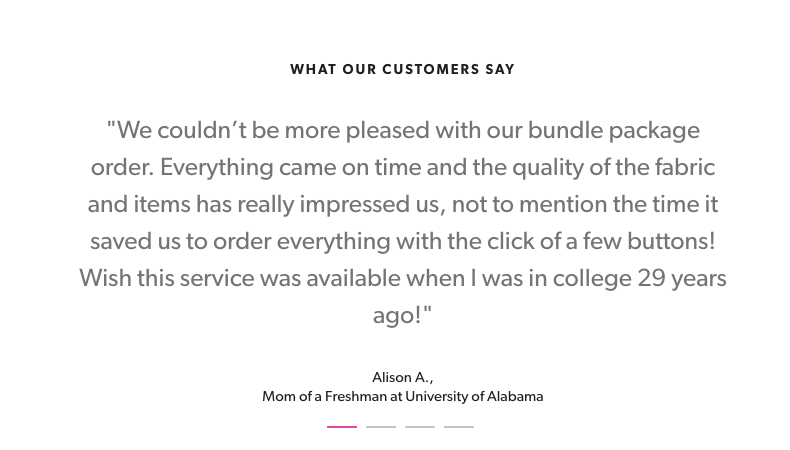 8. Whitepapers – content that solves problems
Whitepapers help you become an authoritative voice in your domain. Usually, they are documents that present compelling and useful information that solve a certain problem. Use a direct approach and a concise voice, people looking for whitepapers don't have time for fluffy words.
Especially if you work in a B2B environment, whitepapers are a valuable piece of content marketing. They are way more in-depth than blog posts and they tackle all the aspects of an issue. This is a strategy that can bring you both customers and collaborators.
MarTech Zone became experts and provide whitepapers for marketers no matter their industry:

9. Your website – biggest owned media
Ok, this is probably the ace in the hole. Statistics say that 28% of small businesses still don't have a website, although it's an essential marketing collateral channel. All businesses should have a functional website and since you're here, I suppose you know what I'm talking about. So what I'm trying to tell you is your website is one of the few owned media pieces you have as a business. And what's even more interesting is there's an inception phenomenon here: you can the website to promote and host a lot of other collateral materials you produce. Luckily, today every business can have a fully functional website up in minutes thanks to easy-to-use page builders available on platforms like WordPress or Appy Pie website builder.
The guys from Subsign did a great job with their website.

10. Whatsapp newsletters – your must-have marketing collateral
The last one in this top 10 is the shining star, the younger and trendier brother of e-mails, and a very effective marketing strategy more and more businesses use. Whatsapp newsletters brought a lot of success for early adopters and now more and more marketers leverage its popularity.
This type of marketing collateral is at the top when it comes to the personal approach and fits best for B2C businesses.
For example, the guys from Social Chain are doing a great job with their B2B Whatsapp Newsletter:

All other marketing collateral examples you should focus on
Now, that you got a taste of all these marvelous things you can do, I say we continue with more types of marketing collateral.
11. Video blogs – or vlogs
Once the user attention shifted to video formats, content creators forgot about what it's like to be camera shy and started producing vlogs. They are basically the classic blog posts on steroids: more dynamic, colorful, but with the same compelling information.
Want to start vlogging for your business? Well you should start with some professional lights and a microphone. To aid in your business's brand awareness, it's always recommended to add an intro video at the beginning of your video assets. If you want to take your video marketing collateral to the next level, consider using one of these online course creation tools to build an online course that you can offer to your audience for free or at a cost.

12. Portfolio – Your best work so far
You should always keep your portfolio close and updated. Together with the reviews and testimonials, they are proof you're doing your job well and your work is appreciated.
Your portfolio is also a great tool for employer branding and attracting other partners, as they can see what you're doing at a glance.
Look at Goodby Silverstein & Partners right after Superbowl 2019:

13. Explainer videos – visual guides for your features
We're visual creatures and many of us prefer watching videos instead of reading. This is why you need to be ready and come out with explainer videos when needed.
These videos are usually short, animated, and explain the main features of the product or service. Explainer videos can boost engagement for any industry. They're great ways to boost credibility and relatability at the same time. Worrying you don't have the skills to create this type of videos? Tools like Renderforest and Biteable help you create content in minutes.
It is a captivating way to talk about what you're doing and you have more chances to get users' attention. Just like Yum Yum Videos did it for DocuSign:
14. Podcast – video didn't kill the radio star
Marketers live on fast forward and they like to absorb information on the go. This is why podcast became so popular: for moments when your audience doesn't have time to watch a video, you give them podcasts to listen to.
Here is a sample of marketing materials – a podcast where Vlad, our co-founder, talks about how to become a badass digital marketing freelancer. Podcast production is not always easy, but you'll reap the benefits later down the road.
15. Pricing List – one of the most visited pages
In case you can show your pricing and you have some predefined plans, you can display them on a landing page. This will help you attract the right subscribers because you're setting the right expectations.
Look at how NightWatch is displaying its flexible pricing:

16. List of partners – great minds think alike
Who you work with says a lot about you. If you work with powerful clients or you have well-known partners, make a list and showcase it with pride. Just like testimonials, big clients demonstrate you know your thing and you're capable of catching big fishes.
You don't have to brag very much about your partners: list them in a subtle way, but make sure whoever is interested in knowing them can find that list. Just like Grey Agency does it:

17. Company awards – another way of humble bragging
If you're good at winning prizes, it will also help you win more clients. In both B2B and B2C, being recognized by authority figures means a lot for those who want to work with you or use your product.
And now it is really easy to display your awards. The example from Storyation is great.
If you didn't win any prizes yet, don't worry. Start now and search for important contests in your niche. You can usually apply online and wait for the final results. Fingers crossed!

18. Biographies – touching stories about how it all started
If your founders or some of your employees have a story to tell, or if you simply want to showcase your team, post some biographies of the most important people in your business. In the end, we're all people and we're all excited to hear stories. The ones with a happy ending will always be people's favorite.
Your employees' success stories will transfer authority to the business. So why not put them in a nice format and show them to the world? Oh, and did you think about how appreciated and important they will feel?
Here's an example of how Baremetrics is putting people first.

19. POS displays (or Point-of-sales displays) – make the package bigger
POS displays are an offline marketing collateral type and the name makes it kind of obvious: they are creative assets positioned close to the point of sale (checkout). Their main role is to attract the customer to a certain product on the shelve.
What's interesting – and the main reason you should use POS displays if you can – is they can have so many forms, from shelf edging to free kits, hanging signs, or strut cards.
Fineline Design has some of the greatest answers if you're curious what collateral design is. Here's one of my favorites:


20. Banners – here, there & everywhere
Banners are one of a kind. They started offline and then made their way into the online world. They are one of the few exceptions: online didn't kill the offline and they still bring great results when used right. Sadly, offline banners don't work hand in hand with online banners.
I'll add some more information about the online banners, as they are closer to what our industry is about. Technology allows banners to take a lot of formats. Header, left side, video or multiple images? Here's an example from Vogue: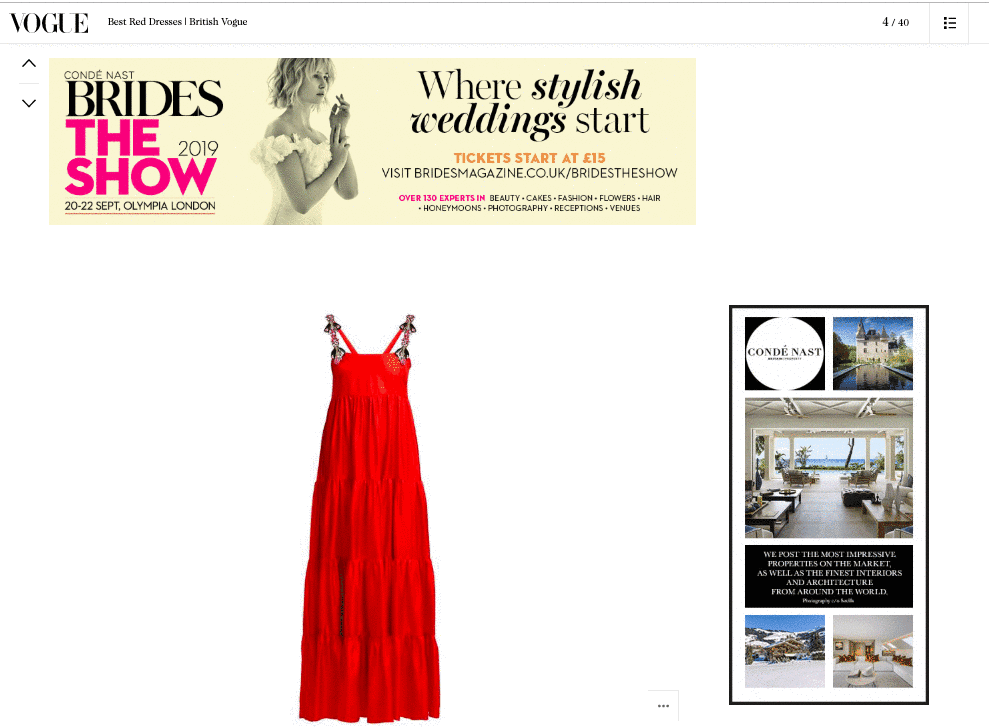 21. Press releases – whenever your business has something to tell
Press releases have many names these days. News releases, statements, media or video releases, they all have the same purpose: providing new information or an announcement about your business. Depending on the importance of the event, you can deliver your press release in person (using an authoritative figure) or online (here's where the PR team gets involved).
They are a great asset for both the business and the journalists. You prepare your media kit and then deliver it to journalists that are happy to propagate the news if they are worthy of any buzz.
By the way, did you hear the latest news from Zoom?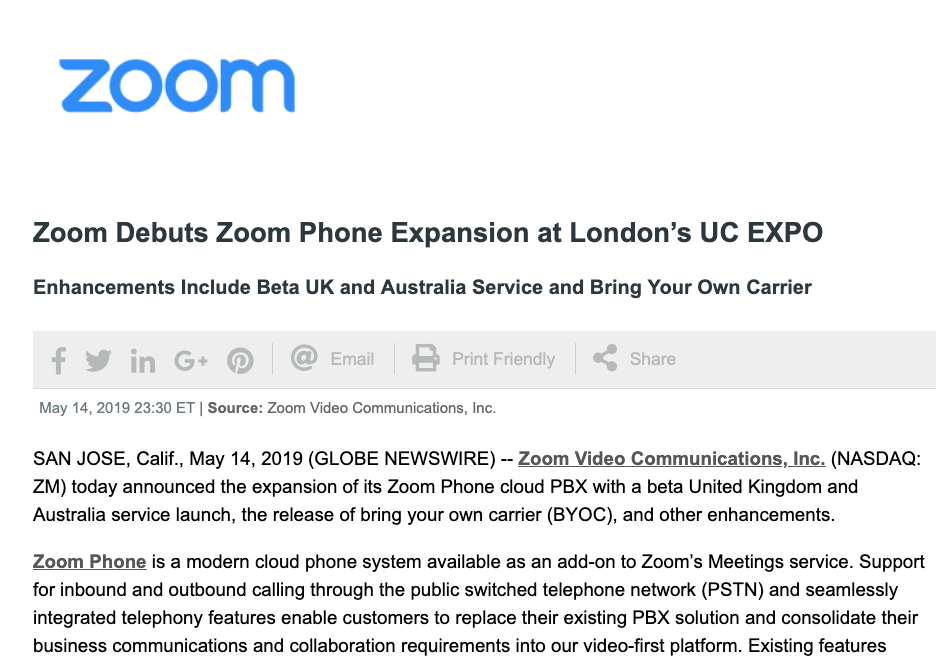 22. Identity packages – what are your brand guidelines
We're usually talking about a brand book, but truth is your brand identity is more than that. Businesses are using something called identity packages. They are – like the name says – a package with the logo, social media design (for profile & cover photos), design for stationery, website design, and many more guidelines.
You may now wonder how is the identity package part of the marketing collateral. Well, think about all the collaborations you have and how easy you can integrate your brand with another one when you have clear guidelines for every piece of content. Just look at this example:

23. Company background – your business bio
Did you ever think about how your company history can help your business? For investors and partners, it is really important to know where you come from. What's your origin, what you did so far, and what is your purpose. Let's be honest: no matter your niche, there's always strong competition. But you can show what's unique about your business through your story.
Don't focus on telling a pretentious story. The people you want to attract are interested in your experience, skills, and how you turned an idea into a successful business. Just like Nestlé did here:

24. Mission statement – what's your business purpose
Mission statements are short content pieces that describe your business goals, talk about the services you offer, and for whom are you producing these services. You can also add your values, the competitive advantages, and your vision.
The mission statement should really come from its founders, as it will help the business address these subjects with its employees, audience, and stakeholders. I love this statement from InvisionApp:

25. Press mentions – your business clip file
Whenever journalists talk about you, they mention your business name. Why not collect all this information and keep it somewhere so that your users can grasp your achievements?
You can create a clip file and keep all your press mentions on your website. Everything you did one click away from the reader. Oh, and don't forget to make updates. Having new mentions regularly means you're doing great, right? WeTransfer is doing great.

26. Product comparison page – what's your plus
Comparisons help customers decide which product or service suits their needs best. Product comparison pages are better than feature tables. That's because when you distribute information on more pages, you encourage users to remember important aspects like price and certain specs, and even take notes. It may seem a disadvantage, but in fact, you create commitment. Separate comparison pages also give you the chance to have a personalized approach. We know products are more than a set of features. Alternatively, you could release a digest with new products for a certain period of time and compare them to each other, as Unofficial Kodi Builds did. This will help get customers' attention and avoid being overwhelmed.
If you want to stick to tables, keep in mind to use columns for products and services and rows for the attributes. Here's an example from Planable: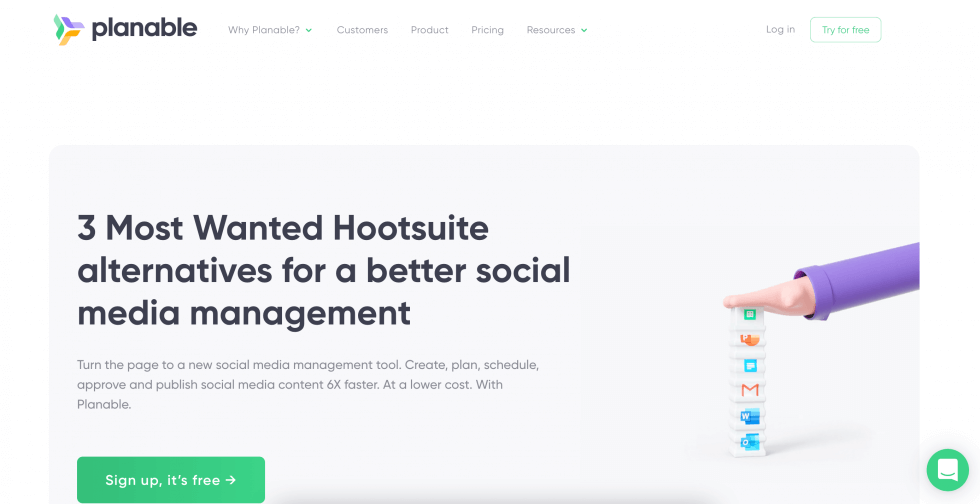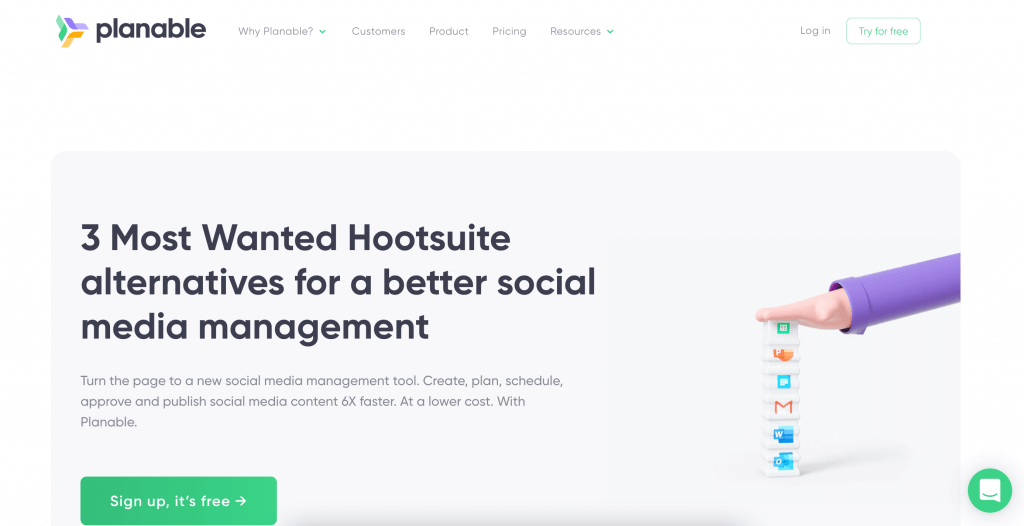 27. Product guide – your business catalog
Product guides contain all the information regarding the products and services you're  selling. From product images to their specifications, descriptions and prices, this type of guide is one of the latest types of marketing collateral a user interacts with before making the decision.
What I'm trying to say is your product guides and catalogs are very important. You want to make sure your information is up to date, you have all the products, and most importantly, you're speaking the same language. Sometimes, people get scared when they bump into specific jargon. So keep it simple and clear. Look how "clean" this product guide from Oral-B looks like. Pun intended.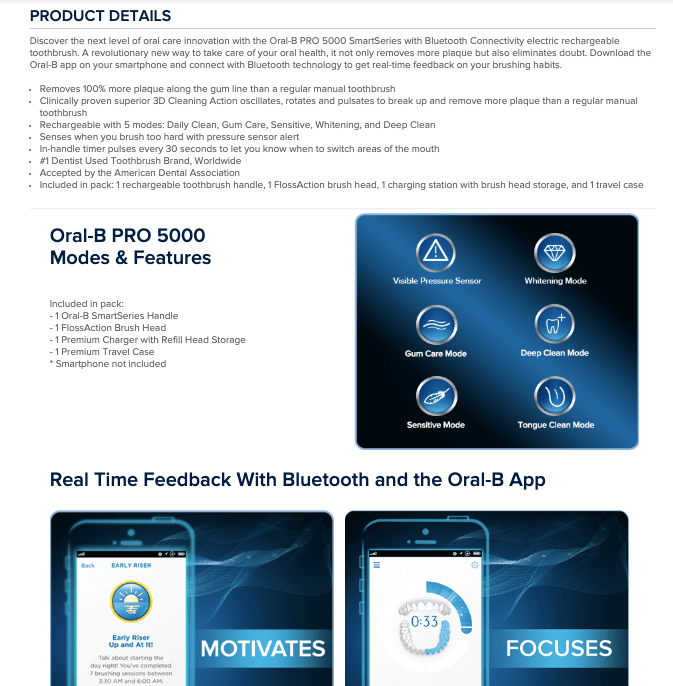 28. Warranty sheet – for client retention
Marketing collateral can be used for all stages of a marketing funnel. This includes the post-sales segment. You can't forget about your actual customers, right? The first step you can take for them is to give them a clear warranty sheet.
This way, they know you are trustworthy and care about them. Warranties shouldn't be a big fuss. A one-page document that states all the important details is enough. The way Segway does it is quite perfect:

29. Sales presentation – the subtle art of solving needs
I can't stress enough how sales presentations are not about your product. They must talk about what needs and desires the people in front of you have and how your product or service can solve it. I'm no sales person, but I'm a storyteller. And guess what? You should use stories even in your sales materials. Show your audience how their story is right now and how they can have a happy ending by using what you're offering.
Give them data to support your statement. And mention your product/feature strong points. You'll see – people will open just like a book. Just notice how LinkedIn is selling its Sales Navigator without you even noticing it:
The new LinkedIn Sales Navigator from Robert Koehler
30. Vertical pages – or industry pages
Do you have a product that can impact multiple industries? Well, you should address each industry in its own language. How? By using vertical pages – subpages or subfolders in your website dedicated for each audience.
Choose the main industries you work with, create some use cases related to each industry and then upload the information on your website. Be specific. Here is a good example from Oracle:

31. Gift cards – the benefit of buying more
Gift cards are always a good idea. No matter if you sell them to your customers or just give them for free in your marketing campaigns, they are a great strategy to boost your sales. The main advantage of this type of marketing collateral is that it will make your customers keep coming back for more. You can use expiring dates, thresholds, or simply offer a discount so you can limit their choices.
The good part? You don't have to pollute with plastic cards. Use an online gift card and send it right into your customers' inbox. Look how Microsoft does it for their Xboxes:

32. Digital customer magazine – old skimming, but digital
One of the first forms of marketing was hidden between the pages of magazines. What other better place to slip your business in than where people take their information from? Some even created dedicated magazines so they can promote their business. *ring* *ring* Michelin.
But once magazines digitized, the ad placement became more manageable. Until it became spam. Users started closing every browser window that was more paid content than genuine information.
And so, brands turned themselves into publishers. And instead of trying to sneak into magazines, they started producing native content that people actually enjoy reading.
One example of how to create digital customer magazines comes from Foleon and their design collateral for Volvo.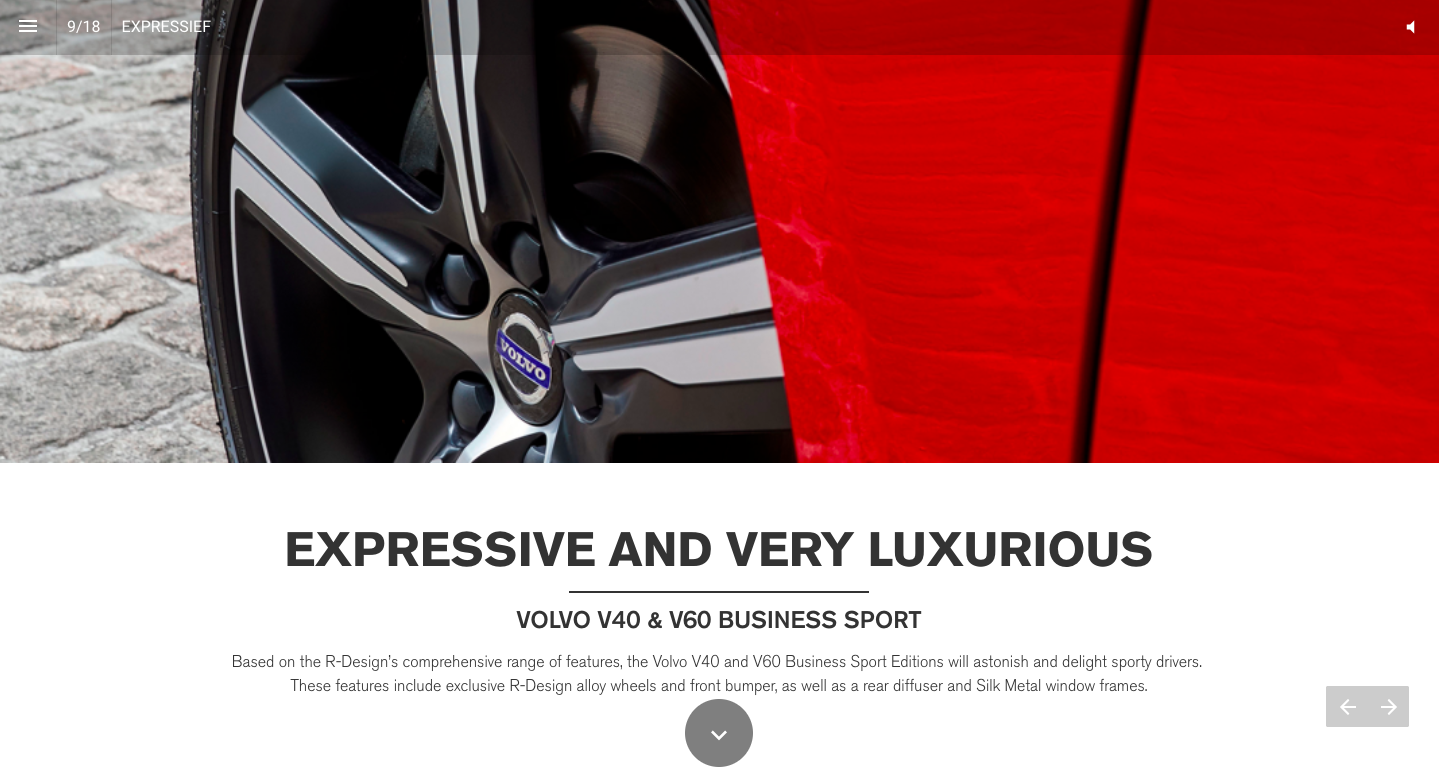 33. Business cards – the ally at every meeting
How do you interact with your stakeholders? Do you ever meet in person? And how often are you going to business meetings, conferences, seminars, or conventions? If you're doing at least one of these activities, you need to have a business card up your sleeve.
I know, it looks rusty, but it's still the easiest way to make sure you didn't miss the chance to introduce yourself to potential customers and partners.
Business cards can take many creative ways. But no matter your choice, start from the information you want to hand over: who you are and where you can be found.
34. Calendars – on everybody's desk and in everybody's pockets
We've kind of fully migrated to the digital world, but we still love to have some printed collaterals. And calendars are some of the things people still enjoy offline. So why not print your own calendar with your industry theme? Stay with your prospects every day and remind them about what your business can do with every new page.
35. Company folders – some other kind of portfolio
Are you often involved into fairs, conferences, or seminars? Then a company folder is what you need. Truth is people that attend these kind of gatherings looove free stuff, so why not take advantage of this and sneak in more information about your business?
Company folders are compelling and should cover all the information about your business. Don't be afraid to add business cards, product presentations, and other marketing material ideas that define your activity.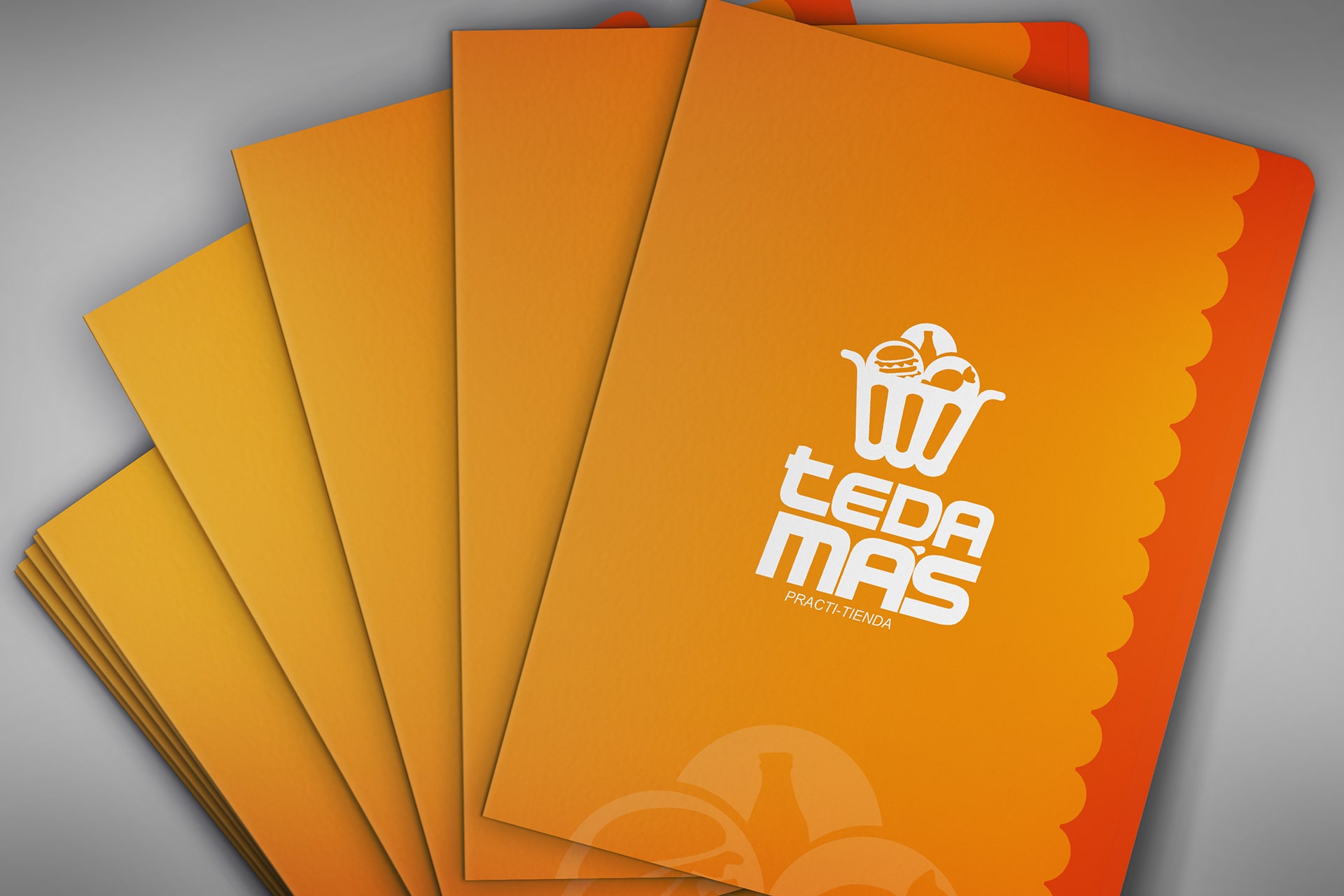 Source
36. Flyers and brochures – the grandparents of newsletters
Last but not least, let's not forget about flyers. They may be spammy, but that's only because they're not done right. Did you ever say no to a well-designed brochure?
Use these types of marketing collateral whenever you want to reach a broad crowd of people and you don't have their emails. One example of a great flyer is the one from Tech Week. I couldn't say no to it and now I'm making it famous on the internet.

Review and approval process
Before the final stage of each marketing collateral is released, it needs to be reviewed and approved by the team or the client. To simplify this process and get quick feedback from other collaborators, you can use tools like Filestage. This simplified process will also help you get a better overview of all the comments involved in this content. You will ensure that no one's feedback is lost in the process. At first glance, you will be able to immediately see the stage each piece is in.
In need of a marketing collateral checklist?
Now that you have a long marketing materials list, you can get started. But how do you make sure any brand collateral you produce is going to align with your business? We prepared a short marketing material list of things you should take into consideration when you embark on the collateral development journey.
The platform

– take into account where you're advertising your collateral. Whether it's owned, paid, or earned, every platform comes with its rules. File size,

image size

, color contrast, number of words or characters, it's all in the books. So pay attention to the platform before starting creating your collateral material.

Your brand persona

– it's better to think about what kind of collateral advertising works for your audience, whether it's digital collateral or collateral print. The brand persona should always be on your mind. 

Your logo

– no, you don't have to make the logo bigger, but it should be part of all your marketing collateral design. Keep in mind that it should be integrated as smoothly as possible. 

Brand colors – kind of obvious, but since this is the checklist, colors should be in it. Developing multiple online marketing materials for example doesn't mean you go crazy with your colors. Together with your logo, brand colors should make people say "Oh, my favorite brand produced another eBook".
Brand style

– rounded corners, pictures, graphics, 2D, 3D, American English? They can all be part of a brand's style. And yes, it is mandatory to use them when you define the business collateral.
How to create awareness for your marketing collateral
You have all these opportunities. Now what? You need to share them to let everybody see them. Where do you find everybody these days? On social media, that's right. With Planable, you can amplify your message in order to build a strong relationship with your fanbase. Give it a try. It's free.
Here are the main things you can do with Planable:
Store your main marketing collateral in a dedicated Media Library;
Organize every brand in its own workspace;
Share post previews with all your favorite stakeholders, and get their feedback in context;
Plan, schedule, and organize all your evergreen collateral.
To wrap it up
I know, it seems a bit overwhelming. If you feel exhausted from reading it, imagine how my hands and fingers feel. But this can only make me happy because it's undeniably impressive to grasp how much creative work marketers actually do. So don't be afraid to save this long guide and come back to it whenever you feel like you want something new.
And in case I missed something, please drop me a line and I'll add it.