Personalization rarely comes up in the context of social media. We personalize emails, website experience, banners, and even product experience in some cases. But we're reserved when it comes to social media.
Maybe that's because we're not sure if it's even possible. Or maybe it's mostly because volume is such a big focus of social media marketing, that personalization seems too much to handle.
When I discussed with Ema, from Hunch, we realized that we have a lot to say on the subject. So we made a webinar. One hour in which we deep dive into:
I'm sure you're curious so lay back, put on your headphones, and tune right in:
If you prefer just reading for now, we can give you a quick glimpse into what we've discussed.
What is marketing personalization?
Personalization is when a brand or company customizes a customer journey or experience based on the information they have on a particular segment.
There, we've given a definition that quickly summarizes the concept. We didn't really want to take that route, though. Because, as with any business concept, there are many definitions roaming the internet. We preferred the approach in which we took turns explaining what it meant to us. Here's Ema's view:
"From a marketer's point of view, personalization is something your customer expects. Back in college, we were told that you could send one exact message to everyone. A lot of progress has been made since.

Now you have thousands of unique users. You have to show them thousands of unique messages for them to engage with your content, your brand or agency, and eventually convert. Everyone can publish and launch a personalized campaign or strategy.

Thanks to technology, having that personalization and contextualization layer above to better resonate with your audience requires little effort.

Personalization means bringing the right messages to the right audiences at the right time."
Here's what I said:
"Personalization is the effort a brand puts into customizing the experience, the messaging, everything a prospect sees based on what you know about them. The details you do know about them define the level of personalization you are doing.

Personalization can start with basic details like location and go into granular details like a prospect's purchase. Those details take marketing from an approach of one to everyone, to one to many, one to few, until one message to one."
How to implement personalization for organic social media
We then start by drilling down into the part that personalization plays in organic social media. It's not a topic commonly discussed. The main reason is that organic social media has its limitations.
That still means it can be done. The easiest way to discuss this is to split it into steps. And the first step is to understand the limitations. So here's a helpful map: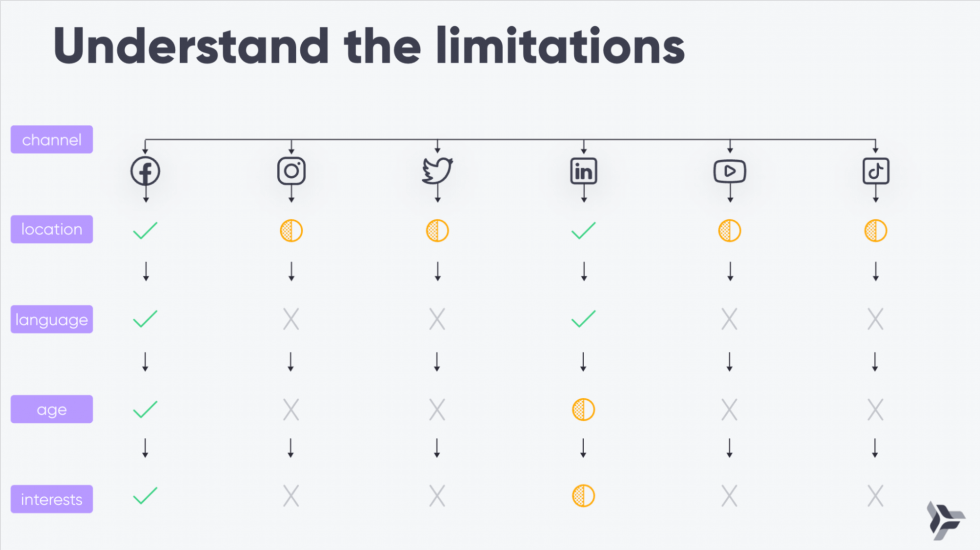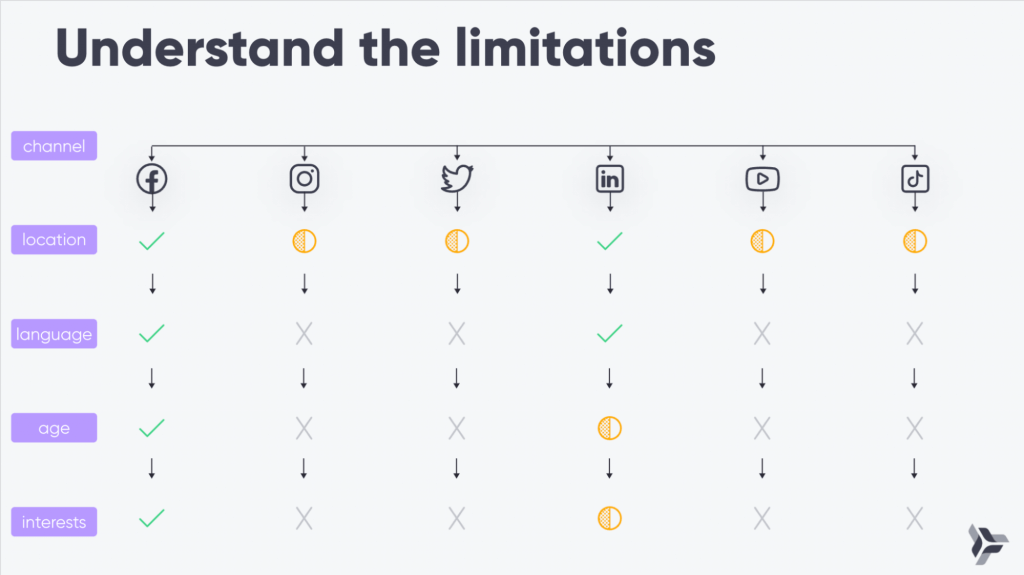 Before shooting for the stars, it's good to establish what you can and can't do. In organic social media, you first know the channel you're posting to. That tells you something about both the audience and the mindset your audience is in. Then you have location, language, age, and interests.
More details on that in the webinar 👇
The following steps to social media personalization are understanding your segments. Start by analyzing your current followers on each channel. Then identify the segments you can determine based on them. After that, start overlapping your persona map with the targetable criteria of each channel.
The fourth step of organic social media personalization is to decide the usability of the targeting possibilities you identified. For example, location on Facebook could be used for local deals or events irrelevant to the rest of your audience.
Finally, the last step is to define exactly how the personalization plans you've just made fit into the workflow you have. Technology has to support your efforts to ensure the strategy will turn into practice.
That's a brief overview of what we tackles in the webinar. It's just an hour long so tune in 👆
How personalization can entirely change the results of paid social media marketing
Nearly 5 billion people log into their favorite social app, but they also check an average of six platforms per day. The growth is impressive, but the pace of new social media platform adoption is even more staggering.
We all know that social advertising can be a game-changer for performance marketers. Let's take a look at ad spending on social media through the years.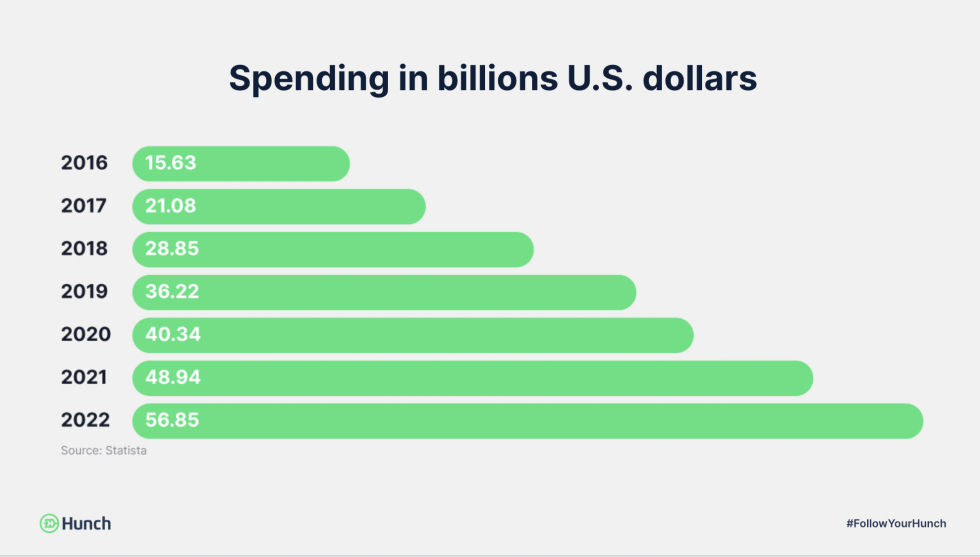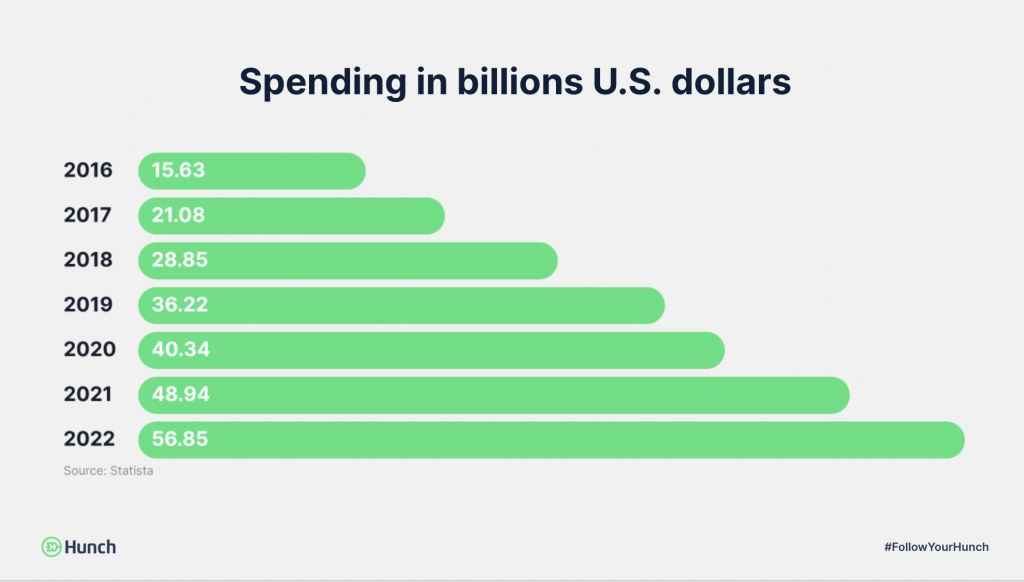 In 2020, paid social ad spent on social networks in the US surpassed 40 billion dollars. Meanwhile, that number leaped beyond 56 billion, with Facebook taking 80% of the shares. Ad spending in the social media advertising segment is projected to show an annual growth rate of 10.55% in a projected market volume of nearly 230 billion by 2025.
Pressure is increasing on marketers and agencies to achieve above-average performance. Everyone can plan out and launch a campaign, but for excellent results, you'll need a lot of time and resources to go beyond what today's social platforms allow you to do.
Meaning personalization. When your messages resonate, your impact amplifies, and your business reaches new heights. The way to achieve that is through dynamic ads that automatically adjust everything down to the creative asset.
What are dynamic creatives, and how do they work? Dynamic creative is an ad unit whose image, product, text, or call to action is adjusted for each user. It's the fuel to personalize digital advertising that delivers the right message at the right time to the right person.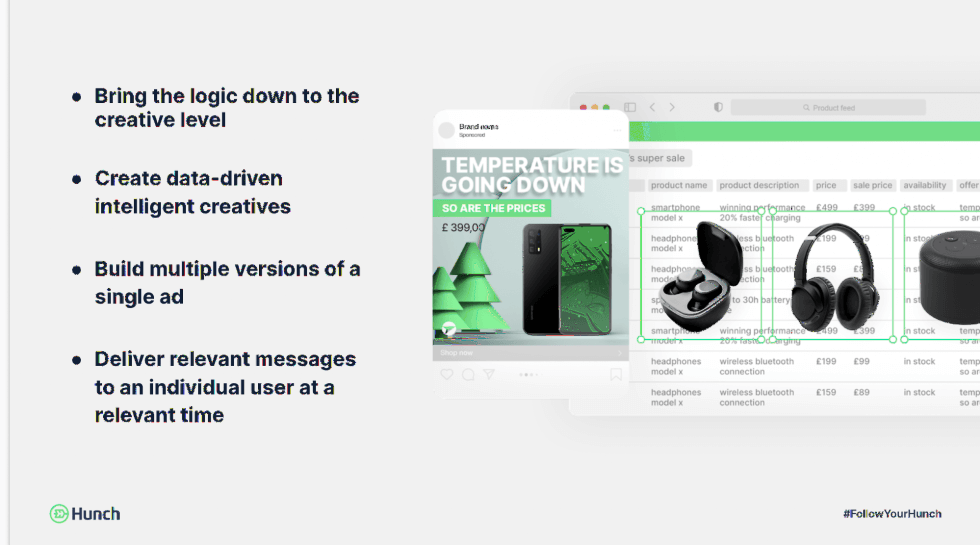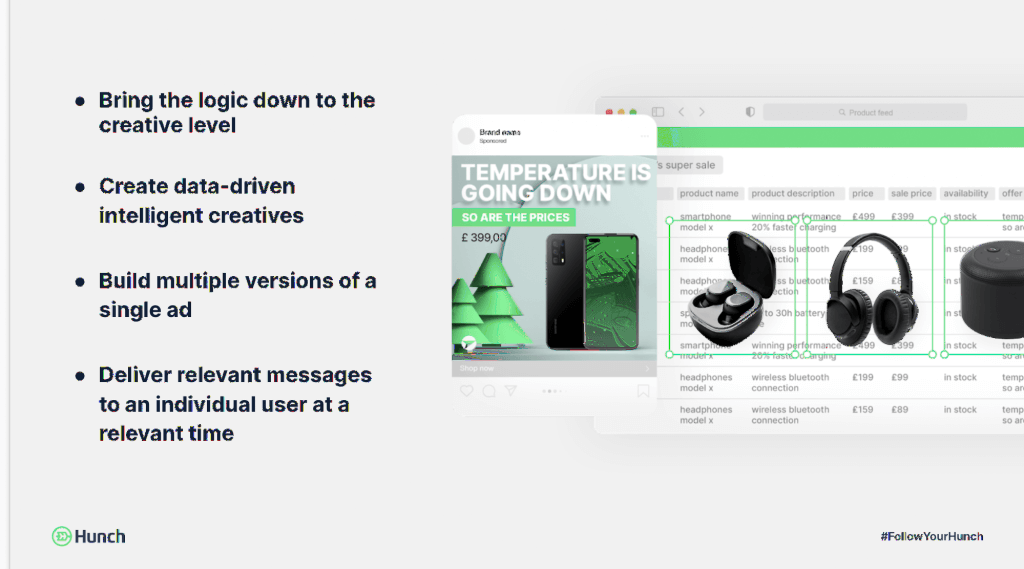 Genero, a Nordic growth and performance marketing agency, works with Ruokaboksi. They're a meal kit service that delivers recipes and ingredients to their clients. They improved their results by personalizing locally and becoming more granular. Testing showed that highly personalized localized creatives resonate best with their target audience, lowering CAC by 47%.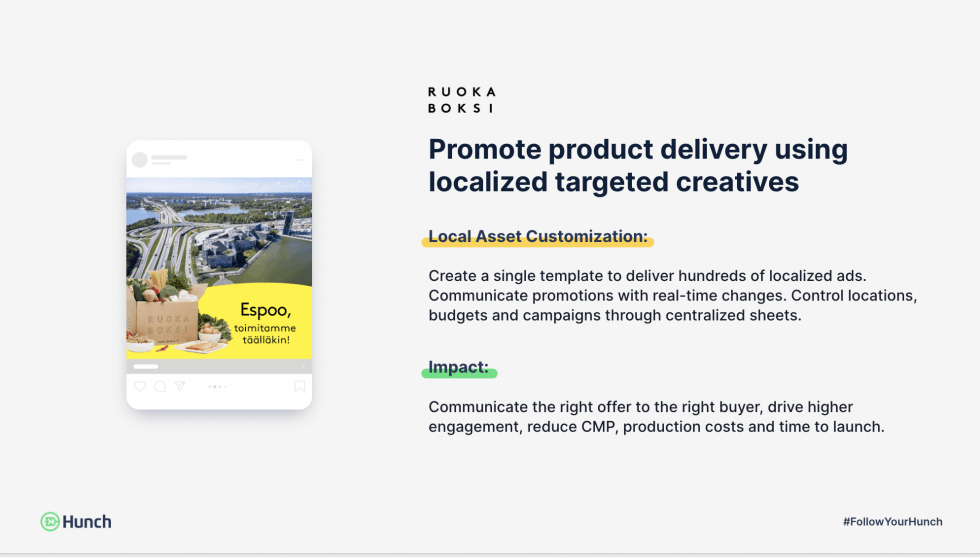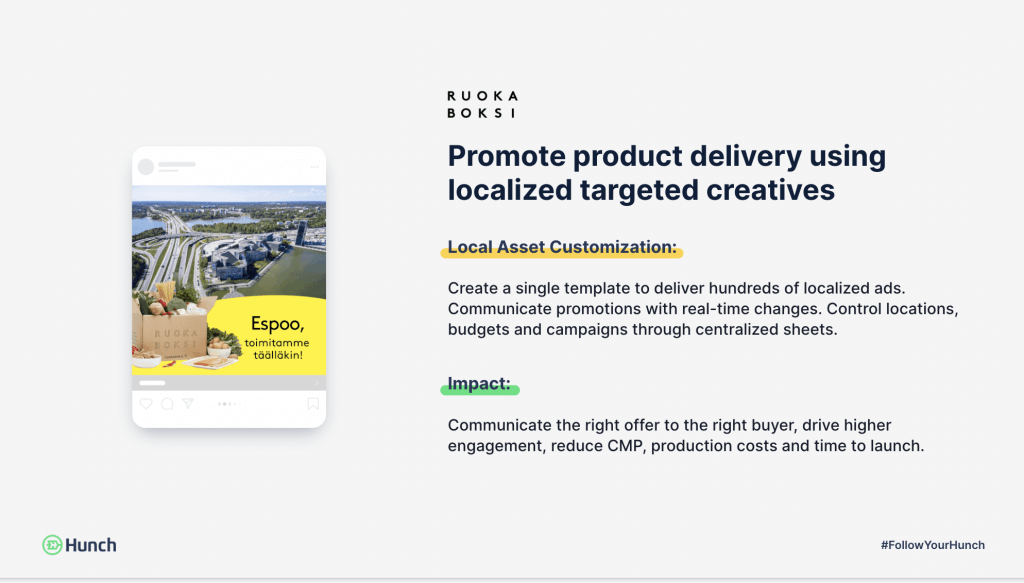 You got the scoop; now it's time to hear it all 👇